Buckle up folks, this is going to be a long one. But I promise, it's worth sticking around if you're at all into amazing coffee and delicious food.
For Spring Break, 3 friends from college and I planned a trip to Seattle. After a couple of hours of flight delays, we arrived on Wednesday afternoon and hightailed it to lunch at Oddfellows in Capitol HIl. We stayed at an AirBnB in Capitol Hill, which despite th grungy walk from the light rail to the apartment, and the undersized, one bed studio we found ourselves with, we ended up liking the area a lot.
This was tied for my favorite meal of the trip. The restaurant had a very hipster feel, and I got kombucha on tap (those are one sentence because they go together). It had a flowery essence, and was delicious! For my main meal, I ordered a chicken and avocado salad (because avocado) which was fantastic.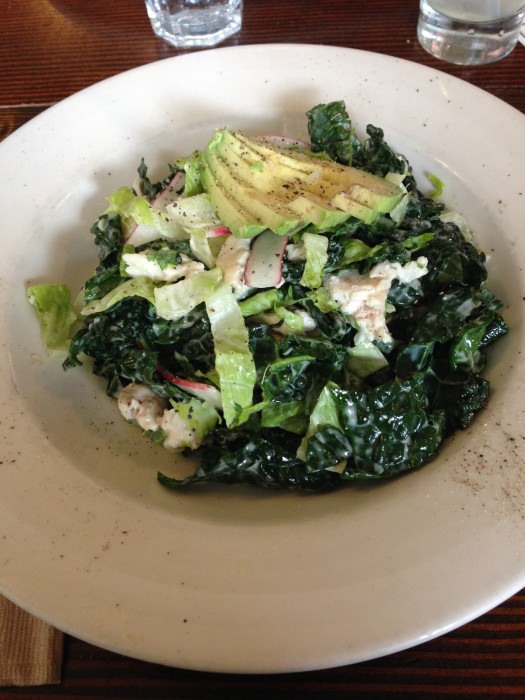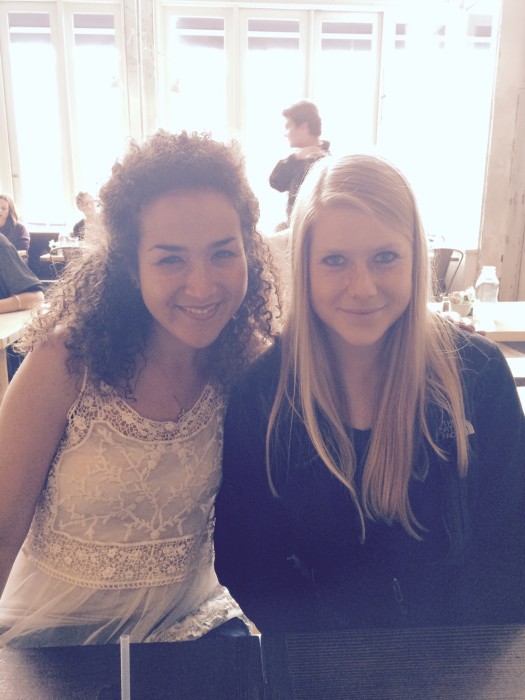 After lunch, we headed off to Fremont for our first coffee adventure.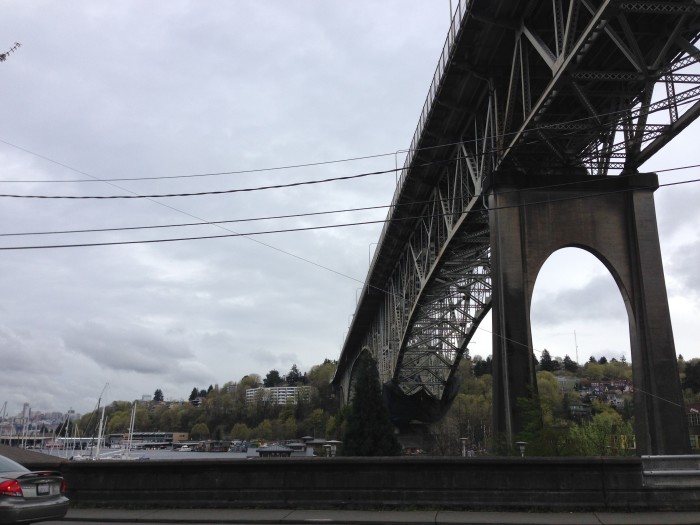 My roommate found a highly recommended coffeeshop called Milstead and Co.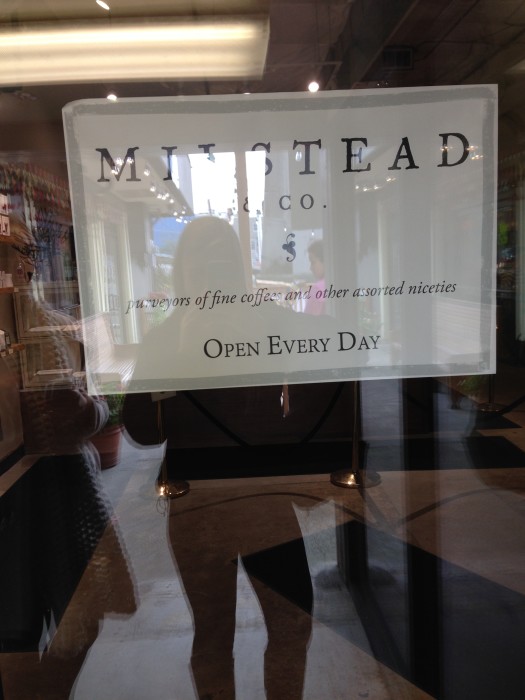 Unfortunately for me, upon entering I learned that they didn't have decaf. I haven't had caffeine in over a year, besides chocolate which hits me pretty hard. Ever since my stomach started flaring, caffeine in tiny doses makes me sick/jittery. They offered to make me a half shot cappuccino. Unfortunately, I was only able to have a few sips before my heart started feeling it, but it was delicious, and I thoroughly enjoyed the gluten free biscuit we got to go along with it.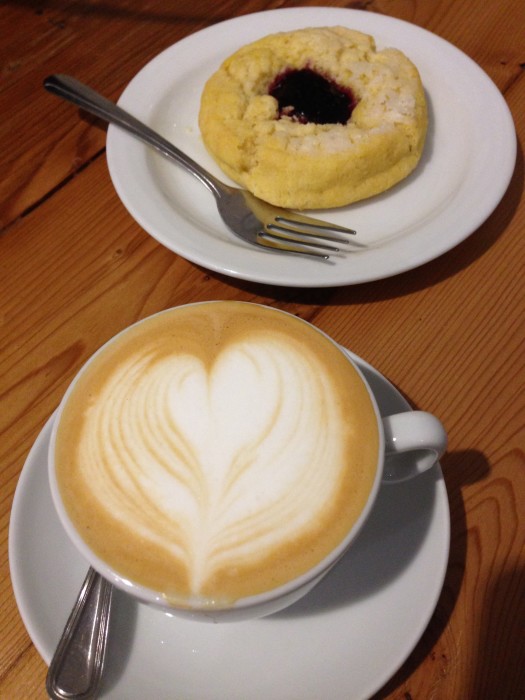 it
We then began to explore Fremont, when I recognized the bridge as "the one with a troll." My friends, thought I was crazy, until I led them uphill.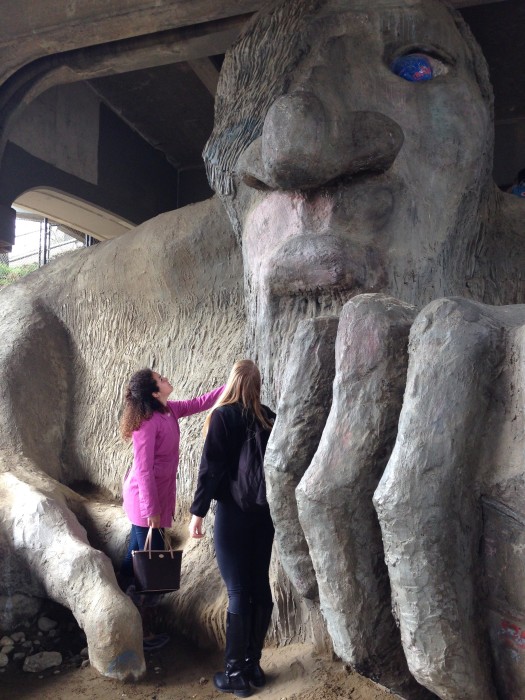 Look! I found a troll!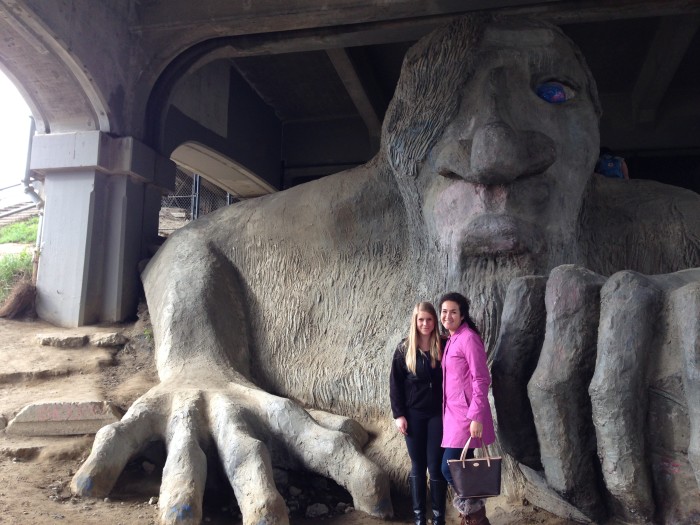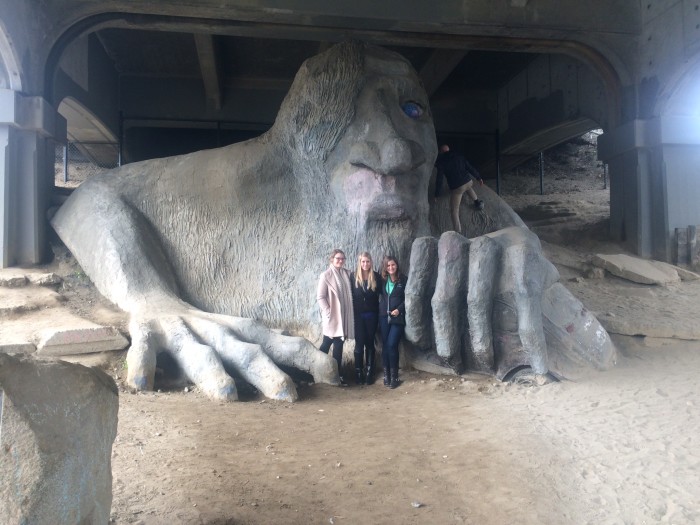 Two other highlights of Fremont: a pie bakery. I didn't get anything, but my friend got an amazing looking peanut butter mini pie.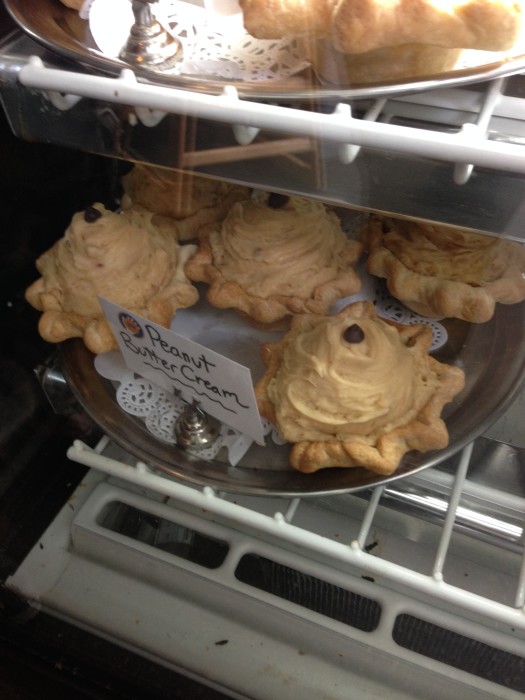 The other was an adorable tea shop. It was all loose leaf, in jars, and we could ask to sample anything. The owner was super nice, and had a sweet dog.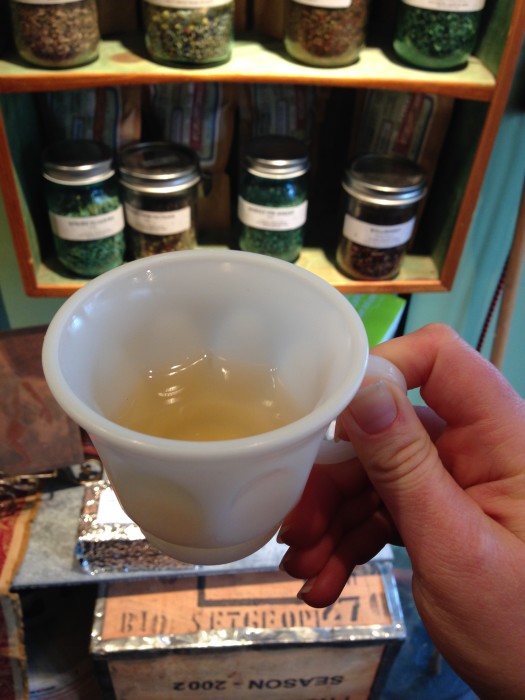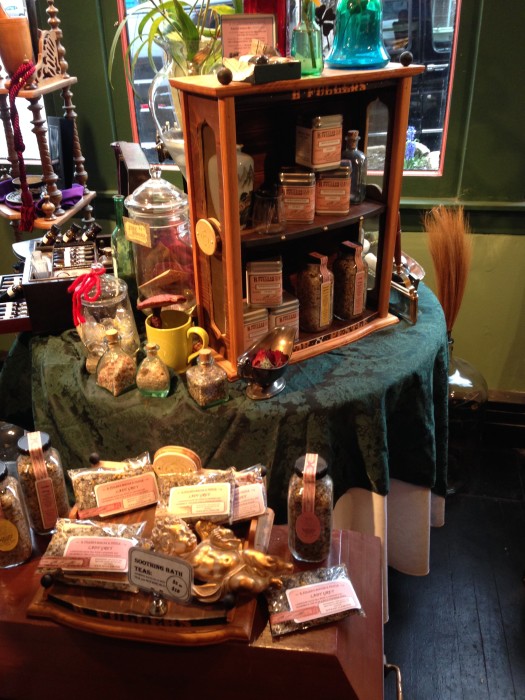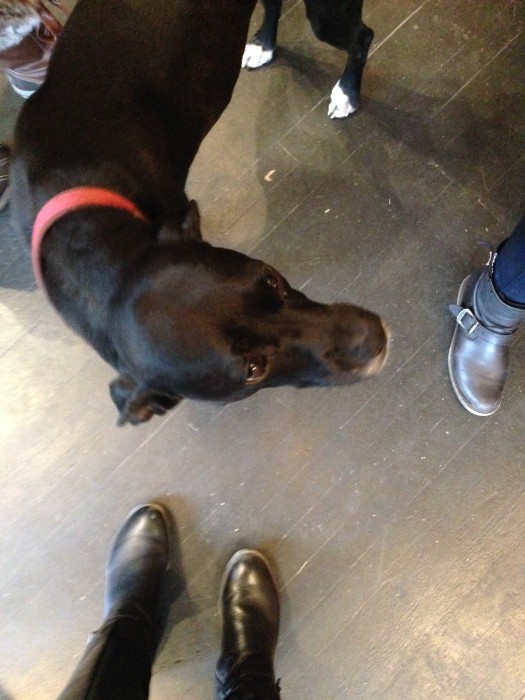 The decor was vaguely steampunk, and we had the opportunity to play along for a photo op.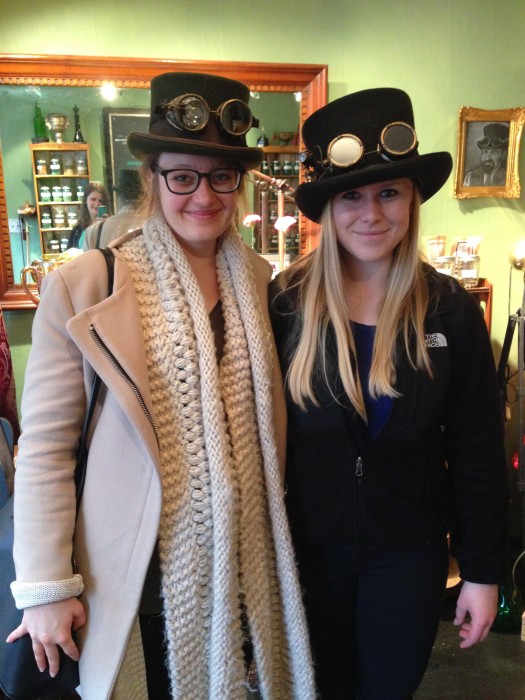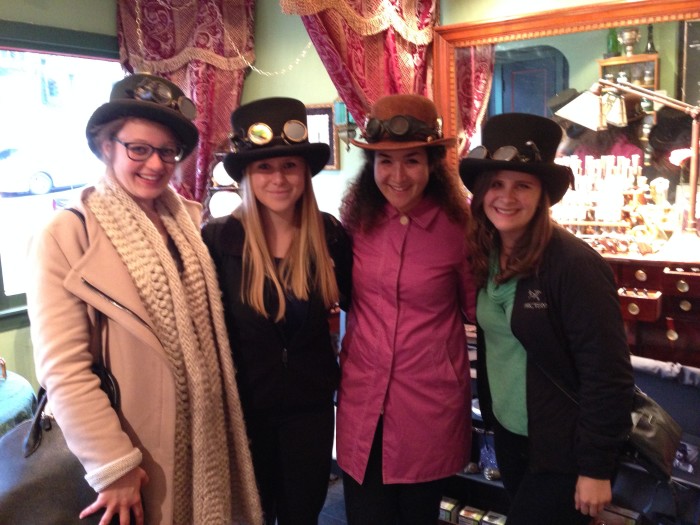 As we were about to leave Fremont, I smelled something amazing. Melted chocolate. Strong. We followed our noses and found this: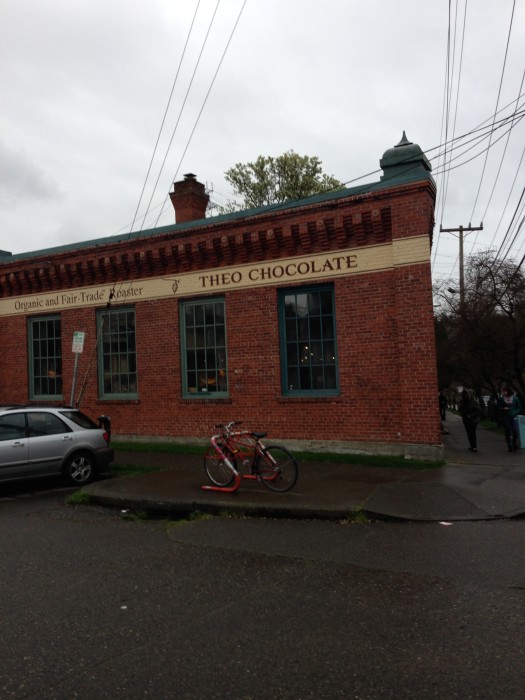 A chocolate shop! With lots of samples. I've seen this type of chocolate all over Whole Foods. After extensive taste testing, I walked away with this:
For dinner that night, after much debate, we wandered into a Mexican restaurant in Capitol Hill. We started with an appetizer of smoked salmon guacamole, which was AMAZING. I honestly didn't think I was going to like it; I'm not a huge smoked salmon fan. But the smoked salmon all over Seattle was fantastic.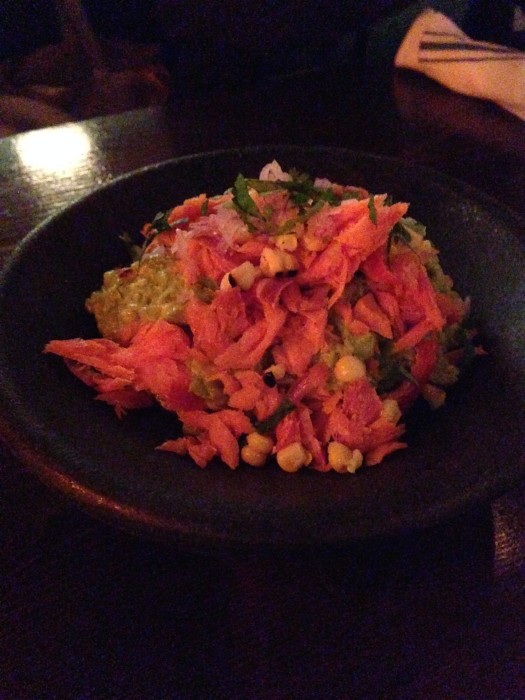 For my main course, I had a Mexican chop salad with plenty of avocado.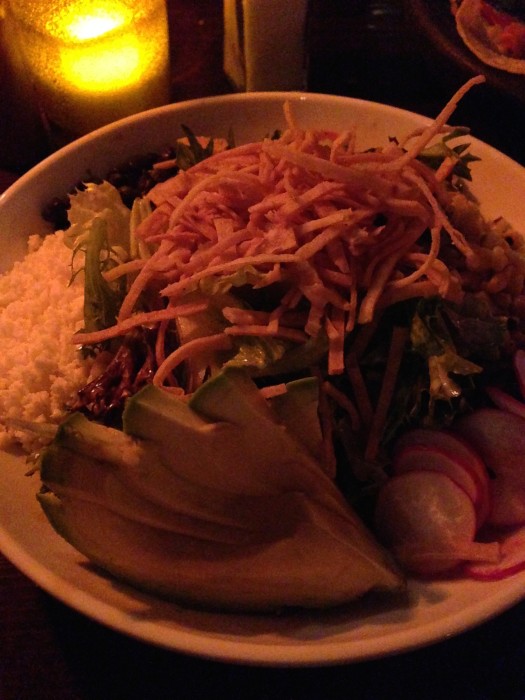 Thursday morning, I rolled out of bed quite early to drop in to a 6:30am class at Xplore Crossfit, which was literally .1 miles from our AirBnB.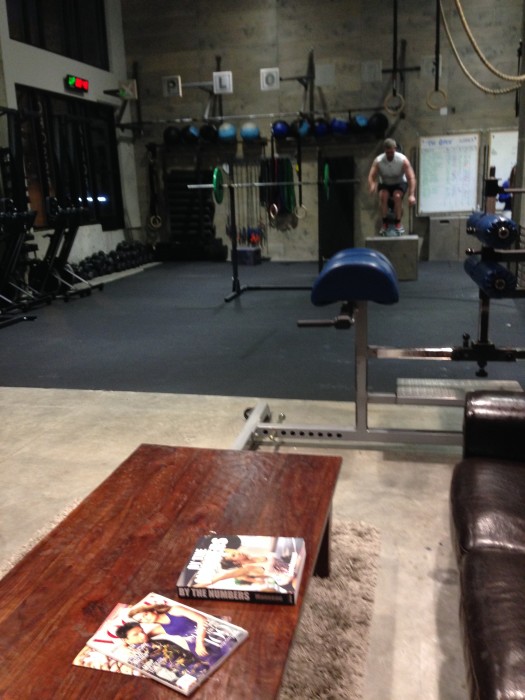 Xplore Crossfit has 2 locations—one downtown, and one in Capitol Hill, which is newer. The gym was a bit small, but really nice, with new-looking equipment. (My gym at school is literally in an old bunker, for comparison.) Everyone was friendly, and we had a small class that morning.
For the workout, we spent 10 minutes finding a 1 rep max strict press. I think I got to maybe 80#ish? They worked in kilos so it required quite a bit of mental math! The WOD was a 20 minute AMRAP of 10 push presses (55# for me), 10 ring rows, 10 toes to bar (I did about half as T2B and half as knees to elbow—also, the pull ups bars were SUPER high!), and 10 over the box jumps. I finished I think just over 5 sets? It felt so good to get a sweat on to start my day! I definitely get grumpy when I don't exercise in the mornings.
Breakfast was super delicious. We bought food at the grocery the previous night, so I had some whole milk yogurt with berries, (packed) sunbutter, and gluten free vanilla cereal.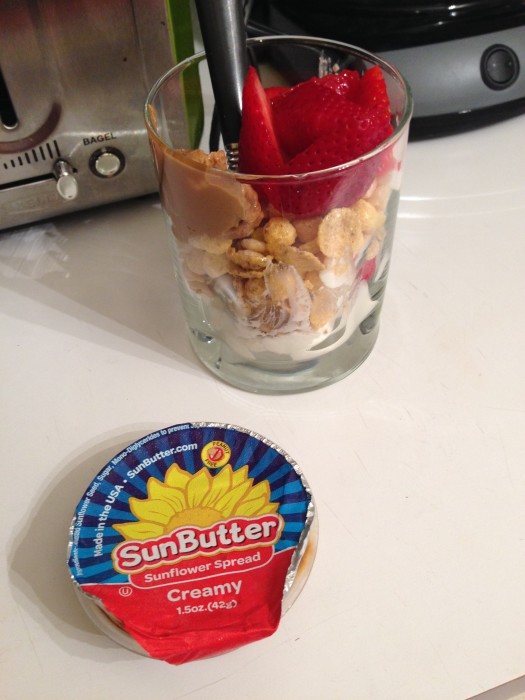 Next on the agenda was Pike's Place Market and COFFEE.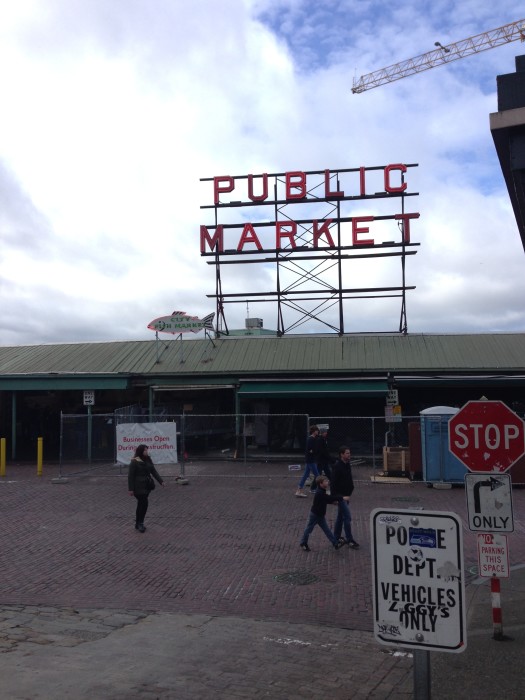 On the way to our coffeeshop of choice, we picked up pastries. I found a stand with tons of gluten free goodies, and mixed up the most amazing lemon blueberry muffin. It didn't look like much, but it was bursting with lemon flavor and the texture was on point!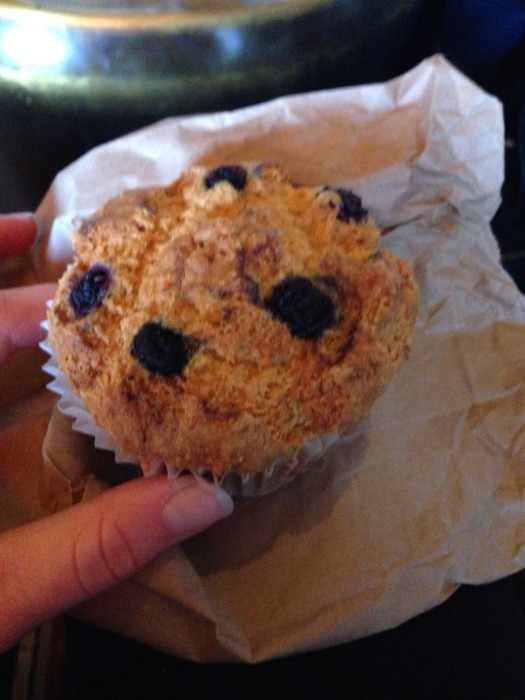 I think this may have been my favorite cappuccino of the trip. I can't for the life of me remember the name of the coffeeshop though! (Edited to add: it was called Storyville!)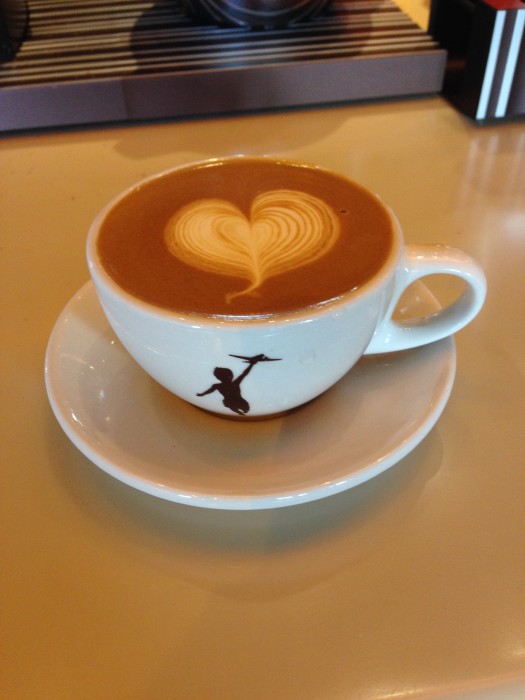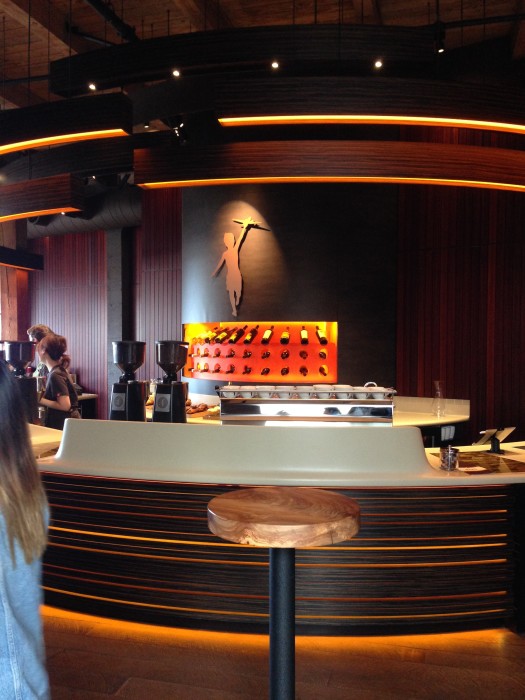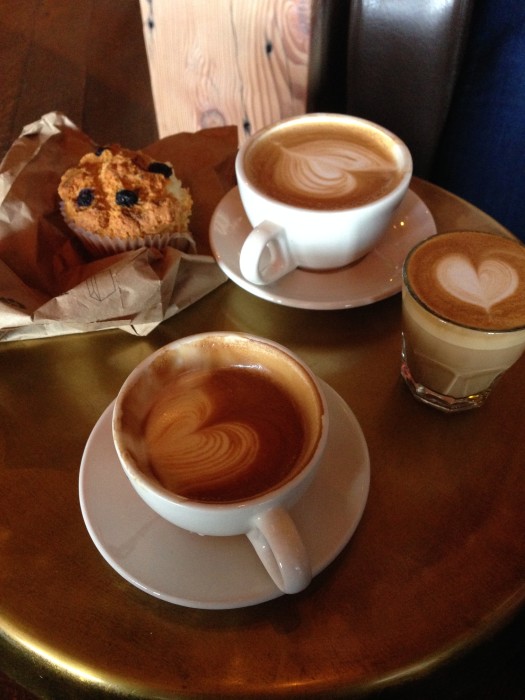 This was a great moment. Good coffee, good food, even better people.
Then, it was time to explore the market (and watch flying fish).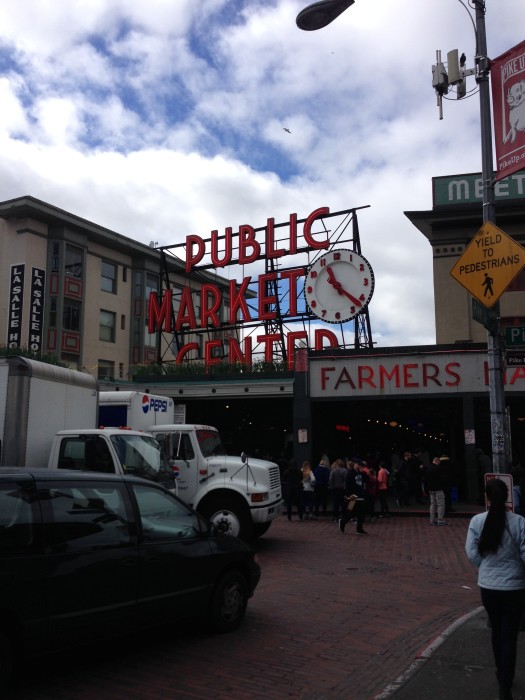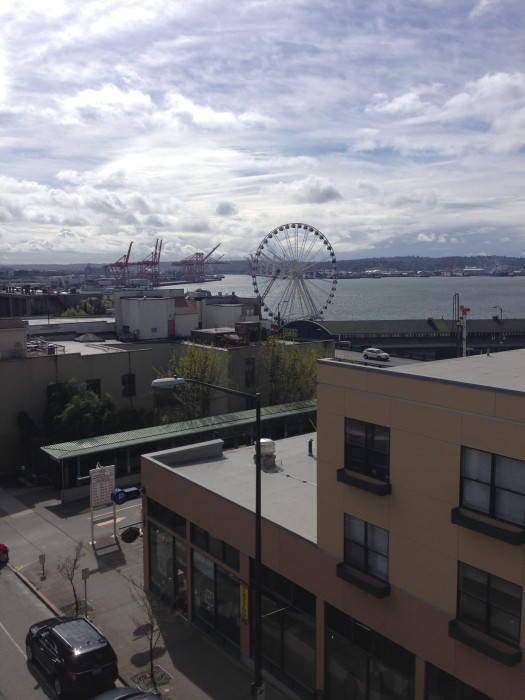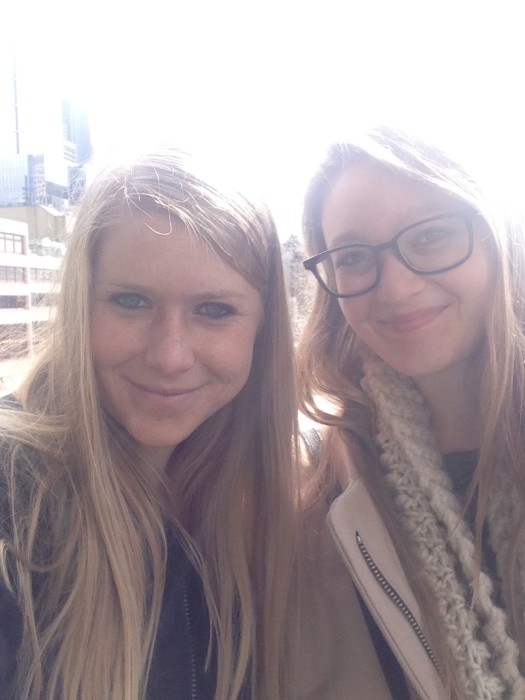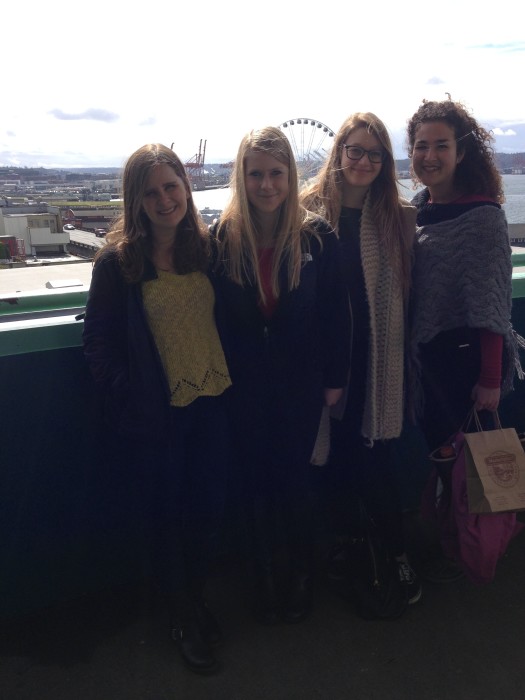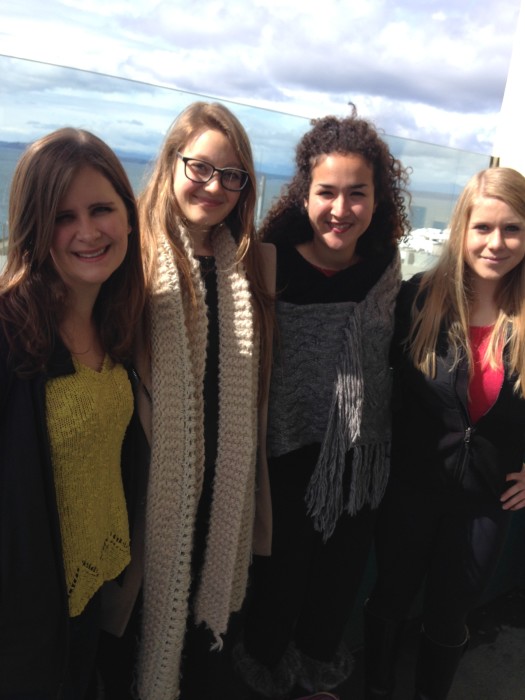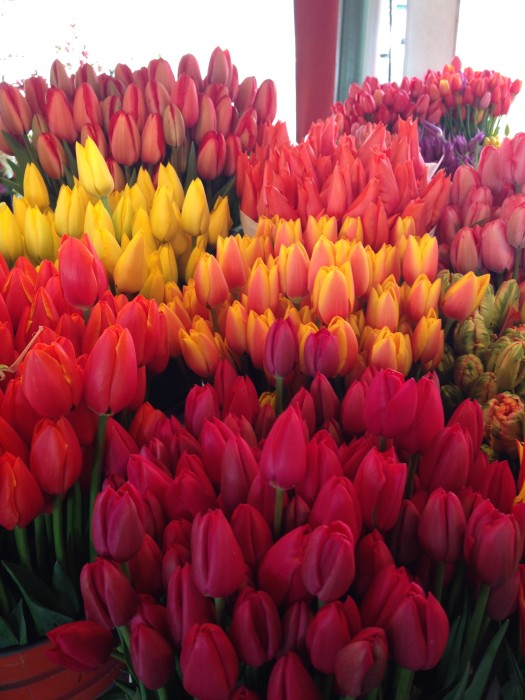 At the fish place, they gave out samples of smoked salmon, and this self-proclaimed disliker of smoked salmon was won over. We tried several delicious types, but went with the original. We decided to buy a pound to split for lunch, and enjoyed it picnic style alongside some of the other goodies we found: cheese and amazing apples.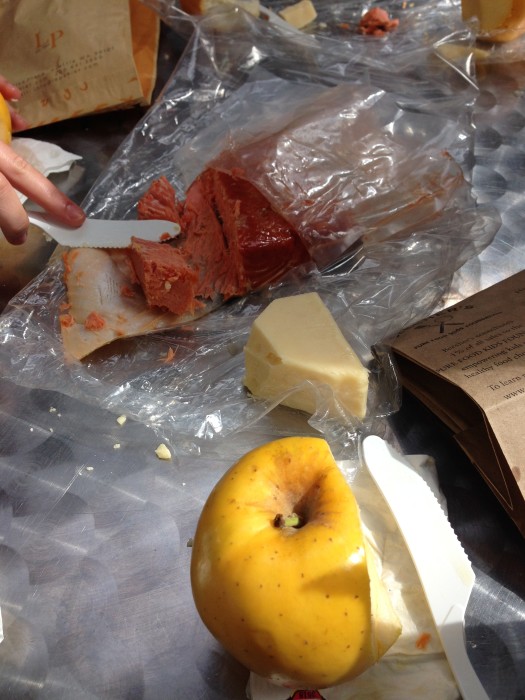 After shopping around downtown for a few hours, we wound up in the coffeeshop near our place for some study time.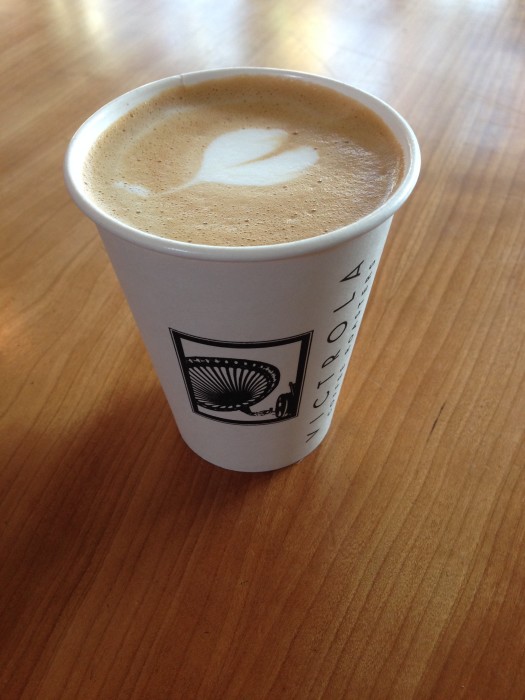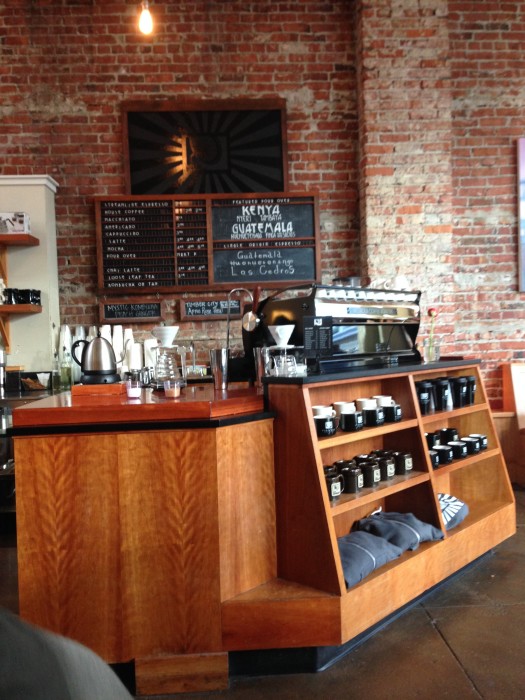 Victrola was my second favorite cappuccino of the trip! They also had kombucha on tap!
Dinner that night was delicious, and I take full credit for picking it out! We went to The Gnocchi Bar. It was mainly a gnocchi restaurant, and you could choose any of the dishes with regular, sweet potato, or GF gnocchi. I love gnocchi, and this was amazing.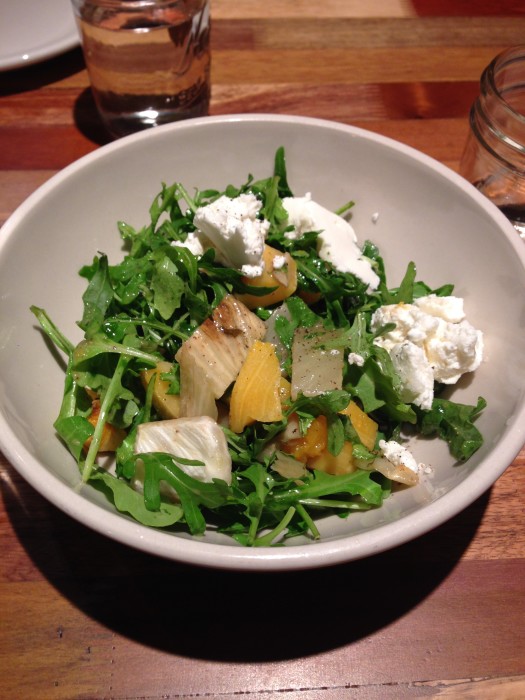 We started out by splitting a salad with roasted butternut squash, truffle something, and goat cheese.
And then decided to split 3 types of gnocchi to try some of everything!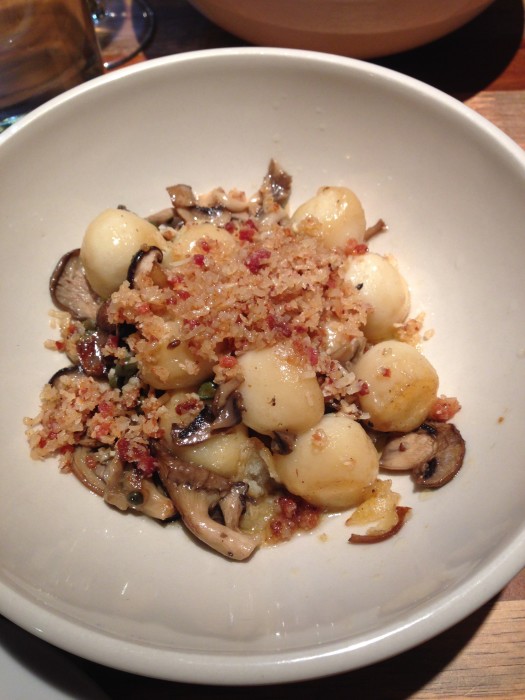 Gnocchi special that involved truffle and mushrooms, and possibly duck bacon but I avoided that part.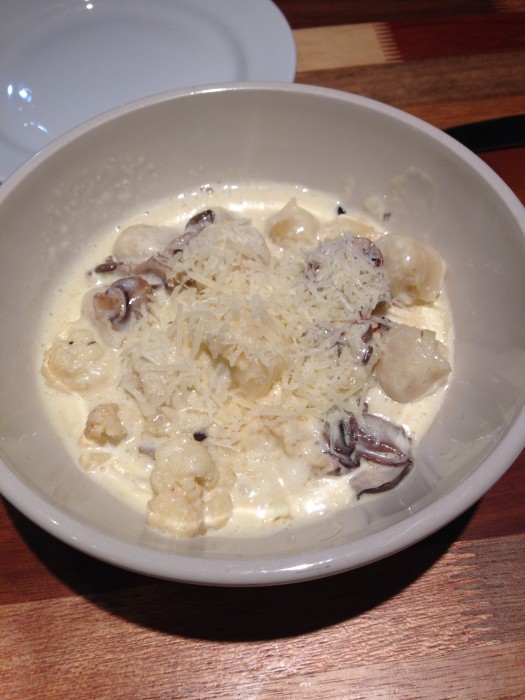 My favorite: creamy with roasted cauliflower and mushrooms.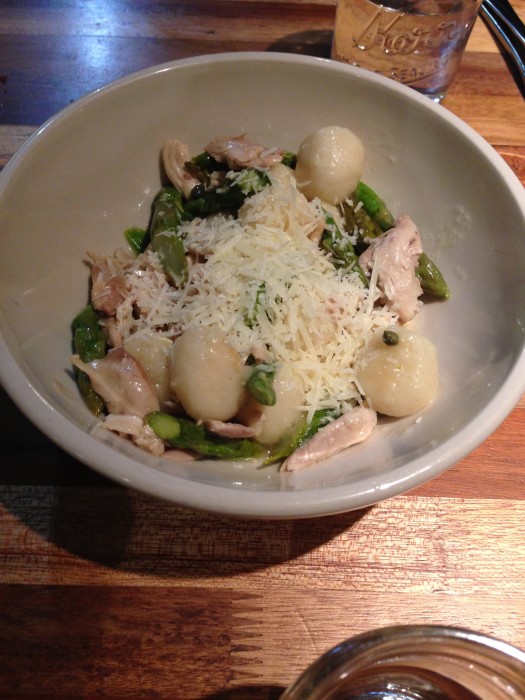 Apple cider sauce with chicken, asparagus, and parmesan.
Afterwards, we went out to Molly Moon's for dessert. The ice cream was good, but not gourmet quality. I had honey lavender, and was happy with that choice!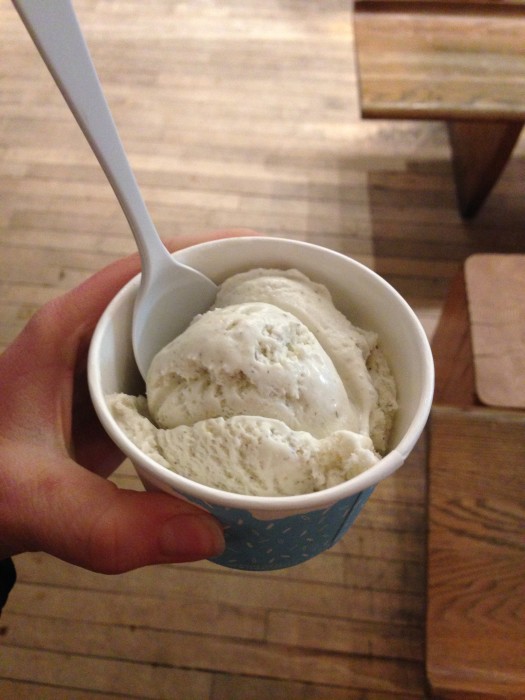 Friday morning I went for a run through Seattle. I followed a route I found on map my run. I was skeptical initially because it started off going into the grungy area, but the cute neighborhoods and views of the Space Needle that followed won me over!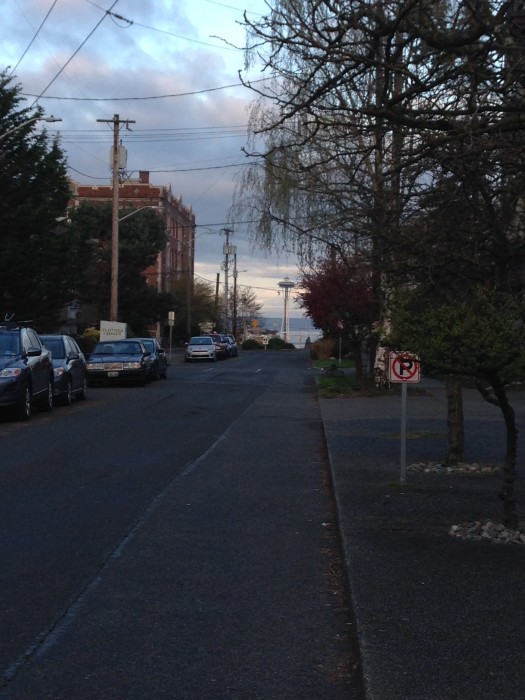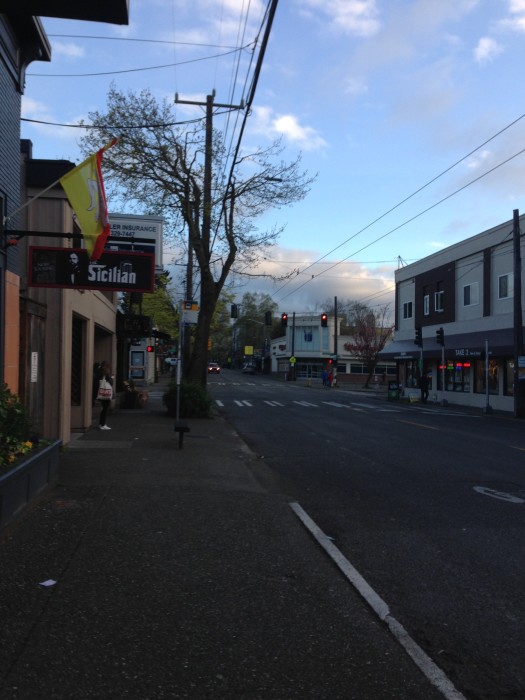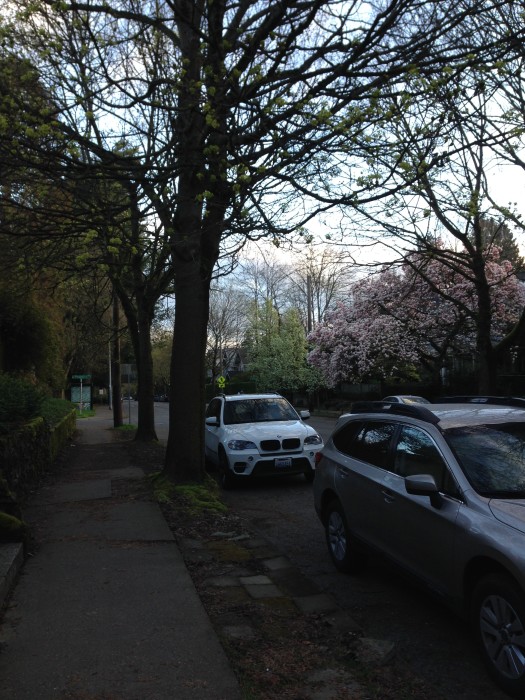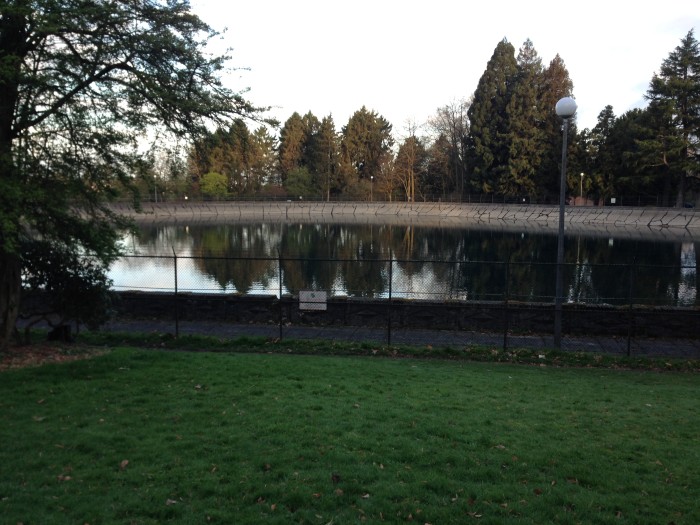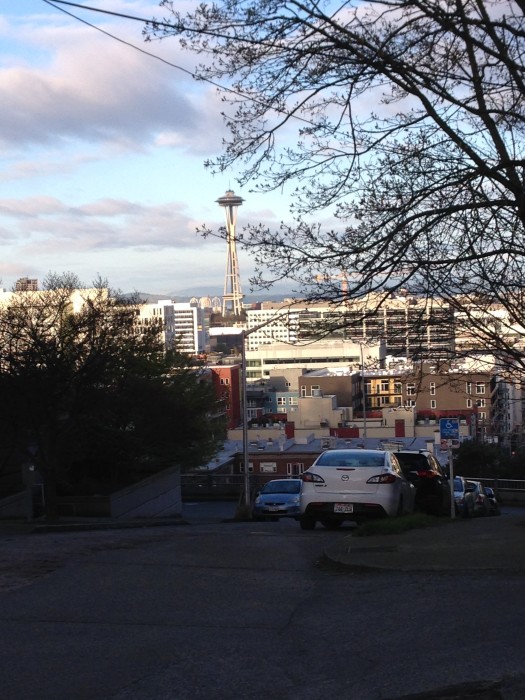 The rest of the morning was spent back at Victrola studying.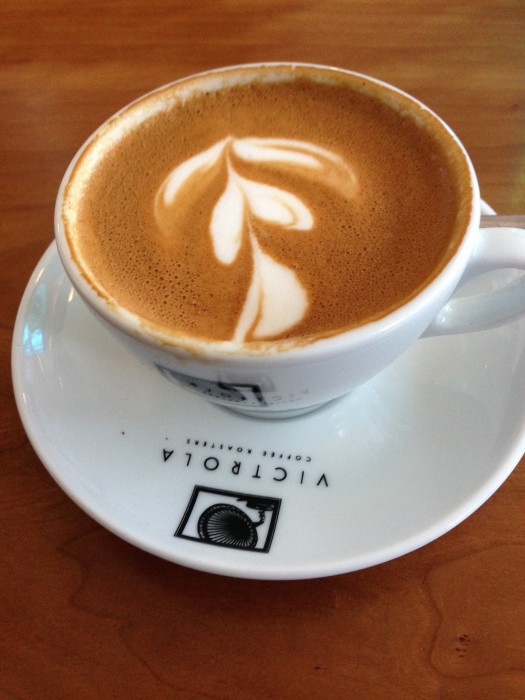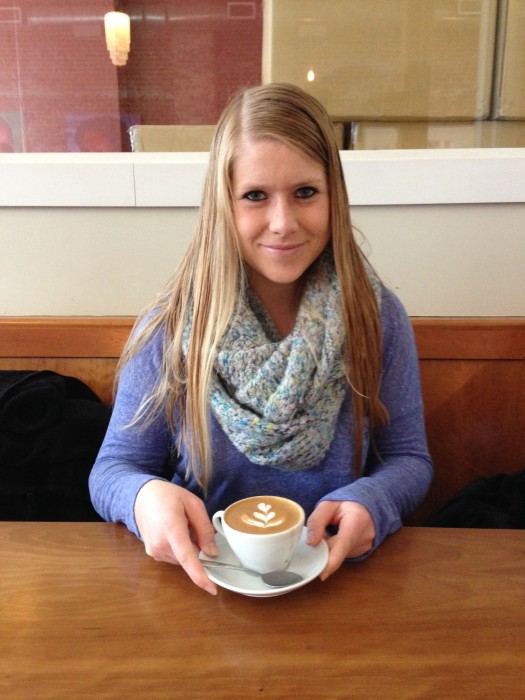 For lunch, we went to a place with Red Espresso! Red Espresso is made with roobois tea, which contains no caffeine and has an earthy flavor. We all oohed and ahhed over our lattes with a perfect drizzle of honey and sprinkle of cinnamon on top.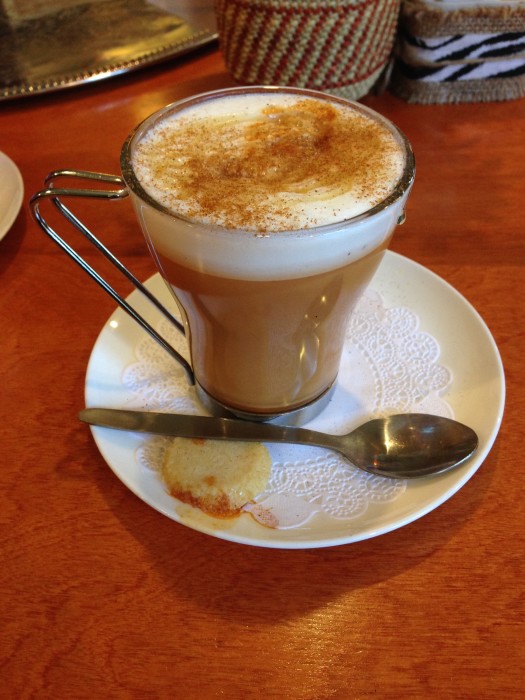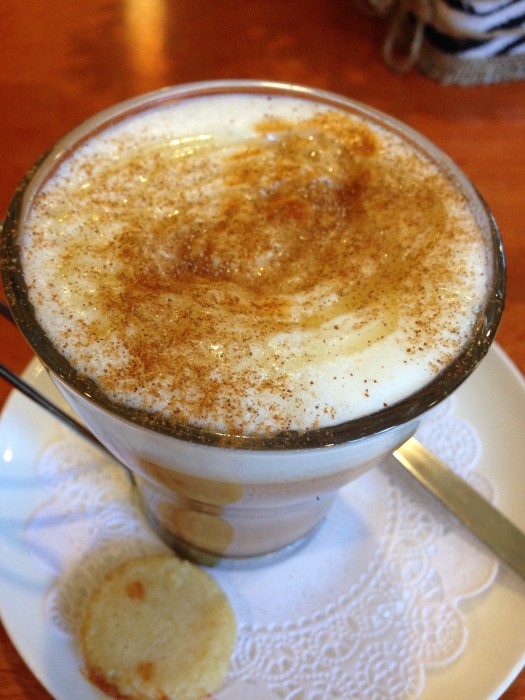 Roobois is South African, and the cafe menu included South African fare. I had a toasted sandwich (GF) with spinach, egg, and gouda.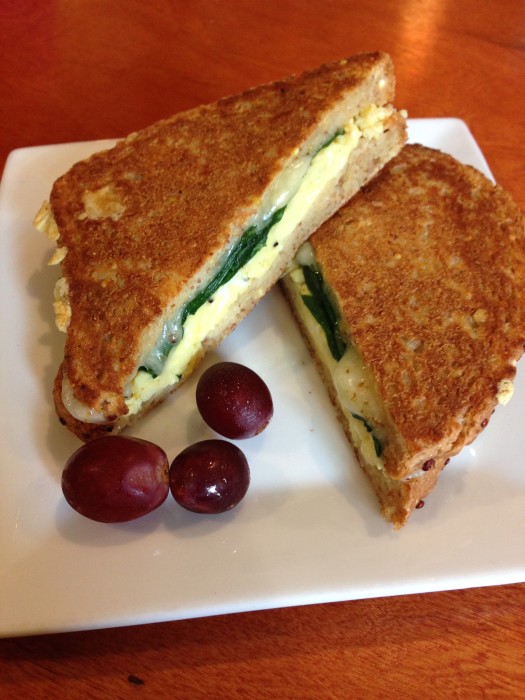 We then wandered around the area a bit, stopping in at a chocolate shop for a rosemary caramel (for me) and brown butter hot chocolate (ridiculous).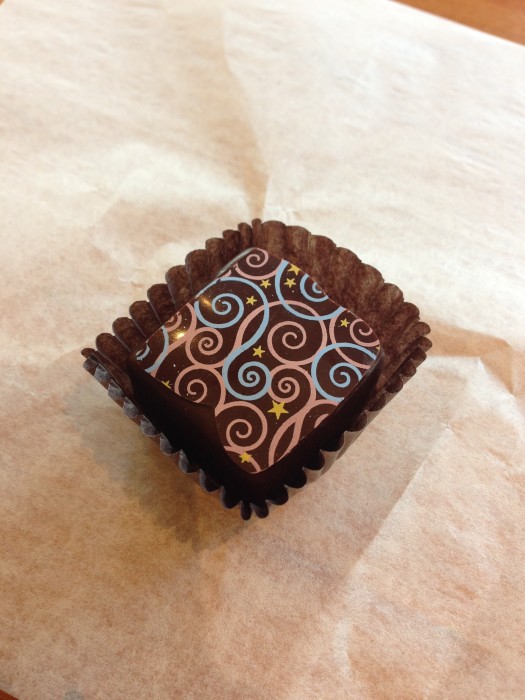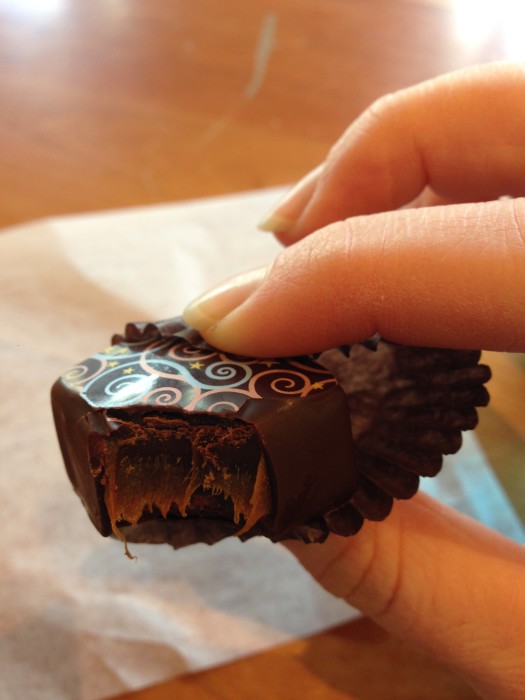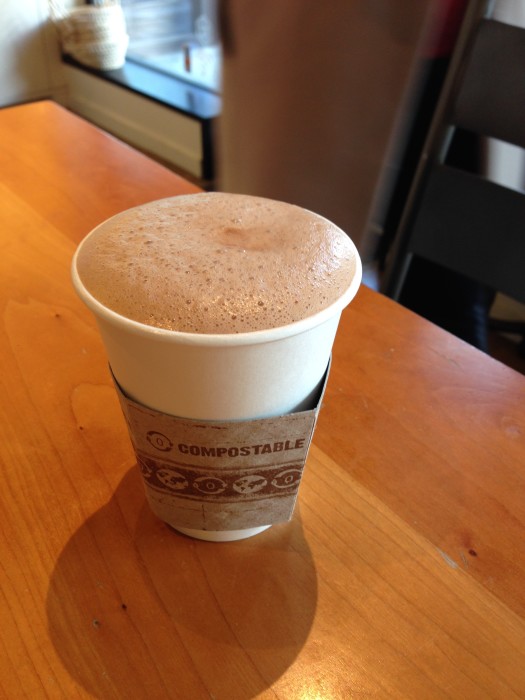 We didn't have much of a plan, but ended up wandering towards U District, making it to Fremont before we Ubered to Slate in U District.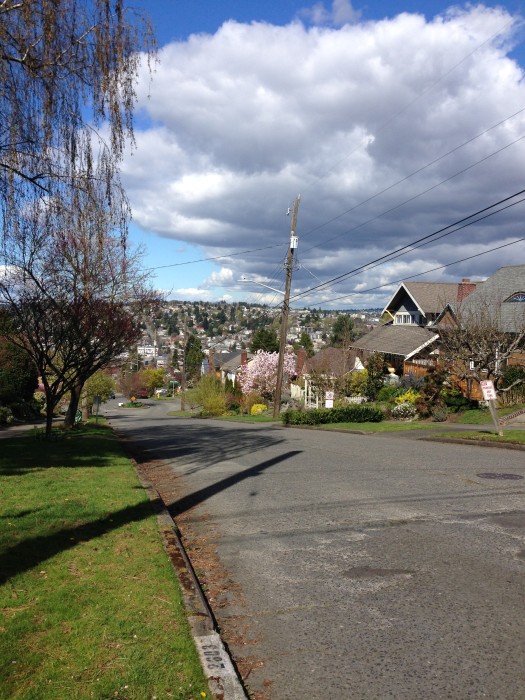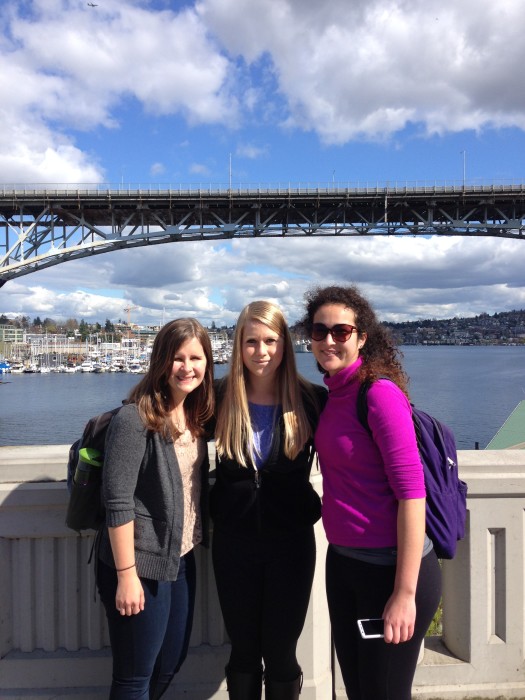 Slate is an extremely high end (and sort of pretentious) coffeeshop.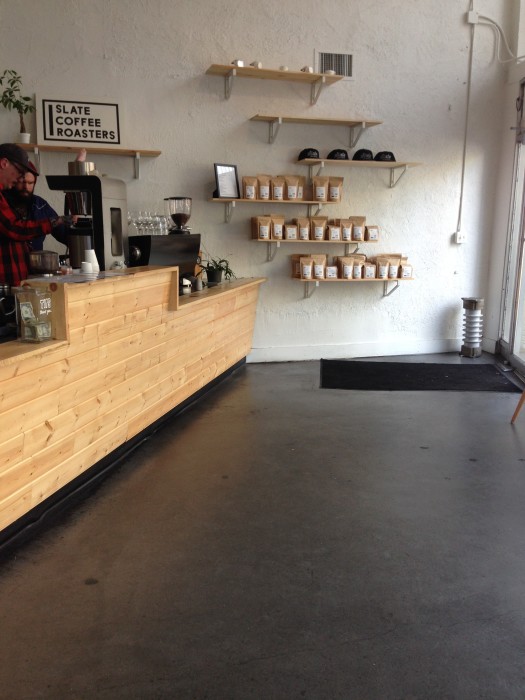 They absolutely know their coffee. They also use super high quality raw milk. The special, which I of course had to try, is a deconstructed latte. The espresso and milk are served separately to try each, and then a mixed version is served to try together. You drink them in a specific order: espresso, milk, latte. I had decaf, which had notes of raisin and maybe caramel? (According to the barista—I do not have the espresso prowess to determine that!)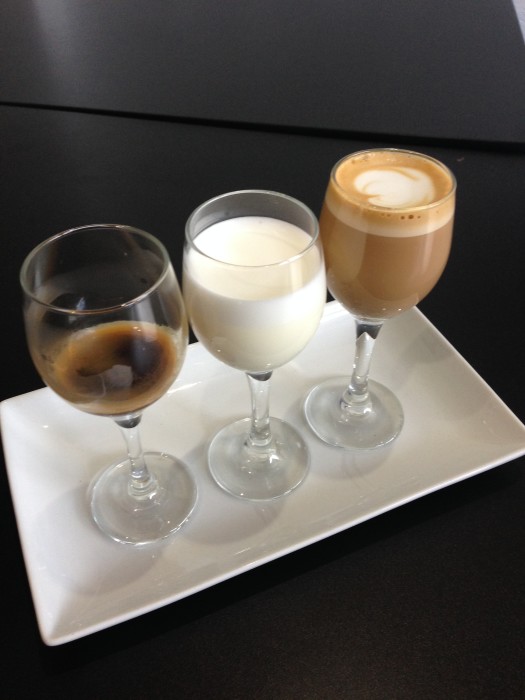 I actually really liked the espresso—it's such good quality that it's not bitter exactly, and is crazy smooth.
To continue our liquid tour of Seattle for the day, we Ubered back to Capitol Hill for Capitol Cider. It's an all gluten free restaurant with a ridiculous number of ciders. I tried the blackberry, and enjoyed it a lot!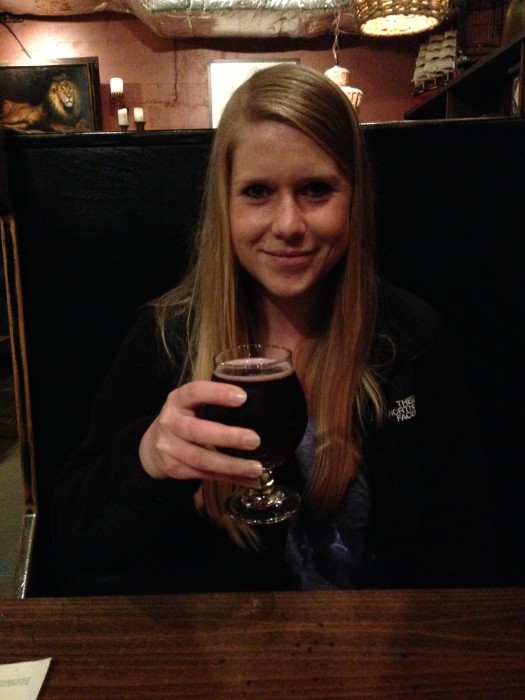 We split a grilled vegetable salad with burrata to start.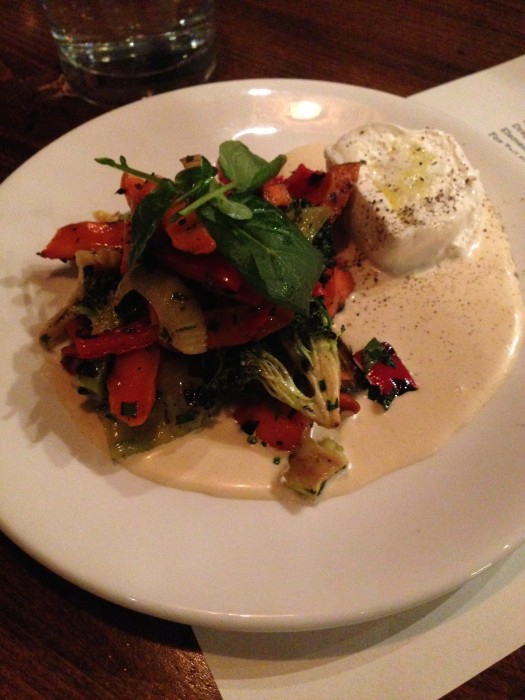 And for my main dish, I had roasted chicken over a fennel bread pudding.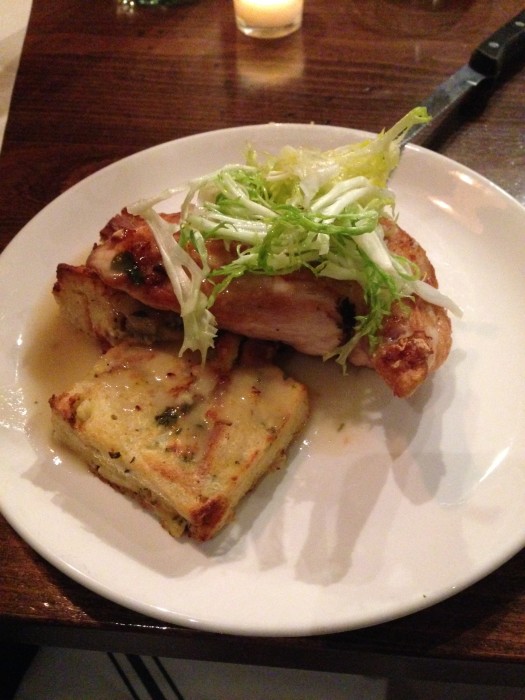 For dessert, we shared an oat/cheddar apple crumble served with orange cream sauce.
We spent the rest of the night exploring what Capitol Hill had to offer.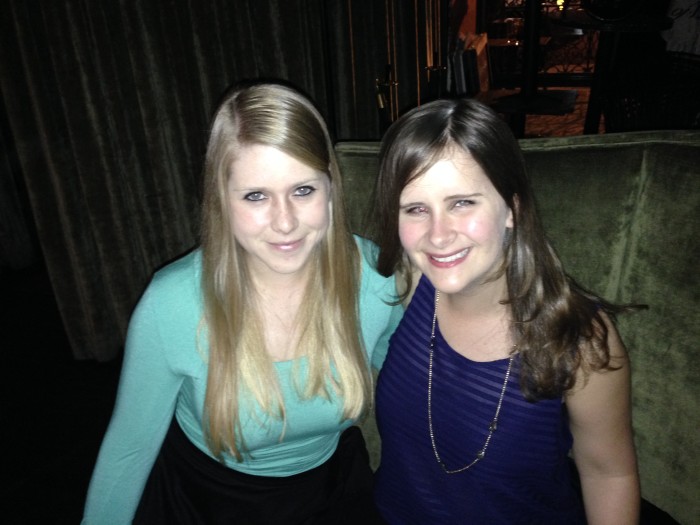 On our last morning, before we headed to the airport we walked about a mile to brunch in the Broadway area.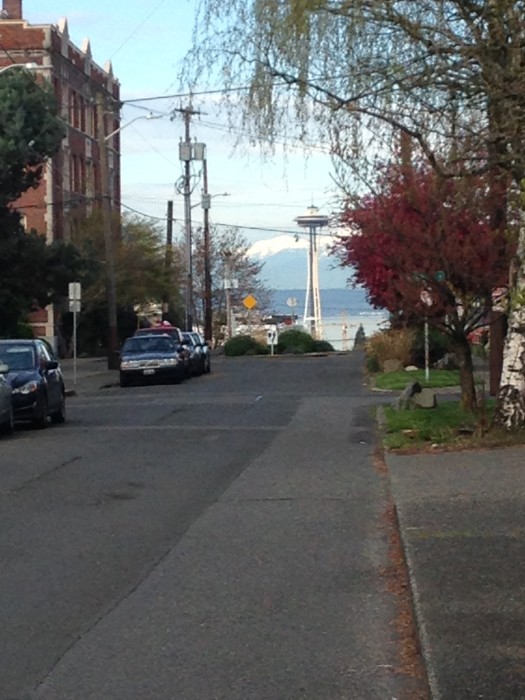 We went to Coastal Kitchen, and I ordered an omelette with goat cheese, caramelized onions, and sage. I was a big fan of the sage! On the side were smoky hash browns.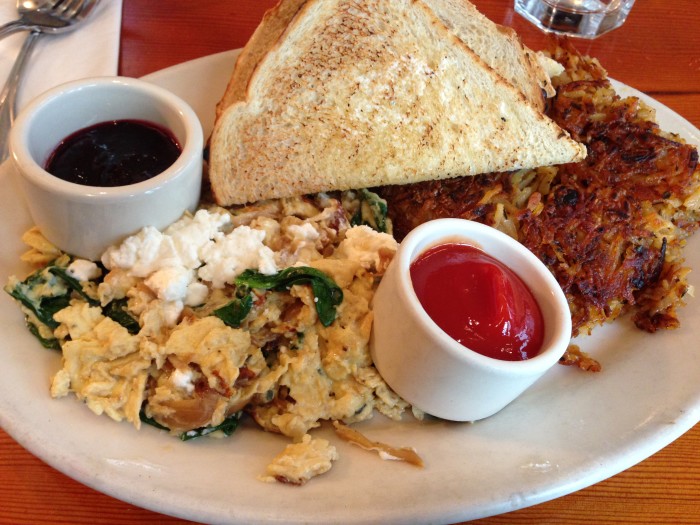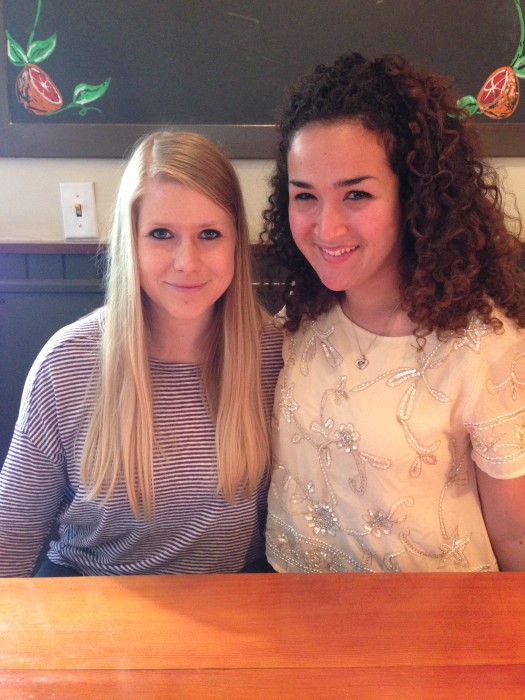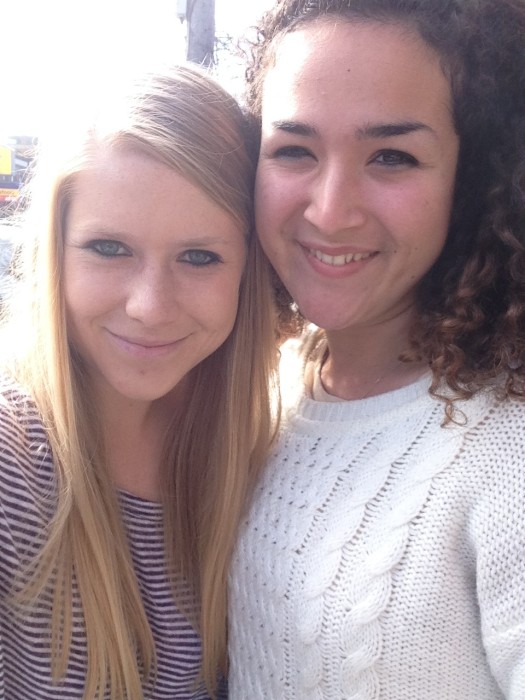 Before heading to the airport, we had one more stop on the list. We lucked out, and it was literally 2 doors down from Coast Kitchen. NuFlours, a gluten free bakery!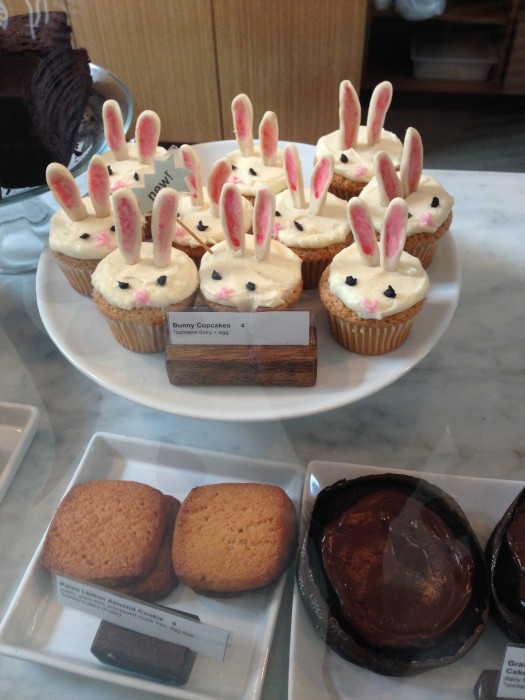 Everything looked amazing, and it was so hard to choose! Ultimately I went with a blueberry muffin (a classic), and my friend and I shared a piece of sweet potato coffee cake.
Overall, the trip was amazing. This really was a food and coffee tour of Seattle!