Even though it's Blogmas, real life is still going on! I wanted to share some things from non-Blogmas life. So let's do it!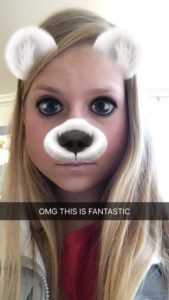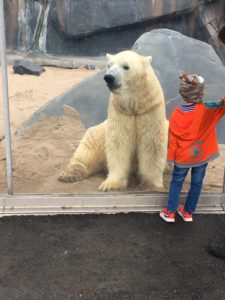 Am I Kali yet?
One of my best friends ever from college came to visit! She lives about 2 hours away, and I recruited her here to help with Blogmas. So look for that post next week 🙂
The first thing on the agenda was to take a trip back to our college campus to have dinner with our 3rd roommate from last fall. It was nice to catch up, and I don't think I've had guac in like 6 months.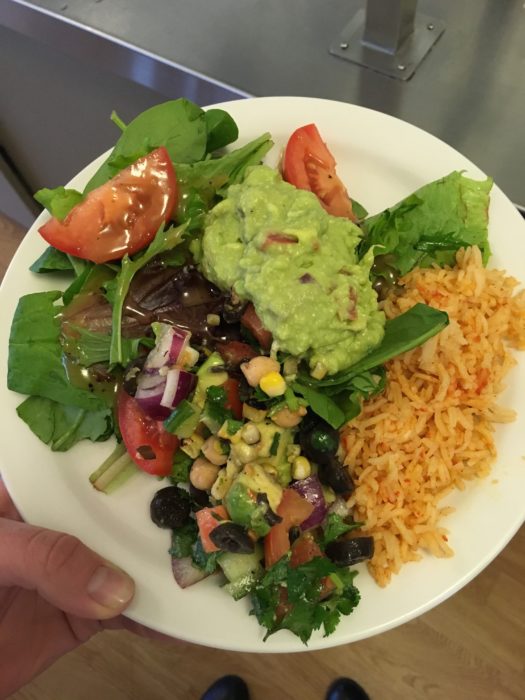 On the way home, we stopped at Zest, a GF bakery near me. I needed a cupcake for my Blogiversary, after all. She has a gluten intolerance, so had no problem with that stop. We shared an amazing warm cinnamon roll and lemon poppyseed loaf.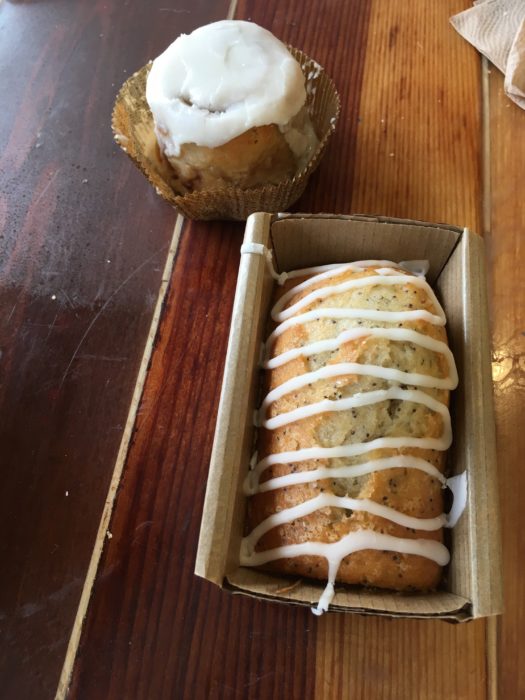 We weren't sure what to do for the rest of the rainy afternoon, and found ourselves in the mall. A Sephora recently opened there. They apparently have some type of technology where the computer scans your skin tone and finds the perfect shade of foundation of lipstick for you, and then you can "try it on" on a computer screen. A few of my friends have had fantastic lipstick success, so I wanted to try it out to find a shade of red lipstick. Even though I've never worn lipstick before. Go big or go home, right?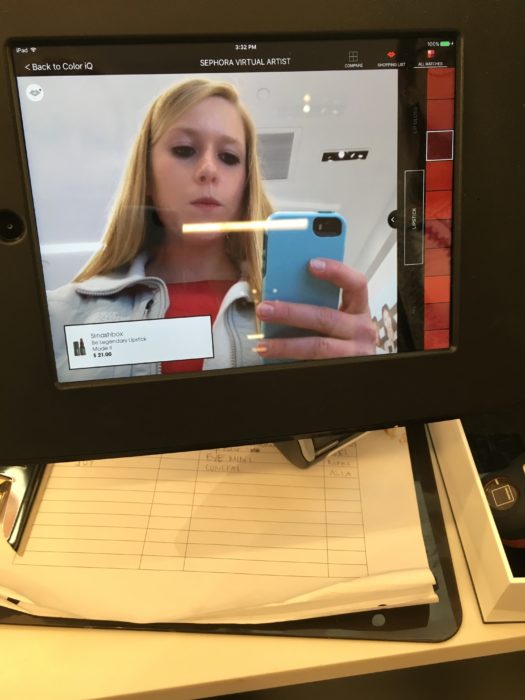 After the mall, we made dinner, which will appear on Blogmas in a few days! I'm kind of crazy pumped about it.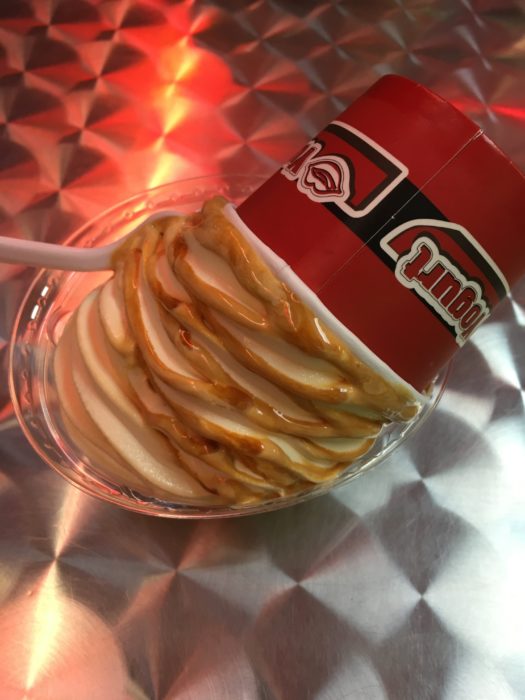 That evening, we trekked 20 minutes south to see some other college friends, and so I could introduce them to Yumi Yogurt, a classic froyo place in this area. I got butterscotch! We ended up heading back to their house and chatting until late into the night. So good to be reunited!
My college friend/roomie is fantastic, and if you've been reading for a while, you may remember she has an orchard with incredible persimmons. I had my first persimmon in many months, and I'm so excited. Apparently Chloe is too.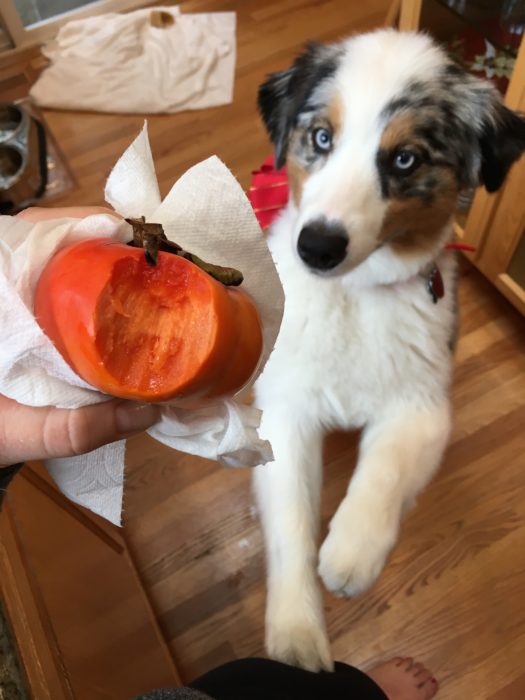 We decided to spend the day (post-rush hour traffic) in San Francisco. It was so good to be back there. We went to the Ferry Building, which is one of my favorite areas (I love the Embarcadero). It was typical San Francisco weather.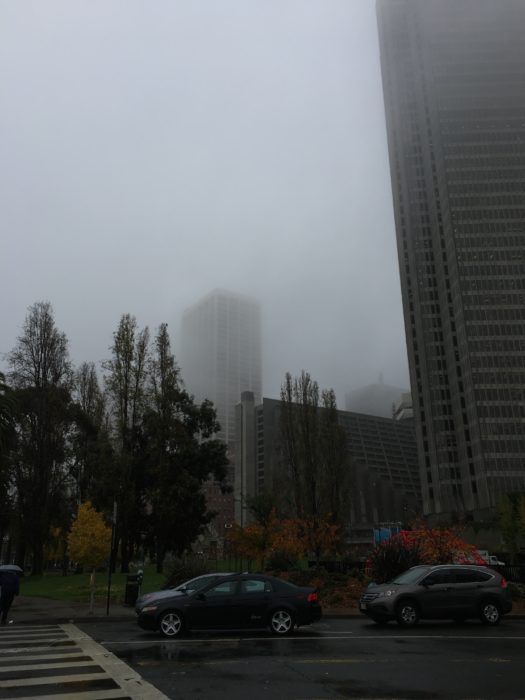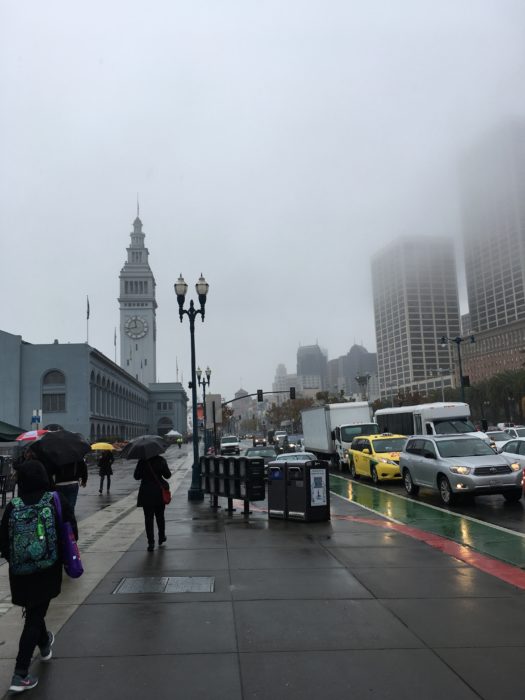 The Ferry Building has an amazing farmer's market on select days, and I had never been before on one of those days. Sadly, the farmer's market was pretty small this time of year.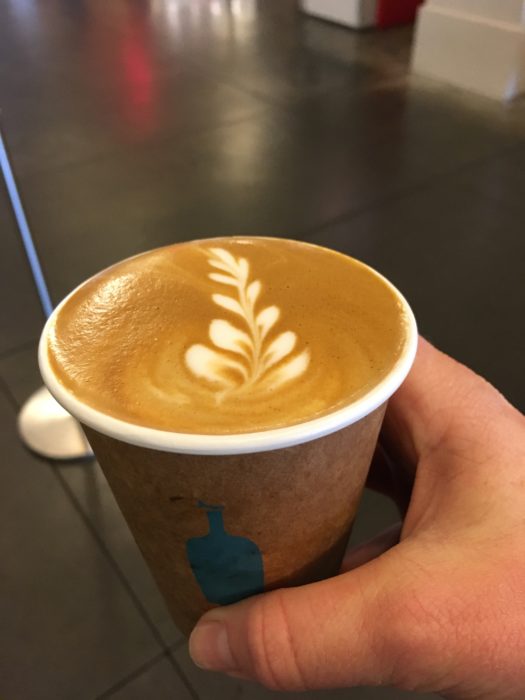 A (decaf) Blue Bottle cappuccino was necessary. I love quality coffee.
This area is so incredibly gorgeous at night too, with the Bay Bridge lit up.
We wandered in and out of the shops before grabbing lunch at Mariposa, the gluten free bakery. I had an incredible turkey, cheddar, and cranberry sandwich.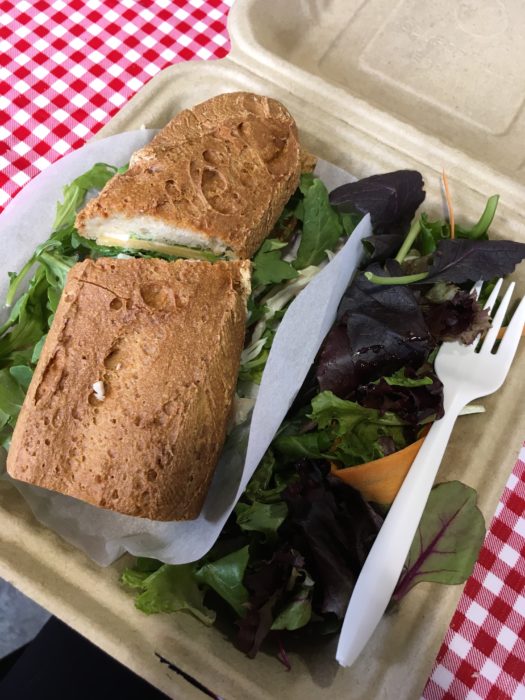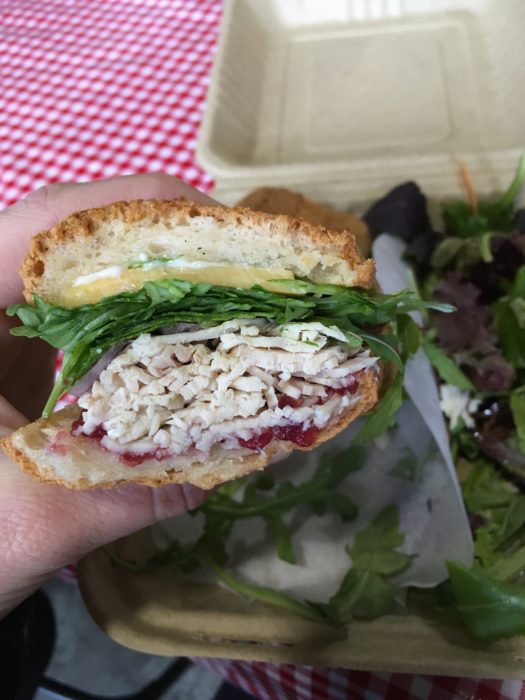 The entire time I was eating this, I kept saying, "I missed CA food so much."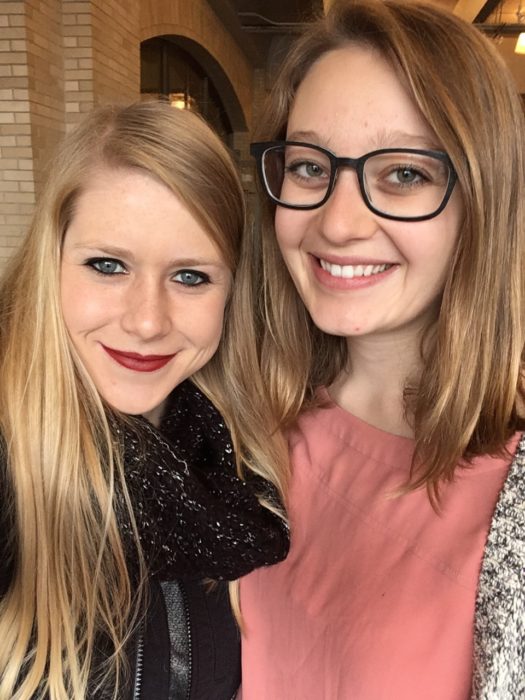 Next up was one last coffeeshop that we had been meaning to try. I had a (decaf) cafe au lait for the first time, and it was nice and milky!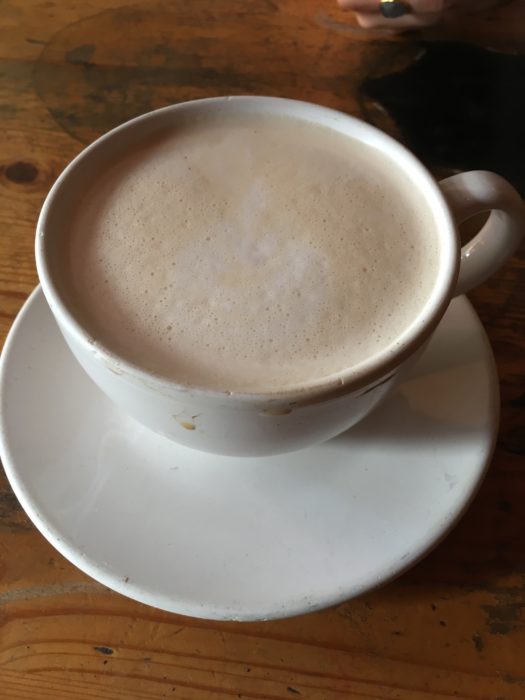 We beat rush hour traffic on the way home, and watched Friends for a while, before cooking dinner. Another Blogmas feature! (Although granted, less exciting than the previous night.)
Dessert was another form of persimmon: persimmon sauce (like applesauce in the slow cooker) with vanilla frozen yogurt and an oatmeal cookie crumbled on top.
Friday morning before my friend woke up, I went to 6am Crossfit and it was a good and tough one, but I'm really happy with how I did. We did our 20 rep set of deadlifts, which I did at 150#. It actually felt better than last week's 145# so I guess I'm getting stronger? The WOD was TOUGH. 20 minute AMRAP (yuck) of 5 power cleans at 95#, 10 toes to bar, and 15 wall balls. I was determined to do toes to bar because they definitely need work. I considered scaling the cleans, but 95 really isn't that heavy for me, so I decided I just needed to suck it up and do it, and it was definitely the right decision. I wasn't the fastest in the class, but I'm still proud of Rxing this workout. I got a bit over 6 rounds in.
For breakfast, I had an amazingly right hachiya persimmon.
So ripe it was bursting!
I also tried a GF garlic bagel from Mariposa. Not bad!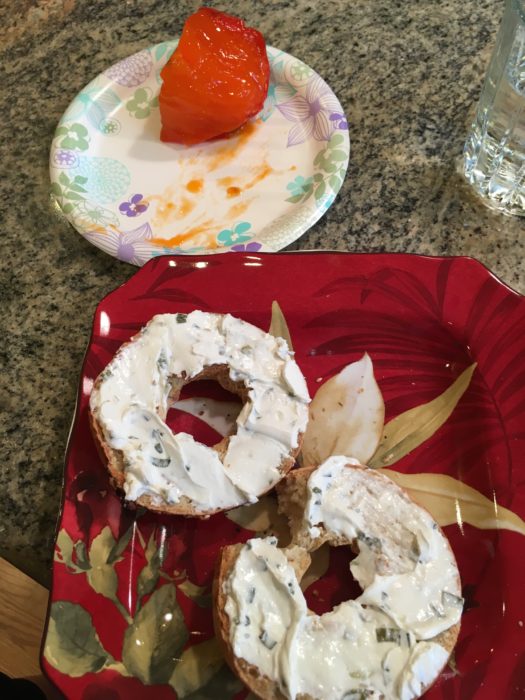 I brought my lunch to the library again to work on classwork, and of course it involved persimmons. Salad with cranberry chèvre, persimmons, and champagne vinaigrette.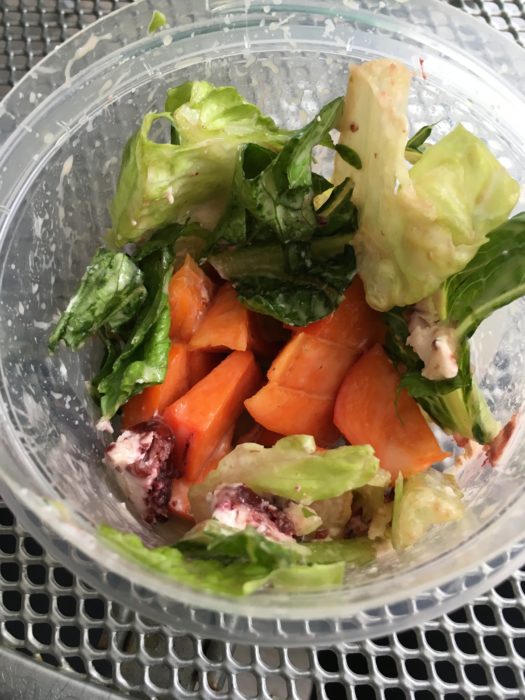 That evening was my dad's company Christmas party! I have never missed one yet. I decided to break out the festive red lipstick.
Before and after: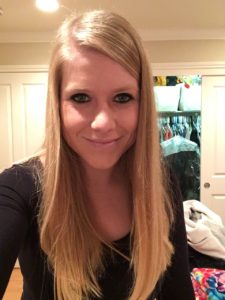 Family selfie!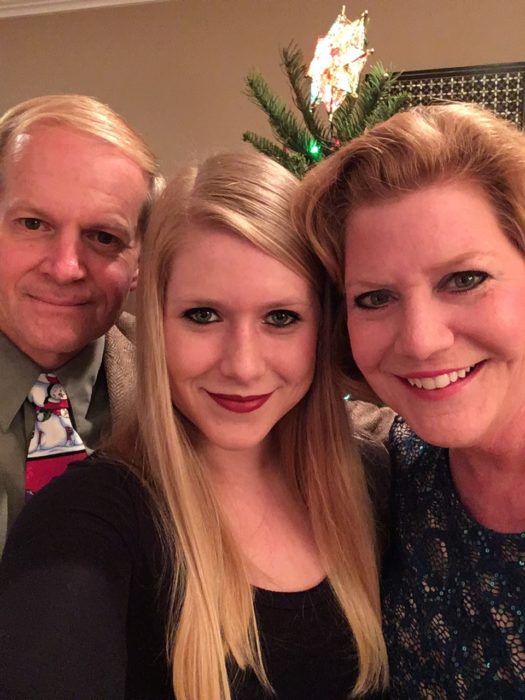 This is always a fun and festive event. It's crazy how much all the kids have grown up! (Me included, I suppose.) And I'm always on board for good food and wine.
Salad: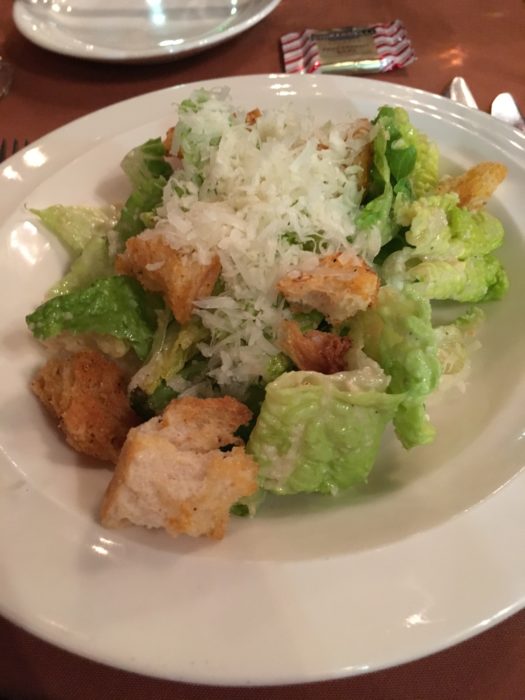 Dinner was family style. I had some cedar plank salmon that was absurdly good, rice pilaf, roasted veggies, mashed potatoes, and spaghetti squash.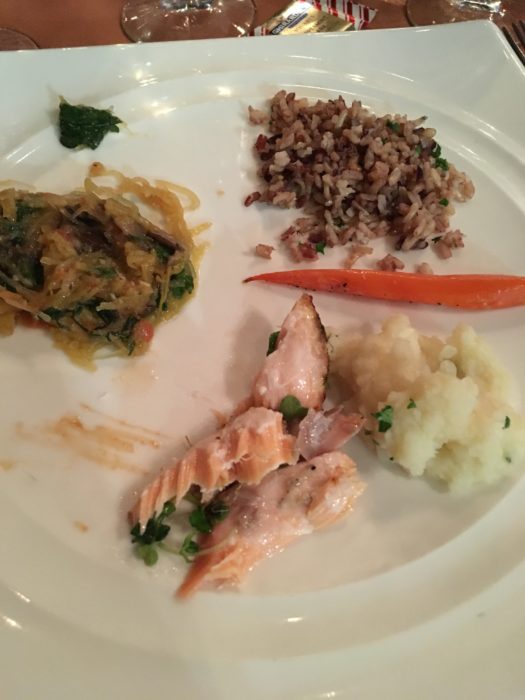 (The plates were absurdly large.)
Dessert: flourless chocolate cake with raspberry puree. YUM.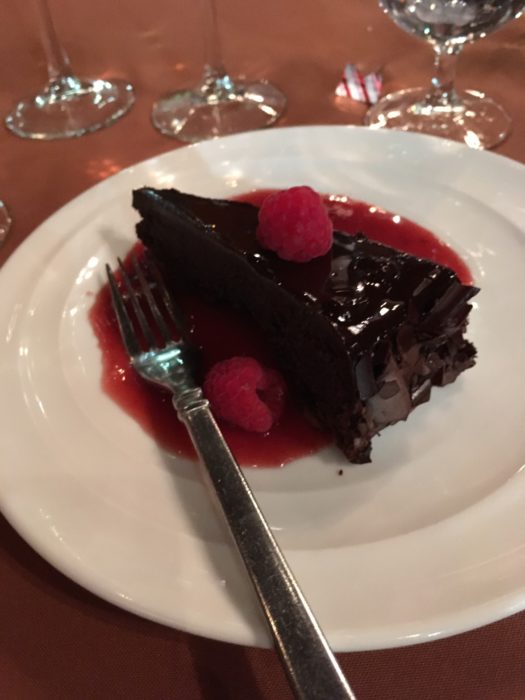 It was a fun night, and definitely a holiday tradition.
What's going on in your life?