Hello! I wanted to first talk about my squat program: the rundown of what I did+the progress I made. Then, we'll go through some meals from this week. First, a quick Monday highlight: my parents, friend, and I went to a San Jose Giants (Giants' A affiliate) to see Bumgarner pitch a rehab start, and it was a blast!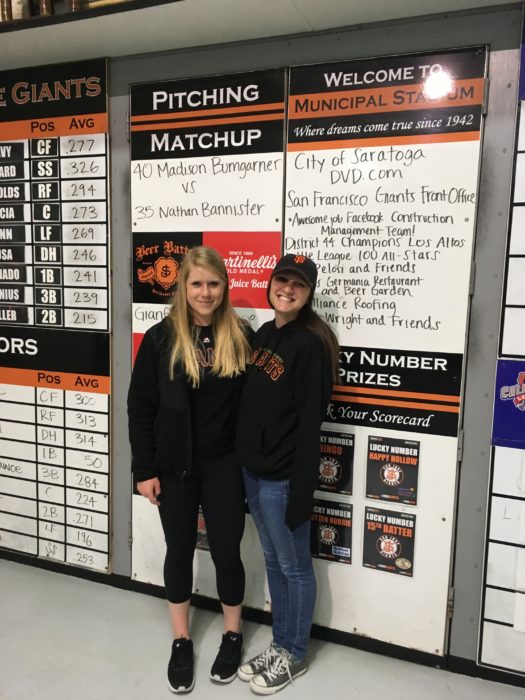 We got watermelon wheat beers and barbecue—chicken sandwich+coleslaw for me!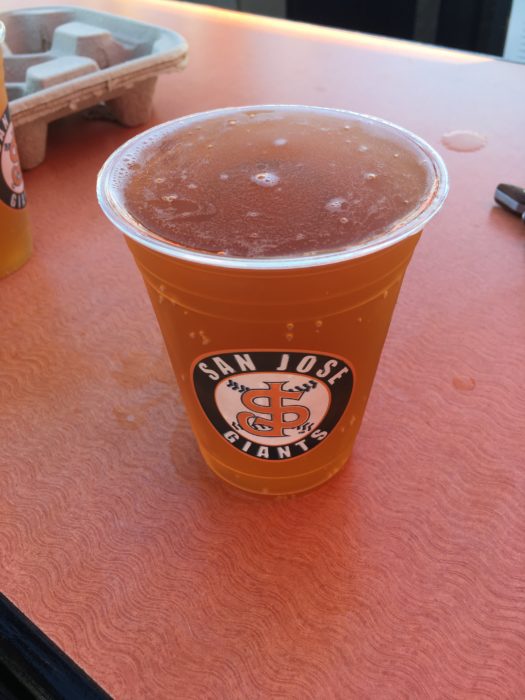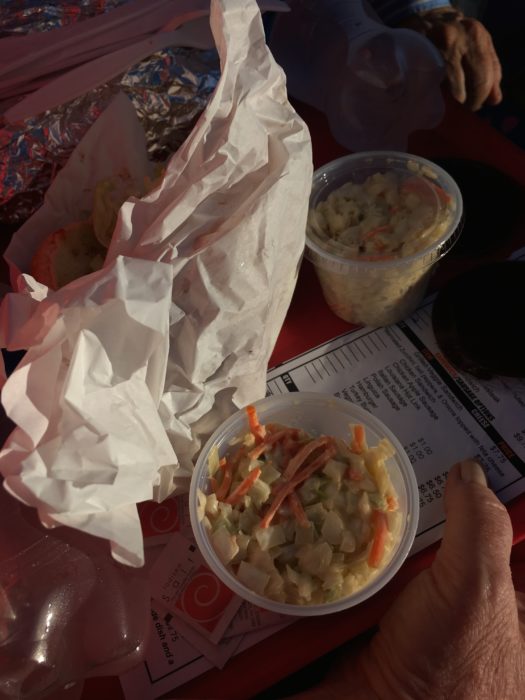 It was so much fun! I love baseball. Bumgarner did super well (1 UER), much better than last week's start which was 9 runs in 4 innings…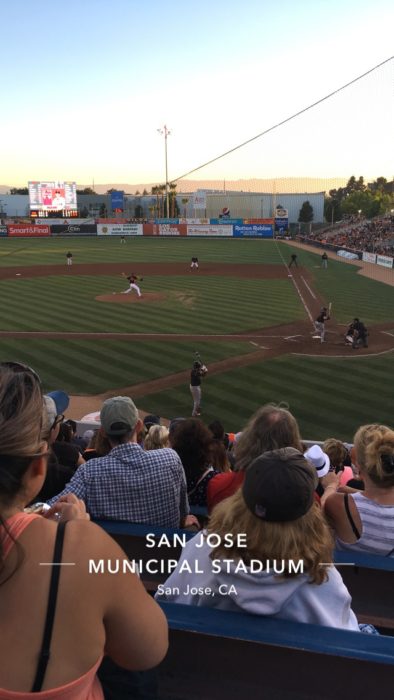 I finished the night with chocolate vanilla swirl froyo with sprinkles.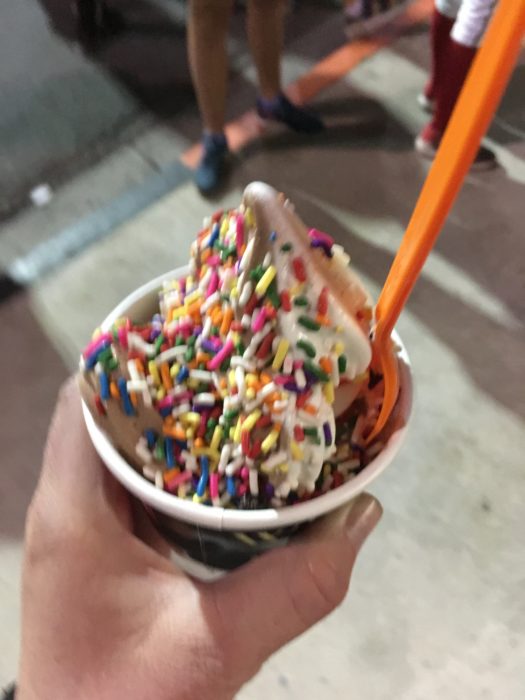 Now, onto my squat program!
Here's what I did, first. Listed as reps, then percentages at those reps, and then what weight I used.
1: 10-10-8 @ 70-75-80%, 135-145-155#
2. 8-8-6 @ 75-80-85%, 145-155-165#
3. 6-6-4 @ 80-85-90%, 155-165-175#
4. 4-4-2 @ 85-90-95%, 165-175-185#
I did a day of squatting with Crossfit (just whatever was programmed) plus one additional day of the above rep scheme a week. 1=week 1, 2=week 2, etc. Each week, I was building weight while decreasing reps. At the beginning of my program, at Crossfit we did max reps at 95%, which was 185# for me. I got 3, with the 3rd being a failed fail (I tried to fail but then got it up). Well, when I did the last day of my squat program last week, I shocked by how not terribly my 2 reps at 185# came up. Then, at Crossfit on Monday I had to do max reps at 185# again, but this time I got 7. What?? That's such a big increase over the course of a month! This squat program has been a lot of fun, and seeing strength increases like that makes it even more worthwhile. I'm planning on doing another cycle of the same thing, but with 5# higher each week.
And then, as promised, I have lots of food to share! Pop back in tomorrow for a new Quick and Easy recipe as well!
Breakfasts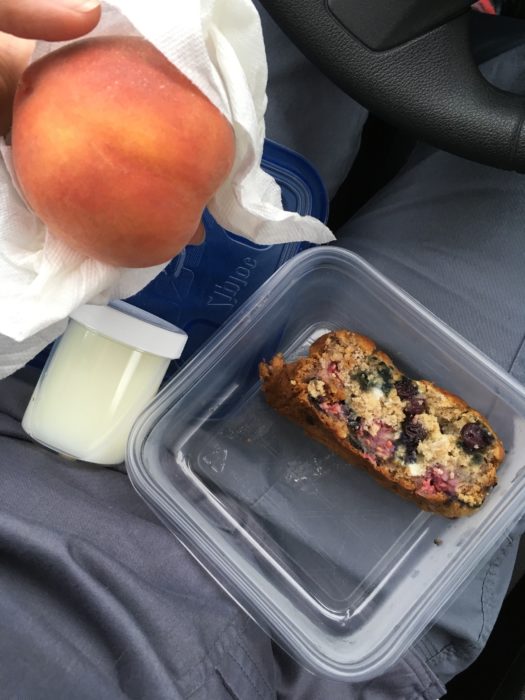 Leftover red, white, and blue banana bread with milk and a nectarine post-workout, pre-work.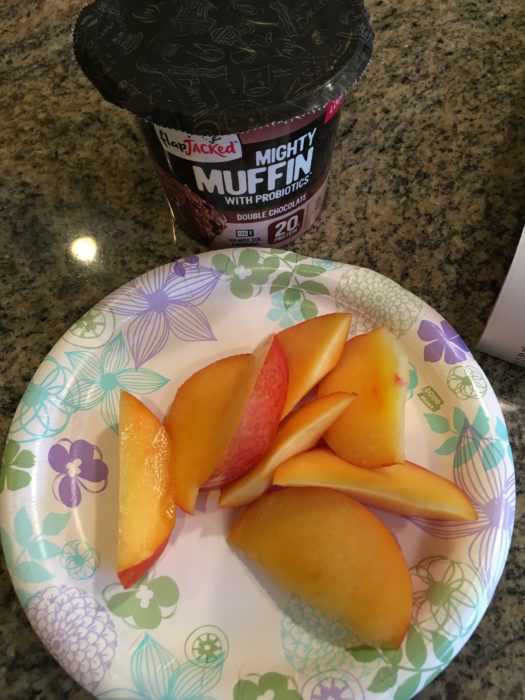 Flapjacked muffin with delicious nectarine. CA summer at its finest.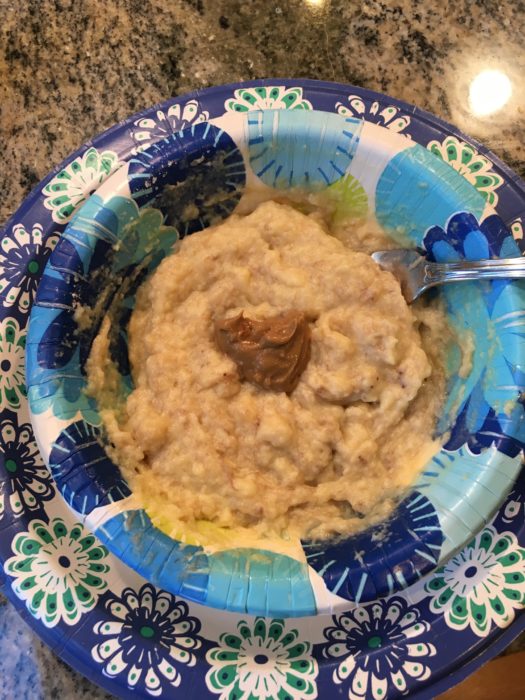 Microwave banana custard with a dab of sunbutter. I literally have not had this in years, but I was craving something protein-rich for breakfast so I went for it. Yum!
Lunches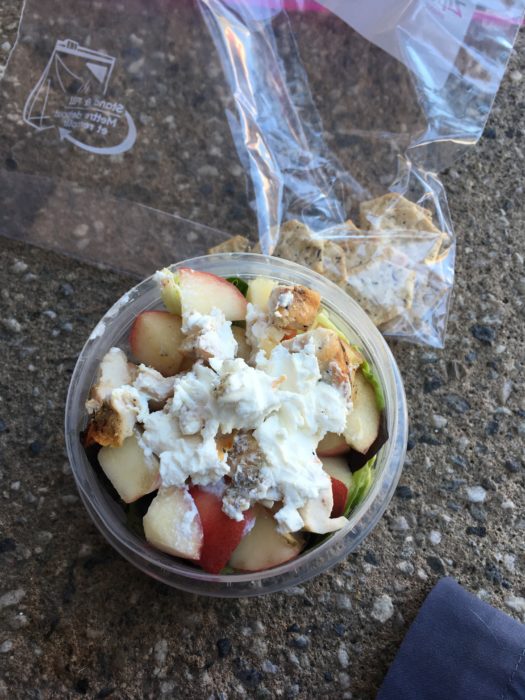 Nectarine, grilled chicken, and creamy goat cheese salad with a side of GF crackers.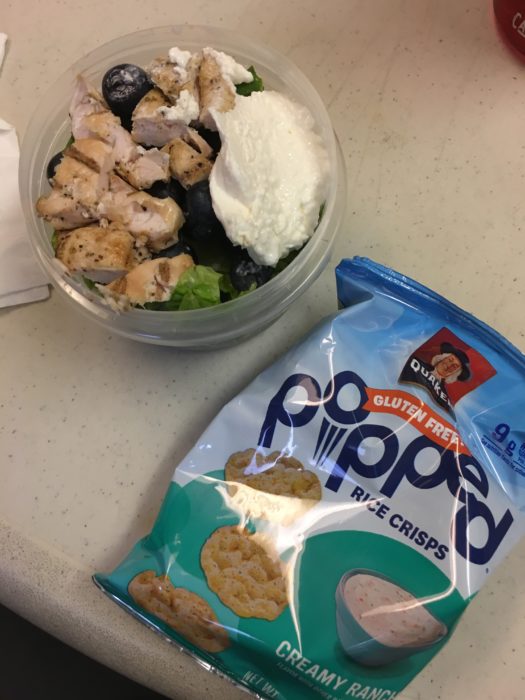 Grilled chicken, blueberry, and burrata salad with rice cakes.
Date and nectarine salad with goat cheese, light champagne vinaigrette, and a side of BBQ rice cakes.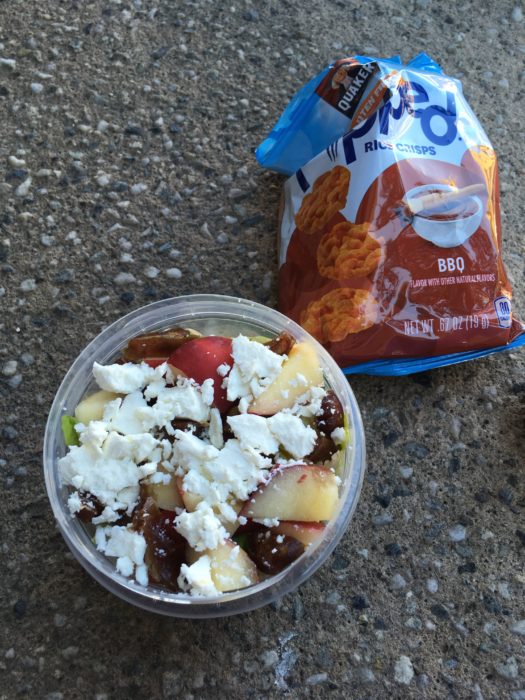 Same thing, but with white nectarine instead of yellow!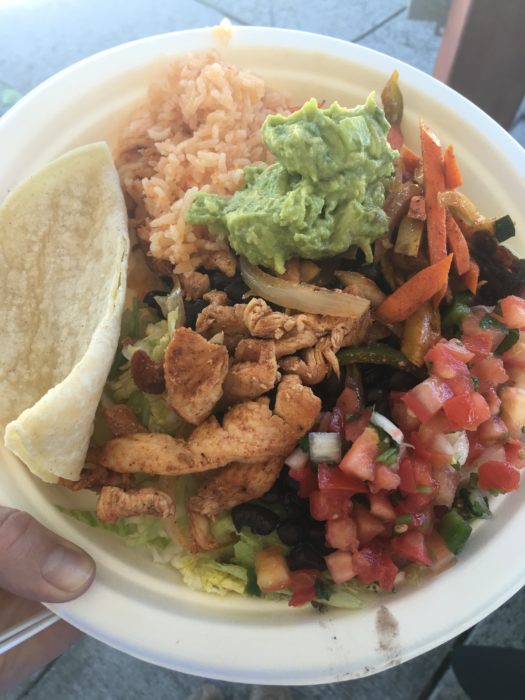 Catered Mexican food at my dad's company picnic. I made a salad out of lettuce with fajita chicken, black beans, salsa, rice, tons of guac, and a tortilla.
Snacks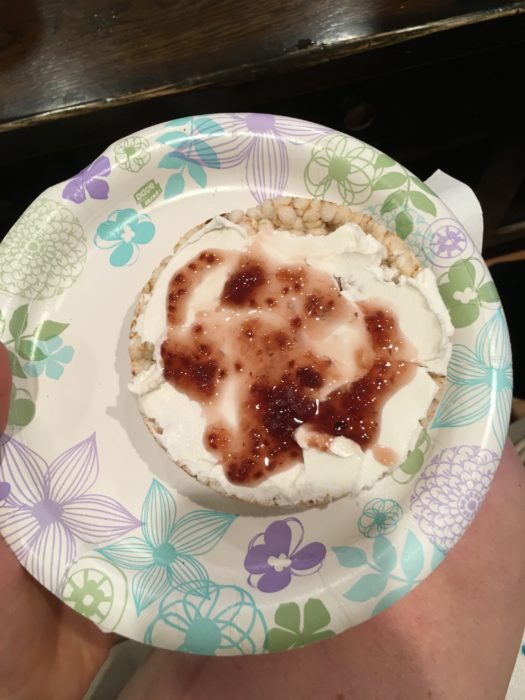 Brown rice cake with creamy goat cheese and raspberry jam.
A new to me NuGo bar. The pomegranate was actually crazy good! It was a little more interesting than just chocolate (below), but that one was good too.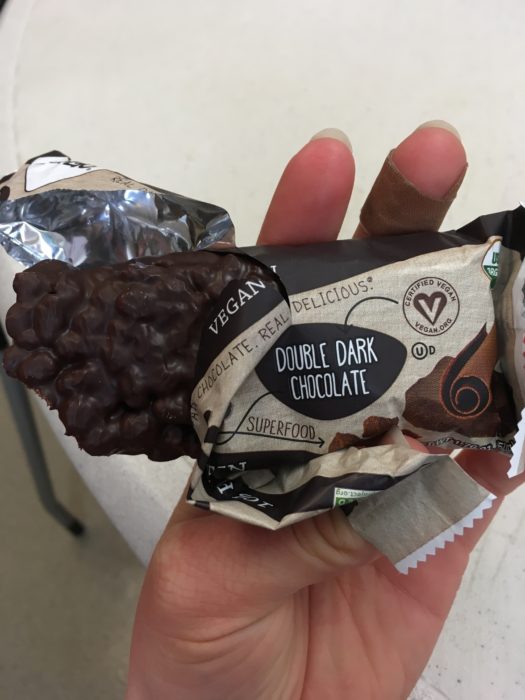 I like these bars because they're coated in chocolate, so naturally they're delicious.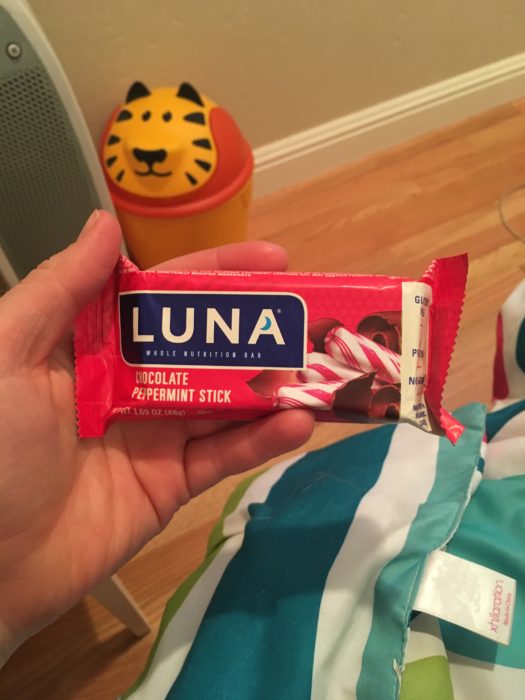 The usual.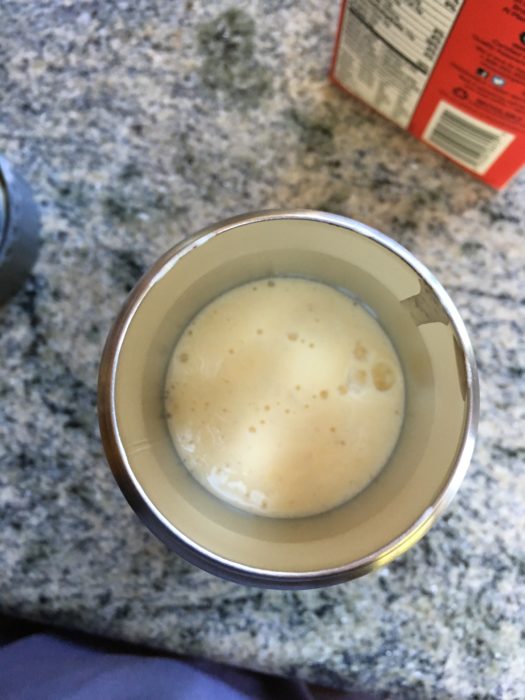 I'm liking this new work smoothie: 2/3c milk, half a flapjacked vanilla smoothie mix, 1/2c frozen mango. Loving the vanilla mango flavor combo!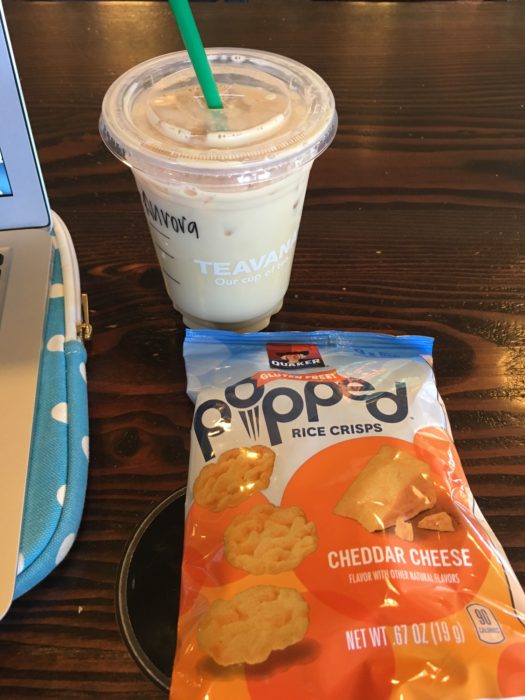 This morning I did a treadmill workout followed by a yoga class. I did a half mile warm up, then 8 rounds of 2 min push at 7:00 pace, 1 minute recover. I only had Cheerios beforehand, so I set myself up in Starbucks with an iced decaf latte and a snack to work on stuff for school, and this blog!
Dinners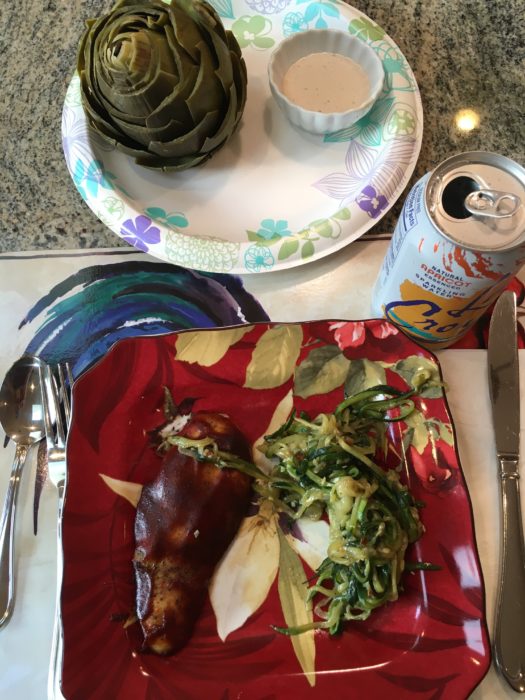 A delicious summer dinner: leftover chicken with BBQ sauce, sautéed zucchini noodles seasoned with a sundried tomato seasoning blend, and an artichoke served with a mayo-balsamic vinaigrette dipping sauce.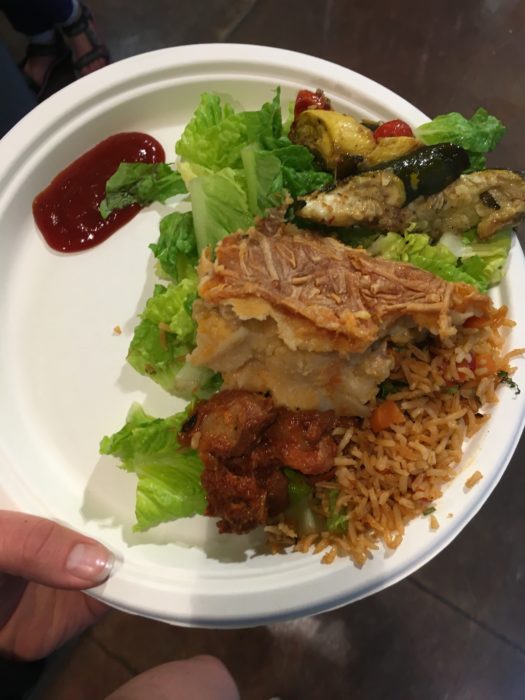 Post-yoga Wednesday night, I suggested we just pop into Whole Foods for dinner. I had an enchilada over salad, plus some rice and some grilled veggies.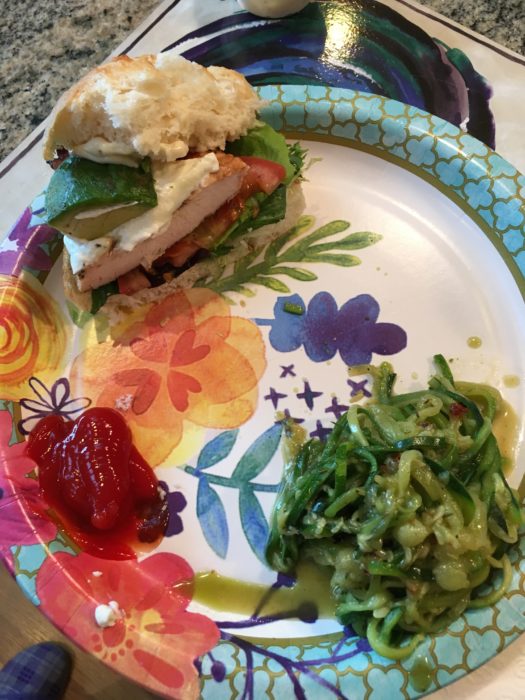 A lazy Friday night dinner at home: takeout from the counter with more zucchini noodles. My mom and I split my signature custom burger: chicken with garlic aoili, gruyere (they messed up and put goat cheese instead), tomato, mixed greens, and of course, avocado, on a GF bun.
Desserts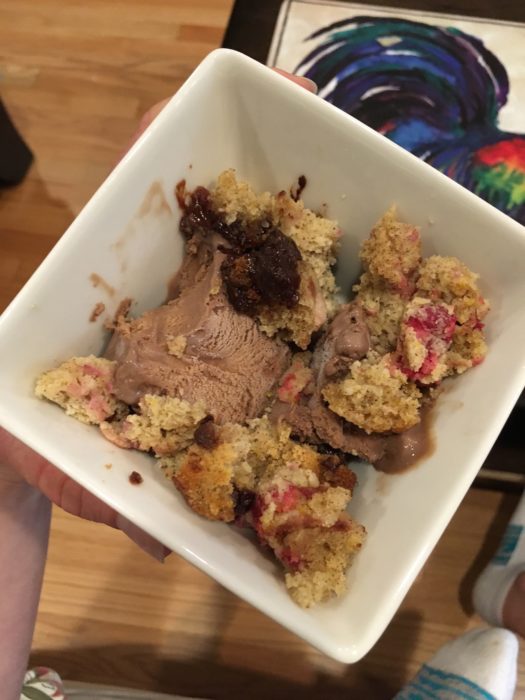 Chocolate chip orange cranberry bread with chocolate Halo Top.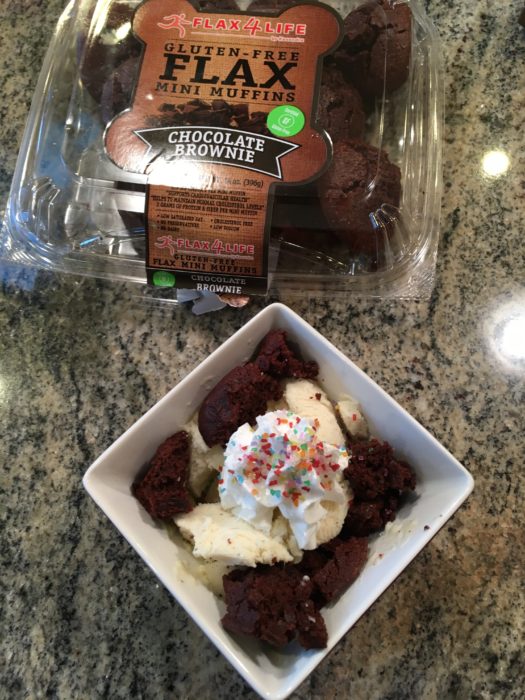 Flax brownies (actually really tasty) with vanilla Halo Top, whipped cream, and sprinkles.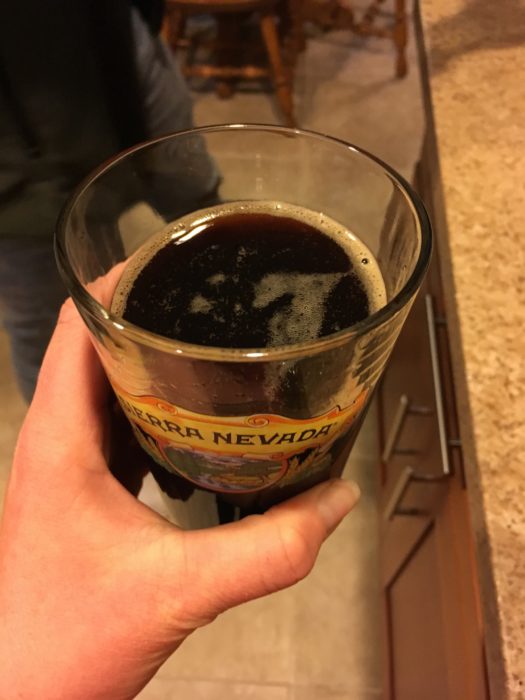 And finally: my beer! I finally tried my chocolate milk stout that I brewed and it is absolutely amazing. REALLY amazing. Possibly better than the St. Louis version, possibly one of the best beers I've ever had. I am very impressed and surprised with myself!
Have a great week!