Well, it's been a hot minute since I last blogged, hasn't it? Between my trip and my crazy work schedule since the trip, I haven't had the time or energy to even open up my laptop! That being said, I only have 2 more days of my summer job, so expect all kinds of posts coming up!
When I caught you last, I was hanging out on my friend's couch in New York City!
Now, it's time to update you on our adventures since! It was a whirlwind 1.5 days-I think I got a taste of pretty much the whole city! It was disgusting weather-HOT and humid-super muggy. The air was thick. We had a very busy couple of days, full of walking. We probably walked 10-15 miles on Monday alone. One thing I will say is that being on my feet 8 hours a day at work has seriously conditioned my feet and legs. My feet didn't bother me at all, and my legs didn't feel tired! I'll take it! (I also owe you guys a post about my summer job.)
Stop 1-laying eyes on the Statue of Liberty!
We walked from the Subway to Battery Park.
From there, we walked to Ground Zero. It was very moving, and taking a picture for me felt disrespectful.
Our next stop was lunch-I wanted to get some NY pizza! We found a place with gluten free crust and stopped there. There was a deal for 2 to split a small pizza and a salad, so that's what we did!
The salad was excellent-chicken, cheese, truffle, pear, and a balsamic dressing. Our pizza of choice was margarita.
Although the crunchy crust of the pizza was not the typical New York crust, everything was delicious.
After lunch, we hightailed it to our reserved time slot at a cat cafe (in Chinatown). I was SO pumped for this. We were cutting it a bit close on time, and my friend kept laughing at my power-walking pace. I wasn't going to miss those cats!
The kitties were very mellow and spent most of the time sleeping. Near the end of our timeslot, they released 3 black kittens! I think I need to open a cat cafe later in life. I need an outlet for all the kittens that are sure to find me working at a vet.
After our time with the kitties, we stopped at a gluten free bakery, where we split a banana-chocolate-caramel cupcake and a frosted donut. Both were excellent!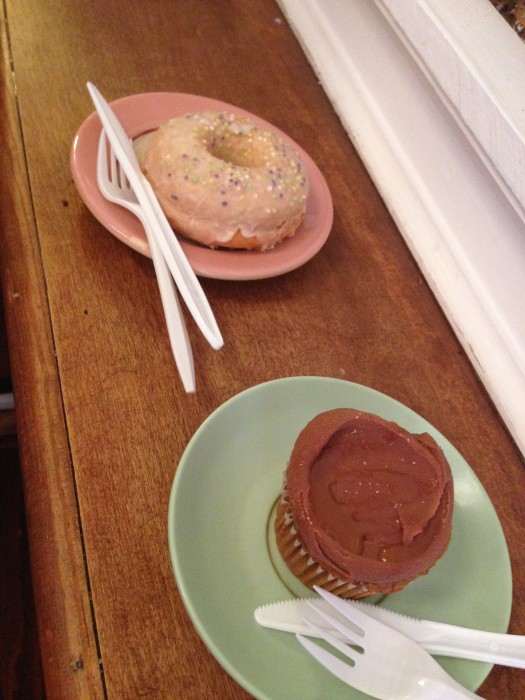 On our way to finding pizza, we spotted the following sign outside of an interesting looking coffeeshop: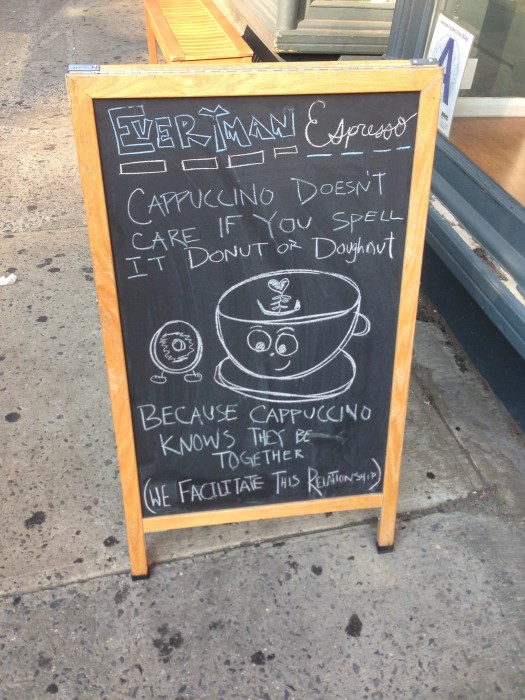 If they have cappuccinos on their sign, they must be good! I was sold. After some further research, we learned this little place was on the list of top coffee in NYC! My friend has been on the search for the best coffee this summer in NY, so we had to go.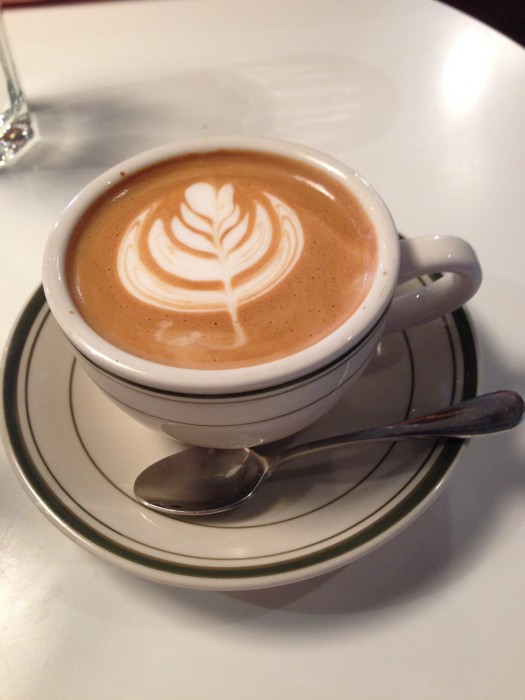 The verdict? Yes. Just yes. Milk foam quality was high-nice and smooth. The espresso had no bitter aftertaste either. I didn't even care that the outside temperatures were brain meltingly high!
After that busy day in the sun, I needed a nap and air conditioning to rally before heading out again. We convinced my friend's sister to come with us to a gluten free Italian restaurant. Upon getting off the subway, we found the Friends' fountain! Definitely a highlight of the trip.
We also found the cafe the Central Perk was based off of (according to Google).
For dinner, I had a delicious dish of grilled chicken, roasted veggies, and garlic mashed potatoes.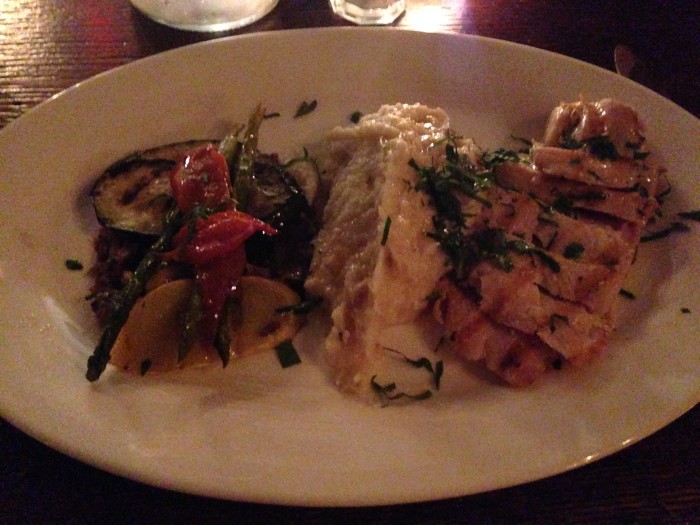 Then, we headed off for a truly New York experience-a rooftop bar in Times Square. I should mention-I've never been to NYC before so this was quite the experience!
We each had a glass of champagne before calling it a night!
The next morning, we set out fairly early to fit in as much as possible before I had to leave for the airport at 1pm. It was a busy morning! We started with authentic NY bagels. I had an everything bagel with herb cream cheese, and we split an egg bagel. Yes, NY bagels are as good as everyone says. They were amazingly chewy, and perfectly toasted. Plus, there was an abundant selection of cream cheeses. There must have been 15 choices!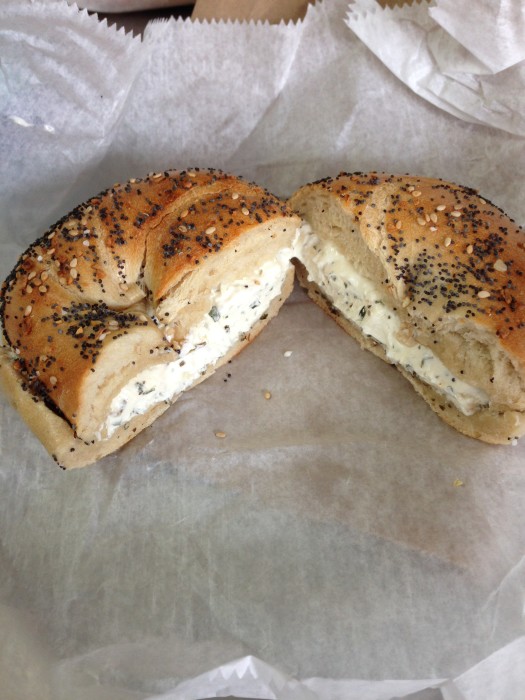 Our next stop was the Chelsea Highline, an elevated platform to walk on.
By the end of the walk, I was sweating buckets and could not resist an iced latte when we found a Blue Bottle Coffee. I know Blue Bottle is an SF thing, but can one really complain about excellent coffee?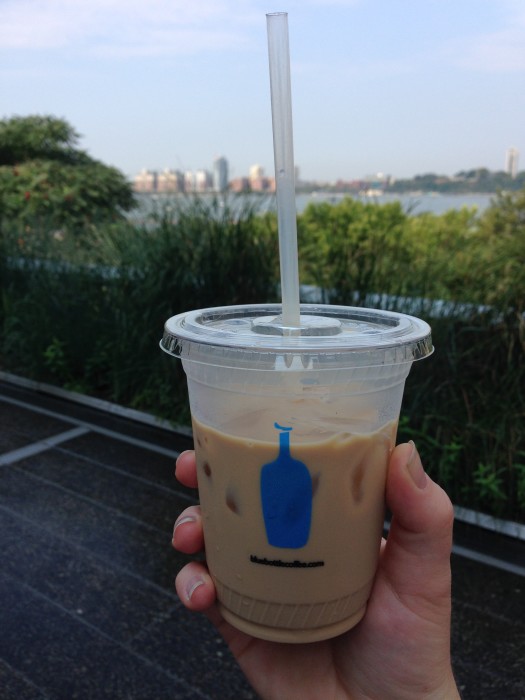 We then went to Chelsea Market (similar to the Ferry building in SF)-an indoor market with little stores that sell high end food. I came away with truffle salt, garlic infused olive oil, and peach balsamic.
For my final meal in New York, I knew I had to try the avocado smash. Apparently NY has quite a few Australian cafes, which have 1. really good coffee and 2. avocado smashes.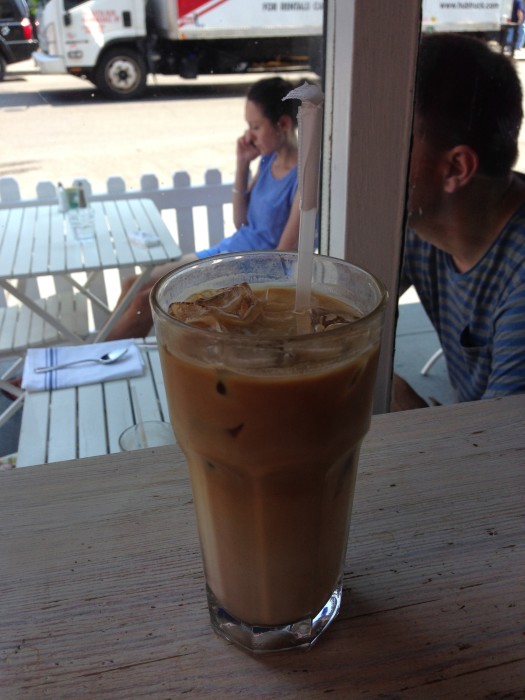 I couldn't pass up iced latte #2 of the day (but don't worry-they were decaf!). Fantastic.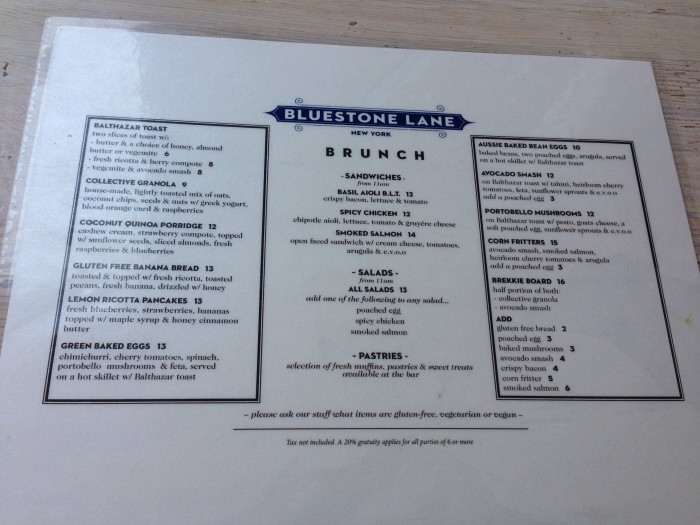 My friend and I split an avocado smash on gluten free bread, with 2 poached eggs on top.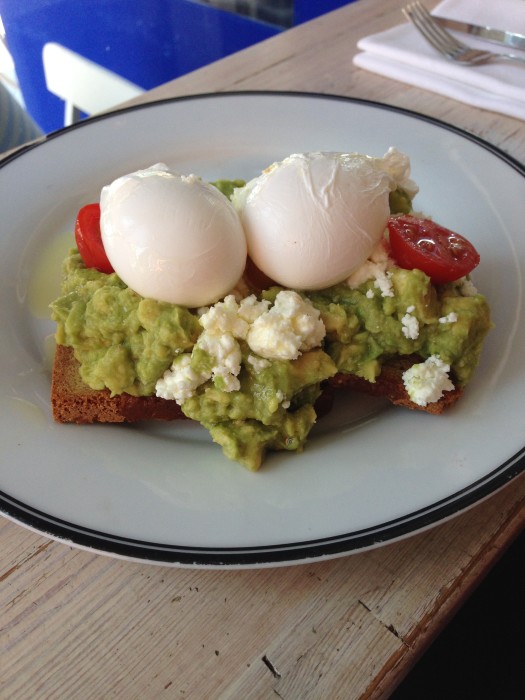 This ended up being perfect-a full smash probably had over an entire avocado on it, and one smash had 2 slices of bread.
(Can you guess which picture is mine, and which is my artsy friend's?)
This was delicious, and will definitely need to be recreated!
I know I mentioned a lot of gluten free products on this trip. This is partly because my friend has a gluten sensitivity, and partly because my stomach isn't 100% and I think going gluten free, especially when my stomach is sort of flaring up, tends to help. I felt a little sick on this trip, and really had to watch what/how much I was eating to manage it. However, this definitely didn't hold me back, and I had an amazing first experience in NYC!
What it your favorite thing to do in NY?