I have been so horribly behind on posting meals lately, and I've gotten a bit of a backlog of things to share. (A new recipe will be at the end of the post!) Of course, starting with my cat.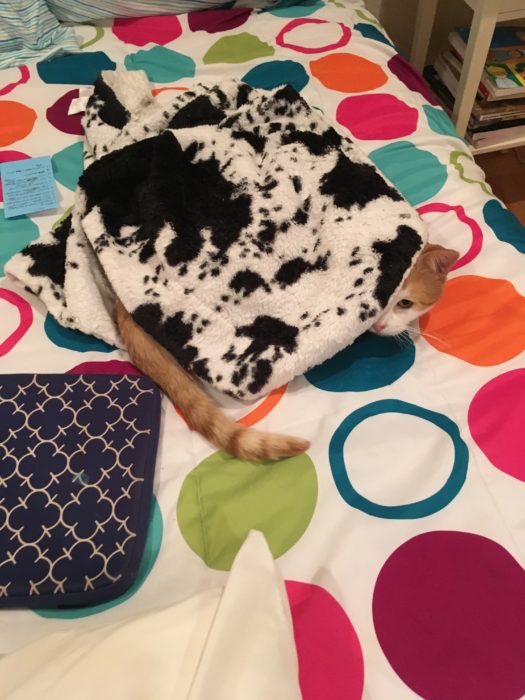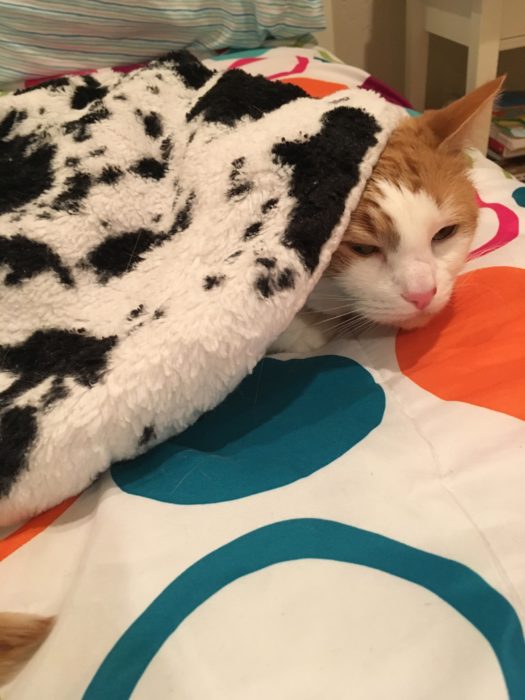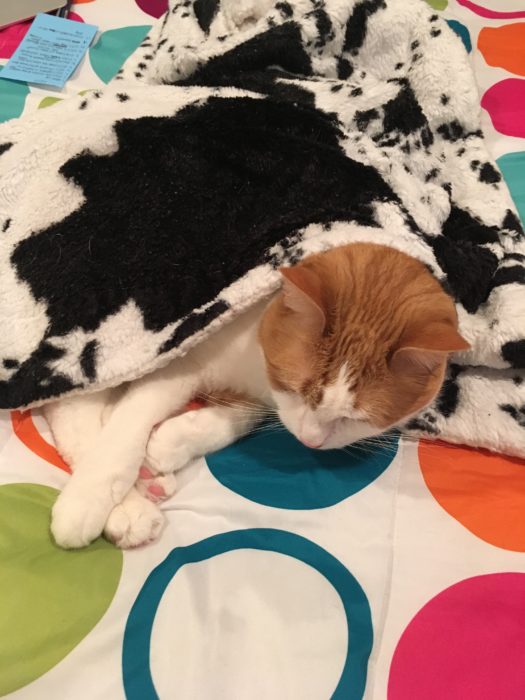 For Christmas, my mom got me 2 weeks worth of Sunbasket meals. This particular meal delivery service was appealing because you have a lot of control over which meals you get, and you can do gluten free! That being said, I picked out 2 weeks of meals, supposedly starting next week, and then last week I got an email saying my meals were shipping. What…? I didn't even get to pick that week's worth of meals! But I think I still have the other 2 weeks coming? Unclear. That being said, the meals were not exactly something I would have picked out, but worked out pretty well given various dietary constraints.
The first meal we made was by far my favorite. It was vegetable tostadas, filled with roasted butternut squash and seasoned black beans, pickled onion and radish, queso, and a soft boiled egg.
I chose to have mine as soft tacos vs. tostadas, but my parents' tortillas didn't crisp up too much. I also added a touch of spinach. This meal was delicious and cooking was seamless, minus the soft boiled eggs. We followed the directions and time exactly, but the eggs were a little TOO soft when we started to peel them (which was its own nightmare). We ended up microwaving them to firm them up a little bit more. Not pretty, but still delicious!
The next meal we made was chicken tacos. I'm really not a huge fan of cooking raw meat, but this went fairly seamlessly, minus the fact that the marinade blacked a  bit in the pan, causing the house to smell smoky for days (but it tasted good!) These tacos had marinated chicken (tomato paste and spices), roasted red peppers, cabbage, radish, and lime juice, topped with queso. These were good but we agreed they could have used a little salsa. Served with salad on the side! I also left out the super spicy pepper that came with it.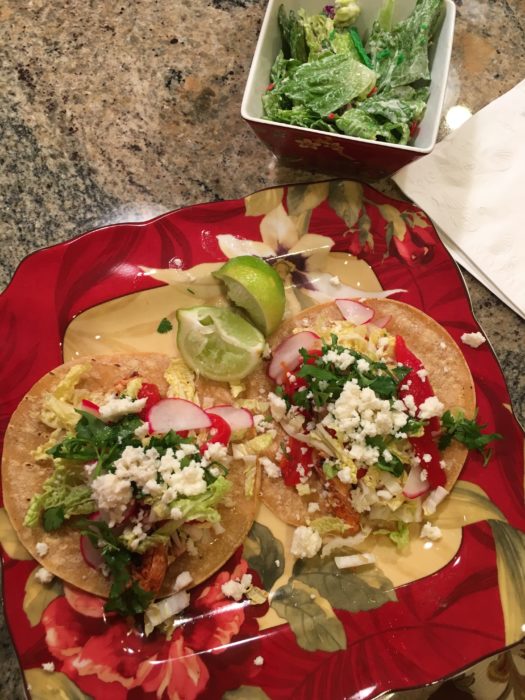 Our third and final meal for the week was a little bit more of an improvisation. It was supposed to be blackened sole over herbed cauliflower rice, with a citrus pico de gallo. However, my mom has extreme fish phobia, and we're not allowed to cook fish in the house. I'm actually not a huge fish eater either, although I like it well enough. Instead, we made basically the same dish, but instead of fish, we topped it with a fried egg with smoky seasoning.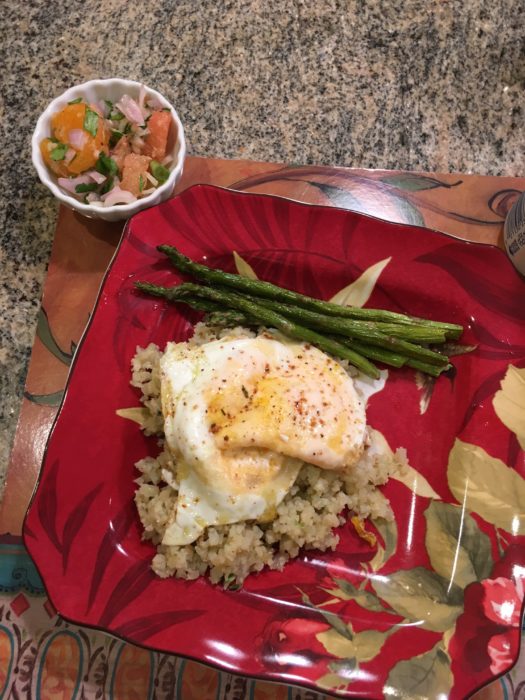 The cauliflower rice was good, as well as the pico (which went better with tortilla chips than an egg…oops).
Not a bad set of meals, given I didn't pick them out! Overall, I would say it was a fun experience to cook up the meals. I've heard the commentary before that Sunbasket doesn't have as many veggies as one might like, which I sort of agree with. However, it's super easy to add a side or throw spinach into a taco if you want more! I'm looking forward to next week's delivery!
Now, otherwise in food.
Breakfast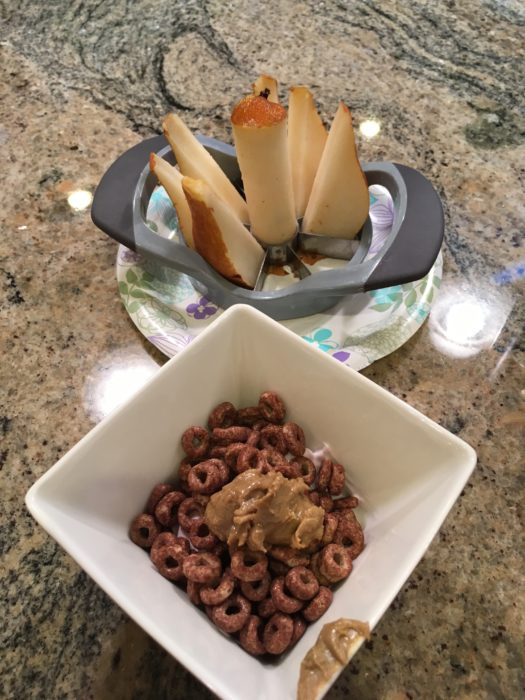 Not a ton to share here. I've been on a bit of a smoothie kick since getting my new Ninja blender, but this morning I mixed it up and tried Siggi's 4% blueberry yogurt (I like it—not too sweet!) with chocolate cheerios, sunbutter, and a Bosc pear.
Lunches lately have really just been leftovers from dinners.
Dinner
Hearty Chicken Stew with Butternut Squash and Quinoa. I love this one; it has the fun addition of kalmata olives! On the side is Brazilian cheese bread. It's made with cheese and tapioca flour, and I found them frozen at a few different grocery stores.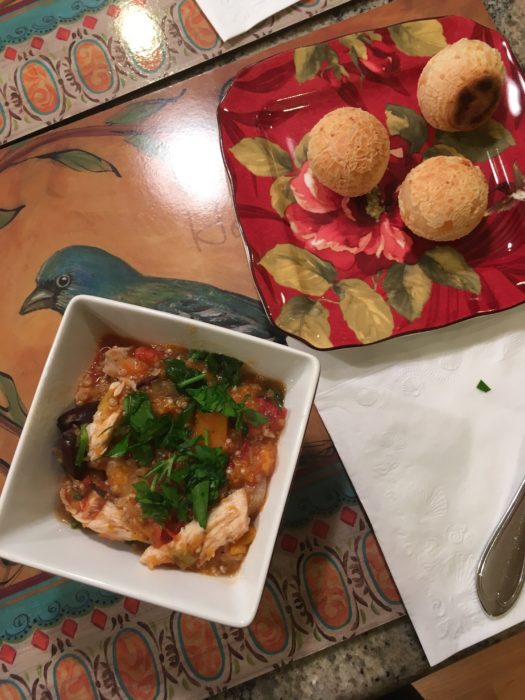 Breakfast for dinner, plus the last of our previous week's CSA, Romesco cauliflower! I've seen this alien-like cauliflower at the store a couple of times, and was excited to try it out! We simply roasted it up with garlic powder, salt, and pepper. It tastes a little like a cross between cauliflower and broccoli.
In the scramble is garlic, mushrooms, spinach, green onions, shredded carrots (I love this addition to scrambles) and Irish cheddar. Plus some toast with homemade jam.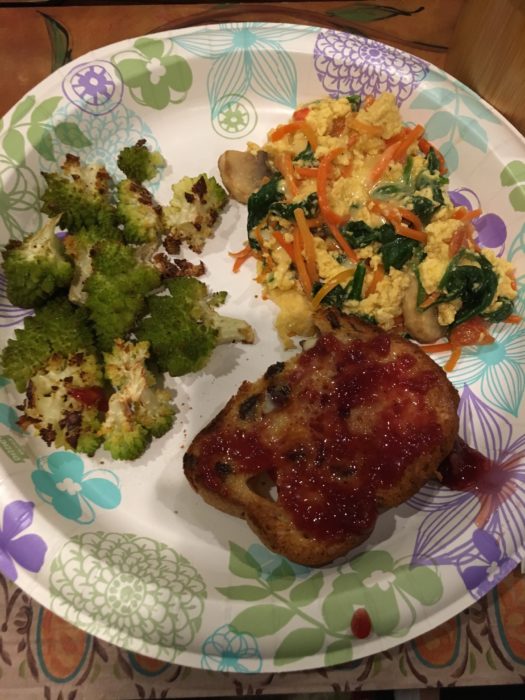 Healthy chicken minestrone soup. I wanted a new soup to try, and we were in the mood for something that didn't include squash, since it seems like everything we've made lately has included it! This minestrone is lacking all the meh parts (beans and pasta), and instead is packed with more exciting veggies (I really like cabbage), and topped with parmesan and pesto. Served with more Brazilian cheese bread balls.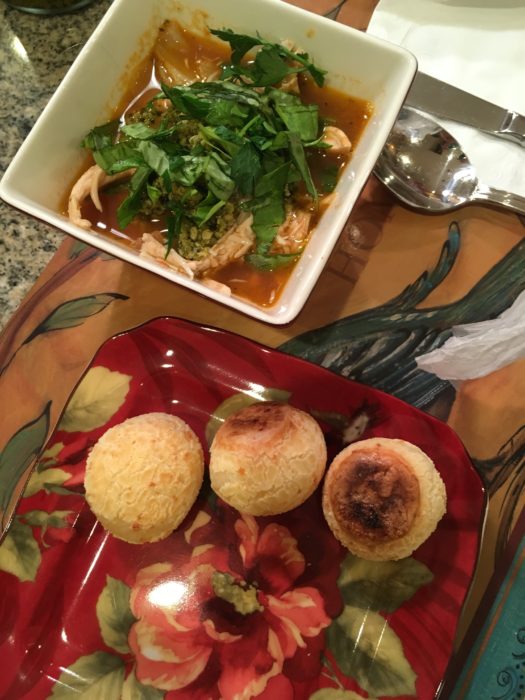 Etc.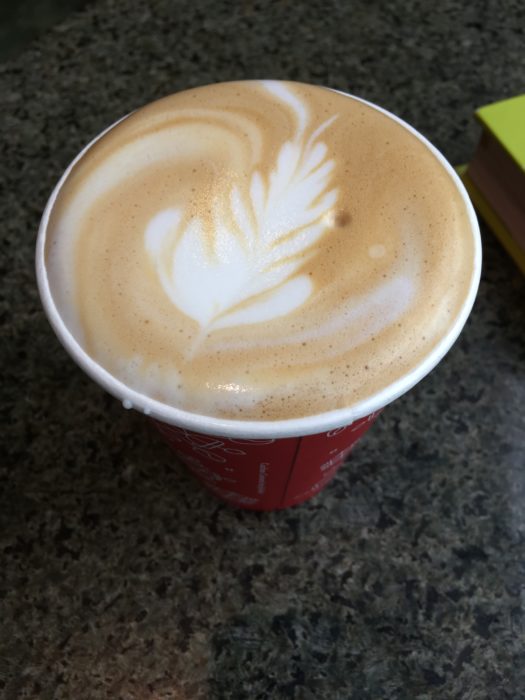 I've been going to coffeeshops to do work this week since I've been ready to get going before the library is open. I mixed it up and went to Peet's and CHECK OUT THE QUALITY OF MILK FOAM ON THAT PUPPY. It's extremely high quality. Peets>>>Starbucks.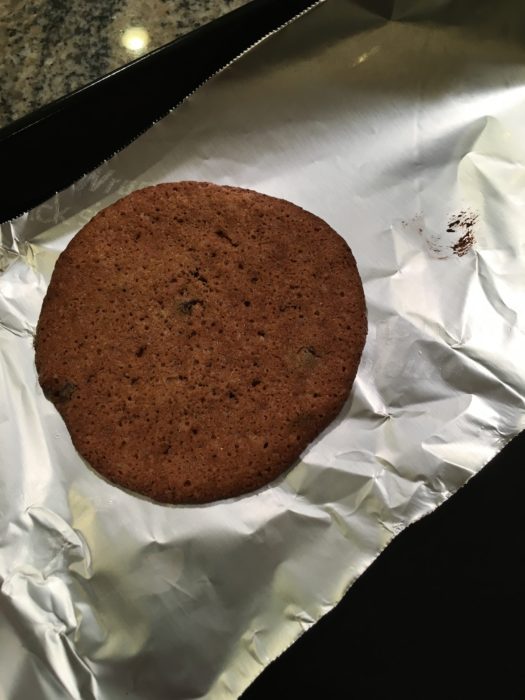 This may not look like much but GUYS. I saw someone post about this on Instagram. Sweet Megan makes cookie dough free of the top 8 allergens, and since it has no eggs, it can be eaten straight from the jar or baked in the oven. After several stolen spoonfuls, I decided to be civilized and bake a cookie in the oven. YUM. I got small jars of chocolate chip and sugar cookie to try, but there are a ton of flavors.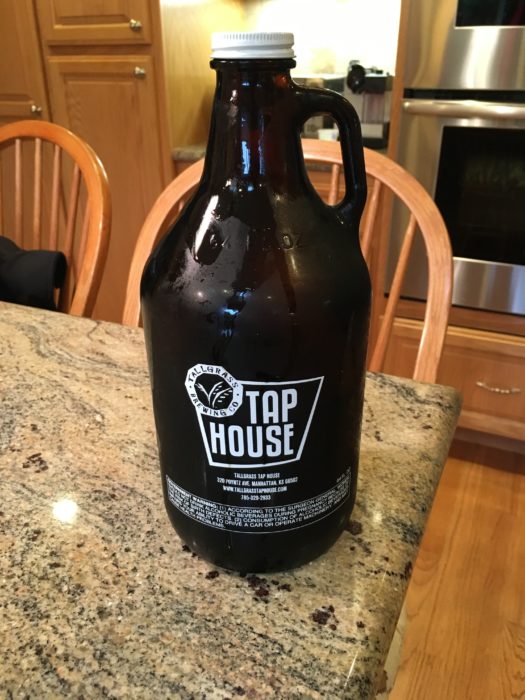 We decided to have a little happy hour to open up our growler of Reindeer Sweat. This chocolate cherry oatmeal milk stout is SO good. While drinking it, my dad made me cookies as part of a little friendly wager that I won within my family. The cookies of choice were carrot oatmeal, made with carrots from our CSA box! (The recipe is actually from the CSA box too.)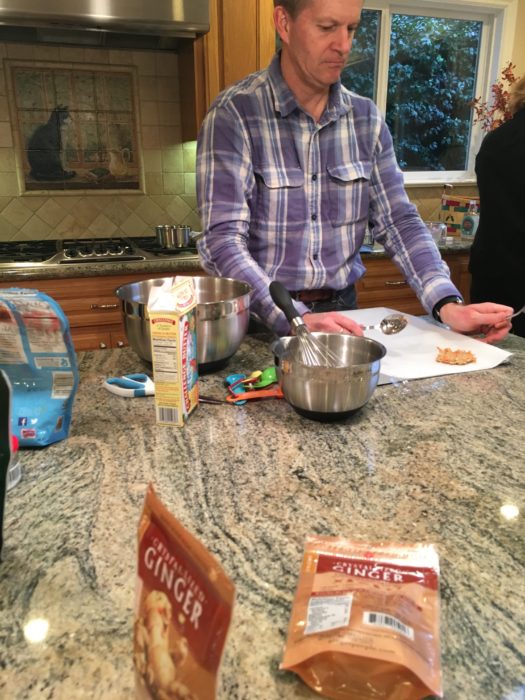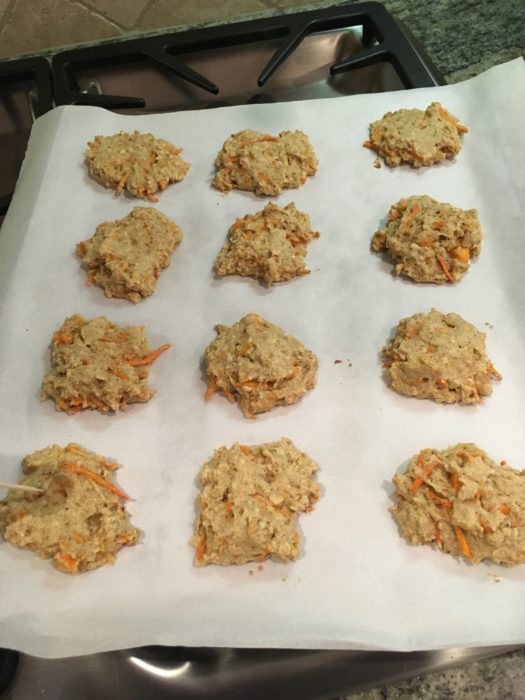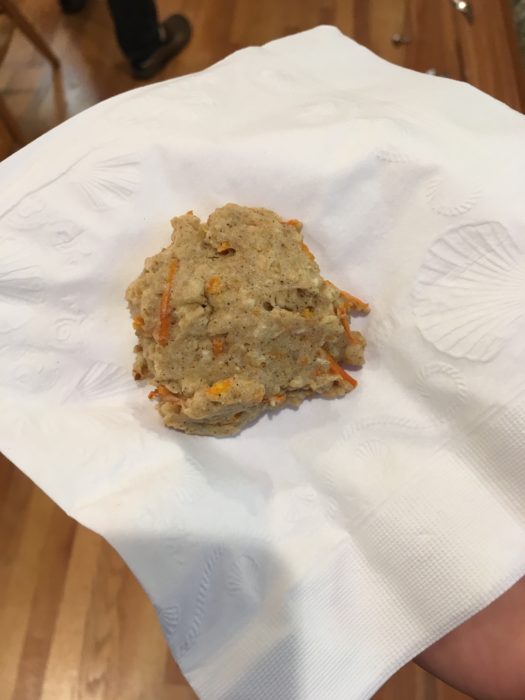 They came out really well! They tasted healthy, but in a good way!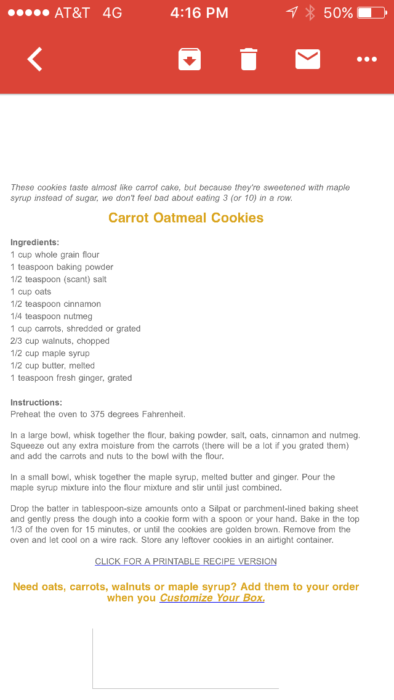 And FINALLY, the recipe!
Almost a year ago I went to Sweetgreen in DC (when I was there for the Cherry Blossom Race) and had a delicious salad with beets, goat cheese, and wild rice. I've been meaning to recreate it ever since, and FINALLY I did, motivated by regular and golden beets in our CSA box, as well as romaine lettuce.
Beet and Wild Rice Sweetgreen Copycat Salad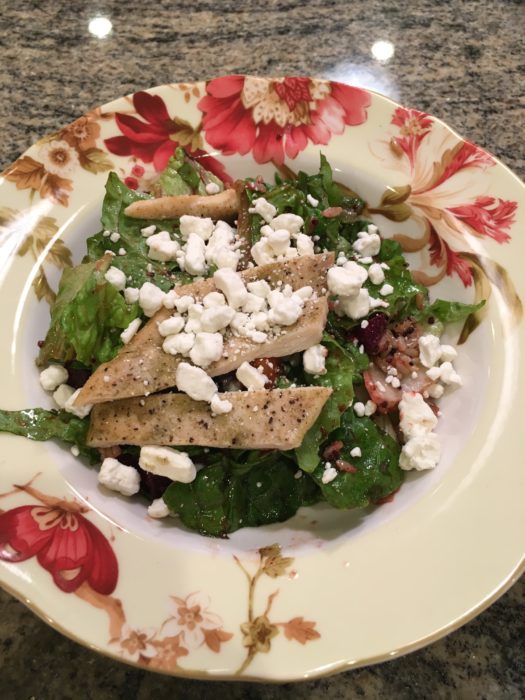 Salad ingredients:
3 grilled or broiled seasoned chicken breasts, sliced
3 large handfuls of romaine, or 3 bowlfuls
3 large beets
3/4 cup crumbled goat cheese
1 cup seasoned, cooked rice blend (I used a brown rice and quinoa microwave rice pouch that's seasoned with garlic. You could also use wild rice.)
Dressing (from Cooking Light):
3 T balsamic vinegar
2 T olive oil
1 T minced shallots
1 T chopped fresh parsley
1 t Dijon mustard
1/8 t salt
1/4 t black pepper
1 garlic clove
Directions:
Preheat oven to 400 degrees. Peel the beets, and then chop into bite sized pieces. Toss in olive oil, salt, pepper, and garlic powder, and roast for 35 minutes or until tender.
In a small bowl, mix all the dressing ingredients.
When the beets are done, toss all ingredients in a large bowl.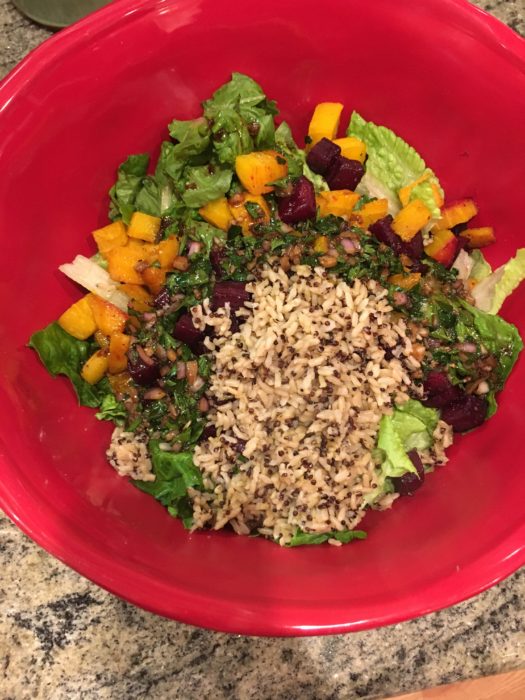 Enjoy!
(Served with extra beets on the side to dip in ketchup!)