Hello! Guess what I did this morning? I ran a half marathon! WOOHOO!
This was my second time running the race. See my recap from a couple of years ago here. I didn't LOVE it last time-quite honestly I felt it was overhyped. I decided to do it again this year though because I get automatic entry as a student, so this may be my last chance! #senior
A major change from when I did it 2 years ago was the route. They changed it up quite a bit, and I think the hills were a lot friendlier this way. Plus, last time I ran it I was trying to PR and this time I was trying to enjoy it, so that also helps!
I had zero expectations going into the race. I was still sick a fair amount of my training. I was too sick for my 11 miler. I didn't want to push the pace too much also because I didn't want to launch myself into a flare. The super good news is that it's been over 3 weeks without a flare-the longest since I got sick many many months ago. I think there's a good chance it's gluten intolerance because I've been SUPER strict about avoiding it. Anyways, onto the race!
Since I needed to pick up my packet on Saturday, my parents and I headed up to the city Saturday afternoon. I found my name on the window!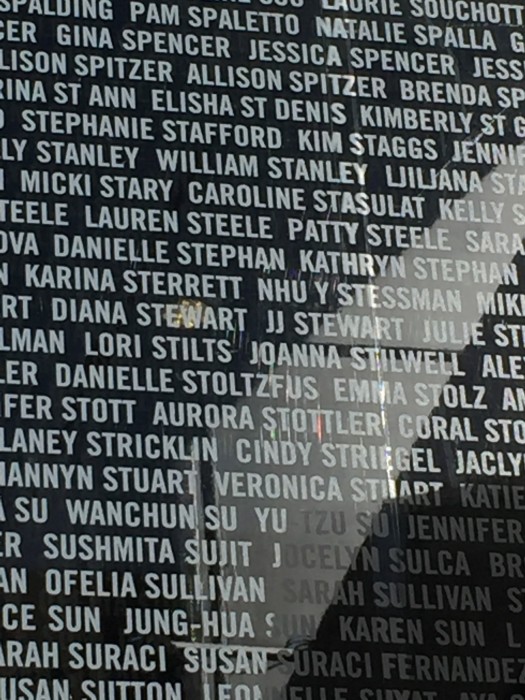 We picked up my packet and visited some of the expo. I didn't love the way the expo was set up-it was spread out through several different stores in Union Square.
We ended up coming across a food court in Macy's (which I had no clue existed) and decided to eat dinner while watching the Cubs-Mets game on the TV there. I've missed almost all of post-season baseball this year! For dinner, we had Asian Box. I had a bowl with brown rice, Asian salad, pickled veggies, chicken, and a seasoning blend.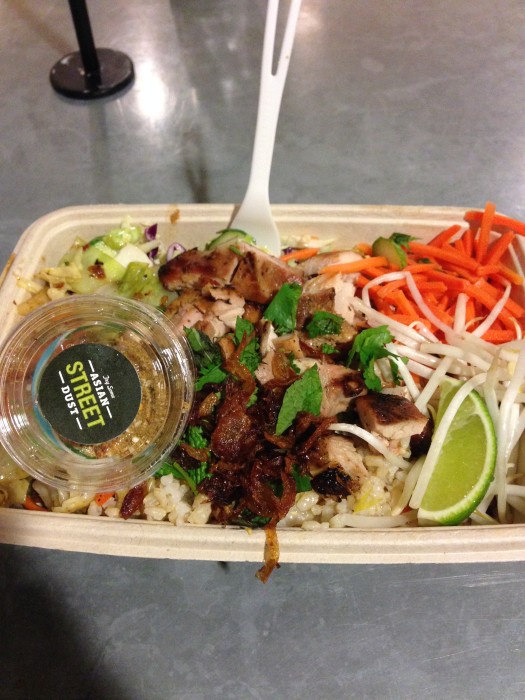 It was good to get some veggies and carbs in pre-race!
There was also a Ben and Jerry's, and I got a small scoop of pretty much the only ice cream I could eat-triple chunk caramel.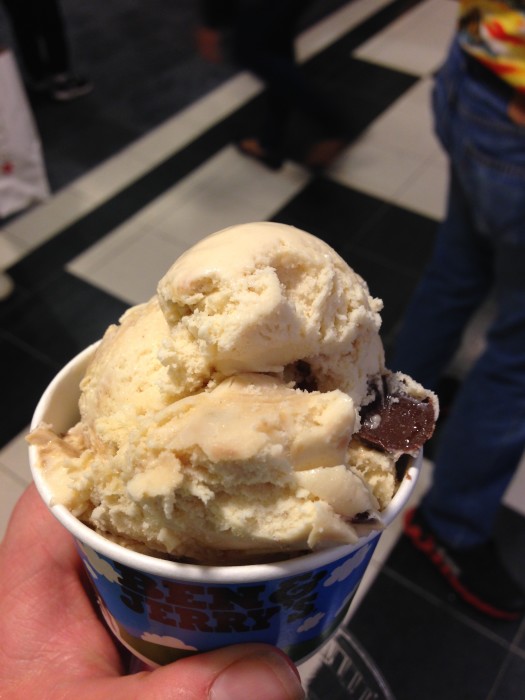 We spent the evening watching TV, and I was in bed by 10:30.
The next morning, I was up bright and early! I actually felt pretty good. I think in some of my past halfs, I've woken up and was just not feeling a run. I think I was much better rested this time around! My current pre-long run breakfast is a Luna bar (Lemon Zest today) and a big banana. Then, it was time to run out the door!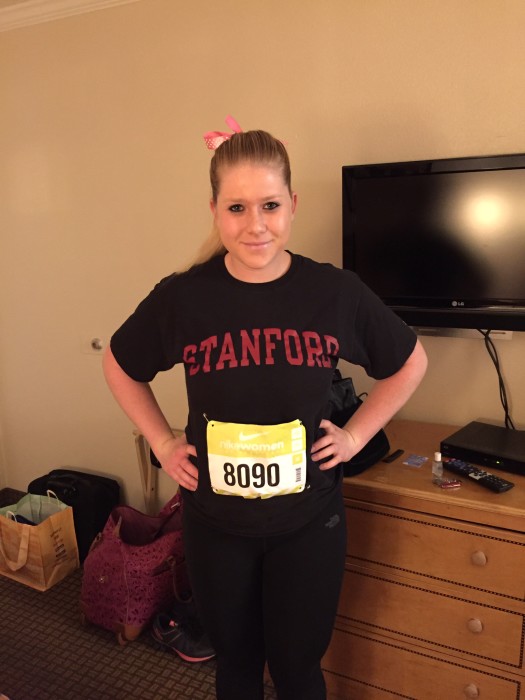 I was armed with sleeves made from cut up tube socks, but unlike 2 years ago, it wasn't too chilly!
I had a friend running the race today as well, and we planned to try and meet up if possible. We actually ended up finding each other at the start!
We started out pretty slow-there was quite the bottleneck at the start, and I also wasn't willing to push the pace. I ran music-less the first half of the race, and we somewhat chatted, and enjoyed the views of the city!
I took my first gu around mile 6. I've ALWAYS used Cliff chocolate gu, but I currently have zero tolerance for caffeine, and the chocolate gu has been negatively affection gem lately, so I switched to raspberry for race day (which I had tried all of once before…) and it worked like a charm!
According to the elevation chart, there were 3 main hills. Honestly, it felt like a lot of up and down for the first 2/3, so I'm not sure which hills were specifically defined. The notable hill was the hill overlooking the Golden Gate, which came at mile 10. Thankfully, this led into a huge downhill and with the downhill, I didn't lose much time on the hill.
One thing I have to give to Nike is the fact that this race ends flat-nothing worse than a hill in the death miles of a race!
One thing I will say-the last 2 halfs I've done, I never hit that mile 10 wall when my legs just won't move, and I think this is a big function of going slower. When I make my next PR attempt, I need to keep better pacing in mind because dying at the end=lost time!
Before I knew it, I was on the final stretch, running towards the crowds and the marina.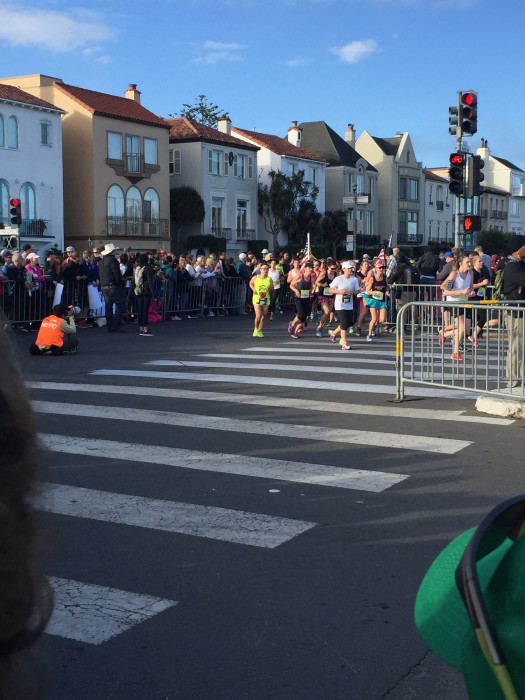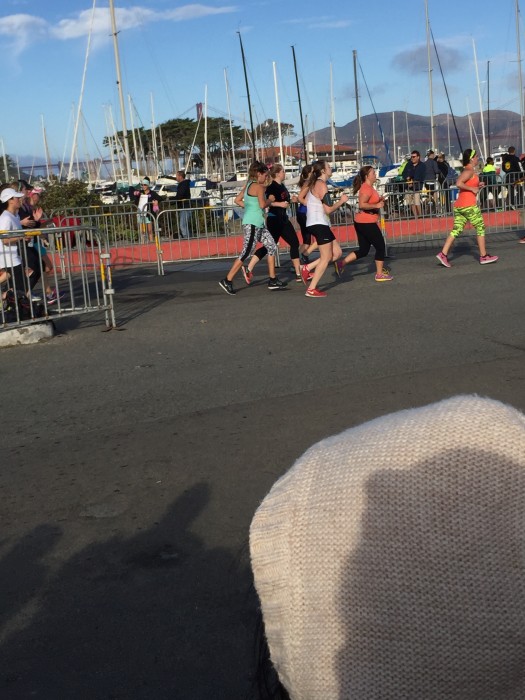 And then it was over! I set a loose goal for myself in the middle of the race and I met it, which is good enough my me! It was my slowest half to date, but it was only 3 minutes slower than my previous slowest. That included a bathroom stop, so without that, it was probably only about 1 minute slower. I've run 6 halfs, and I'm nothing if not consistent on my times!
It ended up being such a beautiful morning! Couldn't ask for anything better weather wise-plus it's FINALLY starting to feel like fall around here!
I should probably also note that I ran with my flip belt. Given my illness issues, I carried all kinds of food-crackers, granola bar, gu. Gotta be prepared!
One thing I will note though-my watch clocked me in at 13.5 miles. I know you gain some distance with weaving, but there's not way I gained .4, so I definitely think that course was long!
Overall, definitely a fun morning. Nothing is really hurting right now so I'm expecting recovery to go well! That, and I've eaten everything in sight today, which usually helps as well!
Have you ever run the Nike Half?