I have lots of fitness-y things to share today! What I'm currently working on, what I've been working on, and an injury update.
For a vet school update, today I learned how to do a blood draw on a sheep, which was pretty cool! Tomorrow I get to follow around a 4th year student on Large Animal Radiology, so I'm getting my livestock fix in!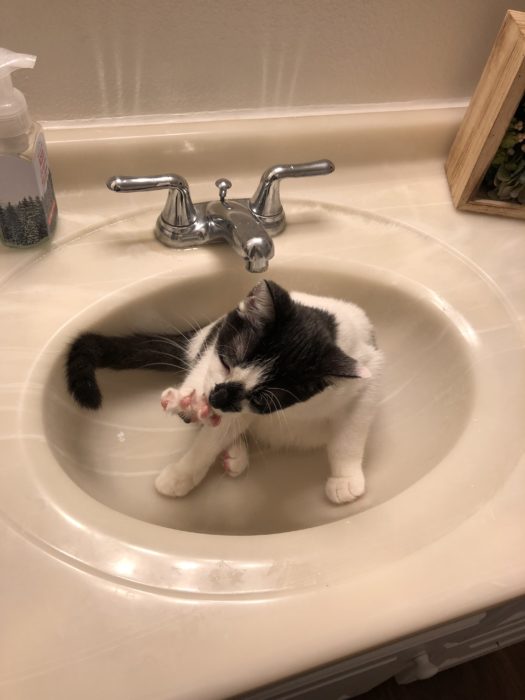 SO. I signed up for a powerlifting meet! The University Rec department is hosting one, so I figured, why not? I wanted a new goal to take my mind off the fact that I haven't (really) been able to run since October. It's in March, so I wrote my own 7 week training program, though I'm improvising a little bit on the fly based on how things are feeling and going. For those of you unfamiliar with powerlifting, it involves 3 lifts: back squat, deadlift, and bench press. This meet is divided into divisions based on years of weight training experience, so guess who gets to be in the elite division? I feel like I am definitely not that strong given all my years lifting!
I've mentioned my squat programs on here before that have gotten me strong. I'm basically cycling 2x through that. Bench and deadlift are a little bit more freeform. I haven't benched too much, and I've never actually done a 1 rep max on bench. That being said, I think there is a lot of room for improvement there. I've also been doing accessory work here and there; a lot of core work, since I think that is my weak point in a lot of these lifts. So far, bench and deadlift are progressing pretty well. Squats…are not. I'm a lot weaker than the last time I ran through my squat program before winter break, which is frustrating. I think I may have a little bit of a fueling problem there. Based on how the timing of some of these lifting sessions worked out, I don't think I had enough food in my system to have the full energy I needed for these lifts. On top of that, I am really struggling to get in enough protein, for one reason or another. It's something I am actively working on, because I need to be building muscle and I can tell that I am not. (The last time I started squatting 2x/week like I am now, vs. 1x/week like I normally do, my legs looked visually different.) So that's something to work on. Luckily I get to cycle through my full squat program 2x before the meet and hope to improve before that.
Basically, I'm super sore a lot of the time. So I guess that means I'm doing something.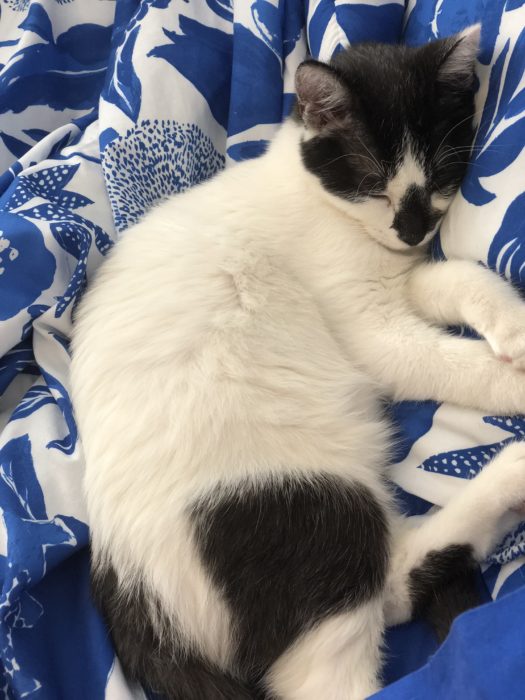 As far as an injury update? As I've mentioned before, I started having mysterious pain on the medial portion of my ankle following a fall/ankle roll on a run. It got progressively worse until I could barely walk in early November. I went to the doctor multiple times, and was eventually prescribed physical therapy. I have an awesome physical therapist back home, so I went every day over winter break (at 7am…). He told me the injury was likely some sort of bone bruise on the articular surface of the joint. Well. The past 6 weeks, I've been learning ALL about bone and cartilage, so I actually understand a LOT better what that means now. Bones are covered in cartilage right at the joint surface. Injury to this cartilage is usually a very bad thing because cartilage doesn't have a blood supply, so it can't really heal (or it heals very slowly). I sat through an hour lecture on this topic sweating about how OMG I'm going to need surgery to fix this and even then it will never be the same, because the cartilage would be different, predisposing a person to osteoarthritis.
I did start to take healing this injury more seriously in December, so I've been really good about wearing my ankle brace, not doing stupid things like running, and icing and using my electric stim machine every night. It's been feeling a lot better. Last week for the first time I started not wearing my ankle brace during the day (when I wasn't exercising). I could tell that I was getting a lot of weakness in that region from not using it. I also suspected that the ankle brace was bruising me a little bit. The first couple of days were rough; I had a lot of soreness in the areas around the injury—shin splits, sore Achilles tendon—but my ankle felt good! I actually ran a 5k race this past weekend (not necessarily the smartest, but I knew I wasn't going to do any serious damage at this point), and while it was a little painful, it wasn't bad. It was SO much better than when I ran a 5k in December! And, my Achilles did not light up like I thought they would! More on the race later in this post though. Basically, I've been taking care of my ankle and it's been getting better. Still not 100% clear on the physiological process of that (and what the injury actually ended up being—I would have expected a cartilage injury to not heal at all, but maybe it was something that could heal slowly depending on the lesion).
This past weekend, I actually went home for the Super Bowl! It ended up being a great weekend to go home. Friday night, I went out to dinner with my best friends from high school.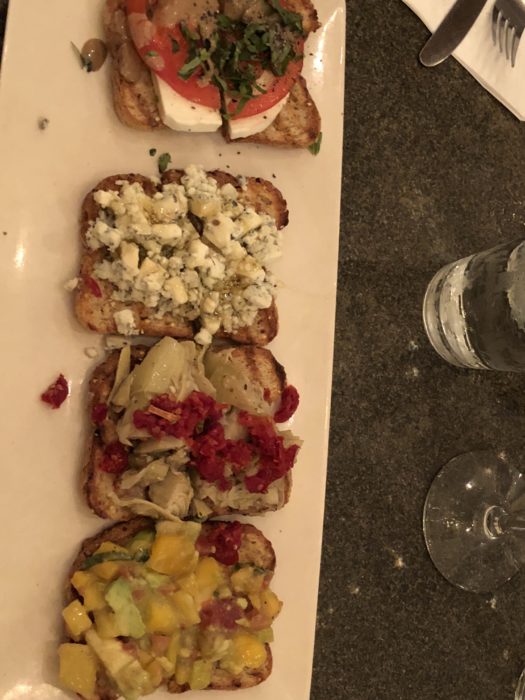 We went to a place that specialized in bruschetta (and had GF bread!). You got to pick 4 flavors. I got Mango, avocado, and tomato, artichoke and sun-dried tomato, gorgonzola and honey, and fresh mozzarella. Afterwards, we went to a place with rolled ice cream.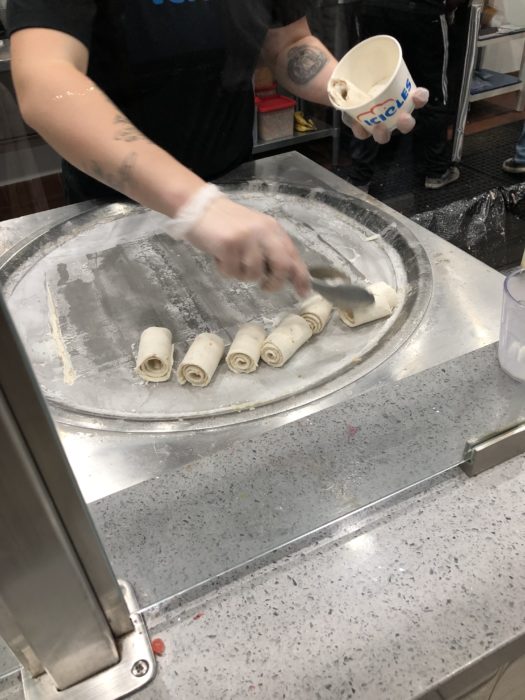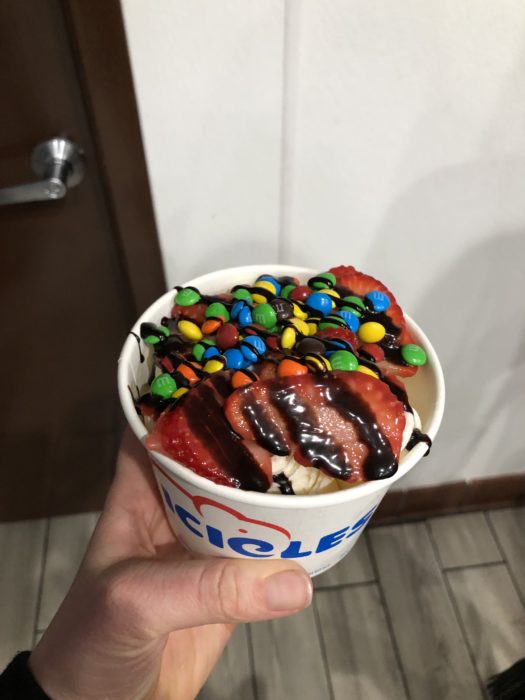 Fun for the spectacle, but definitely not worth the price.
Saturday, I walked Chloe in the surprisingly beautiful February weather, and then met my sister for coffee. A Blue Bottle opened really close to our house!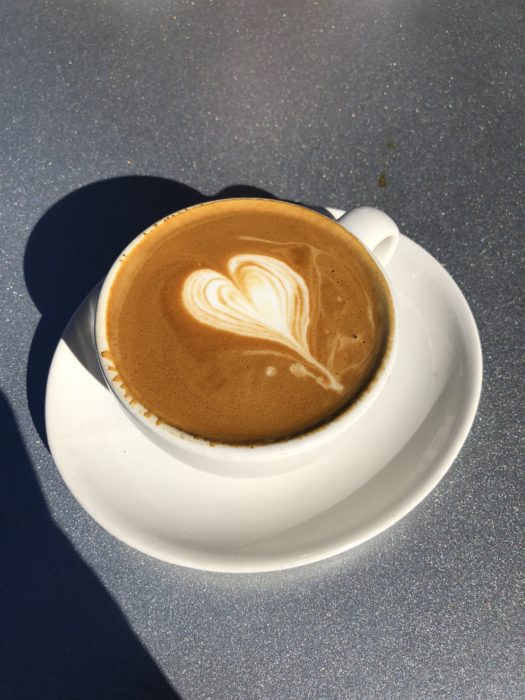 …and then I had pre-lunch ice cream because I'm an adult and when you are literarily right next to your favorite ice cream place ever, you go for it. Don't worry, I got my veggies in after!
The afternoon consisted of a little studying, and then a puppy playdate with Chloe's BFF!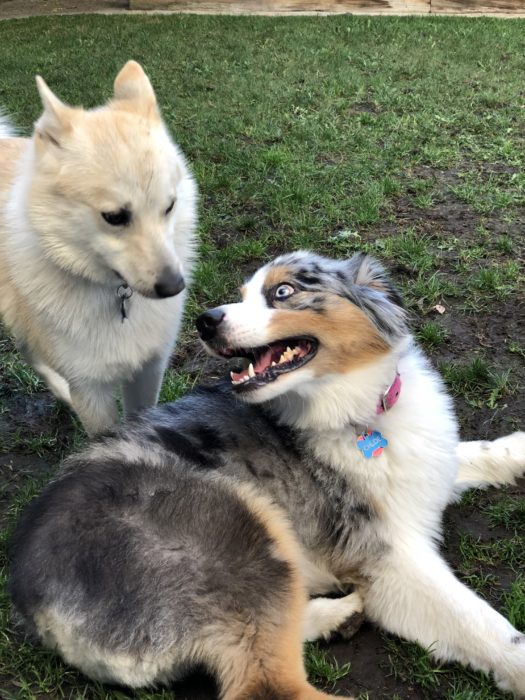 For dinner, we made tortilla pizzas with pear and goat cheese. I really should break out tortilla pizzas more often!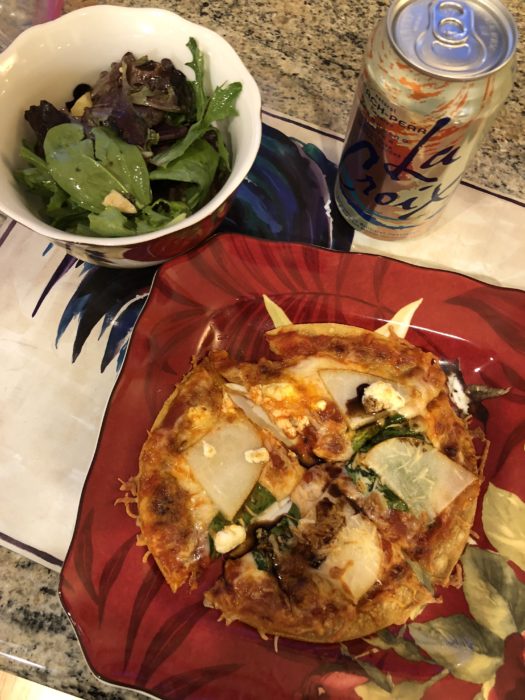 Sunday morning, I did the Super Guadalupe River Run, a 5k that I've done for several years now. There's guacamole at the end, so you know I'm all about that!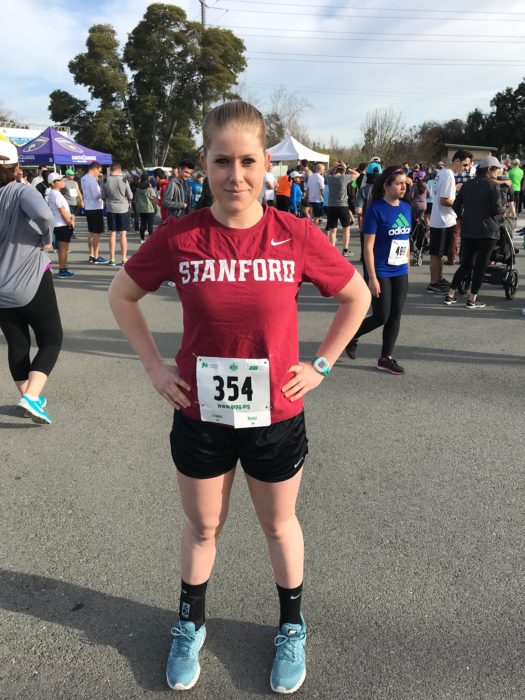 My sister and her husband joined me for the race this year!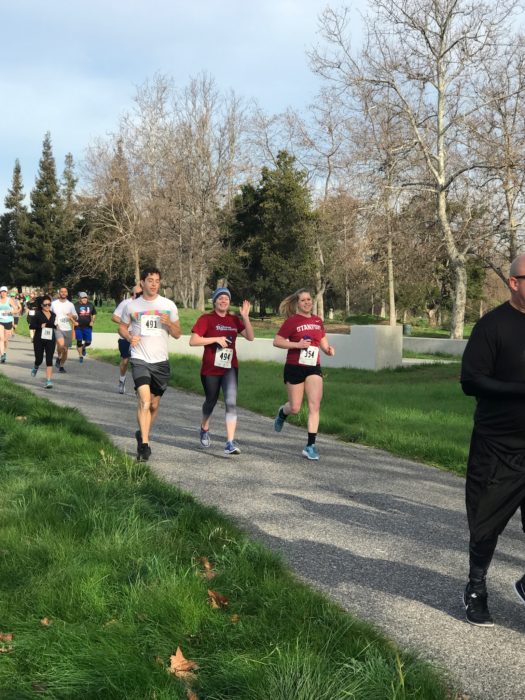 Going into the race, I knew it was probably not too smart, and would probably be rough. It was both better and worse than I was expected. I did a lot of spinning in the couple of weeks leading up to the race, and I get a lot of cardio in Crossfit. So cardio is not a huge issue for me. The good: my ankle was SO much better than when I did a 5k in December. This was really reassuring that it truly is healing, and not just that the inflammation is down but the structural damage isn't improving. Also, while my Achilles got a little sore, it really wasn't bad. Things that hadn't been used didn't really hurt. The bad: apparently, cross training works up until about 2 miles, because after that it was rough. My legs were just done. My inner thighs were shaking after the race, and have been super sore all week. Yeah, there are definitely some very running specific muscles.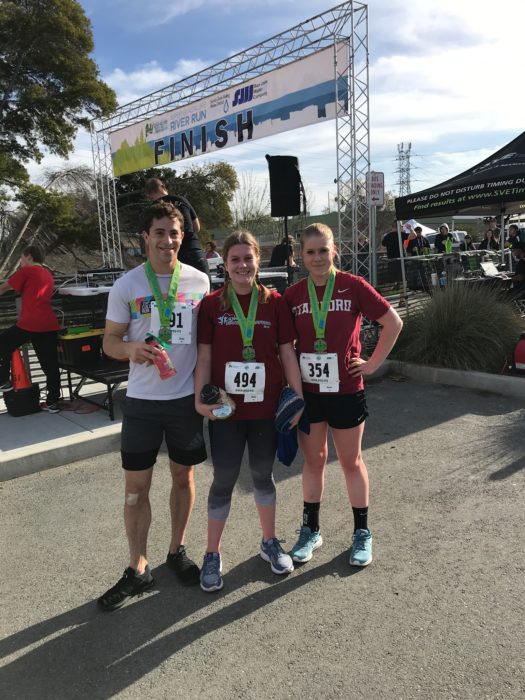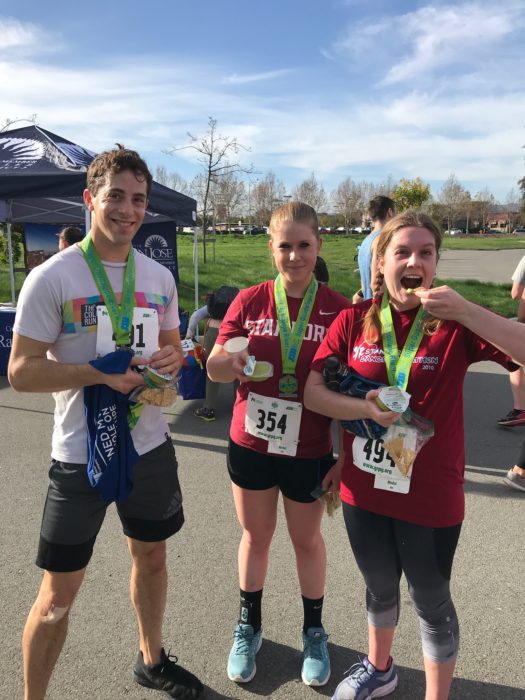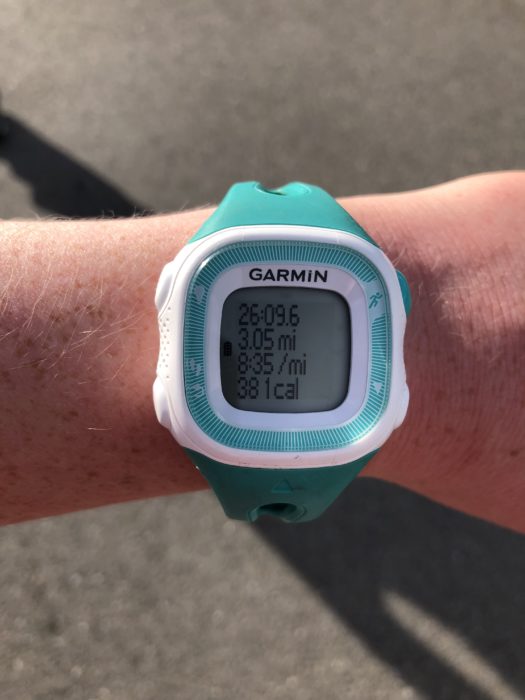 My sister's birthday is a week away, so we celebrated a bit early with post-race brunch.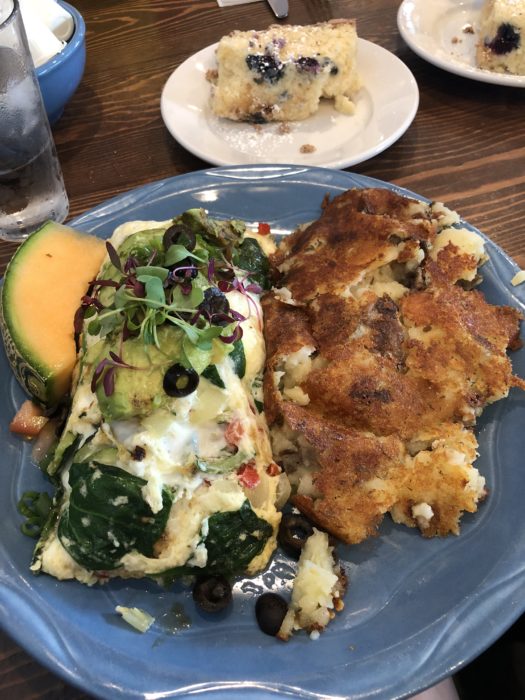 I got an egg white omelet with veggies and avocado, with potatoes on the side. Yum!
I spent the rest of the morning studying, and then it was time for the Super Bowl!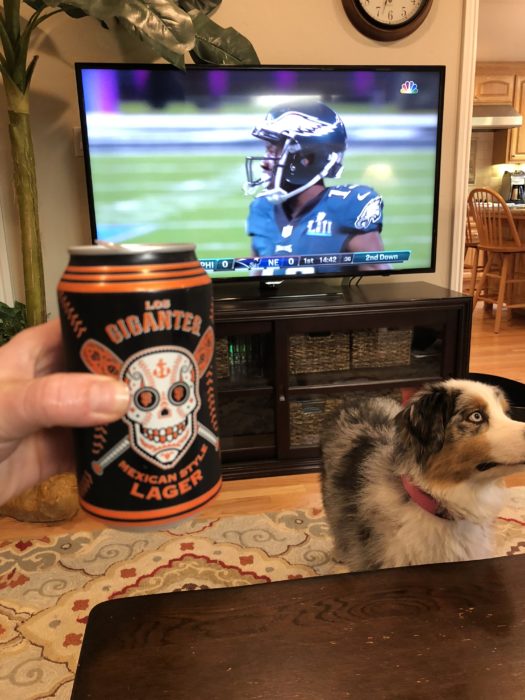 Can you tell I'm ready for baseball season?
Snacks for the Super Bowl leaned towards the healthier side this year. Beer+baked lays+veggies with yogurt ranch+Pirate's Booty to start. For dinner around half-time, I made an interesting take on cheese fries. We spiraled butternut squash, then roasted it. Once that was done, we topped it with plenty of cheese and broiled it, then added chopped green onions. Admittedly, I am on a huge butternut squash kick these days, but this was delicious!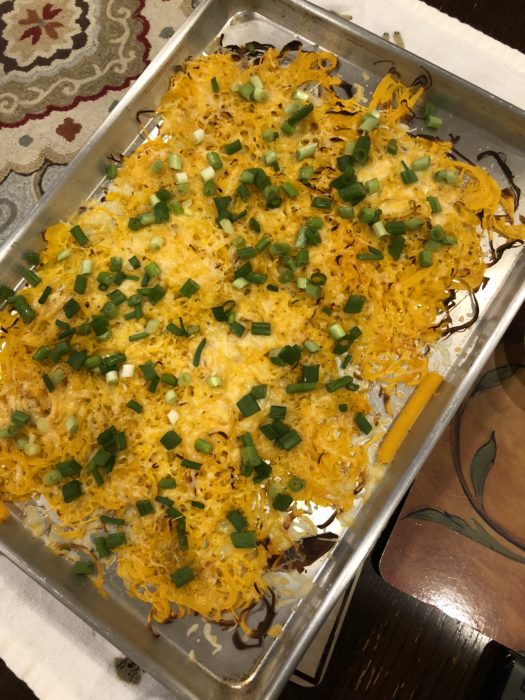 …although maybe a little too healthy. I drove back to school right after the game, and was STARVING when I got home.
Before I sign off, I have a few more kitty pictures. Another motivation of going back for the weekend was to take Jackson. I want him to continue to be comfortable in the car (he's SO good), and to have some time with my kitties back home. He LOVES Charlie, and followed him around all weekend. The two of them romped around the house, and Jackson slept the entire drive home.