Guess what? I'm off to Vegas today! I'm going to the IDEA World Fitness conference. I went 2 years ago, and it was an absolute blast. I had a great time and learned so much! Naturally, I again signed up for tons of cycling sessions. I am also going a day early to get Schwinn certified. I am currently certified through Spinning, but I am going to let that expire this year. I feel like Schwinn is more the future of indoor cycling, and I was having a lot of difficulty finding continuing education classes for Spinning. I am going to be in Vegas for almost a full week. My sister is coming one night, so it should be a lot of fun! But may also be the death of me. Stay tuned.
In the meantime, I wanted to highlight some food and fitness from the past week!
Fitness highlights include doing Fran at Crossfit (21-15-9 thrusters and pull ups) and beating my time by 45 seconds. I'm not sure when I did it last; I feel like maybe in St. Louis this fall? Or even at home more recently? Either way, I'm happy with the progress!
A bigger highlight is squatting at Crossfit, and seeing the #gains. Before really focusing on squatting, on my own doing a program and at Crossfit, I struggled to get 3 at 185#. Today, I was doing max reps at 195#, and I got 5! What??? That is absolutely crazy. The heaviest I've squatted in 2 years is 190#. I got really strong a couple of summers ago, and then dislocated my shoulder the week before testing a one rep max, and then couldn't hold agar for months. So this is huge. I REALLY want to test a 1 rep max. My current all time 1 rep max is from 3 years ago, and it's 205. If I can hit 5 at 195, then I sure as heck should get a higher max. This has been so rewarding!
One last highlight was softball this week. I'm going to be obnoxious and brag for a minute. I went 4-5 with 2 HRs, in my first 2 at bats. After I hit a double my third time up, the other team played with 5 outfielders (normally there are 4 for slow pitch.) So that was fun! My team won the game too!
Ok, onto the food. I've been wanting to do a full day of eating, but I never got the time to write it up, so we'll just go through a few things.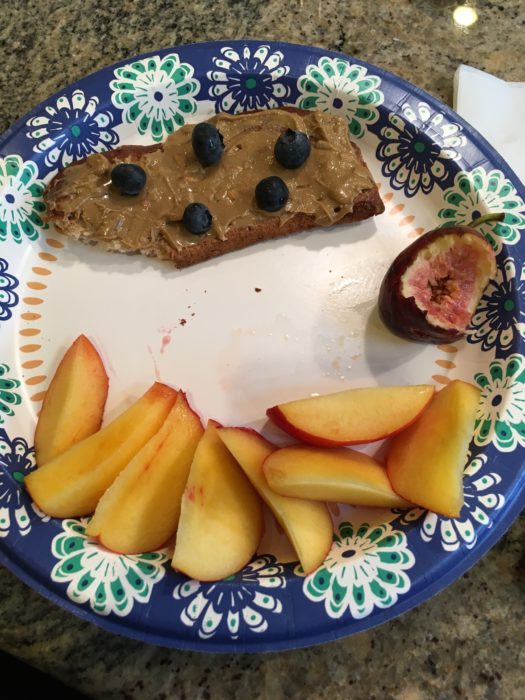 A different breakfast?? Nectarine, fig, and sunbutter on GF toast with blueberries.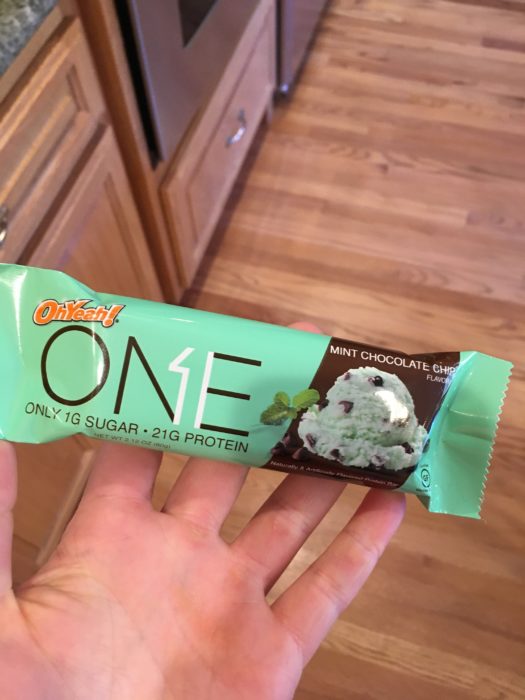 Mid-morning snack. I actually like this brand of protein bar, but for some reason I've only been eating them bits and pieces at a time. I had a piece of this to try, and a piece of the white chocolate raspberry flavor.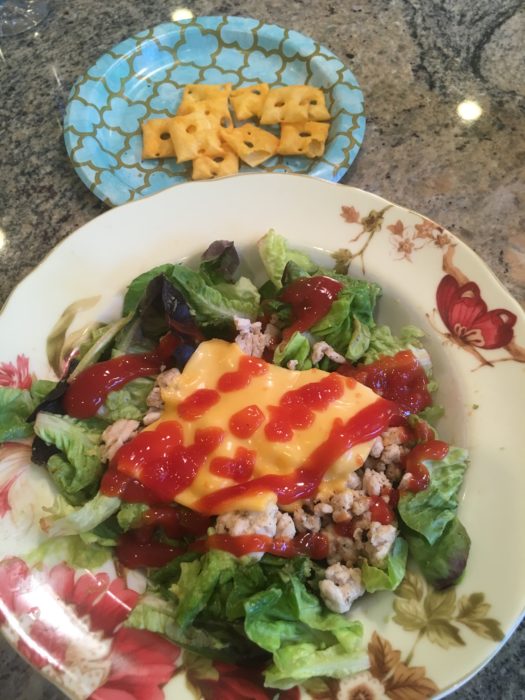 Cheeseburger salad with some cheddar GF cracker type things that are actually super delicious.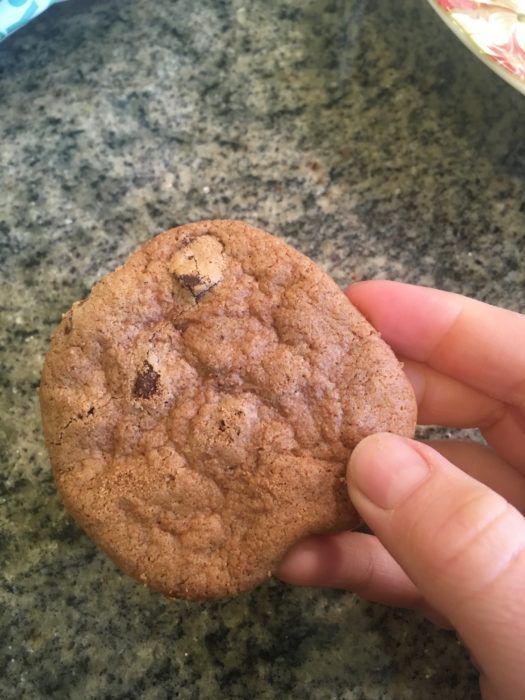 GF cookie for lunch dessert.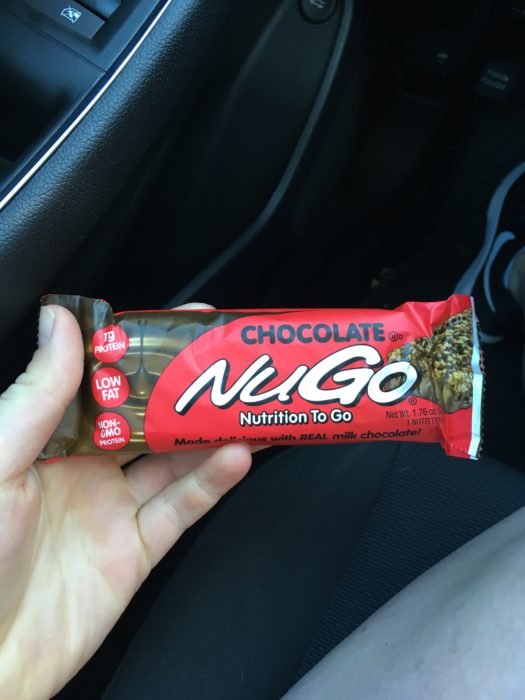 Bar pre-softball and post bridesmaid dress try on (!!).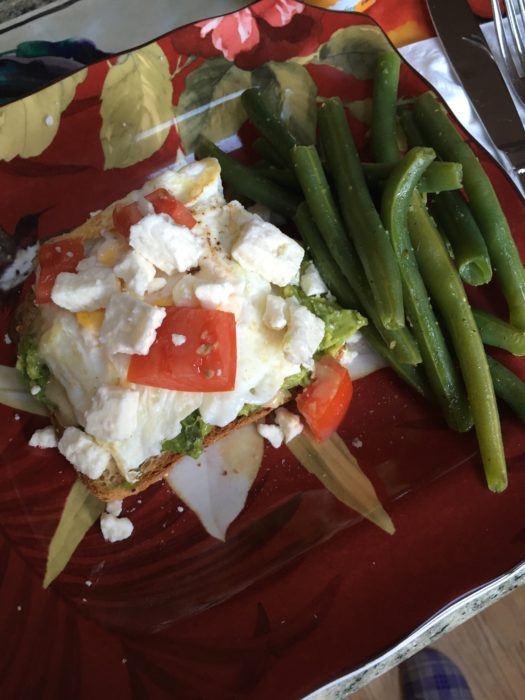 Avocado smash with green beans.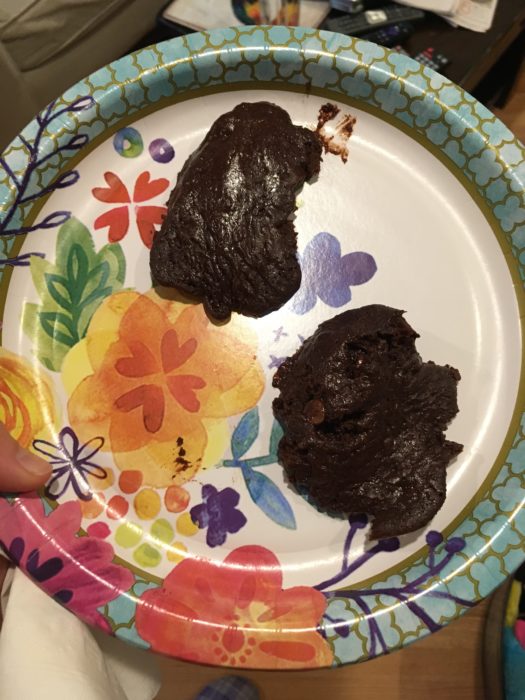 Flapjacked cookies that are super ugly because apparently I didn't cook them long enough. Still delicious.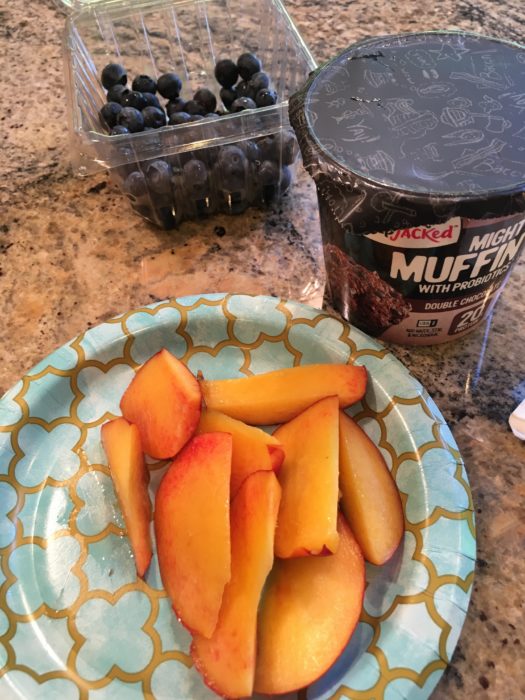 This is my favorite breakfast because chocolate, but I try not to have it every day. Plus delicious CSA nectarine.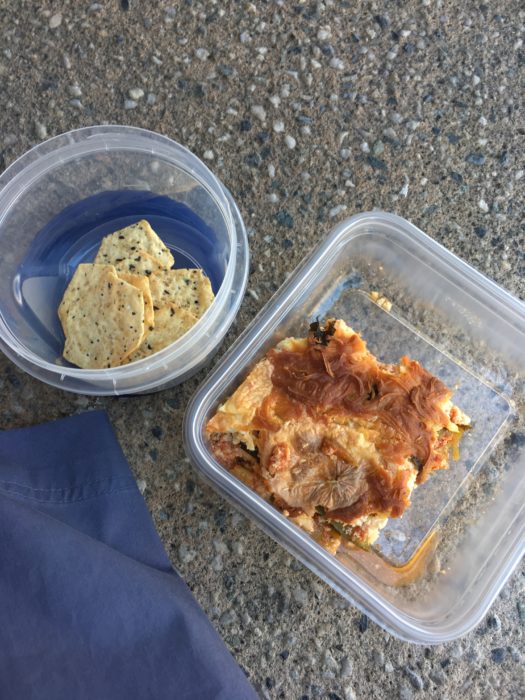 Work lunch of leftover zucchini lasagna with crackers. I really, really liked zucchini noodle lasagna. This may need to become a recipe for vet school!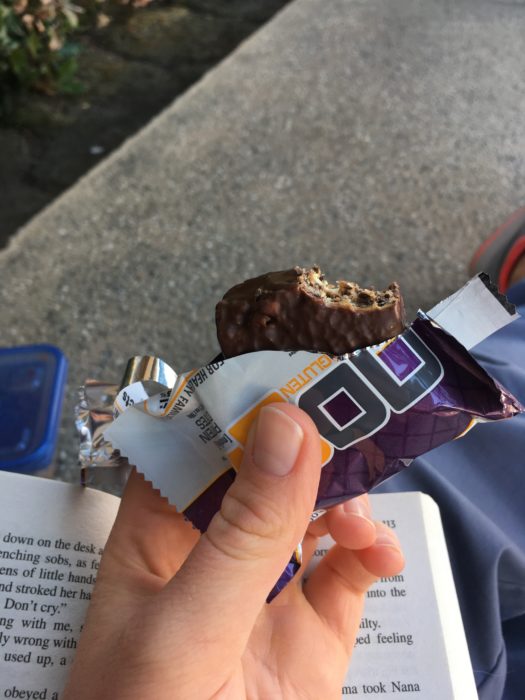 Still loving these salted caramel mini protein bars from Costco.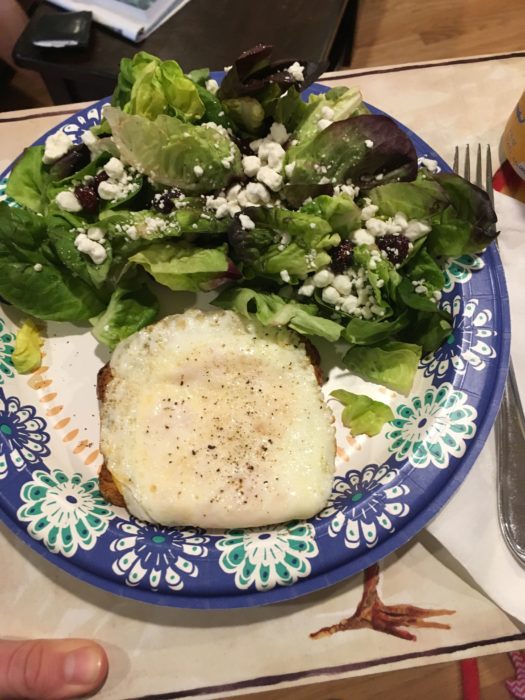 Quick and easy dinner post-late night at work. If we're being real, this is likely going to make up a large part of my diet in vet school. Egg and cheese on toast, side salad with aged balsamic, goat cheese, and dried cranberries.
More flapjacked cookies. So delicious.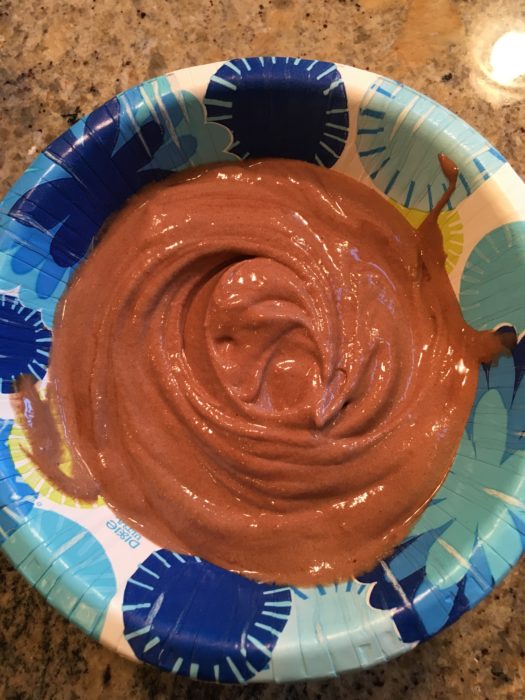 Very, very much needed protein smoothie post-195# squats and a ridiculous Crossfit WOD. 5 rounds of 50 overhead lunges and 21 burpees. YUCK. This was chocolate protein powder, cocoa powder, milk, and banana. This is my current favorite protein smoothie. I should probably add it to the recipe page…
Mid-morning I met up with my college roomie at the shopping center by campus. Naturally, we got our veggie juices on.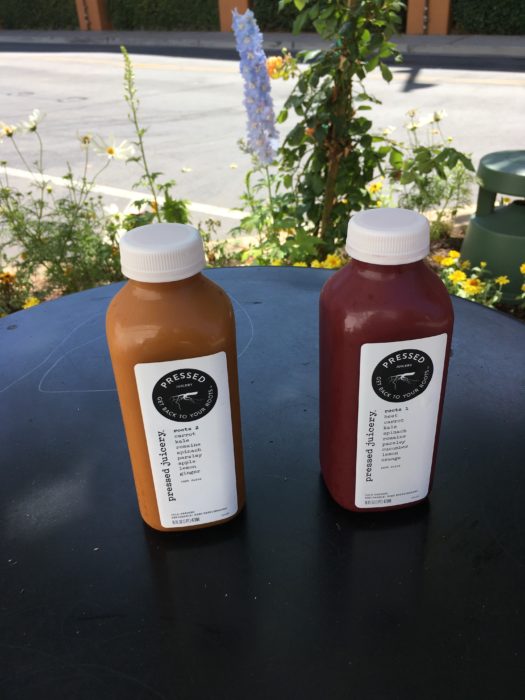 Mine was the left: romaine/carrot/ginger/apple/etc.
We didn't buy much, but we walked around and chatted for hours. We stopped for lunch at the new Tossed Greens.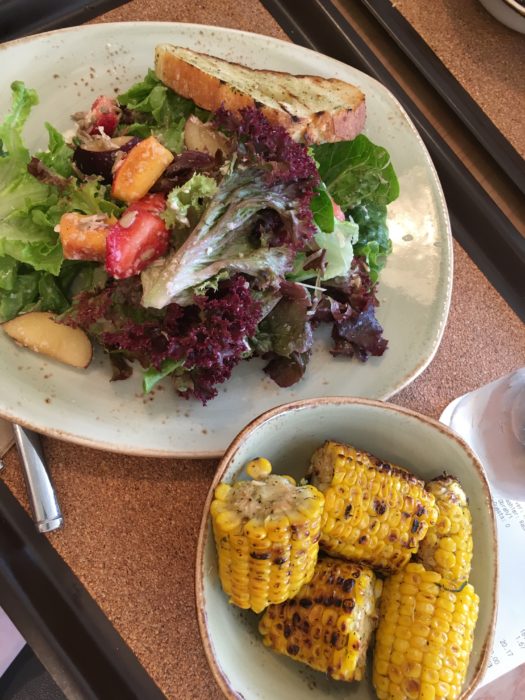 I got a salad with nectarines, plums, parmesan, and sunflower seeds, and a side of herbed grilled corn. YUM. Everything was so flavorful, especially the veggie sides!
After more walking around, we stopped for froyo at Pinkberry before parting ways. I got blueberry muffin with M&Ms.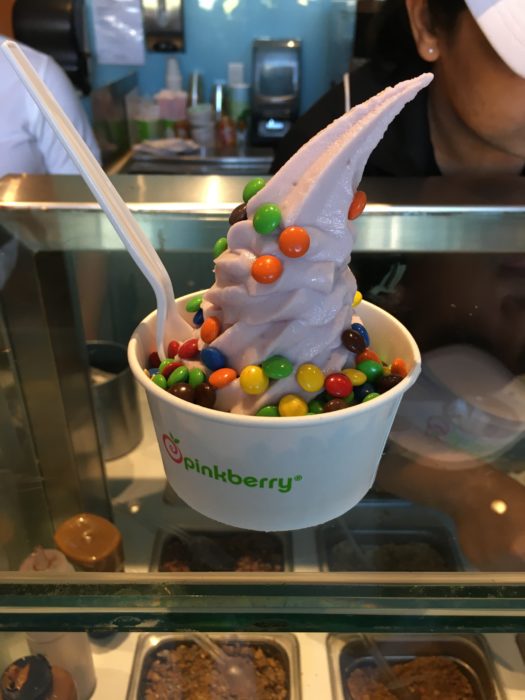 Then, I headed home in time to go to the Giants game! I went with my friend for her birthday, but my parents also happened to have tickets that day so I rode up with them.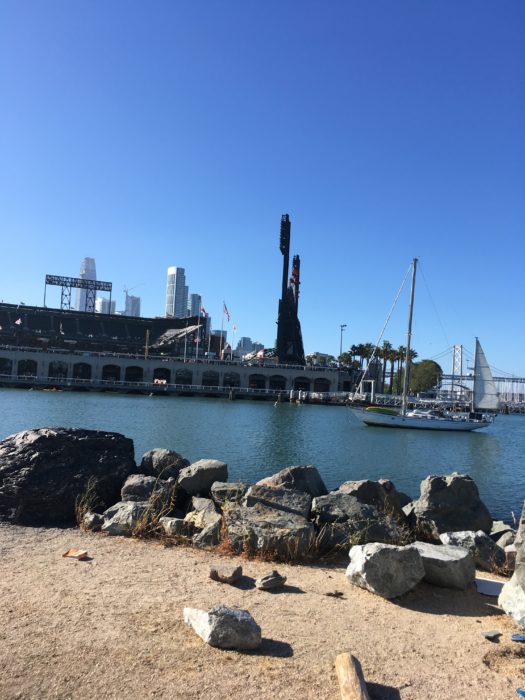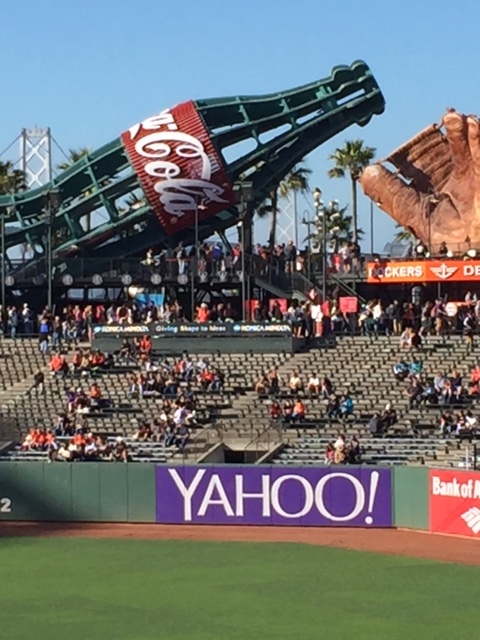 It started out warmish and absolutely beautiful, but quickly turned cold! We were FREEZING.
For my meal, I got a cha cha bowl: rice, beans, chicken, and a pineapple zucchini slaw, plus BBQ sauce.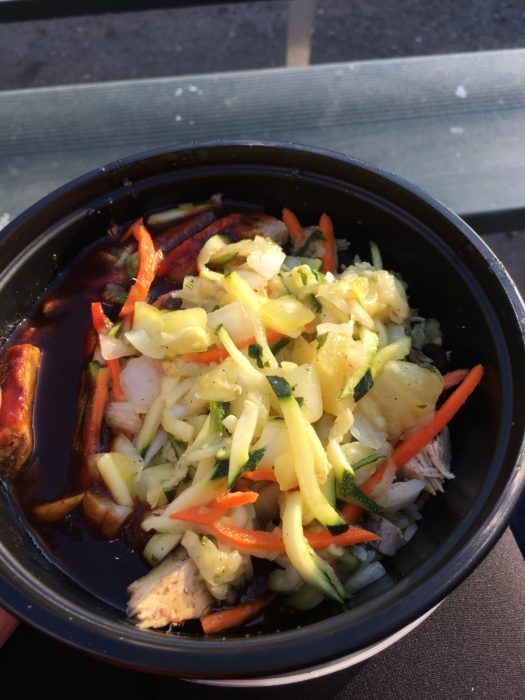 Despite the loss, it was a fun evening, and it was great to be able to celebrate with my friend on her birthday!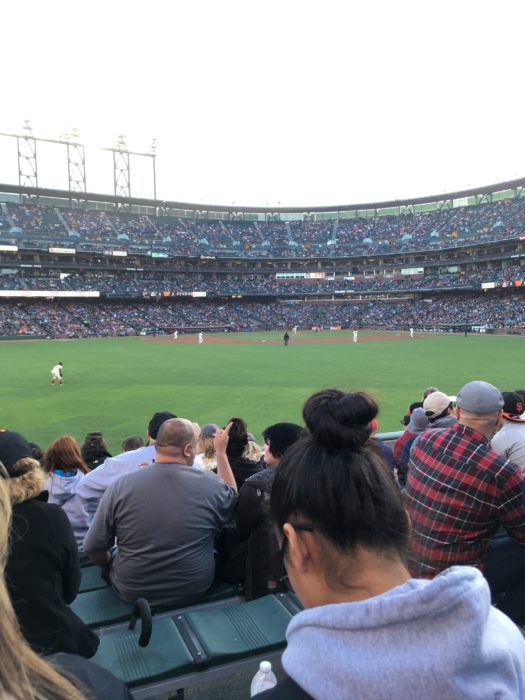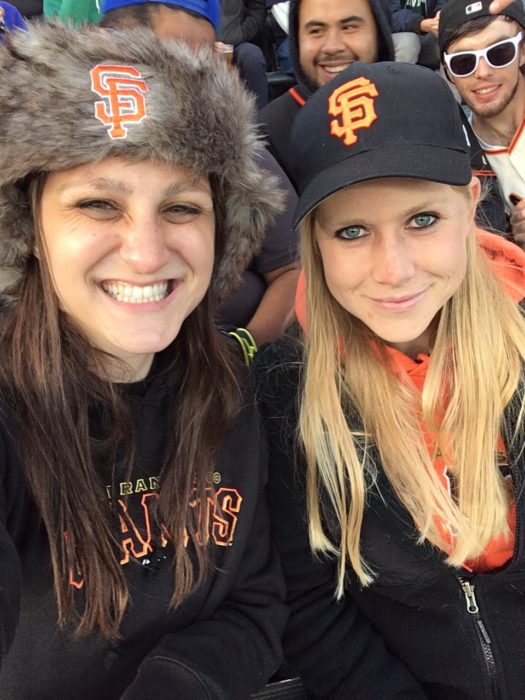 This morning (Tuesday), I did a quick gym workout on my own to get my squats in before I leave this afternoon. I did back squats, then a little bench and a quick circuit of push ups, pistols, and dips. I finished with a Blogilates abs video. I'm actually going to one of her workouts as part of the conference, so I figured I might as well prepare!
I had a breakfast of a flapjacked muffin and a massive nectarine.
This next week is going to be an absolute blast, and definitely a whirlwind. Of course, you know I'll be back here to blog my experiences! I think I'm also going to try and do a full day of eating for one of the conference days. I also had a lot of fun packing all the real people outfits because all I have worn lately has been scrubs/workout clothes.
See ya from Vegas!