I am currently sitting in an apartment in New York City! It's my first time here, and I'm visiting my college BFF.

I just got in tonight and my friend has doe work to do, so I thought it would be the perfect opportunity to catch up! I came to New York from a daily trip in DC. We had a family reunion trip for my grandma's 80th birthday, and of course I suggested DC. I got to play the guide for the weekend and shepherd the group through the metro. Also-I had $20 on my metro card from last summer and I actually remembered to bring it! Score!
Last summer, I fell in love with DC. When my plane landed at DCA, I felt like I was coming home. I can't explain the feeling, but I feel like I left my heart here and this is where I belong. I've never felt such a strong pull to a place. Last summer was the best summer of my life, and I knew I'd be back.
The first thing I did on Friday morning was take a short jog. We stayed in Pentagon City, so I only saw the Washington Monument from a distance.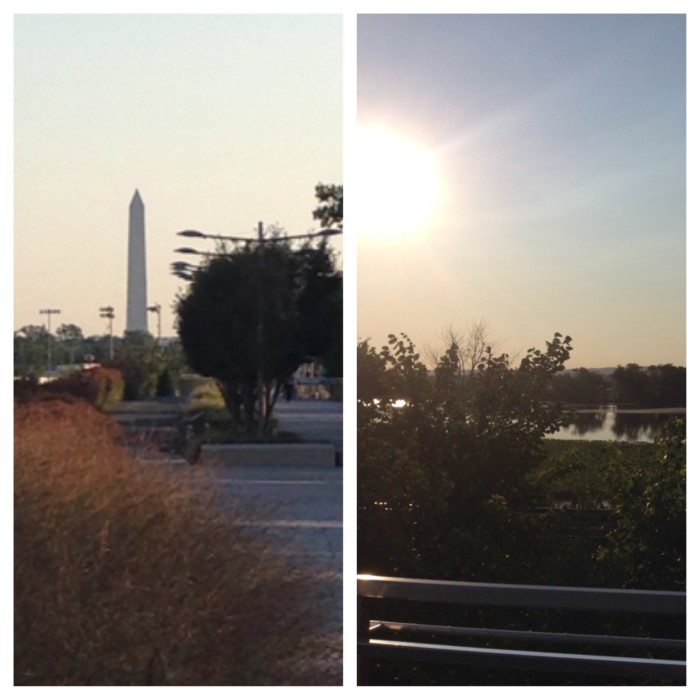 The first stop of the trip was the zoo-my grandmother and grandfather went on their first date there, so our family sort of originated from that!
How's this for a little transformation Tuesday? Last summer there were baby pandas, and I believe this is the same panda, now 1 year old.
After the zoo, we stopped at a restaurant on the way to the metro where I got a delicious beet salad with goat cheese, avocado, and chicken. I'm trying very hard to make myself enjoy beets, and I think this salad helped bridge the gap!
Next up was the American history museum, which was one I didn't spend much time at last summer.
And finally, we went on a moonlight tour of the monuments.
(Free champagne in the lobby with my cousin!)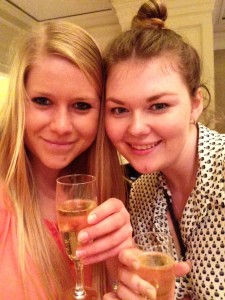 The monuments at night are beautiful, and I loved getting the history and background of various spots.
The rest of the night was spent catching up with family, including my long lost sister who I don't see enough!
Saturday morning was another early day-we started with the botanical gardens before it got too hot.
Followed by the Air and Space museum. That might be my favorite Smithsonian. I didn't really explore Space last summer because I got too burned out on Air (I had my long training run that morning+the Natural history museum on that day), so it was cool to see that stuff! I really like all the space stuff. In middle school I actually thought I might want to do aerospace stuff as my career (that didn't last though-I am no engineer).
In the afternoon, we went to high tea at the Ritz.
Apparently high tea is a big thing in DC!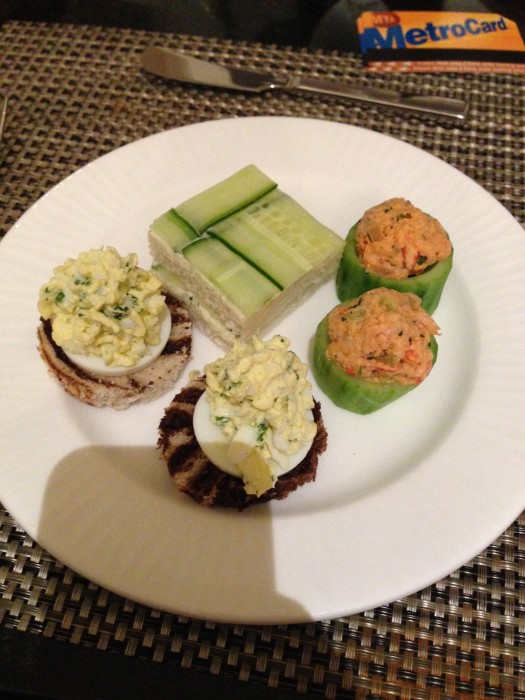 They treated us very well, and brought all kinds of extra food. I'm avoiding wheat right now (which is insanely complicated and probably deserves its own rant) so I ate the innards of the sandwiches, plus a few bites of the current scone (which was fantastic). The sandwiches were egg salad, lobster, and cucumber with herbed cream cheese. A lot of the desserts had nuts, so they brought out a special plate for me that was nut free, including lemon creme brûlée!
We had a nice dinner planned late that evening, but the rest of the afternoon was dedicated to an important task. There were 2 things I wanted to do on this trip. Run the monuments, and get cupcakes. I consider myself a DC cupcake expert. For our poison of choice, I chose Baked and Wired. I'm not about that line at Georgetown Cupcakes, and Baked and Wired is spunky and unique. We took the Metro to Foggy Bottom (my favorite area of DC) and then walked to Georgetown so I got to show my family my old stomping grounds!
One of the necessary qualifications of a cupcake shop in my book is having dietary restriction friendly fare, and Baked and Wired has several gluten free options (as well as vegan options). I went with a gluten free chocolate strawberry, which was chocolate cake with strawberries in the batter, topped with vanilla buttercream.
For dinner, we got all fancied up and went to a French American place near L'Enfant, Central.
If you go there, ORDER THE CHEESEPUFFS. Amazing. I only had a few bites, but amazing. I shared a delicious goat cheese caesar salad with my dad for dinner and had the rotisserie chicken, which was perfectly cooked. I also pretended to be classy and had a glass of Rosé.
Sunday morning began with my other goal for the trip, a monument run. I had originally planned to run from Arlington metro stop across the bridge to the monuments, but the blue line metro was about a 20 minute wait, so we instead got off at L'Enfant and made our way to the National Mall, past the Washington Monument and Lincoln, and over the bridge to Arlington Cemetery and back. It was a fun run-I managed to drag 4 other family members with me, which is a definite first! It was getting bit warm though at 10am!
Our last stop of the trip was the Native American History Museum. The cafeteria there was Native American food, and it was delicious!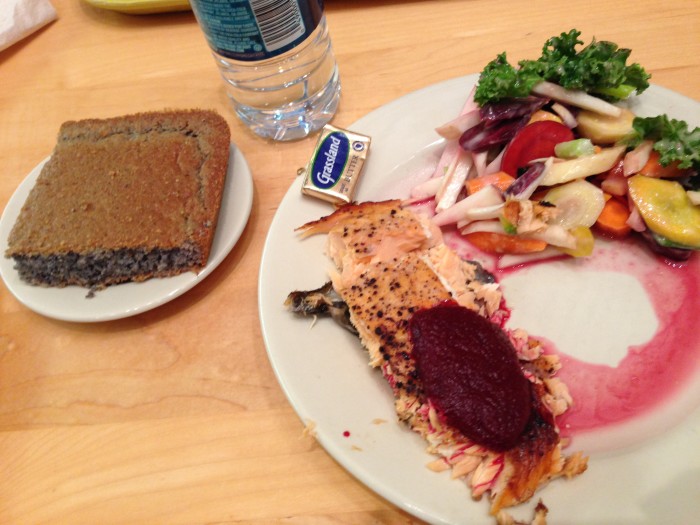 Blue corn creed, cedar plant salmon with beet puree, and root salad with heirloom carrots.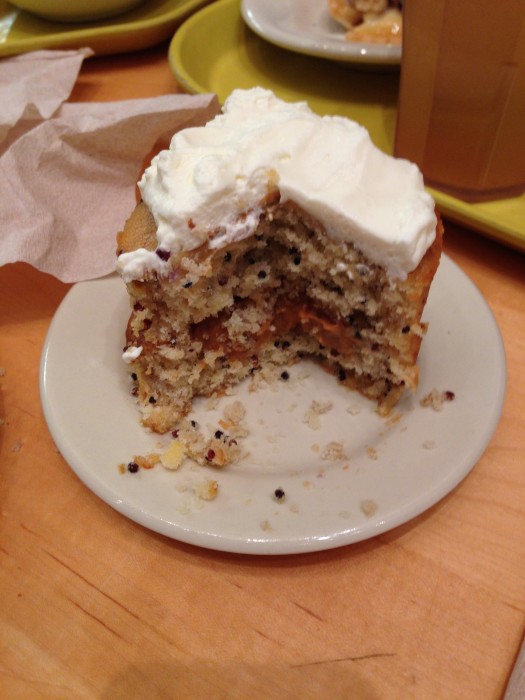 Quinoa plantain cake with a dulce de leche center.
Then, it was off to NY!
This DC trip was awesome, and it made me even more sure that I want to spend my gap year here. This weekend, my fears of graduating and only having one year left of college melted away because I know there's something amazing to look forward to after college. (That being said, should I do a life plans update post at some point??)
What city do you call home?