Hello! I honestly don't think I've really done a weekly workout post maybe since I had a broken foot….which is to say it's not something I've done in a while! But hey, why not do one, right? I thought it might be fun, especially since I decided to do a little squat program. So here it is! This is the week of June 19.
Monday:
I went to a morning spin class at the local studio, and then Crossfit in the evening. For our strength, we worked on back squats. We did 5-3-1+ at 75%-85%-95%. Which means I did 5 at 145, 3 at 165, and as many as possible at 185. So, I haven't lifted anything heavier than 175 in a while, so I didn't have high hopes for 185. The first one went up well, which was surprising. The second one was hard. The third one, I had trouble coming up so I tried to fail it, but I was leaning a little too far forward to drop it behind me so I had to straighten up to fail…but instead of fail, when I straightened up, I surprised myself and just came all the way up, magically landing my last squat. What?? I did not expect that! Needless to say, I was happy with my 3 reps at 95%.
The WOD was a little different. It was max reps in a certain period of time: 1 minute of double unders, 1 minute of dumbbell snatches, 2 minutes DUs, 2 minutes of DB snatches, 3 minutes of DUs, 3 minutes of DB snatches. I think I ended up with 200 double unders, 79 snatches, and a nasty whip mark.
Tuesday:
I went to Crossfit before work. We did cleans and snatches, and then did a very uncomfortable WOD. It was 21-15-9 of muscle ups (in theory) and single arm dumbbell overhead squats. For muscle ups, I subbed pull ups and push ups. So why was this uncomfortable? If you have ever attempted a single arm overhead squat, you would understand! I just do not bend that way. At least on the right side. It was a great opportunity to again be reminded of how asymmetrical I am. My left shoulder has always been looser (partly why I partially dislocated it a couple of years ago). So these weren't great, but still manageable on my left, and just straight ugly on the right. I used a 20# dumbbell on the right, which made it more manageable, and a 25# dumbbell on the left.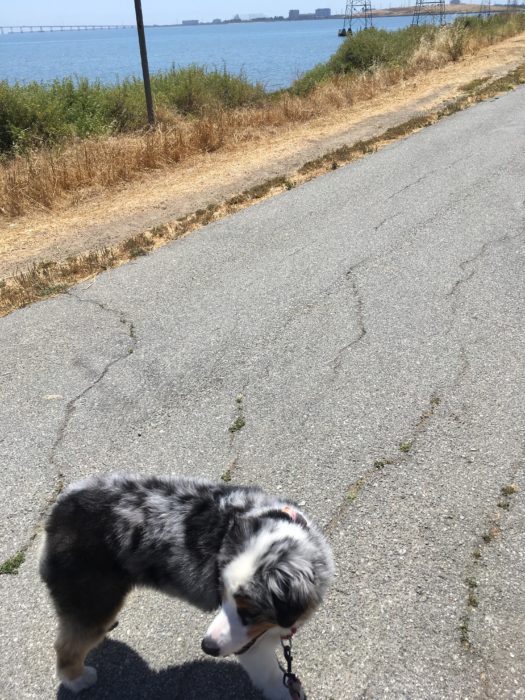 Wednesday:
Morning Crossfit! We did 75%-85%-95% for 5-3-1+ again, but this time for strict presses, which are one of my least favorite weight lifting movements. Partly because I'm pretty terrible at them. I did 80# for my 95% and did a whopping 1 rep.
The WOD was a fun one though! 3 rounds of: 250m row/ 12 cleans (65#)/ 21 push ups. I finished in just over 11:00
Thursday:
I started work at 7:45am, and was super torn between spin and Crossfit. Eventually I decided on a spin class, even though I would have to leave early!
I had my first slow pitch softball game that night, and it almost didn't happen! Work has been crazy lately, and it was clear early on I would have to stay late. I got super lucky and my kind coworkers let me race off around 5:15 (for a 5:30 game). I had warned my team I would be late/unable to come, but I texted my sister (also on the team) when I was on my way. I showed up a good 10 minutes late, and they actually hadn't started yet. We were super short on players, and if I hadn't shown up literally within the minute, we would have had to forfeit! Phew! We still were 2 players short though!
Some of the longer time readers may remember how I played slow pitch in past years. I couldn't play last year thanks to a wonderfully broken foot (and because I was in TN for the rest of the season), so I wasn't sure how this was going to go. Well, it turns out muscle memory is a great thing. I was a hardcore softball player throughout middle and high school, and spent hours every single day practicing. I guess some of that stays with you, even with a 2 year gap! Somehow, despite being 2 players short of being able to field a full team, we managed to pull out a win! I had the joy of playing 2 outfield positions at once, haha! I also had zero warm up for the game, minus the running to my car on the way there! I realized about halfway through the game that thankfully, my tendonitis was feeling good!
I had such a blast playing again. I actually went 4-4 with solid contact, and the opposing team actually has a ton of people I know from the fall league I used to play in! Man, it felt so good to be back out there!
…That being said, starting Friday and especially Saturday, I was pretty darn sore!
Friday:
My own workout at the gym, continuing the squat program.
Back squats: 8-8-6 at 145#-155#-165#
From week to week, reps decrease and weight increases.
Deadlifts: 5-3-1 at 165-185-205
Single leg RDLS: I used a 50# dumbbell and did 4 sets of 6 per leg.
Conditioning: 6 Minute EMOM:
Min 1: 6 dumbbell snatches (35#), 1 burpee
Min 2: 5 snatches, 2 burpees
Min 3: 4 snatches, 3 burpees
Min 4: 3 snatches, 4 burpees
Min 5: 2 snatches, 5 burpees
Min 6: 1 snatch, 6 burpees
Abs: Most of this tried and true ab workout I got years ago; 25 reps per movement.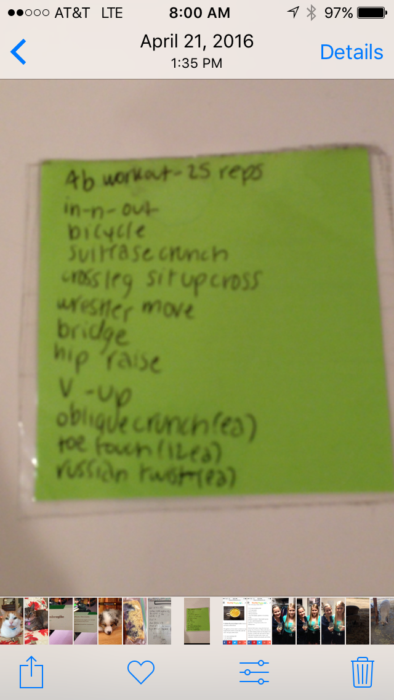 Saturday:
"Rest" day. Not entirely sure work qualifies as rest though!
Sunday:
3 mile hilly run through my neighborhood.