12 things that have changed in the past year.
Here's last year's post.
Yayy! We've reached the 12th day of Christmas, and it's officially my blogiversary! And this is one of my favorite posts to right because I think it is really interesting what has changed in a year. It's absolutely crazy to me that I now have TWO YEARS of my life documented on the Internet. Thank you all so much for reading and commenting-your comments never fail to make my day! Stick around to the end of the post for a little something fun. So, let's dive in!
1. I'm teaching spin now! Last year it was a big deal for me to be certified, but I never was too ambitious with applying anywhere. I finally took the leap, and am so, so glad I did. It's so incredibly rewarding.
2. I actually have a more clear picture of what I want to do with my life that I'm happy with, and I'm laying out plans to get there. This one has been a constant struggle for the past 2+ years, so this is a major change. I don't want to talk specifically about what it is yet because I have changed my mind a lot in the past, but I will say I've mentioned it here a while ago before.
3. I eat fewer "products." Granted, this is partially because there are about 2 protein bars out there with nuts, so those are mostly out the window, but when I was thinking about last year's giveaway post, I couldn't even begin to think of my favorite items! This isn't particularly bad or good, it's just different.
4. I figured out how to eat ideally for my body. And then learned why it wasn't sustainable. After avoiding processed foods completely for two weeks, I felt amazing. But it wasn't necessarily practical for where I am now, and the backlash was pretty bad. I basically went crazy on sugar afterwards and basically undid any positive health changes.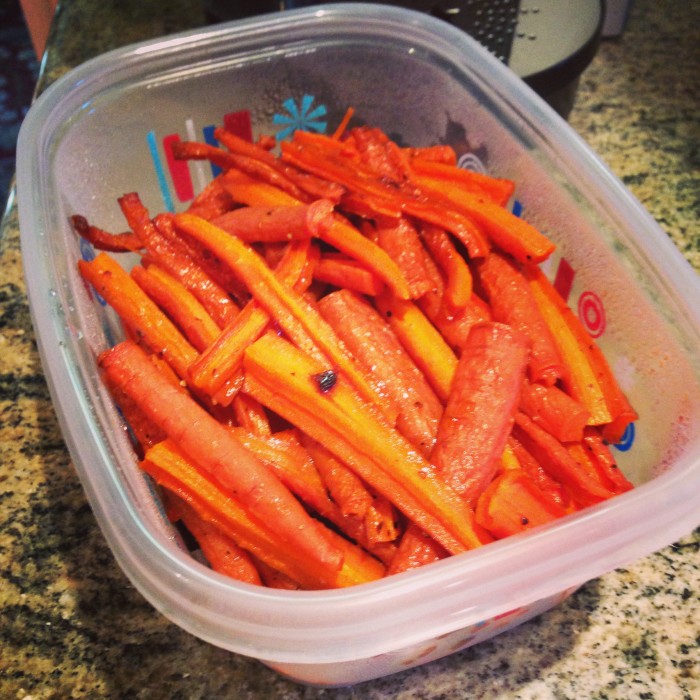 5. I discovered roasted vegetables. Why I never really explored them before is beyond me. Roasted carrots are life. My roommate happened to be randomly roasting them one day and it changed my life.
6. I lived like a "real person" for the first time. I jetted off to DC this summer and worked a 9-5. I lived in the city for the first time. And loved every minute.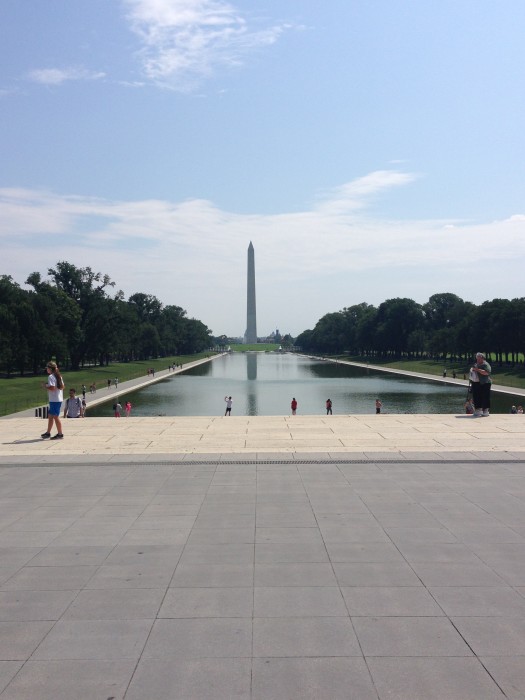 7. I've gotten more perspective. I've become friends with people who help me grow as a person. I've lived in a different place, and I traveled around the East Coast a bit and saw the world from different perspectives. I became a much more open person in college, but I think more than ever in the past year.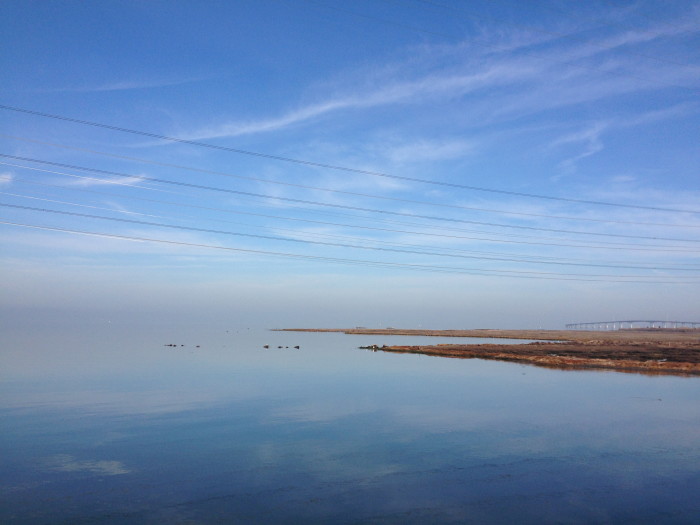 8. I firmly stopped believing in nutrition trends and fad diets. While I know they can be effective for some people, I felt like in the past I was either looking for a quick fix, or would believe anything. More often than not, when I see a headline I just roll my eyes now. I trust myself and my nutrition knowledge and research more than some over dramatized headline.
9. My interests have shifted. Don't get me wrong, I still love nutrition and metabolism, but I guess I feel there isn't that much there left to know, that much deeper to dig. I know there's still so much we don't know in this field, but maybe I'm a little burned out. I feel disillusioned or something. Blog content won't change-don't worry-but I don't see that as necessarily being my life direction. Which, honestly, I see as even more of a reason to keep my blog up and going. If that's not my career, I need it to be my hobby.
10. I HARDCORE avoid nuts now. After finally confirming my suspicions with an allergy test, I've been pretty good at avoiding them. And I know quite cleared when I screwed up. Did you know that a lot of Thai food is cooked in peanut oil? Yeah.
11. I broke my addiction to coffee. Or something. I definitely had it this morning…But I drink it significantly less. Partly it's because I don't live near close coffee and partly it's because I actually get a decent amount of sleep, but after getting sort of caffeine dependent this summer and then getting over caffeinated to the point it was scary, I really try not to make it a habit. After that one incident, I had to go through a caffeine detox which was not fun. Versus last fall when I had a crazy school load and drank it about every day.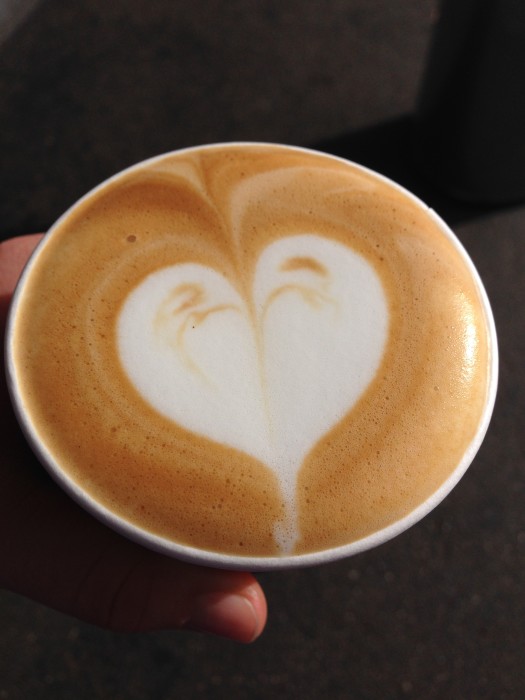 12. I've met some crazy awesome people in the past year! Whether through the Internet/my blog, or in real life. Seriously! It has been a great year! So I think it's time I share a little something with you all.
What's the one product I still eat very regularly?
Sunflower seed butter! I've gone on and on about how I love the amazing flavors from the Farmer's Market, so to show my thanks, I will be giving away 2 jars to on lucky person.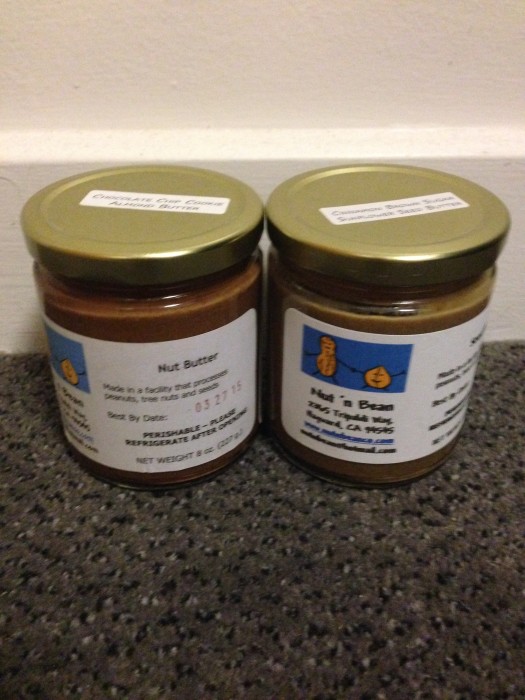 The flavors are Cinnamon Brown Sugar Sunflower seed butter (amazing) and Chocolate Chip Cookie Almond butter (which I haven't tried for obvious reasons but sounds amazing!).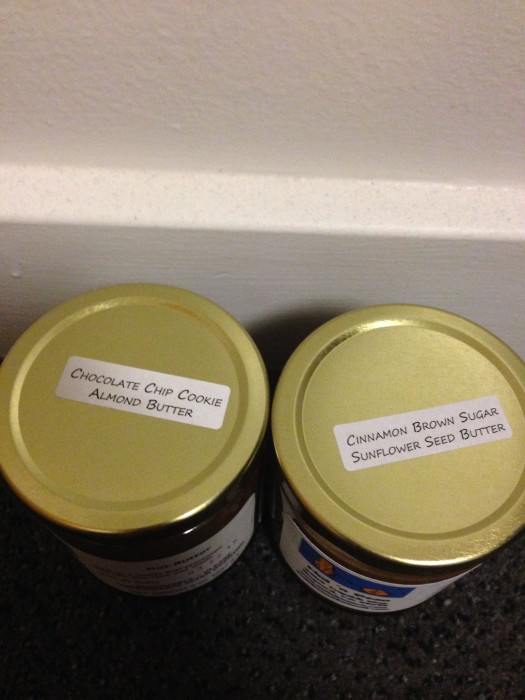 So, here's how it will work. There are 3 ways to enter.
1. Comment on this post with your favorite nut/seed butter or something that changed for you this past year.
2. Instagram the following picture and tag me! fitnessissweet
3. Tweet about it and include the following picture, and tag me! @fitnessissweet. Alternatively, you can retweet my tweet about the giveaway.
Each person can enter each way once (so up to 3x). I will chose a winner 12 days from now, at 5pm on the 21st of December!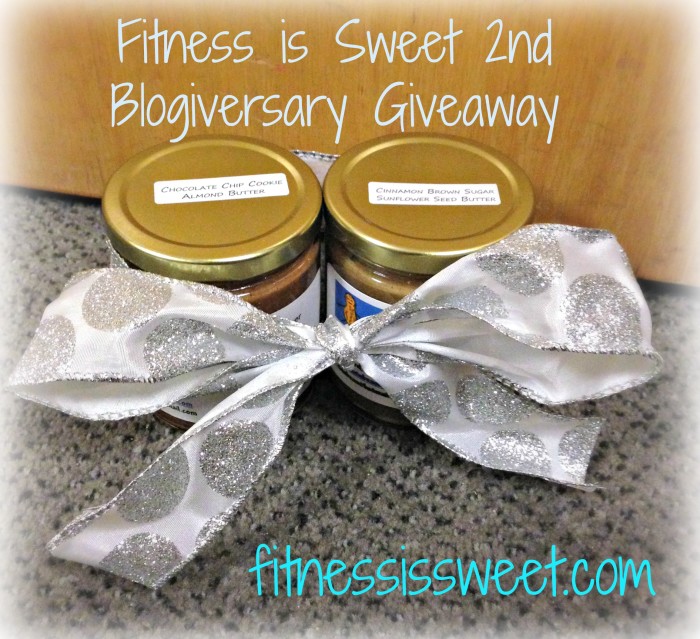 Good luck!