I know I wasn't the greatest at blogging this past year at school, but I both had minimal time, and didn't do many interesting things. I want to get back to blogging a little more now that I'm here because I have more time and am doing and eating more interesting things! (i.e. not zucchini pasta every night.)
I'm working longer hours than I have before, but it's been going really well. It's also so nice to go home and relax, not study! That being said…having a little time to relax combined with spending all day doing veterinary medicine and talking about cases has actually made me want to spend some time at coffeeshops studying on my days off. This summer is turning out to be EXACTLY what I was looking for. Some time to relax, some time to actually DO veterinary medicine and practice my clinical skills. Plus, because I'm in a different part of the country, there are definitely differences in clients and cases/diseases, which is what I wanted. I get asked many times a day why I came all the way from California. I know people doing the same program I'm doing 20 minutes from school. It goes to show you that your life is what you make it. I wanted to spend some time in the South, in a different place, so I made it happen. And I'm so, so glad I did. I may have grown up in California and gone to both undergrad and now vet school there, but I've managed to spend a few months living in DC, Knoxville, St. Louis, and now Nashville. Not only has it been a blast, but it really opens your eyes to what the rest of the country is like. In a way you wouldn't get just visiting for a few days.
In addition, I think Jackson is living his best life here. He quickly adjusted, and absolutely loves the place we are staying. He gets along with the other kitties, but mostly he loves looking at little critters out the window. Starting when it gets light around 5am until when I leave for the morning, he's darting from window to window chirping.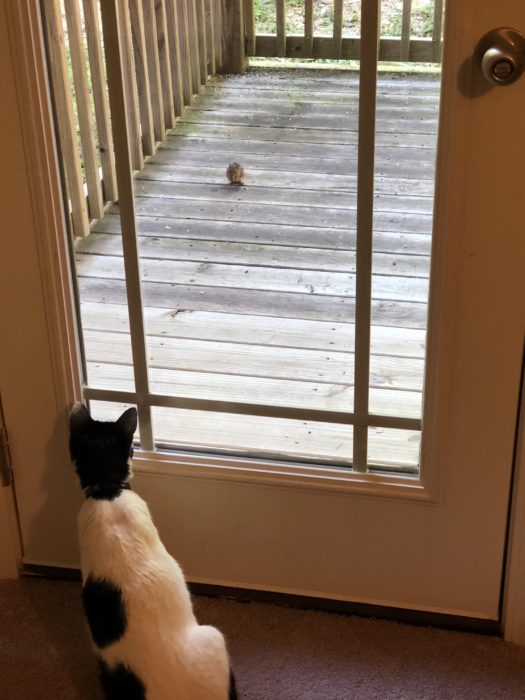 While my days at work are longer than I'm accustomed to, they haven't been totally wiping me out and dragging like I was worried they would. The only thing is my feet hurt SO much from standing all day! Hopefully they'll get accustomed to it. In terms of fitness, with longer hours I just try to fit it in when I can. On days I start at 8am I do 6am Crossfit. Because I work 10-12 hour days, I make workouts a priority on my days off as much as possible. I may try 5am crossfit classes at some point…but I"m not ready for that yet!
I've been eating the same salad every day at work: peaches, goat cheese, turkey, and balsamic.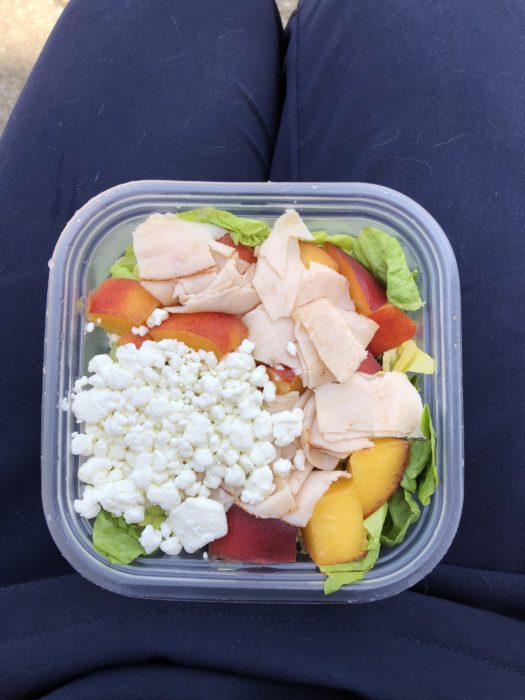 But back to the title of this post. Last weekend, my St. Louis friends made the 5 hour drive to visit me here! I worked Saturday, and they arrived Saturday afternoon and left Sunday late afternoon. We did a LOT in the 24 hours they were here, so here's what to do in 24 hours in Nashville!
Our frist stop was dinner at a brewery really close to me, Tailgate. I'm OBSESSED with the atmosphere here. It feels like summer. There's an outdoor area overlooking a hill, with lights strung up. At dusk, fireflies come out (which is mesmerizing for someone from California!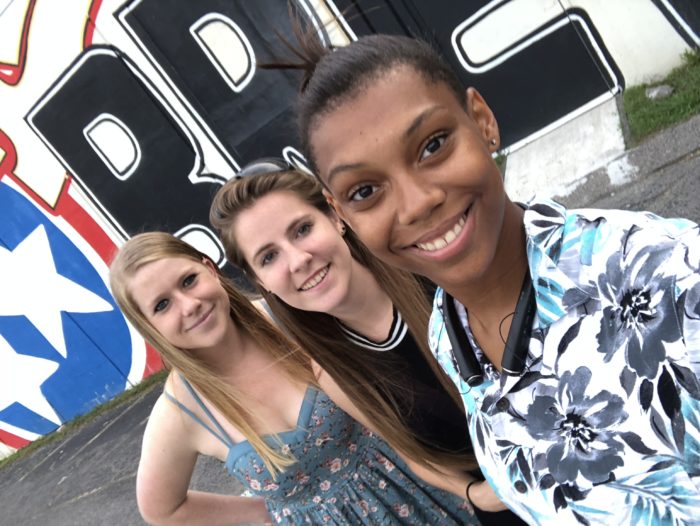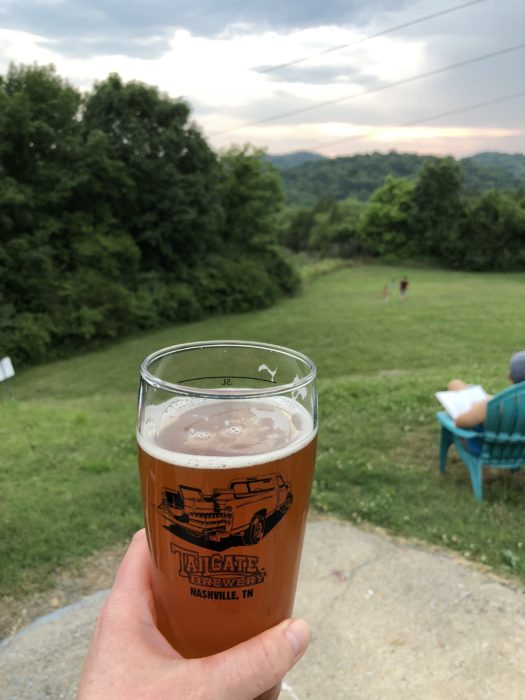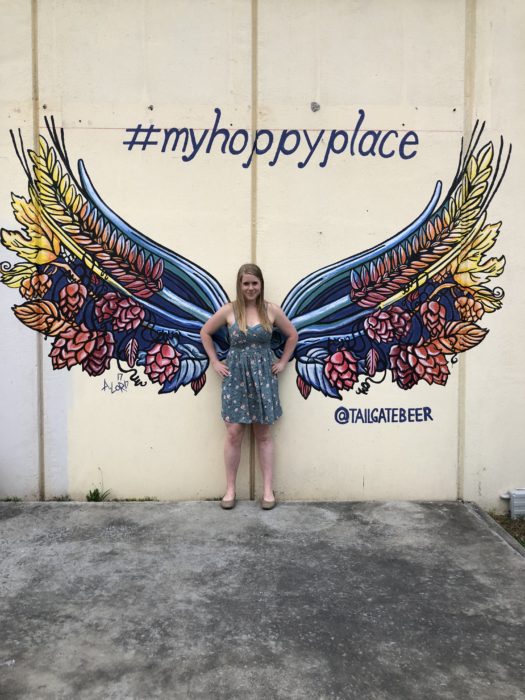 They also had REALLY good pizza. They had both GF crust AND cauliflower crust. It was so good we actually went again Sunday afternoon before my friends hit the road.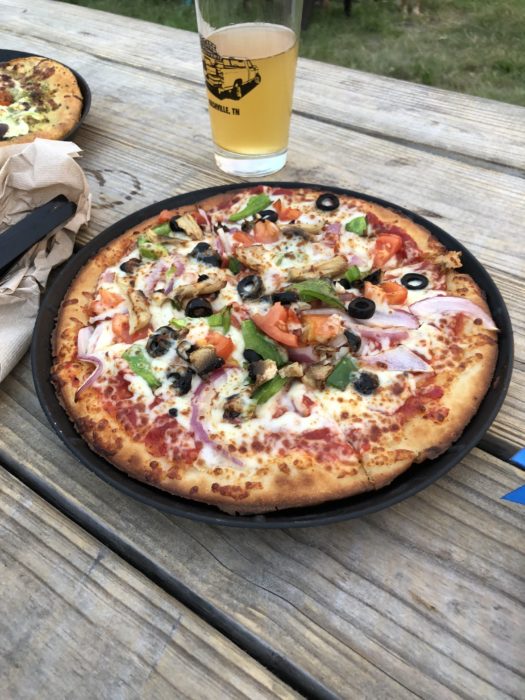 Everyone who visits me is coming here. It just feels like summer. I honestly didn't exactly understand summer until I left CA and came to Tennessee 2 years ago. There's something different on the other side of the country.
Next, we headed downtown to Broadway street. This is the main "downtown" that Nashville is know for. The cool thing about it is it's a several block area with a whole bunch of bars, most of which have multiple floors with life music, and a lot have rooftop bars as well. We totally lucked out and the weather was in the upper 70s at night. We went in and out of a ton of different places. It was a blast!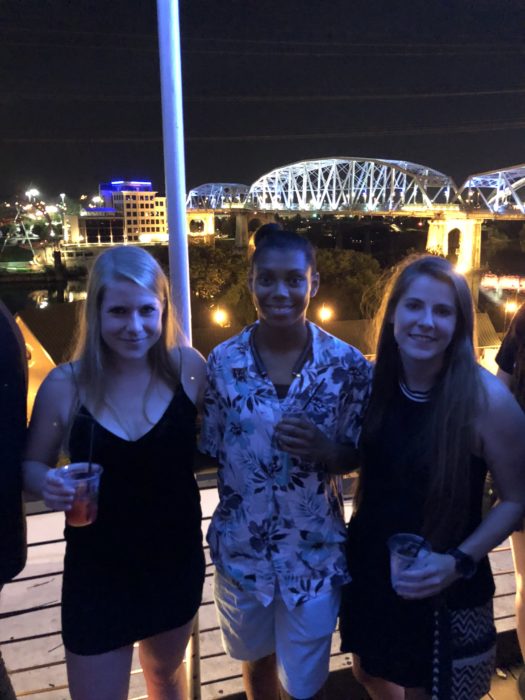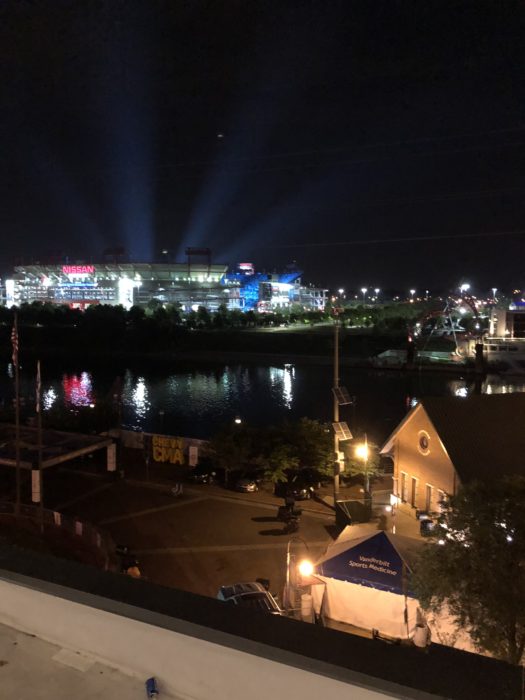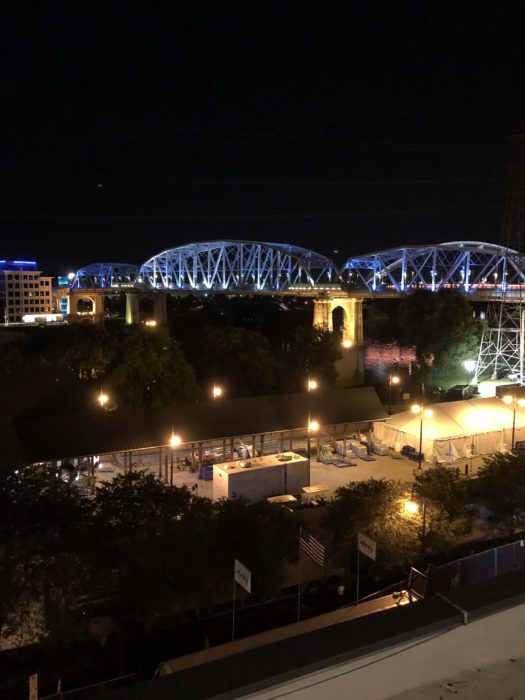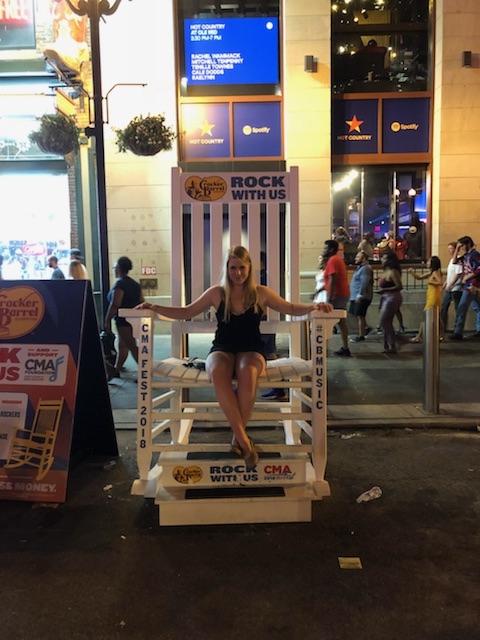 On Sunday, we went to brunch at the highly recommended Biscuit Love. We went to the Hillsboro Village location, and I would highly recommend doing this. It's their newer location, and after looking at their website, I was expecting an hour line to order, but we were able to order right away! Two of my favorite foods ever are biscuits and grits, so that's exactly what I got. I got a bowl with cheddar grits, eggs, tomato gravy, and kale, and then a biscuit on the side. I only had a little bit of it though. It was good but not my favorite style of biscuit. In terms of gluten while I'm here, I've had a couple of small things and been ok, so I'm going with it. I didn't push it since these weren't my favorite style of biscuits, but biscuits are going to have to happen while I'm here.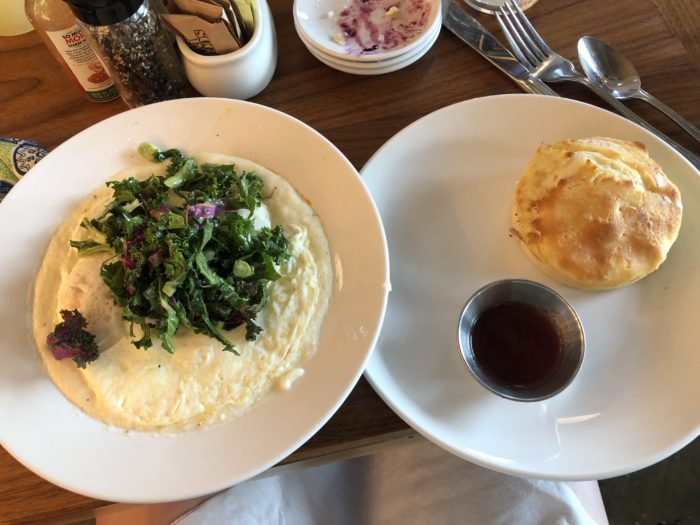 My friends also ordered the Bonuts to share, which are biscuit donuts rolled in sugar and topped with berry compote and mascarpone.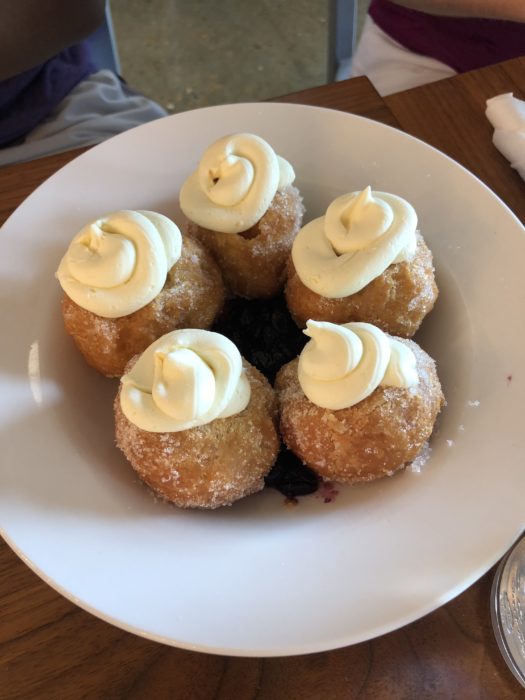 Hillsboro Village is a cute little area near Vanderbilt, so we walked around there a little bit before heading to 12 South, my current favorite neighborhood, to take the iconic Nashville picture.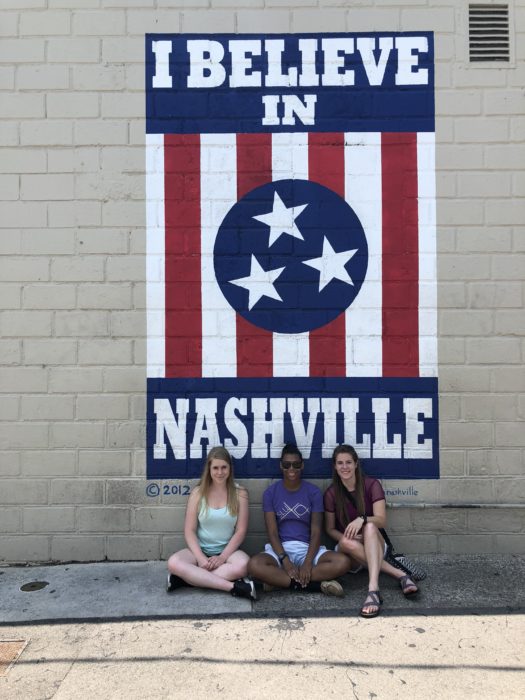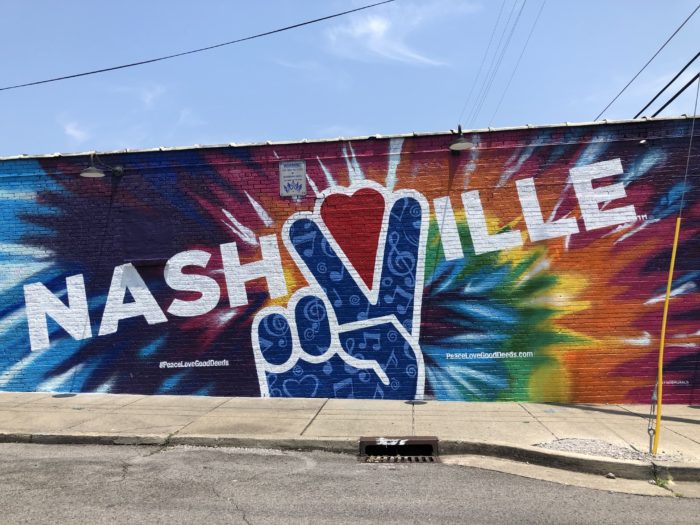 While there, we had to stop at Jeni's ice cream. Another place that everyone who visits is going to go to. I've been DYING to try the gooey butter cake flavor, which is actually GF! When I went before and when I passed by a Jeni's, they were both out! So of course that had to happen. It's AMAZING. I got it with dark chocolate.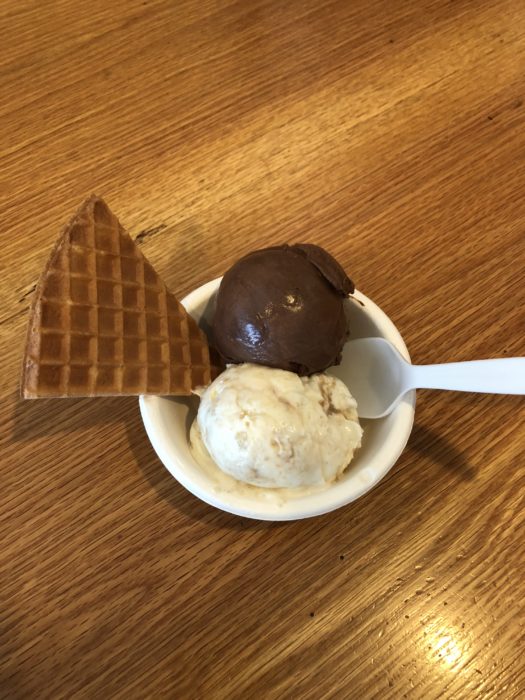 After we saw everything in that neighborhood, we walked the pedestrian bridge. We were going to try and park on the other non-downtown side of the river, but we drove in circles across the river trying to find a place to enter or park, so we ended up parking downtown in a cheaper lot that our Uber driver from the previous night actually recommended. To get to the bridge, we walked through Broadway, which was just as much in the day as at night.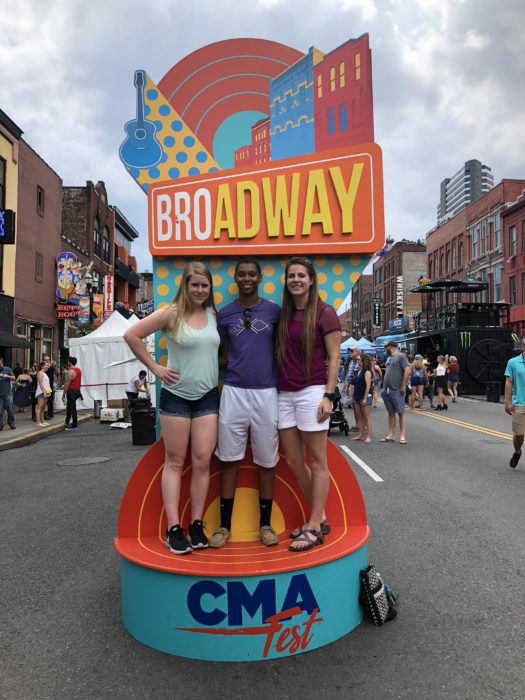 Note: we didn't actually go to CMA Fest, but there was a lot going on all weekend!
Here are the views from the bridge: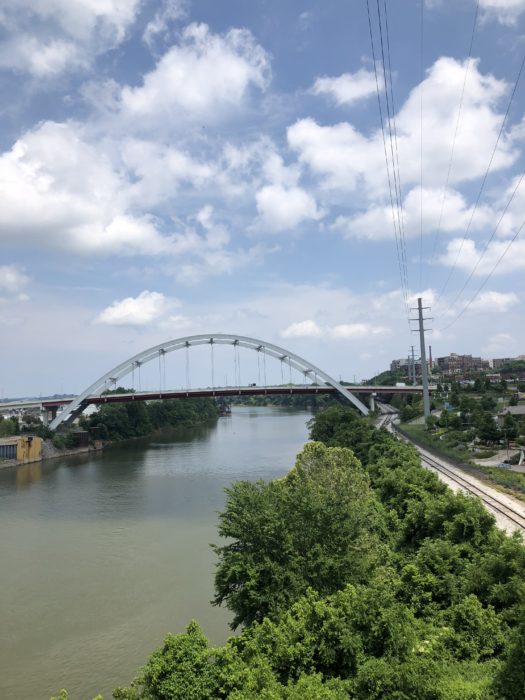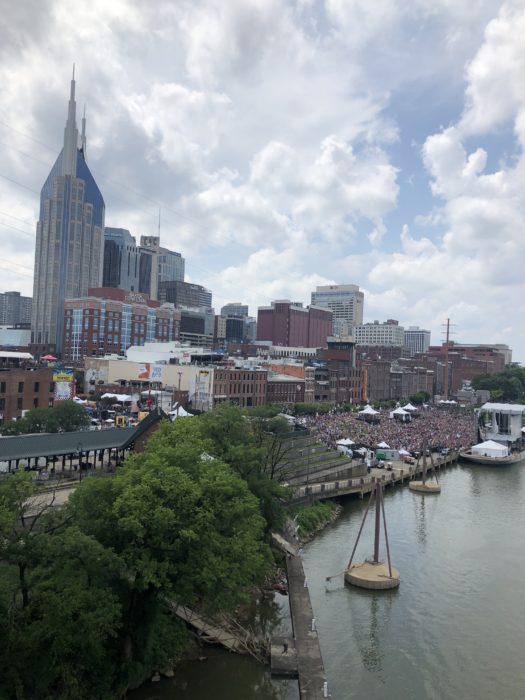 And then it was back for pizza before they headed out. I am so thankful for my zoo friends. You know true friends will drive hours to visit you! (They drove 10 hours to visit me in Alabama last year!) It was such a great weekend.
And that's how to spend 24 hours in Nashville!