It's finally starting to feel like spring here! Minus the constant fog/clouds and sometimes cold temperatures. Spring means flowers. Spring means fresh fruit. But most importantly, spring means BASEBALL!
Wednesday was a very spring day. I started my morning with Crossfit. We did Nancy, which was 5 rounds of 400m run, 15 overhead squats.
I last did this in TN last summer while recovering from a broken foot, and was pretty confident that I could beat my time. Hah. Yeah. I beat my time by 4 minutes, for a finish time around 14ish minutes. It worked out perfectly that it was a running WOD, because my Achilles was feeling good and I wanted do squeeze in a little running that day!
Post-workout I was craving something refreshing. I've been wanting an acai bowl for a while now, so I decided to make the next best thing, a smoothie bowl.
Into a blender went 2/3c frozen mixed berries, 1/3c frozen mango, 1/2c milk, plain greek yogurt, and NO spinach. Because I couldn't mess up that color.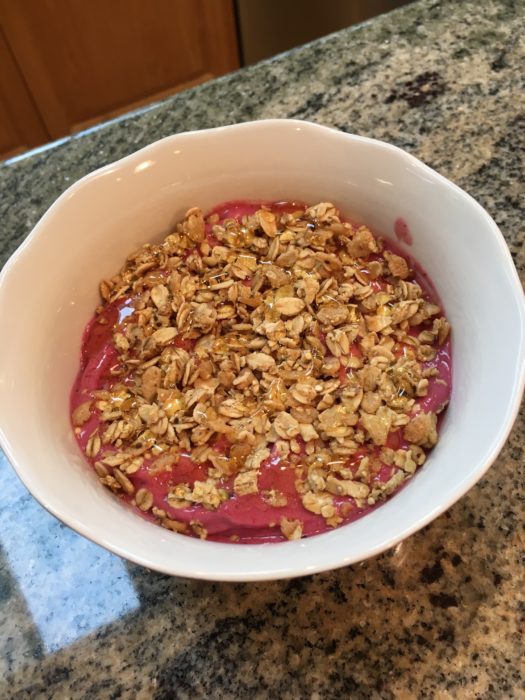 I topped it with KIND maple granola and honey. The honey is key for the complete smoothie bowl experience. I plan to make this soon with bananas on top too!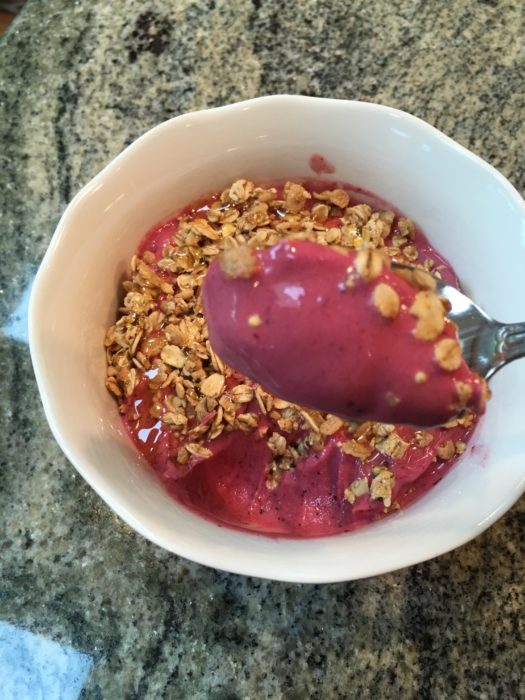 YUM.
After breakfast, I took Chloe for a walk along the water, yet again. Spring felt in full force with all the flowers blooming! Naturally we had to stop to take them in! (Chloe, somewhat literally.)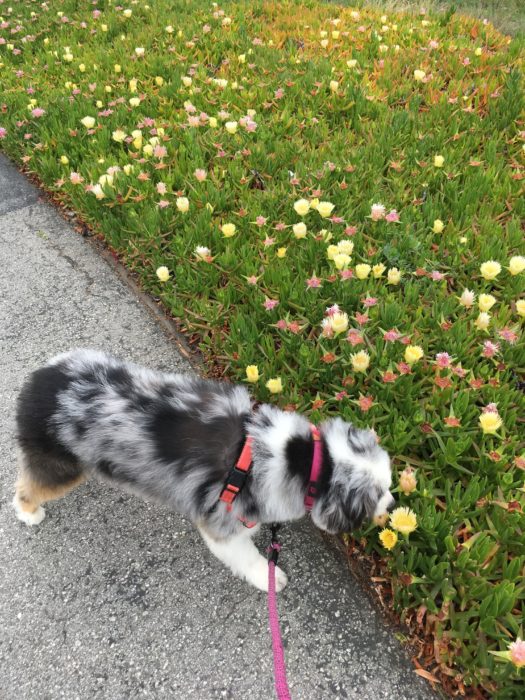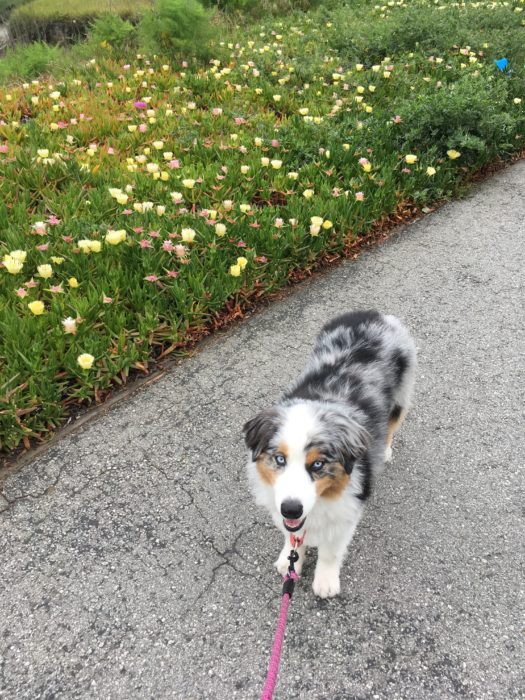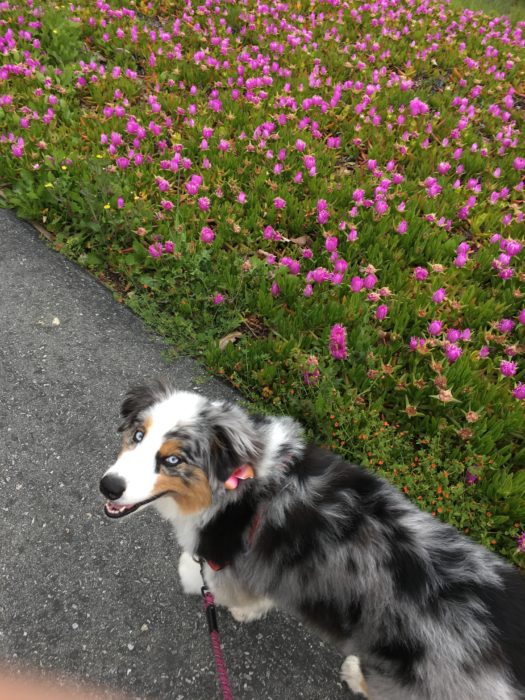 Walking her with a podcast, like I mentioned before, is one of my favorite things to do on my days off!
For lunch, I made a wrap out of leftover chicken. The wrap also had tomato laughing cow, spinach, red pepper, and lemon thyme salt.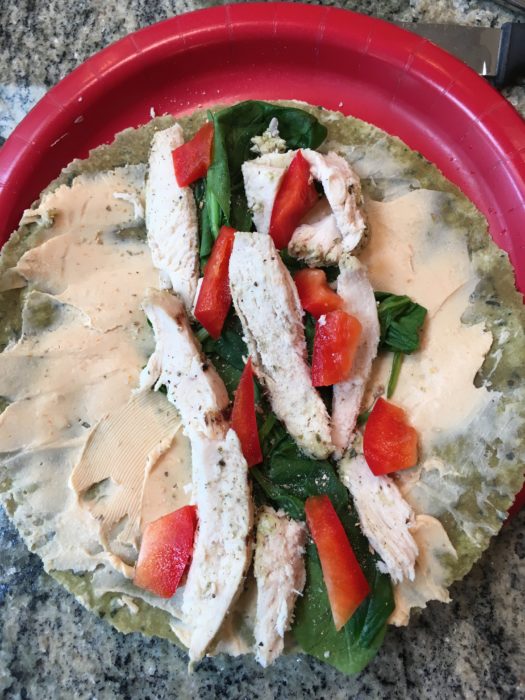 On the side, I loaded up my plate with beautiful fresh fruit!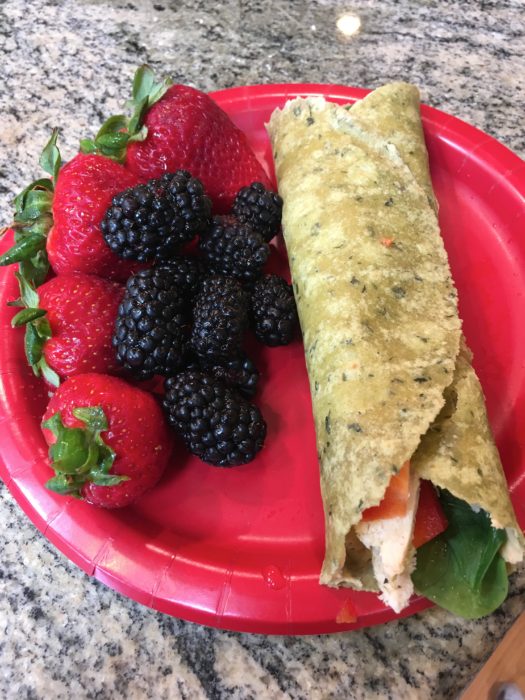 Normal snack: Luna bar. Nothing new to see, haha!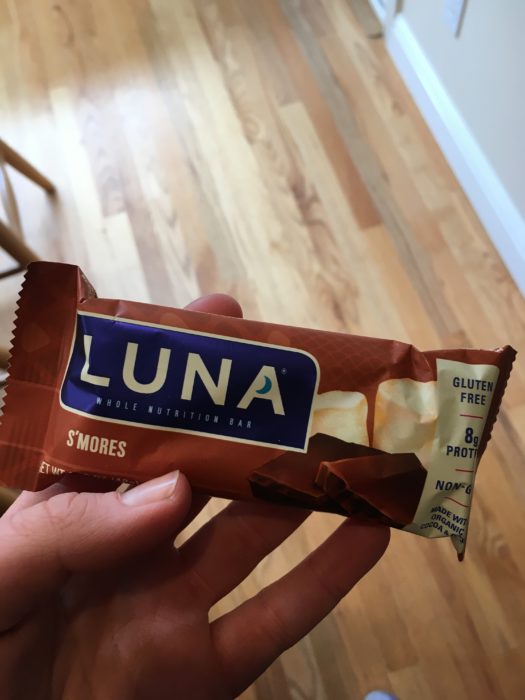 The fun activity for the day?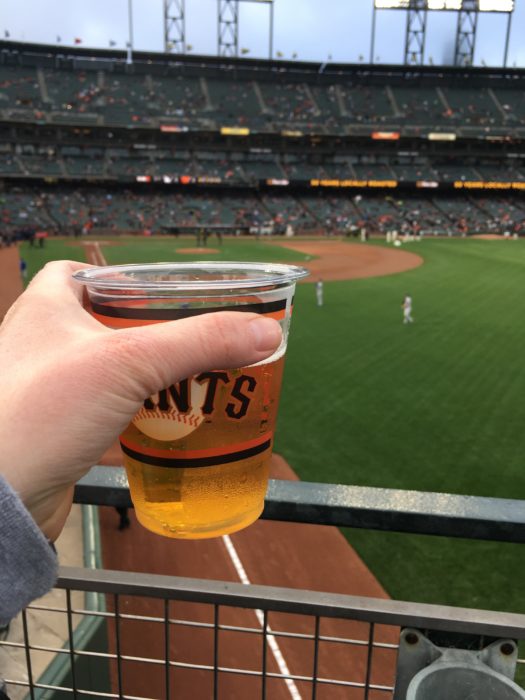 Baseball!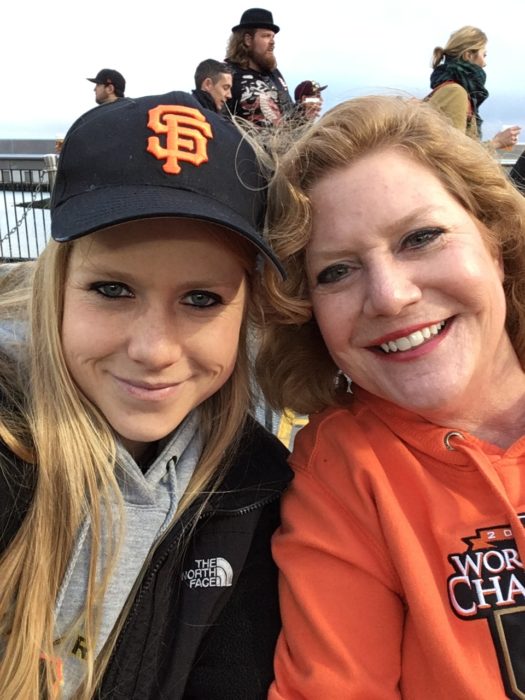 For dinner, we both got the ballpark's signature cha cha bowls: jerk chicken, black beans, and rice with pineapple salsa/slaw, with some BBQ sauce on the side!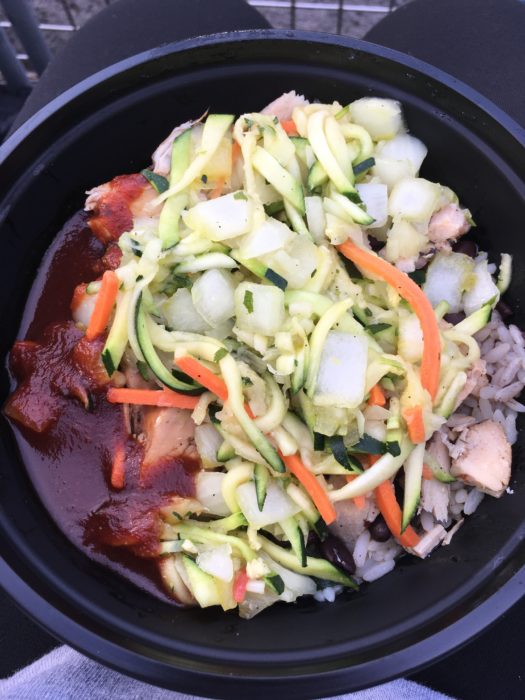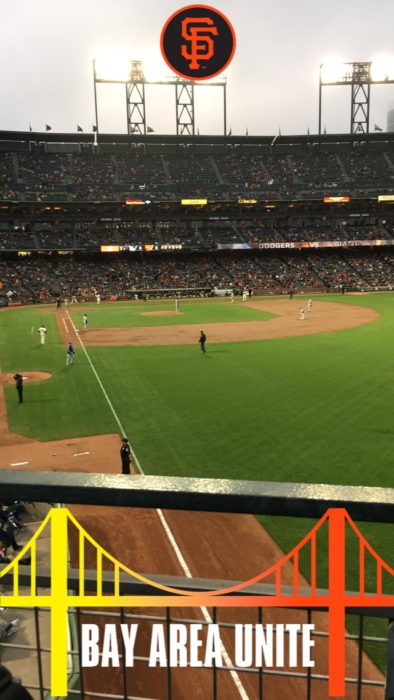 …And a Ghiradelli hot fudge sundae, which was just delightful. Who cares that we were freezing and TOTALLY bundled up (and sitting in a wind tunnel)?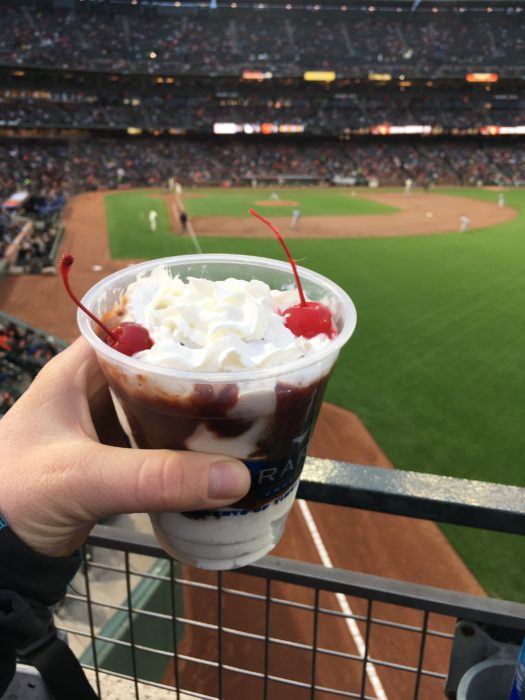 It turned out to be an awesome game to be at. Nothing happened….for a long time. Then we were down. Then our fresh faced rookie/top prospect hit a home run, and the entire stadium lit up. And then a fan favorite who came out of a year of retirement and was just called back up that day had his first at bat of the year and hit a home run to tie the game. And EVERYTHING went crazy.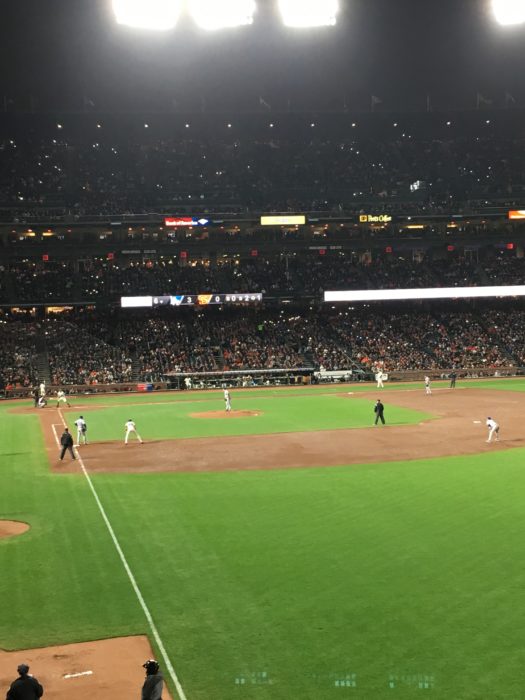 One cool thing our fans have started doing is "rally lights," which is like at a rock concert where people hold up their phone flashlights. It was a cool sight to see, and this photo completely fails to capture it.
We left before the tail end of the game because I had work early the next day, but listened on the radio as we walked it off to win in the 10th!
And now for some bonuses: I was at work the other day, scrolling through instagram at the end of my lunch break and saw the following picture from the local gluten free bakery's instagram: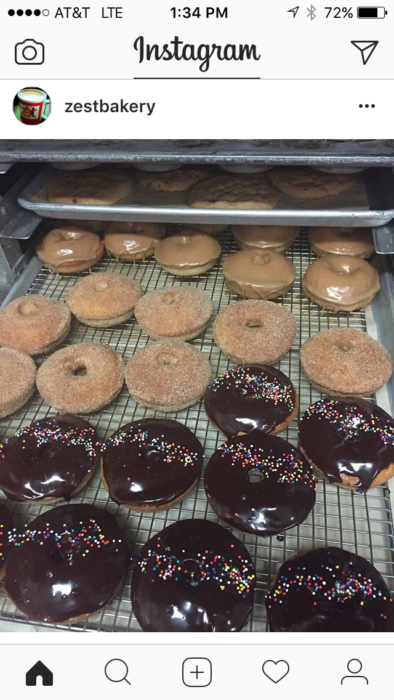 OMG. I texted the photo to my mom, and this is what I came home to: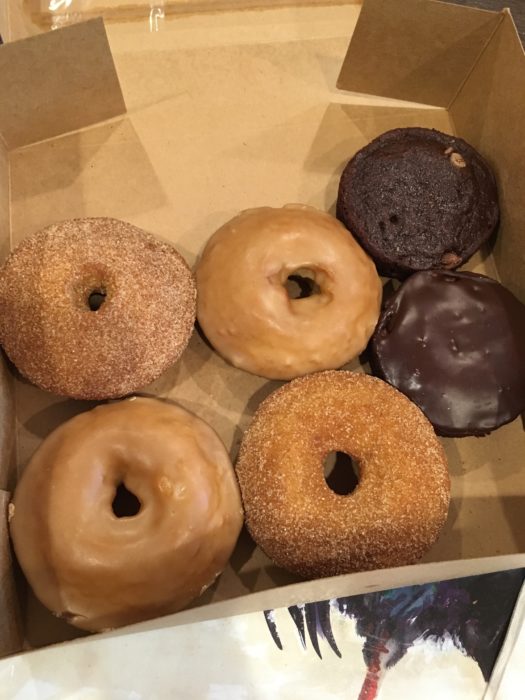 SO amazing. They were out of chocolate donuts, so the above are brownies. We had cinnamon and maple donuts. They were baked, not fried, which I actually 100% prefer. I don't really like the fried flavor. I liked how they weren't crazy sweet like muffins would be! YUM.
Bonus #2 was a fun dinner we put together inspired by leftover citrus grilled chicken: zucchini noodles and chicken tossed with lemon juice, garlic, and grated parmesan. Seriously, delicious. Side of GF toast.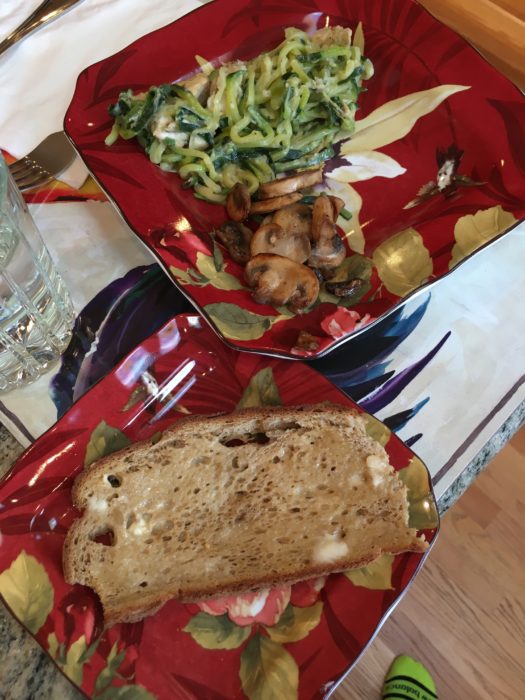 What is your favorite part of spring?