My Monday morning started out with why is becoming one of my favorite activities: a walk with Chloe by the water and a podcast.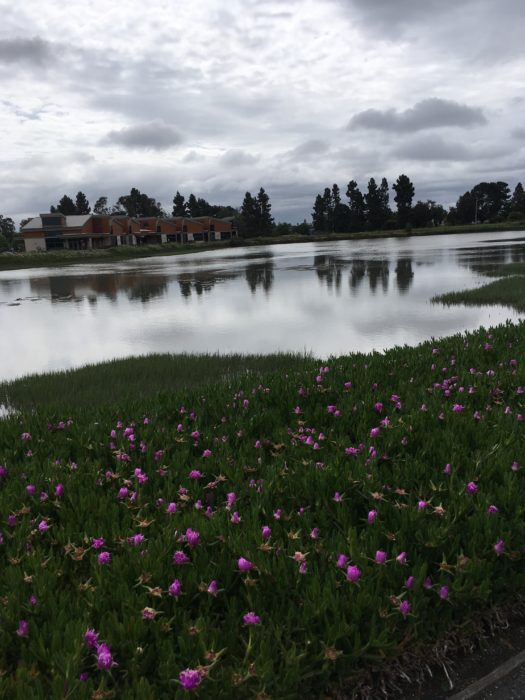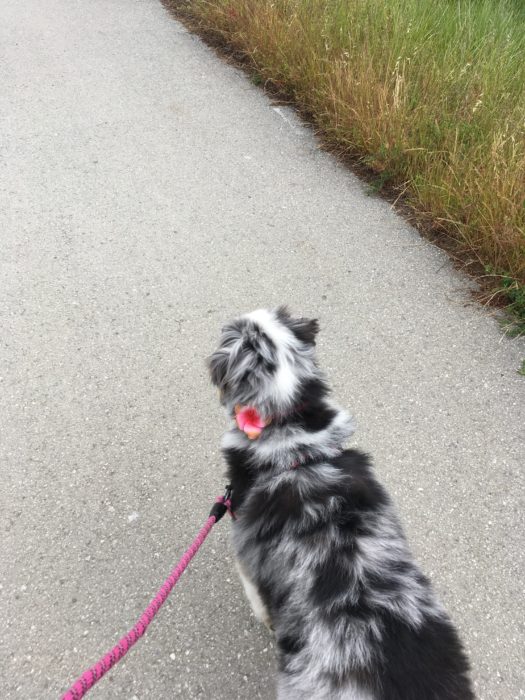 I am really enjoying Amanda Bucci's podcast during this time. More so than I expected. It's caused me to do a lot of self reflection, as Chloe and I walk along on a quiet morning. Health and fitness is such a big part of who am I, so I think it's interesting and important to be forced to think more about this, especially when I have some downtime now. I was thinking a little bit about my gap year, and how different my health is now from even a year ago, and especially from 2 years ago.
As you probably know, I took a gap year in between undergrad and vet school, partly because I wasn't going to have enough vet hours to apply a year ago since I decided on vet school sort of late in the game, but partly because I wanted a break from school, to do something different and live a little bit more like a "real human."
There was a lot of uncertainty for a while about what my gap year would be, but it turned out to be just perfect. New cities, new friends, time to travel, to interview, time to relax, time to get back into vet med.
But most importantly, it's been time to heal. My "chronic" stomach condition is really an afterthought now. I was able to go wine tasting and not worry about my stomach. Even at Thanksgiving on our Napa trip, it was a little bit of a concern. I can go out to dinner without worrying. I can eat a bite of bread the night before my race without worrying. I truly think that both time and a slower pace of life was necessary for me to heal. I finally can function more like a normal human. I can't imagine I would have made so much progress had I gone straight to vet school. I also needed this time to catch my breath and find my head. Stanford was sort of like drinking from a firehose (it is often described this way) in every facet of life: classes, extracurriculars, internships, socially. Everything is really intense, which makes for a great experience, but I felt like a hot mess running around like a chicken with my head cut off much of the time. I obviously know vet school is going to be the hardest academically of anything I've ever done, but I think having a year off will really help me as I go in. Perspective is an amazing thing.
The episode I listened to was the one with Layne Norton, a powerlifter/bodybuilder/PhD/coach. I'd vaguely heard of him as being big in the fitness world, but didn't have super high expectations for the podcast, to be honest. Instead, I found his words resonated with me and my journey ahead. He's a big fan of inspirational quotes, which I normally kind of scoff at, but in this circumstance they spoke to me. I often say, if it's not hard, it's not worth doing. That was my feeling about entering the field of veterinary medicine. The first thing I struggled with when wrestling with the decision of what to do with my life was fear that I was not emotionally tough enough to be a vet. But I came to the realization that the fact that some things tore me up inside was the reason I had to suck it up, tuck away my emotions, and go for it. I currently am not struggling with this hurdle, but I have an uphill battle to be a vet. Vet school is HARD. Layne Norton really brought home the importance of hard work. I think that was the refresher I needed to hear before I start school. I highly recommend you check out this episode of Bucci Radio!
And back to our regularly scheduled programming. I threw together a quick an delicious lunch after our walk. I made a fried egg with Kona coffee seasoning, a salad tossed with Bolthouse Farms caesar, and leftover quinoa (cooked in broth, WAY better) mixed up with tomato and dried basil.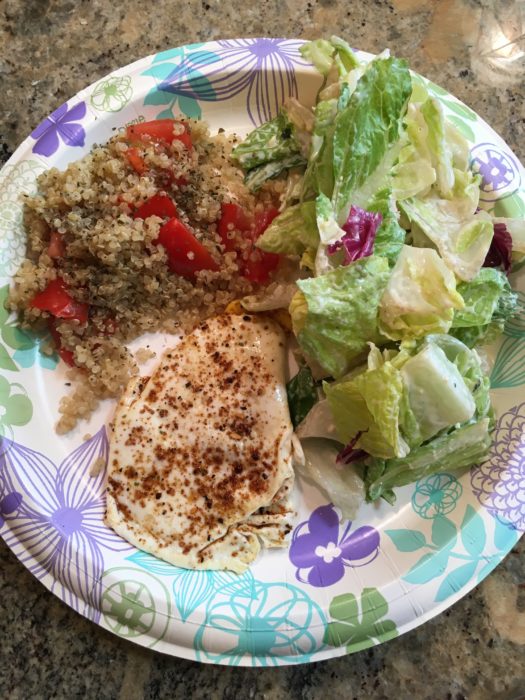 I also had a few pieces of my chocolates from St. Helena. Fresh mint and dulce de leche.
For my pre-spin snack, I had my normal Luna bar.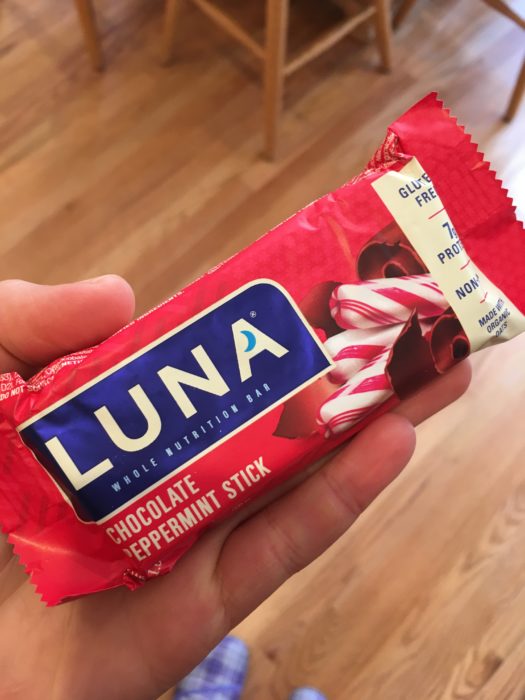 And something a little less normal. In St. Helena, we tried popcorn tossed with truffle oil and truffle salt. I had buttered popcorn rice cakes (not my favorite) and figured, why not? I sprinkled truffle salt on one of them.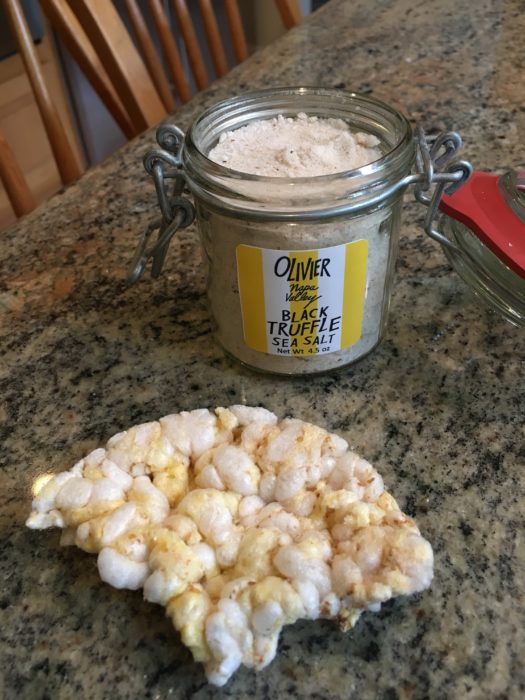 I've been wanting to make Sweetgreen Mondays a thing, but it hadn't happened until yesterday! My parents rode down with me and hung out in the car while I taught spin, and then we went out to dinner at Sweetgreen. I had the delicious "Beets Don't Kale My Vibe" salad.
I made a copycat version (recipe here) which turns out to be pretty darn close to the original! Yum!
For dessert, we walked a block over to the delicious organic froyo shop, Fraiche. I got the plain with raspberry puree.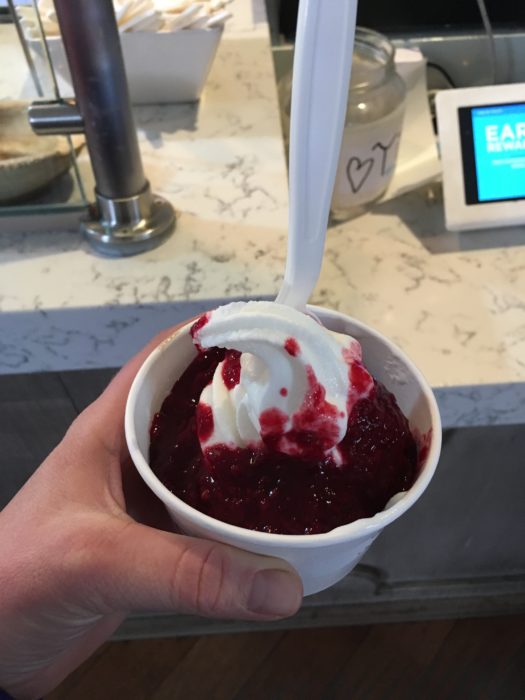 And then we returned home to catch the tail end of a Giant's WIN! (Finally.)