Hello! I'm happy to report that I'm feeling much better than last time I checked in-fingers crossed I don't have more flares. I just finished my first week of senior year, and am figuring out my new schedule for the quarter.
I've been continuing half marathon training, teaching lots of spin (back to back classes on Wednesday night-oof), and soaking up time spent with good friends!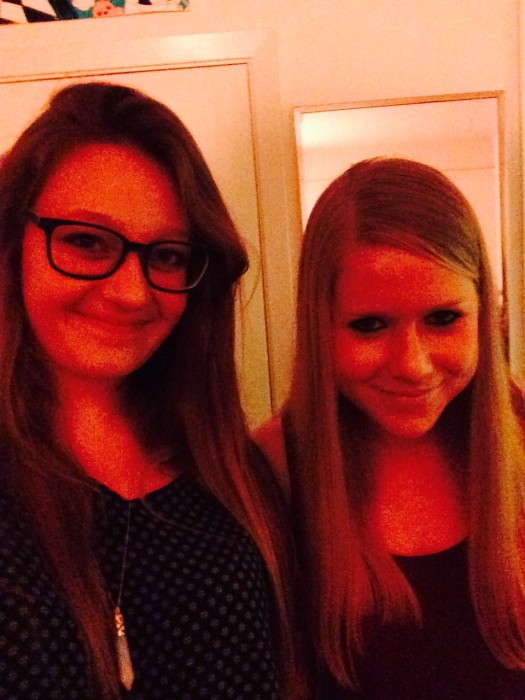 This year, I'm living in a house with about 40 girls-it's not a sorority house but I suppose it's a similar idea? We have a chef who cooks lunch and dinner for us 5 days a week, and an open kitchen to fend for ourselves for breakfast and weekends. I wanted to share some of the things I've been eating this week!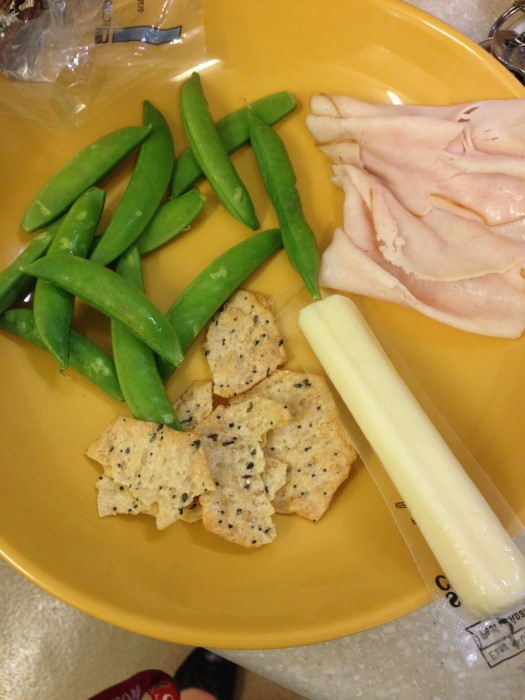 My first Sunday night scavenging dinner-the fridge is cleaned out Sunday morning so Sunday night can be difficult!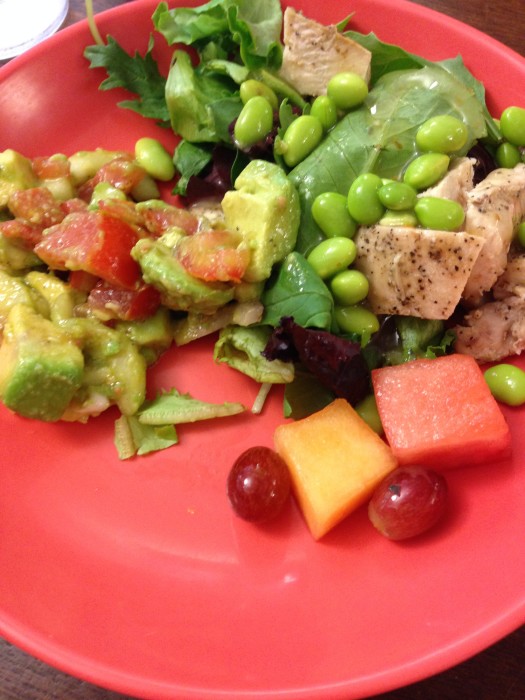 Lunch-salad with chicken, fruit salad, and AMAZING avocado salad. Do you see how much avocado there is there??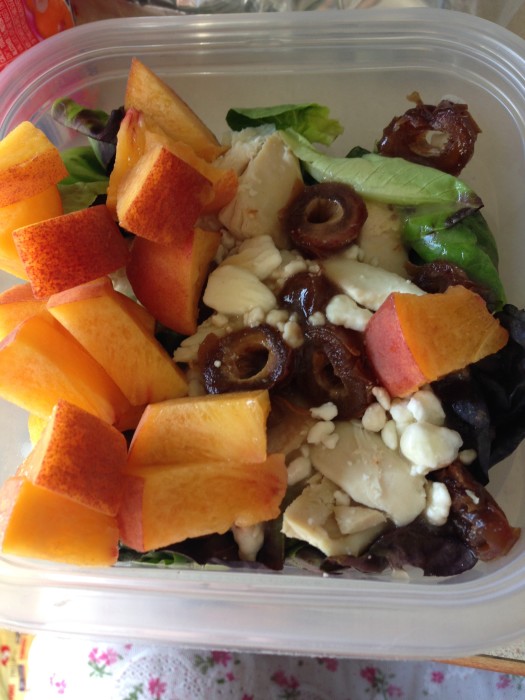 Tupperware lunch-I packed up a few salads before leaving home last weekend, so I had a few of my typical peach/date/goat cheese/chicken salads throughout the week!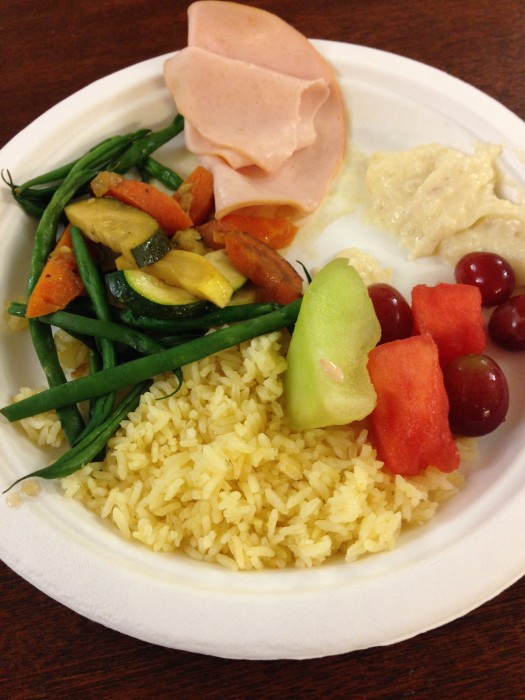 Because I taught back to back spin classes (unexpectedly) I missed dinner so had to scrounge around again. Deli turkey may become a big part of my life, for better or for worse…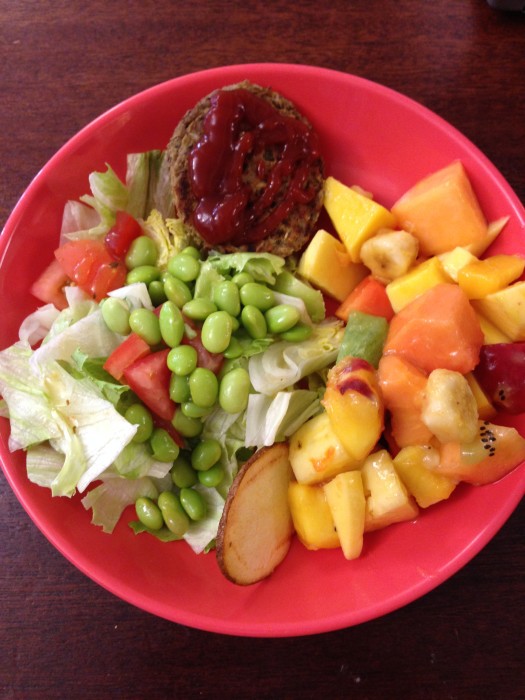 Salad with a homemade veggie slider, homemade potato chips, and amazing fruit salad with banana, mango, peach, papaya, and more.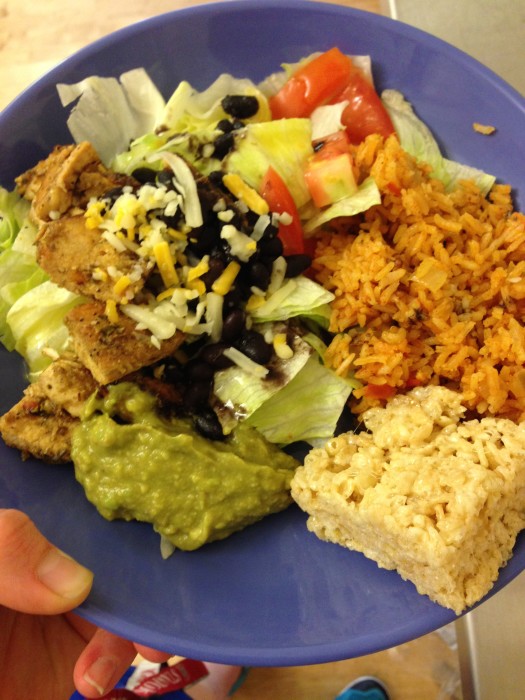 Mexican dinner-super good. I made a salad with Mexican spiced chicken, black beans, and guacamole, plus rice and a rice crispy treat!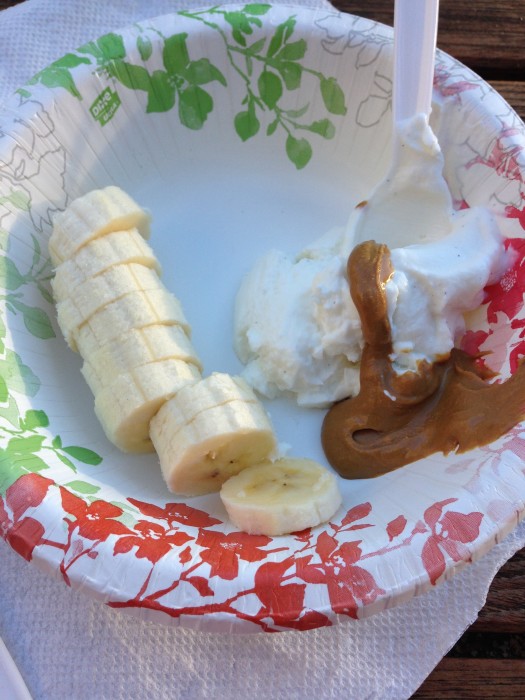 Breakfast post 3 mile run of Siggi's vanilla, banana, and sun butter.
This past week has been a little interesting on the eating front. Because I was so sick earlier, I haven't been getting sufficient calories, especially to fuel my activities. I've been trying to add extra calories here and there (dried mango anyone?) and after hitting 2000 calories on Thursday I seriously felt like a new woman. Today, I'm trying to eat as much as my stomach allows to fuel up for tomorrow's 12 mile run-we'll see how that goes!
What is your favorite way to eat avocado?