Thanks for sticking around for all my vacation posts! I promise this is the last one!
Sunday morning began with my 10 mile half marathon training run. With record high temperatures in Maui, I knew this one was going to be a struggle. I scouted out a nice hilly route ahead of time-3 miles out from my hotel until the sidewalk ends, then back, and then I would play it by ear. I was prepared to jump on the treadmill for the last part if it got too hot.
It rained early that morning, so the air was SO thick. I got out the door by 6:30am, and it was nasty out. 1 mile in, I was drenched and felt kind of terrible. It must have been about 90% humidity. I wasn't even sure I'd make it through half the run out there without dying. Luckily, the weather improved a bit. I ended up turning around at 3.5 miles, then running a mile in the other direction before realizing there was no shade and I was dying. At that point, when I reached the hotel I was at 9 miles so I did the last one in the comfort of the hotel gym.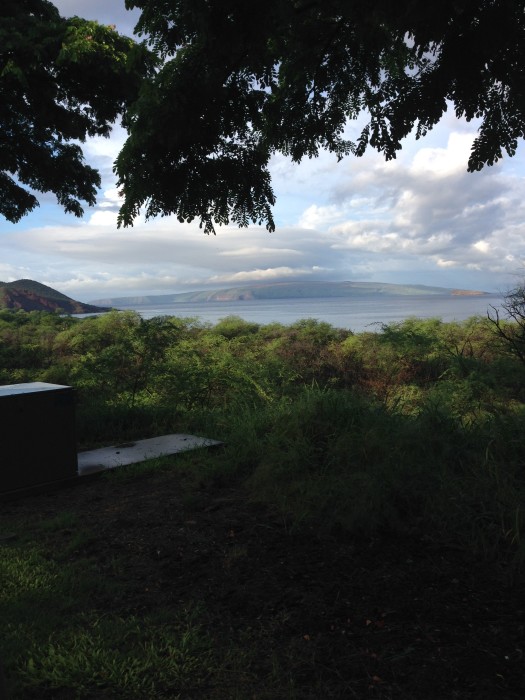 I was really vigilant about hydration. I officially swear by SmartWater-I filled my bottle with it for the run and didn't have the problems I've had in the past in the heat. I also drank some vitamin water before my final water. I did a really good job with fluids the rest of the day, and it really paid off!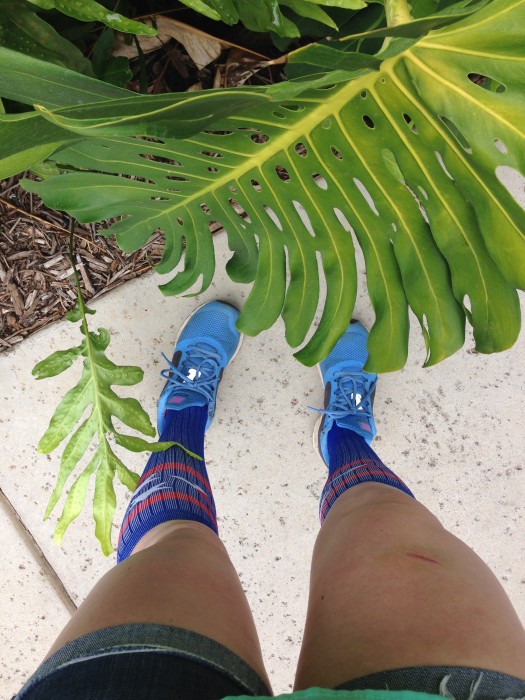 Nothing like wear compression socks while on vacation…
For lunch that day, we stopped by a "healthy fast food" restaurant that we had passed previously. It's called D'Lish, and it had all kinds of healthy sandwiches and bowls. We shared a beet salad with goat cheese.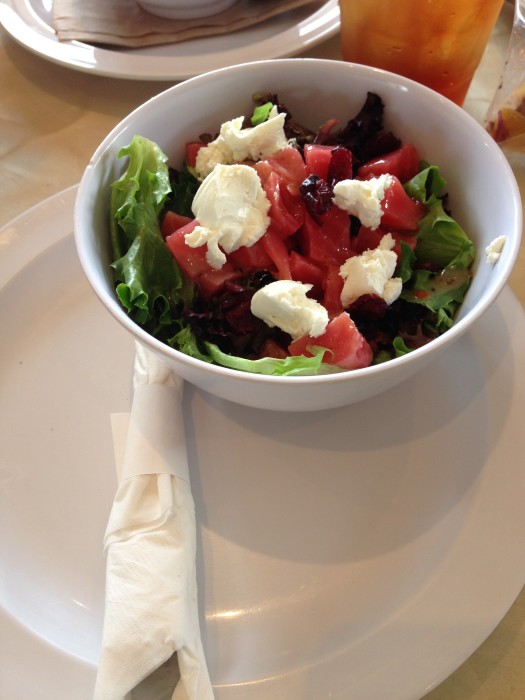 And a mix of purple sweet potato and taro chips.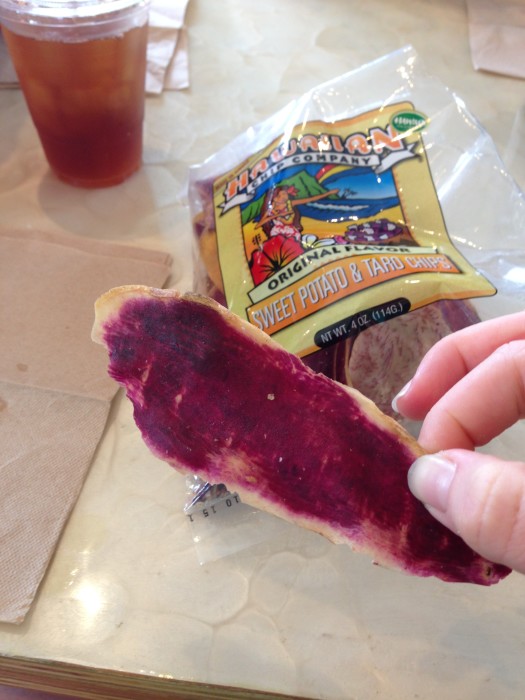 For my main meal, I got a veggie bowl, which was quinoa topped with broccoli, mushroom bisque, tomato, and feta. Yum! Love the idea of making a bowl using soup.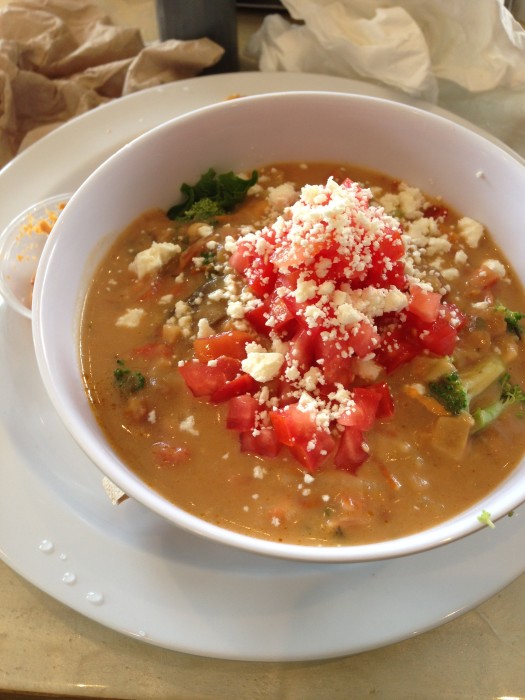 Our next stop was to the movies-we saw the Perfect Guy, which was pretty intense. Then, we stopped by Maui Tropical plantation, which is a nice little place with a gift shop, pineapples growing, and now a zipline that we tried 2 years ago when we went. It's in a beautiful location.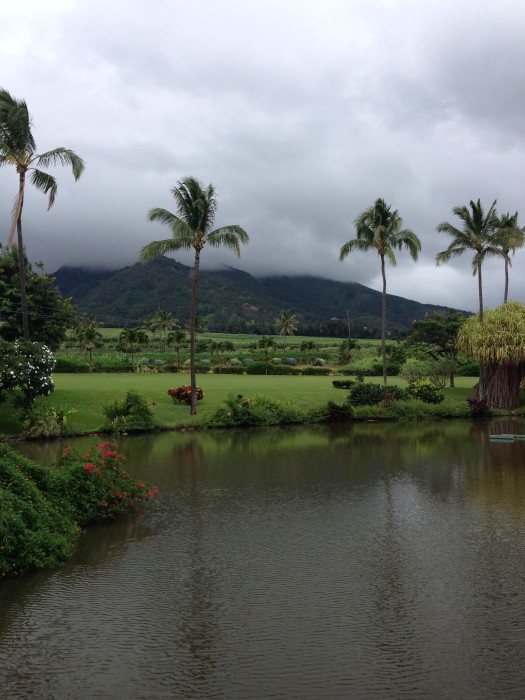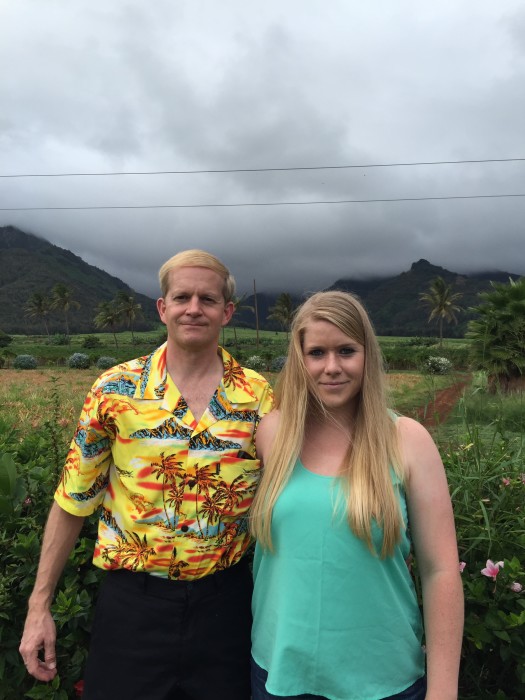 That night, I made reservations for the Molokai Bistro at the Grand Wailea hotel. We put on our fancy clothes (although the restaurant was fairly casual) and headed out!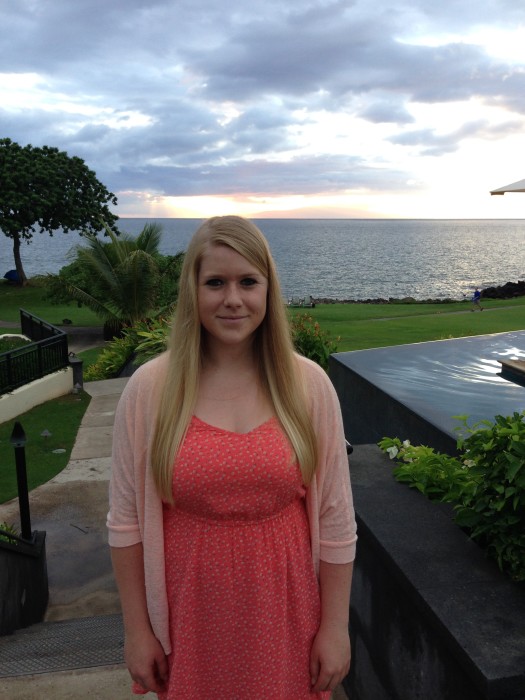 We ordered a bottle of rose for the table, and my parents still insist on taking pictures of me any time we drink wine in public. #21
To start, we shared Maui Onion rings (Maui onions are sweeter than regular onions) and sweet potato fries, with lilikoi BBQ sauce.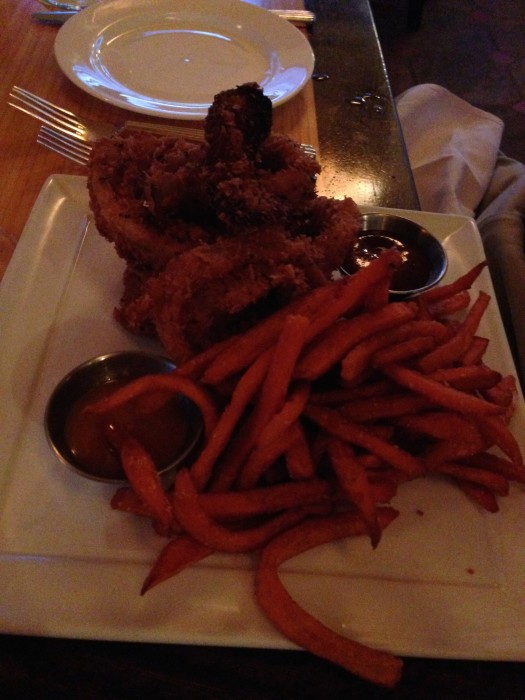 I got the catch of the day-mahi mahi served over purple mashed sweet potatoes and garlic broccolini.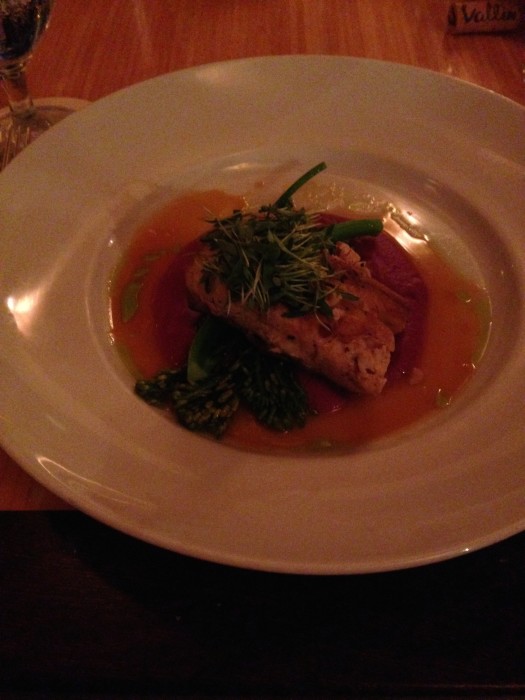 It was delicious, and it was nice that the portions weren't giant!
Dessert was also amazing. Butterscotch creme brûlée topped with banana mousse and shaved chocolate. YUM. What a nice dinner!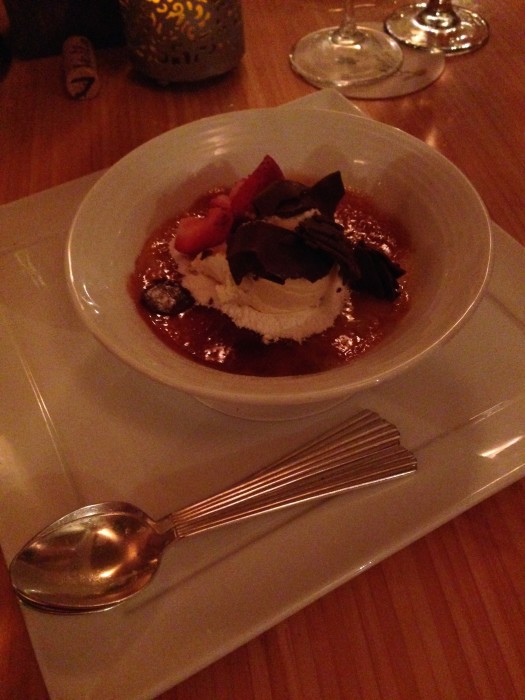 We saw 2 stray kitties and some frogs on the walk back!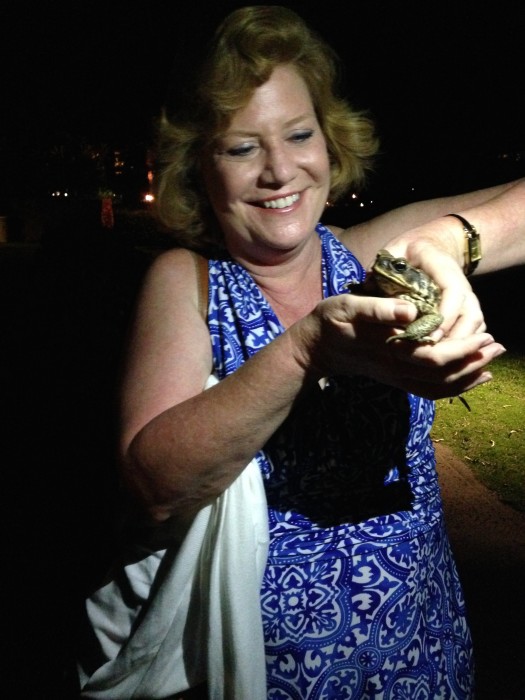 I'll spare you of Monday's food pictures because I posted all that for WIAW, but here's the day!
I was hoping to got to Lahaina Crossfit, but my shoulder wasn't anywhere near ready. Instead, I took it to the hotel gym for a shoulder friendly strength workout. I started with 100 lunges, 100 squats, and some RDLs with lighter weights than I would normally use to accommodate my shoulder. I then did a 15 minute ab circuit that I am still sore from because I never do abs, and finished with some light shoulder exercises on my bad shoulder and dumbbell snatches/push presses on my good shoulder. It felt good to get some strength work in despite my injury!
I went straight from there to the beach with my family. I lost the gamble of whether or not I would burn without sunscreen in an hour or so. Oops. Later that day a former fireman came up to me and recommended I put aloe on my burn!
It was a beautiful day, but hot. We went to the gluten free bakery again in Lahaina, but decided to keep it indoors with another movie.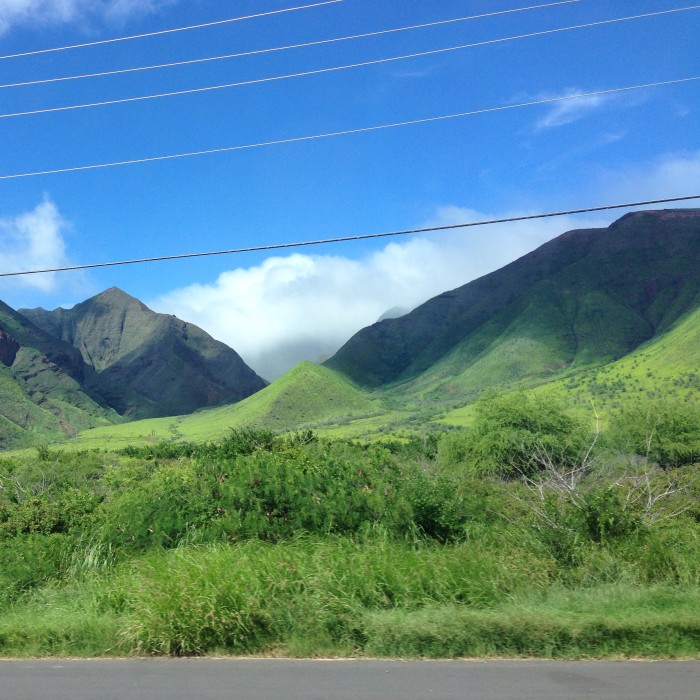 This time it was the Transporter-Reloaded. It was pretty good-I don't watch too many action movies but it was a pleasant experience. We came out to find a rainbow!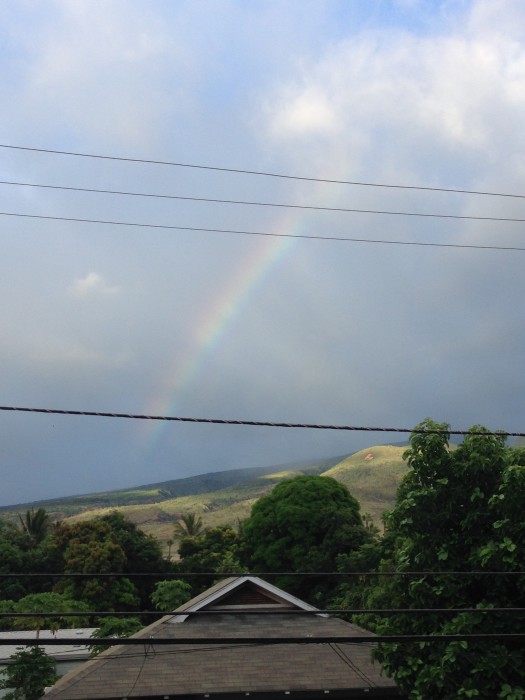 We stopped by Barnes and Noble for some reading material, and then Whole Foods for dinner since my stomach was flaring. The rest of the night involved Netflix-does anyone else watch The Good Wife?
Tuesday was our last partial day in Maui. I started off with a treadmill 4 mile interval/speed run and then went out with my family for one last beach trip. I enjoyed yogurt, passionfruit, and papaya beachside and got my fill of tropical fruit!
It was nice out but definitely starting to heat up! We weren't at the beach for long because packing still needed to happen.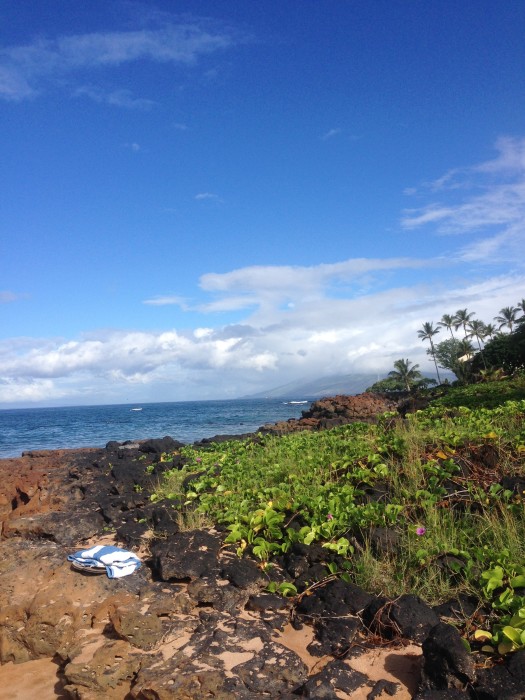 We said goodbye to our hotel and stopped for lunch at a health store near the airport. I had delicious avocado salad and some really interesting soup that had gluten free oats, zucchini, and cauliflower all blended up.
I also enjoyed a couple of bites of chocolate avocado mousse! So delicious, but so chocolatey-unfortunately these days I can't handle more than a little chocolate.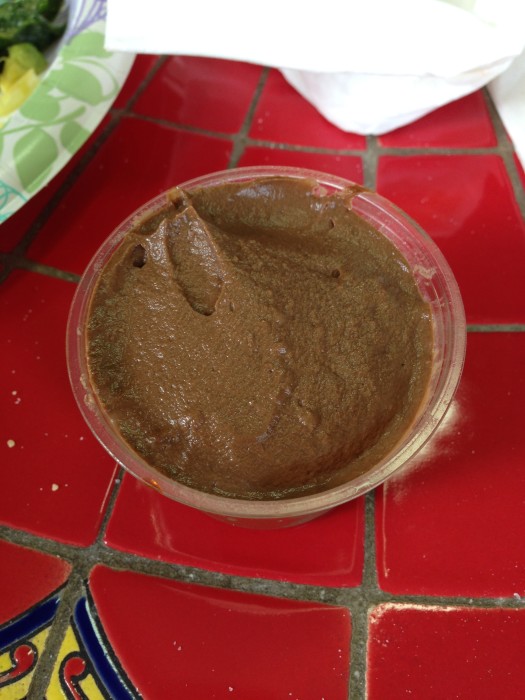 Then we were homeward bound-overall it was a great trip!