Hello! I'm checking in from Maui once again! These past couple of days included some of my favorite parts of our trip. I think the title says it all! Be prepared for lots and lots of pictures!
Friday morning began with a visit to the beachside juice stand. My fresh squeezed orange pineapple juice was enjoyed beachside, with some yogurt and fruit.
First kitty spotting of the trip by the beach!
After we cleaned up, we headed to Lahaina. Folks-it was a scorcher that day! Upper 90s and humid.
My dad is constantly in search for the best lau lau (pork wrapped in taro and banana leaves), so we stopped for lunch at a restaurant with local fare.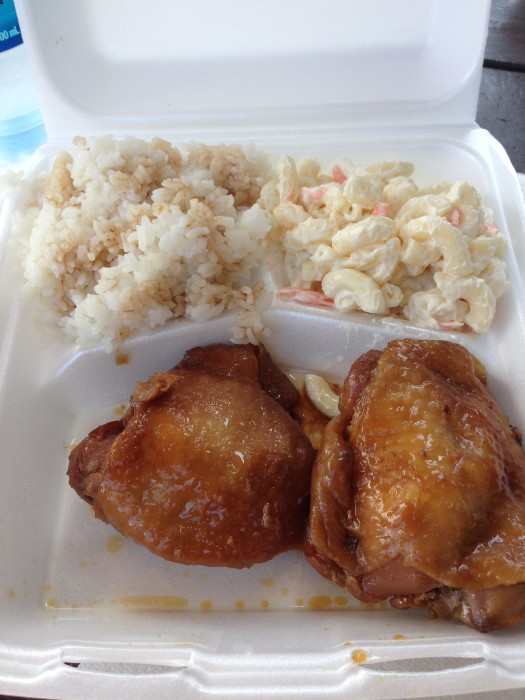 Teriyaki chicken for me!
Dessert was much anticipated-a gluten free bakery! We shared a cream puff and then I had a chocolate cupcake with lilikoi (passionfruit) icing.
It was impossible to tell the cream puff was gluten free, and the cupcake was phenomenal. The cake was moist and dense, and the frosting was the perfect tart counterbalance.
We walked through downtown Wailea, burning up the whole time as we stopped in and out of shops. Finally, we reached our destination: Dan's Greenhouse. This is a little hidden treasure-we've actually been coming to this little shop every time since I was a child. This is also where I got my beloved plumeria plant that has lived in my dorm the past 2 years! But the best part??
Miniature pot belly pigs! I've mentioned before that I don't eat red meat, and these guys are partly why. I think I stopped eating pork around 5th grade, after absolutely falling in love with these guys. This little guy was just a ball of energy. I believe he was 6 months old-he was 8 pounds but will grow to about 15. They eat a vegan diet-similar to what they eat in the wild. If you overfeed them or feed them a too protein rich diet, they can grow to up to 70 pounds! You can pay to feed them, which is more than worth the money. I got to sit on the ground with him in my lap, as he gobbled up berries, kale, and oats from my hand.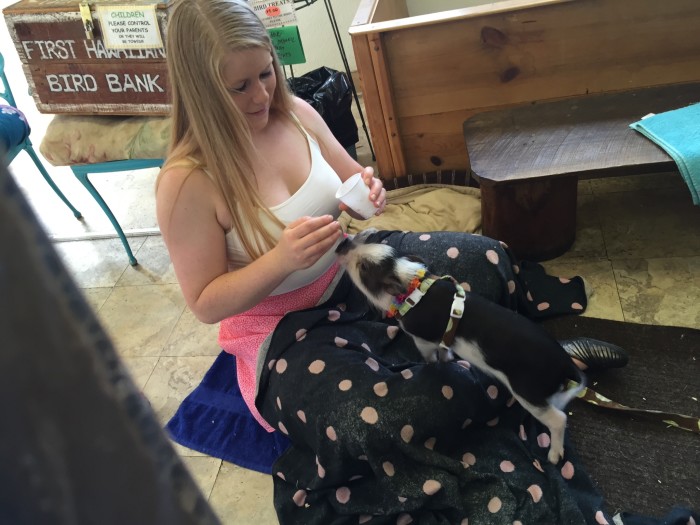 I think the photo quality reflects just how wiggly he was!
On the way to the car, we stopped for a dole whip for my dad and iced lattes for my mom and me-plus some much needed time in air conditioning!
My final stop in Lahaina was Enjoy the Ride-a spin studio! They had a big screen in front that displayed a real terrain which was cool. The class was fun but not the hardest I've ever taken-it was perfect for the vacation!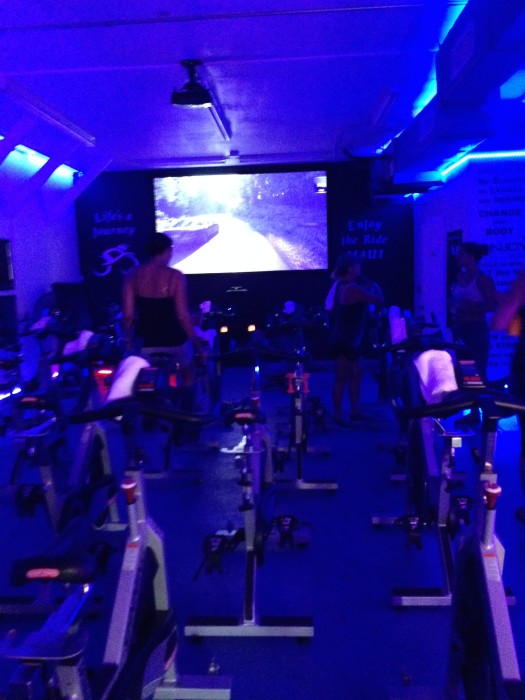 Scenes form the drive back to Wailea/Kihei.
Dinner was at Three's Bar and Grill. We started with a miso kale salad-I've had a couple of these while here and I've really loved them! For my entree, I had fish lau lau, which also included purple sweet potatoes and kale.
Dessert was gluten free lilikoi cheesecake. Gluten free cheesecake is something I've seen pop up on several menus around here!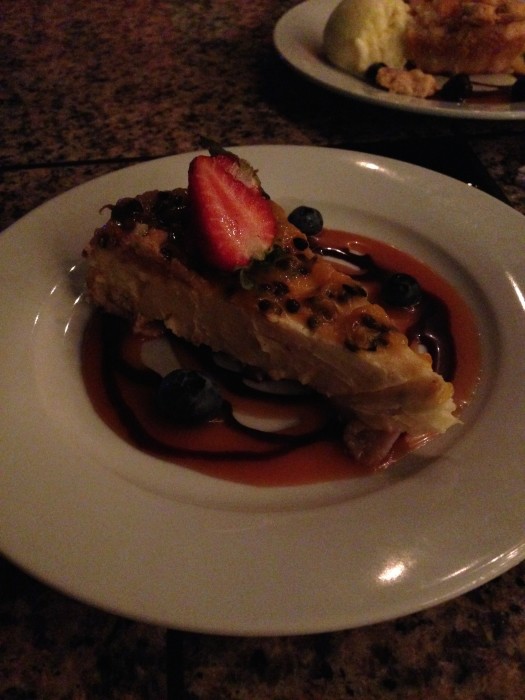 Saturday morning was another highlight. We began with a trip to Starbucks for a quick breakfast (I had a smoothie plus sliced pineapple from Starbucks!)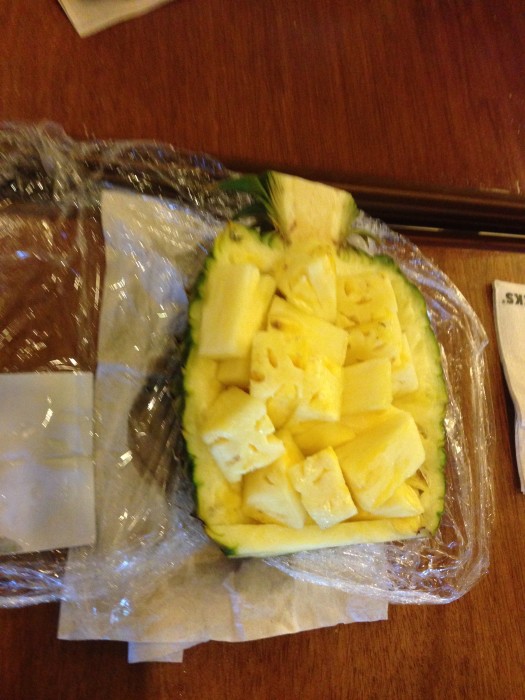 On the agenda was the Grand Dairy Tour at the Surfing Goat Dairy. This tour allowed us to see the production process of the small, humane certified dairy. We got to feed the goat, milk the goats (!!!-so excited), herd the goats, and finally-taste all the cheese! I'll let the pictures do the talking.
Their cheeses were top of the line. We bought some to et during the rest of the trip, and are planning on ordering more online to send home! The blueberry and the lime goat cheese truffles I tried were delicious as well!
Next stop-higher upcountry for lunch and pineapple wine tasting!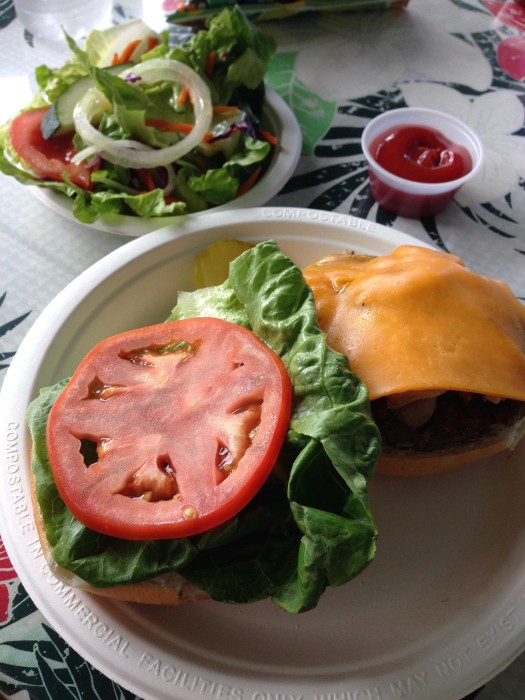 Lunch was at the ranch burger place across from the winery. I had a taro burger on a gluten free bun.
At the winery, we did the complimentary tasting where we got to choose 3 types of wine to try. I tried the sparking pineapple wine, the rose sparking, and the sweet raspberry dessert wine.
I was really torn about taking home a bottle of the sparkling pineapple or the sparkling rose. I liked the rose more, but the pineapple was really unique!
We took a complimentary tour-and I learned that they produce a really small amount of their award winning sparkling rose-it's made with grapes grown on their property, and because they produce so little, they only sell their award winning rose on the property, so I felt good about my decision to get that! Scenes from the tour:
The rest of the day included a decaf Kona cappuccino, exploring some shops in Wailea, goat cheese, and room service.
Um-check out this cheesecake. Lilikoi cheesecake with a gluten free brownie base. YUM.
So-can you tell I kind of like animals?