Happy Wednesday! I'm blogging in the sunshine between classes. I have a few food pictures and a few recent workouts to share today.
Food
Monday morning, since I didn't have class, I went out to brunch with friends.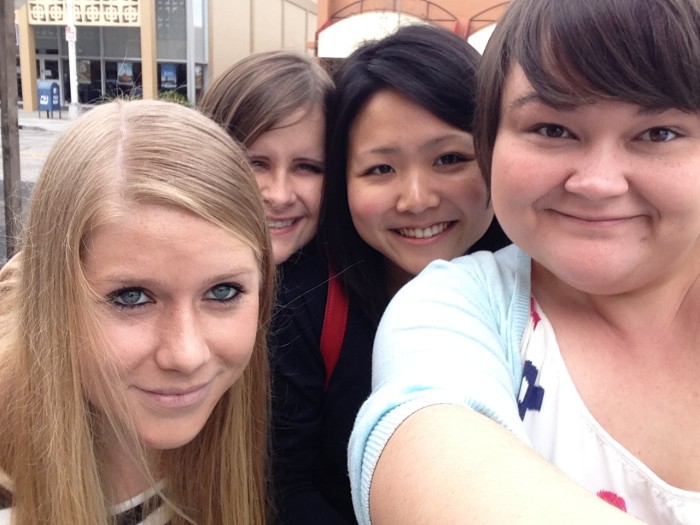 I got a brie omelet with green onions and mushrooms. YUM. This may be a new favorite brunch plate, because I also want to try the goat cheese omelet!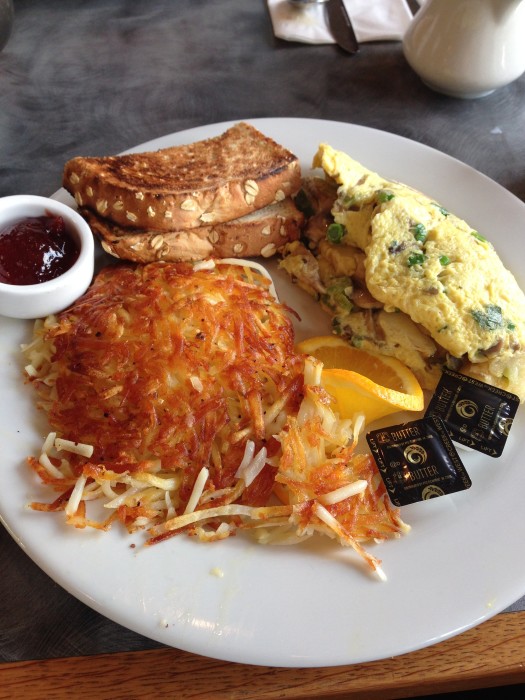 I debated for a while whether to get hash browns or fruit. Next time I would do fruit-I guess I'm not a huge hash brown person, although these were good ones.
At breakfast, I've been making instant coffee a lot lately. It's actually pretty good if you make it with just milk and no water. If I want less of a caffeine kick, I'll do half a pack of it.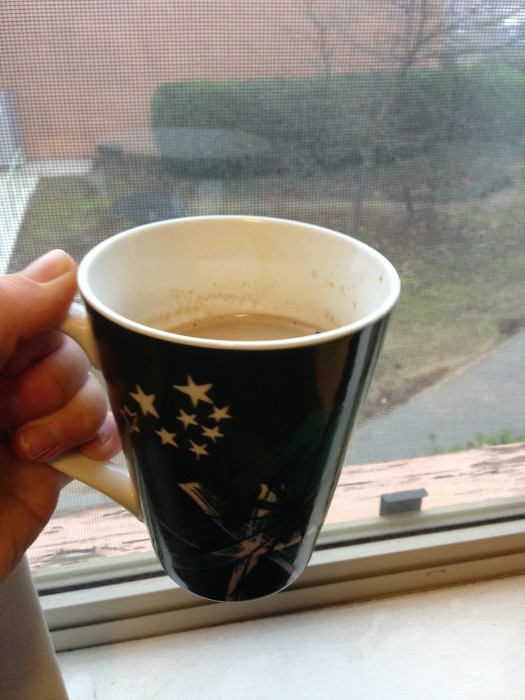 A giant cup of milk has been surprisingly filling, so I've kept the rest of breakfast a bit lighter. Whole wheat english muffin with cream cheese and eggs.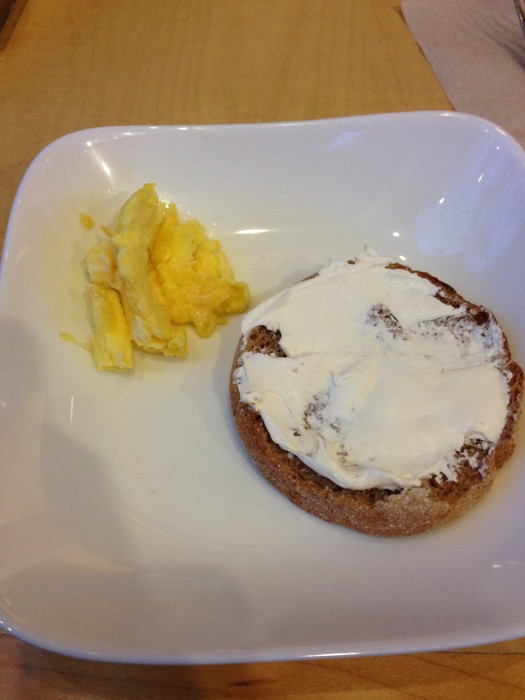 Yet another freezer meal-grilled chicken, balsamic brussels, and mashed yams.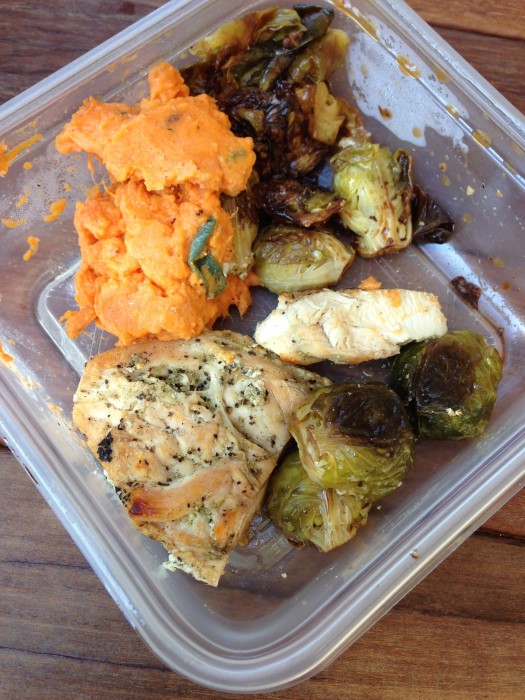 I completely forgot to thaw a lunch for today, so I went to the dining halls t breakfast and grabbed the essentials for an egg sandwich-whole wheat english muffin, cream cheese, and hard boiled egg. Served with some grapes.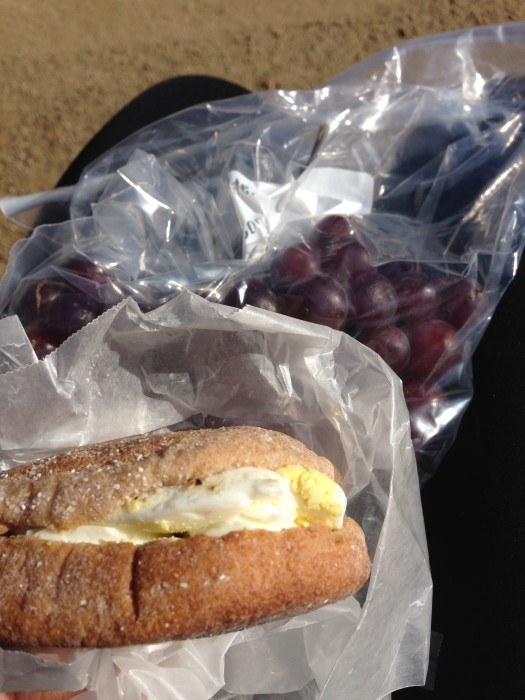 And then dinner last night was basic but solid. They had my favorite cabbage-miso salad, plus lemon caper salmon. There were also stuffed peppers but I wasn't a fan, mostly because I don't really like peppers.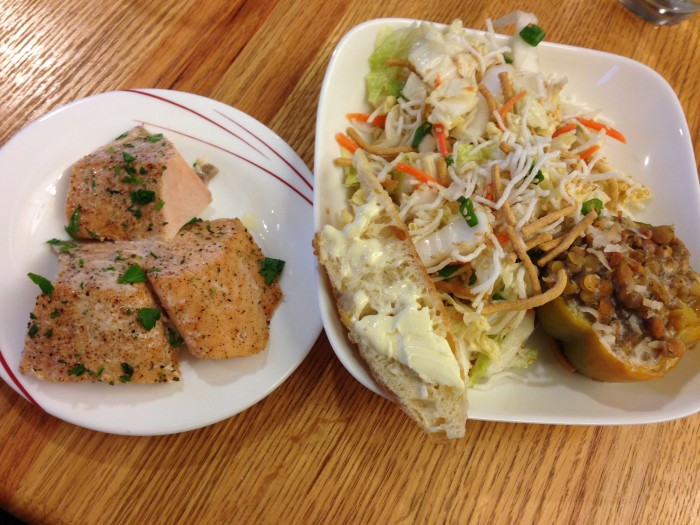 Workouts
Monday: 1 rep max front squats at Crossfit. I PRed at 165#! ONLY 5# PR but I'll take it! The conditioning portion was a little running, kettle bell swings, and fairly heavy dumbbell push presses.
Tuesday: Crossfit-over head squats and toes to bar (knees to elbow) for strength, and a pretty tough conditioning workout.
AMRAP 15
10 Wall Ball (14#)
20 Double Under
10 DB Snatch (25#)
I did actual double unders- and those gassed me! I've randomly made a double under breakthrough recently, and they've been pretty good. The downside? I whipped myself. A lot. Pretty badly. I think it's a cute look.
I was supposed to do a tempo run that evening but I had a lot of school work. I have a race in 1.5 weeks and I'm feeling pretty unprepared!
Wednesday: 6 mile run. Since I skipped my tempo run, I picked it up a bit at the turnaround point, and did a mile at a fairly fast clip (definitely not race pace though). So….a week and a half to get fast…?
How do you work on speed?