Hello! Here I am, posting another day in a row! GO ME. I have on day of work left! I really do love my job, but it will be nice to have some time off to prepare for what is sure to be a crazy year. I also have a recipe/salad idea for you all today!
My morning today started with a 3 mile run on the hills around my neighborhood. It's good for me because I'm currently training for the Nike Women's Half in SF which is hilly. Did I ever mention I was doing that? Well, I'm officially in training mode now. The run went well-I'm getting much stronger on the hills (my first few runs this summer were ugly).
I started work at 8am today, so everything occurred rather early.
Breakfast was a new to me yogurt that I've been meaning to try for a while-sweet potato! I liked it-the flavor was subtle and it wasn't very sweet at all. I topped it with sun butter and had a few dates from the farmer's market on the side.
Today at work my position was room nurse, which means I get to room the clients and discuss what is going on with their pets. It's a lot of fun to interact with the 'parents' but the position can get a little slow when there are not a ton of appointments. Around 10:30, I broke for a quick snack and ate the Vans gluten free crackers I packed in my lunch.
Lunchtime was at 12:30, and I chatted with my coworkers while enjoying my typical salad.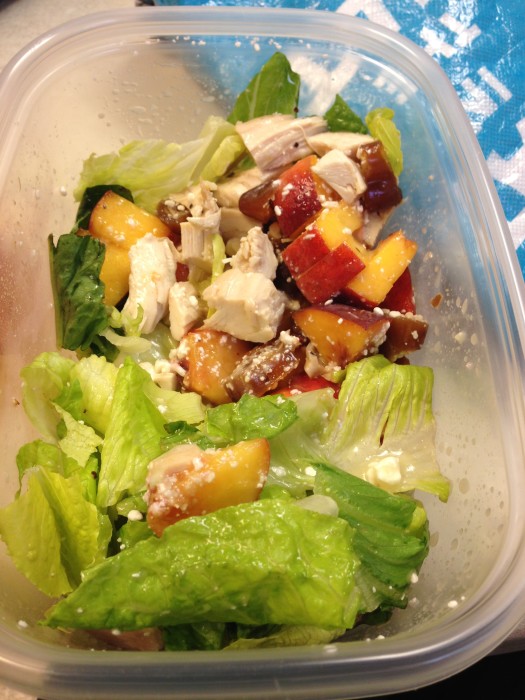 I also ate a piece of blueberry banana bread that I pulled out of the freezer.
Then, at around 3 I had a small piece of ice cream cake. On the last Friday of every lunch at work, we celebrate the birthdays from the month with the treats of their birthday people's choices!
After work, I wanted to go to Crossfit, but I got out of work a few minutes late and couldn't make the earlier class. I was a little hungry and already ate my snack for the day (oops) so I stopped by CVS to pick up a bar. It was just ok, and I didn't love the ingredient list, but given my nut restrictions it was the best option I could find.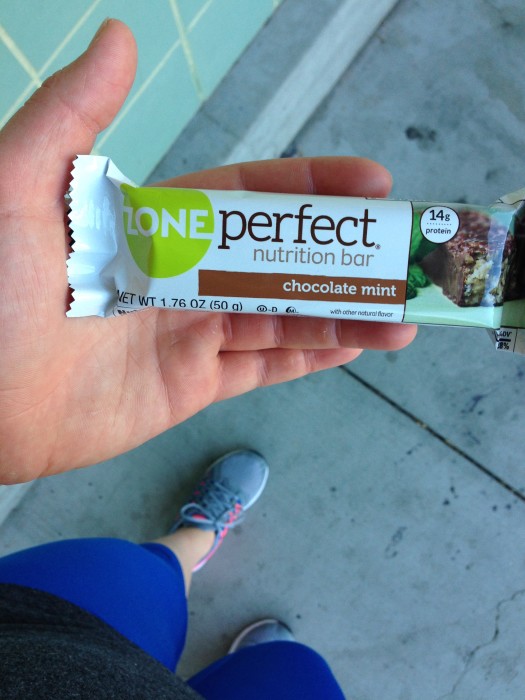 Crossfit was a fun one! My of my favorite types of workouts-short and heavy. As a warm up we did zig zag agility drills, which were a lot of fun and a great way to mix it up! The strength portion was 5 sets of 5 presses, at 55, 60,70, 80, and 85 percent.
The WOD I was looking forward to-7 minute AMRAP:
5 push ups
5 front squats (I used 105#)
7 knees to elbow
I got through 4 rounds plus 10 reps.
My shoulders are weak and creaky. I'm terrible at push ups for some reason and most WODs I choose to do them on my knees. This was few enough reps though that I was able to grunt out chest to ground, elbows in, real push ups. In terms of the creakiness, I can't really do multiple days of overhead work without my shoulders being cranky, and I think it's because I've gotten weak and stiff. I started going to yoga again, and I'm really hoping that helps things out! Yoga is so great for shoulder strength!
Dinner was a salad I dreamed up on the plane back from New York, and it came together beautifully. I suppose I'll call it the California Niçoise?
(Side note-I learned last week that to get accented letters on a Mac you press down on the character and hold….I took Spanish for 5 years without this knowledge….)
This salad is fun because it's full of all kinds of flavors and textures-my favorite way to eat a salad.
California Niçoise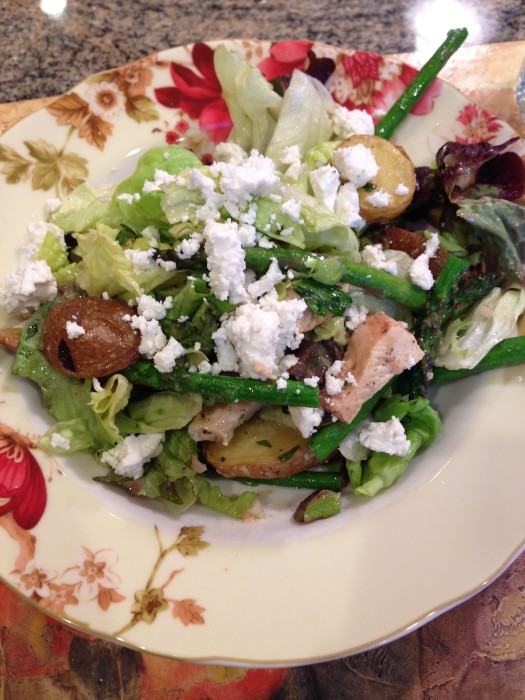 (Note that this is not given in terms of exact quantities.)
-2 grilled chicken breasts, marinated in lemon juice, olive oil, garlic, salt and pepper
-roasted asparagus
-roasted red potatoes (I used creamer potatoes) in olive oil, salt, and pepper
-truffle goat cheese (you could use regular goat cheese)
-a sprinkle of truffle salt on top of all of that
For the dressing (adapted from Cooking Light)
3 T red wine vinegar
2 T olive oil
1 T minced shallots
1 T fresh chopped parsley
1 t Dijon mustard
1/8 t salt
1/4 teaspoon black pepper
1 garlic clove, crushed
The process is simple-whip up the dressing, and then toss everything with the exception of the goat cheese, which is crumbled on top. Yum!
Dessert was also sort of epic. It was a Cooking Light recipe from the latest edition-Hasselback Apples. They're basically apples sliced hasselback style and then roasted, topped with an oat, butter, cinnamon, and brown sugar mixture, and then broiled. Words cannot describe how amazing these were!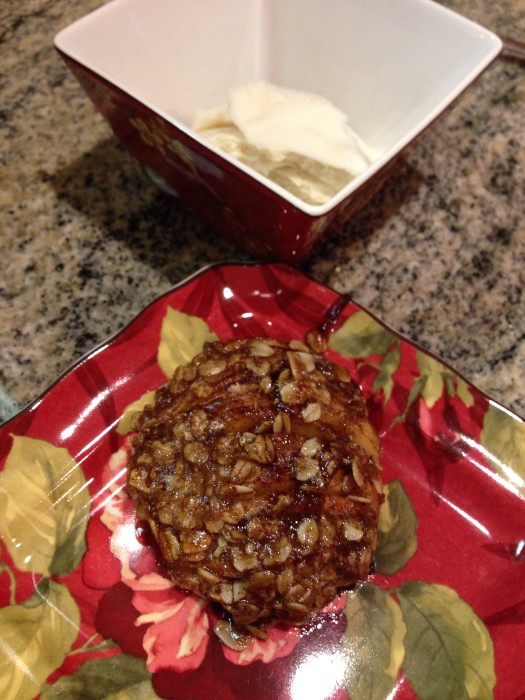 And since my picture truly doesn't do it justice, here's the shot from Cooking Light.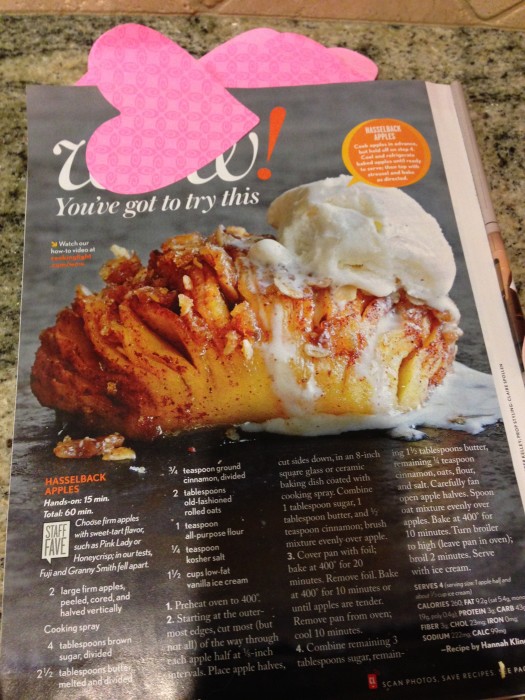 I highly recommend giving these a try!