Hello! I hope everyone's week is going well! Today, I'm sharing a recipe with you all which basically what I've been having for lunch every day at work, so stick around until the end of the post!
I started work at 7am today, so a quick breakfast was in order. Cherries+polenta+Luna bar. I probably eat too many bars, but sometimes you gotta do what you gotta do. I currently have a healthy alternative baking in the oven which is a total experiment so we'll see how that turns out!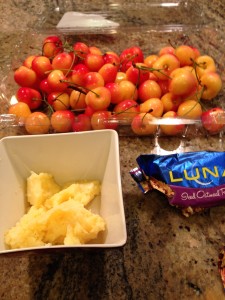 I didn't get to have lunch until 1:30, so I was pretty ravenous and tired by then! Lunch was a salad with dates, nectarines, chicken, and feta (recipe at the bottom).
Plus Mary's crackers.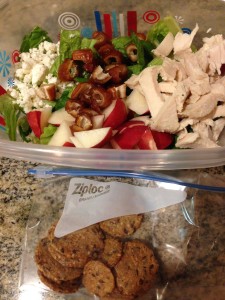 I'm trying not to get froyo at work more than once a week, but since I was so hungry, I had a small cup with blueberries.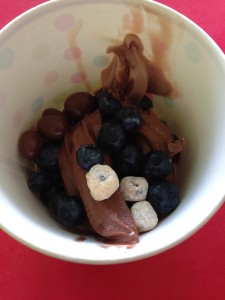 After working the rest of the afternoon, I had a quick snack before Crossfit. A random bar I found that didn't haven anything I'm allergic to (i.e. nuts-which nearly every bar has), a banana, and a couple of pieces of these freeze dried apple/raspberry balls.
Crossfit was good, but my hip has been bothering me lately when I squat for some reason, so I'm trying to be gentle to it. I worked on power snatches (not landing in a full squat), and did very shallow overhead squats in the WOD which was 12 minutes of overhead squats, push press, and push ups on the minute with an increasing rep scheme. Not a crazy intense one, but I got a good shoulder burn!
Dinner was a few Cooking Light recipes from the Cooking Light app. The app is so convenient-they even make meal pairings with main dishes and sides, and it's easy to scroll through different recipes based on their principle component (like poultry). Today, we had BBQ chicken which I ate over a piece of gluten free bread, coleslaw, and mashed sweet potatoes with sage and browned butter.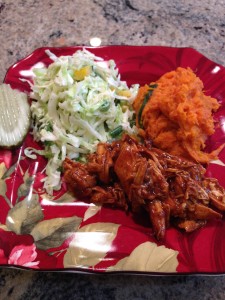 For a little something sweet after dinner, I had a little sunflower seed butter and raspberry jam on gluten free bread.
Now-recipe time!
Date Nectarine Salad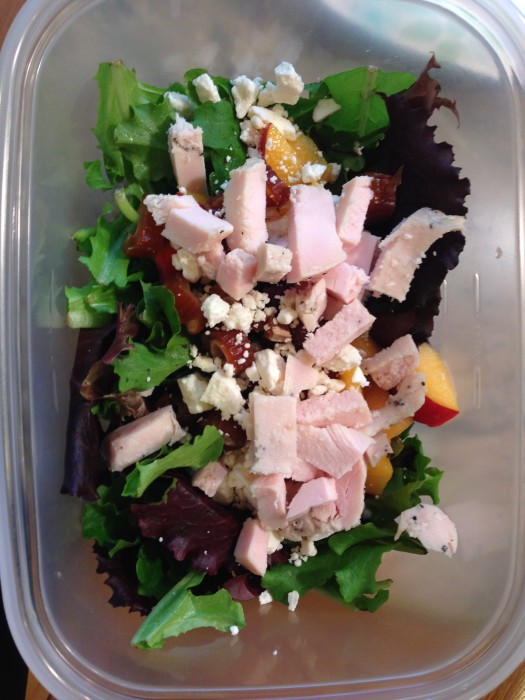 Ingredients:
For the salad:
8-10 oz grilled chicken breast, chopped
1/2 c feta
2-3 nectarines, chopped
about 15 pitted dates, chopped
3 large handfuls of lettuce
For the dressing (adapted from Cooking Light)
3 T white wine vinegar
2 T olive oil
1 T minced shallots
1 T fresh chopped parsley
1 t Dijon mustard
1/8 t salt
1/4 teaspoon black pepper
1 garlic clove, crushed
Mix up the dressing, and then toss it all together!
Serves 3