Happy Wednesday! After the short week last week, does anyone else have difficulty wrapping their head around what day it is? Well, to celebrate the middle of the week, I'm linking up with Jenn for WIAW!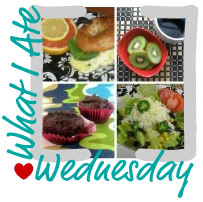 I actually have some slightly different and interesting eats this time-and after this week I promise things will improve even more because SUMMER.
Also-when i say Day 2, to what am I referring? Day 2 of no sugar (with one exception but it was very low sugar and it was fancy yogurt). Has anyone heard about the movie that is out now, Fed Up? I haven't seen it, but I'm dying to. We all know I love bashing sugar-although mostly because I think sugar metabolism is the coolest thing ever. I guess I should restate that a bit though-I think added sugars in everything and the insane amount of sugar many Americans consume is leading to major health problems, and too much processed food (especially when filled with sugar) is seriously contributing to the obesity epidemic. I'm not fundamentally opposed to sweets in moderation-whatever works for you! Anyways, in honor of that movie and a paper I recently wrote, I'm trying a week without sugar. Clearly the best time to do this is during finals, right?? So that's where I am. I have to say, when I stop eating sweets, I start to crave meat and protein…which is kind of weird, but for me it's usually a decent sign that I'm being healthier.
I'm going to go over some food items from the last two days, for fun.
While I'm still going strong with my usual breakfast-yogurt+berries+sunbutter, this week I mixed it up. Instead of making the berries with mixed berries, this time I used frozen strawberries and peaches-and it came out SO well! I was pleasantly surprised!
This morning, I woke up bright and early for spin. I wasn't sure if the class would happen since this is the last week-as in, I wasn't sure when the last week was. Well, it didn't happen, but not because the class didn't exist, but because there was a huge power outage and the whole gym was closed because it was without power. I still wanted to do something since I was already up, and I hadn't really taken good enough care of my Achilles the past day for a run (plus I think I need to be more in running mode) so I did a Nike Training Club workout from my app. I've done the same one about 3 times and it still kicks my butt. I think I might already be getting sore from it. I followed that up with several short sprints, and then COFFEE.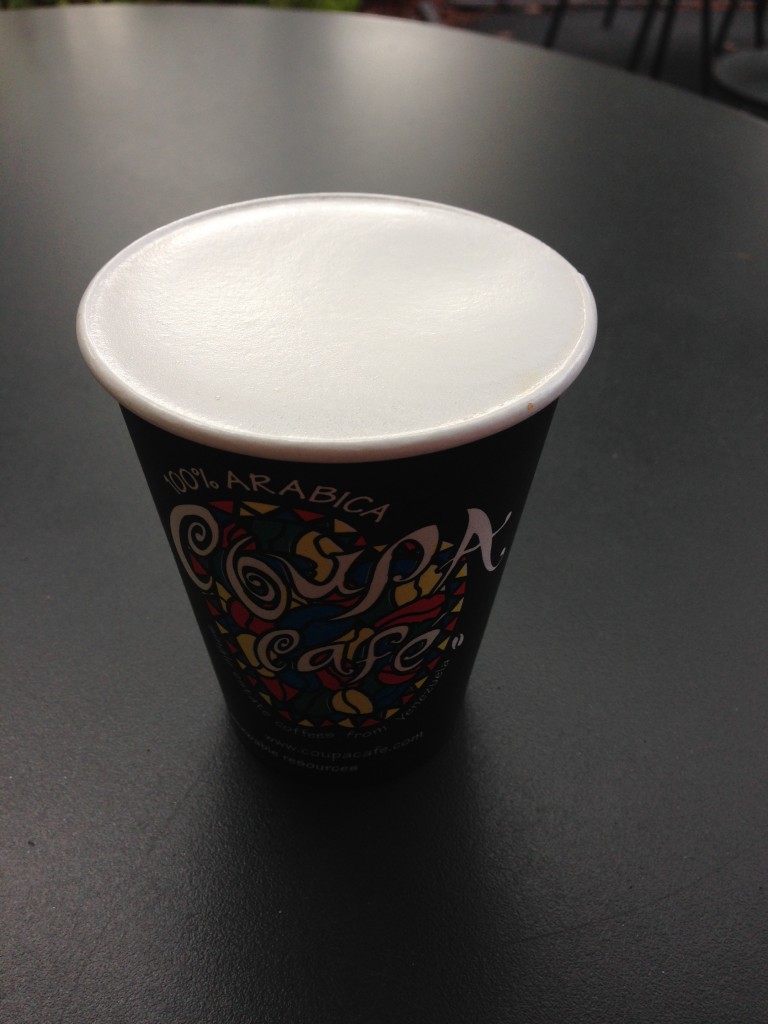 What is so sad is that with where I am living next year, I won't be anywhere near my favorite coffee shop-or any coffee shop for that matter. I better stock up now, right? Where else do you find such a perfect cappuccino?
Yesterday, I did my big presentation for the quarter. It went super well! But afterwards, I was craving meat and protein. So meatsicle it was.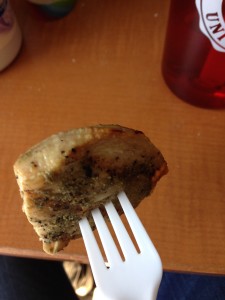 I also dug into my fancy yogurt. Since I've been on a lemon kick lately, when I was at the store and saw fancy local lemon yogurt (you know it's fancy if it's in a jar) and had to try it. This was my one "sugary" item-it only had 12g of sugars but probably about 8g of those where lactose-it definitely wasn't very sweet! But definitely tasty!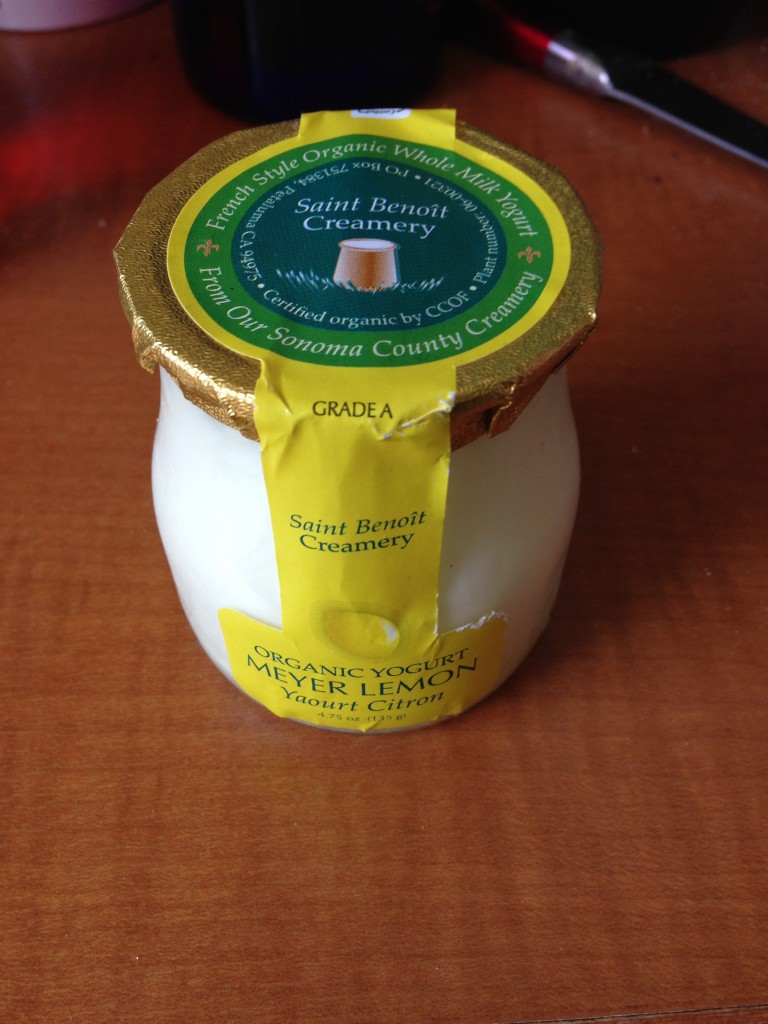 Today, I actually had lunch with my mom. We went to a nice cafe sort of on campus. We split several dishes-a chop salad, a gouda arepa, and fried plantains. They were so nice and split everything on separate plates for us!
So good! Later, for "dessert" I had a plum and "pb&j."
The "pb&j" technically had no pb or j. On European bread (which I oh so classily broke into small pieces) I spread some sunflower seed butter and some blueberry compote (which is just blueberries on the stove). It was good!
Sometime in the late afternoon I had a snack of bread with cheese and snap peas.
Crossfit tonight was rough. For strength we did power snatches but the WOD was a 20 minute AMRAP (as many rounds as possible) of "Helen." Helen is bad enough as it is-but 20 min??
"Helen"
400m run
21 kb swings
12 pull ups
For this, I decided it's time to stop slacking off on my pull ups and ditch the band I had been using in favor of a thinner one. So the pull ups were definitely a bit of work, and required all of my strength effort-I actually broke them into sets of 3. For half of each set I used the thinnest band (which was HARD) and then for the rest of the set, I used the next thicker band. I'm really glad I am pushing forward on the pull ups. It was time to graduate from that band! I was sort of dead afterwards, and super thirsty.
At dinner, I chugged lots of water, and wasn't feeling super hungry. I picked out a salad with chicken and roasted potatoes.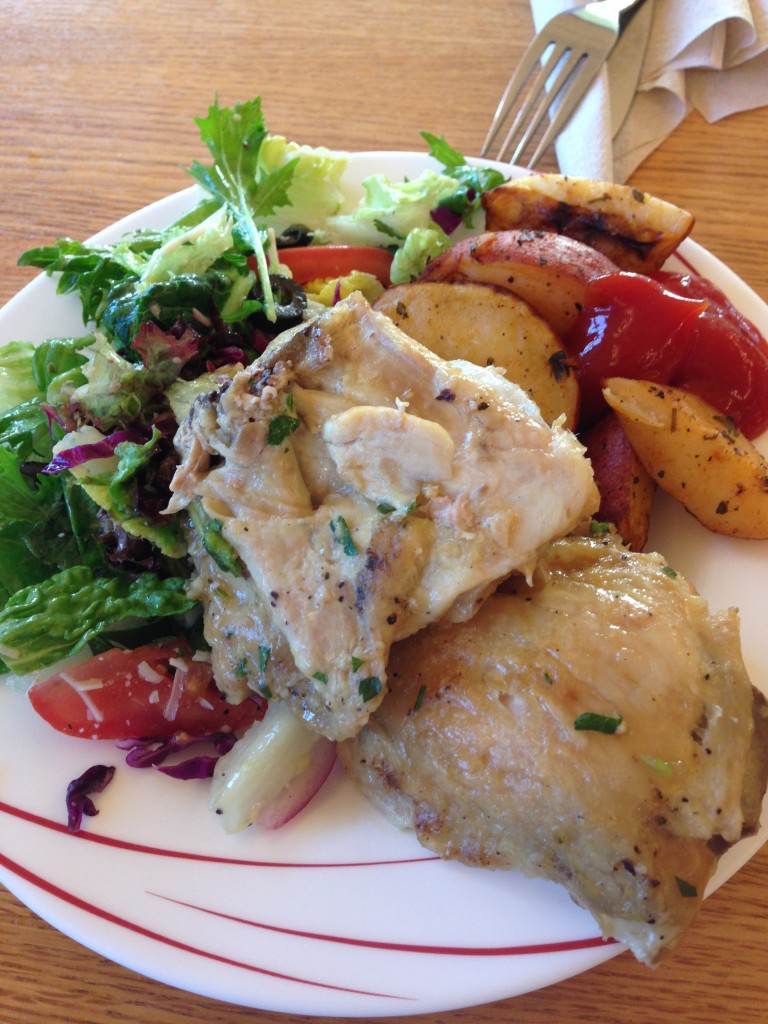 Since I wasn't super hungry, the I just wasn't feeling the salad at all, and I got what little meat there actually was off the chicken bones! I ended up having a couple of small whole wheat dinner rolls, because that sounded way more appealing, and I had already eaten plenty of veggies today!
In terms of the whole no sugar thing, I'm actually feeling much different-in a good way! I had kind of slipping into the "snacking on lots of chocolate" habit, so I feel much better! Hopefully I can finish the week!
And back to the pull ups thing-my goal is to be busting out some pull ups during WODs by the time I return from the summer. Maybe not the whole WOD, but at least some of it!
What your next fitness goal?