This title sort of sounds like a "No, duh" right? Well, it's amazing how true that actually is!
But let me back up to food pictures!
Saturday night, I brought a couple of friends home to have dinner with my parents. We had one of my favorite meals ever, Grilled Peach, Chicken, and Goat Cheese salads. Yummm.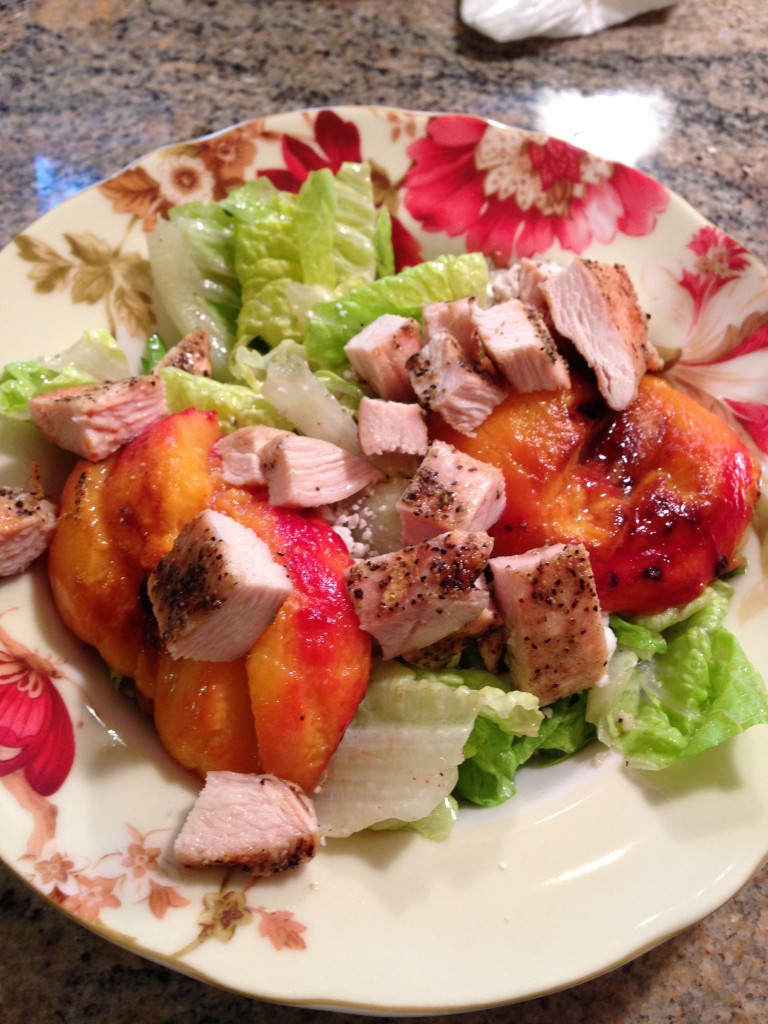 My mom also made a really delicious mushroom and artichoke dip to start off with, but I failed to document it!
For dessert, we had another favorite: blueberry crisp! It's so close to summer!
We all had a great time chatting! I need to bring my friends back more often!
Sunday morning I was up bright and early…again…to run with my home Crossfit. I didn't really have any preconceived ideas about how much I was planning on running-although I wasn't planning on doing a ton! There were only 3 of us, and one guy wanted to do 8 miles. He claimed we would do a 10 minute pace, but we quickly picked it up! I actually totally forgot to bring my Garmin, so I wasn't checking the pace the whole time. This was probably better because I didn't get a chance to psych myself out! I knew I couldn't maintain that pace for 8 miles, and ended up turning around at the 3 mile point-2/3 of us ended up turning back here. I'm not sure of our pace on the way back, but it was still a decent clip. My legs finally locked in and it felt almost effortless. Plus, chatting with new people is fun! We discussed Crossfit quite a bit, which seems to be a hot topic with that one Crossfit bashing article going around.
And, I finally broke out the new shoes! (I've worn them once.)
I've definitely gotten faster since I've started running with the group a few weeks ago. I'm excited to have a solid base for when I start my half training, but sad I won't have running partners in DC this summer! I have some big goals with my halfs coming up, so I guess I might as well blurt them out here and finalize them. I want to PR on my race in September. I should be able to do this-I was just a minute off my PR in my last half when I wasn't trying to PR, and that had hills on hills on hills. I'm standing true to my vow to avoid super hilly races for a while! I'm doing the Giant's Race in September, which is not flat, but as flat as it gets in SF! I previously just wanted to PR, but now I'm going to go ahead and put a number on it. 2:05. That's the goal. I think that's pretty reasonable, granted I train hard this summer. However, half #2 is a much loftier goal. I want to break 2:00. A lot of people in this running group are doing RnR San Jose in October, which I am now planning to do as well. It's flat, and I'll have over a month of running with the group and working on speed to prepare. A lofty goal, but with more runs like today, it's starting to seem reasonable. Plus, SJ is flat! Yay!
After the run, I came back and waited forever at Jamba Juice for an Apple n Greens smoothie and a spinach and cheese wrap.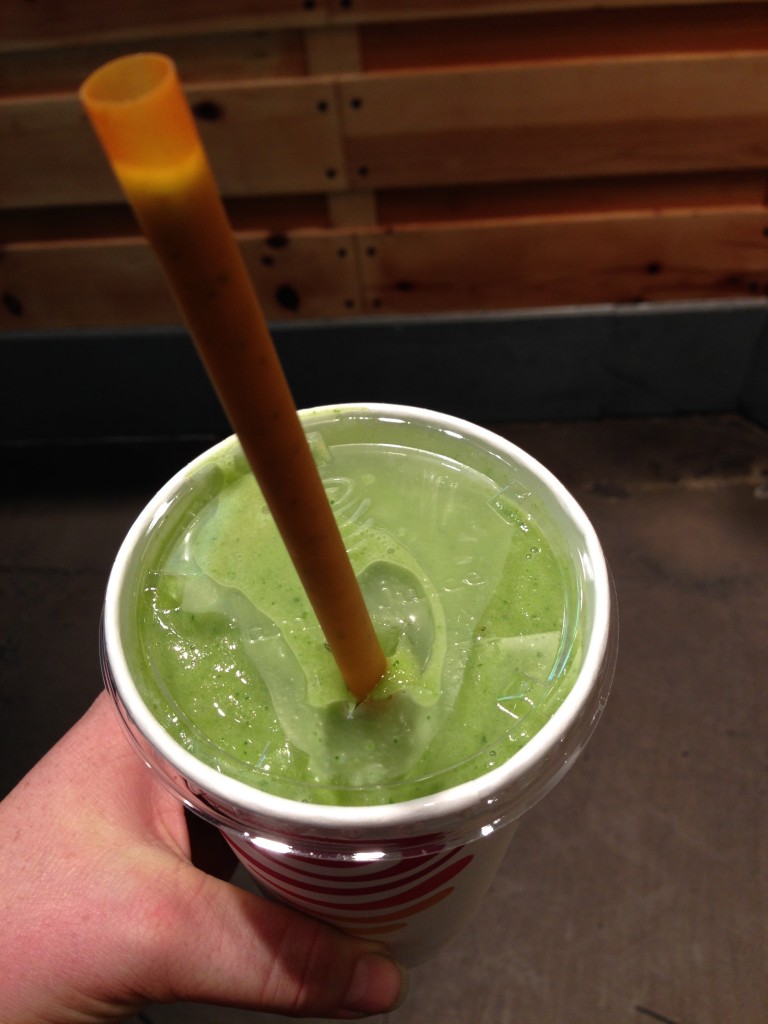 Aaand blogger fail of the day: that was my only food picture!
I have one other exciting thing to recap: I went to Soul Cycle today! My dorm went, which meant I got into a class for only $10! I've been wanting to try it forever, but I never got around to it. Here was my experience: the bikes all have clips-they give everyone spin shoes, although I had my own and I appreciated that they were able to fit the clips. I got on my bike-the handle bars were a little different, and I wasn't sure what to expect, so I had a friendly employee help me adjust everything. Here's the thing-the handle bars are SUPER low, although maybe I'm just used to the really high ones at school. I think if you have back problems or are really inflexible, this would be a major problem. The bikes were really nice though-they had a great riding feel, and the clips were much tighter than other bikes which was really nice-on the junky bikes at school my shoes swivel around in the clips.
The class was a definite style. It was very fast paced. I would say it was more cardio than strength based, and involved a lot of very fast paces out of the saddle and a lot of bouncing. Soul Cycle is all about the rhythm so don't sit in the front if you're new! I think this si the type of thing you'd get more out of the more you go. I was sometimes able to catch the rhythm but not always! Overall, the class was fun and I might go back (although it's really pricy). However, as a certified spin instructor (yes, I sometimes forget that I am too), I can't really recommend this class. The things we do in class basically go against everything we're taught to not do as Spin teachers, for safety reasons, so I wouldn't feel comfortable recommending it. There was a lot of bouncing around, and a lot of really high leg speeds, especially out of the saddle, which can be dangerous. To be honest, the only reason they can get away with such high speeds is that the bikes are very high quality. Also, we were taught that push ups and such on the bikes can be dangerous-which is true; you sweat a lot so the handlebars get slippery! There was also a small weight lifting portion on the bike-also kind of a no-no. The thing was, I felt like we might as well just have done that part off the bikes-we weren't gaining much by being on the bikes!
Overall, I enjoyed my experience and worked up quite a sweat. But to be perfectly honest, I feel like this is one of those fitness trends that people are really, really into but are not necessarily the most smart thing. I think the classes are perfectly fine for experienced spinners, but people new to spin I think are a bit at risk for injury. But that's just my two cents! It was really fun to be at a spin class not just in the corner of the school gym though!
That's all I have for today-I have to give a big presentation tomorrow and I'm still without a voice from my cold earlier in the week so I need to rest my voice!
Have you ever tried Soul Cycle, or any spin studio? What did you think?