WHEW.
I have had a busy day, and loved every minute of it!
But first, I have to back up to last night to talk about some food things-new to me places and baking!
For dinner, after passing a multiple Sweet Greens on my way home, I finally decided to stop in. For those unfamiliar with it, it's a salad place. I was a little surprised by how expensive the salads were but they were made with all local ingredients so I guess you get what you pay for! I went with the guacamole salad (because avocado!) which really did taste like fresh guacamole! It was really lime-y, which I normally don't love but it was really working here!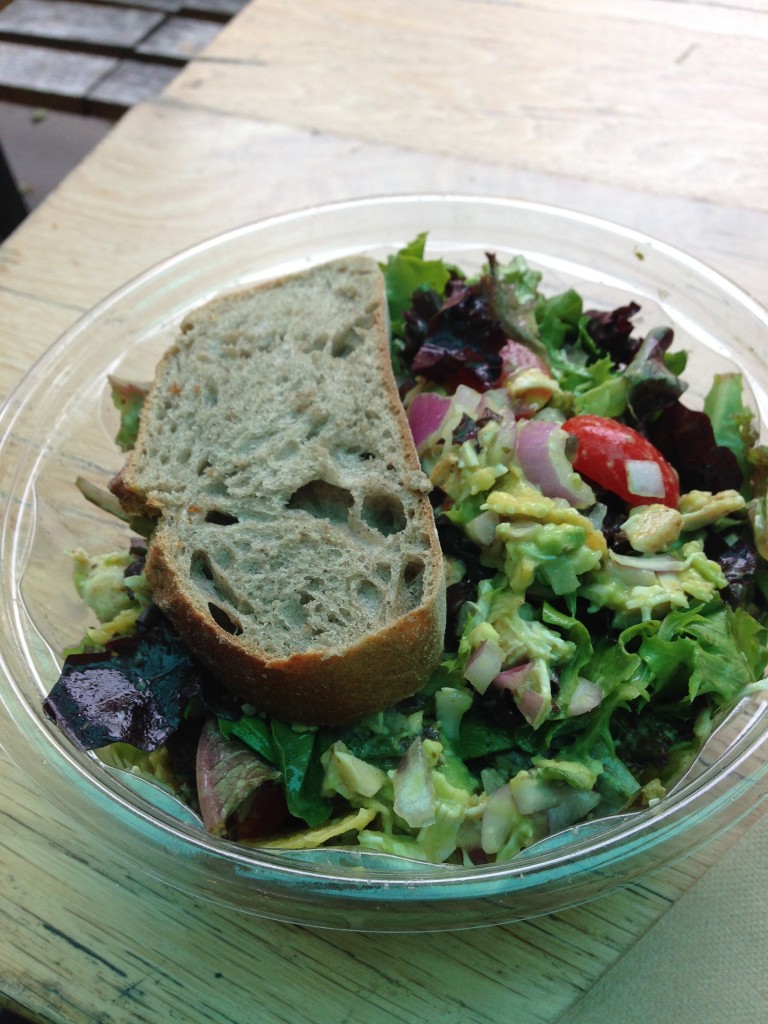 After dinner, I stopped by the store to pick up some ingredients for banana bread. I haven't made it in forever, and while I may not have many cooking utensils, I did get a loaf pan! (And I know I still owe you guys the lemon poppyseed banana bread as well!) Banana bread is my thing. I modified a recipe and I've never made a variation that hasn't worked. On tap for last night was blueberry banana bread! I used my banana bread recipe (adapted from Nancy Clark's recipe) and omitted sweetener, and added about 3/4 c fresh blueberries. I have a friend in DC for the sumer as well, so she came over to bake with me! I quickly realized I didn't buy a mixing bowl….so pot it was! My oven is also really weird and tiny, and for some reason the bread was only cooking on the top until I moved it to the bottom wrack, but it still came out well!
I have a 4th of July variation I really want to make-what do you think of red, white, and blue banana bread?
Saturday morning, I was in for a treat. I signed up to do a free OutRun! It's basically a boot camp mixed with running, for a 90 minute workout, put on by Roam Fitness. The 90 minute weekend runs are free, but there are shorter ones during the week that are not.
Before the workout, I fueled up with banana bread and cherries.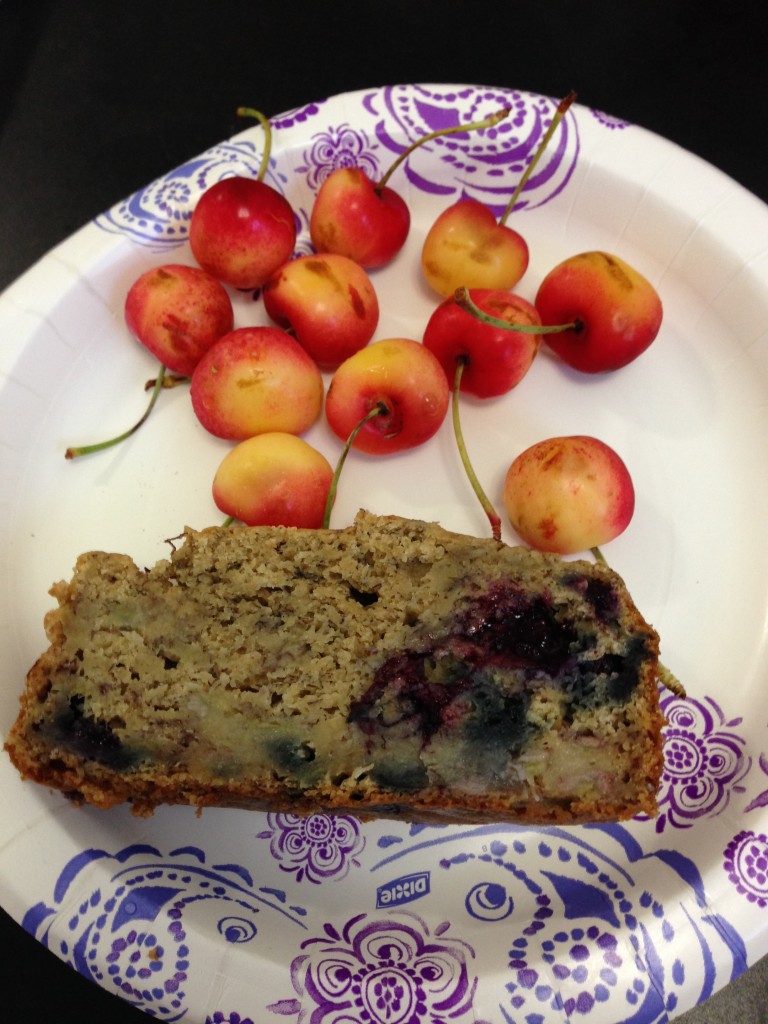 Then, it was go time! I took the metro to get there, and it was a fairly easy trip.
When I arrived, everyone was super welcoming and friendly. I don't have a lot of pictures from the workout but it was a good one! I think we covered about 4 miles, with bootcamps interspersed. We did all kinds of things, but to name a few: jumping jacks, planks, Indian Runs, stairs, stairs with a parachute, ladders, and abs. The list goes on. It was super fun, but definitely hard. I loved getting to explore the city on foot and go to new places! And guess who I ran into?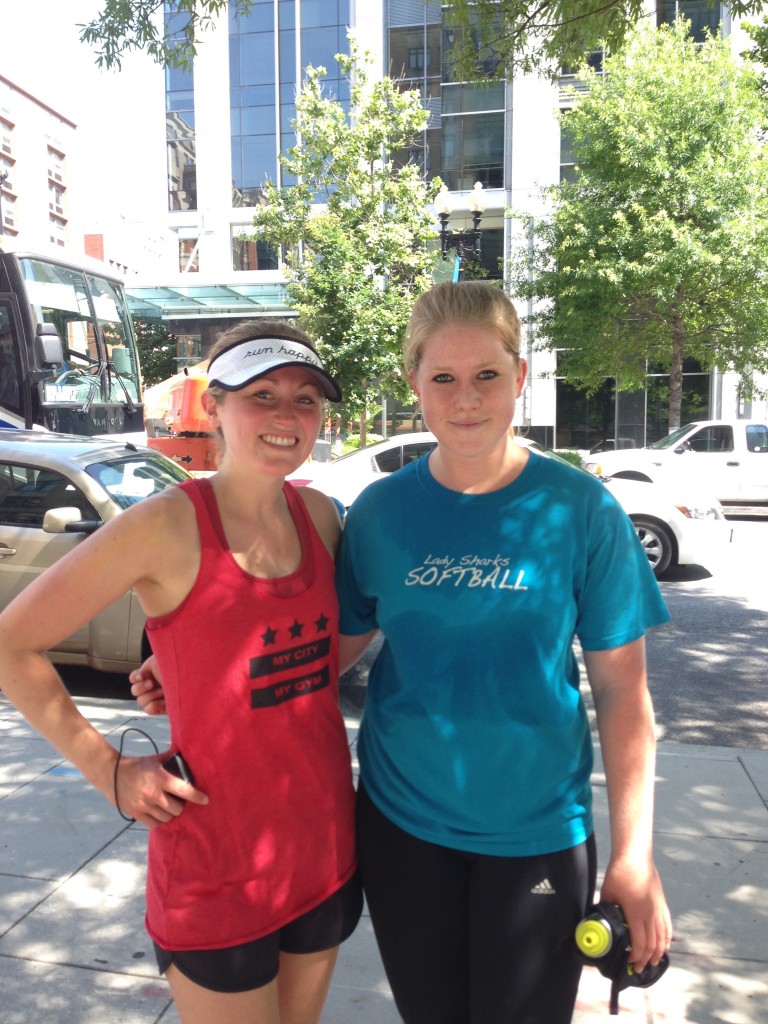 Anne, from Fannetastic Food! I actually found out about this workout from her blog, and since I'm now in this city, I figured why not check it out? She was really nice and fun to talk to, and even hung back with me while I was dying going up a hill with the backpack of water! Plus, she answered my constant questions about where we were, since I'm really trying to learn the lay of the land! For more pictures, check out her blog because I'm sure she got more than I did!
Running up said hill was definitely worth it for the view of DC though.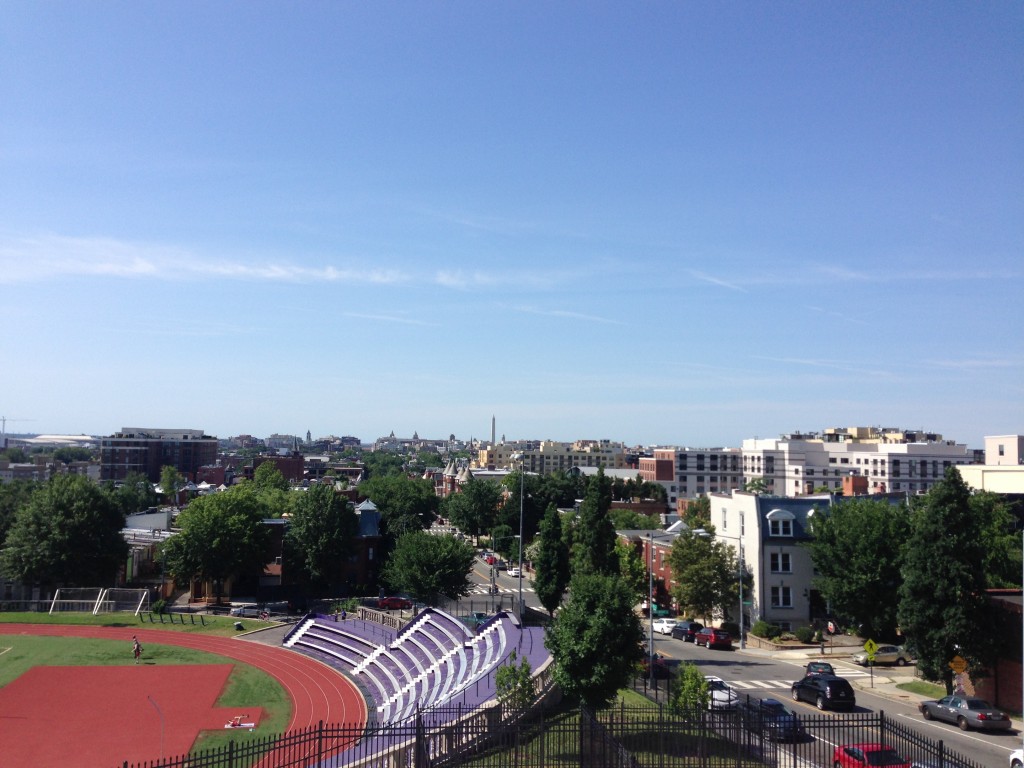 This was a fabulous workout. That being said, you definitely need a fitness base. There wasn't a huge group today so I imagine the pace groups would split up more if there was, but I definitely found myself pushing the pace a bit, and it was hard! It was so much fun though, and I know these types of workouts and the work I put in now are what are going to help my PR in the fall. Like I've said before, I need to run fast to get fast!
Also, you know it was a great workout when you're starving all day!
Before I go into the rest of the day, I want to spend a moment talking about the DC fitness community. It's seriously fantastic. I'm soaking up every bit of it and loving it. Just this week I've:
-run through the monuments
-run up the Lincoln Memorial stepsx100000 at 5:30 in the morning
-PRed twice at a Crossfit named the best box in DC
-got my butt handed to me at a super hard run club run along the waterfront
-gone to OutRun
It's a lot for a week, but there's seriously so many awesome things I just can't help myself! I'm sure things will slow down once half training really kicks into year, but until then, I'm just going to continue to love it. Plus, everyone is so nice and welcoming!
Ok-back to the regularly scheduled programing (aka food). For some reason I decided that a hot cappuccino was perfect after a hot and sweaty run.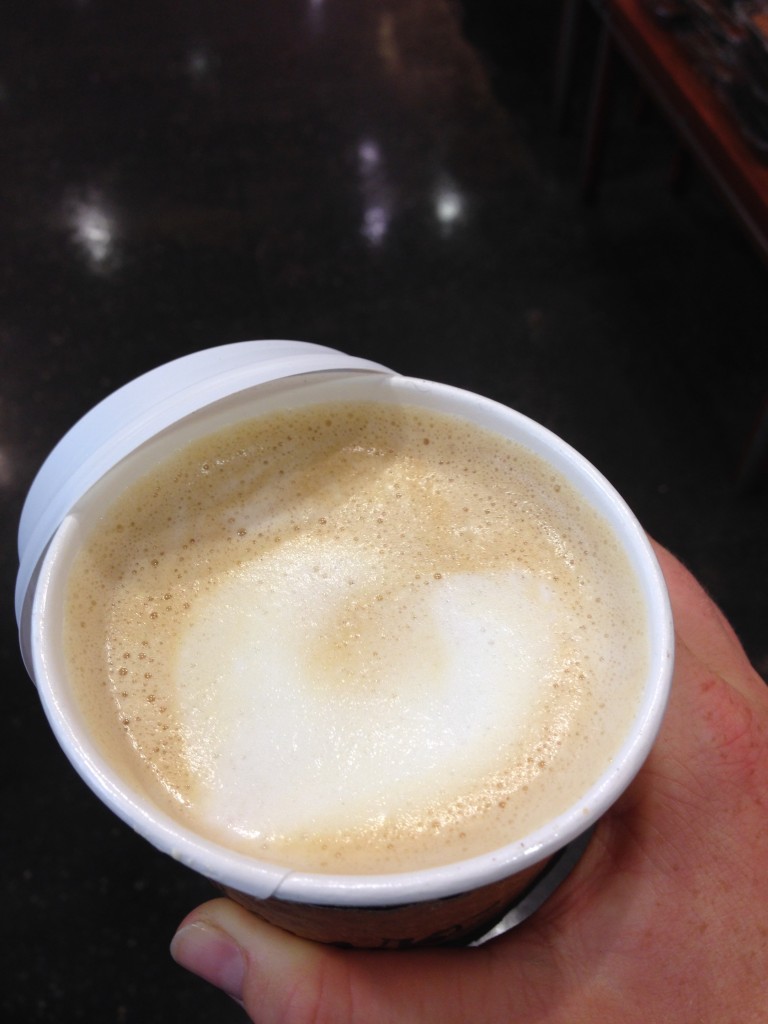 I then snacked on some dried mango while I made some scrambled eggs with Manchego and spinach.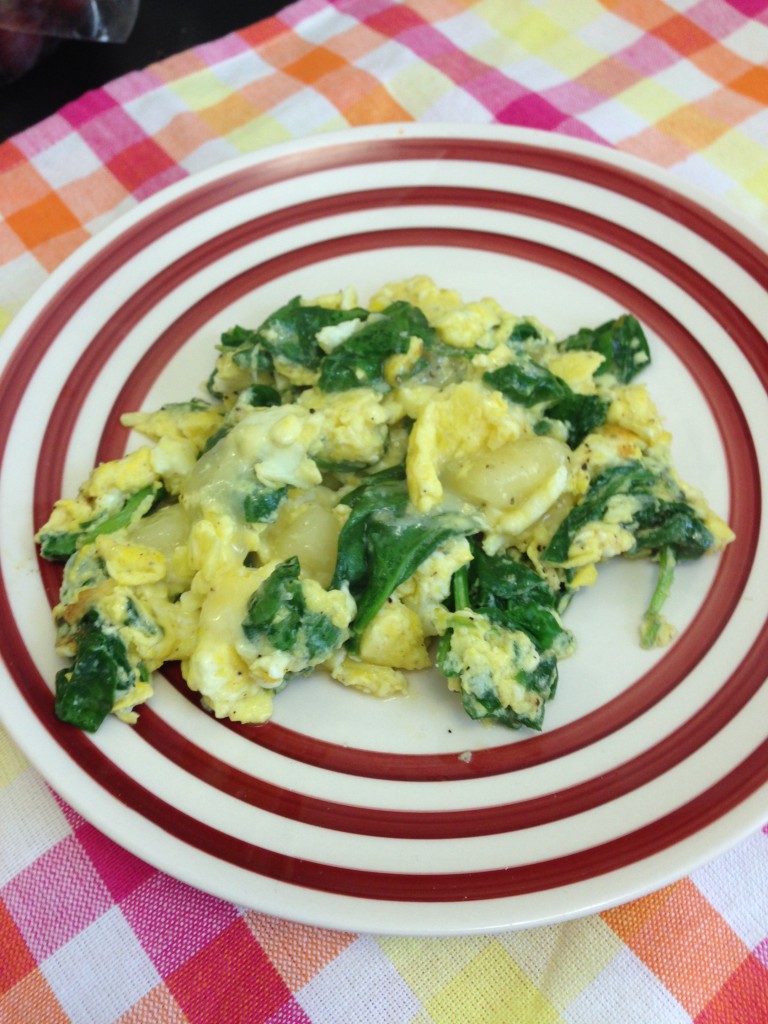 Also, maybe it's the heat, but grapes have become the greatest thing ever in the past week.
Later that afternoon, I met up with some friends from school who are also here, and we went to the Folklife Festival, which is a cultural type of festival that the Smithsonian puts on in the National Mall. This year's focus was China and Kenya. We wandered around and watched some shows, and cooking demos! Also, we saw professional storytellers from Kenya! What a cool profession!
Afterwards, we walked over to an Asian Fusion place for dinner. It was fairly far, but I wore my trusty new pink running shoes to save my feet, and man was it a good decision! I walked everywhere tonight! (Hence the above collage.)
For dinner, I had mixed veggie an chicken stir fry.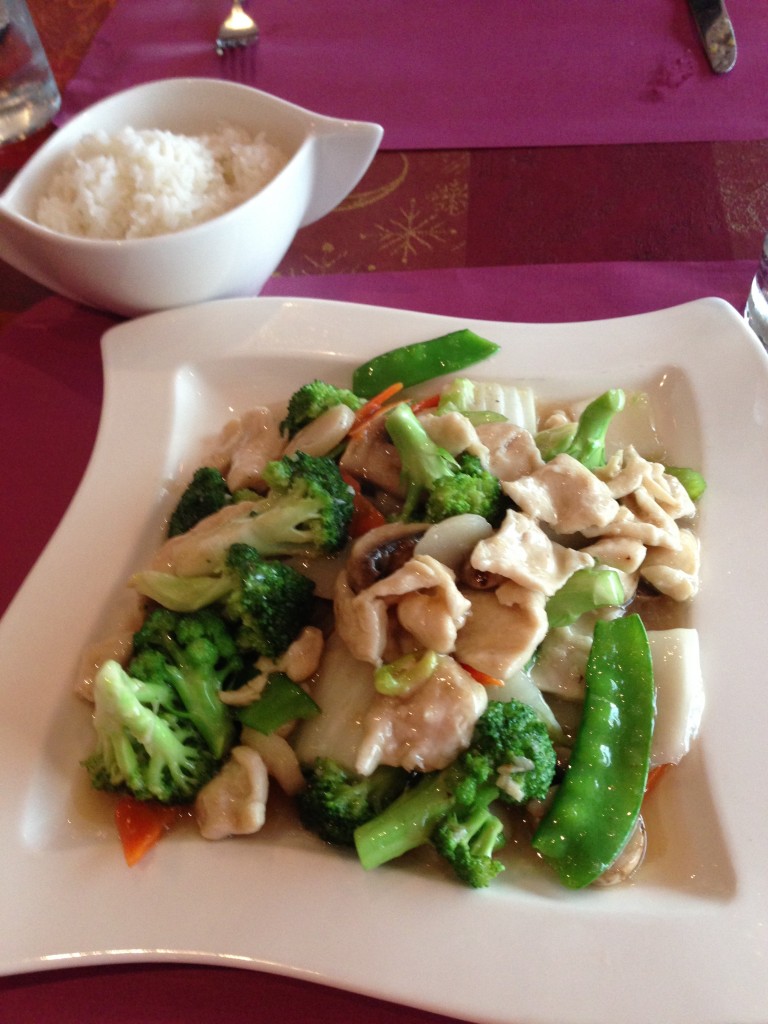 After dinner, one of my friends split off, and we ended up in an Uber right around the area I had run in that morning! I felt insanely knowledgable because I knew where we were, and how to get to the Metro. Gotta love fitness adventures to tell you where you are! We decided to get ice cream, so took the Metro to a place that ended up being closed. We wandered around until we found a burger and shake restaurant that had frozen custard. That was a good decision, after being out in the hot sun all day!
I chose vanilla custard with salted caramel sauce and chocolate truffle cookie dough. It was delicious!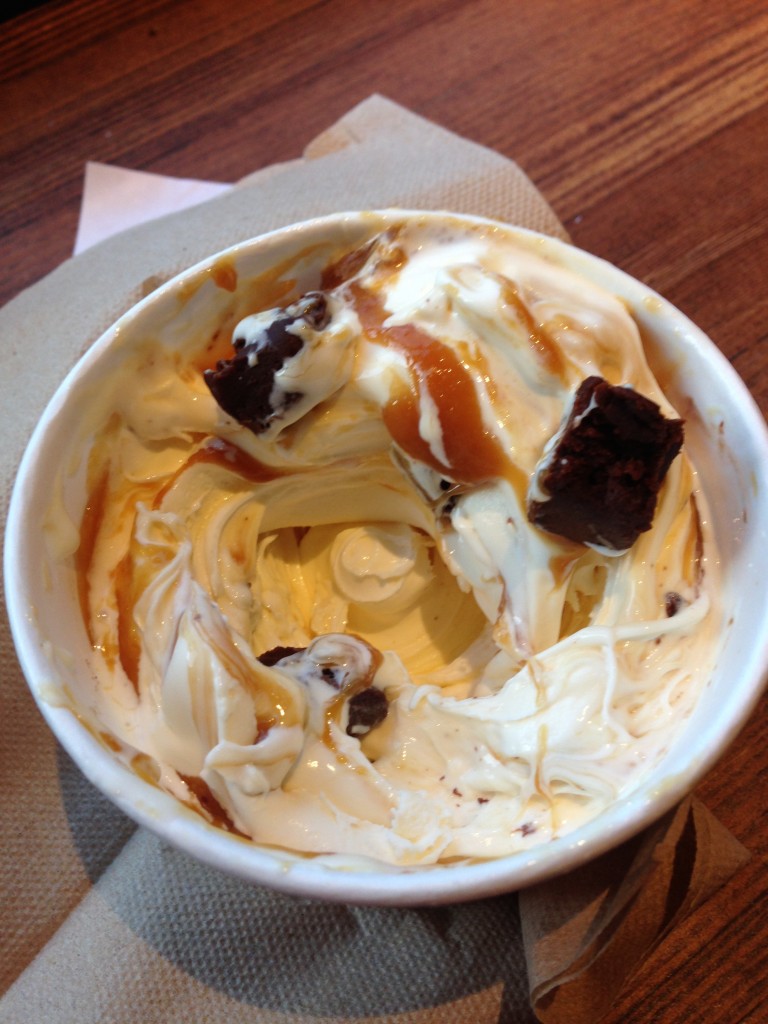 We then hopped around the city again to see a movie. It was great, wasn't awful, but I wouldn't recommend it.
But what a day! I've been EVERYWHERE. On the schedule tomorrow is the Farmer's Market! I have to make the most of this city, right??
Have you ever lived in a city? Any ideas what I should do while I'm in DC?