I had every intention of getting this recap post up last night, but wifi was down throughout the whole campus. Let's just say doing research for a presentation you are writing at 1am ON YOUR PHONE is not the most fun thing ever. But here were are!
Yesterday, I ran Bay to Breakers, a 12k in San Francisco that goes from the Bay, to the Pacific Ocean (breakers).
I awoke at a fantastically early hour (4:50) to get ready to make the trip up to the city for the 8am start. For those of you that don't know, Bay to Breakers is a crazy, wacky race. Everyone dresses up-that is, if they dress at all.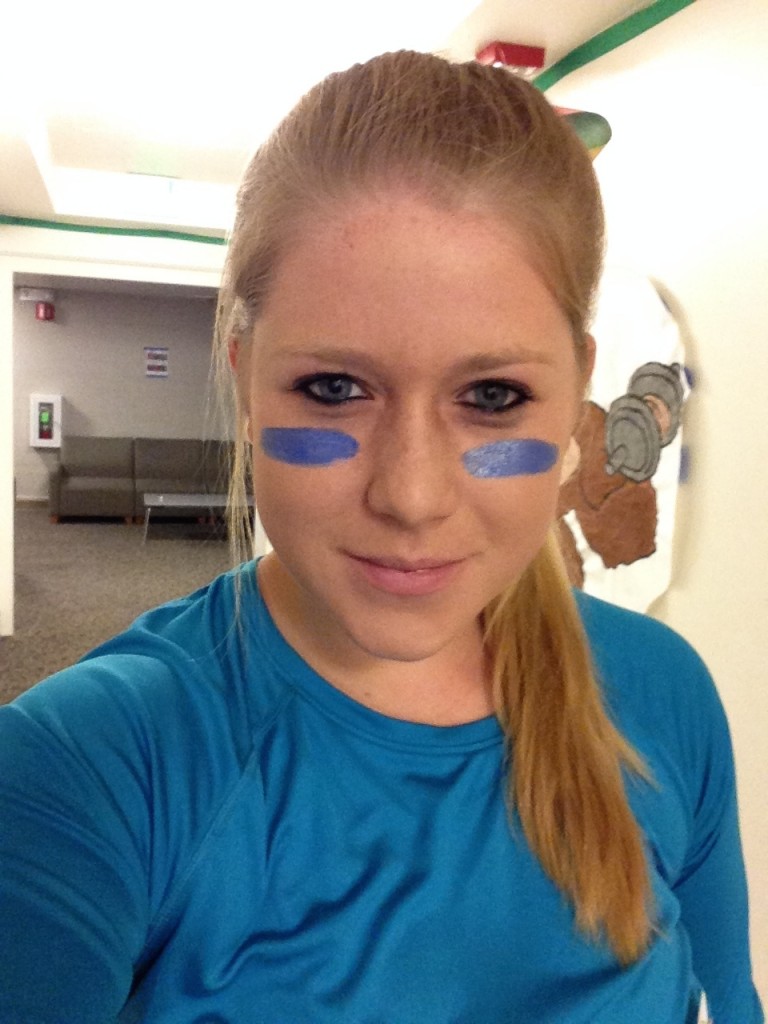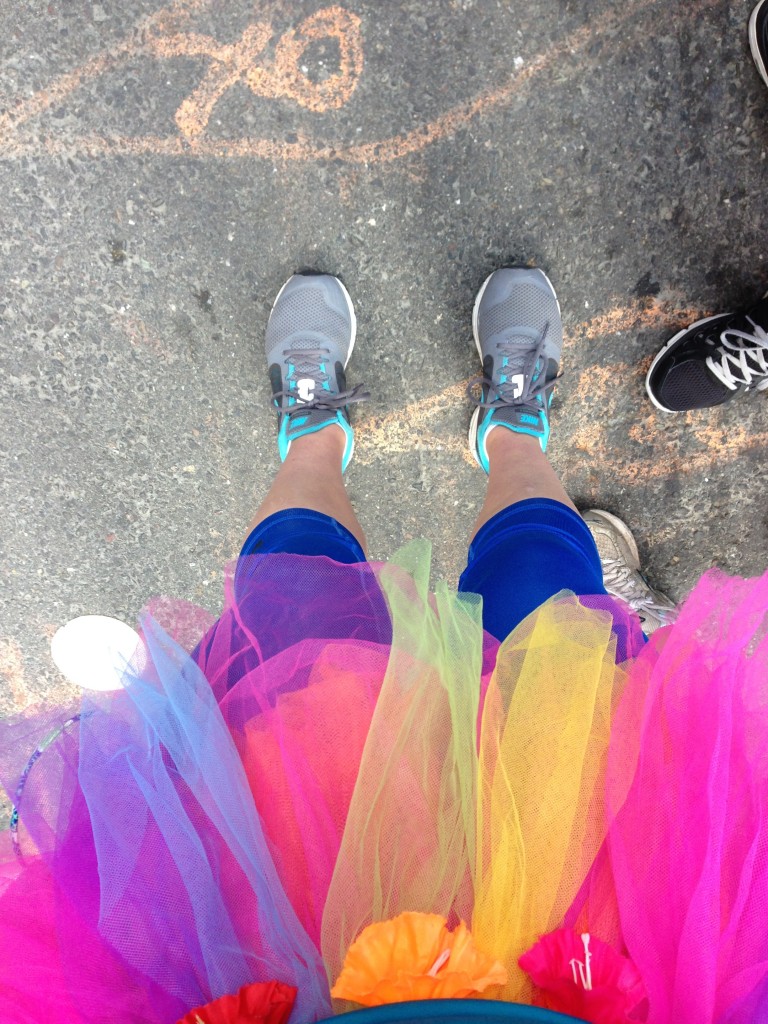 Upon arriving in our corral, we were immediately greeted by flying tortillas. Yes, flying tortillas. There were tons of people just will bags of tortillas, flinging them everywhere.
This is the first tortilla that hit me.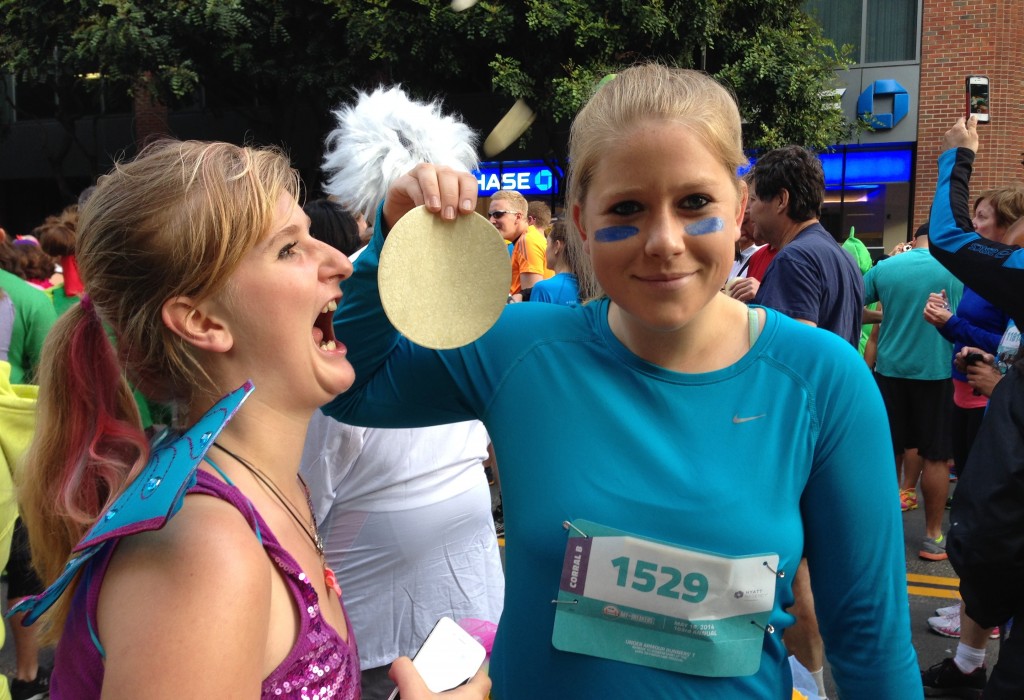 As you can see, I didn't go alone! I ran the race with 2 friends.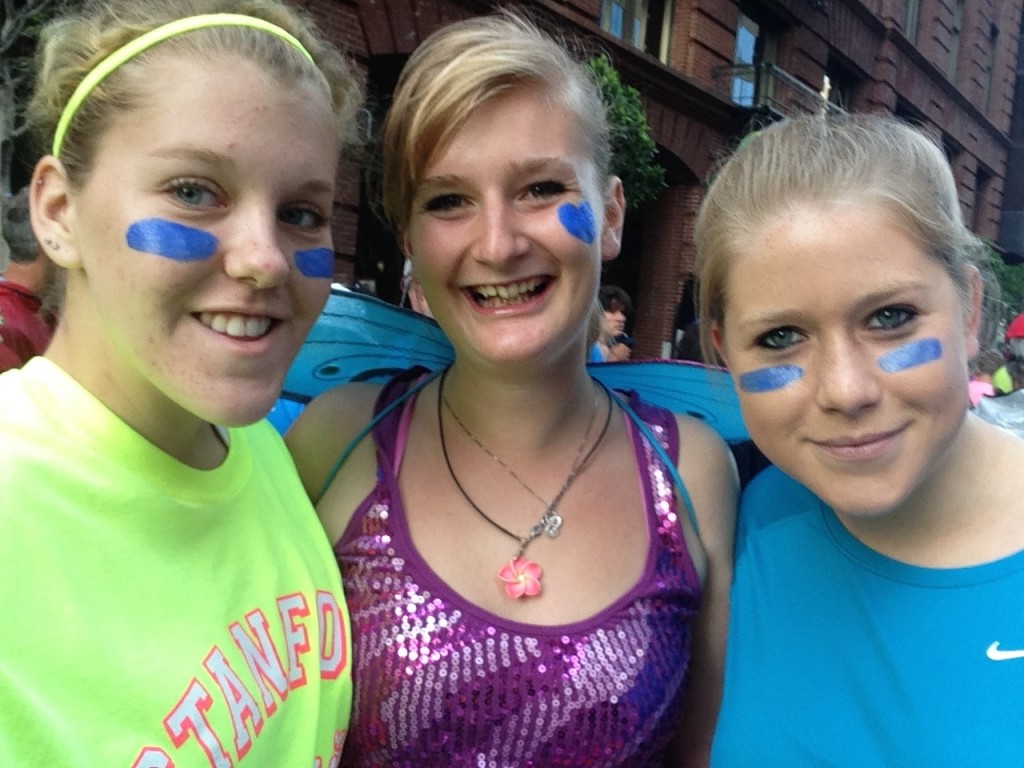 This was my first time running with people, and it was a lot of fun! I will admit though, it was a bit difficult turning off that competitive instinct and not worrying about time.
In terms of my outfit, I obnoxiously wore all blue-shirt, pants, eye "black", and then a tutu. People dressed up as all kinds of things. One motivated runner carried an inflatable palm tree the entire way! I also didn't see as many naked people as I was expecting, although I soon lost count.
My face paint was probably not the greatest idea-I was expecting it to dry, but it was oil based and never did so it was super easy to smear! Right before we started, I was smacked in the face with a flying tortilla, which majorly smeared it-plus got stuck in it! Ew!
The race started about 30 minutes late due to some issues clearing the course, but eventually we were off! I actually carried my phone with me for this race so I took lots of pictures!
That bacon suit cannot go undocumented!
A mile or two in, we reached Hayes Hill-there was a challenge to sprint up it-the fastest person won a large sum of money. Hint-it wasn't me! I have to say though, there was a lot of hype about this hill, but it was NOTHING compared to the hills of San Francisco of some of the halfs I've run!
It was such a beautiful day for running! It was pretty warm last week, which equals not totally freezing in the city!
The route was different than any of the halfs I've done-it went through a completely different area. We spent about half the race running through Golden Gate Park!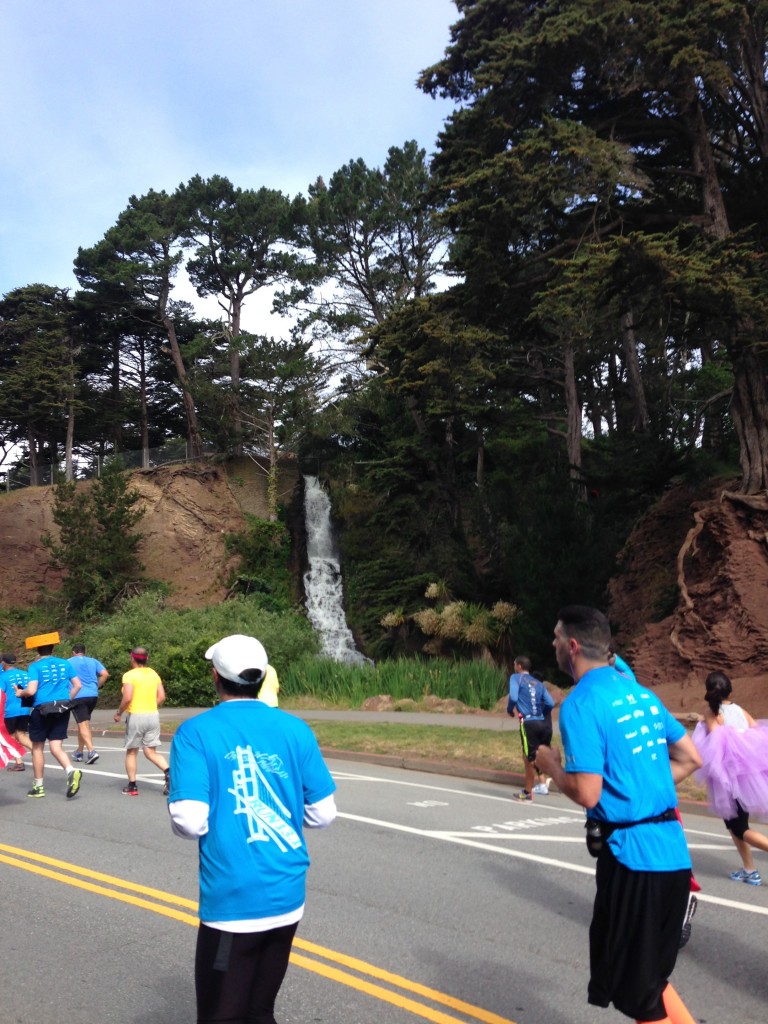 Around this point, we started debating how long 12k actually was. I thought it was 7.8, and one of my friends thought it was 6.9 As we passed Mile 7, it was determined that it definitely wasn't 6.9!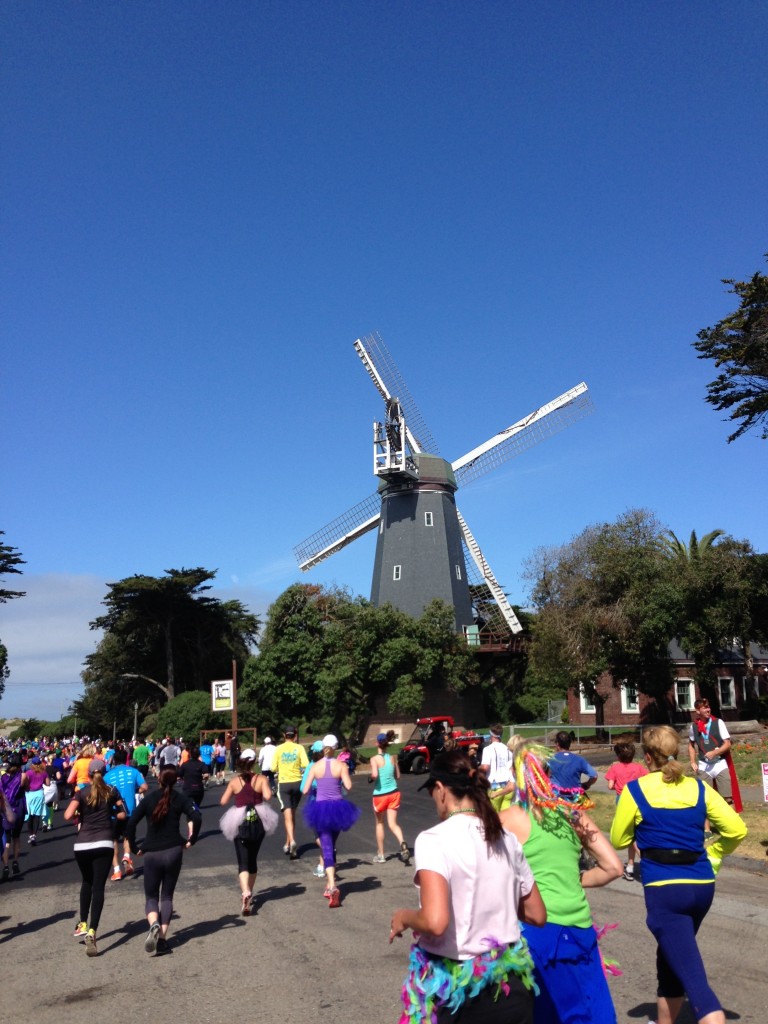 As we debated, a friendly fellow runner informed us that it was actually 7.5 miles! Almost there!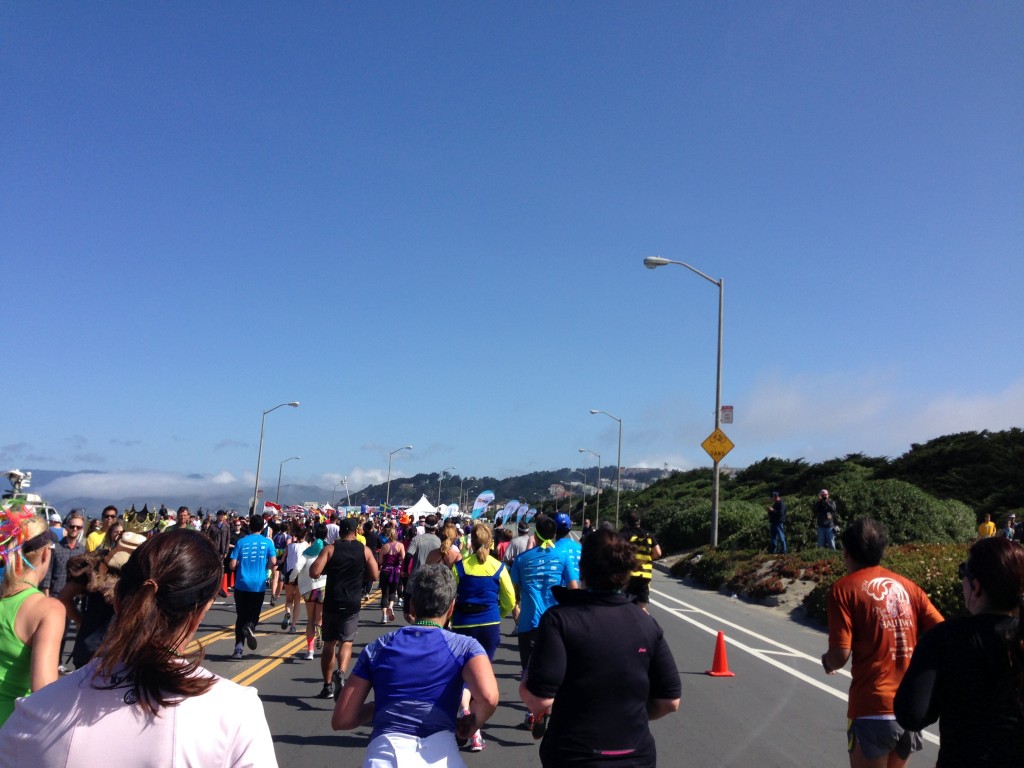 And done!
See? Breakers!
Overall, this race was a lot of fun, and less crazy than I was expecting. Although this is likely because I was in the 8:00-10:00 pace corral, and the really drunk people were much farther back-but there were definitely some! There were a lot of very drunk spectators as well-but that meant the crowd support was awesome! I didn't realize a good portion of the crazy would be drunk college students-especially those in Greek life!
I also saw quite a few people I knew throughout the day, which was fun! I would definitely recommend this race as a fun run-it definitely gives you a sense of San Francisco! But if you're planning to race it-well, just don't. There are a lot of people walking, there are a lot of people staggering around, the spectators sometimes blend into the race course-if you're trying to go anywhere in a hurry, you'll probably be incredibly annoyed by everyone. The key is to embrace it and just have fun! I know I did!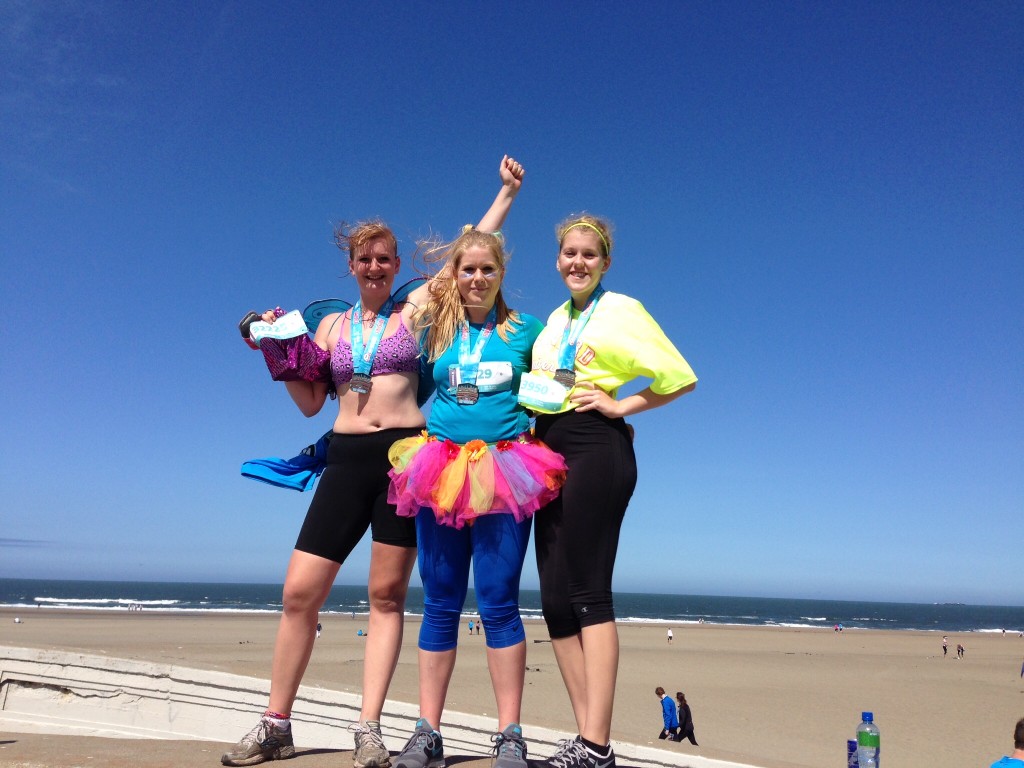 And you better believe a celebratory brunch was in order! I was starving-I took this race much less seriously and just ate a granola bar before around 5am, so I was more than ready!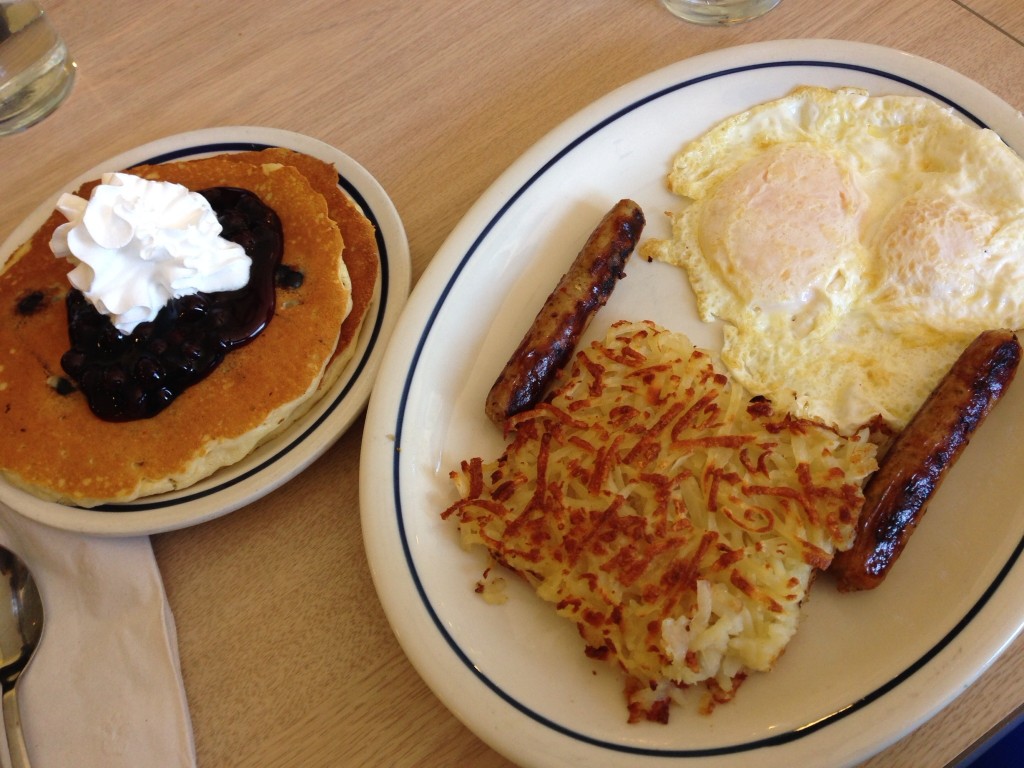 Such a fun day with amazing people, and an amazing city.
Have you ever run Bay to Breakers?