Hi friends! I wasn't actually planning on blogging today so I didn't take too many pictures but I had some thoughts during a yoga class that I wanted to talk about a littler bit.
Fitness-wise, today was jam-packed. Mostly because I'm trying to make the most out of my last couple of weeks here! I went to 6am Crossfit. We did 3×15 (yuck) snatch grip deadlifts which where super painful on my hands, as well as inverted rows.
The WOD was a 20 minute AMRAP of 5 clean and jerks and 10 toes to bar, with 30 seconds of rest between rounds.
I used 75# and finished 6 rounds.
Then, after work, I taught my usual spin class. And after THAT, I went to a yoga class at Crossfit. I hadn't been before since it's a late night after spin. And food. The class ends at 8:30 and I'm not much of a late dinner person.
I can't believe I actually cooked that late. I made pizza eggs (patent pending) with marinara sauce from the freezer, spinach, and 4 cheese blend. Apparently my mozzarella was no longer good. Plus pumpkin bread.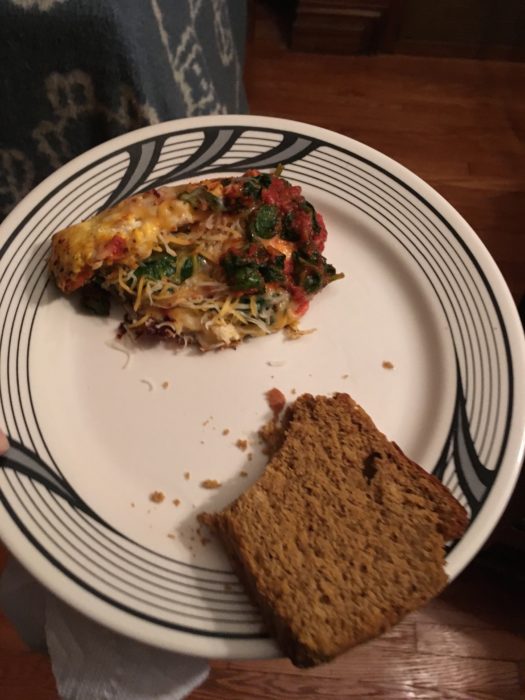 And ice cream. Very necessary. Edy's slow churned pumpkin patch ice cream is far and away the best pumpkin ice cream I've had. The slow churn gives it a great silky, light texture.
Anyways, back to the thoughts. The yoga class was awesome. It was heavily focused on stretching, and apparently I was already getting sore from that morning's workout!
It's no secret I've neglected yoga lately. Well, pretty much since college to be perfectly honest, but especially this past year thanks to various injuries. It just wasn't a priority.
But in high school, I used to go every single week. That got me thinking about fitness and myself in high school. It seriously changed my life and shaped who I am today. I feel like I really came into myself at my local Crunch gym. Honestly, I don't go back to that particular location much but it makes me emotional when I do. I spent so much time there win high school. Learning how to weight lift. Yoga. Spin classes. Ab classes. I don't know how many high schoolers were out of bed for 6am pre-school workouts.
Just to clarify, I discovered all these things as a by-product of competitive softball. I wanted to gain an edge through fitness, and take my play to the next level. Softball ABSOLUTELY shaped who I am as well, but that's a tale for another day.
I remember the very first day I met with my trainer. I remember sitting by the cubbies, nervous, thinking, "how will I ever be comfortable here?"
(I'm sure my parents are reading this right now and laughing at that statement.)
I learned how to do olympic lifts, power lifts, plyo. I learned how to move. How to control my body. I learned strength, and how much I loved having it and building it.
Weight lifting changed my life. It became a life-long passion. Here I am, 6+ years later, still spending hours a week doing it. High school is sort of a tumultuous time in terms of finding yourself and building an identity. Fitness helped shape this. Weight lifting taught me to be confident. There is no feeling more amazing than lifting something heavy and putting it back down. PRs. Doing things you never thought you were capable of. Working towards something an achieving a goal.
Weight lifting also kept me healthy. It reinforced the importance of fueling my body. Even though I had 6am workouts, I always ate beforehand because I've never liked the idea of lifting heavy things over my head without some fuel in my system. I'm not a fan of dropping things on my head. This weight lifting gave my eating more of a direction which I think I needed. And if I didn't fuel myself well enough, I could always feel it. If I didn't eat enough after a tough workout, I would be crazy sore the next day. If I didn't eat enough before, I wouldn't be very strong.
But the most important takeaway was that I loved feeling strong. I loved making those difficult lifts. I would and still get nervous over PR attempts, but that's part of the fun of it. I always say, in weightlifting, the second the thought of failing a lift enters your mind, you are going to fail. Every time. I think this really carries over to life as well. You become a self-fulfilling prophecy.
In that gym, I came into myself. I watched the Giants win their first World Series. I got accepted to Stanford (I'm superstitious, ok? I went there to check my acceptance in the spot I stood when I saw the Giants win the World Series because there was some type of good mojo there!). It holds a lot of memories. It was one of the things I missed most going to college, and I always loved going back to the same teachers and same classes over breaks.
While I'm sad to leave St. Louis, I'm excited to go home and go back. My first couple of months are most likely going to consist of fitness, traveling for vet school interviews, prepping for vet school interviews, and grinding through my online class. Lots to look forward to, lots to stress about. But nothing like some time on a yoga mat to work through that, right??
How did fitness affect you?