I'm starting this post on Saturday afternoon while watching college football, with Yoyo snuggled in at my side. It seems like the 80+ degree weather finally broke, and it was a chilly 43 this morning!
This has been a really low key weekend, which was needed after a few crazy ones. I was traveling the last 2 weekends, and had an action packed weekend the week before that with my parents visiting.
Friday morning began with a great Crossfit workout—front squats and deadlifts! I love anything with power movements. We did 10×2 front squats, and I used 125 lbs. The WOD was
15 deadlifts (135 lbs)
15 box jups
15 deadlifts
15 box jumps
rest 3 minutes. repeat.
For breakfast I had something a little bit different. I'm trying to make my way through the freezer, so I made a protein smoothie with a frozen banana, milk, cocoa powder, and Quest salted caramel protein.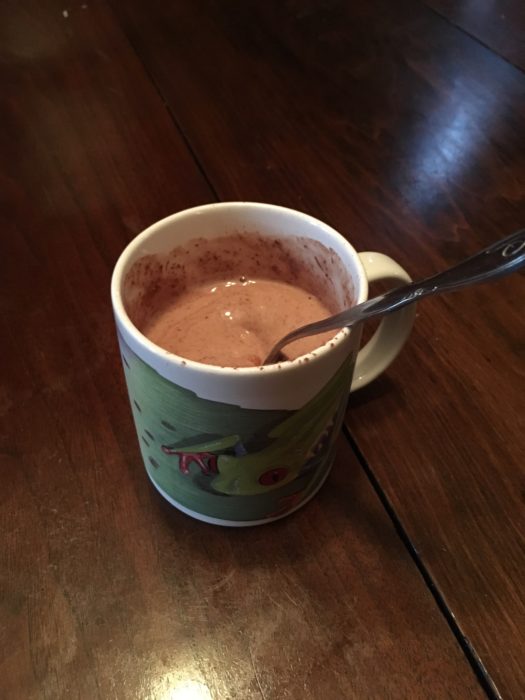 I haven't been feeling meat as much lately for some reason, so my lunch salad was meatless. Pears, dried cranberries, and lots of goat cheese in champagne vinaigrette, with crackers on the side.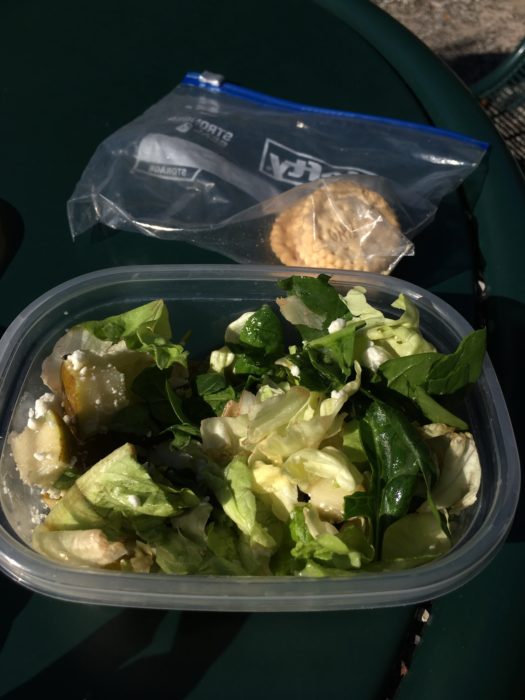 And a pice of chocolate.
I can't believe I only have 2 weeks left of zoo life!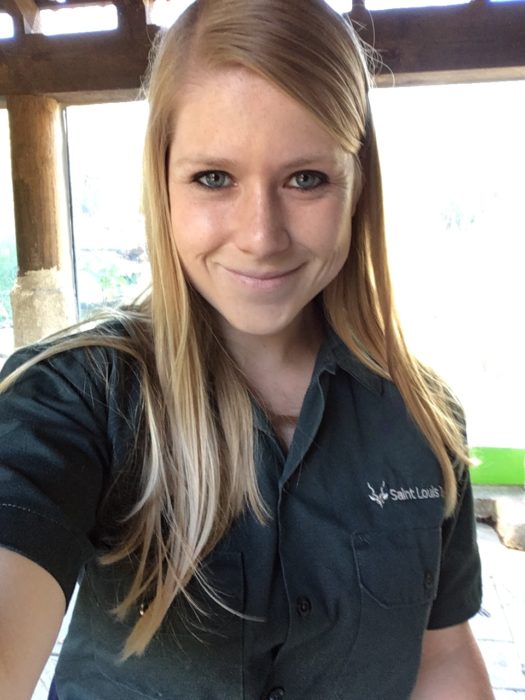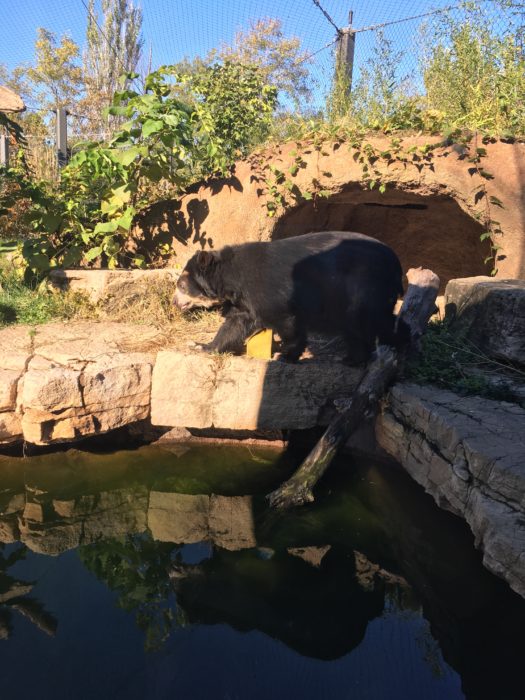 My wild Friday night included plan at a coffeeshop to work on my online Microbiology class. With all the travel lately, it's kind of been put on the back burner.
I started out by ordering a sandwich. I ordered it on GF bread but I don't think they actually gave me GF bread because I've gotten sandwiches there before that don't look like that! Despite the results of my gluten experiment, I decided I didn't want to lose mental capacity so I just ate around the bread. The sandwich was turkey, swiss, and herb cream cheese with a side salad.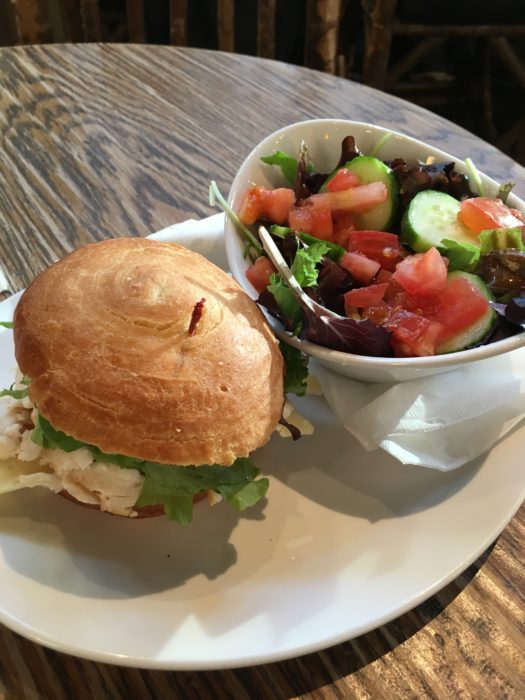 After enjoying that, I ordered a baked pumpkin maple latte (decaf!) to sip on while completing an assignment.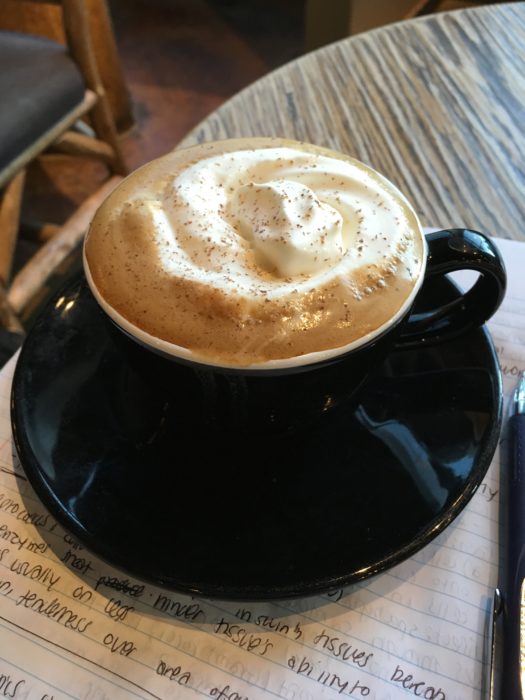 I'm not normally a sweet coffee person, but this was no Starbucks. It was really delicious and actually tasted like coffee!
I was planning on watching Game 7 of the 2014 World Series (I have it on DVD) afterwards, but I was craving a book so I stopped by Target to pick one up. This was my night: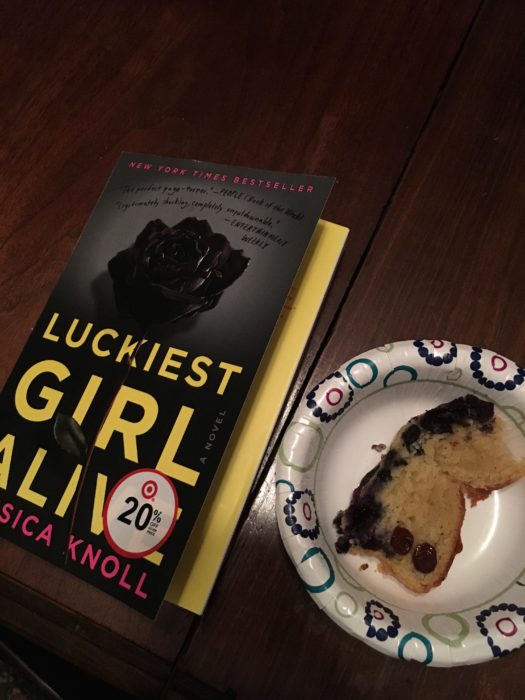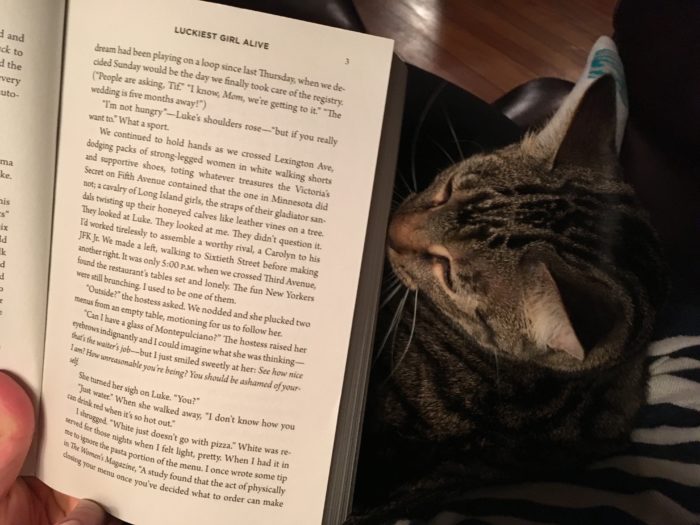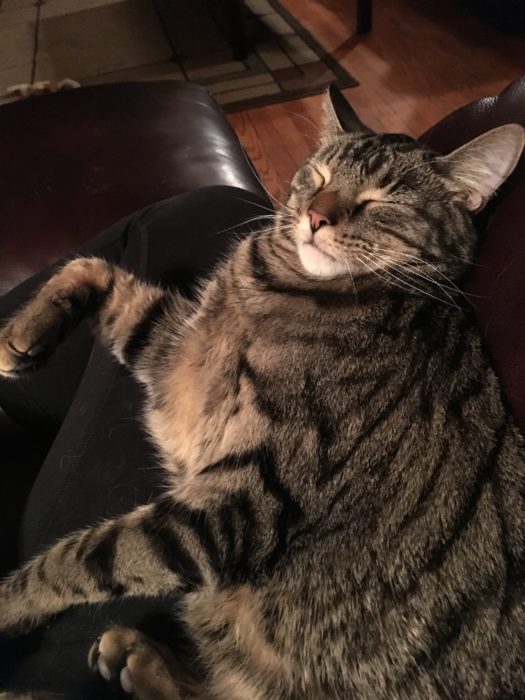 I like this book! There's definitely a lot to it, and it's fairly dark.
Saturday morning I was supposed to teach spin, but no one came to the class. Instead, I headed out to a 9am Crossfit for some clean and jerk work and a partner WOD. In groups of 3, we split 75-60-45-30-15 push press (65), calories on the rower, and kettle bell swings.
Afterwards, it was time to hit up a St. Louis must-do.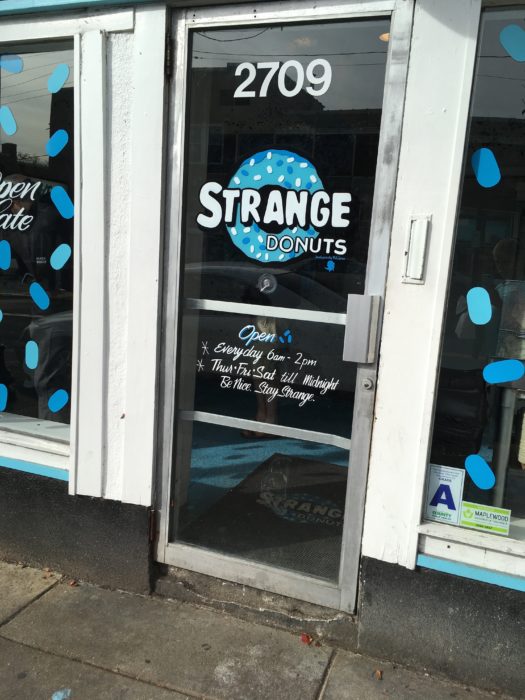 Rumor was they have GF donuts Friday and Saturday mornings, and I picked up a GF pumpkin spice cake donut!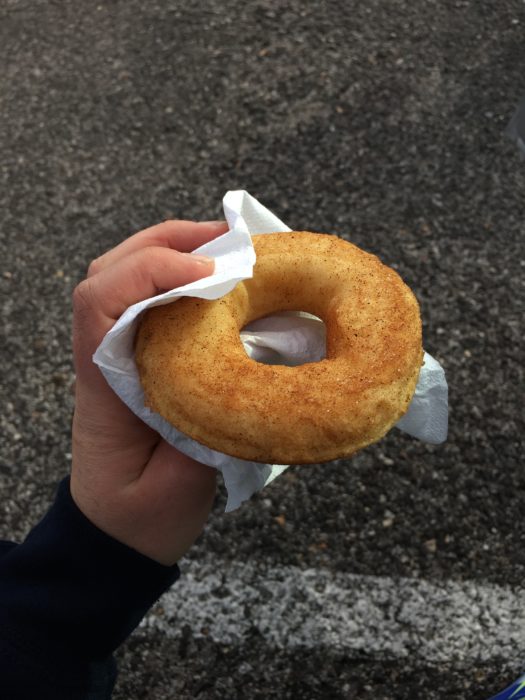 Of course I had to try a bite in the parking lot (but managed to save the rest for when I got home because it needed milk).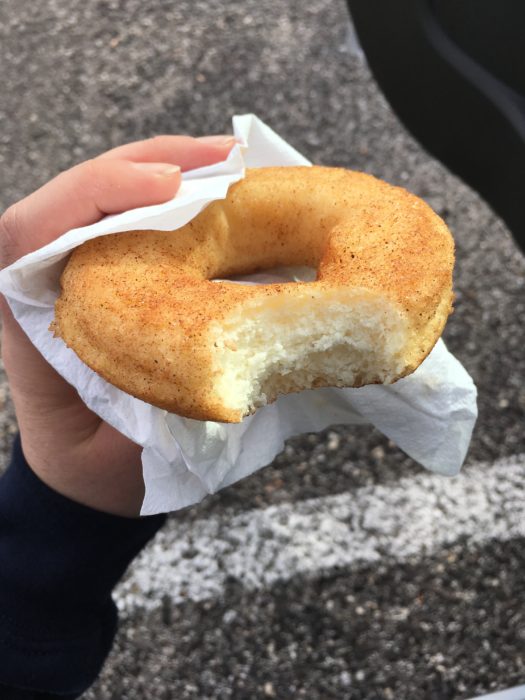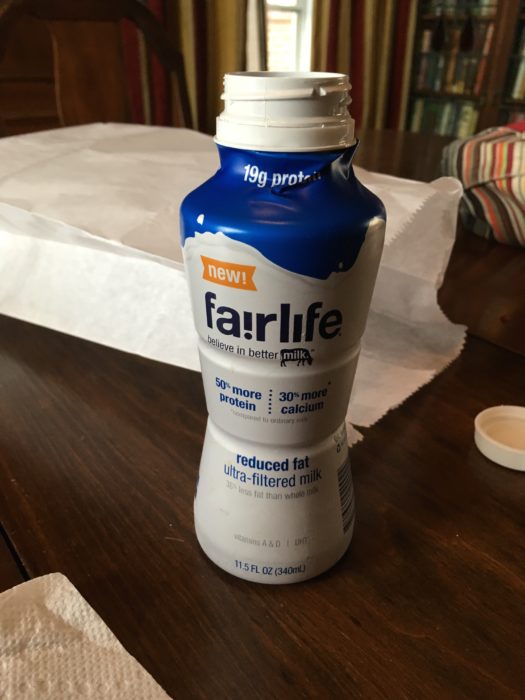 It was good, but to be honest, I think I would have liked it more baked. I don't really like the fried flavor. But my first donut in a very long time was well enjoyed.
I also really like this milk, so I wanted to mention it. It's filtered to have lower lactose and high protein than normal milk, but mostly I like it because I actually have a pretty strong fear of sour milk, and I feel like if it's super filtered that's less likely to be an issue!
My entire day basically consisted of reading my book on the coach with kitties. Mostly Yoyo, but Scooby joined us for a little bit. He sat on my lap but kind of spilled onto Yoyo and was directly on top of him, so I LITERALLY had cats on cats.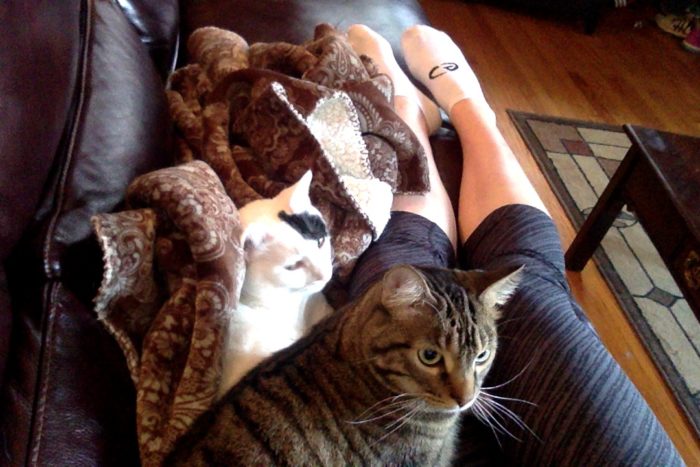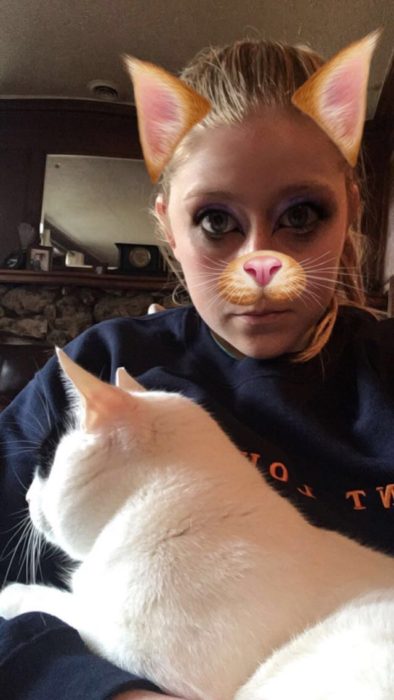 Saturday night I went to a Crossfit night out.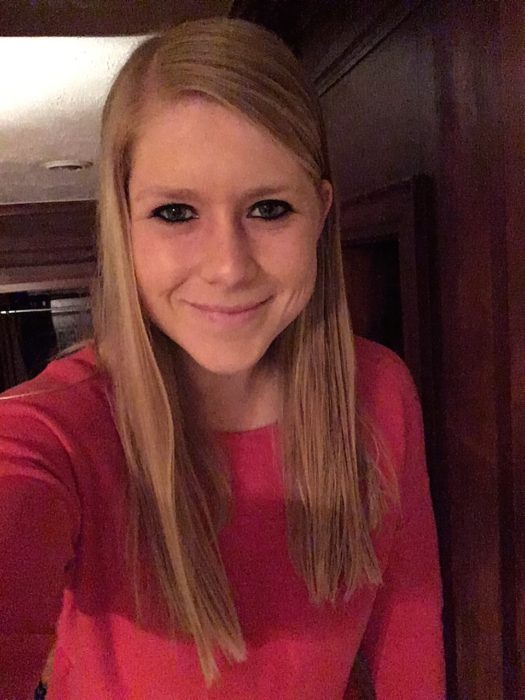 My local Crossfit here organized a night out at a local bar. It was a really fun night; it was nice to actually talk to people outside of working out (though of course the topic of Crossfit was brought up once or twice 😉 ). It was really interesting learning more about people's lives outside of them gym, and of course I had to try some local craft beer! It just makes me all the more sad to leave these people in 2 weeks!
One really nice thing was that it was within walking distance of my house, and while the temperatures have dropped quite a bit these past few days, it was a really nice, crisp night to walk.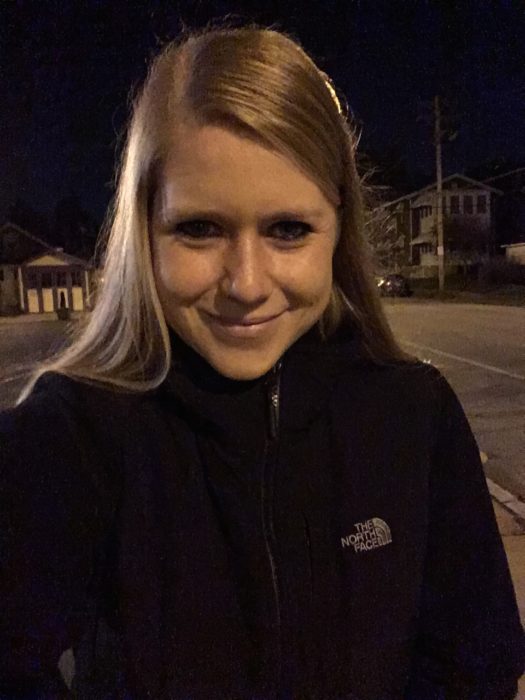 Sunday morning at 6am, Yoyo busted open my door and before I knew it I had 2 kitties snuggled up on my bed.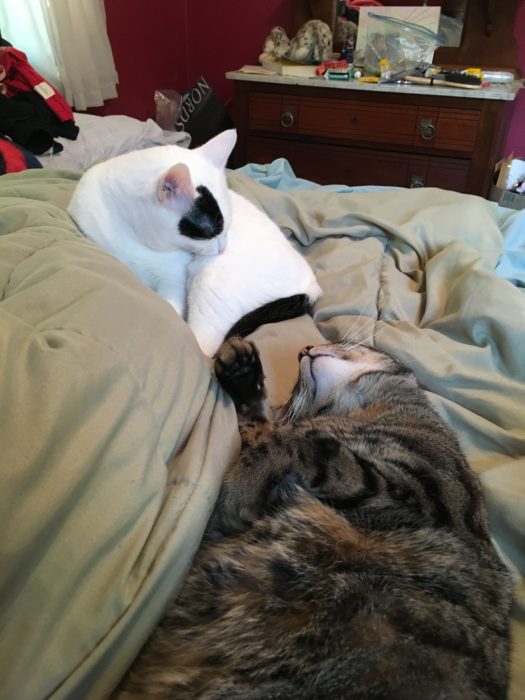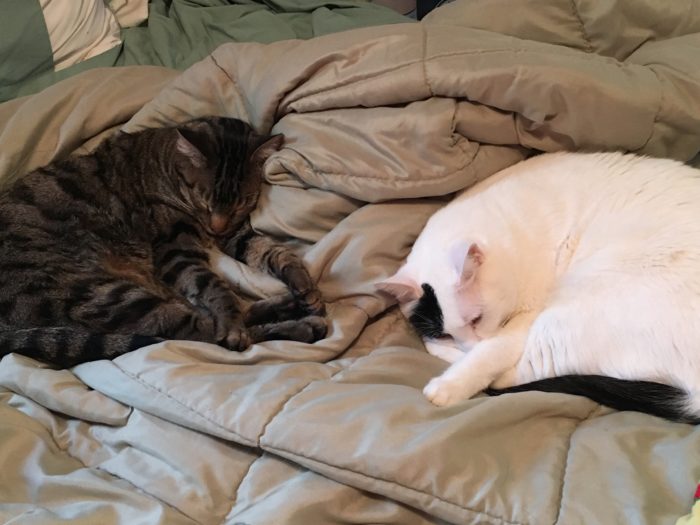 Despite their antics, I managed to sleep a little bit longer!
My main event for Sunday morning was going to Crossfit run group. It's basically just people meeting at the gym to go run together. There was a short and a long option. The short was 1.5, and the long was 5…1.5 seemed a lot shorter than what I was hoping for, so I decided I might as well go for 5 and turn back if necessary. I hadn't run this far since my stress fracture; I had only run 4 miles 2x, and 3 is my normal distance.
My foot performed fantastically! I was able to cover 5 miles pain-free, which is pretty huge. My legs were feeling it by the end though! A group of 3 of us did the 5 mile option, and apparently our average pace was 9:36, which is not too shabby! It felt good to run longer again, and I'm sure I'll be feeling it tomorrow. My plantar fasciitis is flaring a little bit from the increased effort though. Running on my foot is pretty variable. I think the fact that I spent the entire previous day on the couch is part of why I was able to cover those miles pain free. I walk and stand a ton at work, which limits my mileage.
I was HUNGRY when I got home and had a few gulps of chocolate milk while preparing lunch.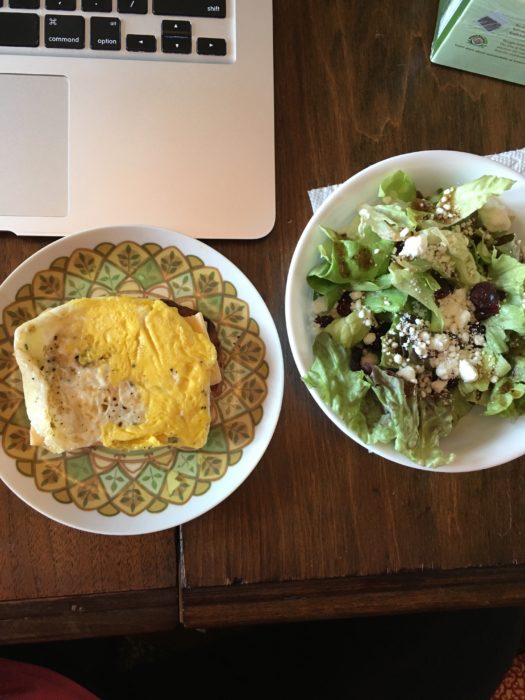 I messed up flipping my egg, but somehow it turned out perfectly bread shaped! I'll take it! I made an open-faced egg sandwich with American cheese. On the side was a salad with goat cheese and dried cranberries.
After lunch, I facetimed a friend back home, while mixing up pumpkin bread (and dividing the recipe in half!) Somehow, despite multitasking, I think I managed to not screw anything up.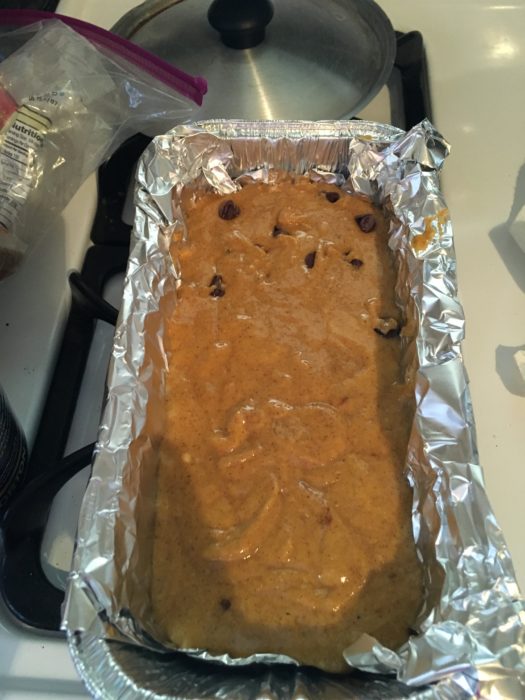 I asked my mom to dig up my favorite pumpkin bread recipe which I haven't made in a little while. The recipe is from so long ago, it's 1. pre-blog and 2. on paper!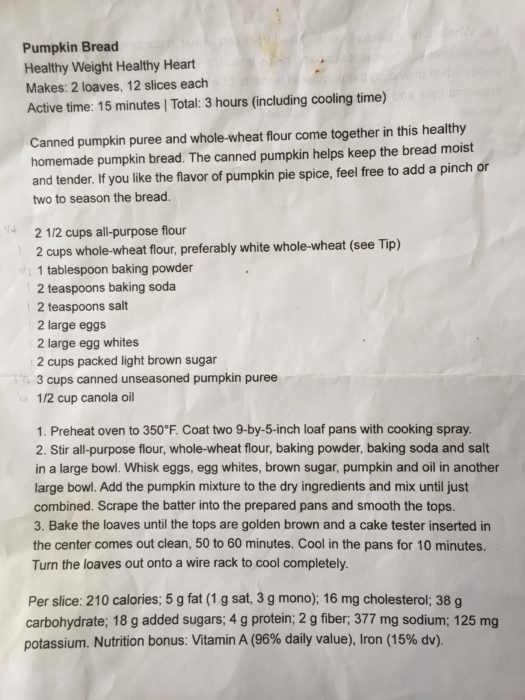 I tried to find the link to the recipe, but I can't find it!
I cut the recipe in half, used GF flour, and used a bit under 1/3c brown sugar and 1/3c maple syrup in place of the full cup of sugar. I also sprinkled a few chocolate chips on top of one side!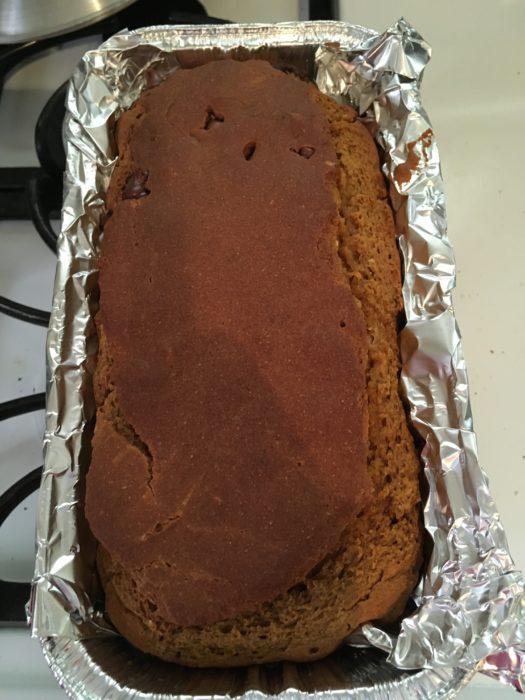 Delicious!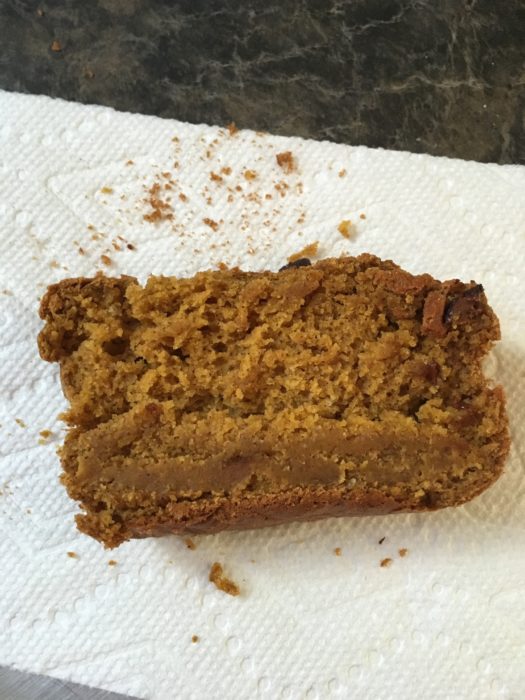 Chilly temperatures+pumpkin bread?
NOW it's fall.
I spent the afternoon studying. I went to Rise for a cozy decaf cappuccino.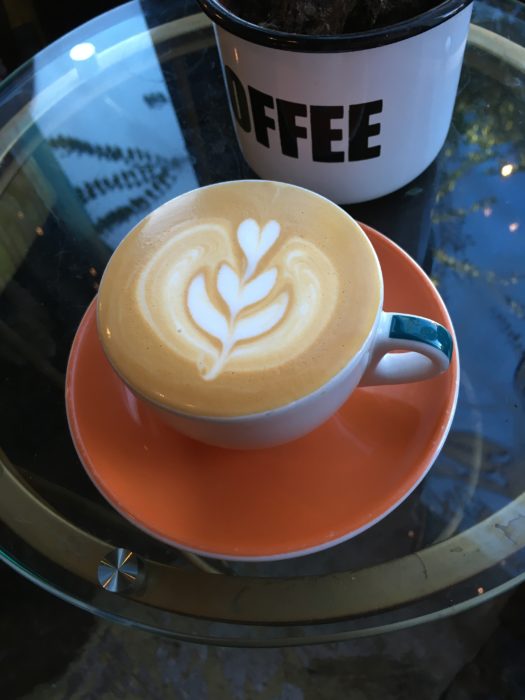 Dinner tonight was another warm fall favorite: soup! I heated up some mushroom lentil soup and topped it with fat free cheddar (kind of rubbery but trying to use it up!). On the side I had some buttered toast.
For dessert, I sautéed up some apples with butter, brown sugar, cinnamon, and vanilla. I don't think I added nearly enough butter, and the edges got sort of caramelized. I served that with some vanilla Halo Top.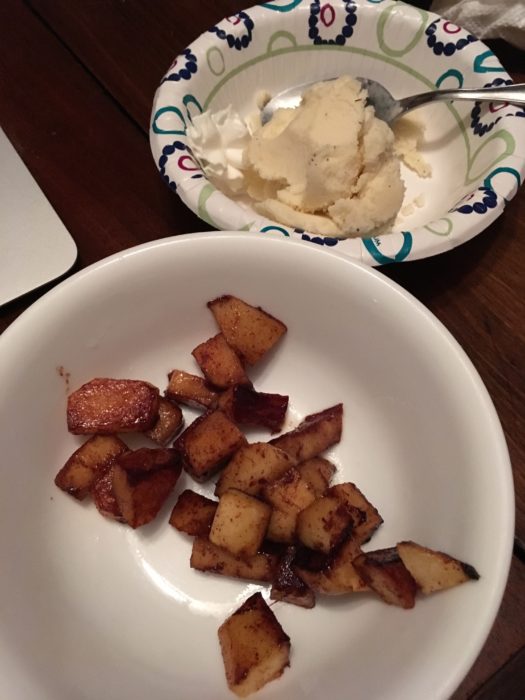 It was a great, relaxing, low key cozy fall weekend!
What do you like to do when the temperature drops?