Happy Wednesday! And we're halfway through the work week! I'm back with you guys to share a little bit of life, a little bit of fitness, and a little bit of food. Pretty much the norm round here. And of course, another coffeeshop review!
Tuesday was my day off, and thank goodness. Monday wore me out.
I got the call Sunday afternoon that they needed a last minute sub Monday at 6am, which I took on. I've never actually taught a 6am spin class, despite teacher for 2 years now! I went with a little bit lower key of a workout (easing into the warm up, fewer intervals), and more of a spinning style class, more similar to the normal teacher. I actually used a playlist I made almost 2 years ago! Crazy! My style has actually changed a lot, and it was nice to do something different.
Class went well, and I refueled after with a chocolate banana protein smoothie (cocoa+chocolate protein powder+frozen banana+milk) and pumpkin spice cheerios.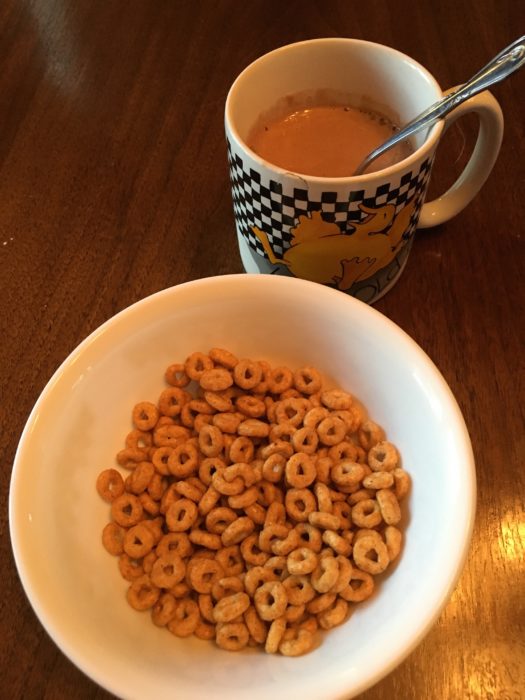 After a 5am wakeup call, I was dragging a bit at the zoo. Then, it was time for my regular 6pm class! Class went really well, but I was pretty wiped out by the end of the day! I made a super basic dinner of mushroom onion polenta+egg+parmesan, and a mix of tomato and basil.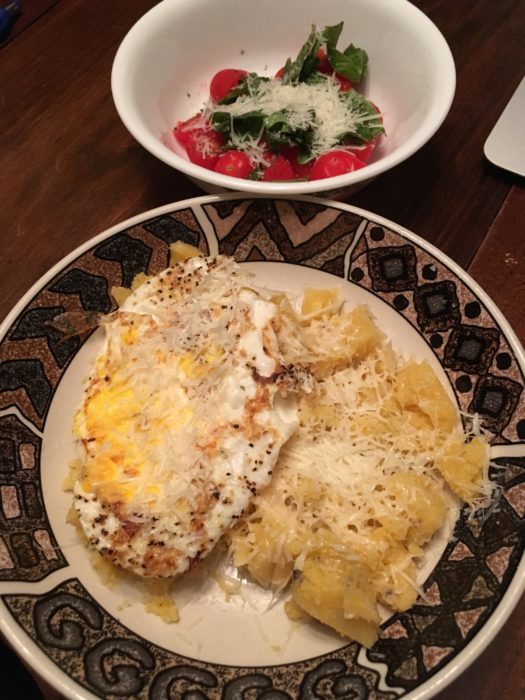 I slept very soundly, but woke up still feeling a little run-down and dehydrated. Probably mostly dehydrated. It's hard to drink enough water for that!
I toyed around with doing a Tuesday WIAW, but honestly was feeling a little too lazy, so we'll just go through the basics (main meals, minus snacks).
For breakfast, I had a cinnamon apple flapjacked muffin. This was surprisingly good! I hadn't tried this flavor before, and am not a fan of the pumpkin so I didn't have super high expectations. Not as good as the chocolate, but I would buy it again. The cinnamon chips and apple chunks make it.
Then it was time to head out to my coffeeshop of the week to work on my class.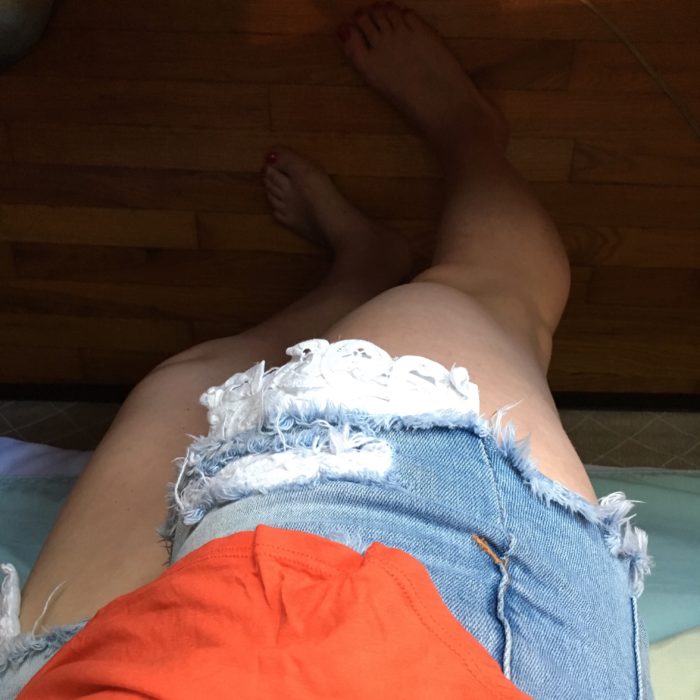 Fun fact: any picture of me in St. Louis is probably going to feature these shorts. I only packed 1 pair of normal shorts because I figured fall=cold. I'm already 1/3 of the way through my time here, and apparently fall is not cold. At least not yet. So I wear these several times a week.
I am now 60% through my coffeeshop list! Today's pick took me to Comet Coffee in Dogtown. It's interesting this area is considered Dogtown; it's not really in the downtown area where I was expecting it to be.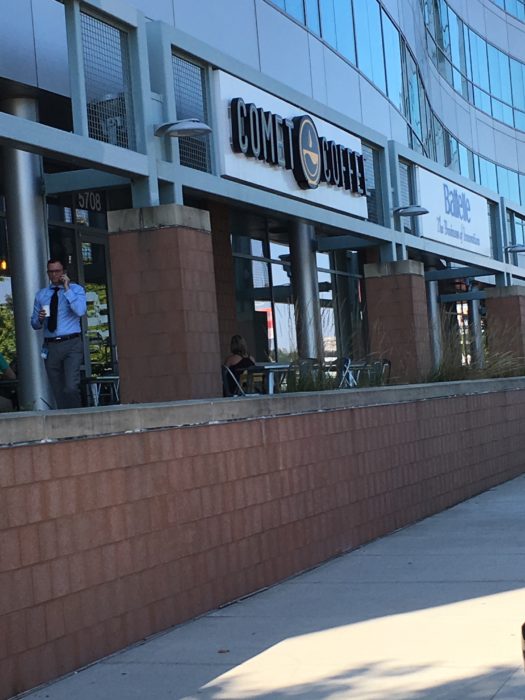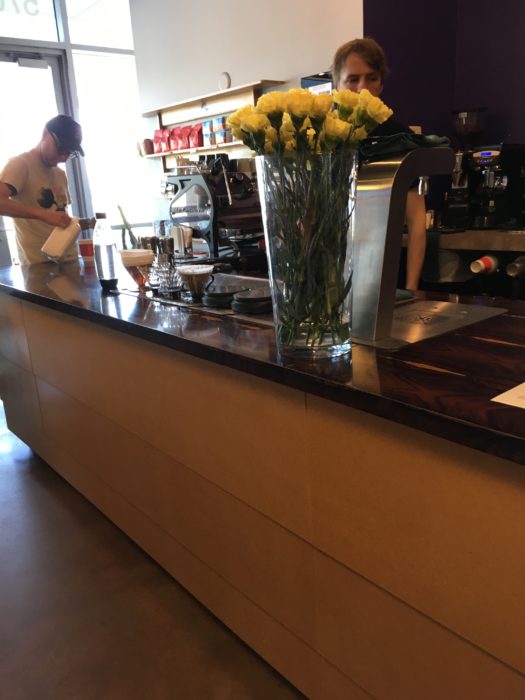 Good ambiance and vibes. I ordered my usual decaf cappuccino.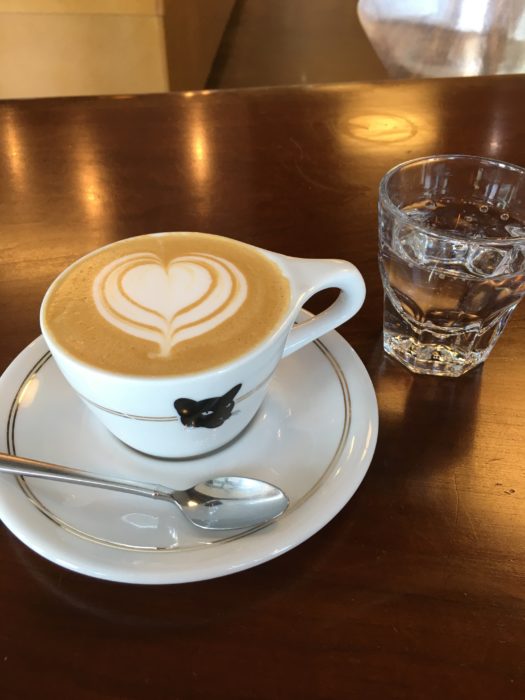 I like the sparkling water palate cleanser served with it. Also bonus points for the kitty cup. (I should mention as well that I heard one of the baristas ask the customer if she had latte art preferences…so you might get something cool on there!)
The was really good. It was actually a really different flavor. Almost a deeper roast? The best way I can think to describe is to compare it to the deep flavor of a dark beer versus a light beer.
So where does it rank? Honestly, it's a hard comparison since this was such a different taste. I would put it MAYBE tied with Blueprint, with the assumption that they can't be truly compared, but maybe I would put them just below.
So here are my current St. Louis coffee rankings:
Blueprint
Comet Coffee
Living Room/ArtHouse Coffees
Rise
Sump Coffee
Kayak Cafe
Northwest Coffee Roasting Company
*Note that Kayak isn't on the list, but I ate there once and the coffee looked good so I decided to add it.
And back to regularly scheduled programming.
After a couple of hours, I broke for lunch at Saint Louis Bread Co. Aka the original Panera. Apparently Panera started here, and is called Panera everywhere else. I had my usual half Fuji Apple Chicken salad (no pecans) with an apple.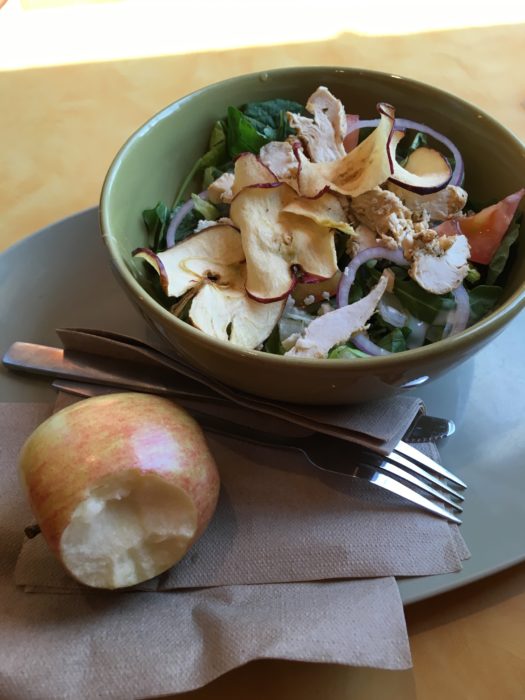 My main snack was a Luna bar (though I had some other things as well).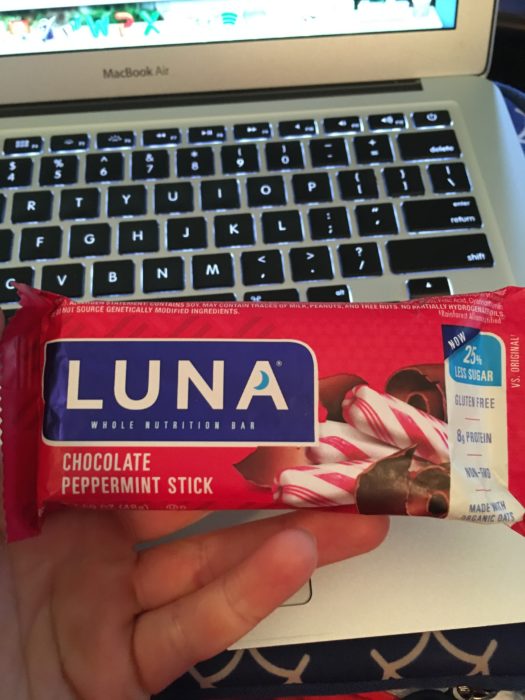 One thing I should mention…I made a Spotify playlist of the artists that played at the concert and now I can't stop listening to it. I only knew a few of Kane Brown's songs a little before but now they're constantly stuck in my head. Especially Wide Open… I do try to limit my country listening though. I'm not in the South anymore, and I don't want to get sick of it.
Before Crossfit began the rental car headaches. This whole thing has been one giant mess after another, and everyone representative I talk to tells me something different. On Sunday i went in to renew my agreement, and then had me pay for 2 days and said come back today. When I went back today, they told me I needed to call a different location. And then I couldn't get through. Long story short, I had to make the 30 minute drive to the airport at 8pm, but now I'm squared away.
Let's talk Crossfit. We did a TON of bench pressing. We started with 6 sets of 3, increasing the weight, and I made it up all the way to 95#. Somehow I keep getting grouped in with the strong people for bench, despite the fact that it is far from my best lift, so I'm always pushing myself further than I would expect. Then we did 3 sets of 8 narrow grip bench at 75#. That's going to hurt tomorrow.
The WOD was interesting. 10 minute AMRAP of 30 double unders and 7 burpee pull ups (do a burpee and then straight into a pull up). I wasn't sure how the double unders would go. To be honest, I haven't done them much since hurting my foot (I couldn't for a while, and then it only came up a few times in workouts).
Um, I busted out the first set of 30 unbroken. What?? I've definitely never done that before. SO unexpected. After class, one of the girls said "I didn't know you had double unders." I replied, "I didn't either!"
Guys, it's the shoes. Seriously. When I got my Nike Metcons wayyy back in April (pre-boot), my double unders magically got better. I used to always have to alternate single-double, but suddenly I could string doubles together. Not 30, of course. But maybe up to 7 or so?
Then I broke my foot, had a boot, didn't do doubles, and here we are. And guess what? It turns out doing double unders without a stress fracture is easier. I think that probably helped things too, haha!
After my workout, I came home and made a quite gourmet (for me) dinner. I sautéed up some mushrooms, spinach, and chicken (ok, it was pre-cooked) in garlic and served that over mushroom and onion polenta with cheese. On the side, I broiled some asparagus in olive oil, salt, and pepper. Super delicious.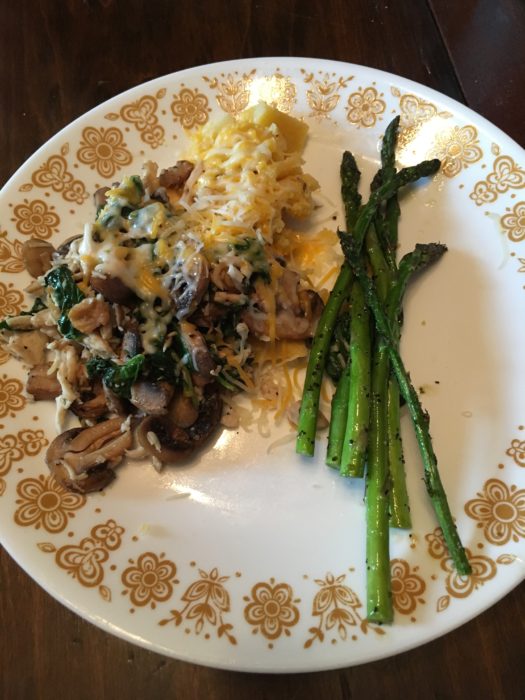 That's all I have for today. I'll leave you guys with this: