I hope everyone had a fantastic weekend! My was a great mix of crazy and low key.
Friday was a WET one. I couldn't fall asleep the night before until really late thanks to cocoa late at night+allergies, so I was a bit of a zombie for most of the day after waking up to take 6am spin at the studio I teach at.
Midway through class, the thunder and lightning started. Having flashes light up the spin studio was certainly a new experience for me!
The drive home from the studio was insane. It's normally a 20 minute drive on the highway, so combine traffic and a crazy storm, and it was a long drive home.
I have never driven in rain like that before. That is the closest I've come to driving through a river. The main road coming back was mostly under water, even though it's a hill, because the rain was coming down in buckets.
Because the thunder and lightning, my morning was spent inside instead of out, but luckily it cleared up enough in the afternoon to be outside, even though I got a little wet (mainly my feet).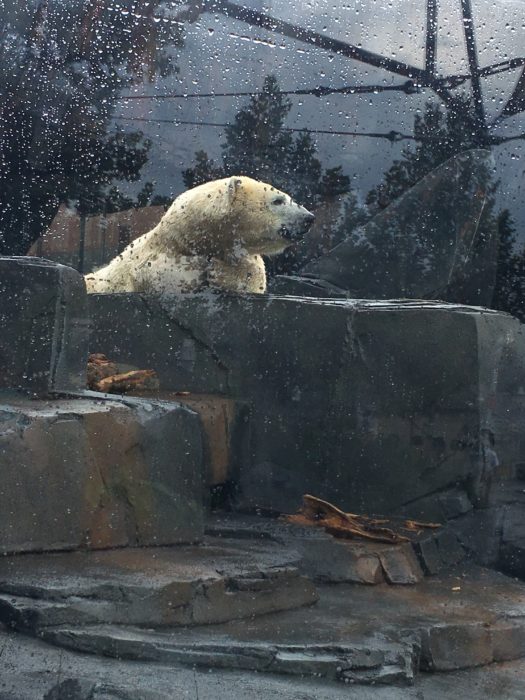 After work, I went got myself changed and ready to go to a concert! I can honestly say I never thought I'd go to a country concert, but here we are. Tennessee changed me! In all seriousness though, I do feel like I came home a different person, not just the music, but all the experiences I had while I was there.
I considered going to a Luke Bryan concert a few weeks ago (I only know a few songs), but when I heard on the radio that Florida Georgia Line was coming, I knew I had to do it. They're probably my favorite country group, and the group I know the most songs of since I use the FGL Pandora station as my go-to country.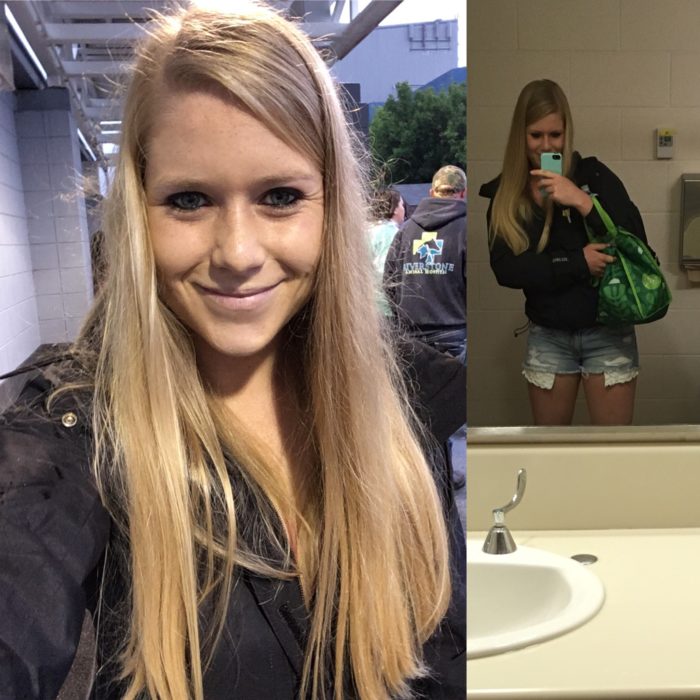 The rain did not stop. At all. The entire time. At least it wasn't cold! I was going to wear my flats, but I'm so grateful I decided to stay in my still-wet zoo shoes. I had a lawn ticket, and apparently when you mix grass with copious amounts of water, you get a giant mud pit. I saw a couple people TOTALLY wipe out, so I was grateful I escaped with JUST muddy shoes!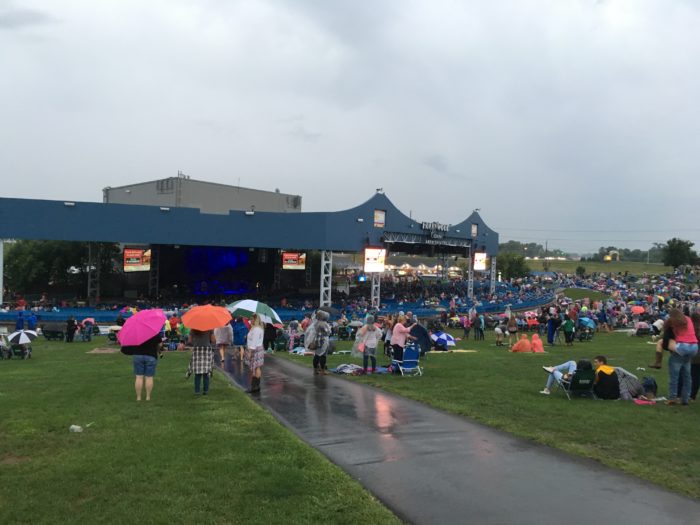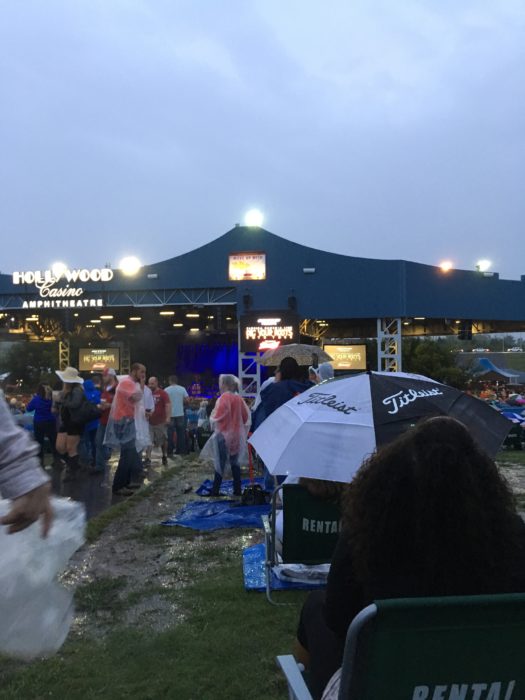 Also performing was Kane Brown (I knew 1 or 2 songs), The Cadillac Three (never heard of them), and Cole Swindell (I knew almost all of the songs performed). I ended up renting a lawn chair and planted myself under a umbrella, with my legs under a rain poncho, and grabbed a beer, managing to stay mostly dry. I opted for the seated option because juggling a beer and an umbrella is nearly impossible.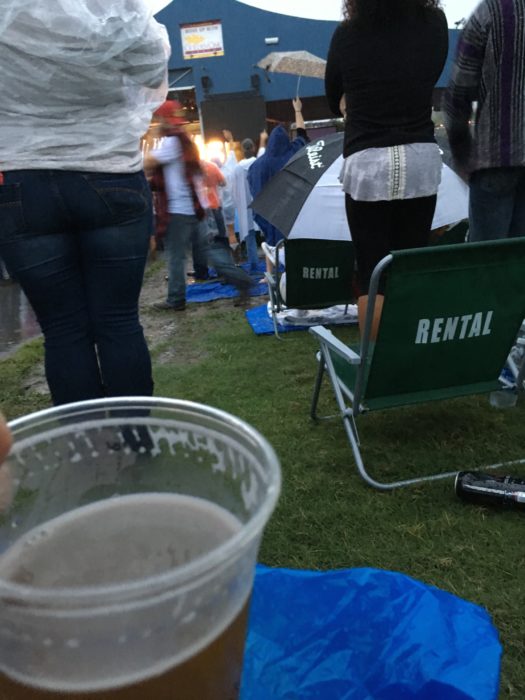 The fact that I didn't spill this all over myself is a freaking miracle. I hunkered down for the first 2 performers before ditching the chair and standing. Kane was funny—in the middle of the concert he took people form the audience's phones and took selfies on them.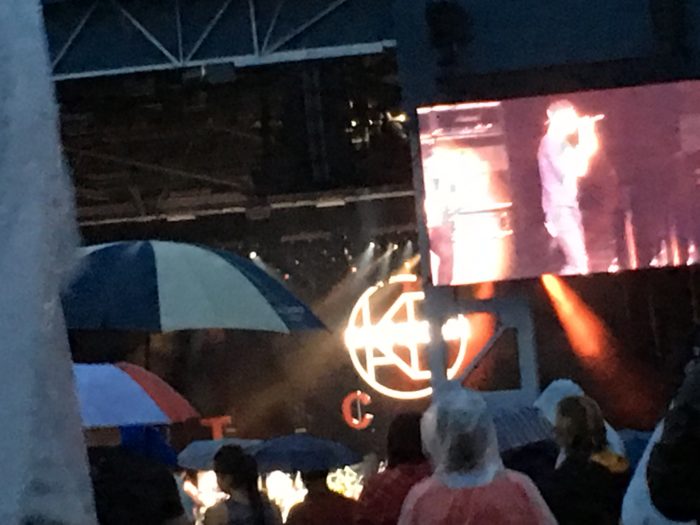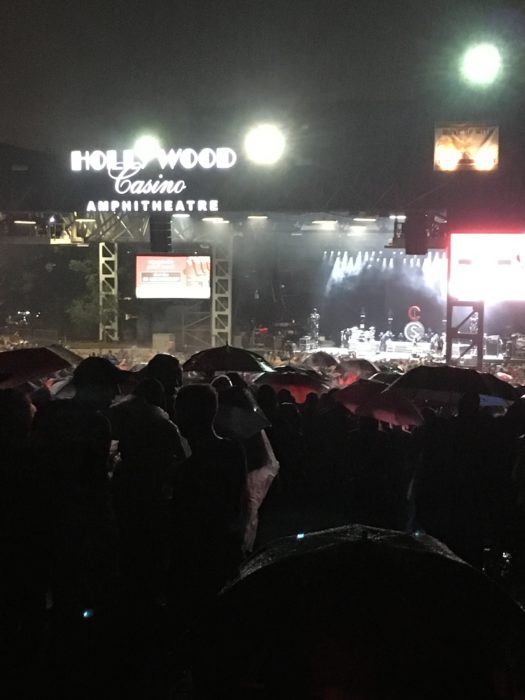 I had a great time chilling in my lawn chair, reminiscing about Tennessee.
Then, finally it was time for Florida Georgia Line. At this point, my feet were balls of mud.
They made quite the opening, coming down from the ceiling, with flames.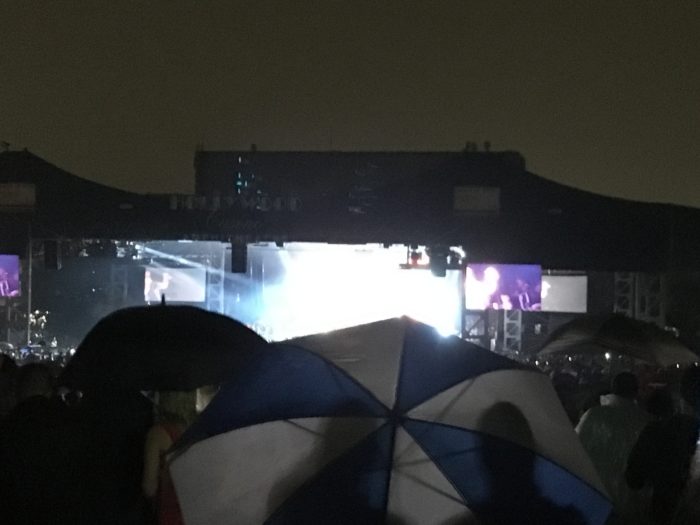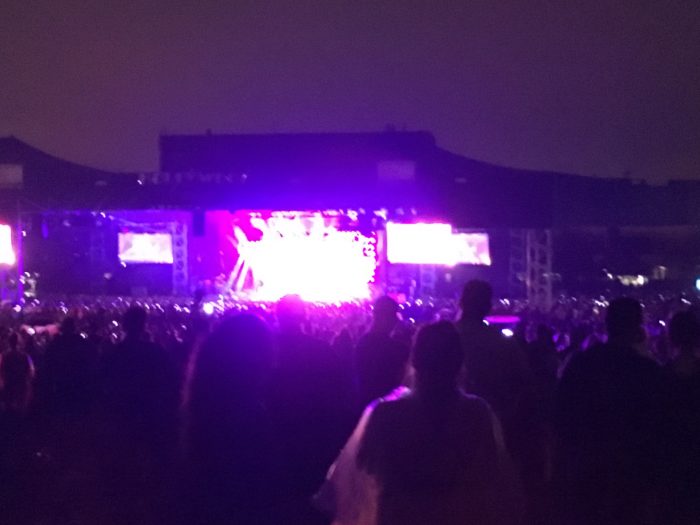 This was honestly one of the best concerts I've been to, and I had a great time.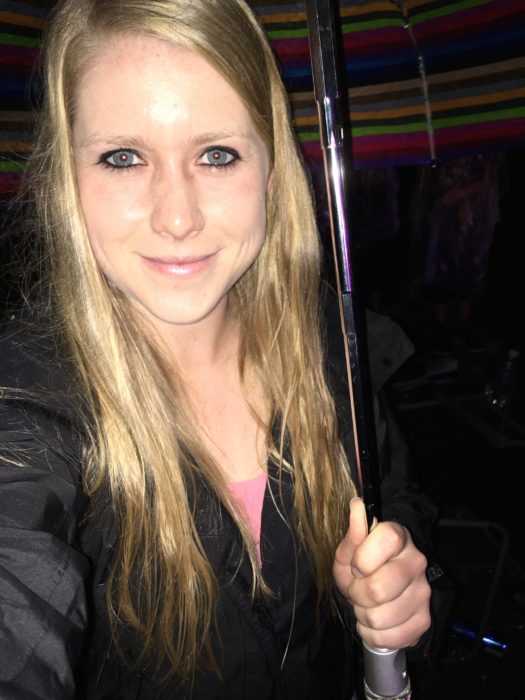 Also, I totally nailed the exit. I left in the middle of the last song, and made use of the fact that I was wearing my zoo running shoes by jogging out the gates to my car to beat the crowds. Then, I had managed to be directed to park right next to the exit. Score! I got out with no traffic.
Saturday morning, I was up bright and early to teach spin. It was a good class!
Afterwards, I was craving fruit and realized I didn't have any, so I went to the store. I ended to buy just fruit…and went home with lots of ice cream (they had Halo Top this time!), including this baby:
Zero shame in trying this at 10:30am, and then eating a serving right them. SO amazing. I've already had it like 3 times since buying it. Plus, the nutrition stats are not terrible.
I spent the rest of the morning in the best possible way: lounging around with Netflix and kitties. After a hectic and stormy day and then morning, this was perfect.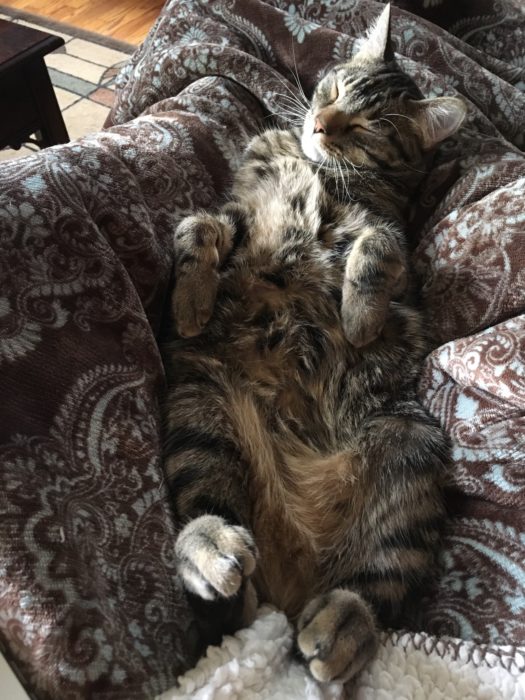 For actual lunch, I made some egg whites+spinach+garlic and herb laughing cow, with toast and strawberries (and more ice cream).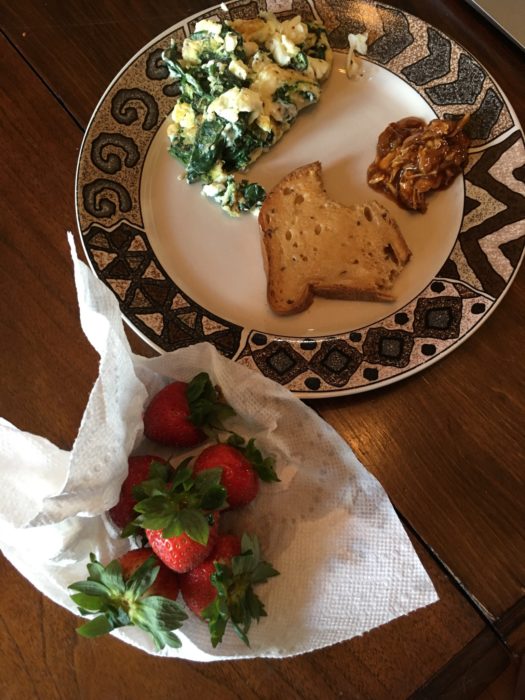 I spent the rest of the day cleaning up around the house, and then I went to get a pedicure because my nails were in rough shape.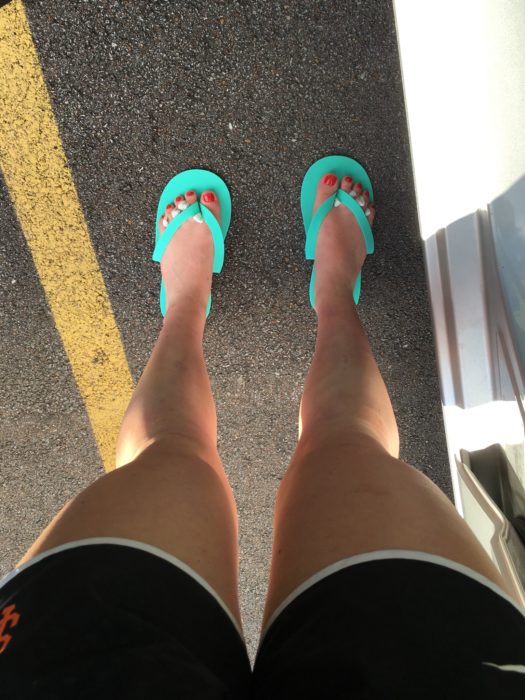 This weekend, the Cardinals were playing the Giants, so the games have been on TV. I decided to make a night of it and go out to watch the game.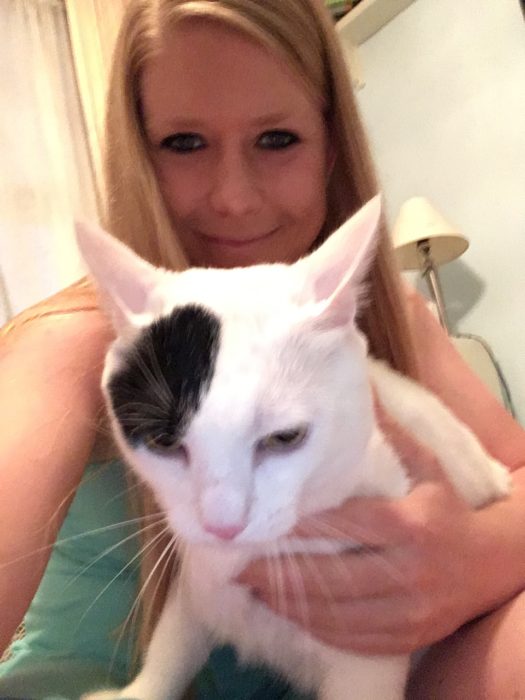 It was…painful. My heart hurt after. We were up almost the entire game, before having the save blown in the 9th, in a very predictable way. Ouch.
Sunday morning I decided to do a little Sunday Runday action. Even though I work in the zoo in Forrest Park, I've never been around the park at all, and it's a great place to run.
I decided to push the distance a tiny bit, just because I wanted to see more of the park.
I made a little Spotify "Dig Your Roots" playlist featuring songs from the concert this weekend. I took a big step and upgraded Spotify. I have been so incredibly frustrated with iTunes lately, so I'm going to start doing my spin playlists on Spotify instead.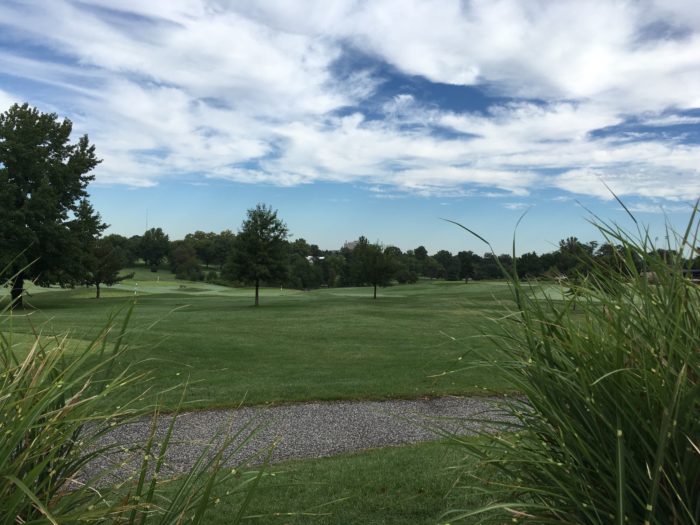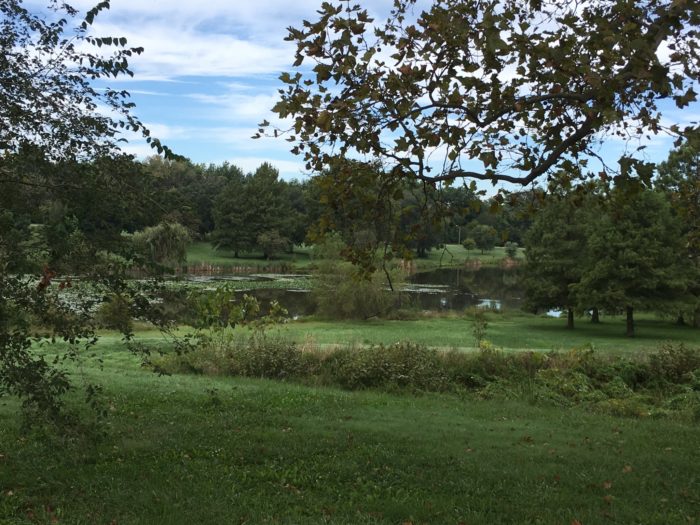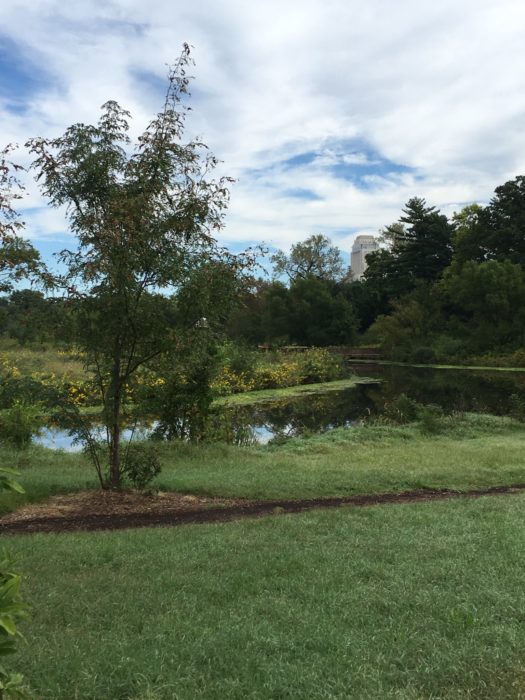 I was just so happy out there. That music is such feel good music.
I made it 4 miles! That's the most since my stress fracture, and the foot felt good! That last mile felt like I hadn't run 4 miles in a while though..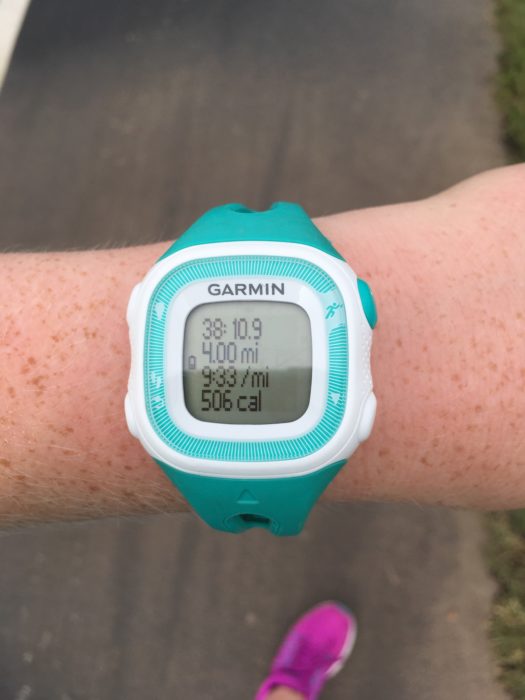 After my run I had a little time to kill before dealing with rental car stuff, so I dropped into Crossfit open gym to do most of the Saturday workout, which was 1/2 Murph. Since I had already run, I left out the running and did 50 pull ups, 100 push ups, and 150 squats. Pull ups and push ups are both things that I need to work on. I took this as more of a strength vs. a cardio workout and took my time. I didn't have to break up any of the pull ups, and scaled the push ups by doing chest to box. It's sad, but my push ups are definitely my weakest link.
When I finally got home, I was ready to eat! Since I actually happened to have all the ingredients lying around, I decided to test out a little meal I've seen going around the fitness world. Chicken+sweet potato+banana+peanut butter (I used sunbutter). Topped with cinnamon and salt.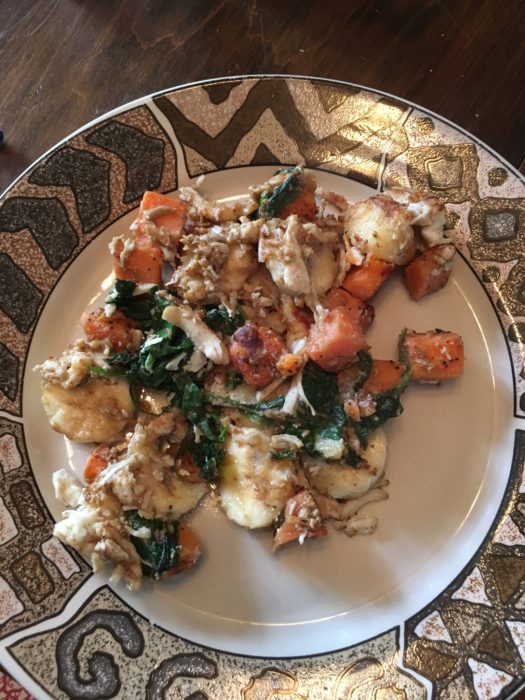 My sweet potatoes were mostly cooked, but I sautéed them in a pan before adding spinach, banana, chicken, and sunbutter. Overall, I liked this. It wasn't the most amazing thing ever. Honestly if I made it again I might leave out the sweet potato because it didn't add too much.
After more errands, I decided to have one last summer hurrah and bake Triple Lemon Blueberry Bread.
Honestly, this was a hot mess. Absolutely nothing against the recipe—I love it and I've made it before. But I have somewhat limited cooking tools. I had to chop up lemon peel in place of zest, and I could only find one mixing bowl so I tried to mix up the wet ingredients in a cereal bowl. Which was fine until I dropped the bag of sugar into that bowl, splashing the liquids EVERYWHERE. Plus, I'm making it in bread form. I thought the oven was preheated, but apparently it wasn't because I hurt a ding 20 minutes after I put the bread in…
Just a flavor note though, I did add the juice of the lemon I took the peel from, and I added an extra teaspoon of lemon extract.
I took it out after 45 minutes and it was brown on top…when I took it out of the pan, I found it liquid inside.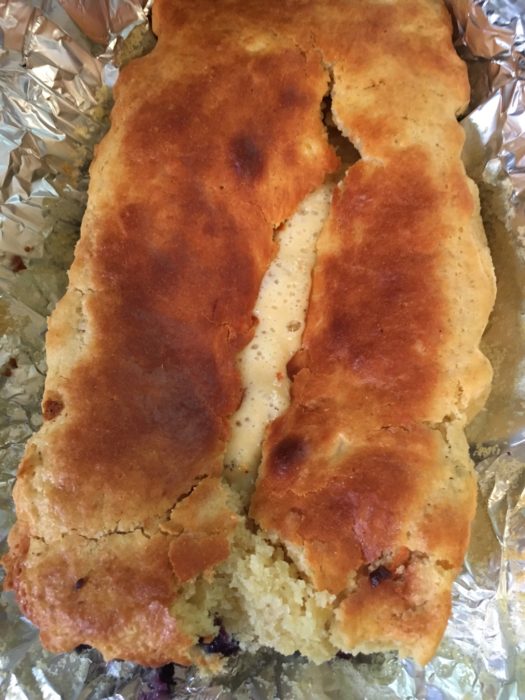 It was rough. I ended up slicing off an end piece before the center was done because the ends were in danger of being overcooked. It TASTED amazing though!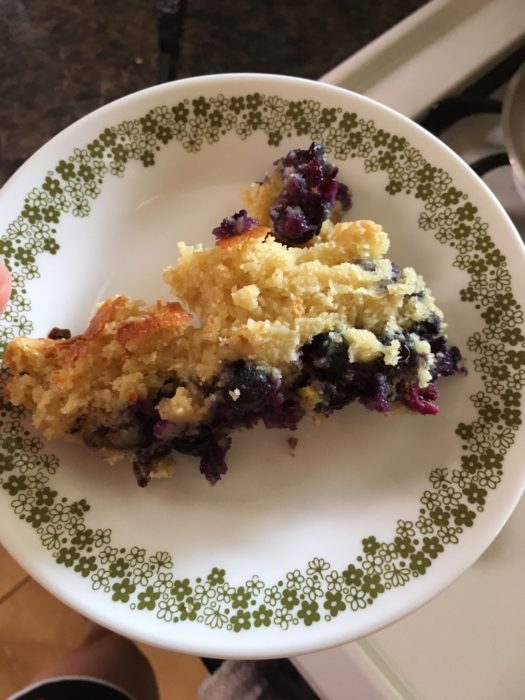 I ended up cooking it much longer, taking it out every 10 minutes or so and just ruthlessly cracking it open in the middle to see if it was done, because at that point the hope of my creation resembling a loaf was lost. FINALLY the center cooked.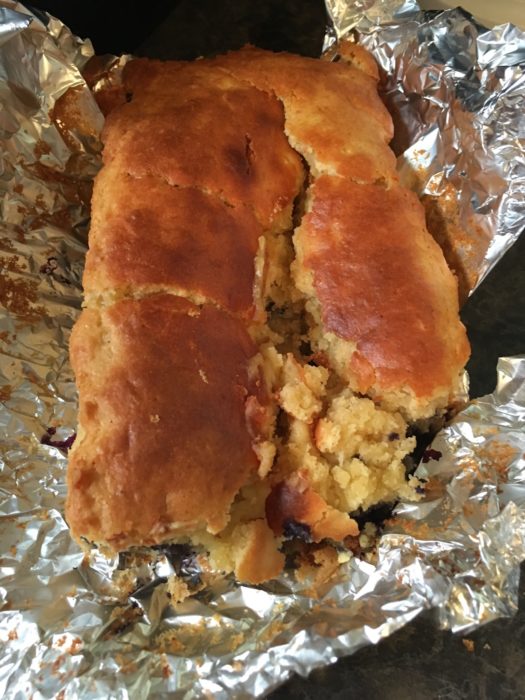 ….it's going to be a while before I bake again. Yeesh. While I ate some in the cooking process, I froze most of it and put the rest in the fridge because I'm not risking any molding, although it's extremely cooked through now. It was a journey, my friends.
I spent the afternoon watching the Giants lose to the Cardinals, and it definitely hurt a little, but at least we didn't blow a lead. I also worked on some spin playlists. I have a long day ahead of my, my friends. I teach 6pm spin Monday nights after work, and am filling in at 6am as an emergency sub. So yes, long day!
After eating a hefty amount of bread in the baking process, I wasn't super hungry for dinner so I canned my plans and made a simple craisin and goat cheese salad, and some egg whites with nutritional yeast.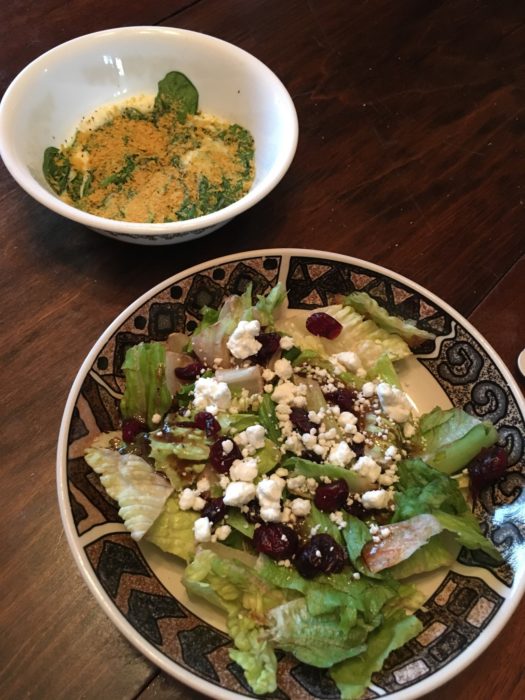 One notable thing missing from my weekend was time spent working on my online class. To be honest, I'm a little behind my schedule I set for myself, but I've been surprisingly busy. I was hoping to put some more time in this weekend, but it is what it is. I have to get to bed early tonight!
That being said, that's all for my weekend!
What's the best concert you've ever been to?
What's your biggest baking fail?