WHEW. Last week was a week…several tests and lots of class and assignments…On top of that, the mystery pain in my ankle bone was still bothering me to the point that I went to urgent care Thursday night for x-rays. Thankfully, it seems like there is no break, and I have an appointment with a specialist when I get home at Thanksgiving. For now, I'm trying to walk in a way that doesn't hurt and I'm avoiding anything involving running (minus soccer…whoops).
I was a day ahead of myself all week so it was a great time for a 3 day weekend!
I was missing my college friends, so a trip outside of Davis on my day off was just what the doctor ordered…Friday morning after a couple of hours of study time, I drove an easy 1.5 hours south to see my college roommate. It was so, so nice to see her and chat about life. Her persimmon trees were absolutely GORGEOUS!
We chatted for a while before whipping up a delicious lunch. We made fall-themed salads with hard boiled egg, butternut squash (cooked in the microwave, then sautéed with turmeric and garlic salt), chicken, and sunflower seeds.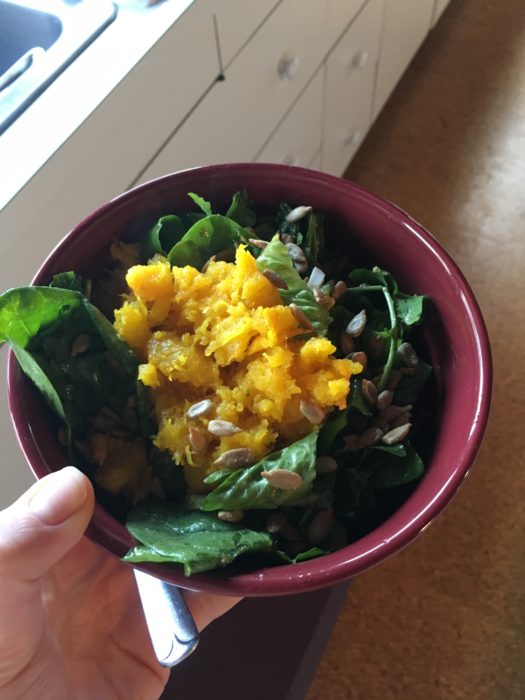 After lunch, it was time to pick some persimmons! (Also…admire her adorable kitty).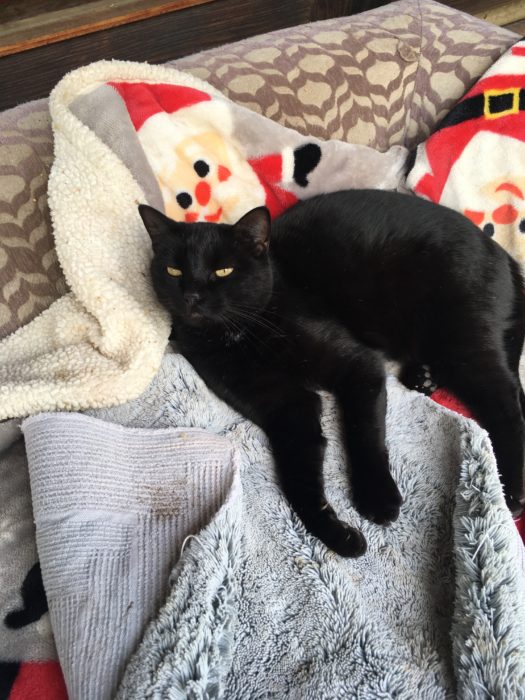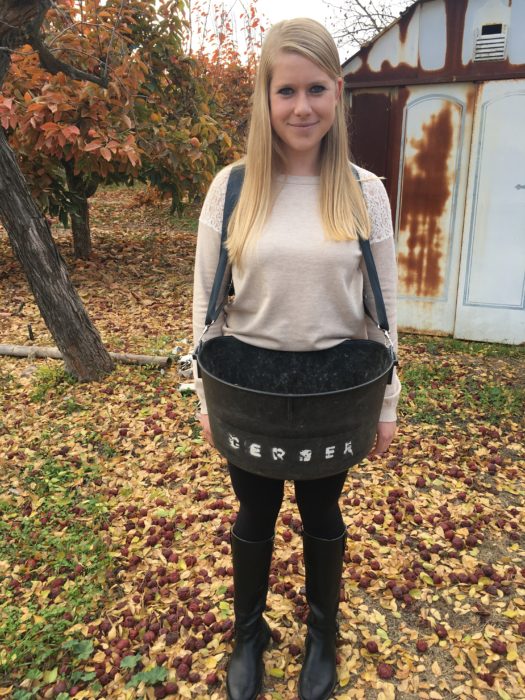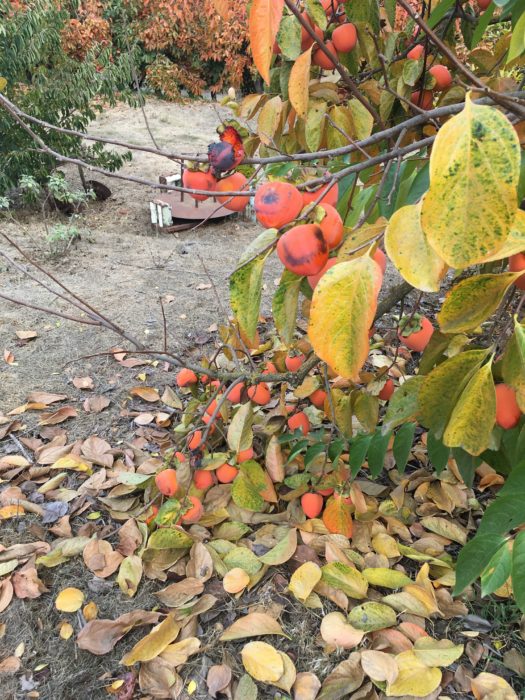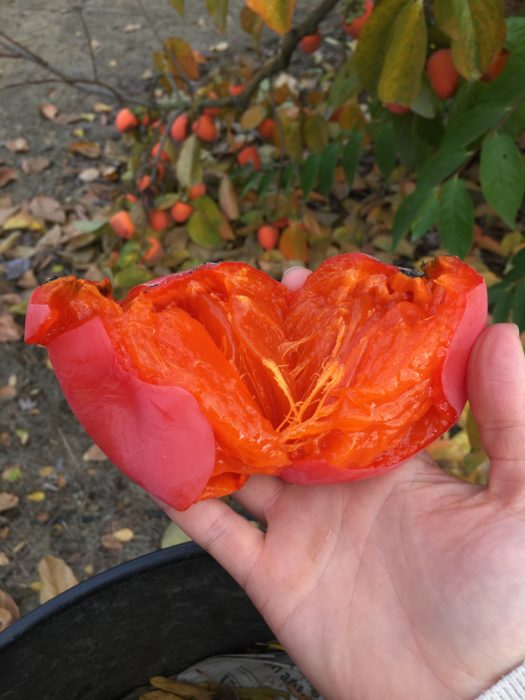 There are two varieties of permission; one that has to be eaten soft (the pointy ones) and one that is perfect crunchy. It's a little early in the season for the soft ones, but I managed to find one and of course ate it right off the tree (which was horribly messy.) We spent about an hour picking while chatting on the phone with another one of our best friends. It was so much fun to talk to them both, and to pick persimmons! I may have gotten a little carried away…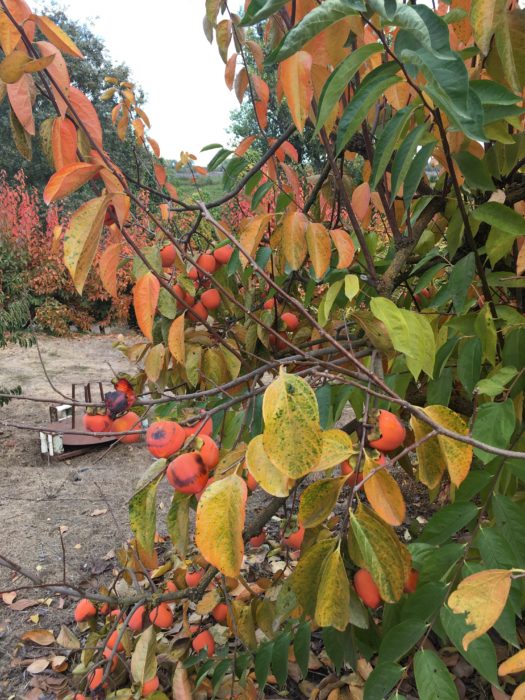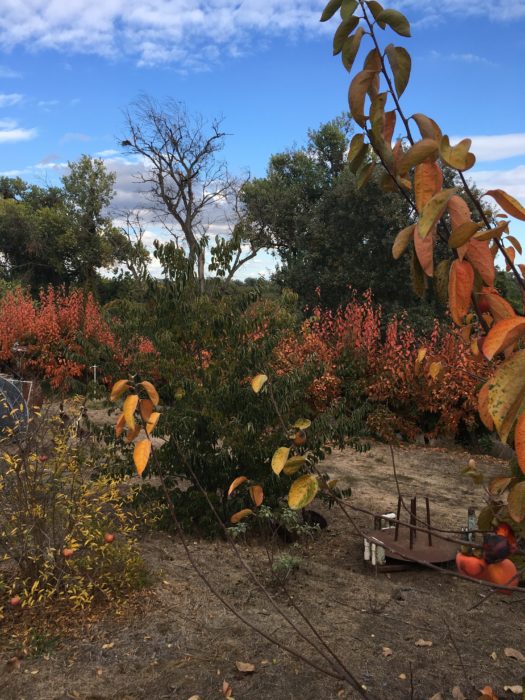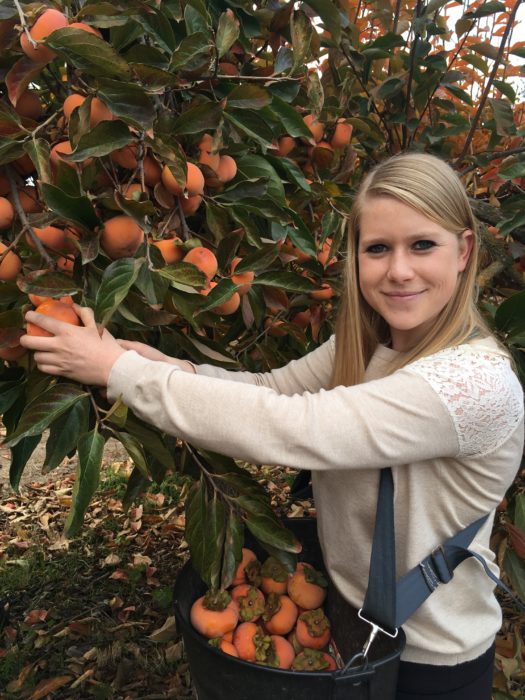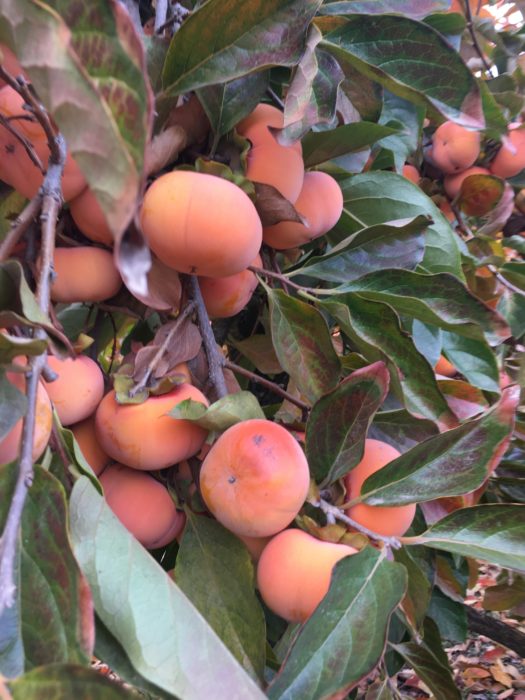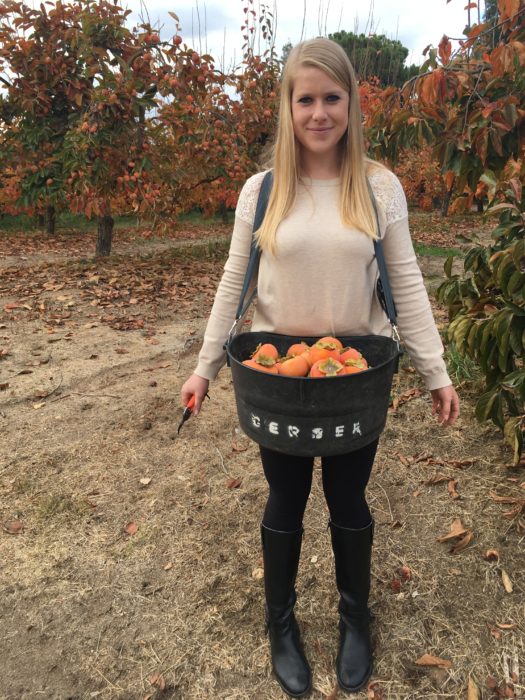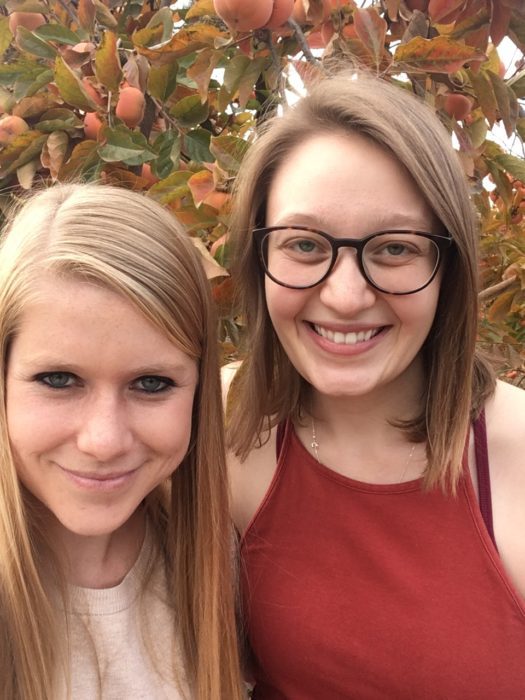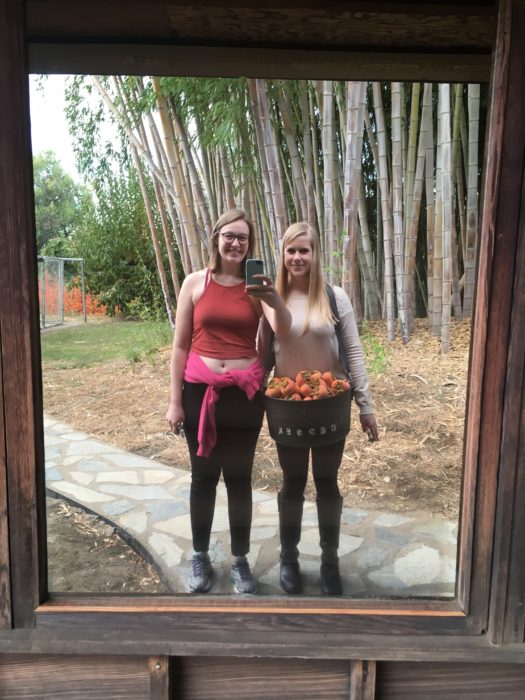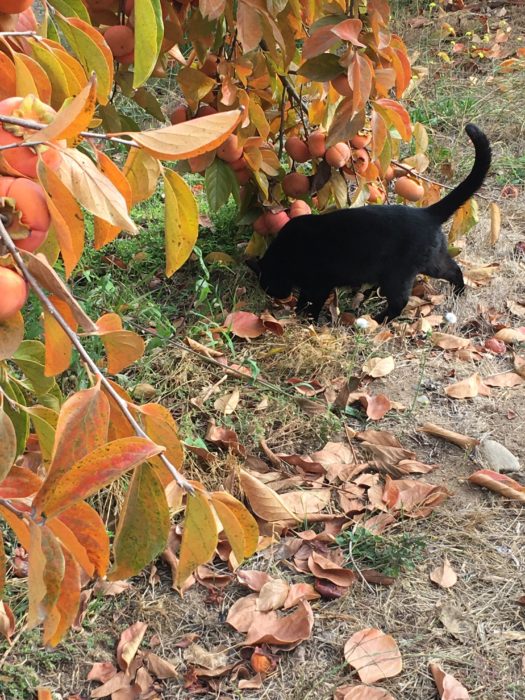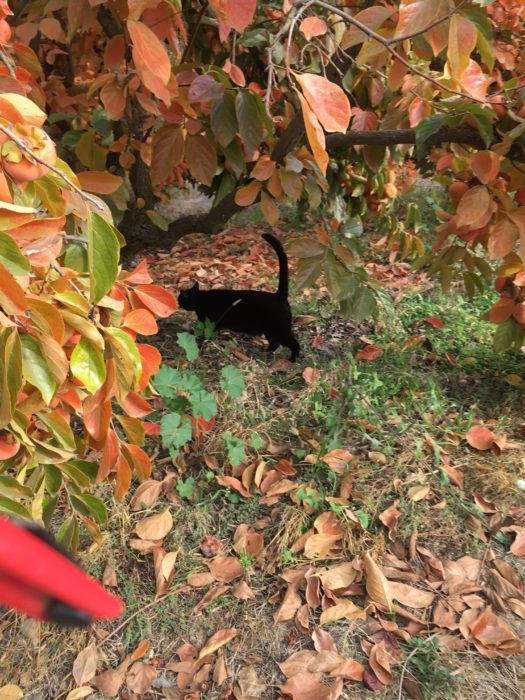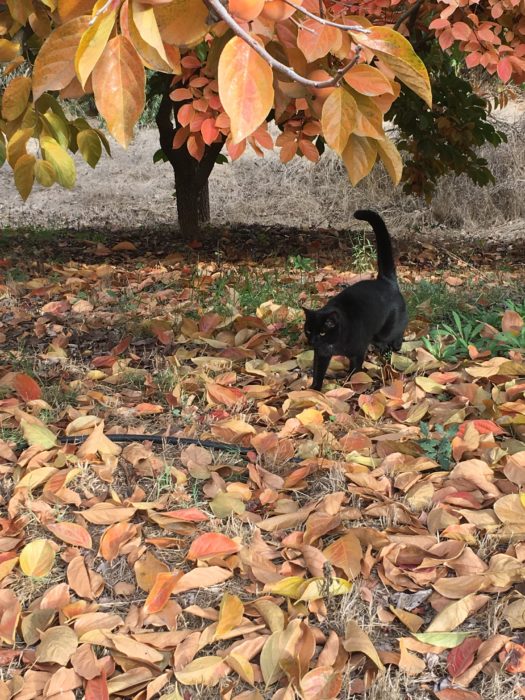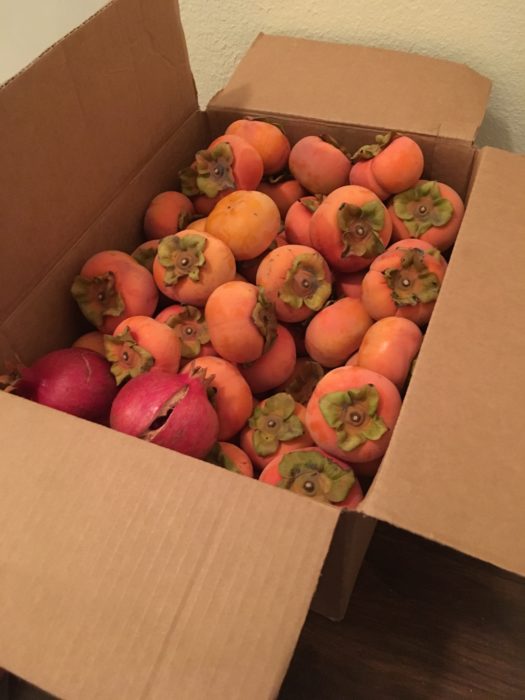 I, um, went home with over 40 pounds of persimmons. However, they keep a really long time, and I'm currently averaging 3 persimmons a day (and I'm sharing), so I'm pretty confident I can finish them!
That day was the perfect fall day, and the perfect break from vet school.
Since we're talking about fall, I recently realized that Thanksgiving is almost here, and I'm running out of time to eat all the fall foods! So I decided to make that a priority! Here's what I've been eating:
Breakfasts
"Chocolate" yogurt (cocoa powder and maple syrup) with blueberries and sunbutter.
Such a perfect fall breakfast: pumpkin Noosa yogurt and a persimmon.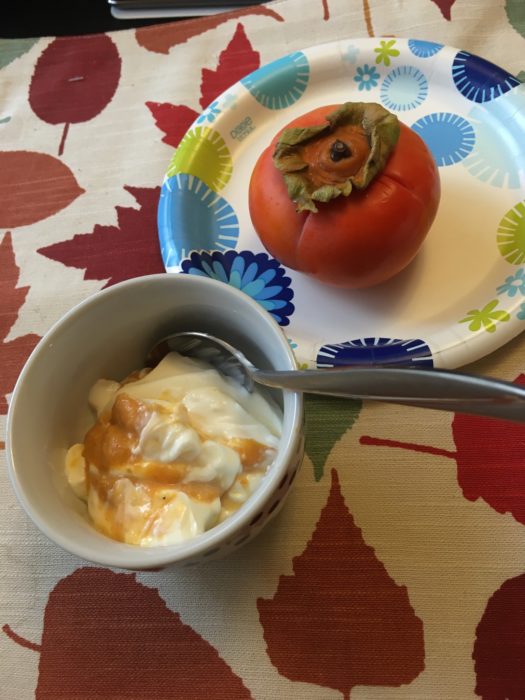 So fun fact: I like to eat my persimmons sliced up. On the side, yogurt with pumpkin pie filling (don't judge; it's less sugar than pumpkin butter!) and sunbutter.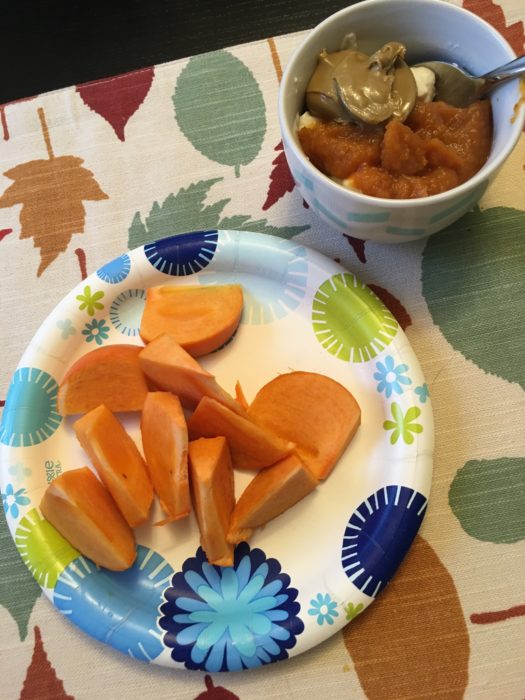 Lunches
A variation on my typical weird but quick and easy go to salad: chopped salad with american cheese, guacamole, and ketchup, topped with an egg. On the side, I made some amazing cinnamon apple tea, that I stirred fresh ginger into. Apparently I actually have a lot of tea in my cabinet that I've never tried.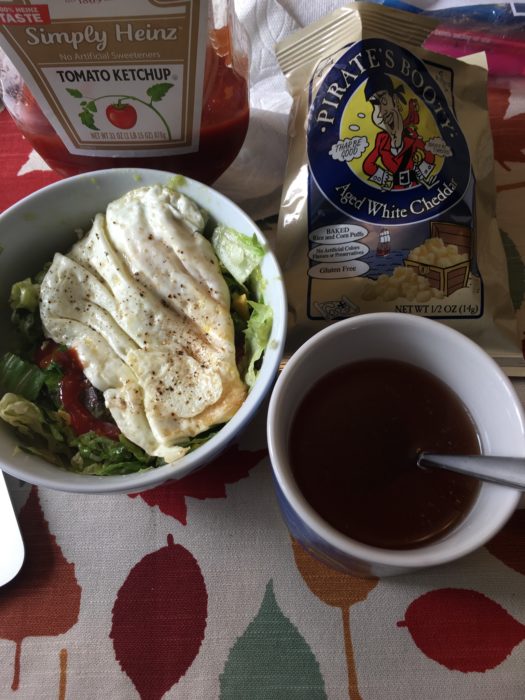 Ok, this really is pure fall. Salad with persimmon, cranberry goat cheese (I love this in salads), and chicken.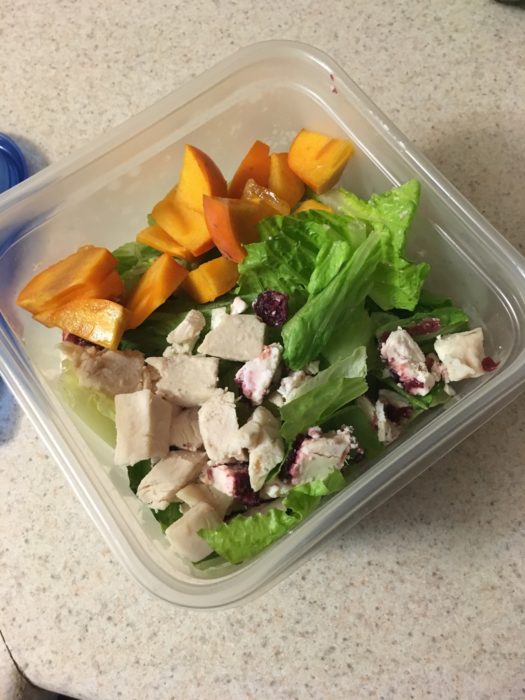 Subway salad with turkey, provolone, veggies, oil and vinegar, salt and pepper. Nothing new here. Plus avocado.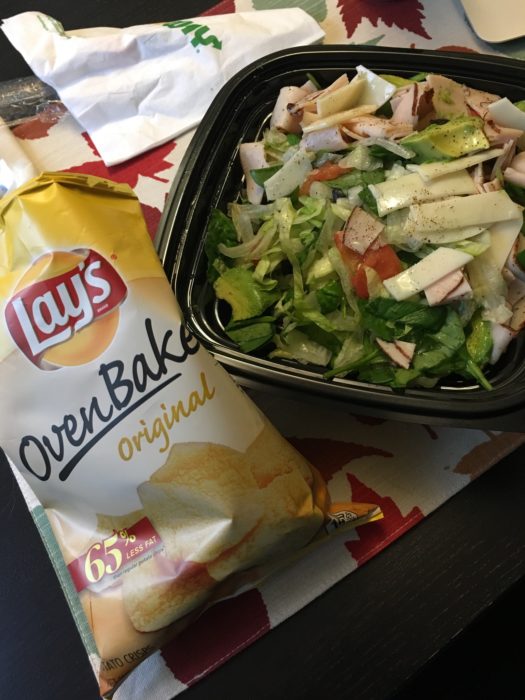 My typical salad.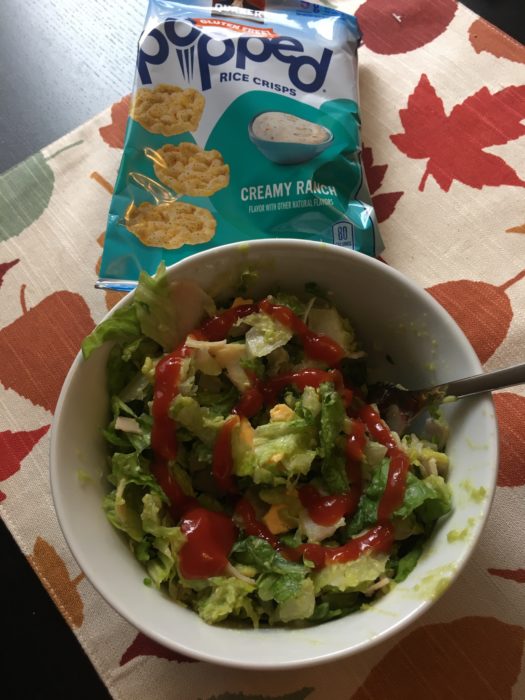 Pear and cranberry goat cheese salad with chicken and a side of leftover roasted butternut squash.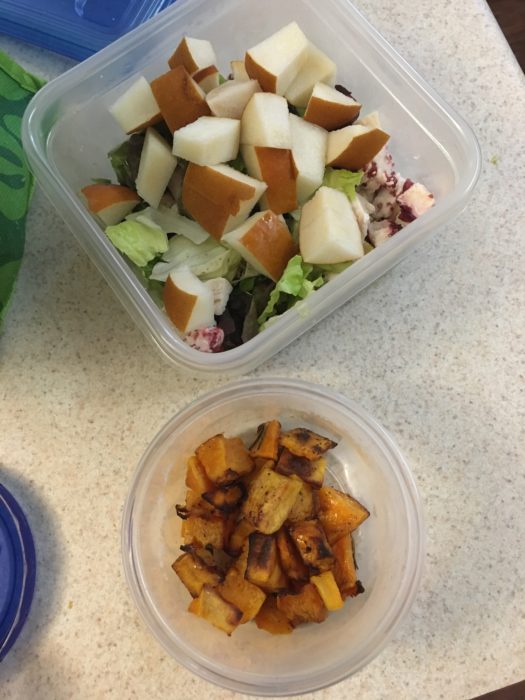 Another persimmon salad.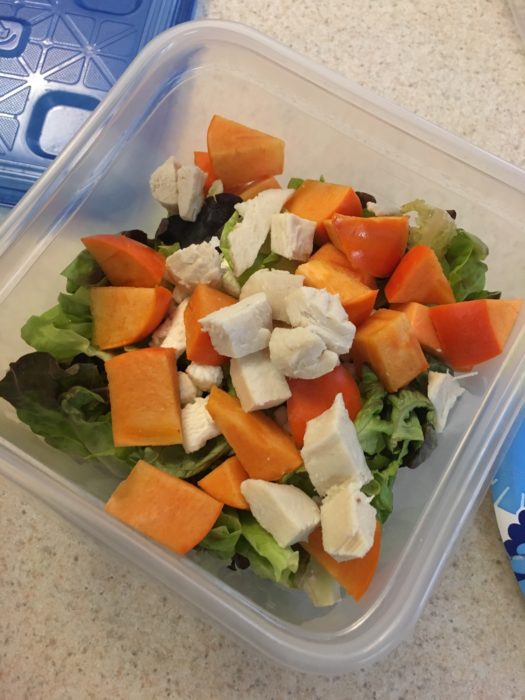 Chipotle with classmates after volunteering at a clinic that Davis puts on. I feel like my Chipotle order isn't super conventional. I get a salad with fajita veggies, chicken, corn salsa, fresh salsa, and of course guac.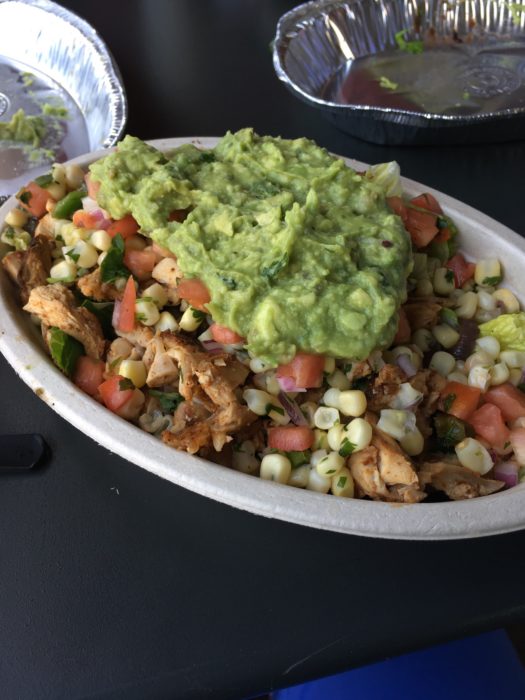 Dinners
Roasted carrots, roasted zucchini, and my baked tofu (breaded in nutritional yeast/onion powder/garlic powder).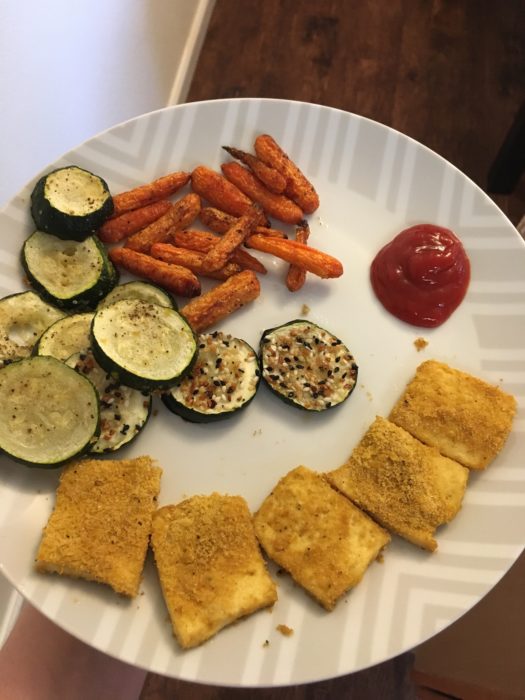 Zucchinni pad thai.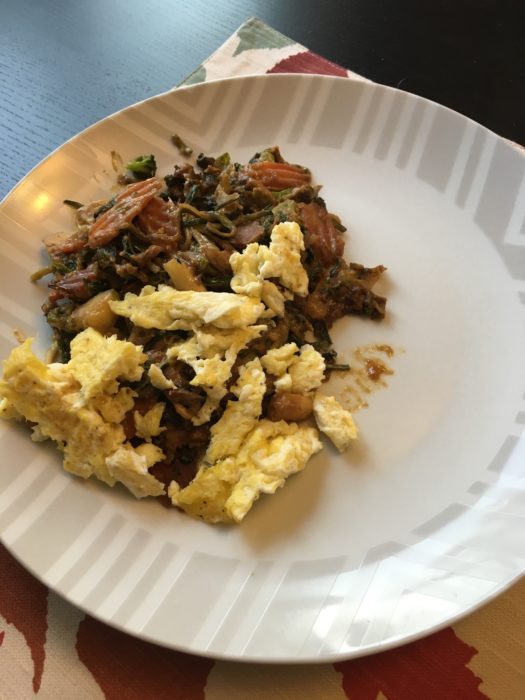 Trader Joe's pumpkin soup (the fresh one). Super good. I've put quality cheese in it. It's good with aged gouda, but I think it's even better with aged cheddar! Toast on the side.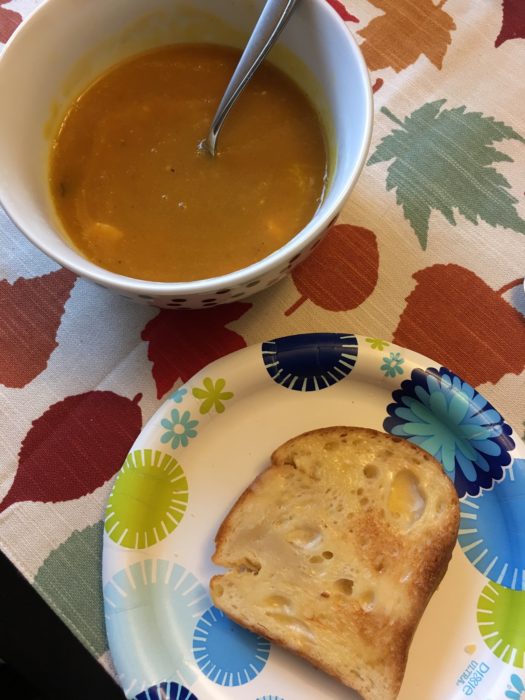 Ok, this was a good one. Roasted butternut squash, parmesan, dried cranberries, over a bed of kale massaged with balsamic, olive oil, garlic powder, salt and pepper. Side of the same tofu.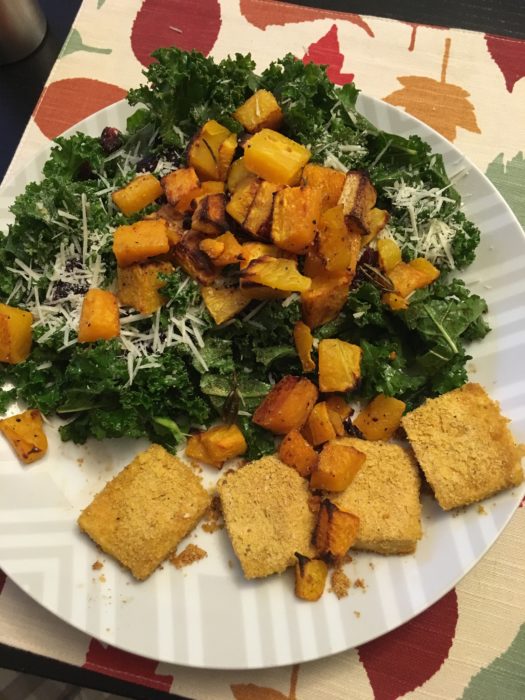 More pumpkin soup with a GF ciabatta.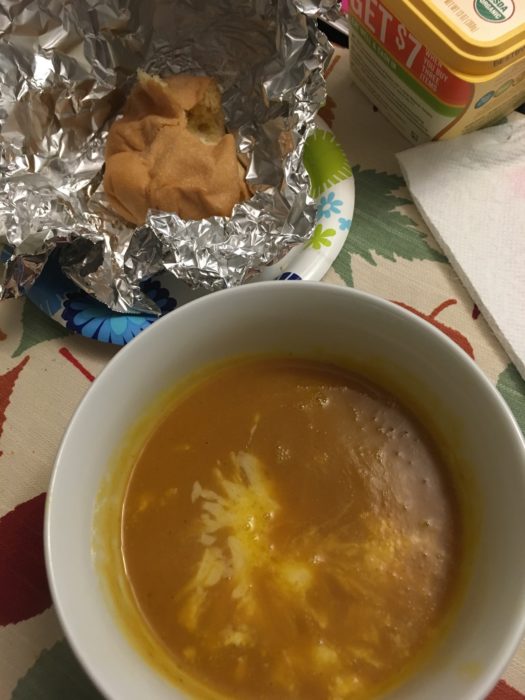 Same salad, except with chicken. For this ciabatta, I spread the center with butter and a little fresh garlic, and then wrapped it in foil and put it in the toaster oven.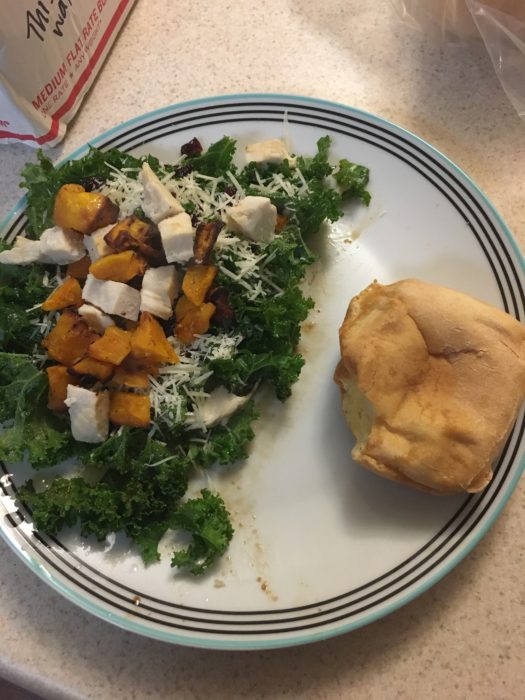 One of my favorite forms of zucchini: noodles seasoned and tossed with parmesan, and then topped with Harvest fall pasta sauce.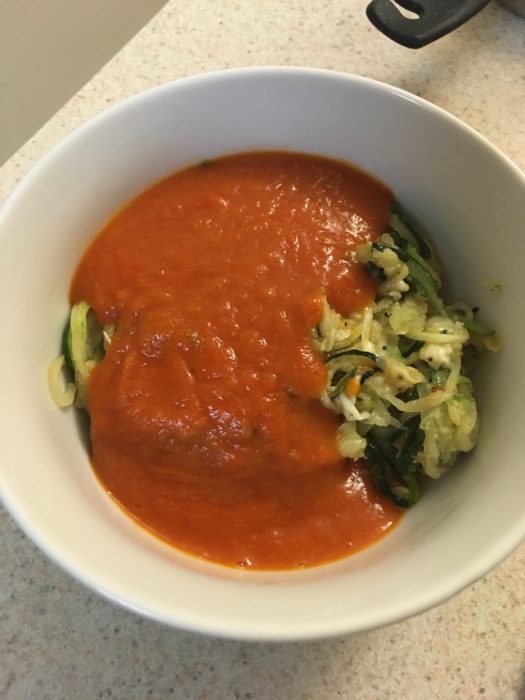 Super simple: zucchini scramble with soft garlic and herb cheese, and avocado toast.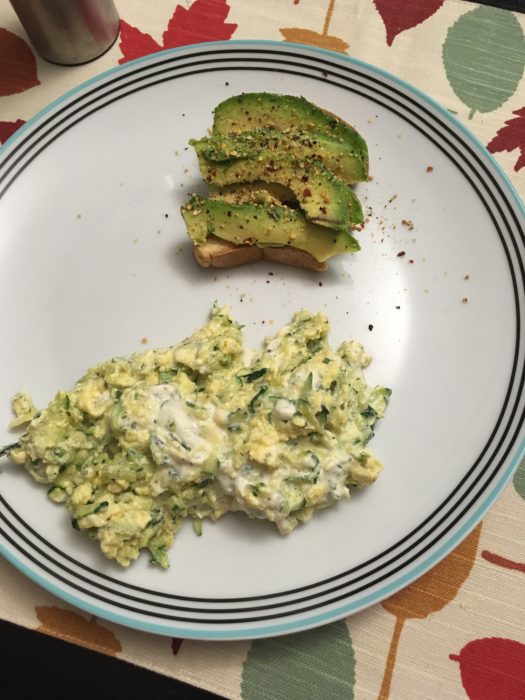 And finally for dinners, this may not look like much but it was delicious! Roasted butternut squash with parmesan and an egg. I wish I had more squash left for this meal!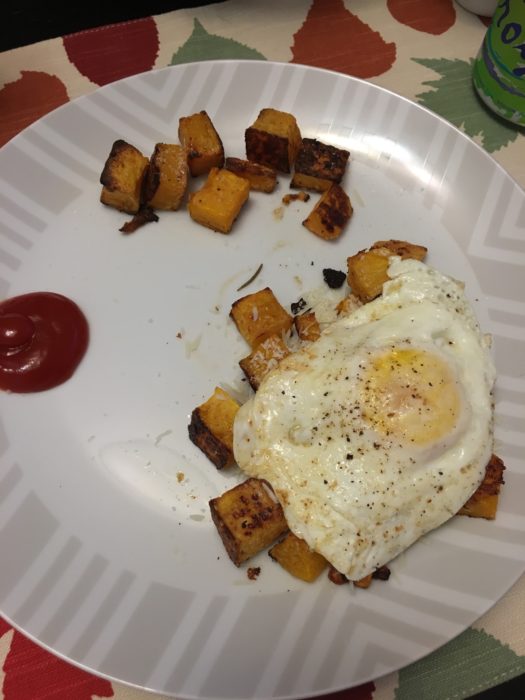 Sweets
Blueberry zucchini bread from the freezer.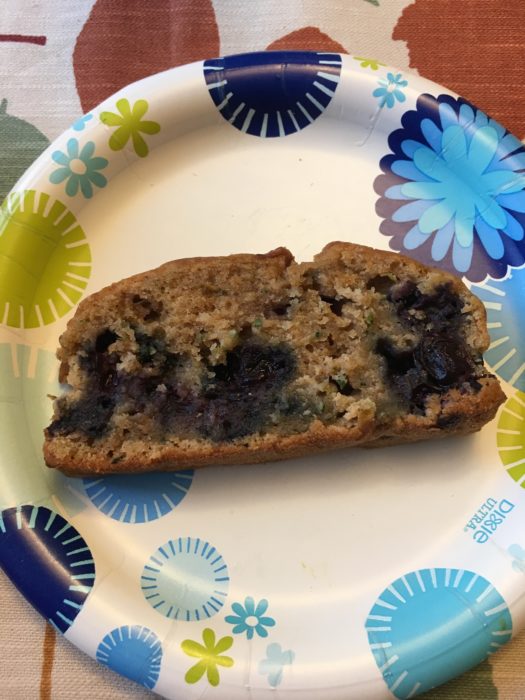 Ok. So I bought a big can of pumpkin pie filling. I mix it with egg white, then microwave it for a little makeshift crustless pumpkin pie. With whipped cream of course.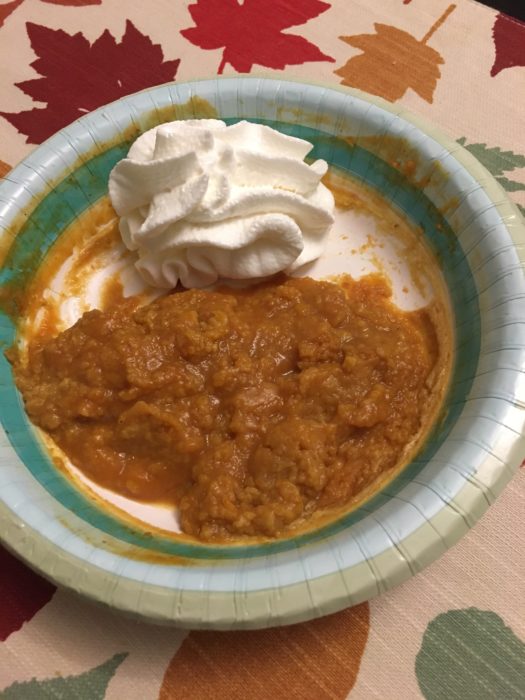 No egg this time; cold pumpkin filling with a GF cinnamon cookie and whipped cream.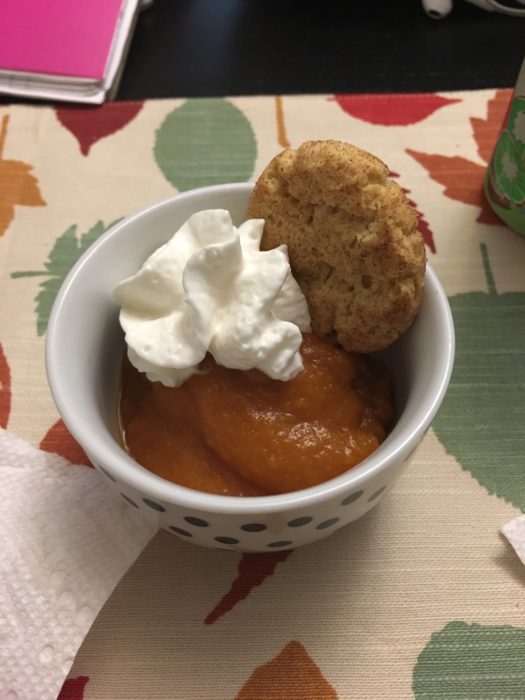 I had a fair amount of Halloween candy leftover (we got all of 1 group of tricker treaters, and I was grateful just to get any!), so I brought some to school, and then made banana bread with some. I chopped up milky ways and 3 musketeers.
Thursday evening…I impulse bought a cake at Trader Joe's. It was 100% one of those weeks, and this was delicious. I stuck some in the freezer for later also!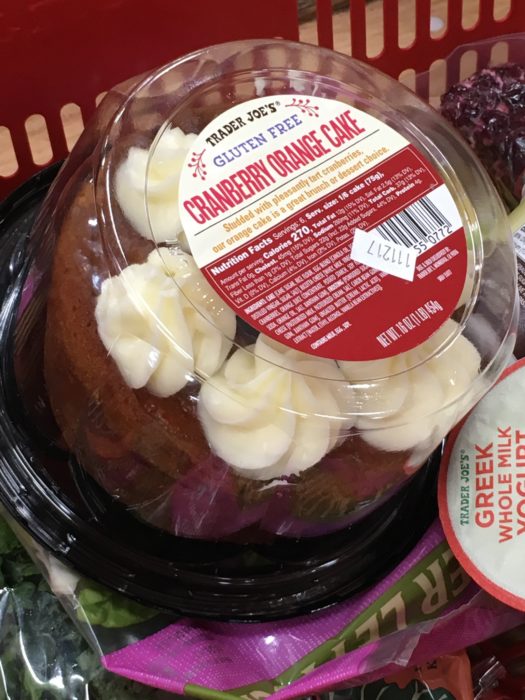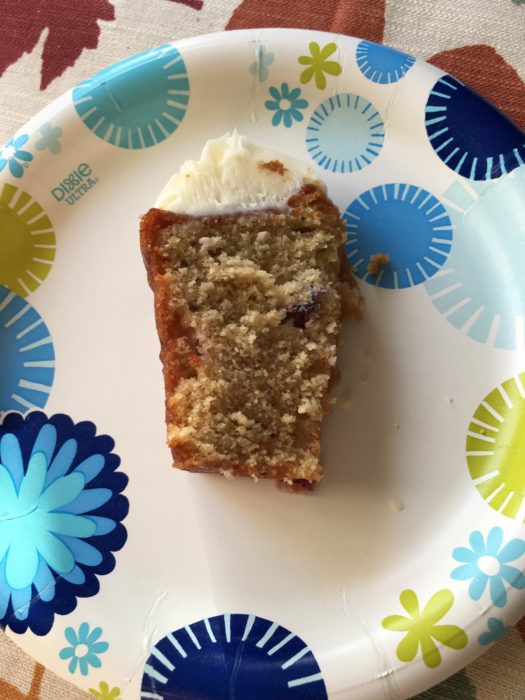 We routinely have bake sales at school to raise money for clubs, so this weekend I made GF brownies. I had to try them first (this is actually a time when I had to try them…I've never used a GF brownie mix before. This was Betty Crocker).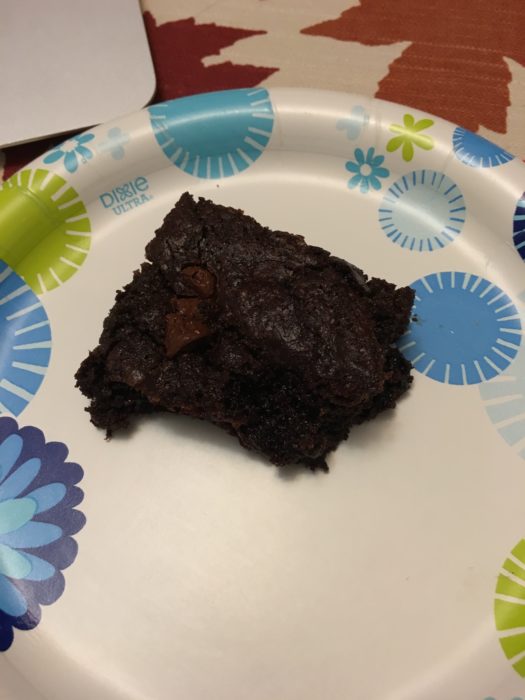 Etc.
This is my new favorite thing. A tea latte with soy milk. I found a coffeeshop where you can get any type of tea in your tea latte. This was peach apricot!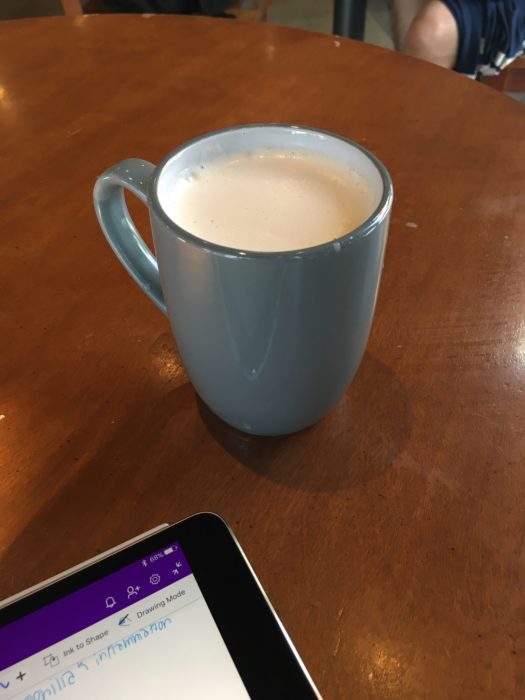 Honey lavender beer.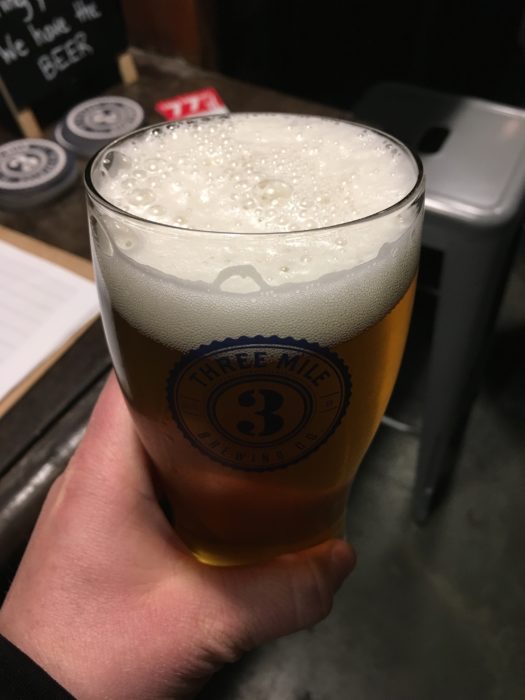 Decaf cappuccino for study time!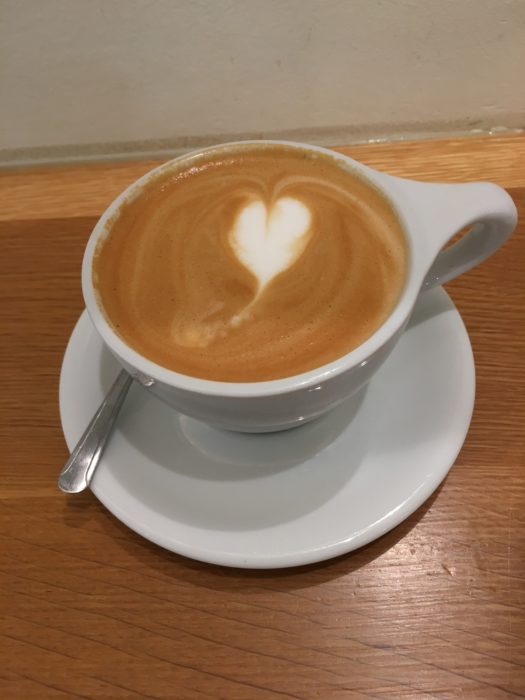 And now, after that long post, it's time to hit the books (or…the iPad…).