It's been a while, hasn't it? The last few weeks have been CRAZY. Lots of work+every single day off I had, I had visitors! It's been a lot of fun, but very exhausting! So today is my first day off without visitors in a while…and it's not exactly going to be a restful day because I'm going to a music festival! More on that later. For now, it's 8am and a maid service is already at our house, so I vacated to a coffeeshop to blog. I already got my Crossfit in for the day as well!
Like I said…it's been a minute. Let's back up.
A few weeks ago I went to my first BBQ joint in Nashville, Martin's. I went to the downtown location. I got a turkey platter.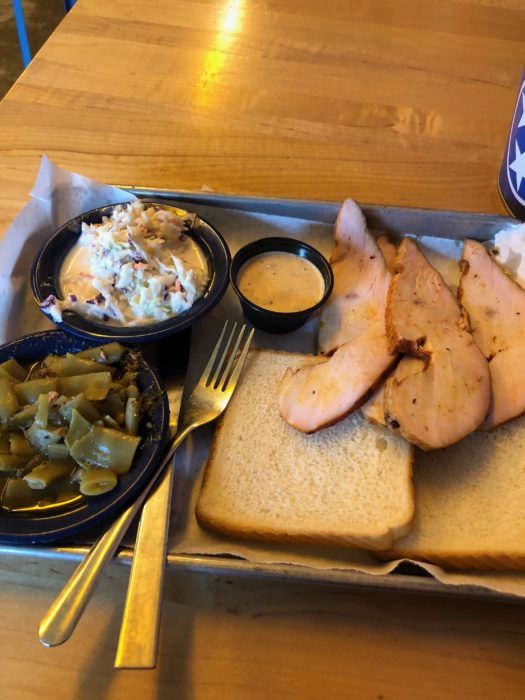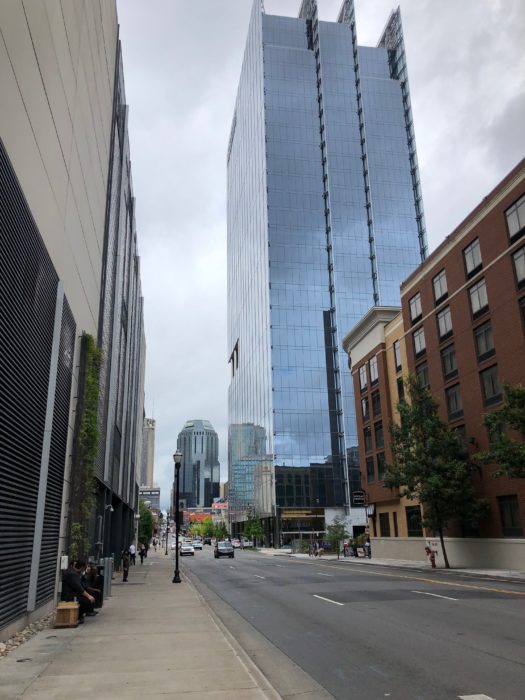 It was good! Not my favorite style of sauce though. It was thin and vinegary. Good, but not what I consider to be the classic. There are a lot of different BBQ places with different styles of sauces around here, and I feel like it all comes down to personal preference. I also tried a 100 layer donut from Five Daughters Bakery, which is basically a hopped up cronut.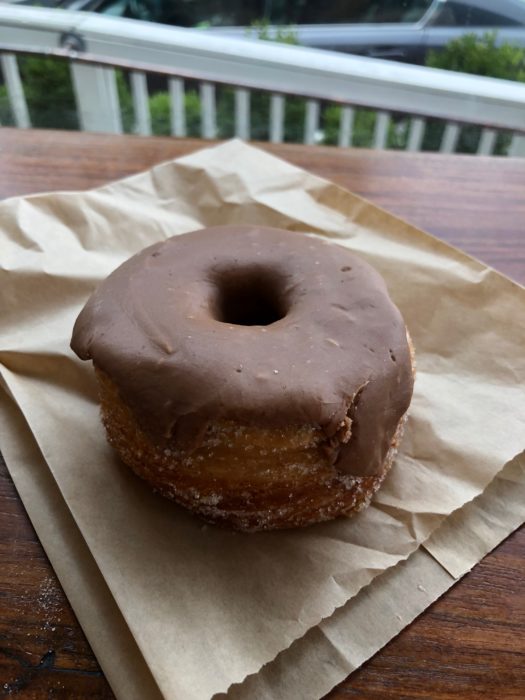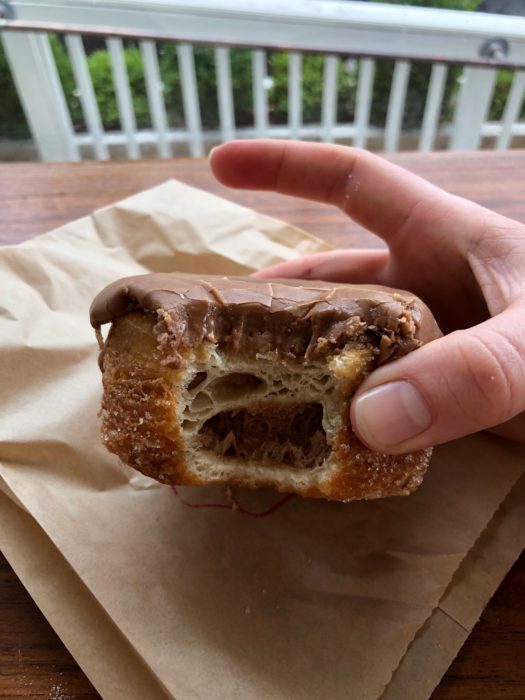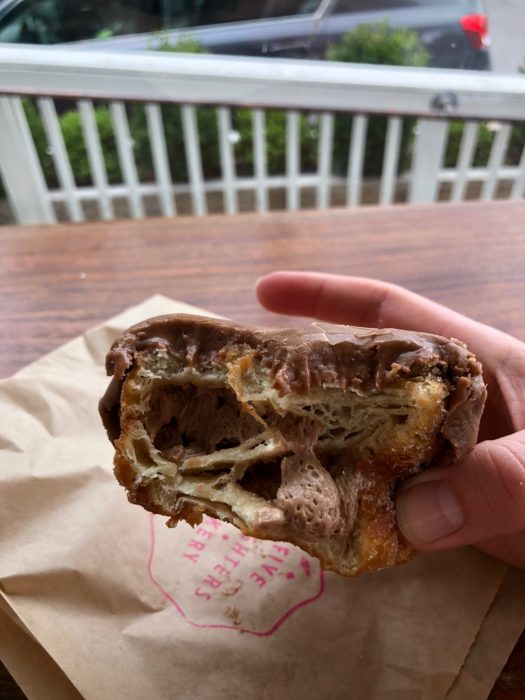 I got the salted chocolate. It was good, but it was SUPER rich and a little too salty in my opinion. I promptly went home to nap with my cat after eating this.
On my last day off without visitors, like 2 weeks ago, I went to a random event I saw in a magazine while waiting for our tour at the whiskey distillery. It was called "Breakfest," basically a breakfast themed music festival.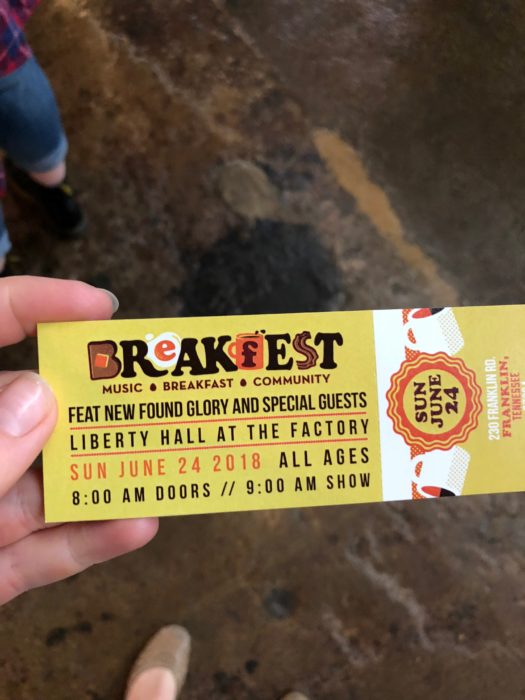 It had performances from bands/lead singers of groups I loved in my youth, so this was quite a blast from the past!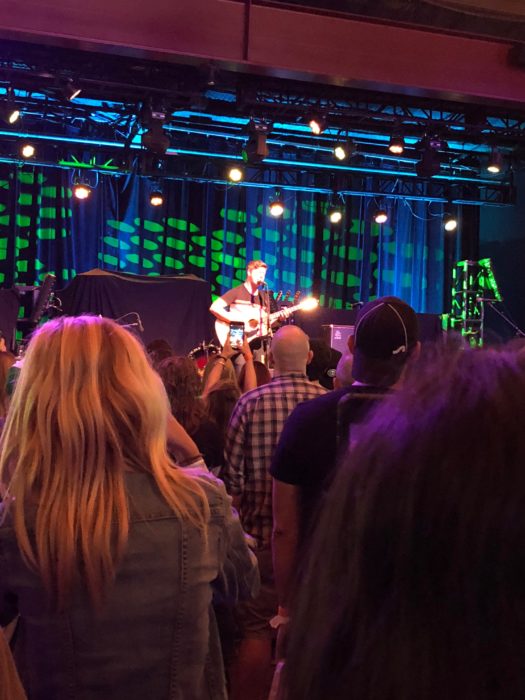 A lot of the food lines were really long, so I actually ended up just getting a really delicious beet juice, and later a GF chocolate cookie.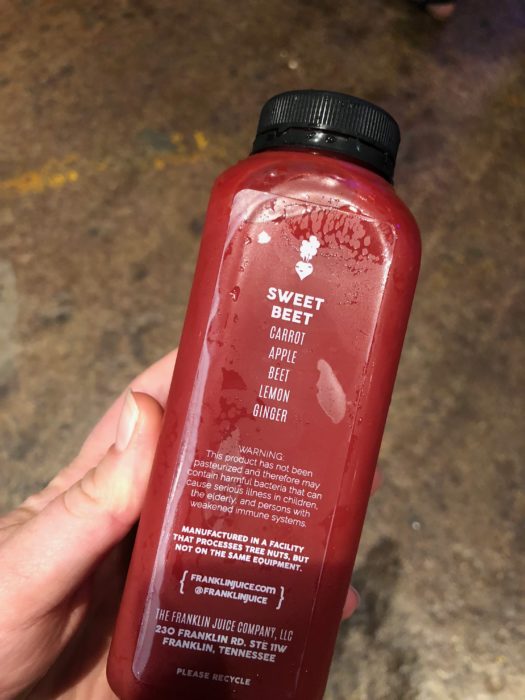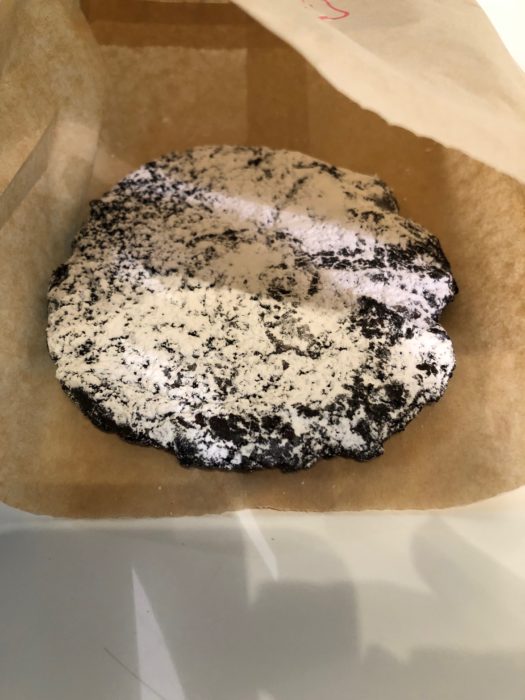 I didn't stay for the whole event my any means; I was there from 9am until just after noon. It was definitely a fun event to randomly find!
The next day, one of my best friends from back home came to visit me! She had been in town visiting family, and since I was working a long day, she arrived at my place hours before I did and bonded with Jackson. This is a really big deal because he's SUPER shy with people that aren't me, so the fact that they were snuggling and playing melted my heart! She sent me this picture; he looks so happy!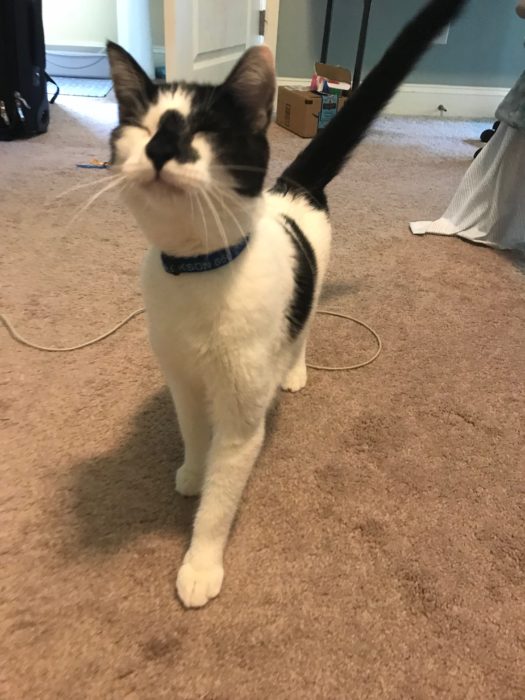 When I got home, we went to Tailgate for GF pizza and sunset beer.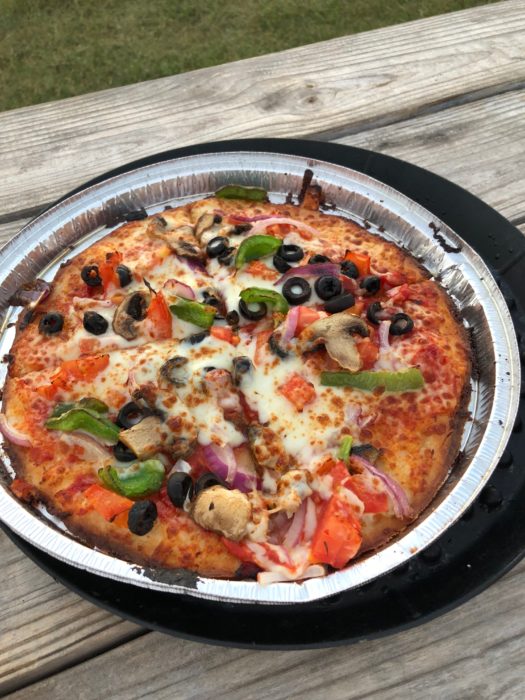 We did a ton on our first full day! I went to 6am Crossfit (it's hard to fit my workouts in on the days I work long hours so I have to try and do a lot on my off days), and then we went to Franklin Juice Co. for açaí bowls for breakfast!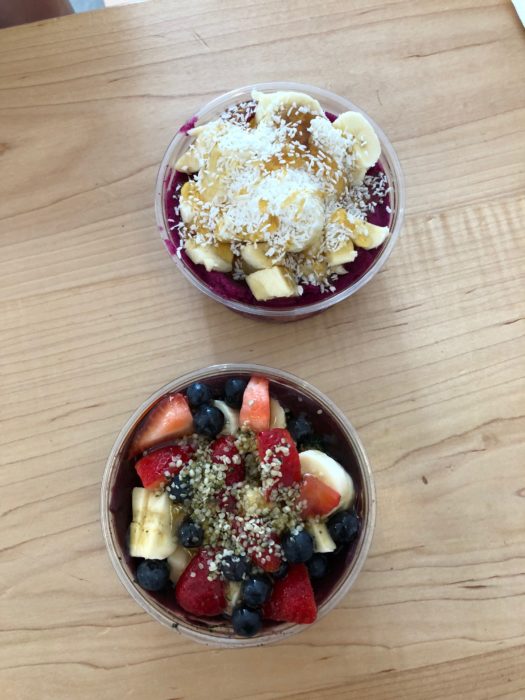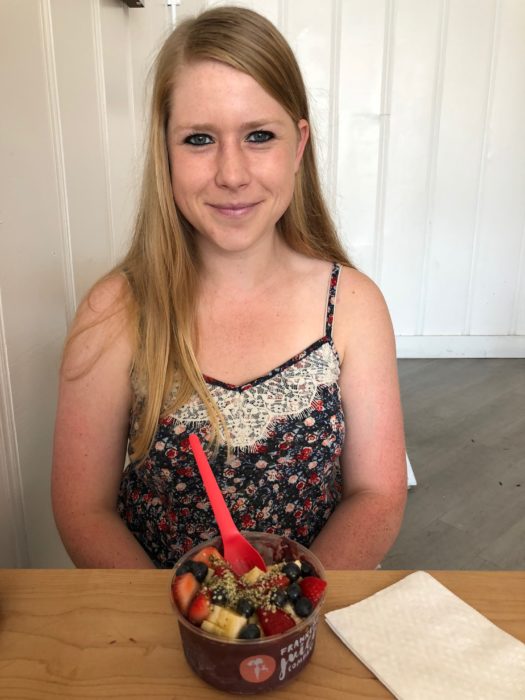 Mine had the açaí base with granola, bananas, blueberries, strawberries, hemp seeds, and honey.
We explored 12 South and had to take the picture.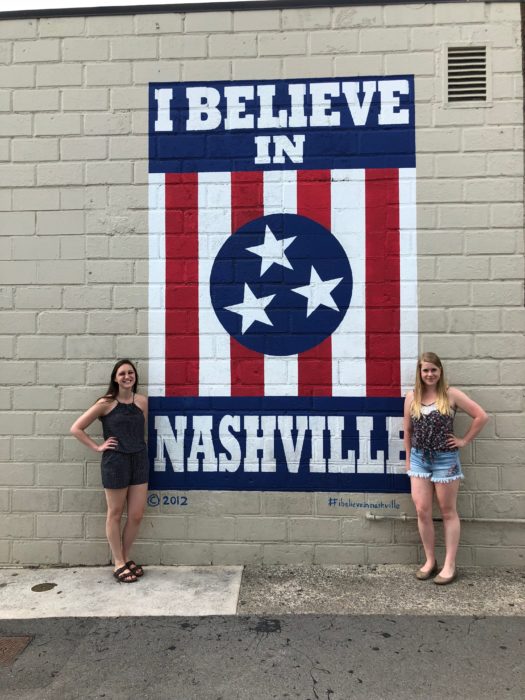 Then we went downtown to walk the pedestrian bridge.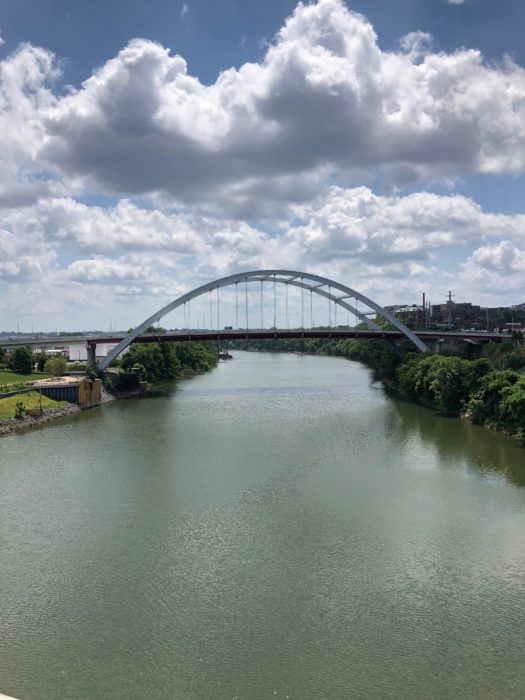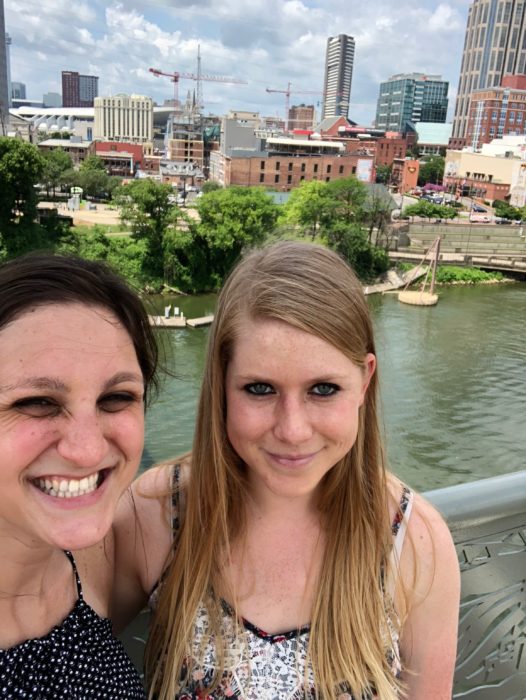 After that, we stopped by the Parthenon.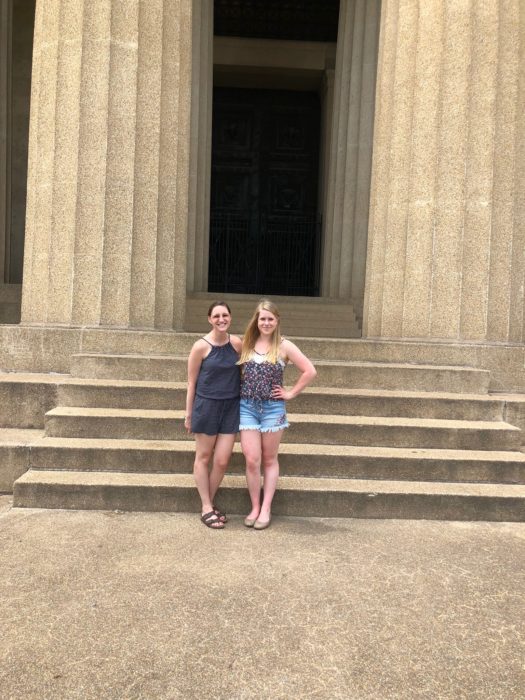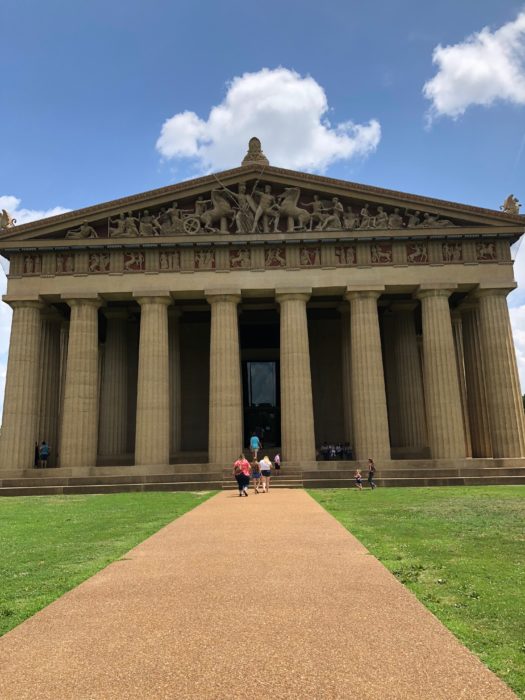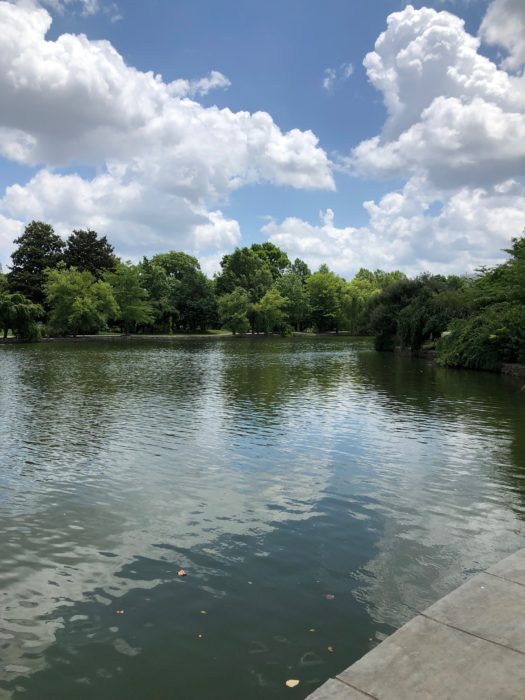 For lunch, we went to the Nashville-must, Hattie B's, for hot chicken! This was my second time there, and this time I tried the grilled hot chicken (mild because I'm a baby). It was delicious, and also made great leftovers to go in my lunch salads!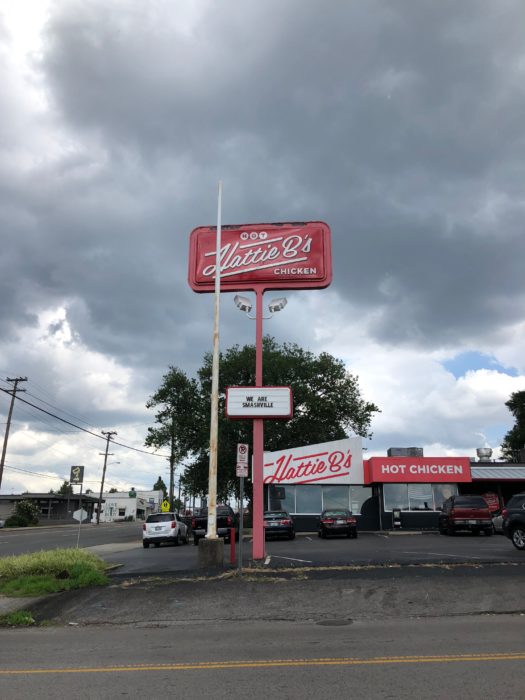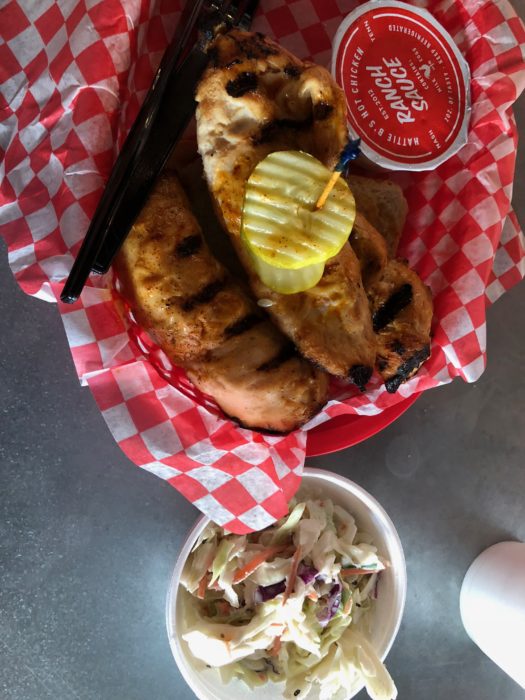 This location happened to be right next to Bobby's Dairy Dip, a soft serve place I had seen on several lists of things to do in Nashville. Naturally, we had to try it out!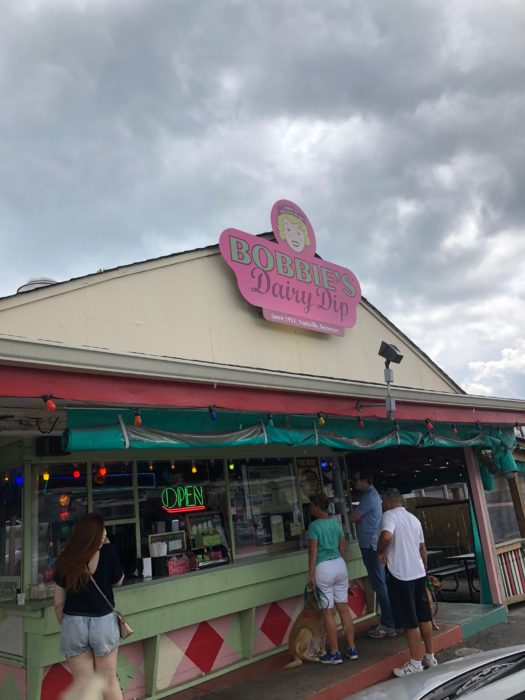 We both got dipped swirl cones! They were delicious but definitely high risk…so much dripping and mess!
After a little bit of downtime and a trip for the bookstore, we went to dinner at EIO, another place on my list. It's healthy-style. I got a salad with beets and delicious rotisserie chicken.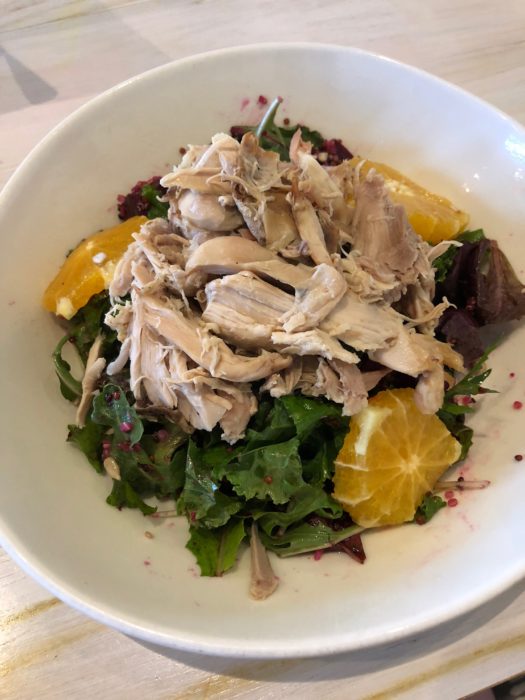 That night, I had to take her out on the town.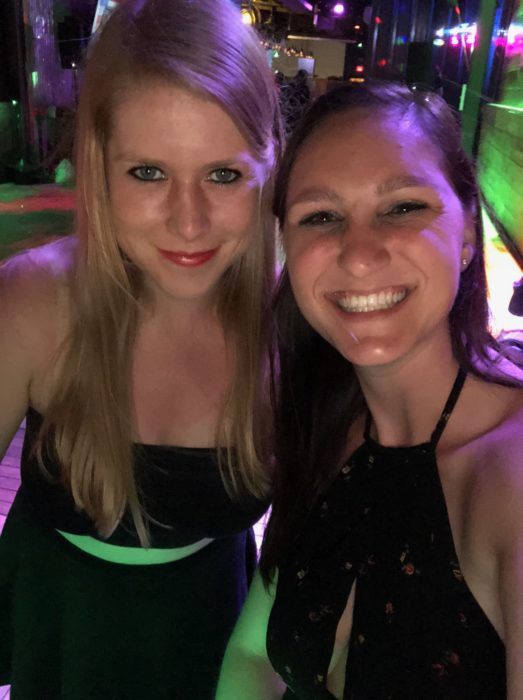 We ended up getting stranded at one bar downtown around midnight because it just started pouring like crazy, out of nowhere. There would definitely be worse places to be stranded!
After a late night, we rolled out of bed early for Goat Yoga! We went with Nashville Goat Yoga, which is in Brentwood. It was a blast. Goat yoga will never stop being awesome.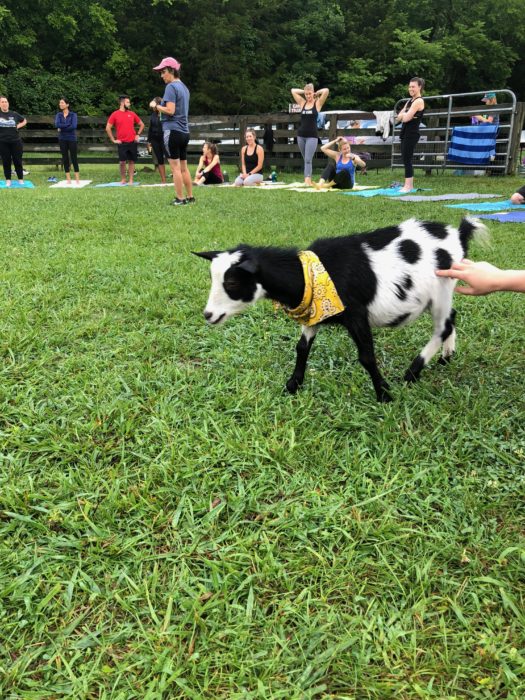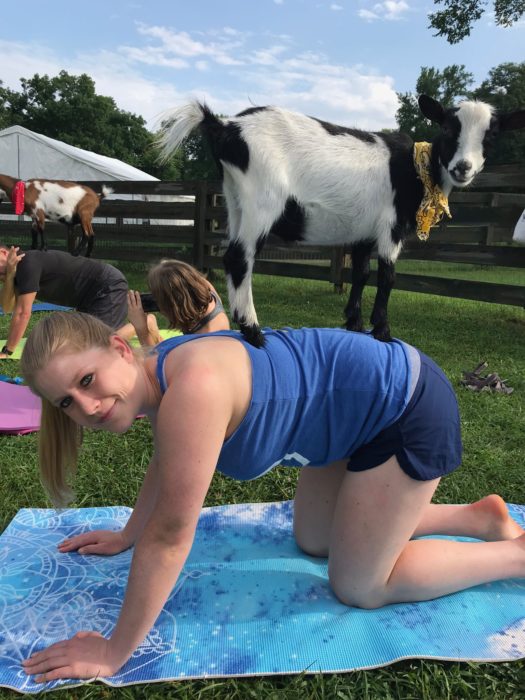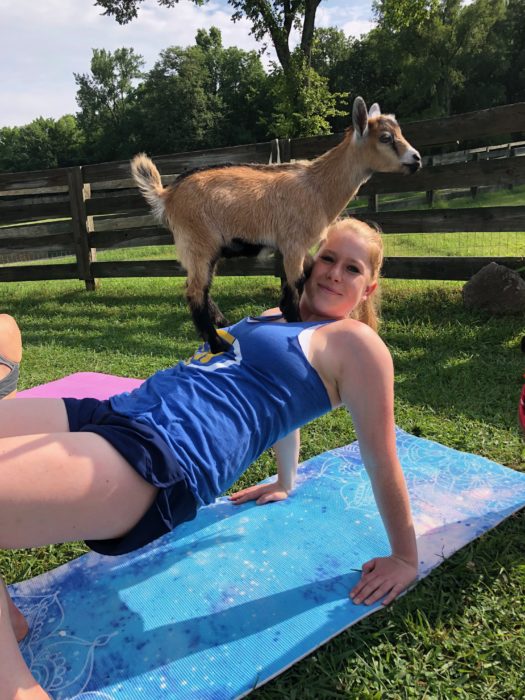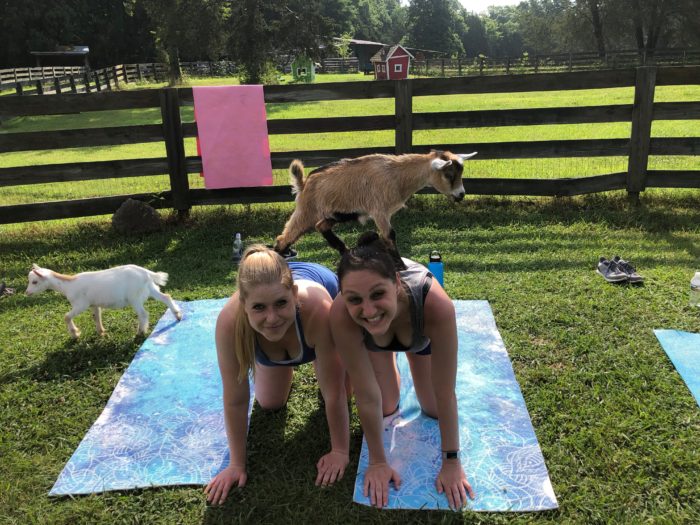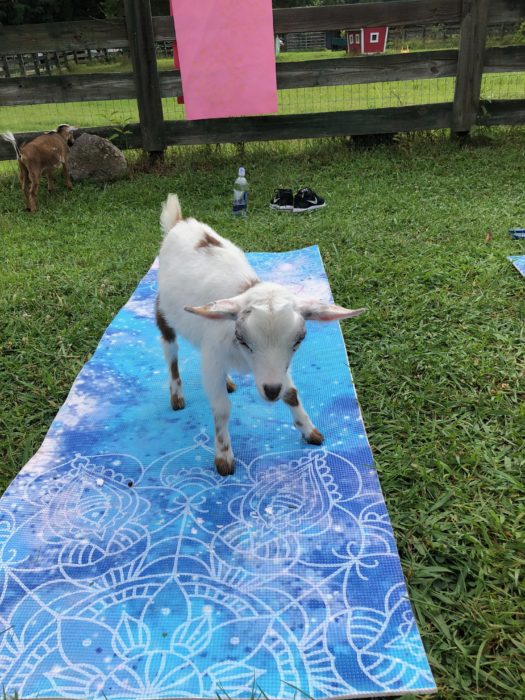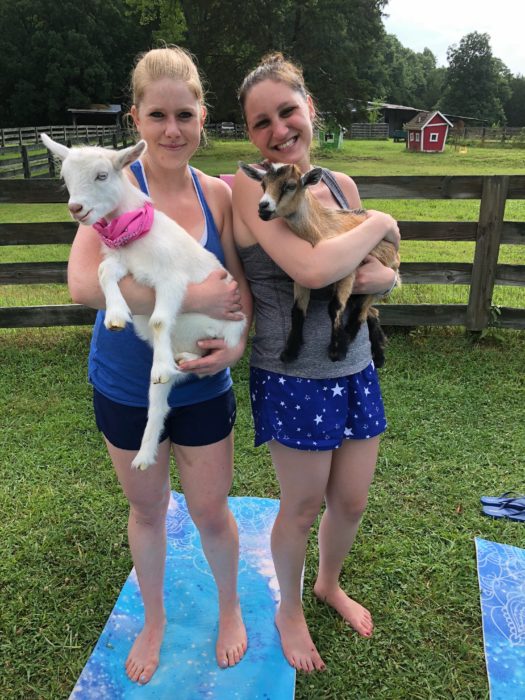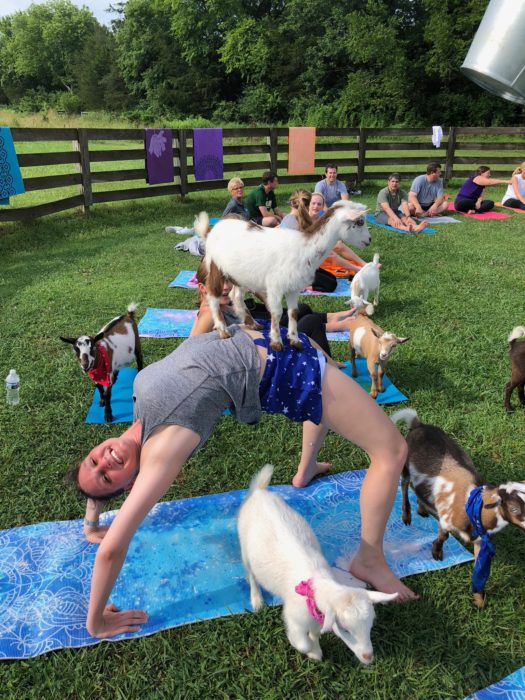 If you ever get a chance to do goat yoga, DO IT.
After class, we headed to brunch at FIDO, a place I went when I visited Nashville 2 years ago! I got buckwheat blueberry pancakes with cheddar grits. I think they were my favorite grits in Nashville so far!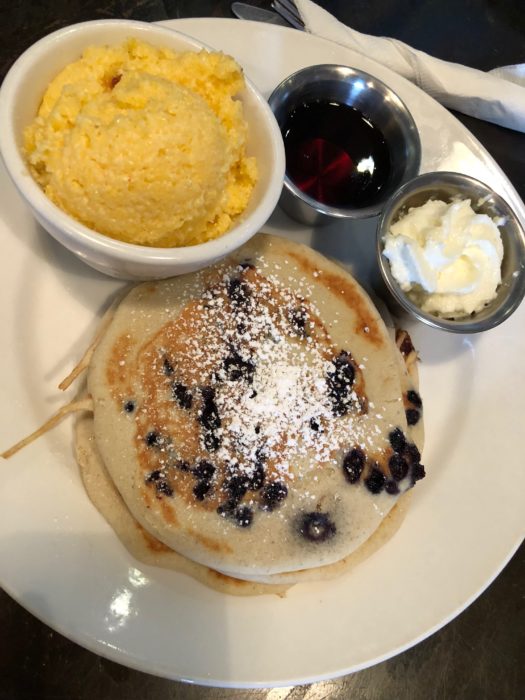 We took a break for naps before debating what to spend the afternoon doing. After some waffling, we decided to check out the Cheekwood Botanical Gardens, and we were both glad that we did! They had a really cool exhibit going on throughout the grounds and in the top floor of the historical mansion.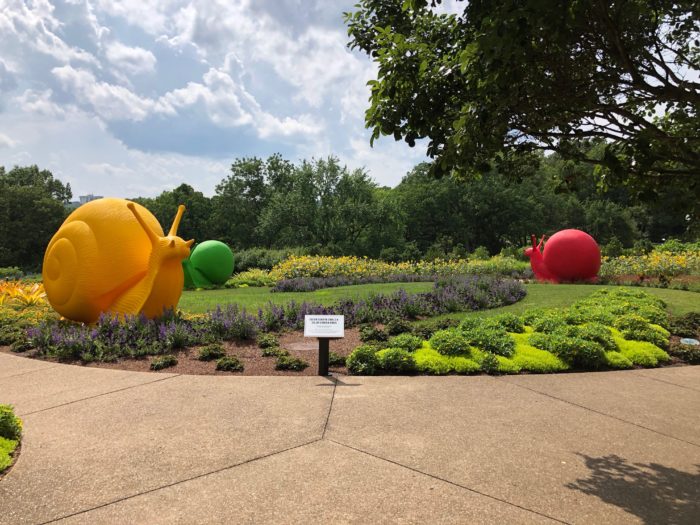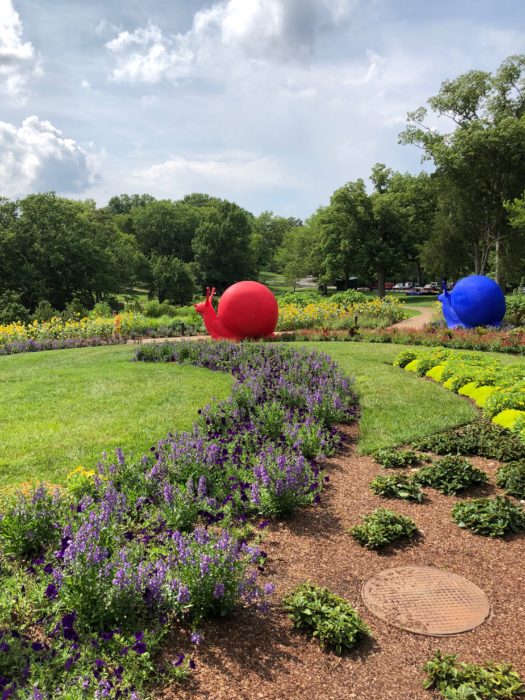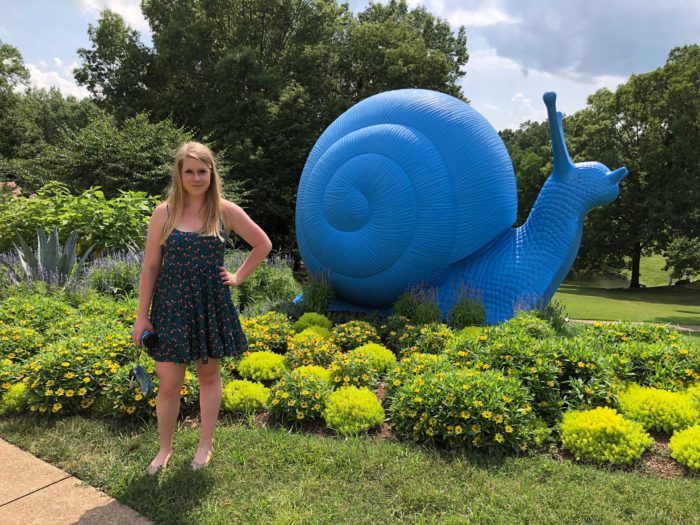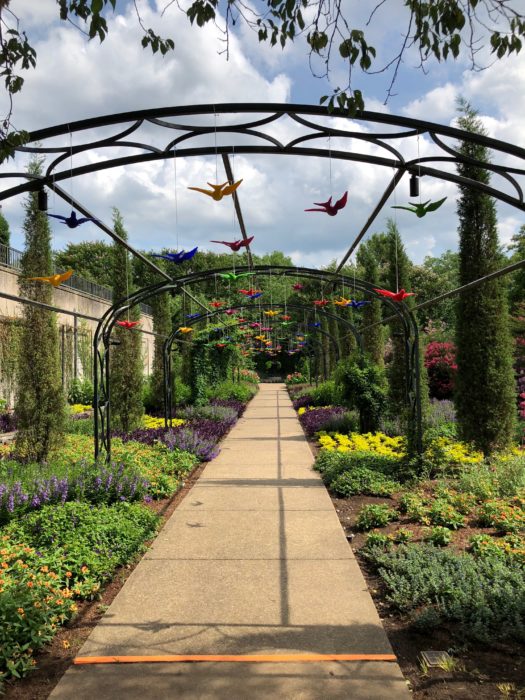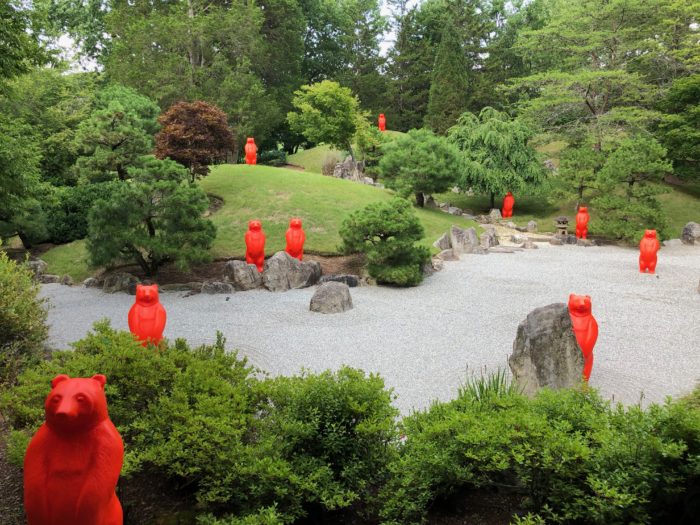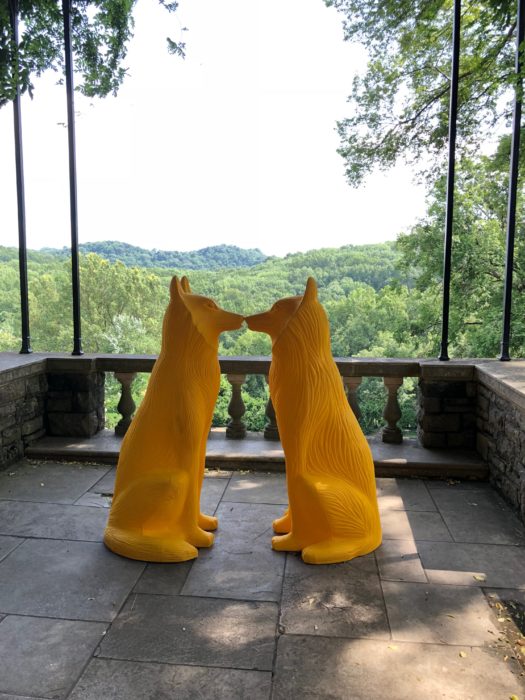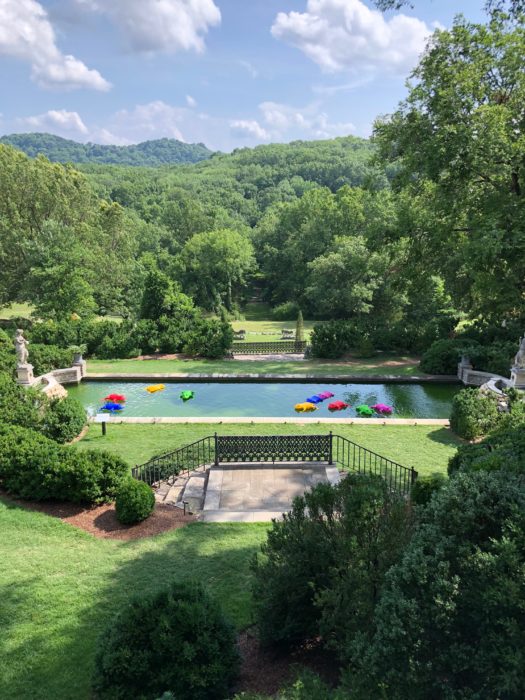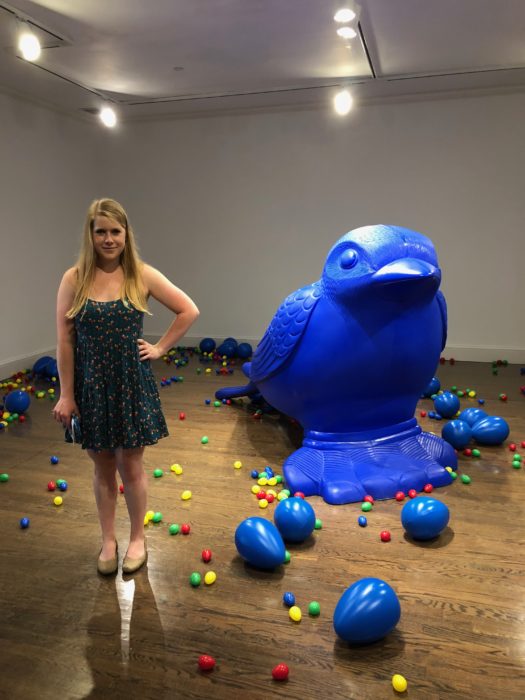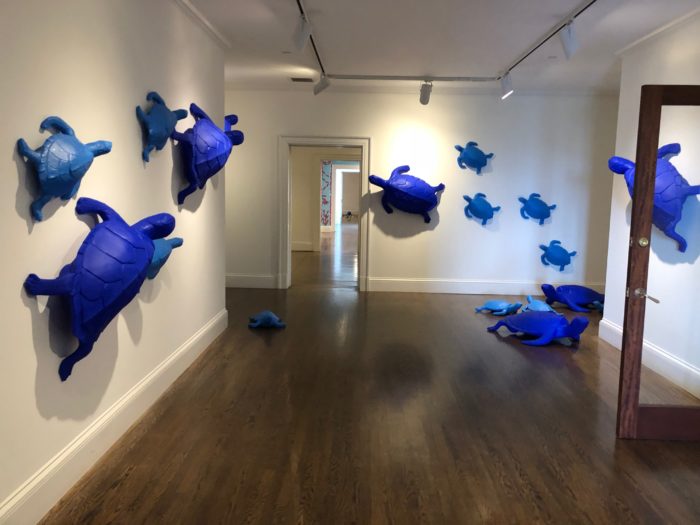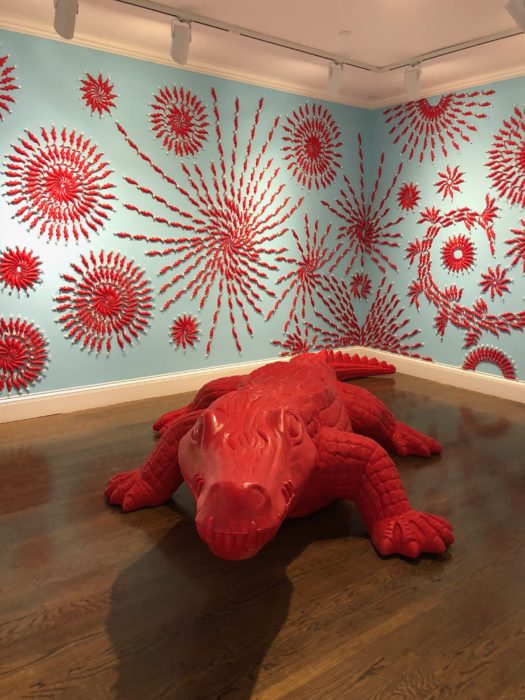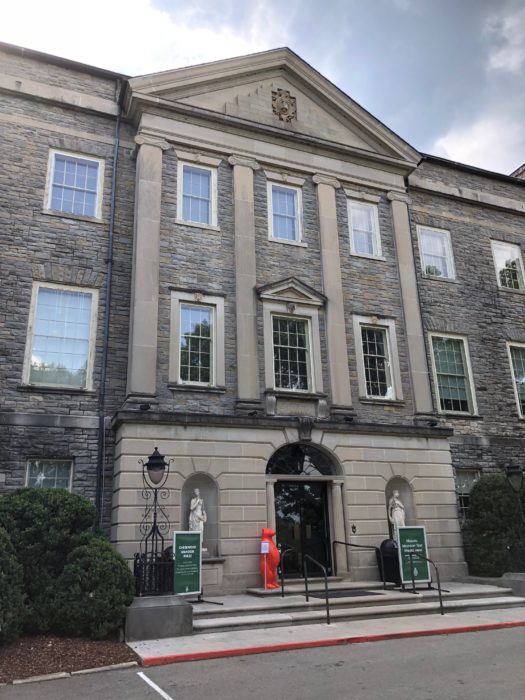 The plastic animals were made out of 100% recycled material, and were partly intended to promote awareness of recycling, which we thought was really cool. We debated trying to see more of the grounds, but the rain clouds looked incredibly threatening, and about 5 minutes after we drove off, the skies fell!
Our next stop was dinner. We went to Edley's BBQ in 12 South, and I had a turkey platter. This place came highly recommended and I liked it a lot!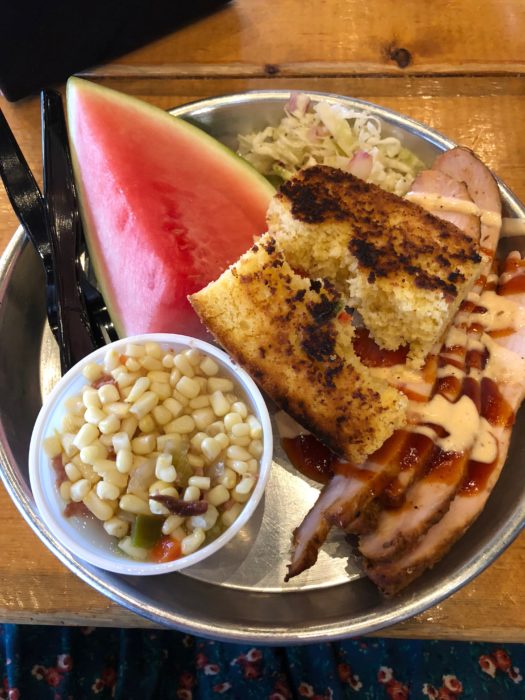 After dinner, we of course had to stop at Jeni's ice cream. I got the watermelon buttermilk frozen yogurt (so good and unique!) with milk chocolate.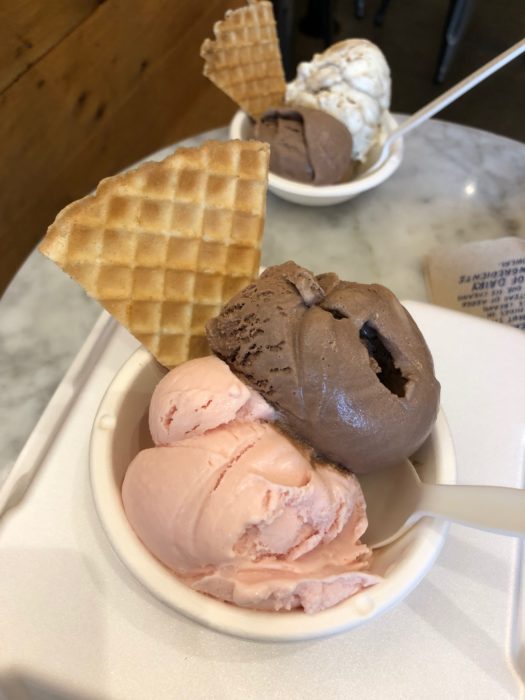 Sadly, she had to leave the next morning, but it was so fun to have her!