Hi friends, I'm popping in with a super quick full day of eating that I recorded on Monday, but things got a little bit crazy and I haven't posted. I have a few minutes now because I don't start work until 10:30, and I'm trying to delay my breakfast as much as possible because I won't have lunch until around 3. So Monday.
AM workout was Crossfit. We did heavy squats and strict press. I felt the struggle of not squatting for a long time, and was having a lot of difficulty with one set of 5 at 85% of one my rep. 165 is not usually heavy for me, but I have no clue how I made all 5 reps given how ugly they were. WOD involved double unders, sit ups, and kb snatches. I did singles, which felt fine for my Achilles! Jumping higher would have hurt, hence singles. My Achilles has been progressively feeling better, which is really good!
Breakfast: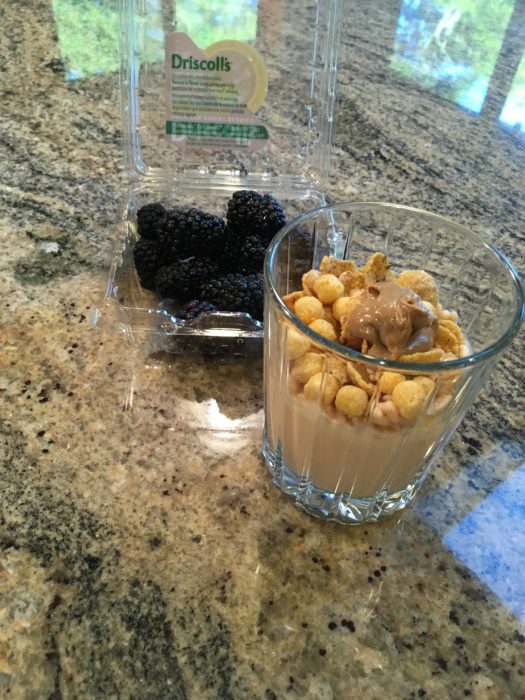 Peach kefir, vanilla cereal, sunbutter, plus amazingly big blackberries.
Mid-morning I took Chloe for a quick walk. It was the first walk since my tendonitis flared, and I was hurting by the end. Such a beautiful day though, and she needed the exercise.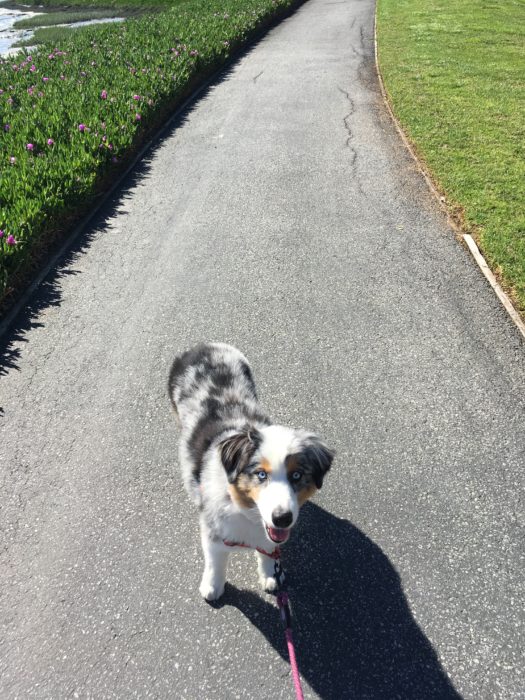 Lunch: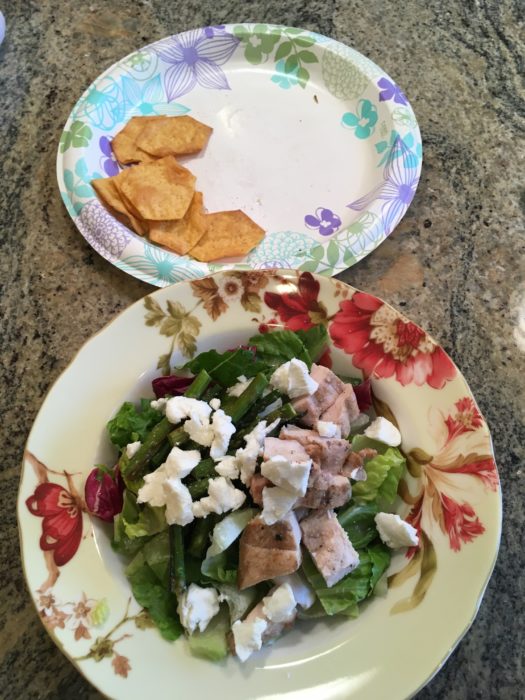 Salad with grilled chicken, roasted asparagus, goat cheese, truffle salt, and champagne vinaigrette. On the side was GF cheddar crackers.
Snack: Luna bar+blackberries, with a side of a curious kitty.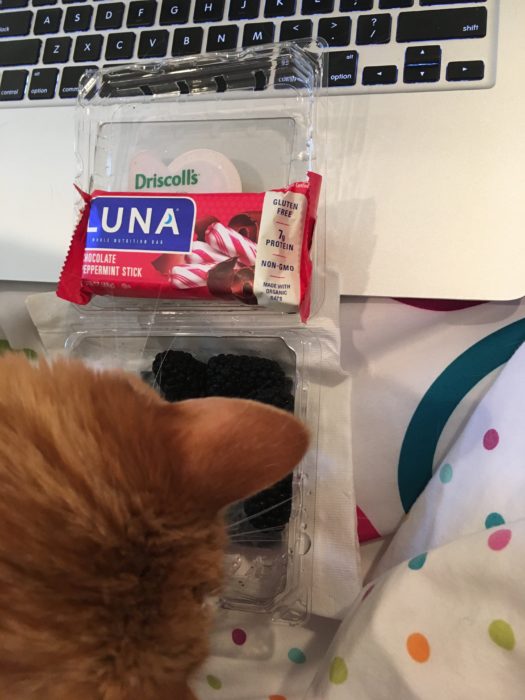 That evening I taught my first spin class of the quarter! Thankfully, my Achilles felt totally fine.
Dinner: This was thrown together super fast.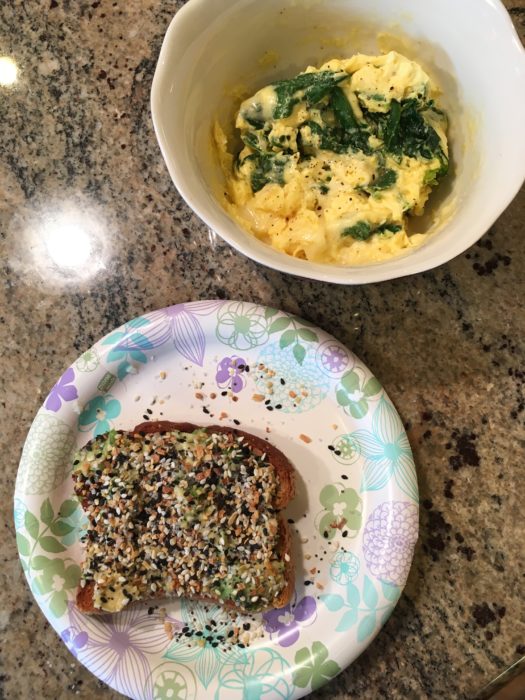 Eggs, spinach, and cheese in the microwave, with a side of avocado toast loaded with everything bagel seasoning.
Dessert: the last of my carrot cookies from the freezer.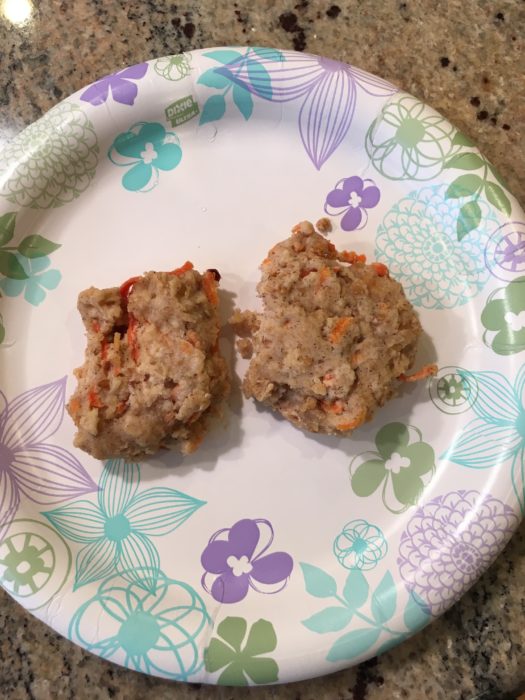 Nighttime snack: Luna bar.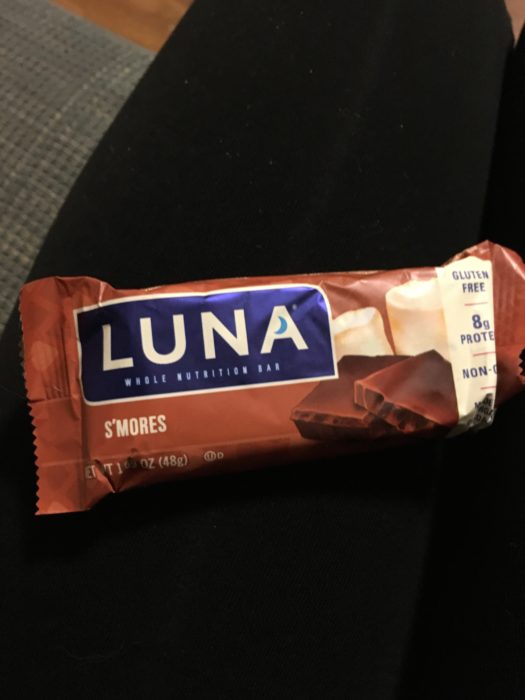 Here's some bonus from Tuesday: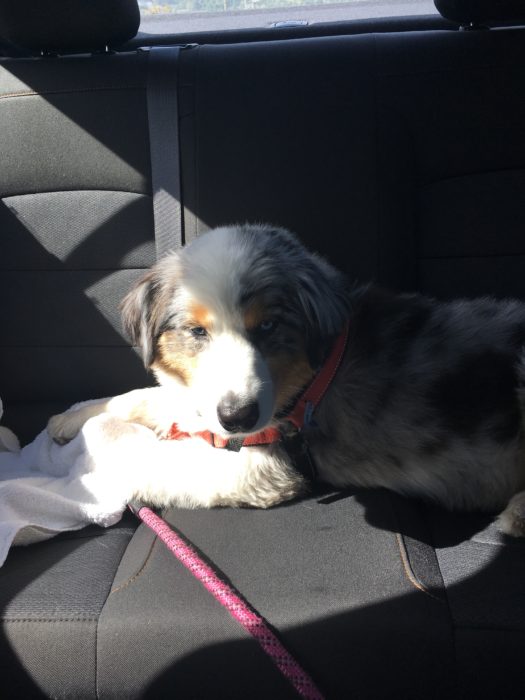 Chloe takes her first ride in my new car and is actually an angel. *knock on wood* I seem to have broken her habit of trying to climb into the front seat.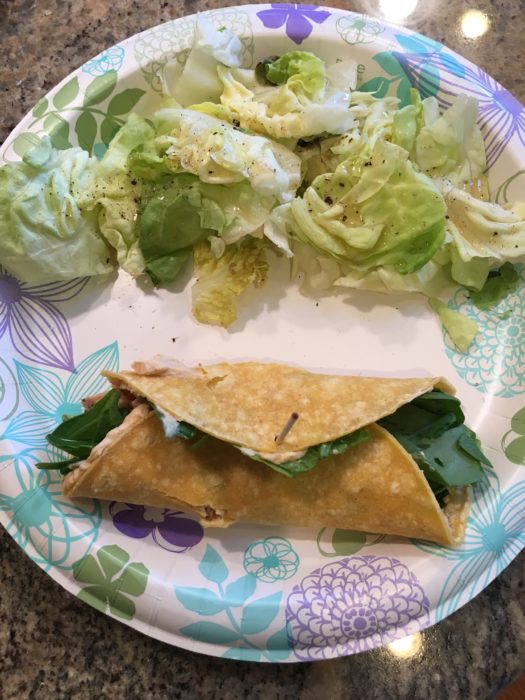 Lunch of a wrap with sundried tomato laughing cow, spinach, and chicken. Side salad with super amazing aged white balsamic vinegar, salt and pepper. Witht he high quality vinegar, the simple salad doesn't need anything else!
Tuesday night's workout was killer, which I want to share because it definitely helped dictate my evening food. We started with heavy cleans (it was supposed to be 5×3 at 95% but LOL I haven't hit anywhere near that in years). The WOD was LONG.
10-9-8-7-6-5-4-3-2-1 of heavy front squats, pull ups, and box jumps, with a 100m run after every round. I currently cannot step down from a box, so I subbed wall balls. I used 95# for the squats. The workout took me about 25 minutes, and just seemed to go on forever. I didn't think it looked that bad, but it was just a lot of time under physical stress! The soreness from the squats has not come in yet, but I know it will anytime!
Post-workout I knew I needed protein so I sipped on peach kefir (basically yogurt) while making dinner. I made shortcut ginger squash soup, but skipped the croutons because #dead and #hungry, so we had toast and roasted asparagus on the side instead.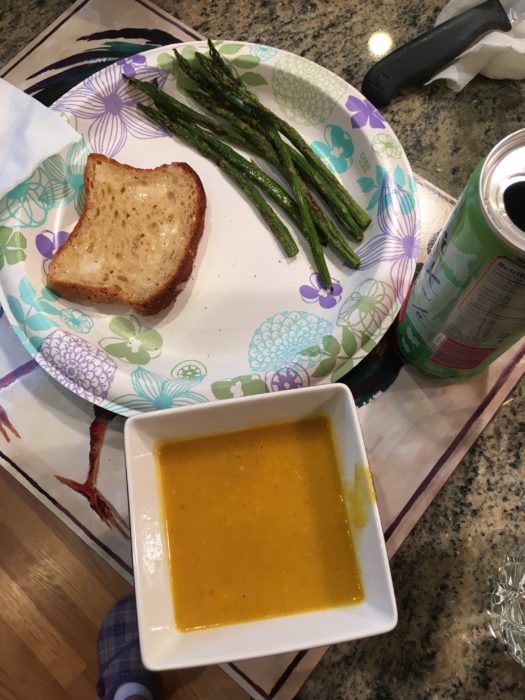 The soup has basically no protein, so I tried my last new flavor, the oatmeal, Flapjacked cookies. I did my healthier swap of applesauce for butter and egg whites for eggs, and added a few chocolate chunks. They're SO good. I've been really impressed with all of the flavors. In my experience though they cook a lot faster than the actual time, although my swaps may play a role. I pulled these out at 7 minutes, and they were perfect. The package says 9-11.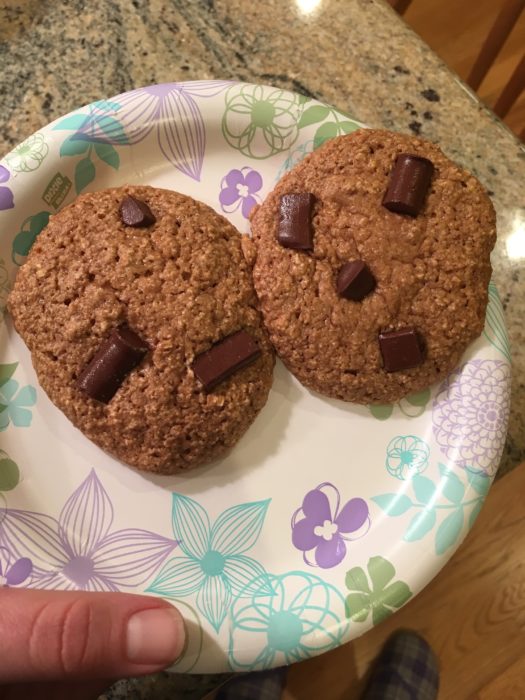 I just got back from AM Crossfit, and it was kind of rough so I think it's going to be breakfast time now! We did squats and heavy bench, and I got talked into Rxing the WOD with 155# deadlifts. It was 15 minutes of rowing, wall balls, and deadlifts. WHEW.
Have a good one everyone!