Hello! I'm supposed to be working on my vet school apps (story of my life right now), but the kitty in my lap is making things difficult.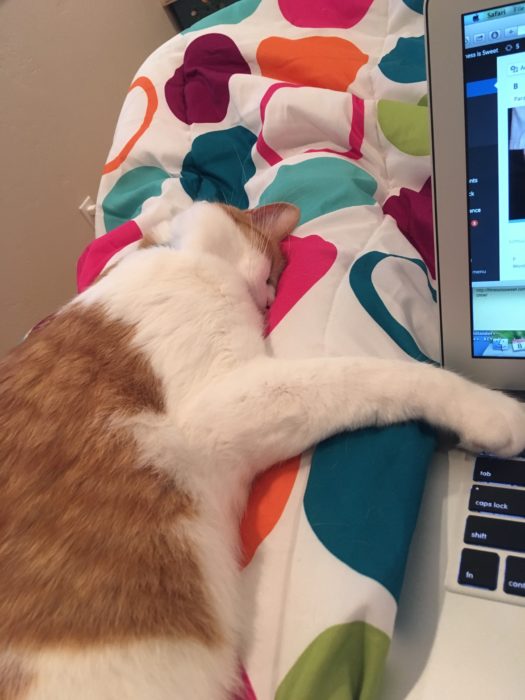 I'm not sure why I thought blogging would be any easier?
Vet school apps have me doing a lot of reflecting. I've changed so much in the past 4 years, and it's really hard for me to remember who I was back then and what I was like. Having my blog is invaluable. I'm so glad I started it during my freshman year. It's taken me all the way through college, through so many changes. It's just incredible to have all that documented. Plus, having my original thoughts on why I wanted to go into veterinary medicine, in real time, is super helpful as I write my essay. With new experiences, things change, and it's really nice to be able to go back to my roots. I also feel like when I'm blogging, my posts are more raw and authentic than when I'm actually writing. My essay was feeling really stiff, so I sat down, in wordpress, and typed up a blog post reflected on my vet experiences. I can't post it for privacy reasons, but it was a great exercise.
In a similar vein, I discovered a whole bunch of pictures from high school and middle school that I've never seen before. I thought my most awkward years were undocumented. That is not the case. Why did I think bright yellow sweatpants were a thing??
Actually, going through the old pictures was super interesting, and I think there needs to be a post about all that at some point. And don't worry, some embarrassing pictures will be included.
I found one picture from 2011 that I feel like perfectly sums up who I was then.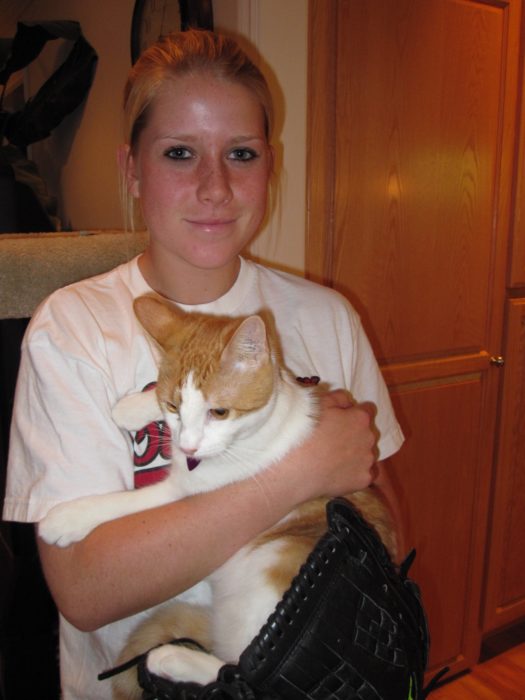 Softball glove. Cat. That's all ya need.
Last night, we made my fig and goat cheese salad, with the fig bounty from the farmer's market.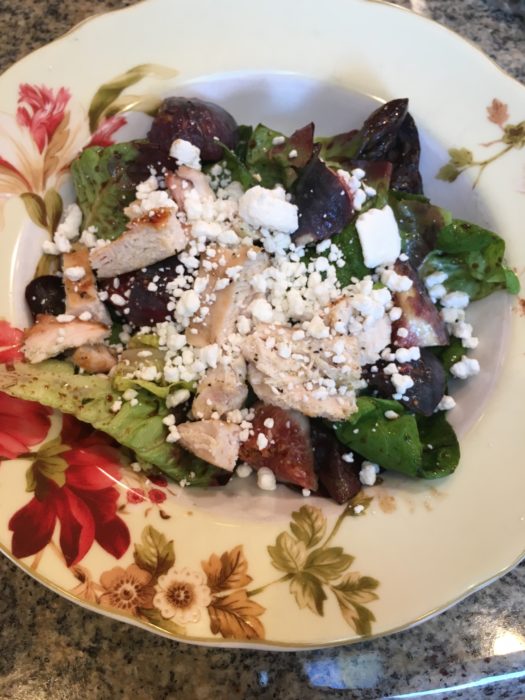 This morning I went to Crossfit. It was hard. I took one look at the workout and knew it would be a rough one. For the strength, we worked on cleans. I worked up to 110#, which is not close to my 1 rep max, but the heaviest I've gone since my foot injury, and all felt good!
The WOD:
30-20-10
thrusters (55#)
pull ups
Here's the thing. In the past month, I've stopped using a band for pull ups, and have been kipping. But everything has been in smaller sets. I honestly wasn't sure I was going to be able to do a set of 30. (This is of course with breaks in between some of the reps, but it's not the same as a full recovery). I didn't even get a band out because I figured I would dive in and not give myself a way out. And here's the thing. Thrusters make anything after thrusters feel way harder. I broke my first set of thrusters into 15 and 15 to avoid burning out right away, and then attacked the pull ups in 5s, so doing 5 and then coming off the bar, and coating myself with chalk. Honestly, I think grip strength was a major factor here too. But I got through the set of 30. Then 20. Then 10. I finished as a chalk monster with jelly arms, but accomplished! Seriously, chalk on my forehead, chalk in my hair, chalk on my shins. I though it was going to take me forever, but somehow it was only 13ish minutes? I don't think I've ever done that many non-banded pull ups! While having a stress fracture stunk, there is always a silver lining. I could not have done this a few months ago. Even when things get rough, you have to look for the positives, and hold on to what you do have!
Post workout breakfast was my current go-to. Plain Greek yogurt with sunbutter, cinnamon KIND granola, and a peach.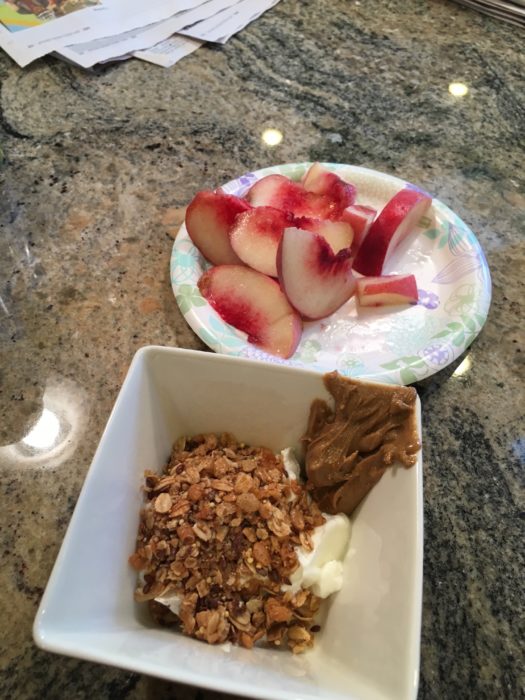 I spent the rest of the morning working on my app, and then made the same fig and goat cheese salad for lunch. Real talk: 2/3 of the figs didn't make it into the bowl. I love figs.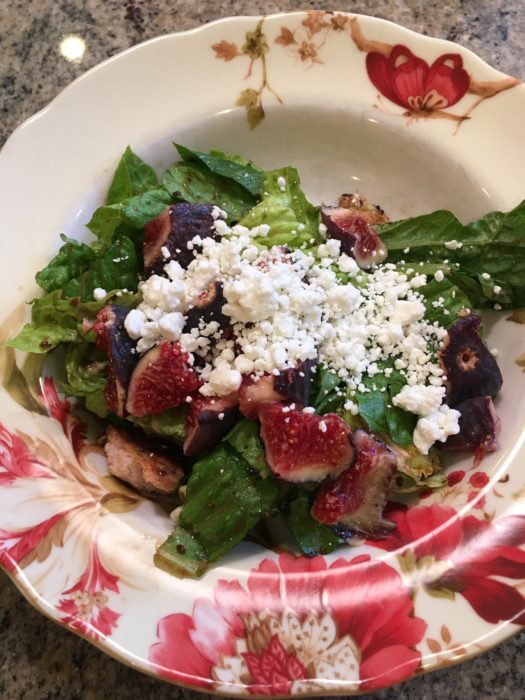 Also-Something kind of fun. We tried grilling watermelon last night! I still don't know what I think. We have a charcoal grill, so it was a really smoky flavor. I made a mint/honey glaze for it. The watermelon felt like it should be savory. I think I liked it best with a little salt, a tiny bit of glaze, and goat cheese.
Have you ever grilled watermelon?