Hi friends!
Currently living the pre-grad, post-class sweet life. I'm trying to soak up all my favorite people, and each moment.
Let's take it back to Wednesday, shall we?
After a lateish (like 1…I'm a bit of a grandma) night and leftover exhaustion from finals, my body woke me up at 5:15am. I was dead tired, but not sleepy and couldn't fall back asleep. I ended up getting up at about 6, which was probably better anyways because I had a lot to do!
I had a blueberry oatmeal muffin before heading to the gym to do my typical deadlift day.
warm up deadlift+ 4×4 deadliest, 155#, 3 seconds on the way down
4×8 RDL, 115#
3x8single arm DB press, 20# (my shoulders were sore from the previous day's workout, so I kept it a bit lighter)/3×10 tricep dips
Leg machine where you press your legs in while seated, 3×10, then sets of 5 for heavier
Then, it was time to get ready for the beach! Breakfast was basic, yogurt+cinnamon KIND granola+mango (this batch of mangoes hasn't been too flavorful 🙁 ).
Then, my friends and I were off to the beach! In case you don't know, the beaches in Northern California are COLD. We bundled up, and ended up with perfect weather. Partly cloudy, breezing, cool but not cold.
We went to Poplar Beach in Half Moon Bay. I used to go there in High School, and haven't been back in 4 years! Brings back memories <3
My friends and I stopped at New Leaf to grab some food for a picnic lunch. I'd never been there before; it's basically like Whole Foods though.
We each ended up getting some freshly pressed juice: carrot, apple, ginger.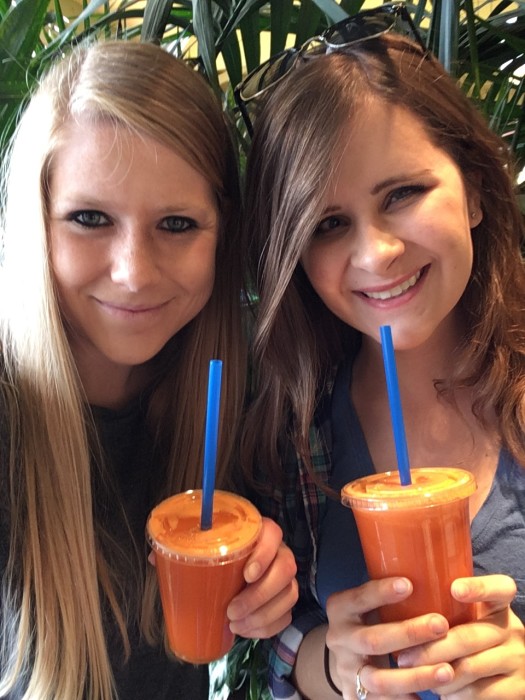 And then we headed to the beach!
Climbing down the steep hill to the beach actually wasn't terrible.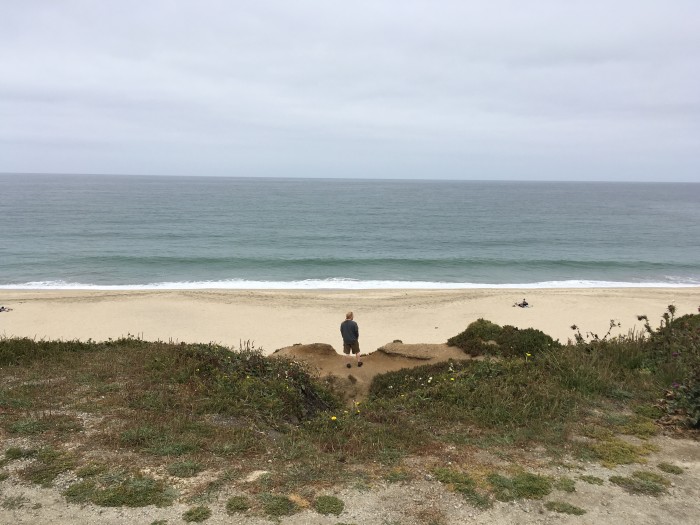 Walking on the sand wasn't great. This was the day after my first PT, and my calf was pretty sore. My foot felt ok until we got to the sand, and that was pretty rough. The uneven surface caused a little pain, but I took it super slowly.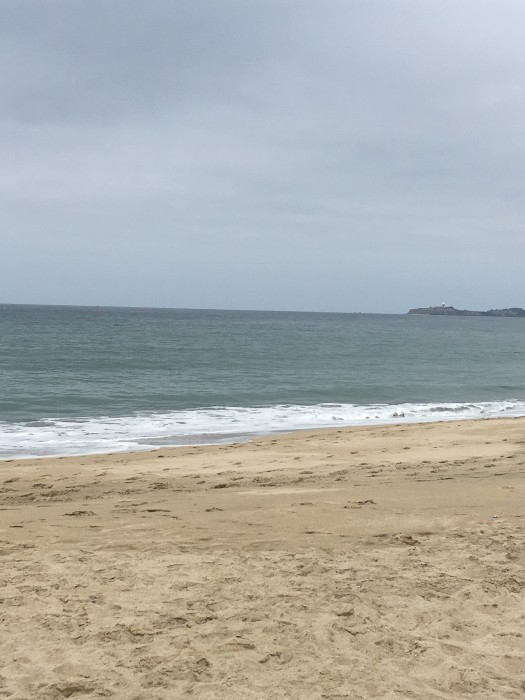 In retrospect, this picture gives me so much regret…more on that soon.
For lunch, we grabbed a bag of heirloom carrots (the purple were the most delicious), some delicious gouda that was recommended to us, deli chicken (for me, ham for everyone else), and rice crackers.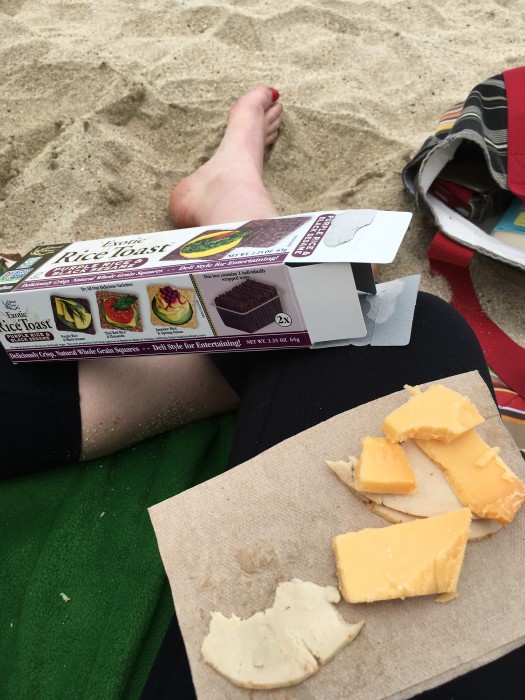 After lunch, we did what any college students do post-finals at the beach and took a nap.
We also saw nature at work. I had fun observing seagulls after learning about animal behavior all quarter. We also saw a couple of sharks. Once again, Northern California beaches are NOT the place to swim! They were actually pretty close to shore, and we saw them circle a seal.
We were at the beach for a few hours, and a little bit after getting back I realized my legs felt….not right.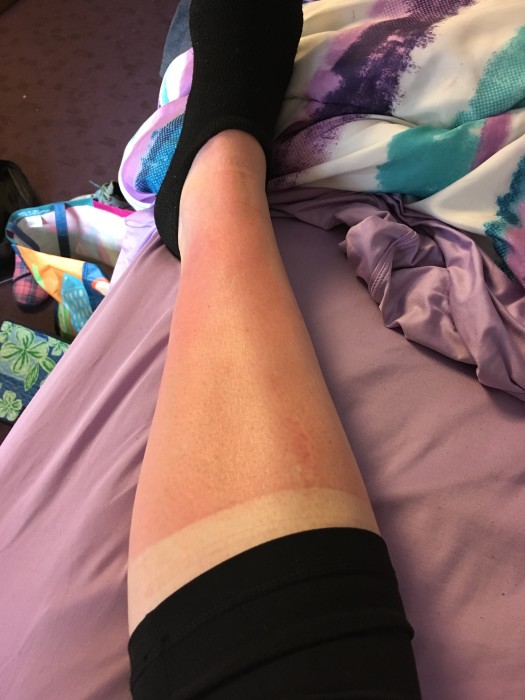 My friends, I've been torched. This is by FAR the worst sunburn I've had in years. Especially the leg that had a boot on it and didn't see sun for the past month.
One day later, fully developed: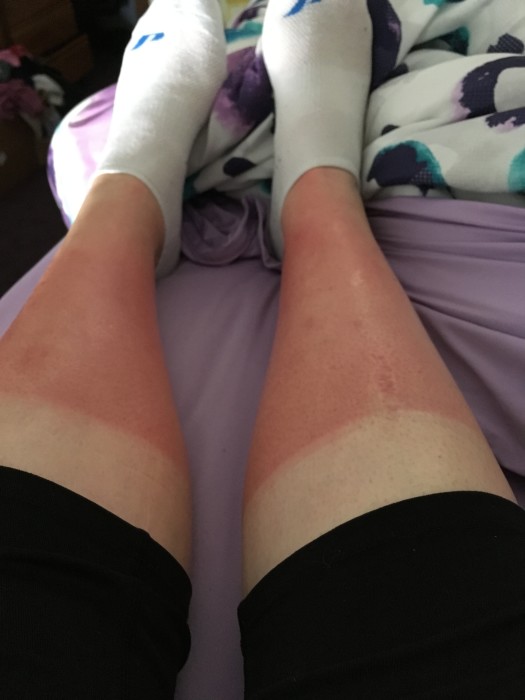 It's super hot and painful. I was so excited not to have the boot in grad pictures, but now….
Dinner was mushroom sliders, corn on the cob, and potato salad, with chocolate chip cookies! It was our last meal by our chef, and my roommate and I gave him a bottle of champagne to thank him so much for all the delicious gluten free things he's made us this year. It really does mean a lot to me. I remember one day winter quarter that I was flaring and having a rough day, and came home to an amazing turkey avocado sandwich in the fridge with my name on it, and it totally made my day. We'll miss him!
I spent a little time packing before heading over to a party some of my friends were throwing. They had an ice bucket, and my sizzling legs and I stayed close to that all night!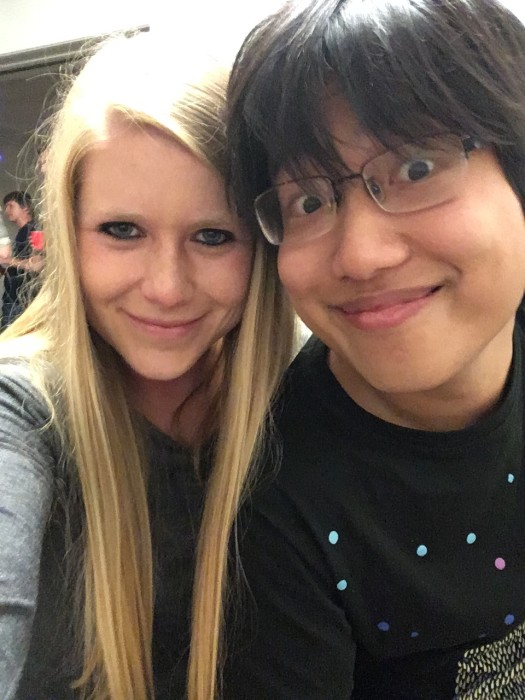 One again, I had a great time talking with people. I actually had a long conversation about chaos theory and fractals with a friend. This is one of the things I love and will miss dearly about Stanford: the awesome, random intellectual conversations that you can have anywhere, especially those that are outside of your area of expertise. I think these conversations are how I've grown the most in this 4 years.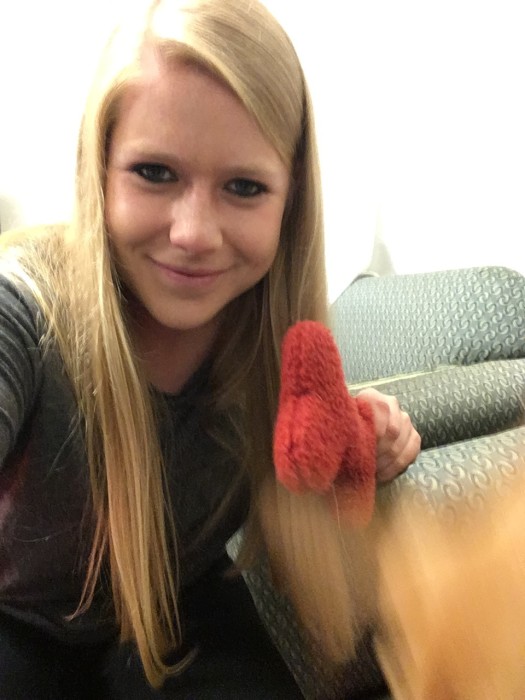 My friends live in a dorm, but one of the staff members there keeps a dog there. I tried to get a selfie with him, but he's wiggly! The live stream photo on my phone looked much cooler (do you guys have live stream?), so I tried to screenshot that with limited success.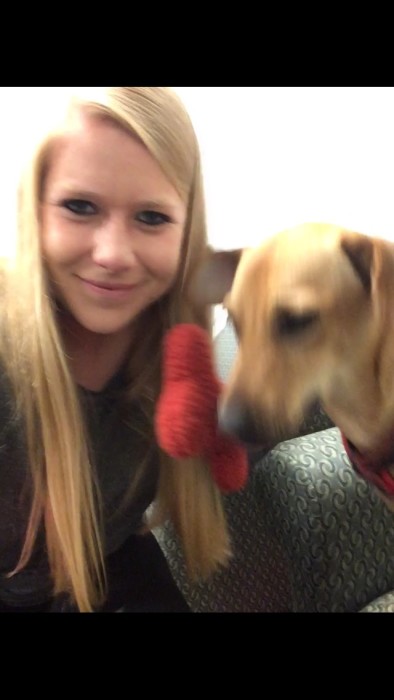 It's such a treat to see animals at school!
I hope everyone is having an awesome week! More grad events to come!