Hello friends! I'm enjoying my first full day without the boot. Lots of secondary pain in the foot though still from wearing a boot for 4 weeks. I'm trying to take it easy and slow. My calf/ankle/achilles is already sore.
I'm currently slogging through a take home test (yes, still). I predicted it would take me about 14 hours, and I think I'm 7-8 in? I spent all day today working on it. I don't know what it is about studying days, but I feel like I always eat way too much when I'm just doing work. I spent most of the day out of the house, so I fueled more appropriately, but man, I am so full now!
Here was my morning in meals: Preworkout: blueberry zucchini bread. Sort of regret sharing it with friends because now it's gone.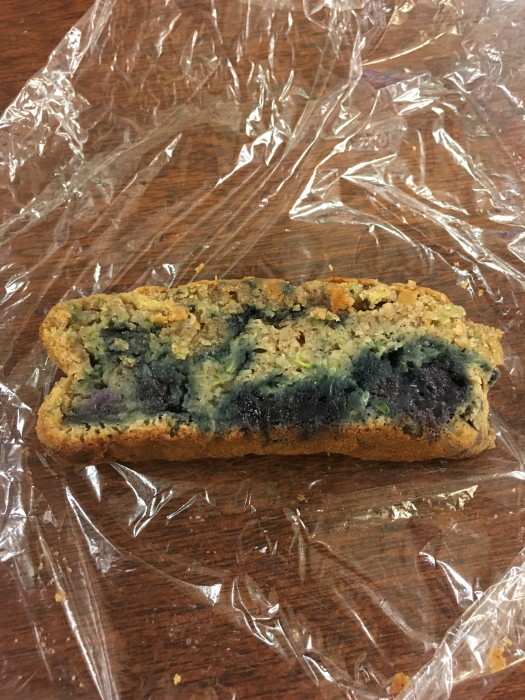 Breakfast: yogurt+nectarine+KIND raspberry granola. I added a bit of sunbutter post-picture.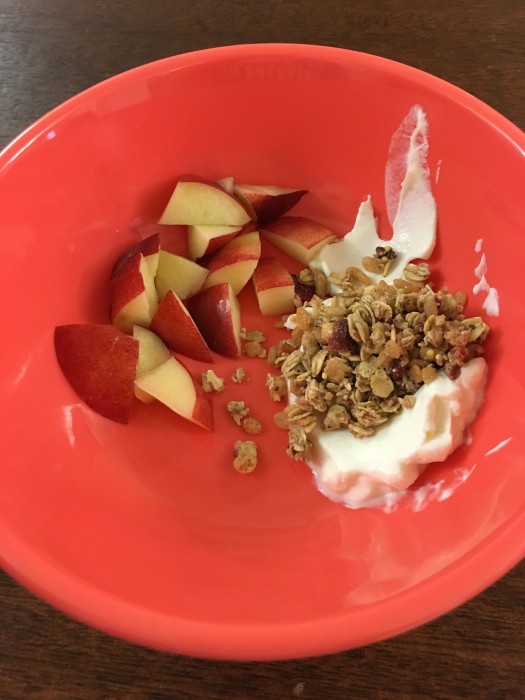 Lunch: cornbread with honey+split pea soup, courtesy of my freezer stash.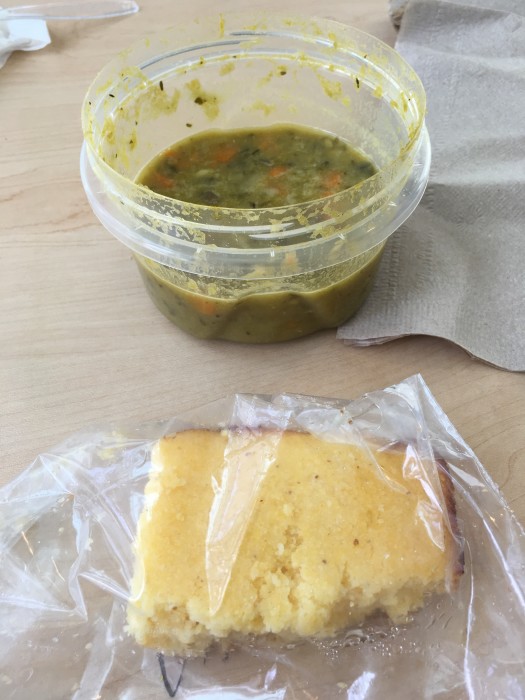 Snack: Bobo's Oat bar, lemon poppyseed.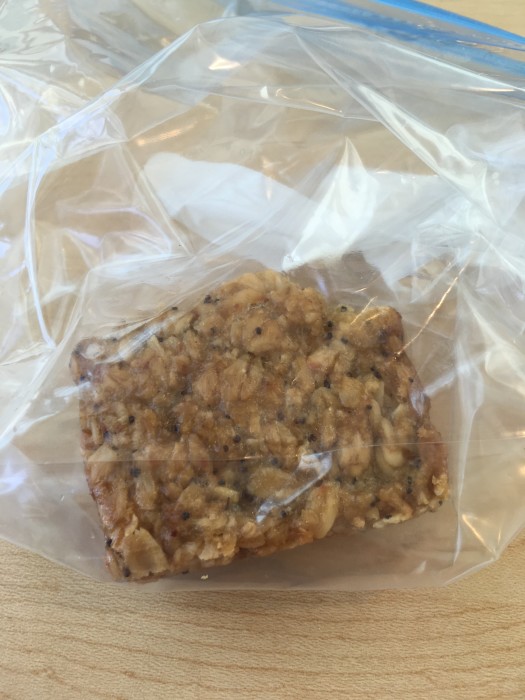 I don't have a dinner picture, but the main course was chipotle tofu, a salad, green beans, and avocado toast. Lots of snacks were consumed between then and now.
As I was doing my workout this morning, I thought it would be a good idea to share what my workout routine has been since this injury, because I've kind of settled into a groove. As I said before, I'm not planning on changing anything/adding anything until I start PT. This week was different because Murph on Monday, but I'll share my typical schedule. And a GIANT disclaimer: I am not a doctor, physical therapist, trainer, or anyone remotely qualified to inform you as to what you should do while healing from a stress fracture. This is what worked for me, and everyone is different. Whether or not every single one of these movements was 100% smart may be questionable, but the boot is off and here we are. I probably could have done less spin, but I needed it to stay sane/I was not giving up my last few classes of teaching. WIht that disclaimer, here was my rough schedule:
Monday:
4×4 deadlifts (keeping my weight on my heels, off the bad part of my foot) at a slow tempo going down. I was able to get more work out of a lighter weight this way (I didn't want to do anything crazy for my foot), and it was more controlled.
4×8 RDLs or good mornings
4×8 single arm kneeling DB press, alternated with 10 tricep dips
Tuesday: Usually Crossfit. For the past few weeks, we've been doing bench press on Tuesdays, and the WOD has been pretty similar and easily modifiable for me. It usually ended up being a combo of assault bike+pull ups+push ups.
Wednesday AM: Weights (The odds any of these names are correct are about 0.)
4 sets: 10 both arm seated cable rows/ 8 seated DB press both arms
indefinite sets (usually 25ish minutes) alternating sets of 10 on the machine where you sit and pull your legs apart, and the machine where you sit and push your legs together
a few sets of abs
PM: teach spin, in the saddle only
Thursday: Go to Crossfit and do some work on my own. This varied a little bit more, but usually involved 15-20 minutes on the assault bike, and mainly pull up work. Usually negatives.
Friday: Usually ab/pilates videos (Blogilates)
Sat/Sun: One of the two, spin class (in saddle only) at a local spin studio
Sometimes in the afternoons, I would do a Blogilates abs video. I was lazy this week an that didn't happen though, haha.
These workouts kept me sane, and I actually had fun doing different things. My abs and arms are noticeably stronger, and I think this was strength work my sort of gimpy shoulder could use anyways. Now I just have to maintain my pull up strength/get strict pull ups!
….and now it's back to my take home test. Meh.