Hey guys! It's finals week and I'm working on a take home final/about to go to bed. I wanted to check in really quickly for some big news…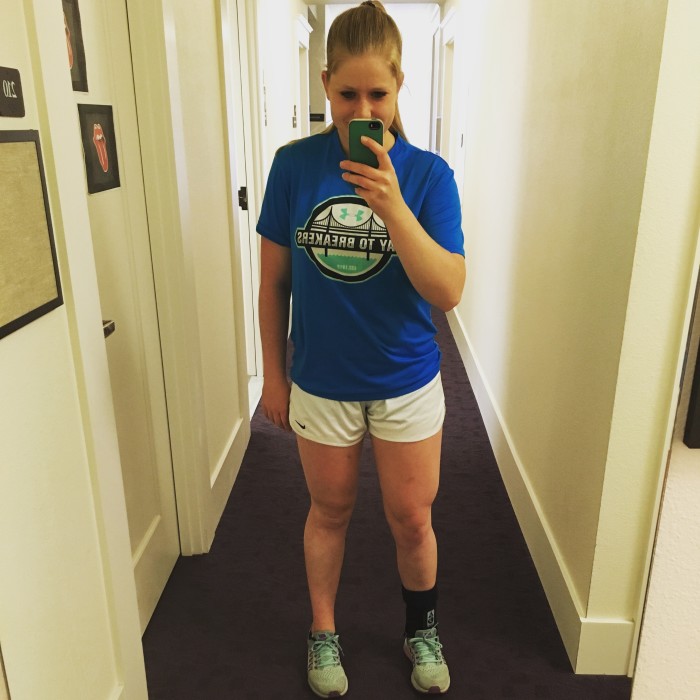 Look at that foot! What do you notice? 2 shoes! AHHHHH!
I went in for my 4 week check up x-ray, and ended up unexpectedly getting the boot off! I thought I had 2-4 more weeks. This is crazy exciting, and i won't be graduating in a boot! For now, I have a brace for added support, and I'm relearning to walk, which is sort of hard, because it's hard to trust it. Next up is Physical Therapy. In terms of what I can do, workouts are going to look the same. I'm not adding anything else in until I see the PT and get advice about that. I'm in no hurry to get back to running!
And since #fitnessblog, my workout today was Crossfit. We did 2 1k row tests, so I did 2 assault bike tests, 5 minutes for the first and 50 calories for the second. In the middle, we did handstand practice. I just used a box. I was struck by how strong my shoulder felt though. Honestly I wondered if my shoulder would ever be capable of handstands…
Since I'm here, do you guys want to see some food? Let's see some food.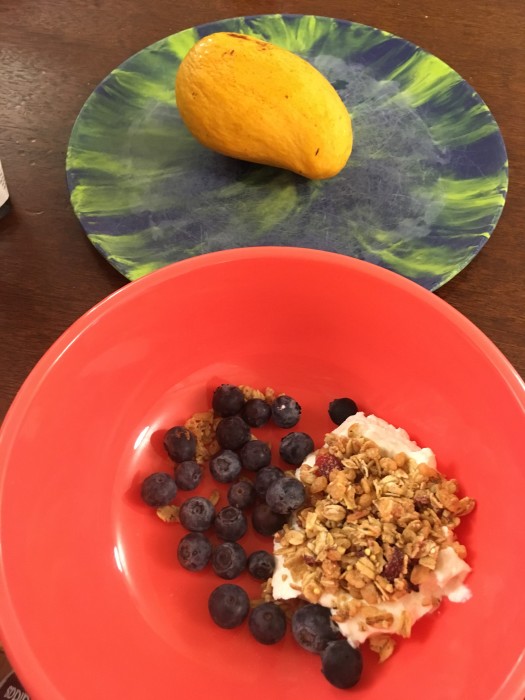 My new favorite yogurt bowl combo: plain Greek yogurt, KIND raspberry chia granola, blueberries, and mango on the side.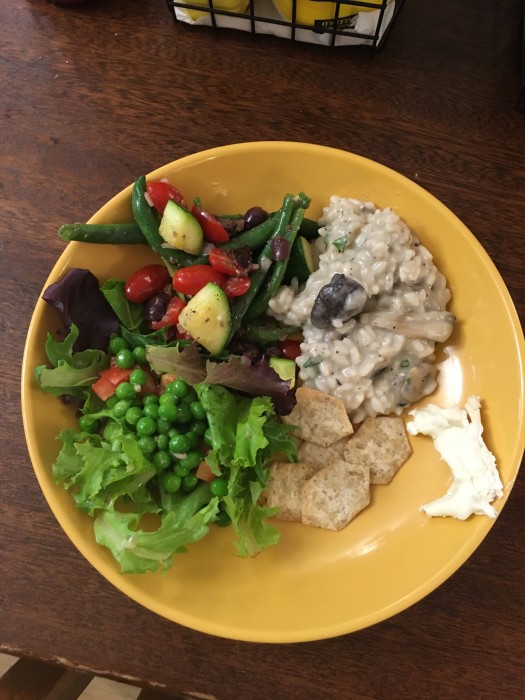 Since its the last week, we've been totally spoiled with meals. This is mushroom risotto, with veggies, brie, and crackers on the side.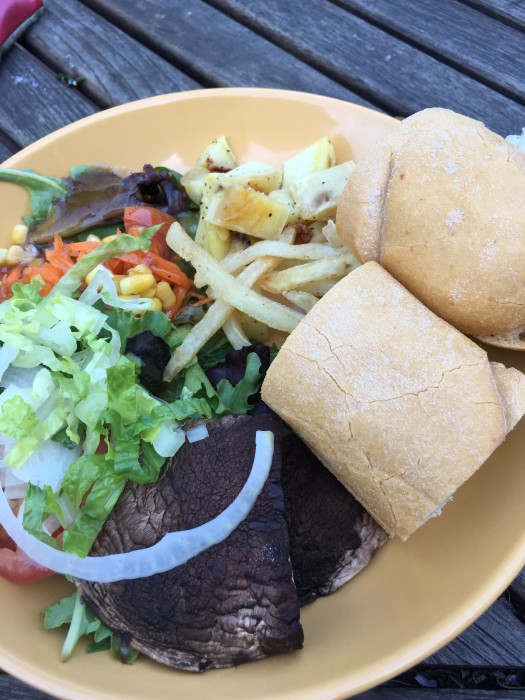 Portabello mushroom sliders with roasted sweet potatoes and french fries.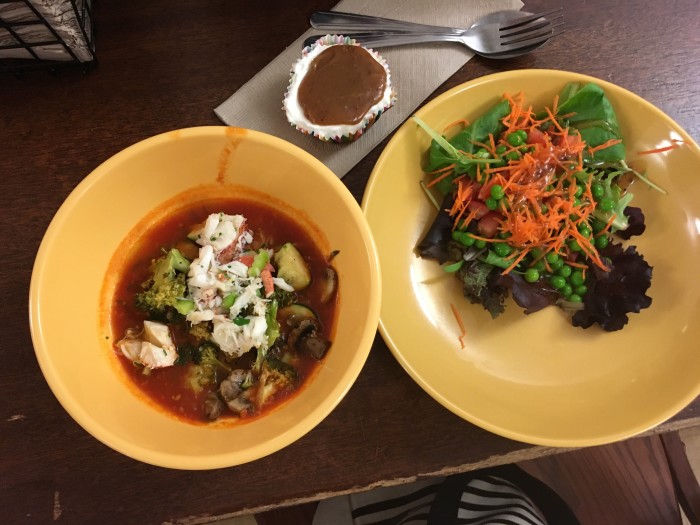 Cioppino. I didn't actually think I'd like this, but I really appreciated how it was served. I'm not a huge seafood person, but this was build your own. I selected the vegan base, and topped it mainly with veggies, and then some crab/lobster. Salad on the side. And that little cup up top? Cheesecake with homemade caramel. YUM. Definitely had a leftover of that at lunch today.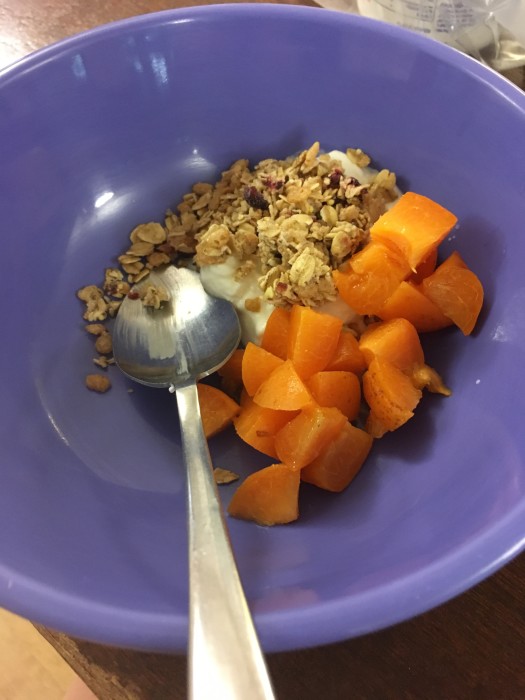 More yogurt, this time with an apricot.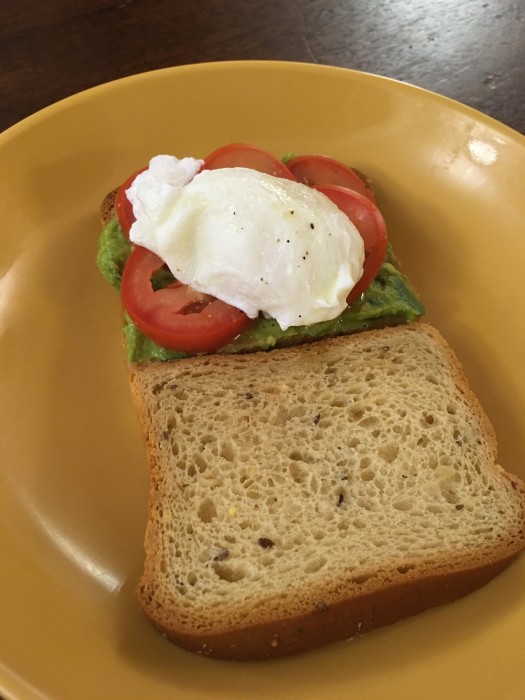 AVOCADO SMASH. We were sent a survey to request meals, and my roommate and I both put this. Mashed avocado with seasonings (I think this was lime and cumin), tomato, and a poached egg. Delicious.
Another food suggestion: mashed avocado+crab+tortilla chip. That was my snack, and it was delicious. We had leftovers from those meals in the fridge, and that definitely ruined my appetite for dinner! I don't know what it is, but when I'm around the house/not in class it's hard for me not to snack all day. That and when I'm hardcore studying for long periods of time.
Anyways. Boot is off. Graduation is in 1.5 weeks. Ahhhhh. Far too much time has been spent having meaningful conversations and not studying, but honestly, so worth it.