I'm popping in SUPER fast because I desperately need sleep. I figured out I have about 120 hours of sleep debt from this quarter thus far? Cool. Casually dying over here.
So I went home this morning. I had planned to do Murph with home Crossfit. It's actually my favorite Crossfit WOD. But then I thought they weren't doing it so I signed up for a spin class. Turns out they were after all. Merp. It was a great spin class! Lots of push ups and arm stuff though. Then I went for a walk with my friend to catch up. She's out of school and I'm jealous! We saw cats.
I then came home and ate a Grilled Chicken and Peach salad+sweet potato chips and s'mores.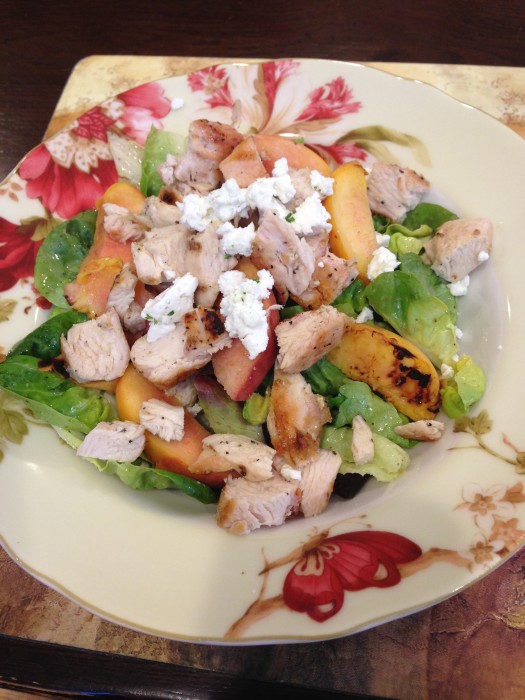 And then I found out my regular Crossfit was ALSO doing Murph and despite killing my legs and arms that morning I couldn't exactly pass that up. It ended up not feeling too bad despite the fact that I had done a lot that morning plus was sore from my run the previous day, but I was SLOW. I finished in 54:17. Which is significant given my best time is 44:xx. My running has gotten pretty slow lately as well which is fine for now. But I used a much smaller band for the pull ups so that was cool! The push ups were what killed me the most by far and I even did them on my knees….
The mistake I made was frantically scrambling around post-Murph stressing and rushing to an event that I didn't really get to eat. When I finally got to the event, my body started freaking out and my blood sugar crashed and it was kind of scary. Luckily I had a Luna bar in my car and some chocolate soy milk that I threw in my bag post-workout which made me feel much better. I feel like normally this wouldn't have been quite such a problem but with the sleep debt and stress and lingering illness it was just not good or smart.
And now it's back to work. Or sleep. Just over 2 weeks left!