I'm not linking up for WIAW today because I have so few food pics!
But let's start with last night. I knew I was in for it when I starting getting sore the day of Murph! I didn't sleep very well thanks to lingering allergies (or something-more on that in a minute). But when I woke up…WOW did my shoulders hurt. I'm not sure if my shoulders have ever been that sore. Like, to the point of lack of function. I went to spin, and just jiggling up and now on the bike was excruciatingly painful! Thank goodness yoga was mostly stretching-I don't think I was capable of a Vinyasa! Most of the time I don't mind soreness, but sometimes I get grumpy sore. Like when I"m so sore it inhibits function and just makes me irritable. Yeah, that was today.
Post-workout breakfast was yogurt+berries+sunbutter.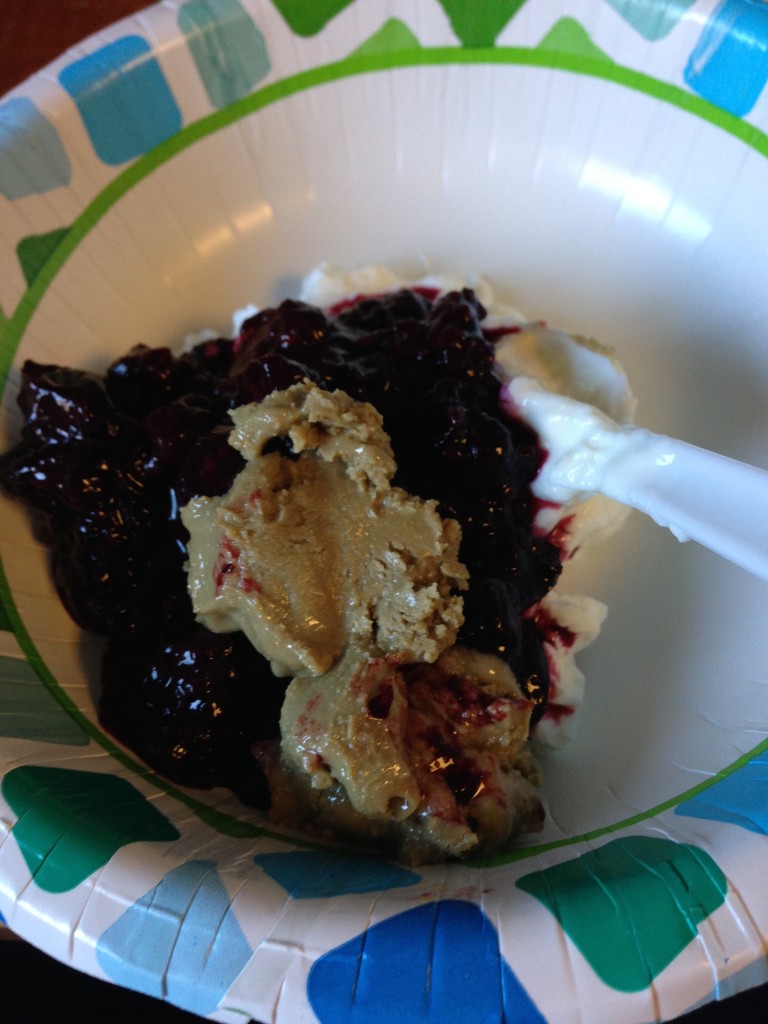 My whole body was aching, plus my Achilles wasn't great, so I took some Advil. Well, when the Advil wore off, I realized I was a little too achy, even post-Murph. And my forehead was hot, and I was feeling overall blah. So….yeah, I'm sick. I have a fairly low grade fever that I'm warding off with Advil, and lungs/nose that are going crazy from a combination of allergies and maybe sickness. I've had a low key day, so I'm hoping it passes in a hurry! Since I barely slept last night, I'm going to take Benedryll tonight to help me sleep and ward off any lingering allergies! Meh-this is what I get for going home for the weekend with my sick mother- my first sickness in over a year!
I only have a few other food photos. A slice of my bread (a lot of you were super close!) and all of my carrots.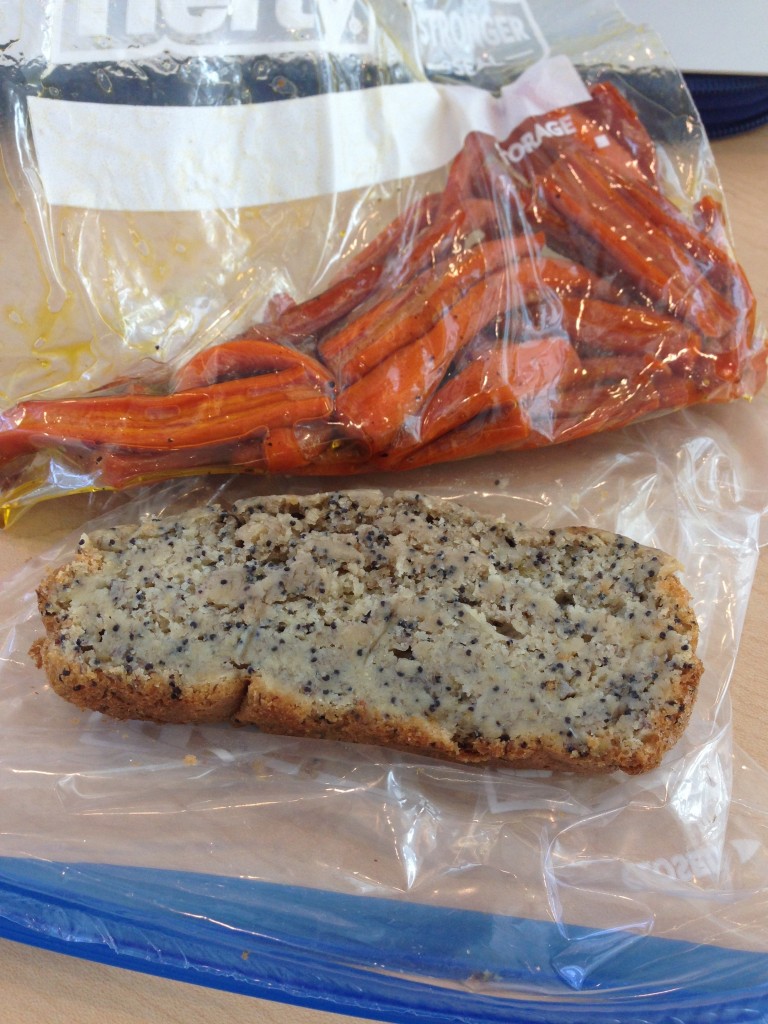 Excuse the selfie-it was my selfie of the day and I didn't get a pic alone of the food…but me being the biggest weirdo. I wanted sunbutter+jam (berry compote) but I had NOTHING to put it on-no crackers, bread, tortillas, nothing. But what I DID have was some free samples from some race or another…of seaweed! So yes, I put sun butter and jelly on seaweed. And yes it was a little weird, but not bad!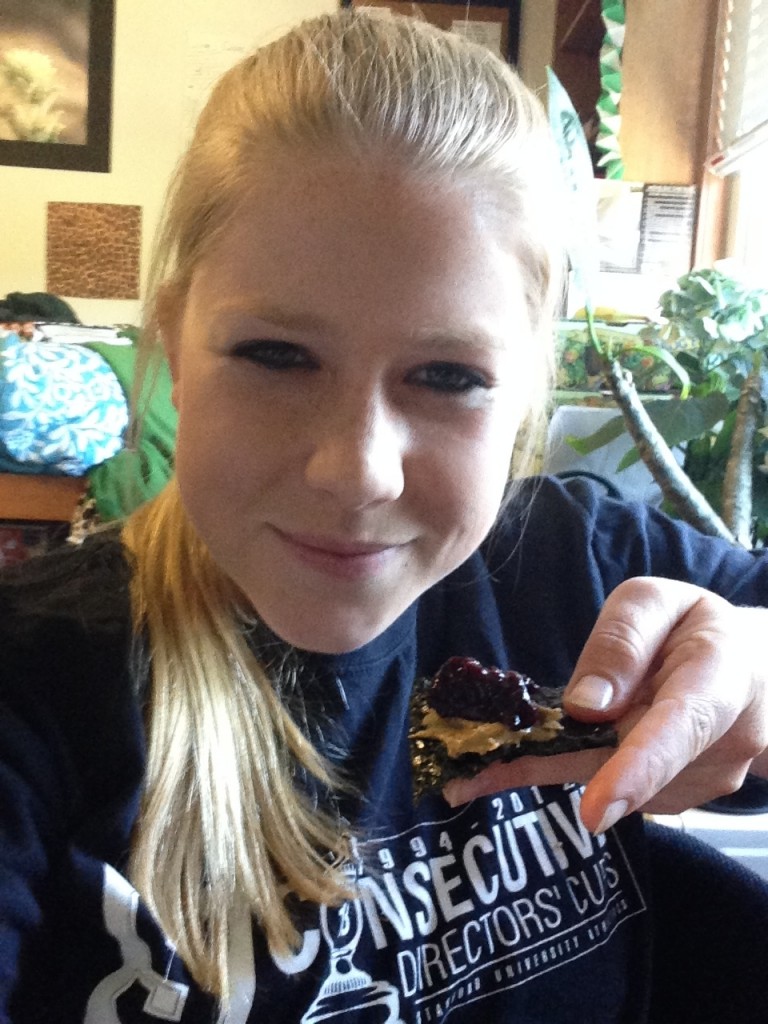 I also got chocolate milk for post workouts today. One thing I remember a Nutrition professor saying is that while protein+carbs are super important post workout, protein is even more important when your muscles are building, AKA when you are super sore and in pain, but most people don't think to consume the protein then. Well, if you're in enough pain, you do! So chocolate milk was consumed mid-afternoon.
And my last random picture: microwave brown rice and quinoa, and microwave Indian lentil dish (which tasted more Mexican than anything thanks to beans!).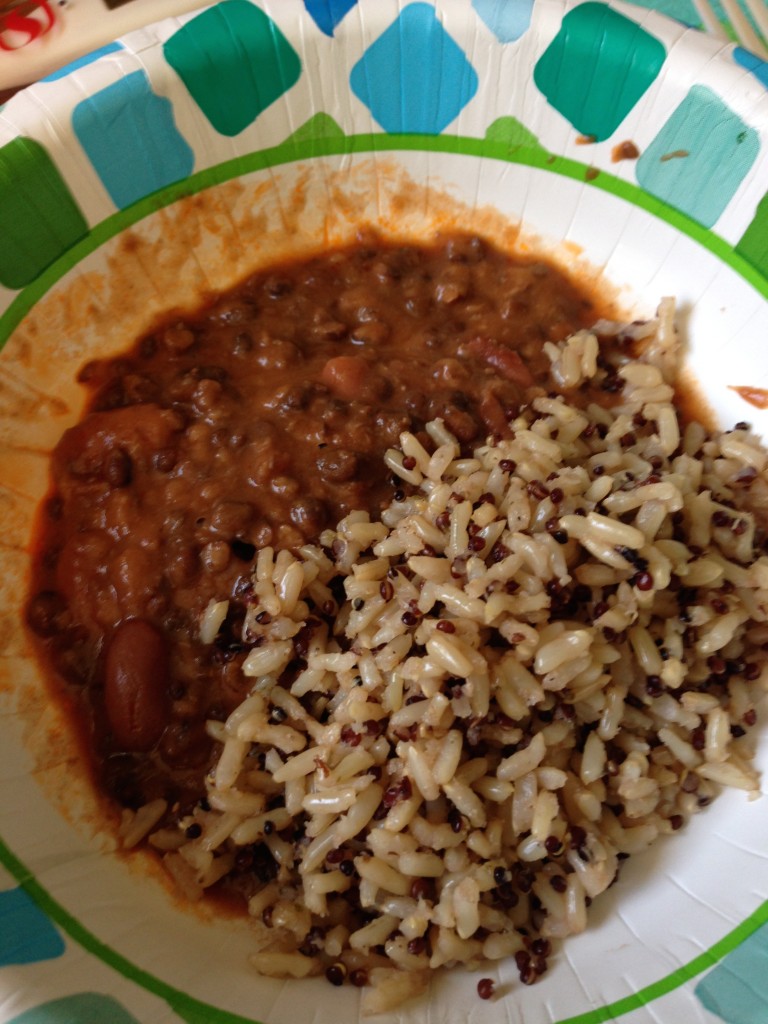 Ok, since I'm taking Benedryll, I need to get to bed early! Hope everyone is having a great week!