Ok, anyone with an Instagram these days knows there are certain *unconventional* foods that everyone seems to be eating and posting these days. But are these really any good? Can you trust that the pretty foods we see online really taste decent?
There are a number of "trendy" foods I've seen, some for years now, and yet have never tried. So I figured, what better reason that Blogmas to try all these different things?
For day Day 10 of Blogmas, Fitness is Sweet takes on 3 food trends: zoats, sweet potato toast, and cauliflower rice.
Zoats
If you're not familiar with this terminology, "zoats" refers to "zucchini oats." Basically, oatmeal with shredded zucchini cooked in, which supposedly adds volume but not flavor. A little disclaimer here: I actually hate eating oatmeal for breakfast for the most part. Partly because I feel like with such a high portion of carbs, I crash pretty quickly. So I was hoping the addition of zucchini would improve my ratios a little bit.
For my oats, I cooked oats and water a little bit before adding zucchini, milk, and egg whites. Once cooked, I topped it all off with brown sugar, cinnamon, maple syrup, and vanilla.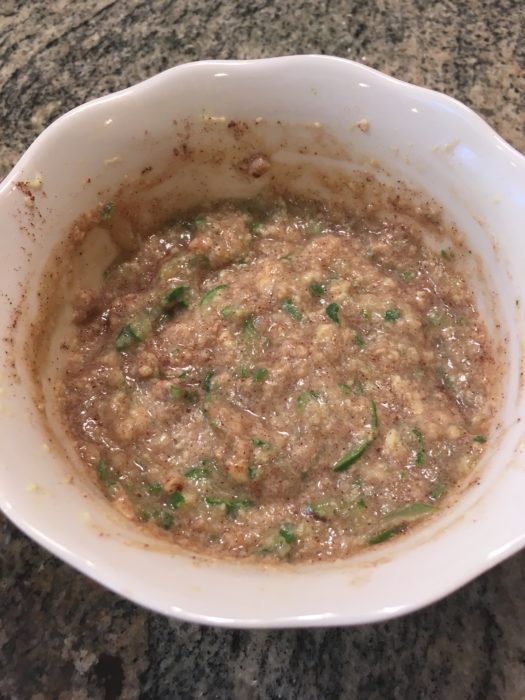 This ended up being a fairly low proportion of oats to zucchini/egg, and it was more liquid-y than expected (so I should probably have squeezed the water out of the zucchini better), plus, it was a massive bowl.
My evaluation?
Meh. You can't really taste the zucchini at all, so if oatmeal is your thing, feel free to try it! However, I'm just not an oatmeal person anymore. And I should have added banana because I felt like I had to add a lot of sweetener to get this to taste like anything. Zucchini REALLY doesn't taste like anything.
Sweet Potato Toast
This food trend is not quite as mainstream, but I've still seen it a fair amount on Instagram. The concept is that you put thin slices of sweet potato in the toaster, and then top them with normal toast toppings. I read a few different things about how to make them, but I ended up using my toaster oven. I sliced the sweet potato thinly, and then put it in the toaster oven at 400 for 15 minutes, then topped it with normal toast toppings. I figured I would try it a few different ways.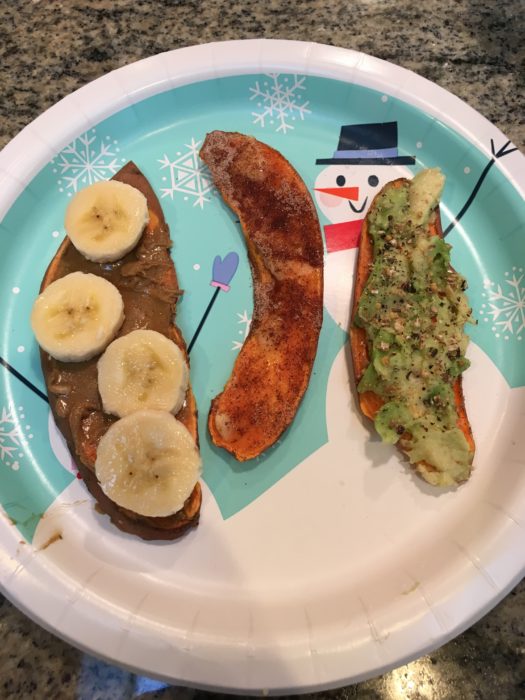 First things first, notice the shape of my toasts: weird. As it turns out, it can be incredibly difficult to slice sweet potato that thin, although I didn't use the best type of knife. I had trouble slicing straight, so my toasts were actually extremely thin.
So how were they? Well, they weren't cooked enough. The sweet potato was still a bit crunchy. I'm not sure if that's the goal or not, but I want a little more doneness, so next time I would leave them in longer. In terms of taste, it definitely didn't taste like toast. It tasted like sweet potato with delicious toppings. Which is not a bad thing. Would I do it again? Yes. But I would try harder on my toast shape, and I would cook them longer.
Cauliflower Rice
I'm actually surprised I haven't tried this one before. I've had mashed cauliflower. I guess finding pre-riced cauliflower in stores is a pretty new thing. I made this with my college roommate last week when she visited. It had been on my list, and it turned out that not only did she like cauliflower rice, she had made it before. Experience! Yes!
I wanted to make mine in the form of fried rice. So we embarked on dinner. I, um, let her do the work with cooking the cauliflower. I put myself in charge of scrambling up a couple of eggs. Eggs. I can do that. We started by cooking the rice in avocado oil, and then added in some thawed frozen peas and carrots. We also sautéed up some onion and threw that in. We added plenty of garlic, some butter, soy sauce, and a dash of sesame oil. Once it was all cooked up, we stirred in the egg.
The texture resembled rice enough that my dad knew it was something other than actual rice but had no idea what it actually was. He really thought it was quinoa.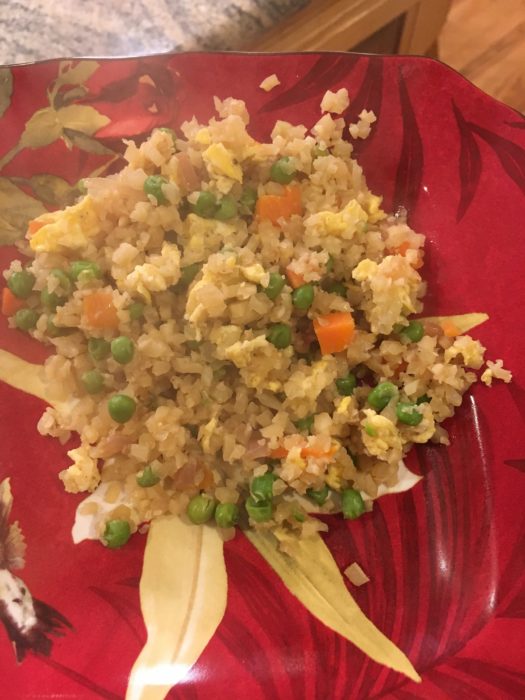 We served it with my garlic roasted broccoli.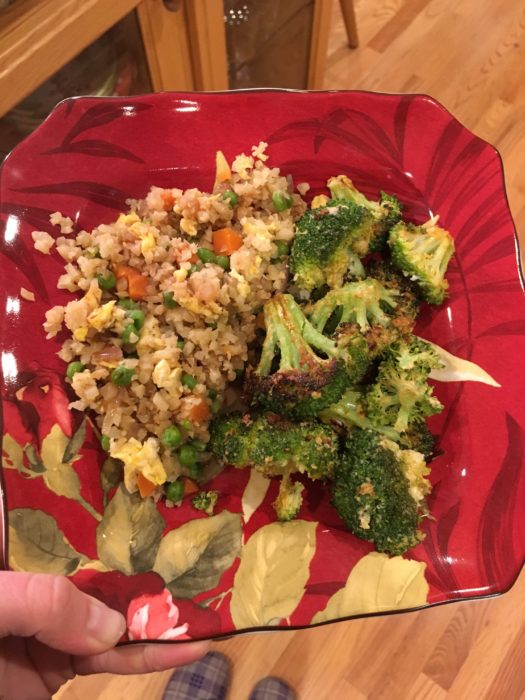 The texture really resembled real rice. Sautéed cauliflower doesn't have much of a flavor on it's own, so it's really up to the seasonings to transform it. That being said, it may need more spices/sauces than normal rice to flavor it. Overall, this was a win.
So….trendy foods, should you try them? I say give anything a shot once, and see for yourself!
What "trendy foods" have you tried?