Guys. It is currently Saturday night (this post will go up Sunday while I am in the air), and I leave for TN tomorrow. My flight LEAVES at 5am. Ouch. This is my last post from this side of the Mississippi! Recently on time hop, I came across my "Last Post from This Side of the Mississippi" from my summer in DC, so I guess this is round 2! I definitely want to blog about my experience in TN, but understand that I can't talk about what I'm doing due to confidentiality reasons, so expect more of the usual food and fitness+weekend adventures!
This week has been crazy, trying to do everything before I go.
You may be wondering about the first part of the title of this post. My parents and I went to "Thunder from Down Under" Tuesday night, aka an Australian Shepherd playgroup at the local dog training/agility facility. Chloe LOVES playing with other dogs, and is a rough player. She hasn't had the chance to play with a ton of Aussies. This was just the cutest idea! 6 dogs showed up, and Chloe stuck with the same one most of the time. I wish my pictures were less blurry, but crazy dogs=constant motion.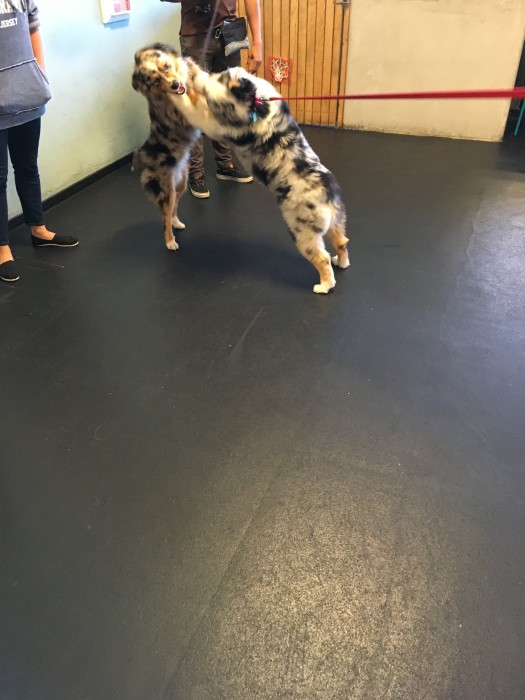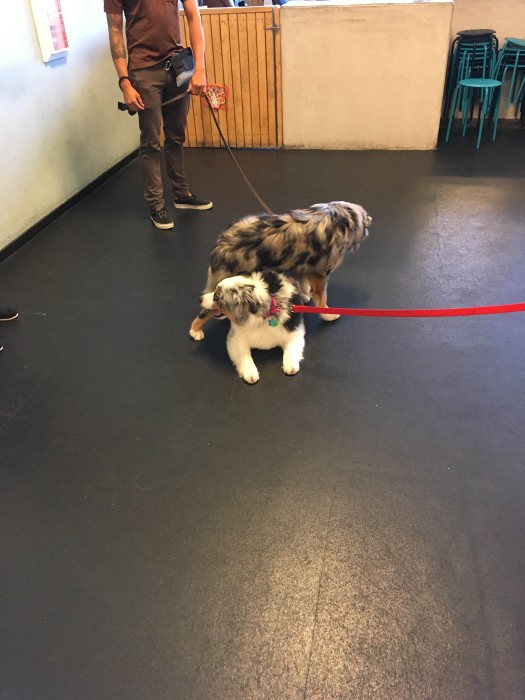 Chloe and her new BFF, Bacon. It was so funny to see all the dogs play and interact with the same behaviors and mannerisms!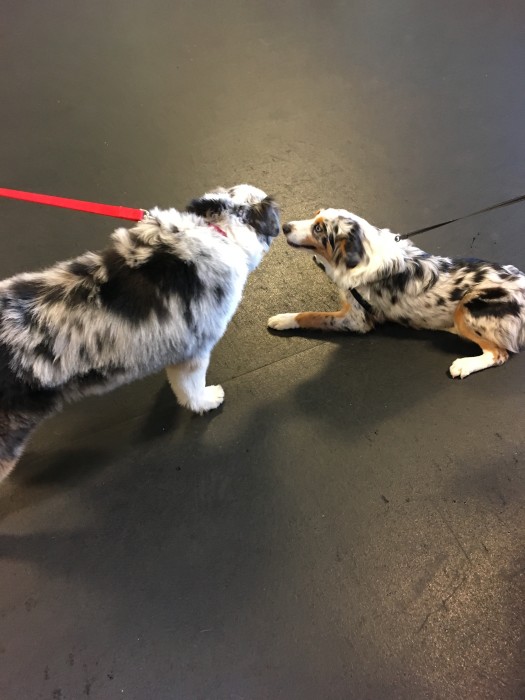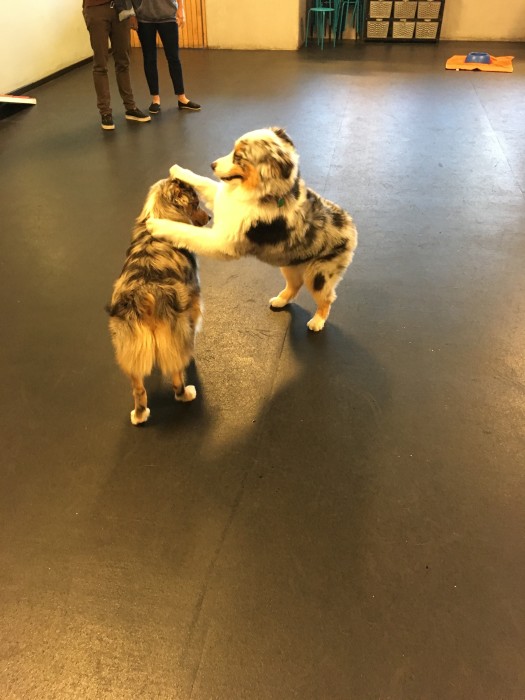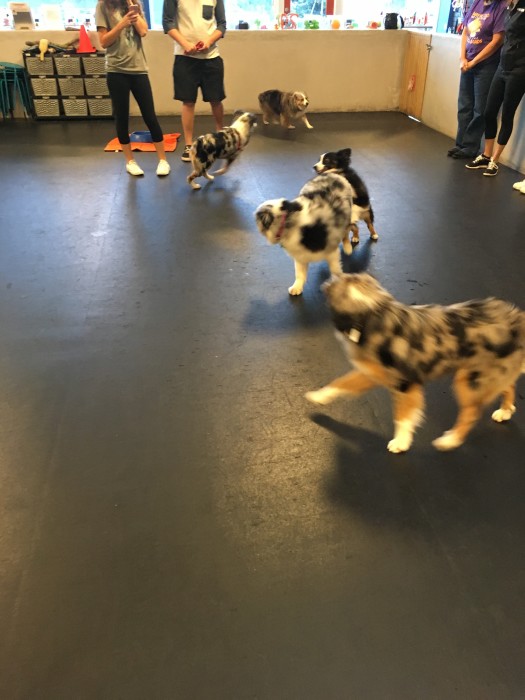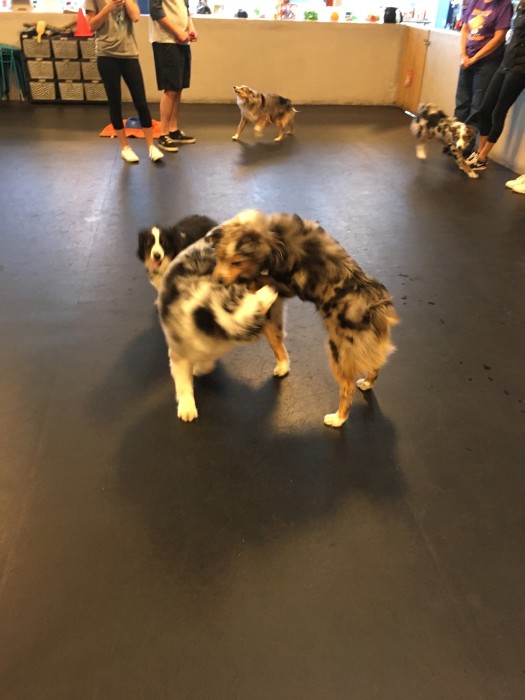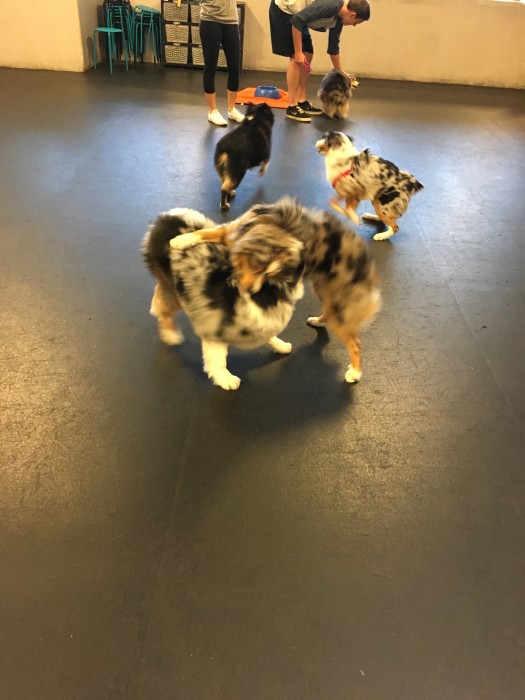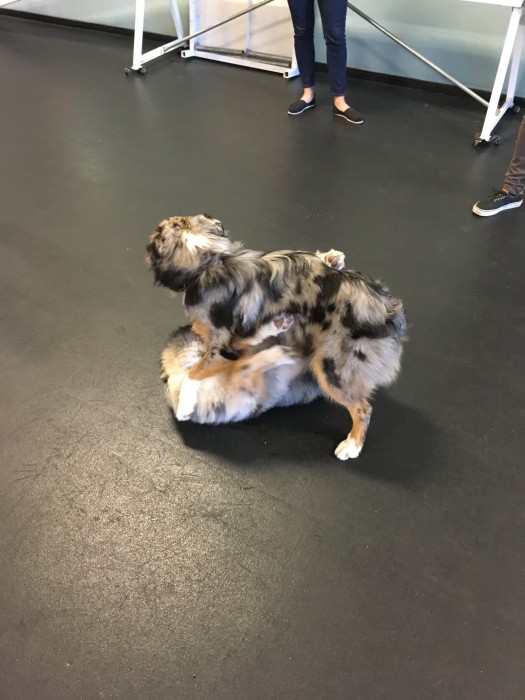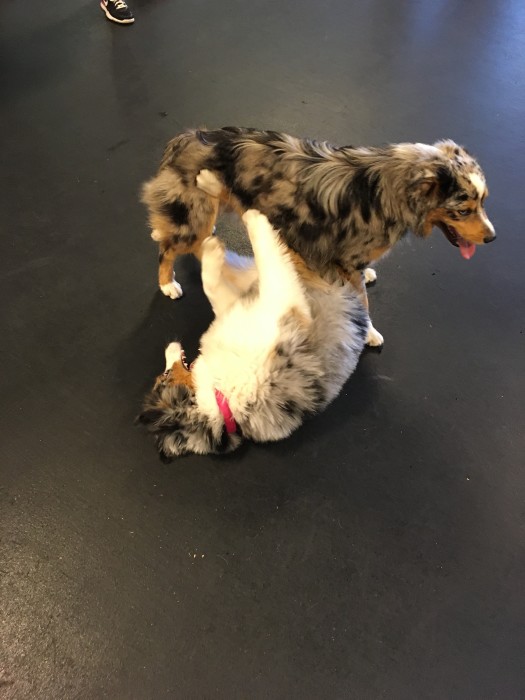 About halfway through, they started to get a bit tired! When she gets tired, Chloe tends to just roll on her back and play from the ground.
Thursday was another busy day for me. I started with morning Crossfit. I did cleans for the first time since my stress fracture, 2 months. I was careful and kept it light, but was still sore the next day! My foot felt good during them. I went straight from there to meet my sister for iced coffee.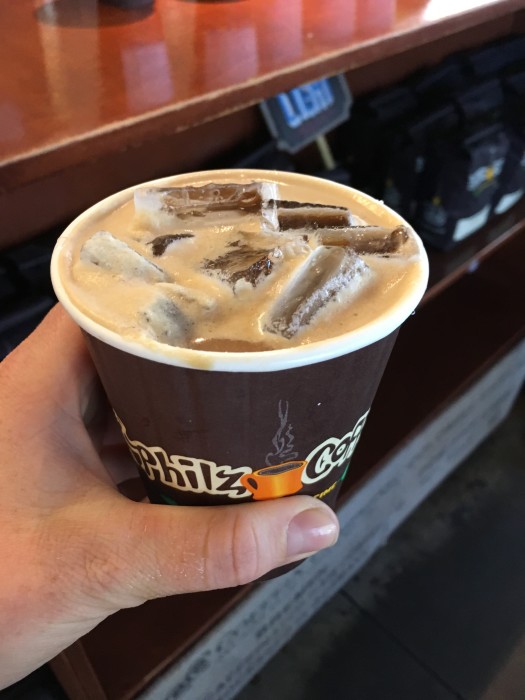 And then from there, I ran home to pick up Chloe for a walk with my High School friends. I hadn't driven her in my small car since she has been full grown, and she kept trying to come into the front seat/my lap! She's too big for that! It was great to see my friends.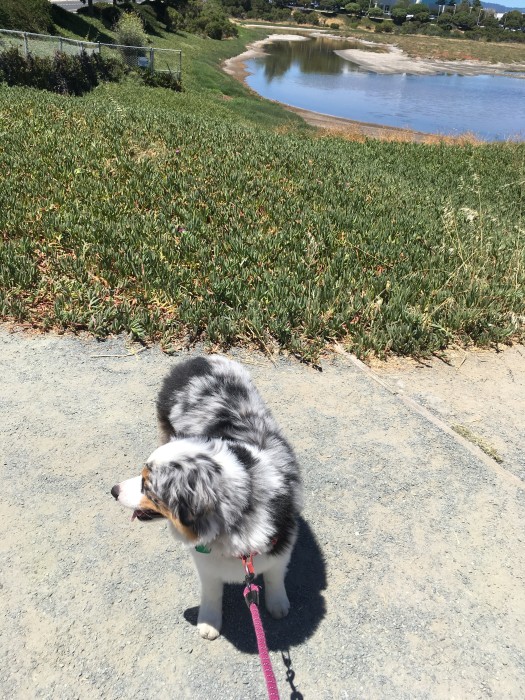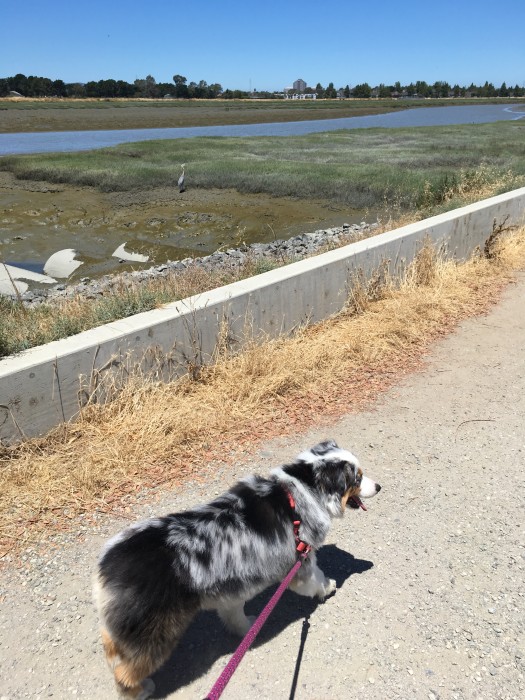 Since my foot injury, I haven't walked any sizable distance. That plus Olympic lifting that morning was a lot, and my foot was sore the next morning.
I was more than ready for lunch afterwards!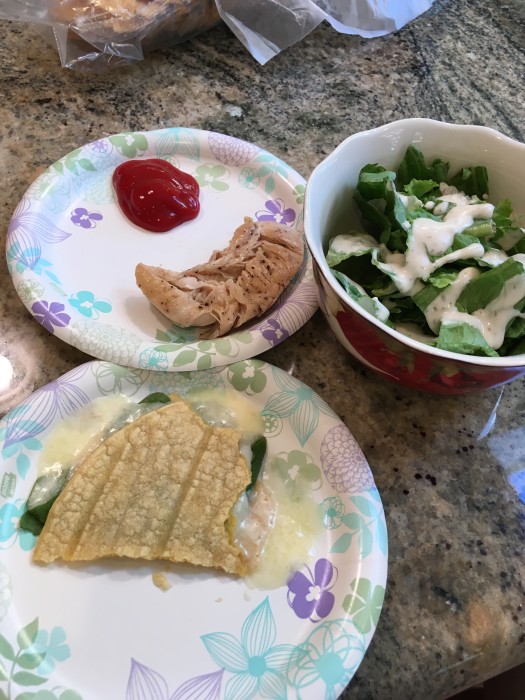 Microwave quesadilla, salad with Greek Feta dressing, and chicken.
More food: Fig and Goat cheese salad.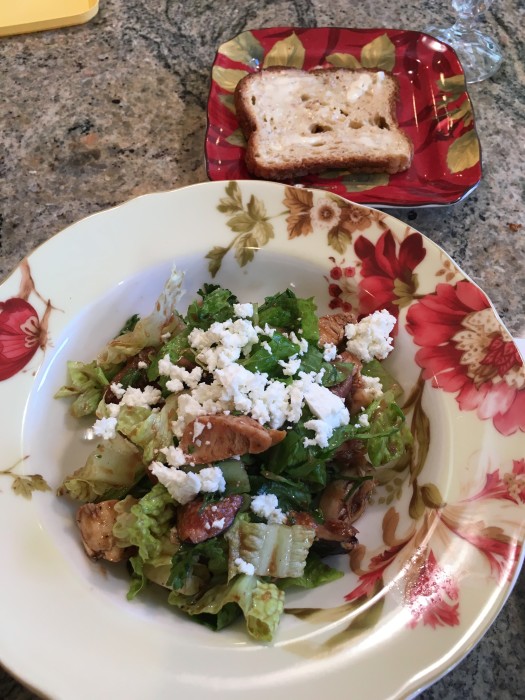 Microwaved gluten free blondie with caramel sauce and frozen yogurt.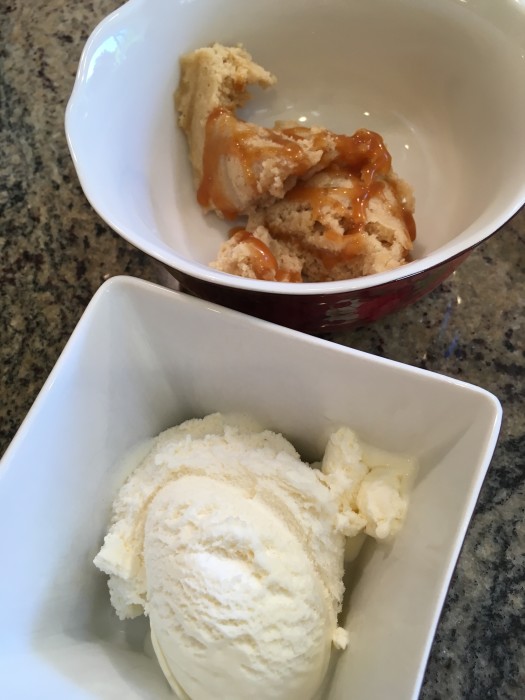 Friday, my dad and I went to the Giant's game. Food, as always was the highlight. Cauliflower flatbread with truffle oil for me, plus a cucumber and feta salad split with my dad.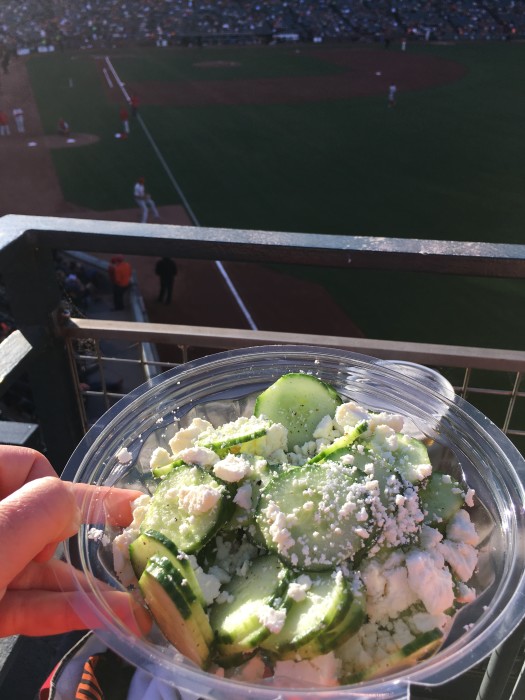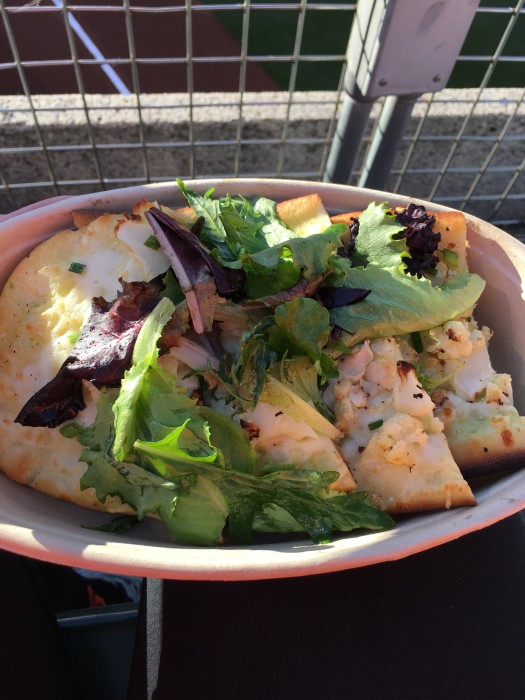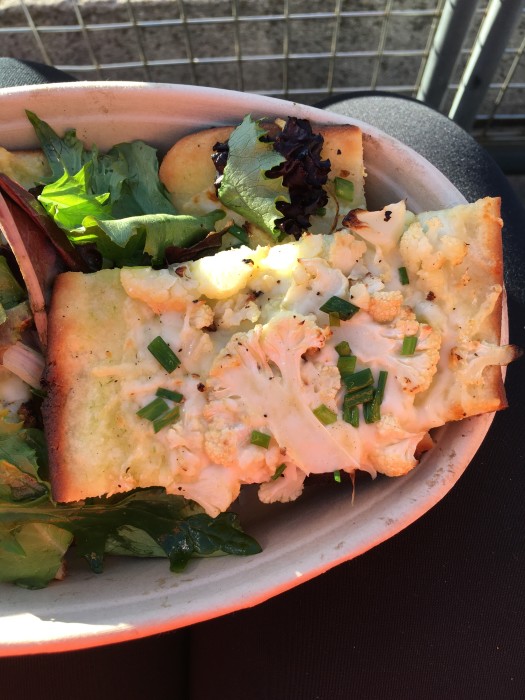 Plus some of my dad's hot fudge sundae.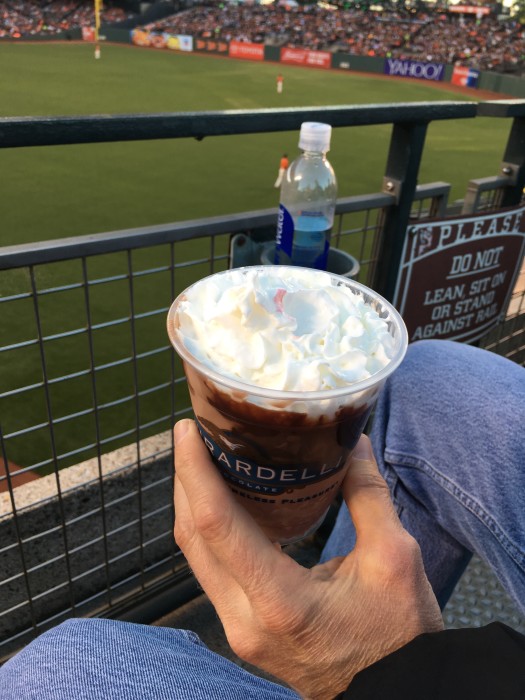 We ended up pulling out a win by inches…it was not pretty there at the end!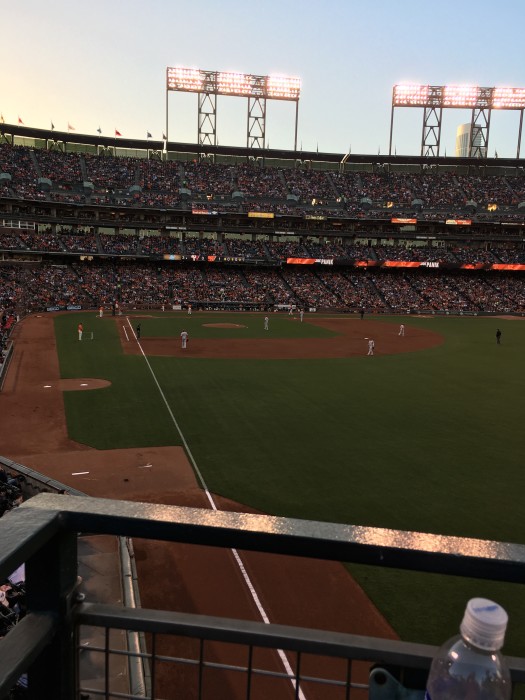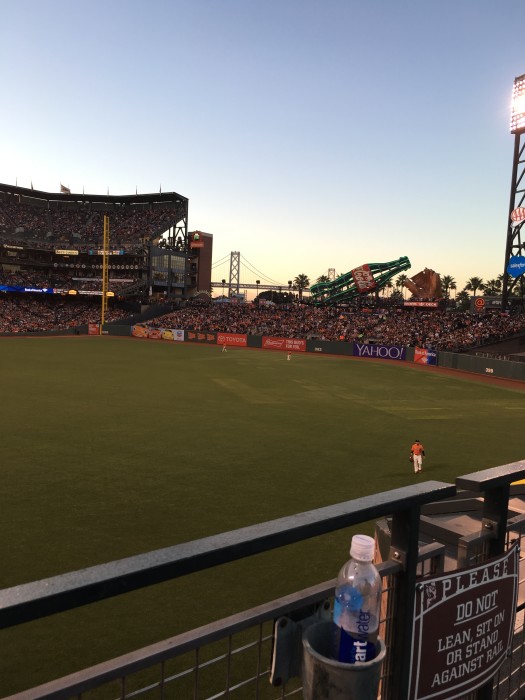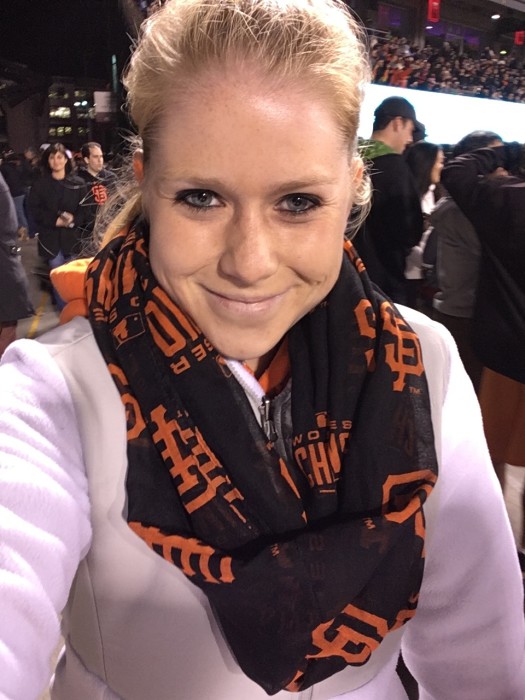 As per usual, it was freezing. I had a long sleeve, sweatshirt, north face, and scarf, plus we had a blanket, and I was still so cold! I feel like I need to soak up the cold though before heading to TN!
It was fireworks night, so we stayed after the game to watch. While we waited, the birds swooped in!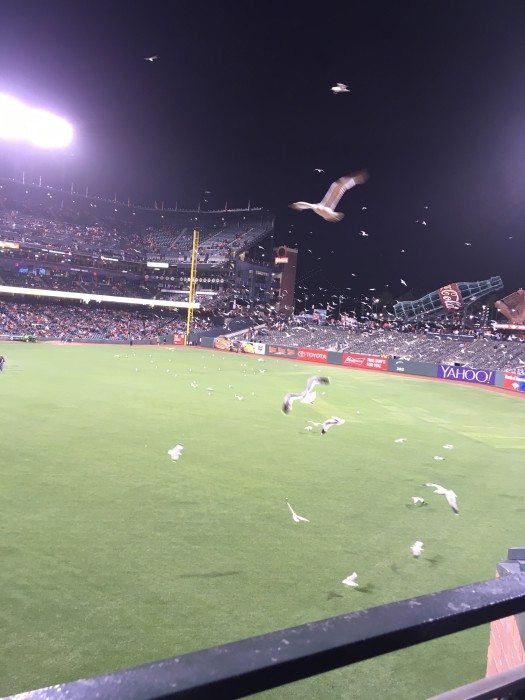 And then, it was time for fireworks. It was a great show—the fireworks were really sparkly and pretty, plus we were really close.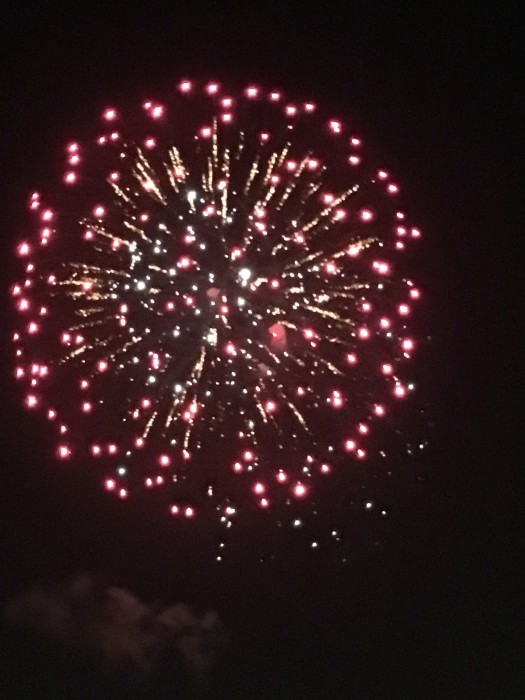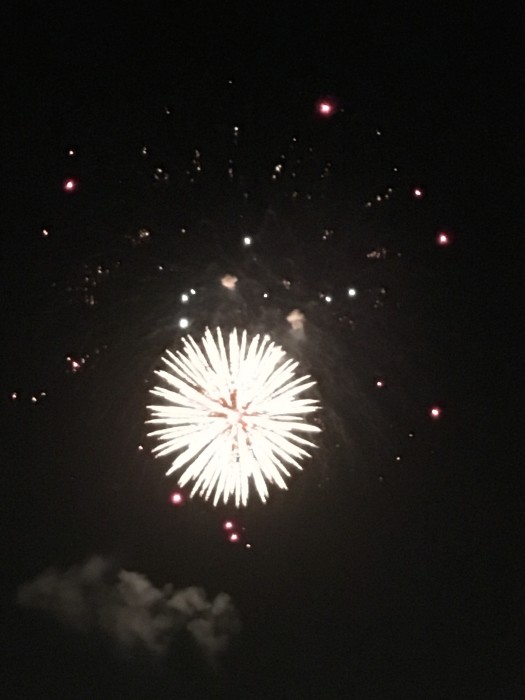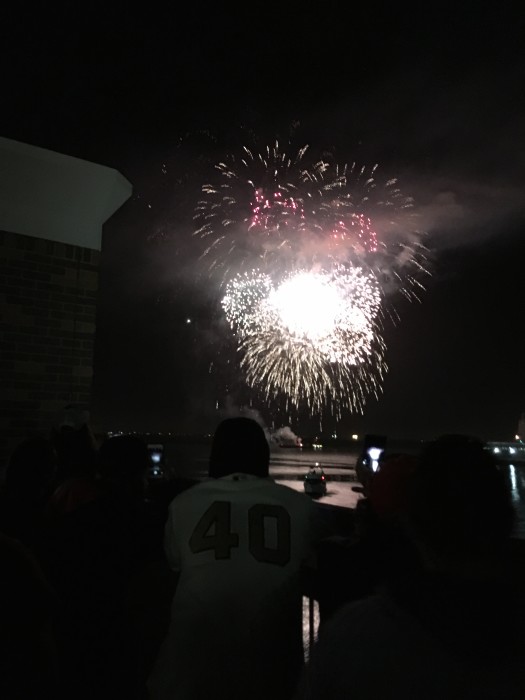 The next morning, I drove down to my school Crossfit for the last time. I've been sad for a while about this day. This Crossfit has really become my family over the past 3 years. Through crazy school stress, illnesses, and two major injuries, it's always been there. I spent so much time there over the past 3 years, and it really was one of the highlights of my college experience. While I still argue that sometimes you regret a workout (some types of soreness are brutal), I knew that whenever I went in, no matter what else was going on, I would leave feeling better. I think I've been there in every imaginable mental state. The workout was a great one to end on. A LONG partner workout, similar to the previous week but worse because of the addition of wall balls.
2 Sets
AMRAP 5 Rest 1
Max Assault Bike Cals
16 Alternating DB Snatch
AMRAP 5 Rest 1
Max Rower Cals
20 Wall Ball
AMRAP 5 Rest 1
AMRAP 5 Toes to Bar + 5 Burpee
5 Pt Shuttle Sprint
For the final grouping, I subbed 25 kettle bell swings for the shuttle run, and push ups for the burpees. KB swings combined with toes to bar KILLED my grip! It's funny; I haven't done many toes to bar lately (not for any good reason), but they have still gotten WAY stronger for me since doing so much ab work while my foot was in a boot. I guess it does carry over!
At the end of class, I said my goodbyes which I tried my best (and failed) to keep it together for. I'm really going to miss that place.
After a failed errand, lunch at home was rotisserie chicken, avocado toast, and fruit (pictures is the nectarine, plus cherries and some pear).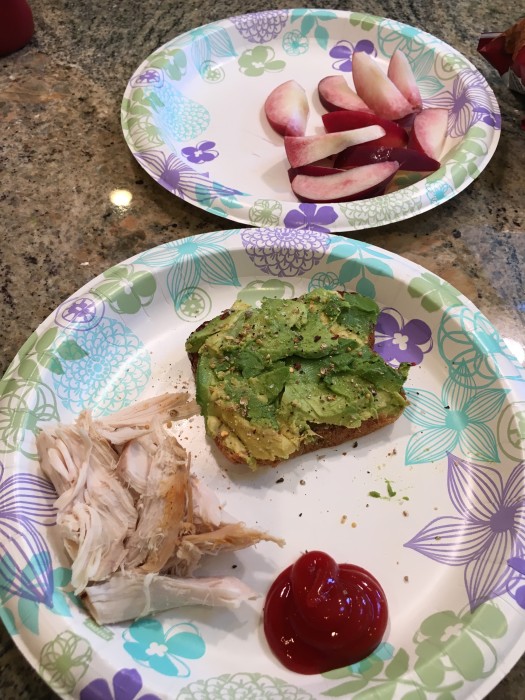 We had more errands to run that afternoon to prepare for my trip, but on the way, I wanted to get froyo. We ended up at Menchies. I love how they label all their nutrition info+allergens. And that they have sample cups readily available! I got some toasted marshmallow and some chocolate frozen yogurt, which I topped with hot fudge, strawberry,s and milk chocolate.
Dinner at home was a good one. Cheese soufflés (it's a Cooking Light recipe that we've made quite a few times over the years).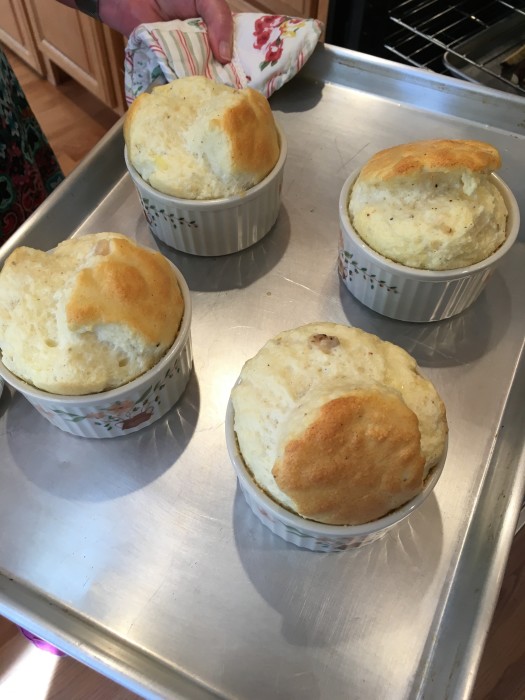 Plus steamed artichokes and roasted Japanese yams.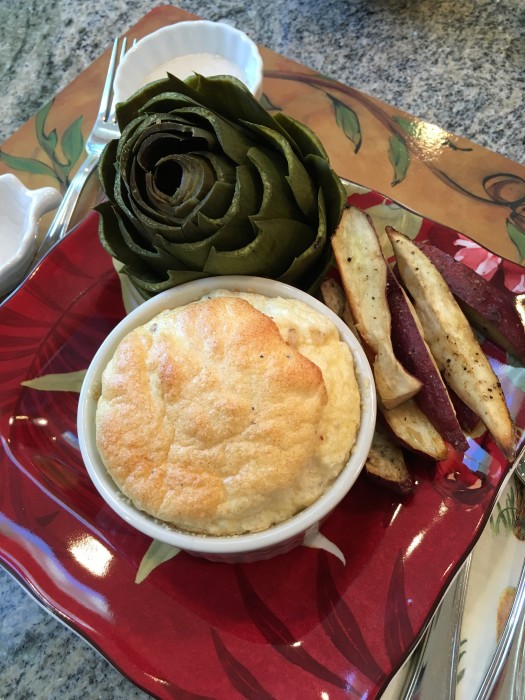 For dessert+plain snacks, I made some more sweet potato zucchini bread, but with a few changes. I didn't have quite enough sweet potato, so I threw in half a banana, and to change up the flavor a bit, I reduced the spices and put in butterscotch extract. It was a hit in my house!
And with that, from this side of the Mississippi, that's all she wrote.
Where is your favorite place to go in the summer?