Guess who is back for WIAW? I'm trying really hard to blog more old-school HLB style these days since I have more time. (Or am I just procrastinating vet school apps? We will never know.)
Thanks to Jenn for starting this party all those years ago!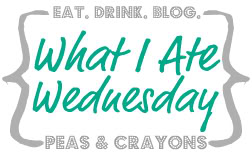 Before I get into my full day of eating, I wanted to share some things from Monday night.
We made a rosemary chicken, bacon, and avocado salad, although I left the bacon off of my portion!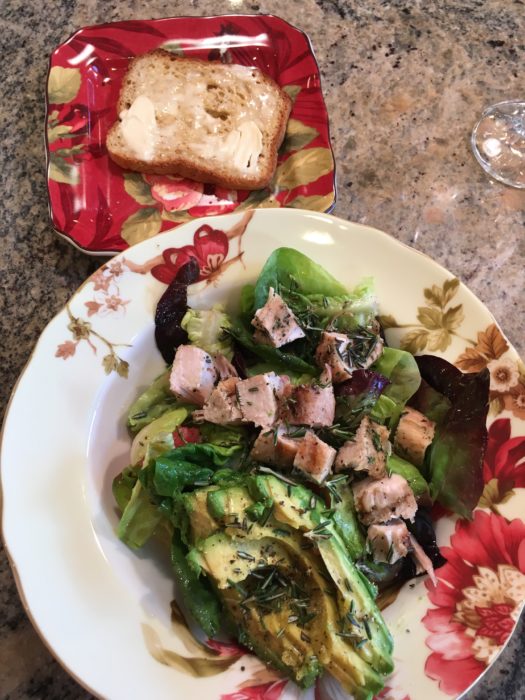 I usually try to build my meals my having a protein, a carb, a vegetable/fruit, and sometimes a fat. Thus, I added a slice of gluten free toast on the side. My biggest health tip is to use fresh herbs generously. They really boost the flavor of the dish and add nutritional value, without extra calories/sodium.
We had some extra ripe bananas (I am NOT a spotted banana eater), so I tossed them in a pan with Earth Balance butter substitute (I like the flavor more than butter, actually), a spoonful of brown sugar, and cinnamon.
They sautéed up perfectly, and tasted decadent. The fruit naturally caramelizes, so it doesn't take much sugar/butter for these to caramelize right up. I enjoyed my portion with some vanilla frozen yogurt. I like having the cold stuff in a separate bowl, otherwise I feel pressure to eat quickly before the ice cream all melts!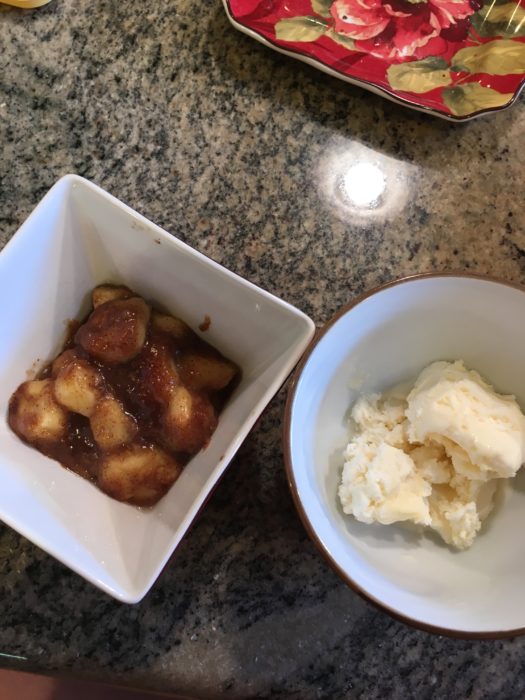 Now, finally, onto the full day of eating!
My morning began with my gummy vitamins and 2 gluten free crackers before Crossfit. Only 2 crackers because I wasn't super hungry, and I was running late, but I like to have some sort of carbs in my belly before lifting heavy things.
At Crossfit, we worked on reverse hypers and pistols (onto a box for me). Reverse hypers are basically back extensions on the GHD. Fun fact: 3 years into Crossfit later, last week I finally learned what GHD stands for: gluts-hamstring developers. Who knew.
The WOD:
12 AMRAP:
5 deadlifts 155#
5 handstand push ups
The scale for handstand push up was strict press, and I of course took that option. I used 55# for the presses.After yesterday's pull ups, my shoulders were pretty sore. My upper back actually got pretty tired from the deadlifts, something that doesn't normally happen. I got through 10 rounds.
My shoulder is cranky though. I partially dislocated it a year ago, and while I can do everything now, it gets tight and painful if I use it a lot.
I wasn't feeling yogurt for breakfast, so I decided to take advantage of my access to a Vitamix and make a smoothie. It was super simple, but super delicious: 1 frozen banana, cocoa powder, nonfat milk. I topped it with some raspberry KIND granola.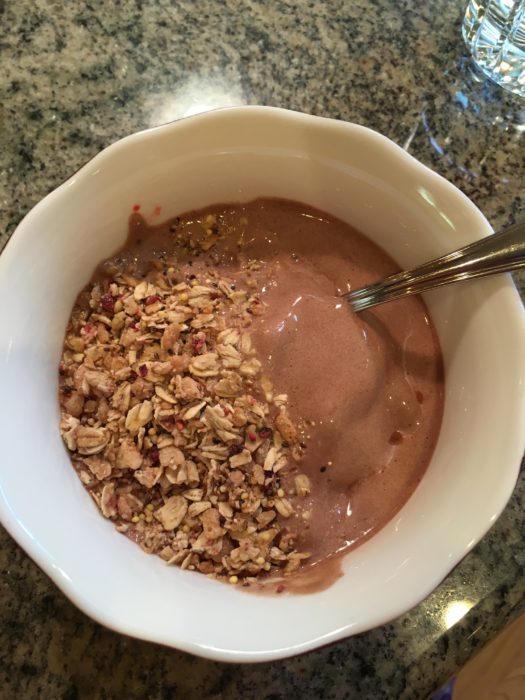 Because #nutrition, I do want to note that in my food choices, I do make an effort to stay pretty low fat. This has absolutely nothing to do with what I think the health merits of fat are—I think whole foods are extremely nutritious, including whole milk and olive oil, and in the past I've eaten a lot more fat and felt great. However, a lingering effect of my illness last year (I seriously need to do an update soon on that) is that I can't handle much fat without feeling sick. So I choose the lower fat options as much as possible to stay feeling good.
I spent the morning doing vet school apps—I'm slowly but surely getting there!—before breaking for lunch.
On Sunday night, we grilled up a TON of chicken, so it's been featured in pretty much every meal lately. I heated some up (and dipped it in catch up), and served it with a caprese salad. We were gifted homegrown tomatoes, so I chopped one up with fresh basil and fresh mozzarella, which I topped with salt and pepper. This is another example of choosing lower fat options—in the past, I might have topped this with olive oil, but I enjoyed it plenty without!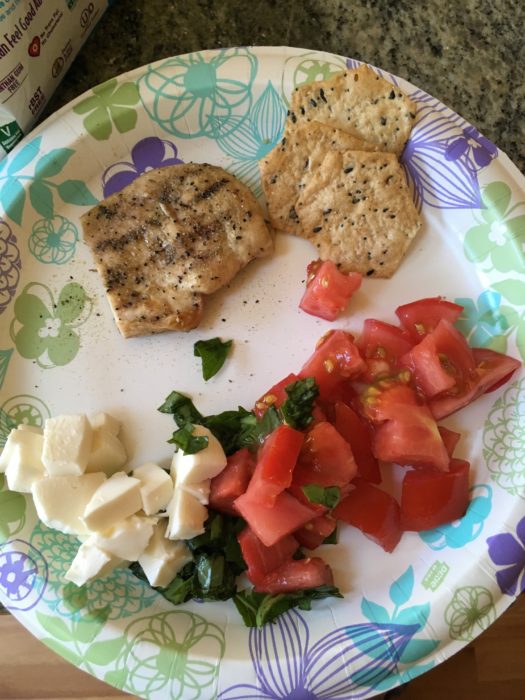 I also ate some gluten free crackers on the side, plus a couple of squares of mint dark chocolate.
I sent some emails and then went to the grocery to buy granola bars and things for dinner. An exciting new find was KIND dark chocolate granola, which I can envision on top of a chocolate banana smoothie bowl! I'm a big fan of KIND granola—the nutrition facts really can't be beat. Also, a little goes a long way! It's part of a great breakfast when paired with protein, such as yogurt!
Of course, I had to try some as part of my snack.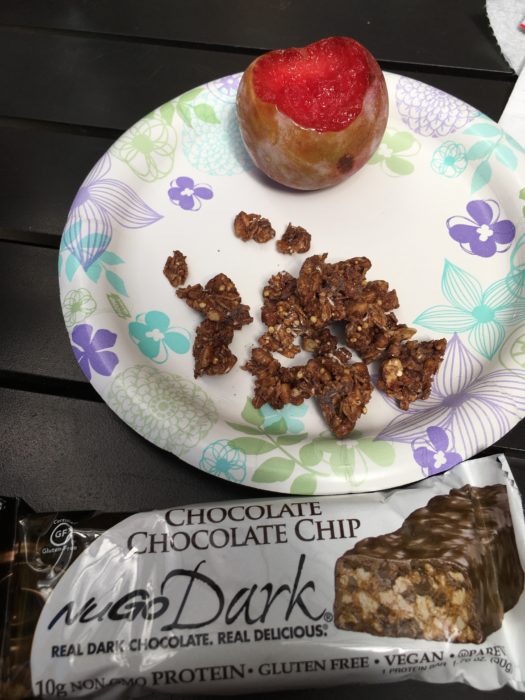 On the side was a farmer's market plum and a NuGo bar. At this point, I basically eat exclusively Luna bars, but got a different brand to mix it up today. It was delicious, but honestly a little too much dark chocolate for me—I felt a little jittery!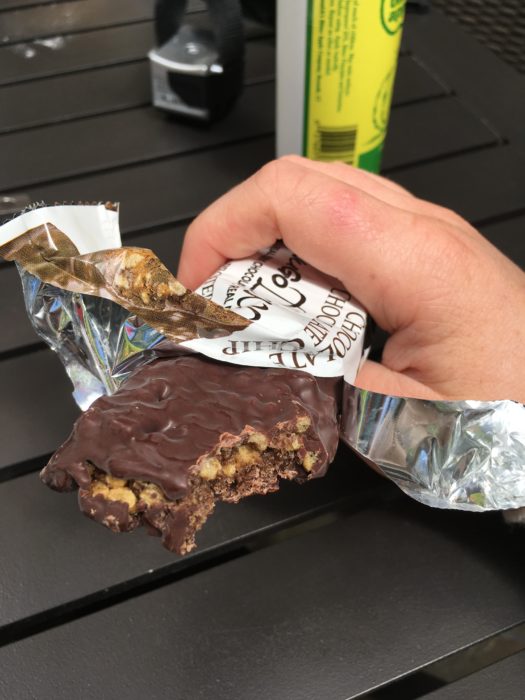 I went to a spin class with one of my favorite instructors that evening. It's a class with lots of choreography and push ups on the bike, but I really love her playlists!
Dinner made use of some of the food we had on hand.
Watermelon salad with mint and feta. Literally mint, watermelon, and feta.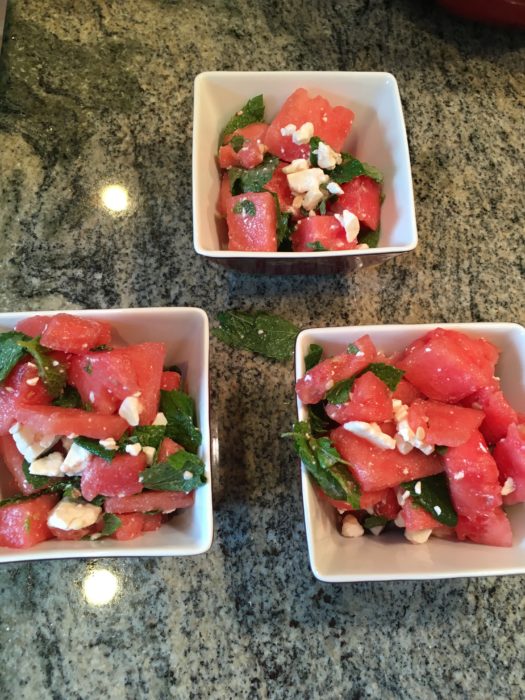 Also, roasted garlic-parmesan zucchini and tomatoes. We topped them with basil, and this dish was incredibly delicious. The parmesan got brown and bubbly, and the vegetables were bursting with flavor.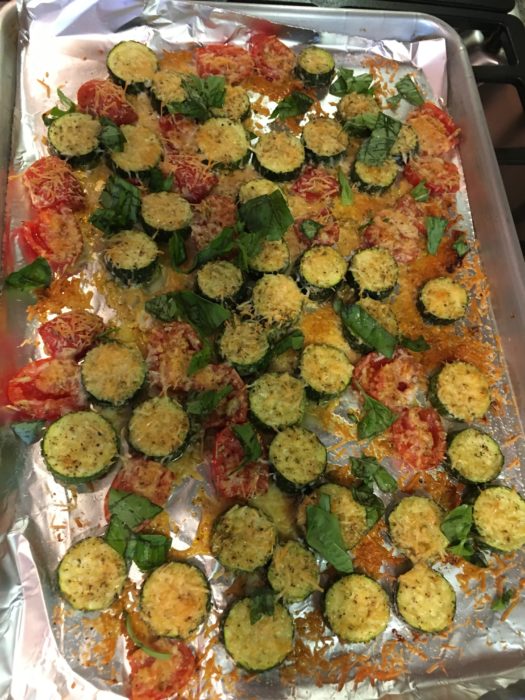 All with BBQ chicken!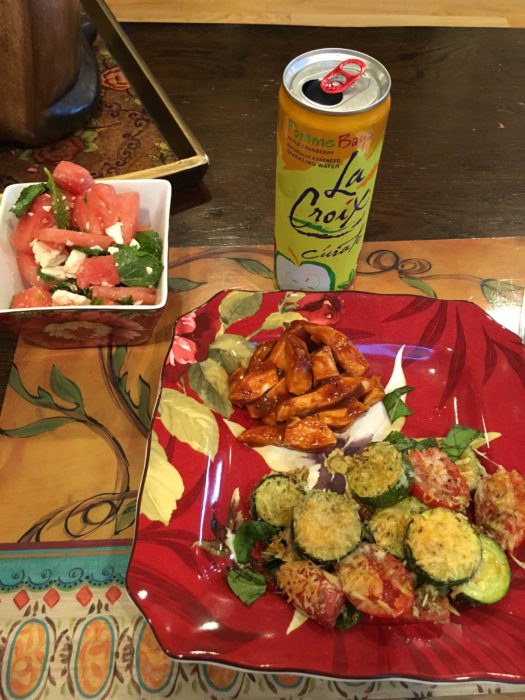 For dessert, I tried a Blueberry Yasso frozen yogurt bar. I had Yasso bars most nights in Tennessee. I LOVE the salted caramel, and like the mint chocolate chip a lot as well. The blueberry was good too, but the salted caramel still holds the main place in my heart.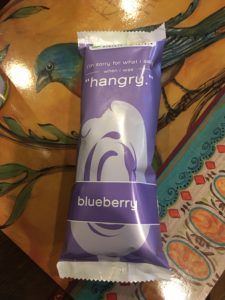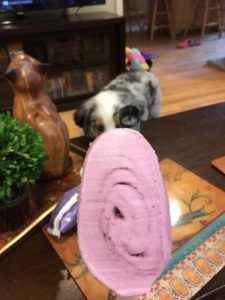 (Check out the puppy in the background! She's always there—she's at my feet right now as I type this up!)
My family and I started watching The Gilmore Girls tonight. We finished our show last night (The Good Wife), and couldn't find anything else we were in the middle of on Netflix, so we decided to give it a try. I like it well enough so far, and it's quite a blast from the past (2000).
I was a little hungry, so I snacked on a little bit of KIND Dark Chocolate granola, and a few freeze dried grapes (they're really fun—they were on sale at CVS!)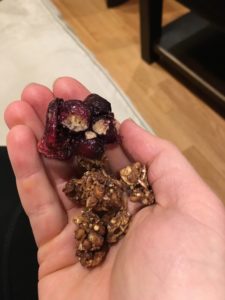 And now I'm planted in front of the Olympics. So far I've seen a couple of swimming finals, both of which I already knew the results of. It does make it less stressful though!
What is your favorite granola/protein bar?