Happy WIAW!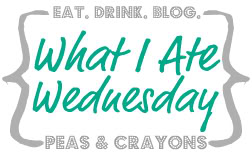 Since my little #TransformationTuesday series is the day before WIAW, I thought I'd include a little themed WIAW action alongside that. This week, we're going to look at Spring of Freshman year vs. now. (Original here.)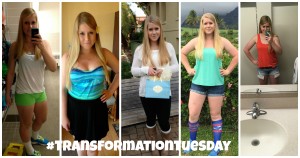 Preworkout:
Then
Power Snacks mentioned later.
Now: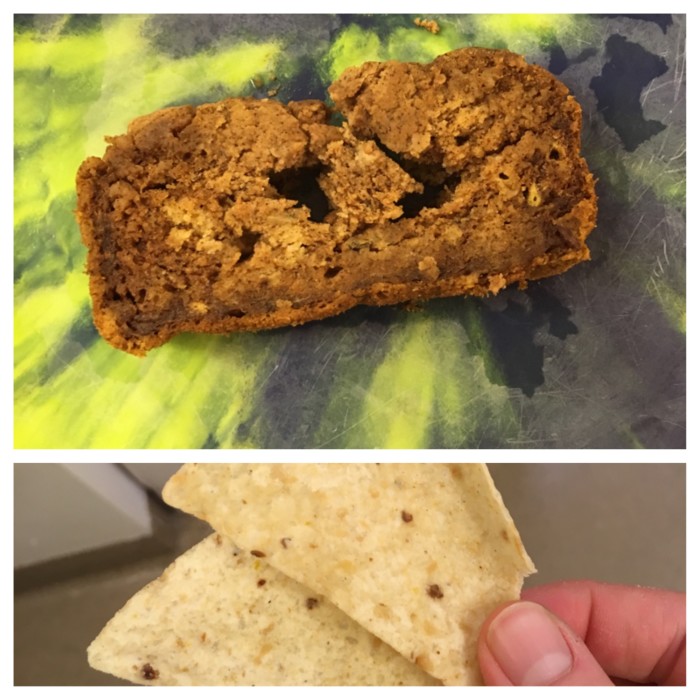 GF pumpkin banana bread from the freezer, plus 2 tortilla chips while it heated up.
Breakfast:
Then: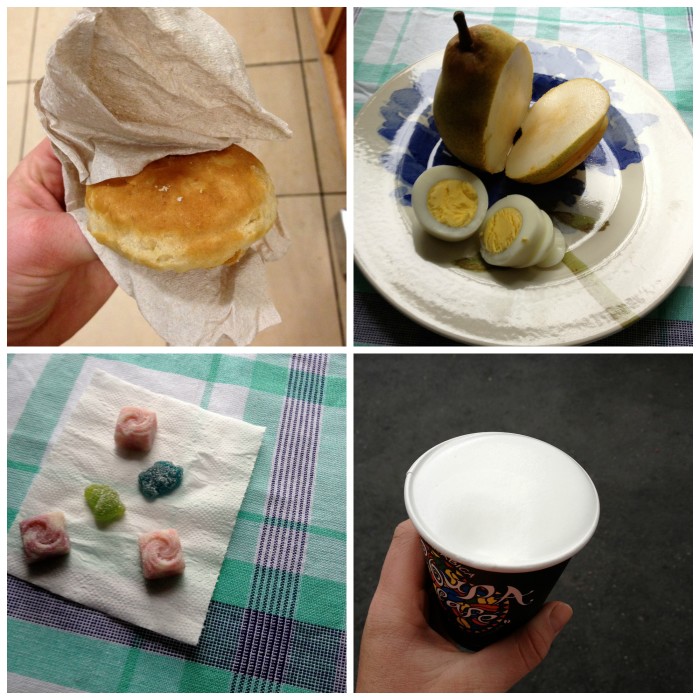 Dining hall biscuit, pear+hard boiled egg, gummy vitamins ( still take these, don't take stylized pictures!) and midmorning cappuccino.
Now: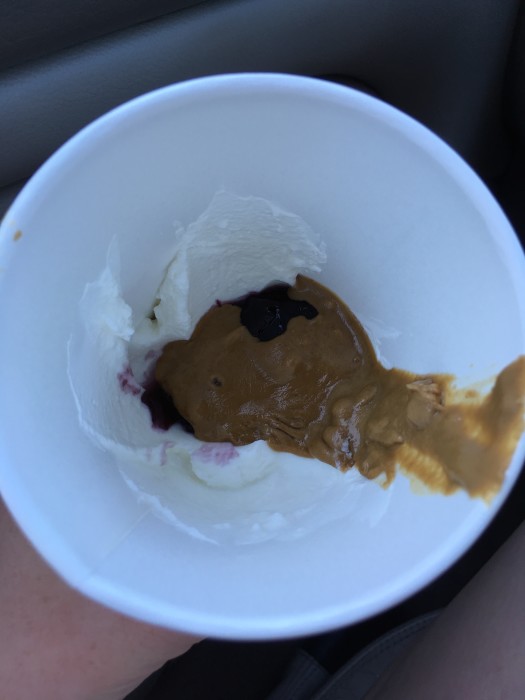 Breakfast on the go before squirrel watching (for a research project). Aesthetic level=0. 2% plain fage greek yogurt, Trader Joe's reduced sugar blueberry jam (SO good), and sunbutter.
Lunch:
Then: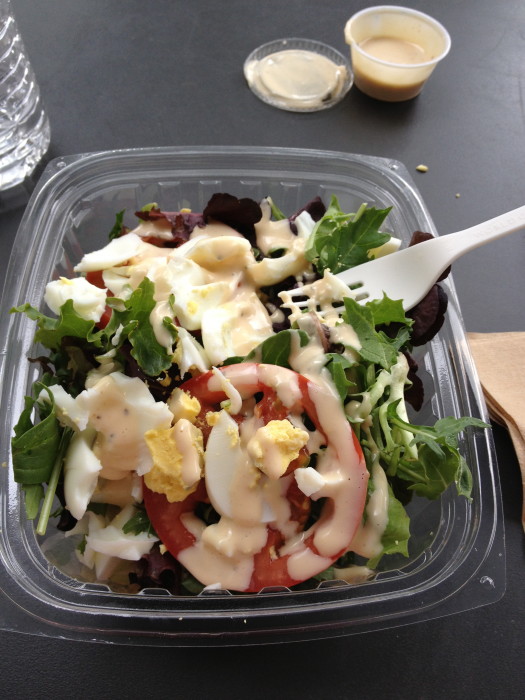 Salad with added hard boiled egg.
Now: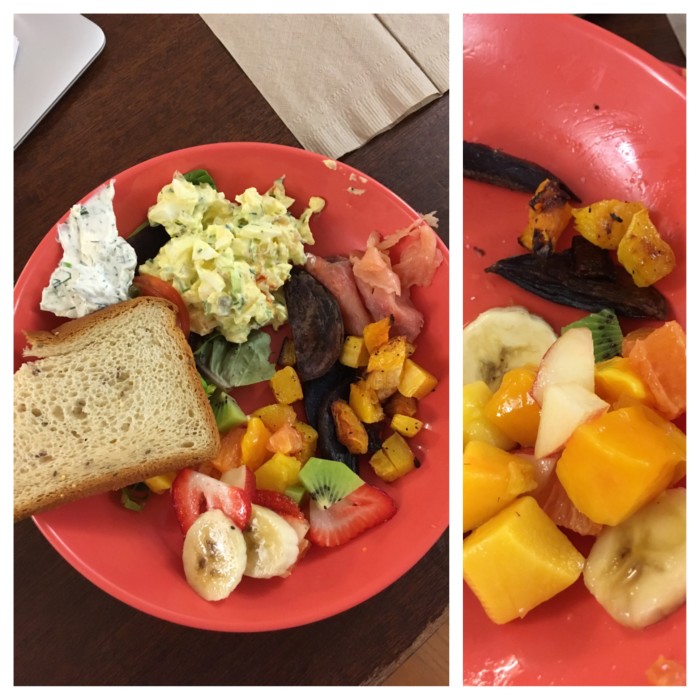 Make your own sandwich: I made half with egg salad and half with smoked salmon and herbed dill cream cheese. Roasted butternut squash and purple potatoes on the side, plus fruit salad. Went back for more fruit and squash! Sidenote: I LOVE fruit salad that includes bananas!
Afternoon snack:
Then: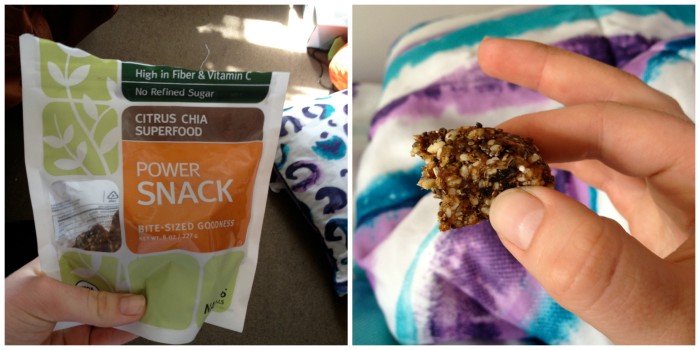 Now: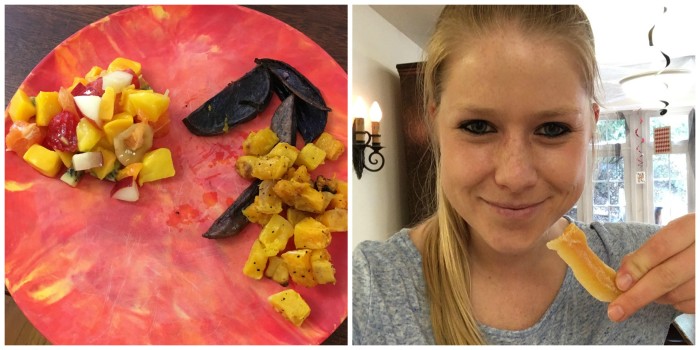 More leftover roasted squash and fruit salad, and a piece of dried mango.
Dinner:
Then: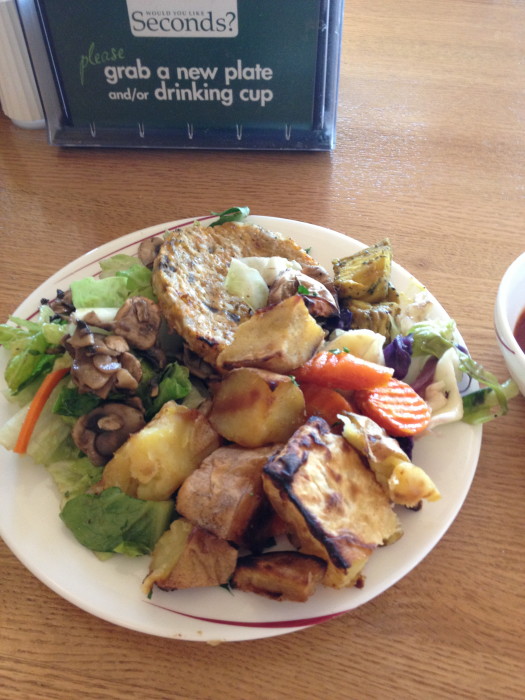 Garden burger over salad, roasted sweet potatoes, roasted carrots, and cabbage.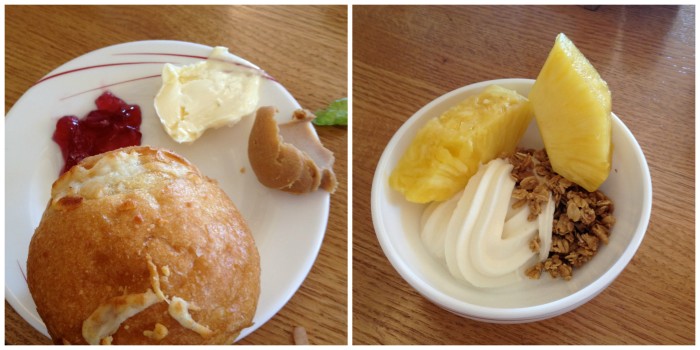 A roll with jelly, butter, and peanut butter. Dessert of vanilla soft serve with pineapple and granola.
Now: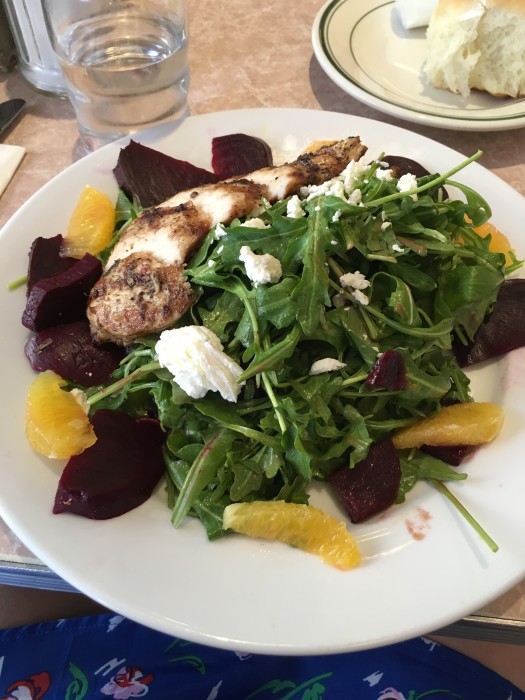 Out to dinner with the family for my mom's birthday. Goat cheese and beat salad with mint vinaigrette (love that idea!) with grilled chicken. + a few of my mom's amazing fries. I took about half the lettuce and some of the beets home for lunch tomorrow!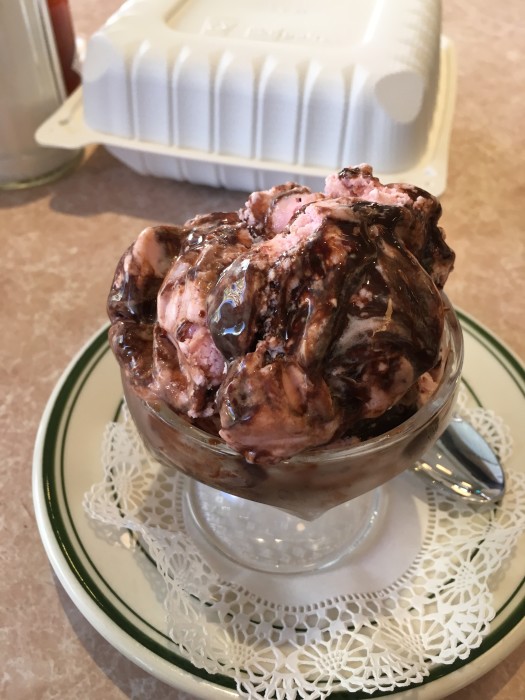 + a scoop of peppermint fudge ripple ice cream.
Post-Dinner Snack:
Then: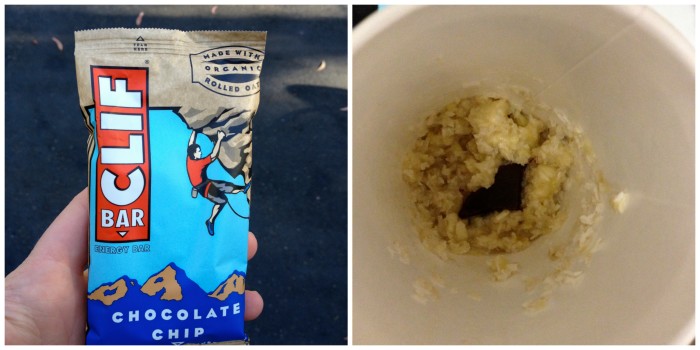 Snack 1 is a bar, snack 2 was dark chocolate, pumpkin seeds, and the creation on the right up there. Dorm room cooking at its finest: sunflower seed milk, unsweetened coconut, and a mashed up ripe banana. Served with a square of dark chocolate, and sunbutter.
Now: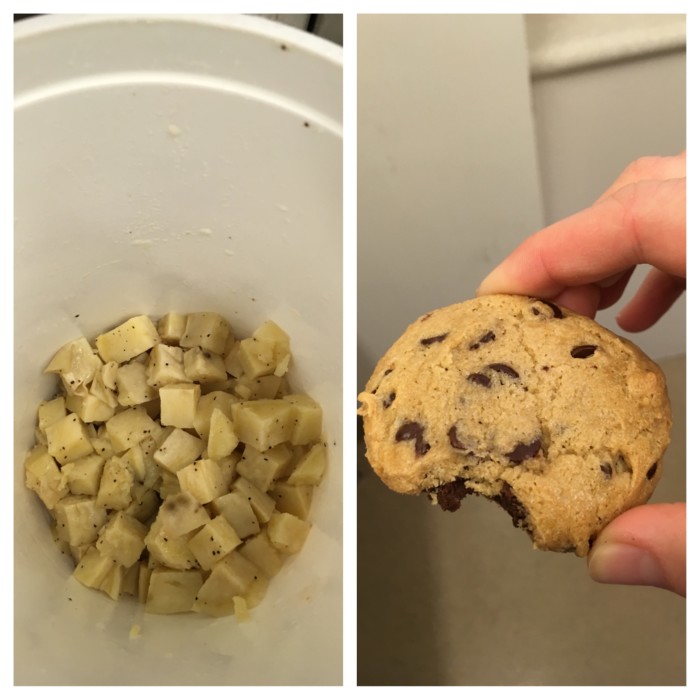 A few bites of these roasted sweet potatoes (that picture is the whole container. I did not eat the whole container). And GF chocolate chip cookie because you don't pass that up.
It's really funny to look back on this. I think every single meal included an item I can no longer eat (gluten/nuts/coconut). Funny how that works! I think looking back that was actually one of my healthier days of that time period as well.
And lastly: photos from dinner! Since you don't pass up an opportunity for photos when you look presentable.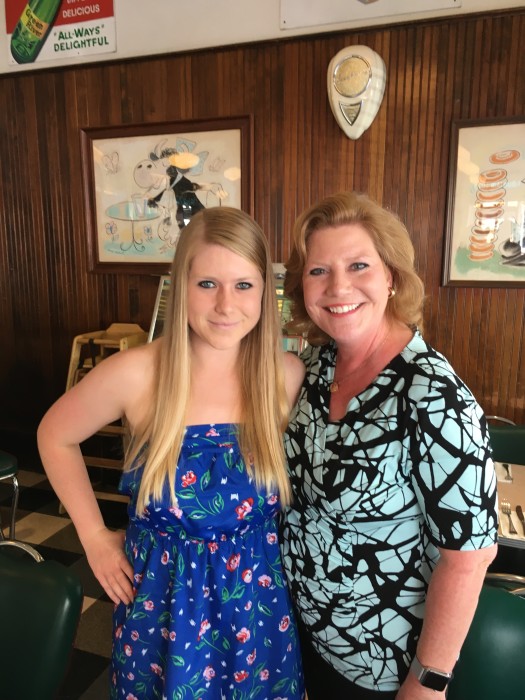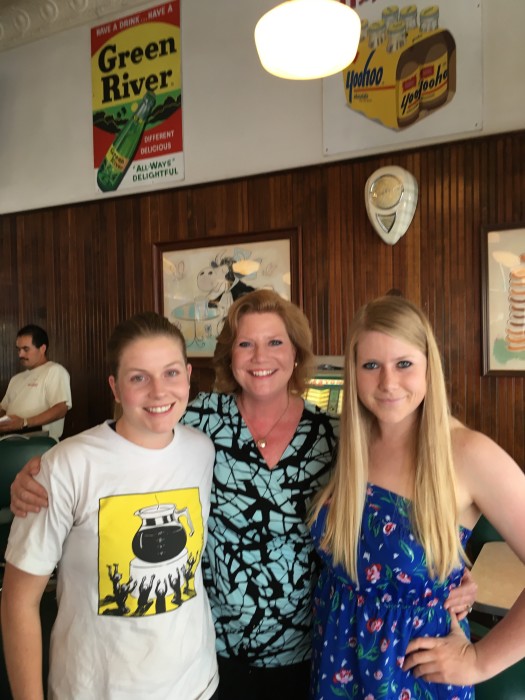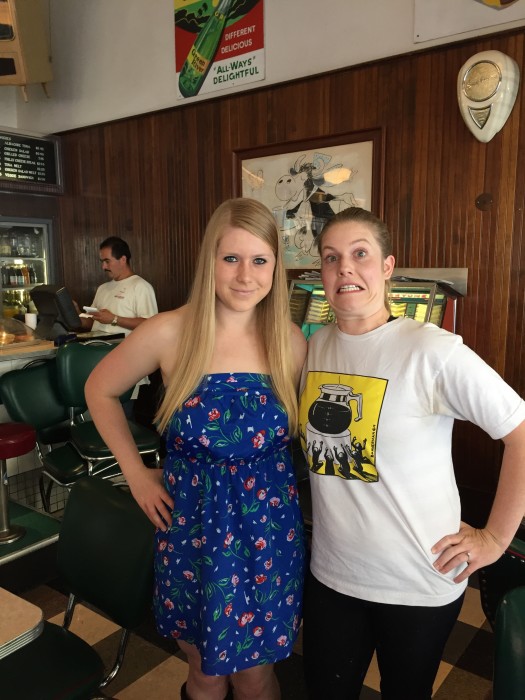 Favorite ice cream flavor. GO.
I like things with fudge swirls. Love Baskin Robbins Gold Medal Ribbon (caramel swirl, chocolate and vanilla ice cream), but Tin Pot's TCHO chocolate cannot be beat.