Ok, I know I've been promising this bread for forever. Ok, like a week, but still. I'm finally ready to share it today!
First, I want to catch up a little bit. On food. On fitness. Life. Etc.
First of all-my sister is engaged! How crazy is that?? I'm the maid of honor and I'm so happy for the couple! We even broke out the good champagne to celebrate!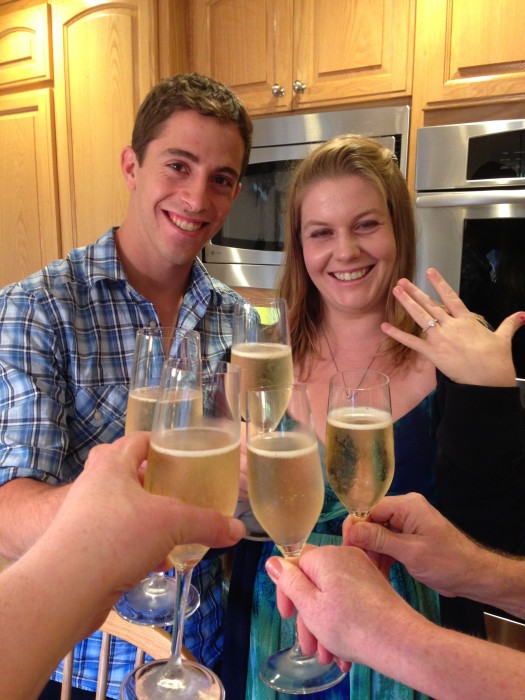 It happened on a hot air balloon in Napa-hwo perfect is that? They stopped by for congratulations and to partake in our grilled nectarine salad (because we got nectarines from Costco with only a few days to eat them…)
Another meal I've been meaning to post were these beautiful parmesan and spinach soufflés.
Plus a delicious side salad with herbs, meyer lemon infused olive oil, and aged white balsamic vinegar.
In workout news, I messed up my shoulder today. I was weight lifting with my trainer. We did heavy snatches and I did pretty well-didn't hit my max but made the lifts I should have made. Then, heavy deadlifts. After working my way up to heavy weights, I did a set of 5 at 210, a set of 3 at 220, and a set of 1 at 230, followed by max reps at 230 (I got 2-apparently my form was going and I wasn't allowed to try a 3rd with my 'cat back'). Then,I worked on behind the neck snatch grip presses and snatch balances. It was fine. So basically I spent a lot of time stabilizing heavy weights with my shoulders with no issues. Then since there was a bit of extra time, we did some core work-roll outs. You may have seen those ab wheels before, but I used a barbell with circular plates to roll out. I got a little too ambitious on the first one and roll out to far, and then got kind of stuck and ended up sort of face-planting and felt a pop in my shoulder. I was worried at first, but everything seems to be in the right place and it feels much better than it did initially. The pain is in the same area that my shoulders get creaky, especially this one, so I think it's just a bit of a sprain/strain. I'm hoping it feels better soon!
In life news, I'm jetting off to Hawaii with my family! My dad has a conference so we're tagging along and making a vacation of it. To be perfectly honest, I'm a bit worried about what I can eat but I'm sure we'll make it work. Hawaii is full of nuts and coconut, and the last time I was there I ate both and ended up with a pretty bad allergic reaction to macadamia nuts (this is before I completely avoided them and was still in denial).
It's actually looking to be a pretty active vacation for me. I have a 10 mile run scheduled this weekend, which will feel great in the heat and humidity I'm sure…Plus some other shorter runs. I'm also hoping my shoulder is ok to visit some of the Crossfit boxes I visited last time I was there! Other excitement includes another visit to see the piggies.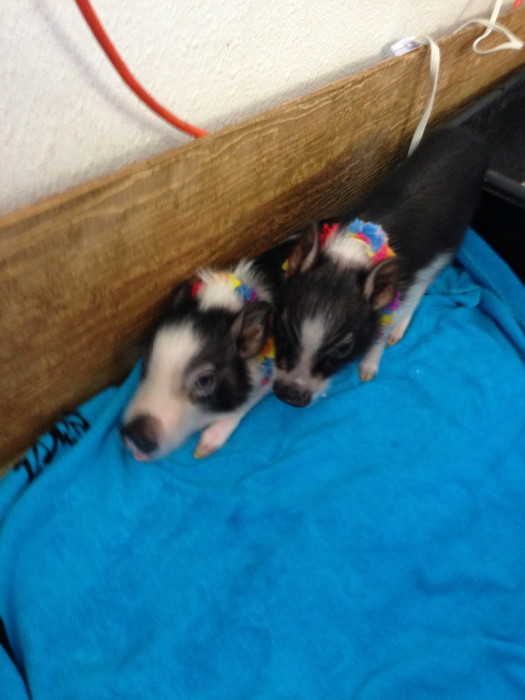 The biggest thing I'm excited about it visiting a goat dairy farm! We went many years ago and I remember trying delicious goat cheese. Plus-RUMINANTS. I think as part of the tour we get to milk them? So pumped!
In terms of my health-my stomach is mostly healed but not 100%. There are still times were I feel super dizzy and nauseous, and tums/pepto still has to come everywhere with me just in case. Luckily, at this point it seems these episodes are mostly linked to certain foods. Which can be frustrating, but I'm trying to be better about figuring out what foods and how to better avoid them The list of things that makes me sick includes dark chocolate, onions, mexican food, tortilla chips, wheat, too much sun butter, too much fatty food. The list goes on. I really do feel like some of this is temporary and won't affect me in time when I'm fully healed, but we'll see. In the meantime, I'm sticking to gluten free-all of these breads I make with gluten free flour, and you'd never know it. It seems to be even less noticeable with pumpkin bread than banana bread too.
Which FINALLY brings us to the recipe! I wanted to make sweet potato bread, but couldn't find the recipe I used in the past so I figured, why not try my own hand at it? Like I've said before-I've tried very hard to screw up my basic banana bread recipe so I might was well try a little bit harder!
Sweet Potato Bread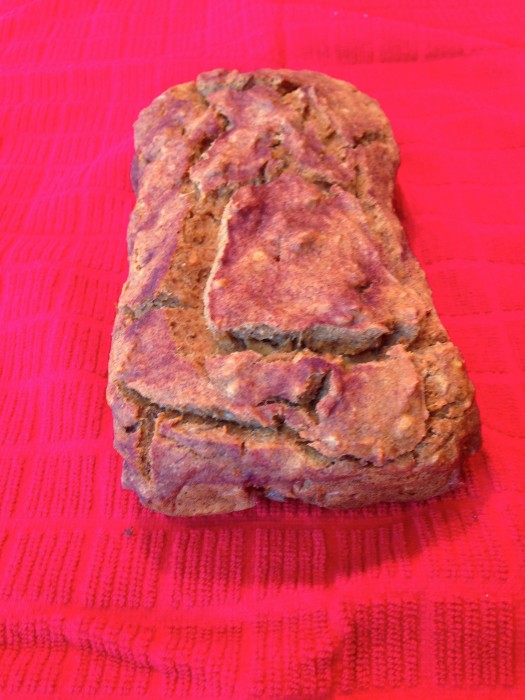 Ingredients
1.5 cups mashed, cooked sweet potato or yam
1 c flour
1/3 c milk
2 bananas, mashed
2 T oil (I used avocado)
1 egg
1 T vanilla
1 t salt
1 t baking soda
1 t baking powder
1/4 c honey (can add more-to taste)
1 t cinnamon
1/4 t nutmeg
Optional: 1 T orange juice (I wanted to moisten it and in full honesty the only citrus we had was a tangerine so I just used the juice from that)
cinnamon sugar for sprinkling on top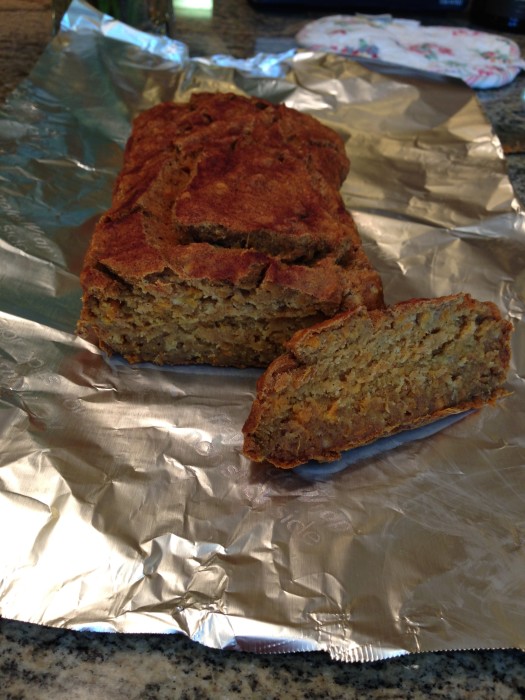 Preheat oven to 350.
Mix wet ingredients well, then add dry ingredients.
Sprinkle cinnamon sugar on top (this just makes it pretty!)
Bake for about 50 minutes or until a toothpick inserted in the center comes out clean.
This dense bread is the perfect segway between summer and fall. It's a dense, warm bread but doesn't quite have the kick of fall spices.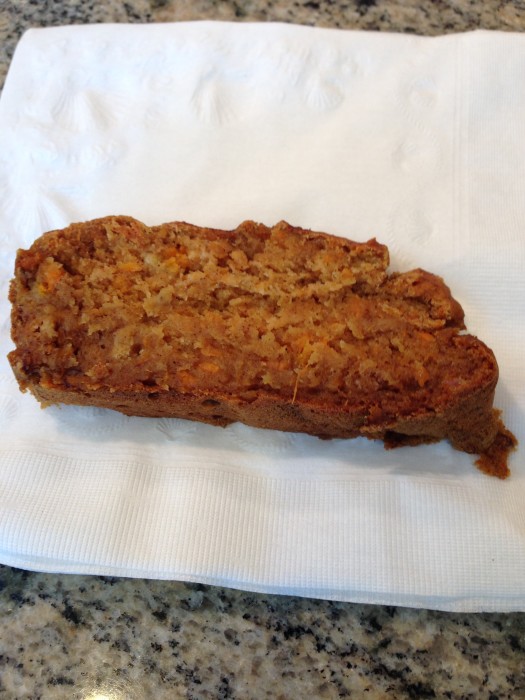 What is your favorite quick bread? What should I experiment with next?