Hi friends! I have another Quick and Easy meal idea for you, and then I'm going to go through some food and fitness post-Crossfit Open.
Today's meal idea is PaleOMG's 5 Ingredient Butternut Squash and Sage Casserole.
The flavor combo of butternut squash and sage is genius. I modified the recipe a little bit to meet our needs, and I have a few suggestions for how to make this even quicker and easier! For the eggs, I used a full carton of egg whites because #lazy. In lieu of sausage, I added Quatro Formaggio cheese and spinach.
We served it with french toast with nice maple syrup! (Apparently it's nearly impossible to get Grade B maple syrup anymore? This one was "formerly Grade B.")
So how can this be even quicker, easier, and better for a single person? First of all, buying pre-cut squash is key. Second, the squash can be steamed in the microwave instead of roasted. Lastly, it would be easy to assemble a single serving and just microwave the whole thing!
Monday morning began the beginning of Crossfit post-Open. We haven't really been doing any strength since the Open started, and our strength pre-Open was long sets.
Pre-Crossfit, I had a small handful of Chocolate Cheerios because squat day.
For the workout, strength was 5×5 bench press at 80% and 5×5 back squat at 75%. Oof, I haven't squatted in a while. The first set honestly was the worst.
The WOD was a quick one, since the strength took most of the time. It was:
3 rounds:
15 wall balls
12 step ups with kettlebell
9 knees to elbow
Also, now that the Open is over, I'm breaking in my new Nike Metcons! They're the 2s, so the same as my old ones, but a different color!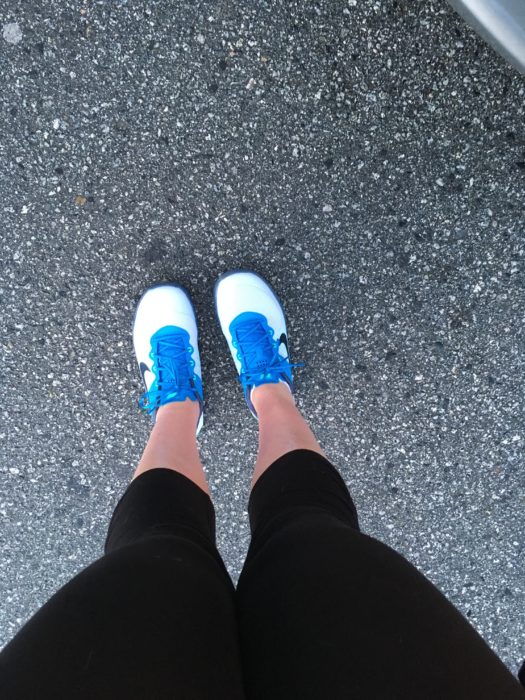 Post workout, I broke out a throwback "yogurt" bowl.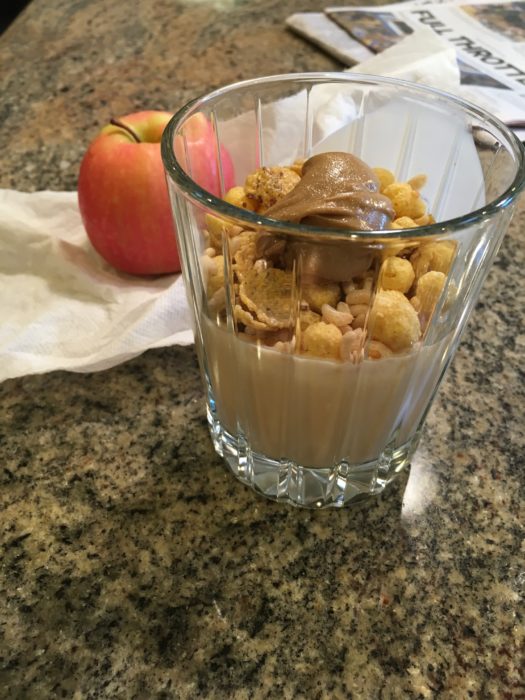 This throwback is from Summer 2013. Peach kefir, vanilla cereal, and sunbutter. Plus a pink lady apple from our CSA.
Mid-morning, I took Chloe for a walk in the lagoons. I listened to a couple of podcasts, and she was relatively well behaved!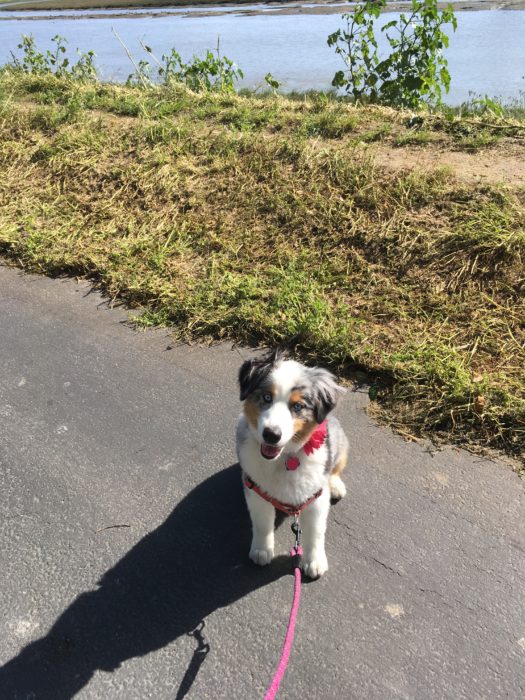 For lunch, I made a salad with leftover roasted butternut squash, goat cheese, dried cranberries, deli turkey, and balsamic vinaigrette. Avocado toast with everything bagel seasoning on the side.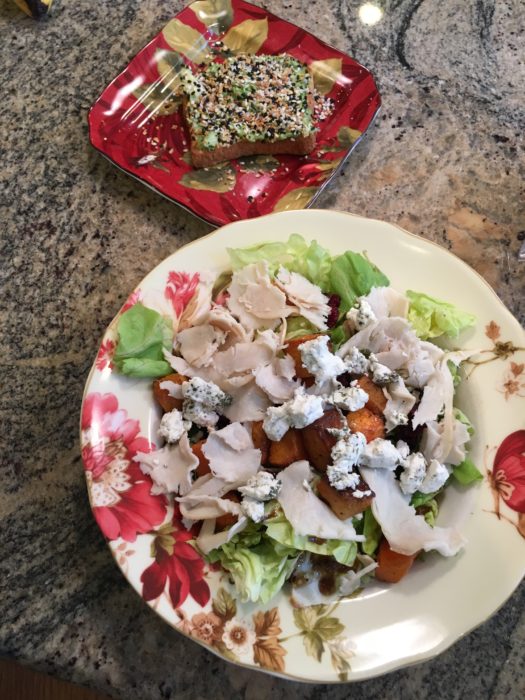 I spent some time in the afternoon cutting t-shirts in preparation for making a t-shirt quilt. Obviously I had a helper.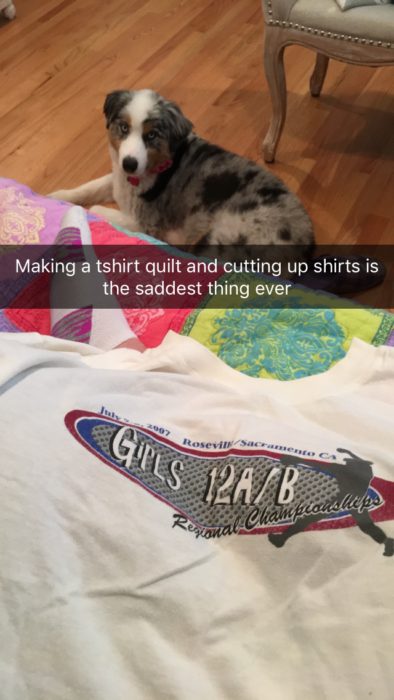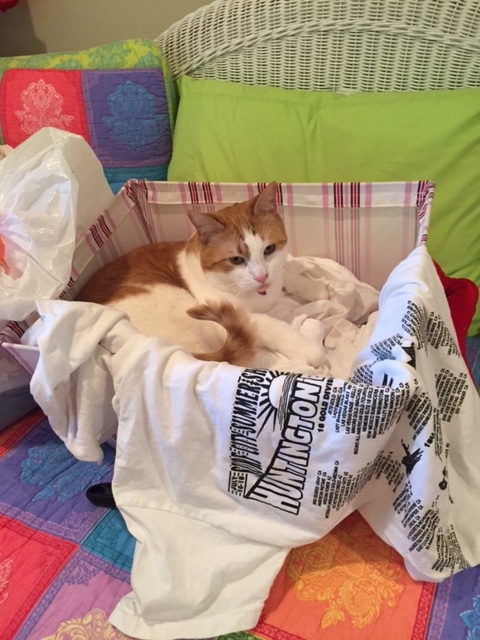 I'm not sure if I've talked about this before, but we actually found Charlie as a kitten at a softball tournament when I was in high school. He was actually sleeping on the shirt from that tournament!
For a mid afternoon snack, I had a slice of chocolate cranberry bread from my freezer stash, along with a ginger chew.
I went to an evening yoga class. I like this one a lot because it's a lot different than my typical vinyasa. This class stretched out my muscles that were already sore from morning squats.
For dinner, we made a veggie scramble with mushrooms, shredded carrots, spinach, tomato, scallions, and a delicious goat gouda. Served with rosemary potatoes from our CSA.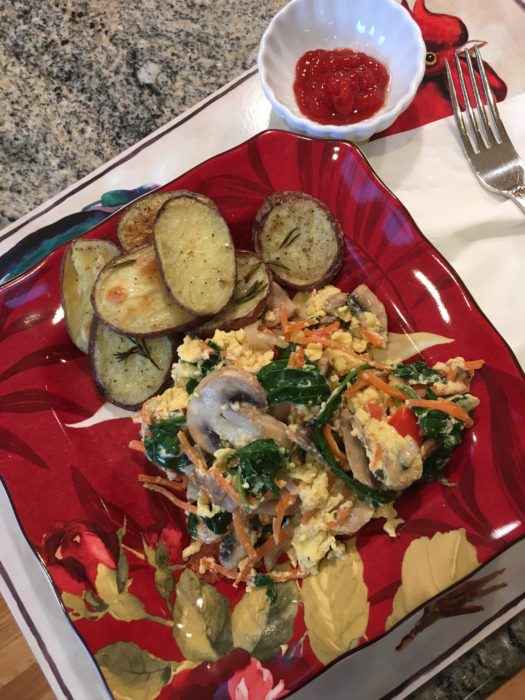 For dessert, I broke into my freezer stash again for marble bread (chocolate banana swirled with persimmon) and salted caramel Halo Top.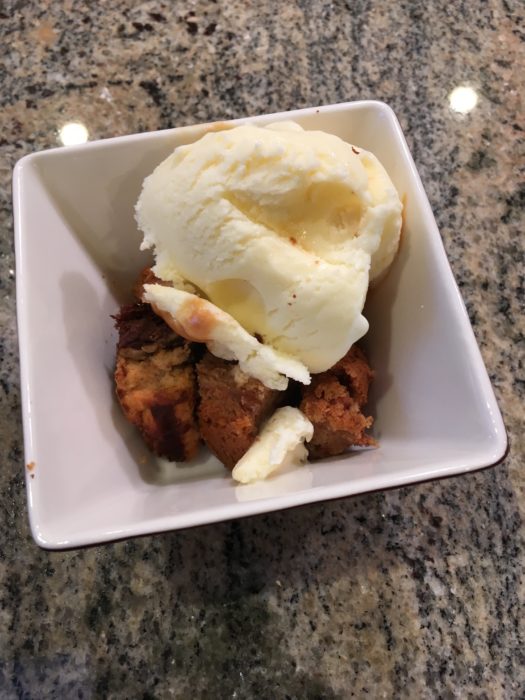 Then, my nightly snack was a brown rice cake with whipped chive cream cheese.