I hope everyone had a fantastic St. Patrick's Day, wore plenty of green, and ate plenty of Irish food!
I began my day with a greenish smoothie. I added spinach to my typical smoothie with banana, salted caramel protein, milk, and just a touch of cocoa powder (so as not to ruin the green too much).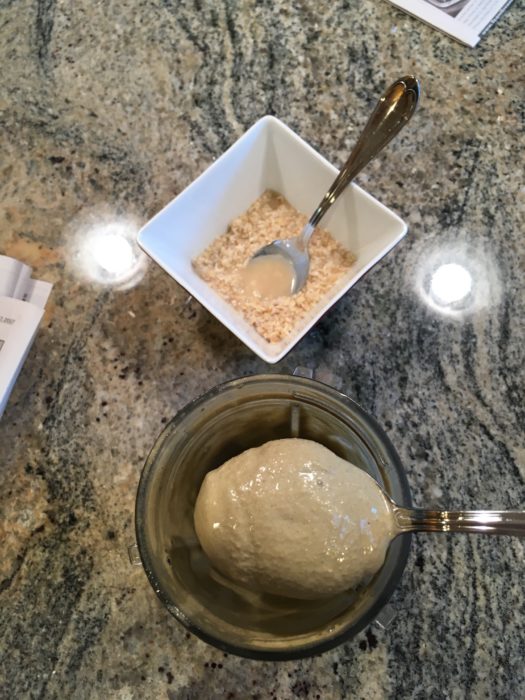 On the side, I had half a packet of maple brown sugar oatmeal with some extra plain oats thrown in to cut the sugar.
For lunch, I made a wrap that I've been loving lately. I'm planning on doing a full post on it for my quick and easy series, but basically it's a tortilla stuffed with white cheddar laughing cow cheese, turkey, spinach, and red pepper.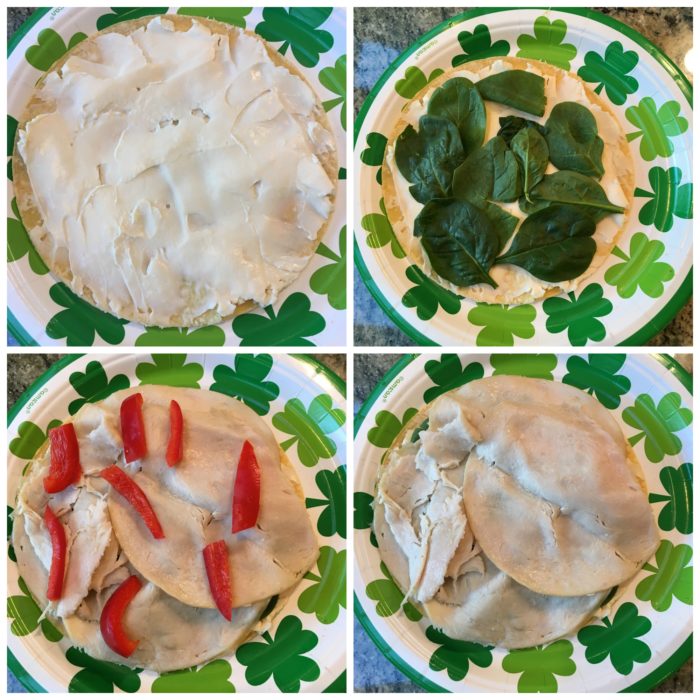 I actually rarely like red pepper, but I do in this context! I had that with a very simple salad: just high quality blueberry balsamic vinegar!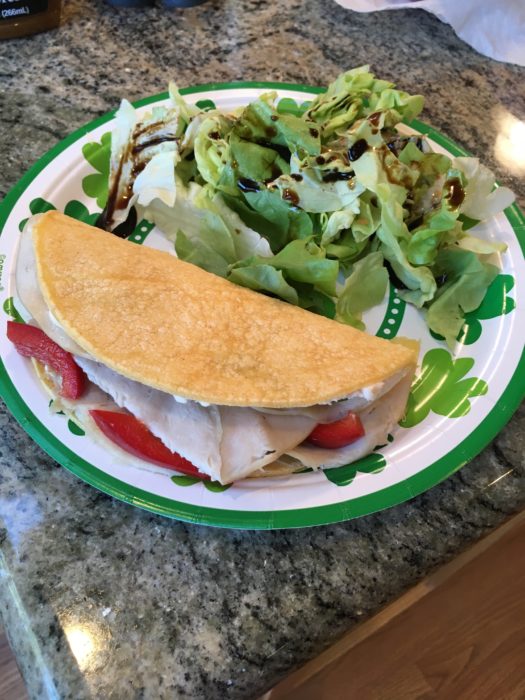 For a little lunch dessert, I had the remaining bite of a leftover Rule Breaker brownie. I think the brownies taste better than the blondies, but they would be improved with chocolate chips.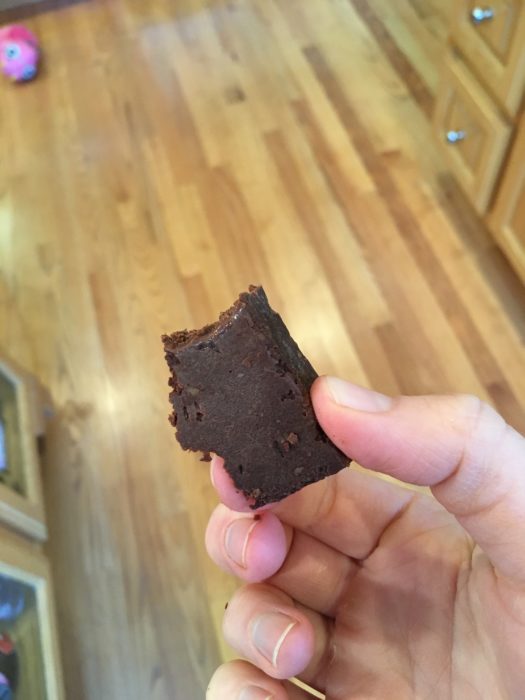 Friday was all about preparing for the death that was 17.4. I made sure to carefully fuel myself. In the afternoon, I had some tea (the house was cold!) with a Luna bar and a ginger chew.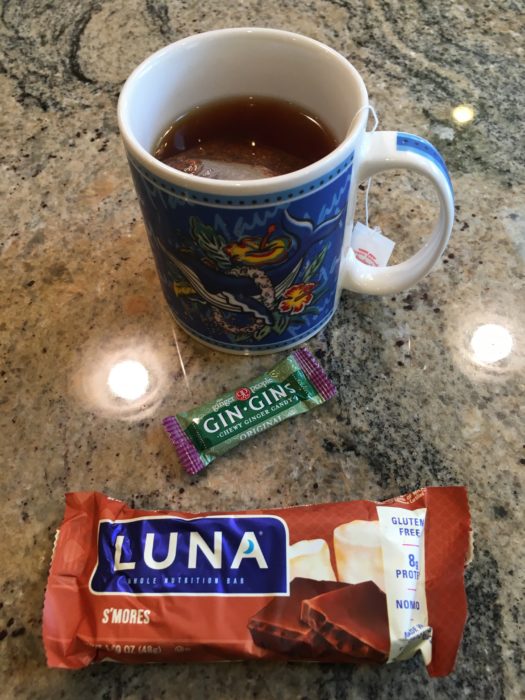 Cat nap: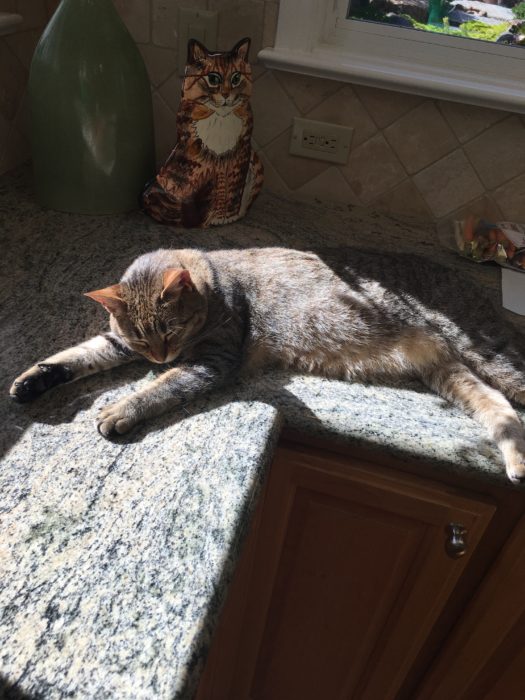 And then about an hour before leaving, I had a few crackers and another ginger chew.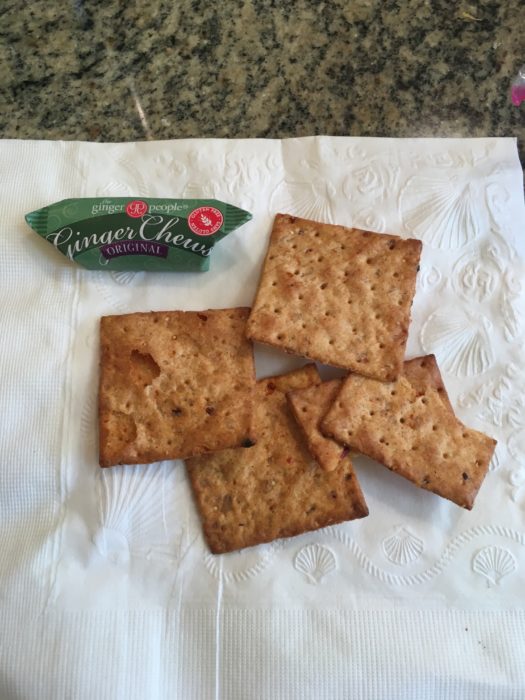 Then, it was time to get pumped up to go!
17.4 was 16.4.
13 minute AMRAP:
55 deadlifts (155# women's RX)
55 wallballs (14#)
55 calorie row
55 handstand push ups
First of all, I remember last year being awful well enough, but I also have blog documentation. I was super happy and proud of how I did last year. I finished the row in 12:59, which was perfect since I don't have handstand push ups. The problem with that is that I felt like I needed to improve upon last year, and I was happy with last year, so anything less than last year's performance would be disappointing. On the other hand, I knew this workout played to my strengths a lot more than some of the other ones.
I actually looked to last year's post for how to do my deadlifts. I started with 2 sets of 10, then moved to sets of 5, and smaller at the end. (In retrospect, one method I heard was good was going 10-9-8-7-6-5-4-3-2-1). I was actually in theory far better trained in deadlifts this year, because we did weekly 20 rep sets at a fairly heavy weight. I definitely regretted 1. not going as heavy as I probably could have during those workouts and 2. missing so many due to travel!
I think the deadlifts crushed me roughly equally this year vs. last year, but maybe I was a little stronger. It's really amazing how much you just lose all core strength! After the deadlifts, I did the all too familiar 16.4 waddle from the bar to the wall. Last year, the wall balls absolutely destroyed me. This year, interestingly, not so much. I feel like with the workouts that have been repeated, it always surprises me what has been improved. Last year in 16.5 which was a redo of 14.5, I was shocked by how much "easier" (it's all relative) the burpees felt. This year, the wall balls were shockingly fine. I did my first set as 15, and then did sets of 10 the rest of the way. Last year, I was getting no repped (or coming very close to it) and couldn't do more than sets of 5 or less. I only got no repped once this time. Maybe all the long, heavy sets of squats and presses helped this? I got off the wall maybe 45 seconds earlier than last time?
The row was not fun. I don't think I had as much grit in me here as I did last time, because I was pretty sure at that point I could make the time cap. It was not fun. I wanted to die. I didn't actually die though, so that's good. I finished my 55 calories on the row at 12:43, sliding in 16 seconds faster than last year. Hey, I'll take it!
Last year, I was immobile for probably a week after, so I immediately refueled with chocolate milk to try and ward off some of the impending soreness.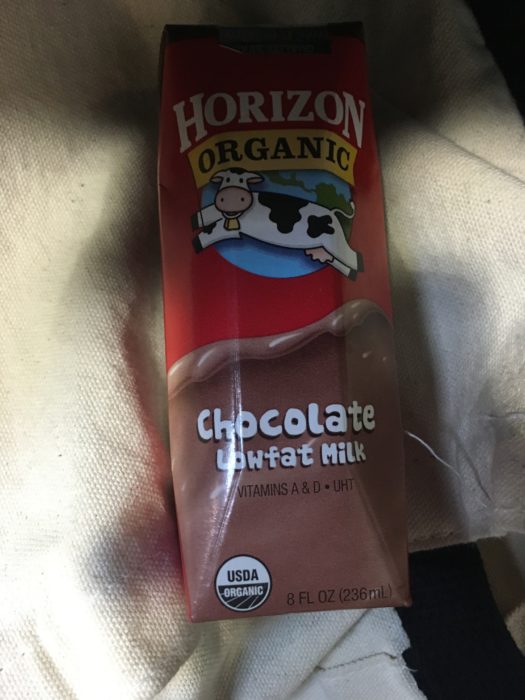 I repped South City Crossfit (St. Louis) green for the workout!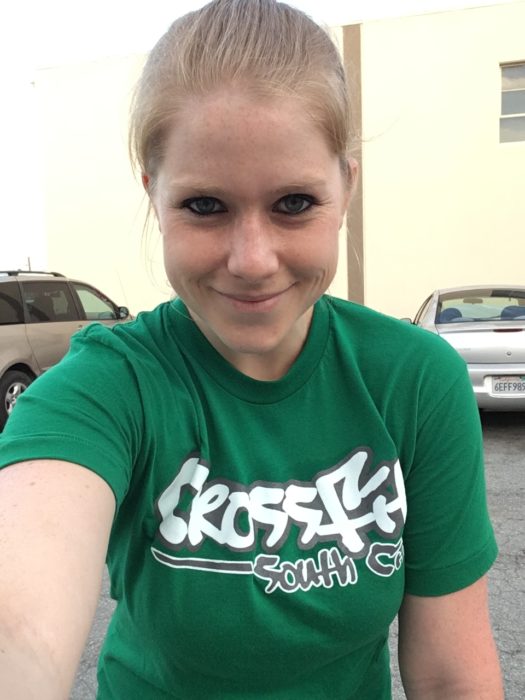 After watching a few other heats (I went first. Always.), I returned home to an Irish feast and my dad's green pants.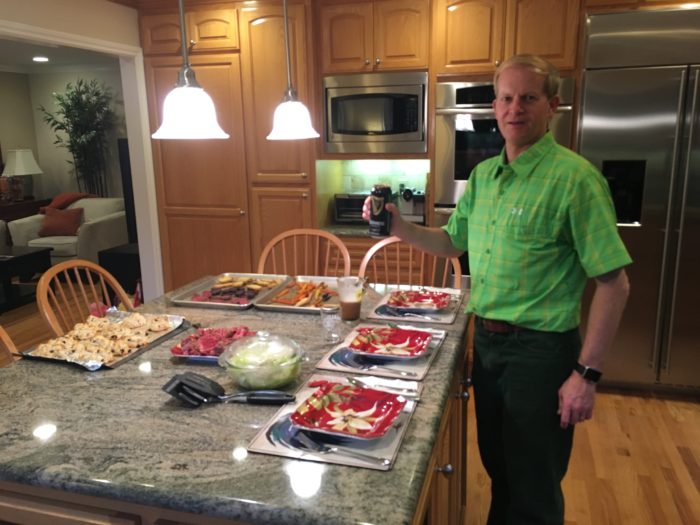 I of course had to have a taster glass of Guiness. I actually didn't really like it. The flavor is good but it needs some fizz!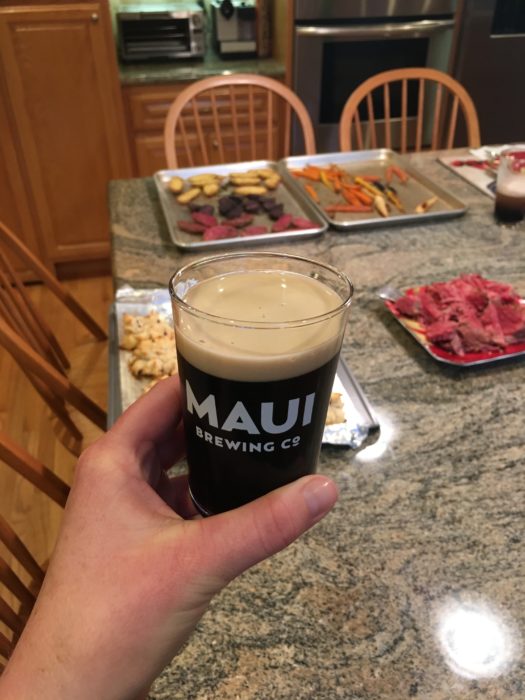 And the meal: cabbage, roasted carrots and potatoes, rotisserie chicken, ketchup (necessary for chicken and potatoes), and Irish Soda Bread. For the soda bread, we basically just added dried cranberries and raisins to biscuit mix.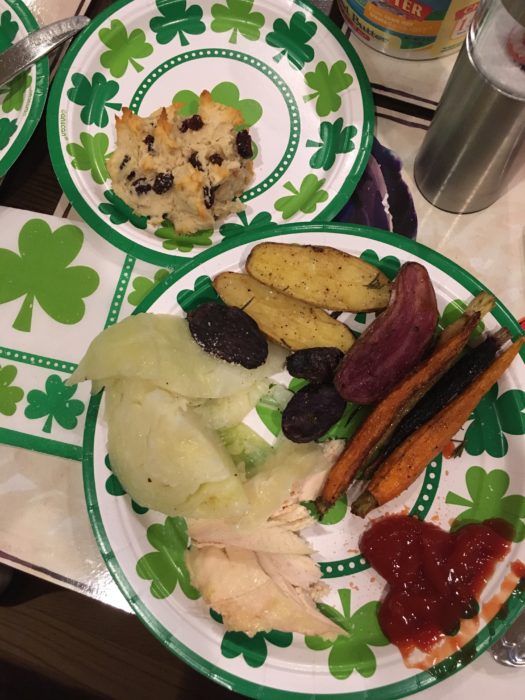 For a little something green for dessert, I made a single serve sugar cookie with green sprinkles.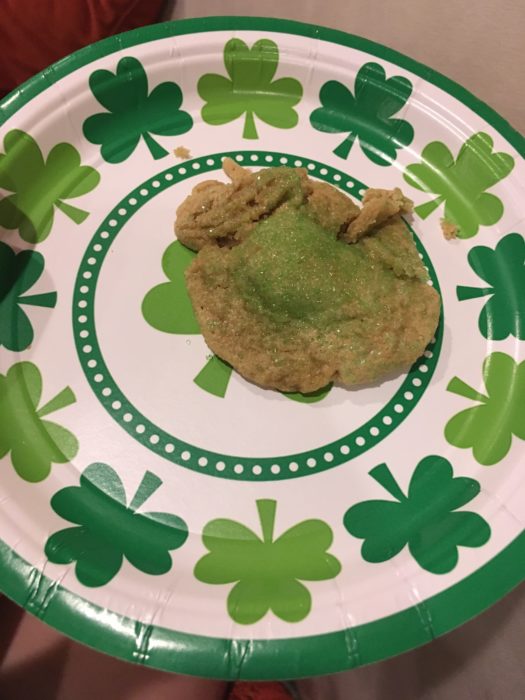 That evening, I went out with a high school friend. We went to a British-style brewery, which was definitely a first for me! The beer I got wasn't very fizzy, but it was full of (non-bitter) flavor. Interesting!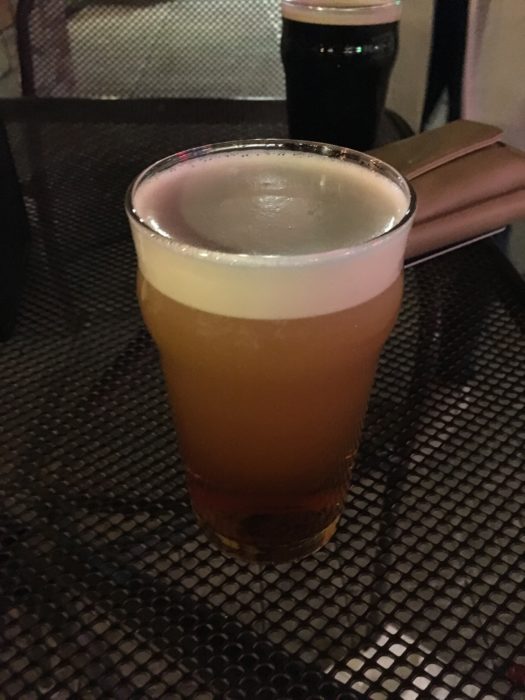 How was your St. Paddy's Day? Anyone do 17.4?