It's Blogmas Day 5!
In case you missed it, check out my latest recipe for pumpkin gingerbread.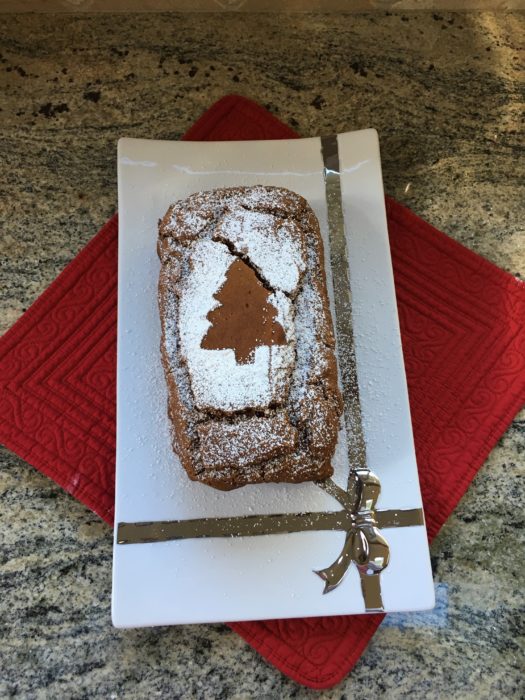 Today, however, we're talking squash. Spaghetti squash. I went through a major spaghetti squash phase when I was in St. Louis, and realized how easy it could be. I actually wanted to post a microwave spaghetti squash tutorial with various ways of flavoring the squash earlier, but I had it for every dinner for 2 weeks straight and was kind of sick to death of it.
But now it's back!
For today's Blogmas, I'm going to go through how to cook spaghetti squash in the microwave, and some different ideas on how to season it and make it delicious. One thing I will say though, is that the size of spaghetti squash varies greatly so take the cooking times and ingredients as guidelines.
How to Cook Spaghetti Squash
DO NOT CUT IT RAW. I repeat: DO NOT CUT IT RAW. That's a fantastic way to lose a finger, especially if you're as fabulous with a knife as I am. Simply score the outline of where you'll eventually cut with a knife. Carefully. If you're not comfortable doing that, I think it will be just fine.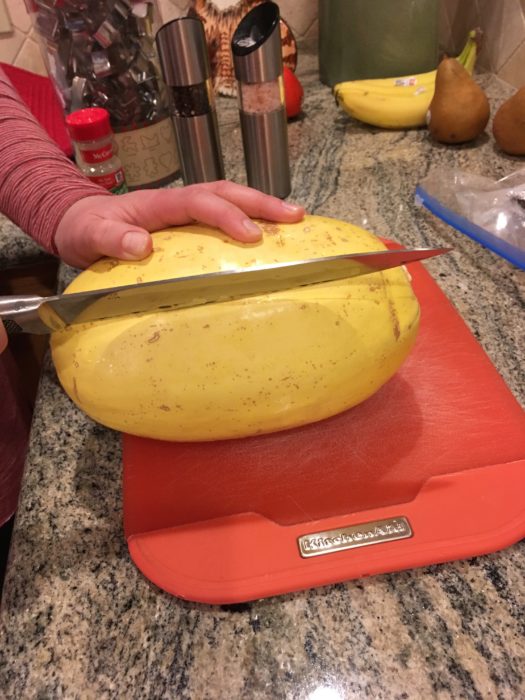 Next, you want to microwave it just enough to soften it to cut. Probably about 10 minutes. Yes, you can just throw the whole thing in the microwave. Yes, it looks a little ridiculous.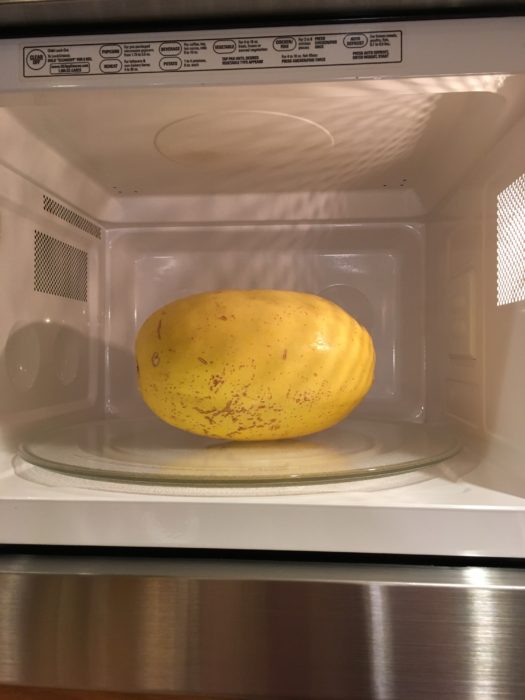 Cut it in half along the lines you scored. BE CAREFUL: it's hot and steamy. I used an even mitt to hold it.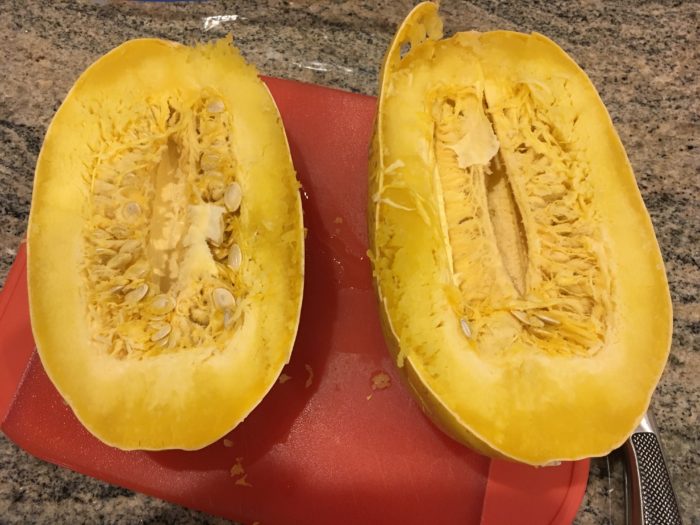 Scoop out the seeds.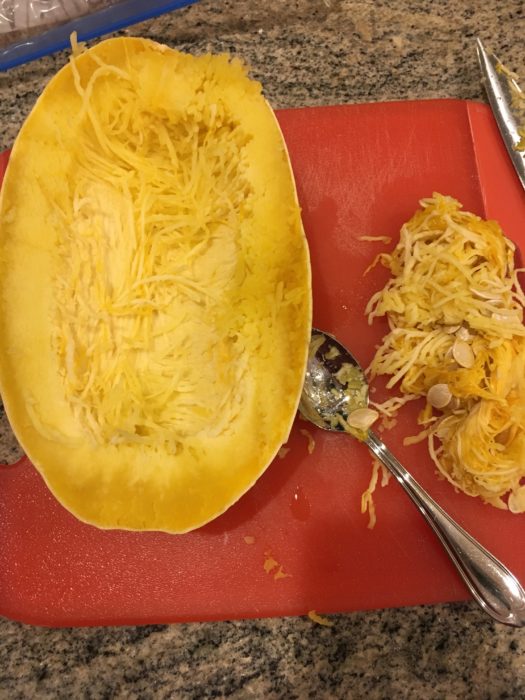 Then put it one half face down on a microwave safe plate with about a 1/4 inch of water in the bottom. Microwave until soft, such that you are able to scrape all the squash from the shell. This took me about 10 minutes.
Scoop it out of the shell. Unless you're serving a big group, or are super hungry, I recommend putting the other half in the fridge for another day, and then cooking it the rest of the way when you're ready to eat it. I found that 1/4 of a squash was a big portion for one. Half of our large squash (from our CSA box!) served 3 with plenty of leftovers.
Now, you have your blank canvas.
Spaghetti Squash Mac n Cheese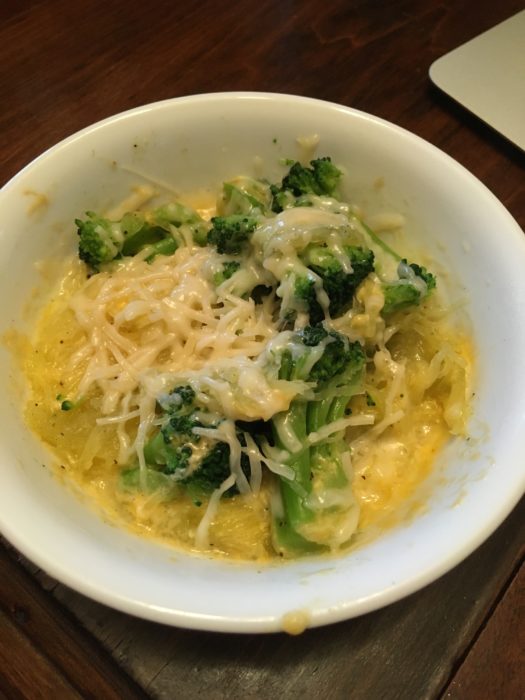 The key to spaghetti squash is making sure the squash tastes good before doing anything to it. Squash is actually a lot blander than pasta, and this may come out if you're not careful. For mac n cheese spaghetti squash, I took my favorite seasoning blend, salt, and pepper, and tossed it into a 1/4 of a squash. Next, microwave 1/2 cup of shredded cheddar (reduced fat works but I would not recommend fat free) with 1/4 cup of milk, a little garlic powder, and salt and pepper to taste. Heat until the cheese melts and stirring creates a sauce. Simply toss the sauce with your spaghetti squash. I like adding broccoli as well. For some bonus flavor, top the whole thing for 1/4 cup of shredded parmesan and microwave until the parmesan is ready.
Delicious. Minimal dishes. High in veggies.
Traditional Spaghetti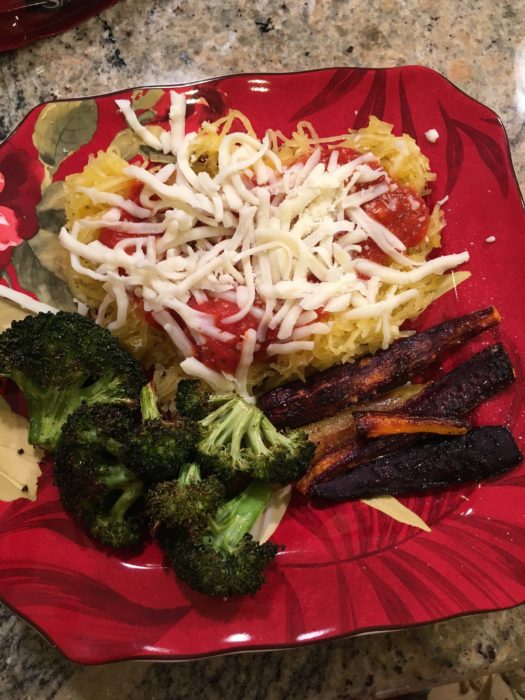 (Also note the delicious roasted heirloom carrots and broccoli, also from our CSA. Both were actually a lot more flavorful and sweet than what you find at the grocery!)
This "recipe" served 3, and used half of a squash. It's a crime to call it a recipe. Again, the key here is to make sure the squash tastes good before adding sauce. Simply mix 1/2 a squash with 1/2c shredded/grated parmesan, and salt and pepper to taste.
Then, just top it with your favorite spaghetti sauce, more cheese (mozzarella is my cheese of choice!), or meatballs if that's your thing!
"Cheesy" Warm Spaghetti Squash
This one is based on "Cheesy" Vegan Mushroom Quinoa from Fannetastic Food. I tried and loved that recipe years ago, and when I was on my squash kick I thought, that would be delicious in squash form. I love the coriander in this dish: it brings a really warm flavor that is perfect for winter.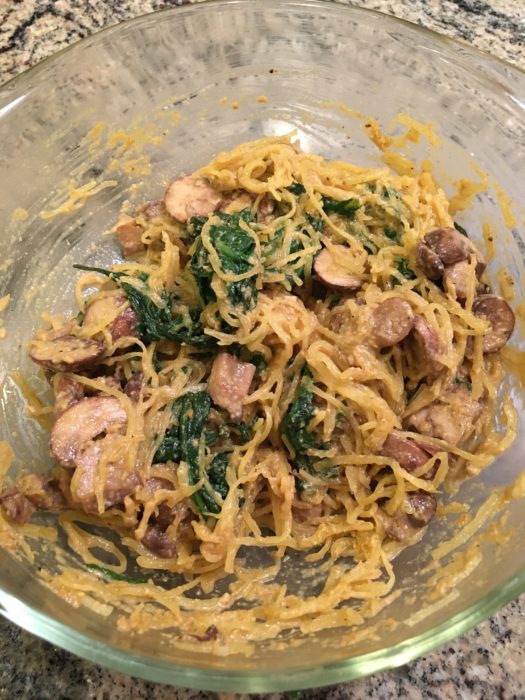 (Aesthetics though? 0/10)
Start by sautéing about 1 cup of mushrooms in olive oil and about a tablespoon of minced garlic. Mushrooms sautéed in garlic=house instantly smells amazing. Once the mushrooms start to soften, add about 2 handfuls of spinach.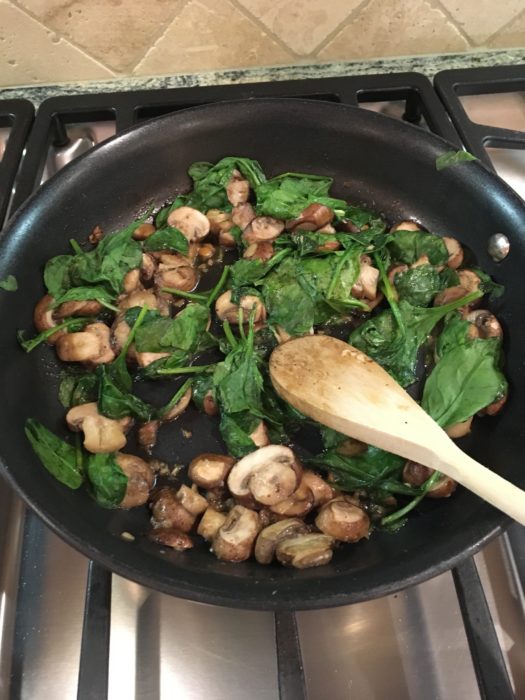 Salt and pepper to taste.
Then, take 1/4 of a squash and and toss in 1/2 teaspoon of coriander, 1/4 cup nutritional yeast, and salt and pepper to taste. Once blended, stir in mushrooms and spinach.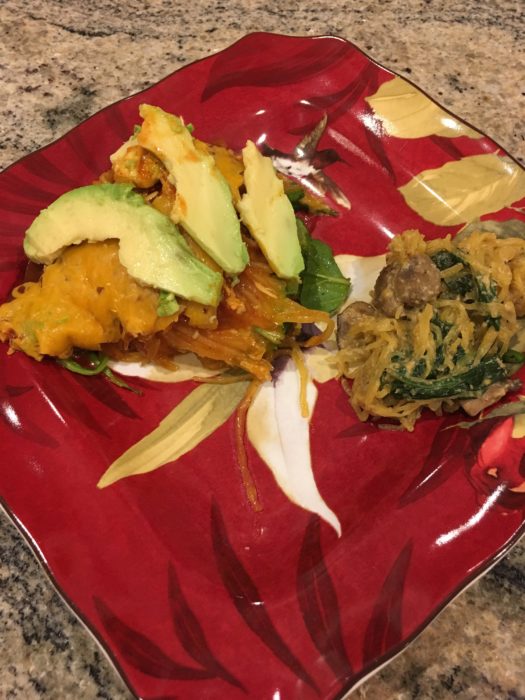 I like this one more as a side dish than a main course. I had it with the next recipe, but they totally don't go together. Gotta do it for the blog!
Enchilada Spaghetti Squash
I wasn't sure how this one was going to turn out, but it was a major win in my house!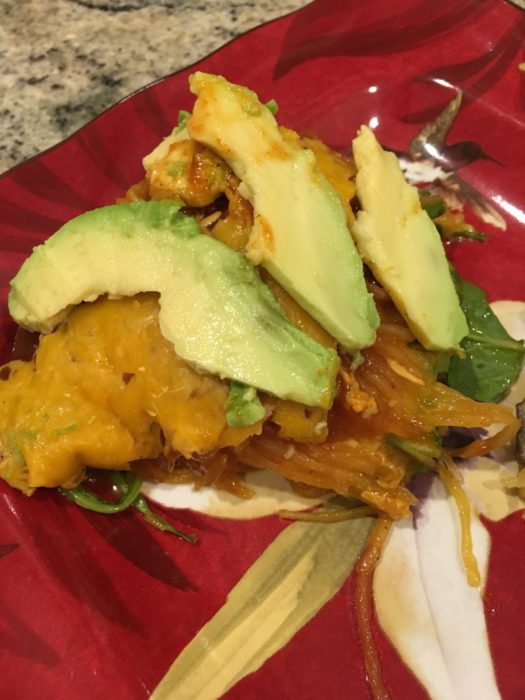 This one requires an oven, but that's about as difficult as it gets. Feel free to microwave the whole thing just to melt the cheese if that's easier!
For this, I used a little over 1/4 of a MASSIVE squash, so the amounts might be about right for half of a squash. Mix your squash with about 3/4 cup store bought enchilada sauce. Then, divide the portion of squash in half. (I just put half back in the squash shell to save a dish. No shame.) In a small casserole dish, spread one half over the bottom.
Then, on top of that, put on a layer of your favorite salsa. I used Trader Joe's Fall Harvest Salsa, and just used the rest of the jar which was maybe 1/2 cup.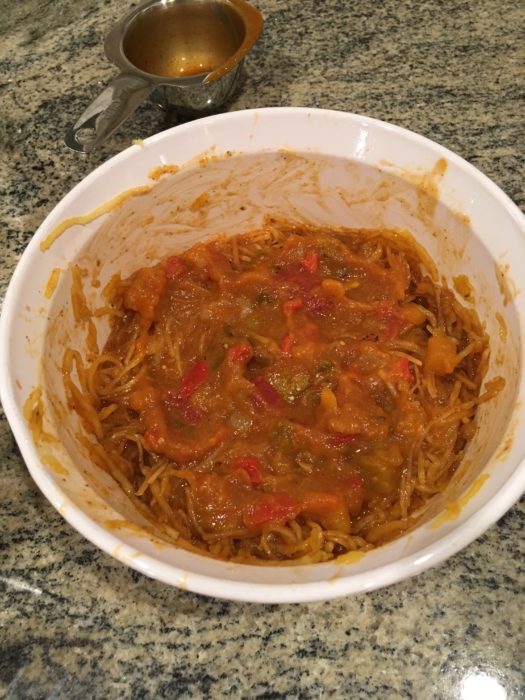 Then add a layer of spinach.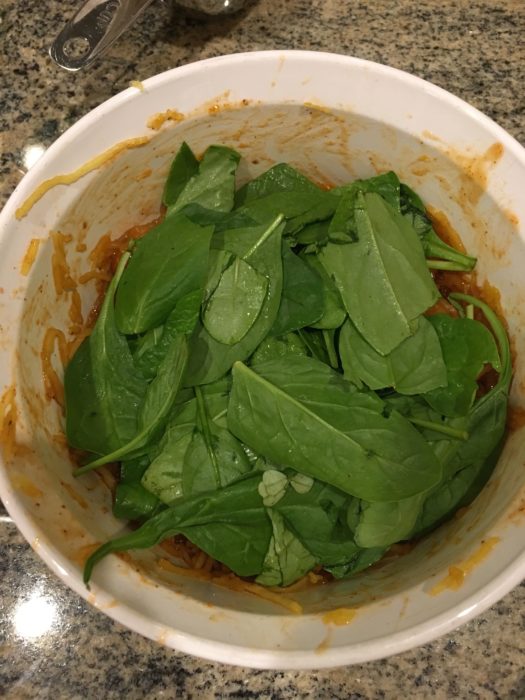 Next, 1/2 cup of cheese. I like the Mexican Cheese blend.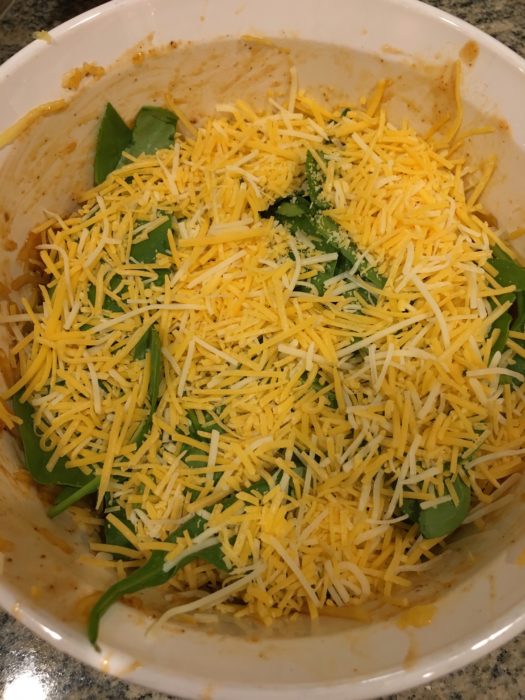 Then, top with the remaining squash. On top of that, pour over another 1/4 cup of enchilada sauce and 1/4 cup of cheese.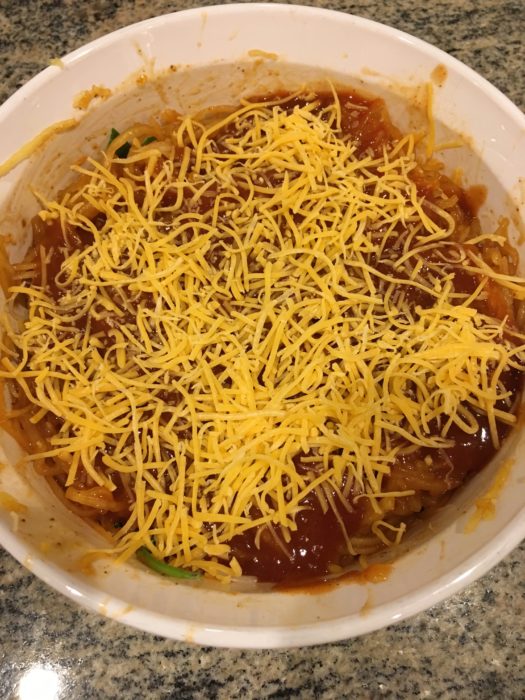 Bake for 15-20 minutes at 350, or until the cheese is melty and the sauce starts to bubble.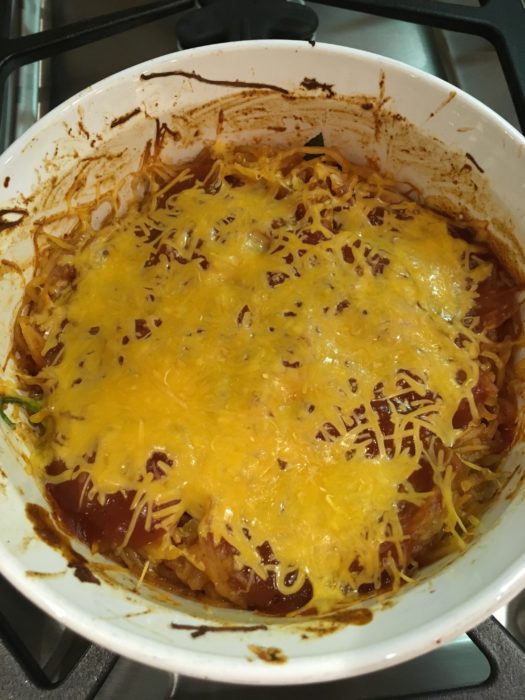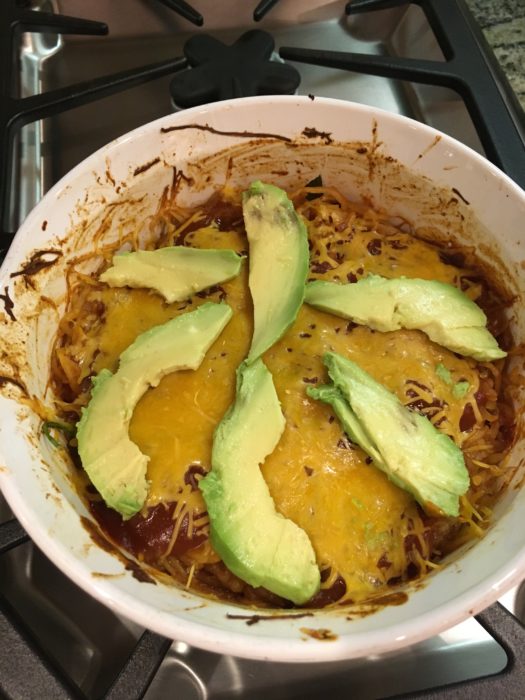 Optional but highly recommended is topping it with avocado!
Happy squashing!