Hi friends! I'm currently in quite a good mood. I got some very unexpected good news today, and I had an awesome fall run after work in Forrest Park! It was my fast casual run post stress fracture!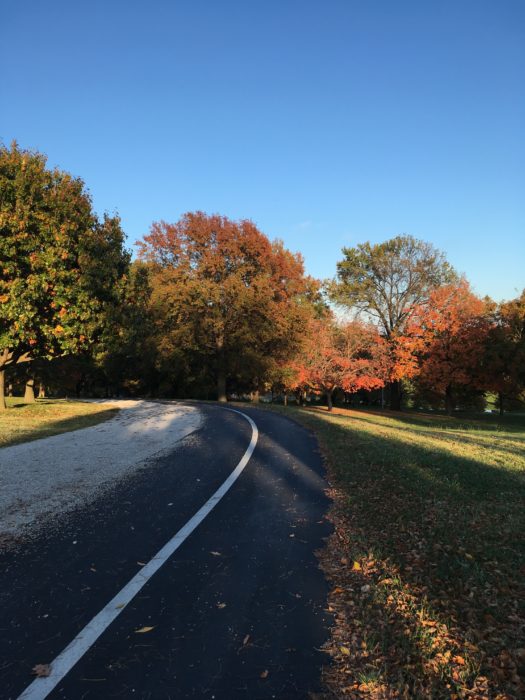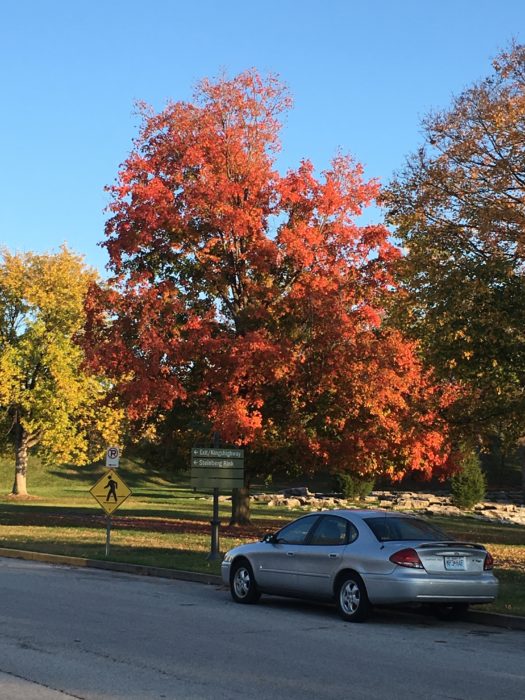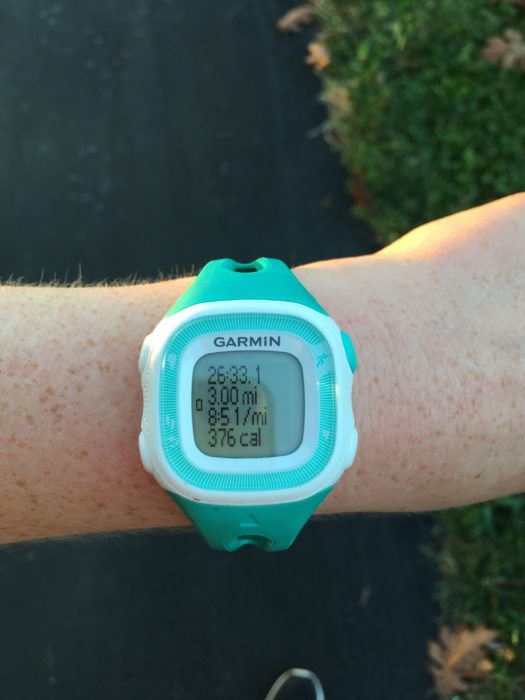 It's nice to see some 8:xx back in there! I just signed up for my annual Turkey Trot as well. In the past, I've done the 10k, but decided to actually use good judgment and just do the 5k this year. As much as I wanted to do the longer distance, it just wouldn't be smart to run twice as much as my normal with a sketchy foot.
I wanted to share some tidbits from my Wednesday with you. Spoiler alert: I had my first actual gluten (minus tiny amounts accidentally 2x) in 14 months. Whatt??
I woke up pretty hungry on Wednesday morning thanks to a full day of travel and had my usual Cinnamon Apple Cheerios pre-workout. The workout of the day was a Crossfit shoulder killer. I basically trashed my creaky shoulder, but it's fine because that's how it is going to get stronger. I just need a few days off from overhead! We did 8×3 push jerks, which I used 85 pounds for. Technically we were supposed to do 70% but my 155 lb one rep max was pre-shoulder injury when I was a whole lot stronger. Then, we did an EMOM for 14 minutes of 5 strict presses on the even minutes and 5 strict pull ups on the odd. I did the pull ups with a band. Immediately following this we did 2 minutes of max burpees. My shoulders are feeling it today, that's for sure!
Post-workout I had the best breakfast. Cottage cheese with pumpkin butter, sunflower seed butter, and a side of strangely delicious blueberries.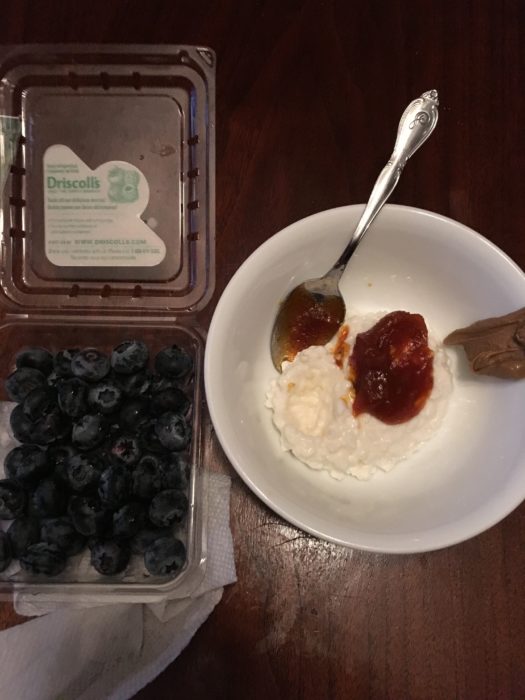 For lunch, I made a hummus, egg (microwaved), and goat cheese salad with some Glutino crackers on the side.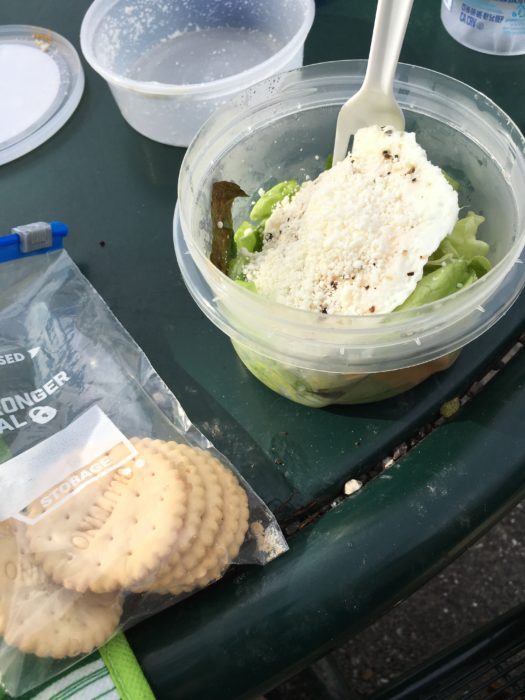 For snack I had a small berry granola bar.
Before the moment of truth, I have some obligatory zoo pictures. Because I only have 2 weeks left.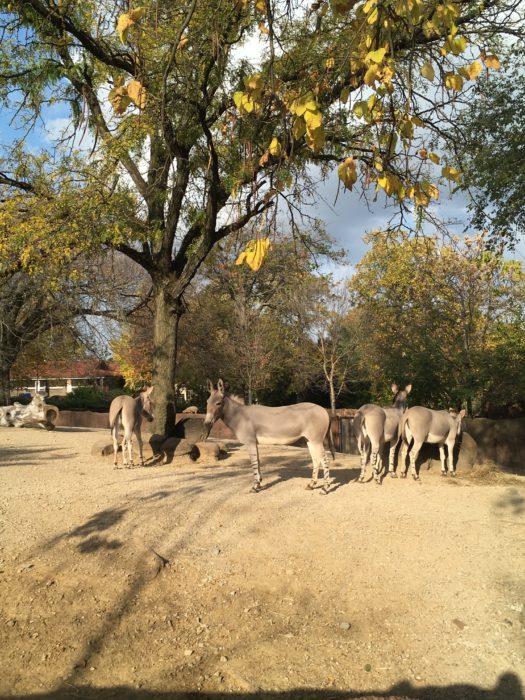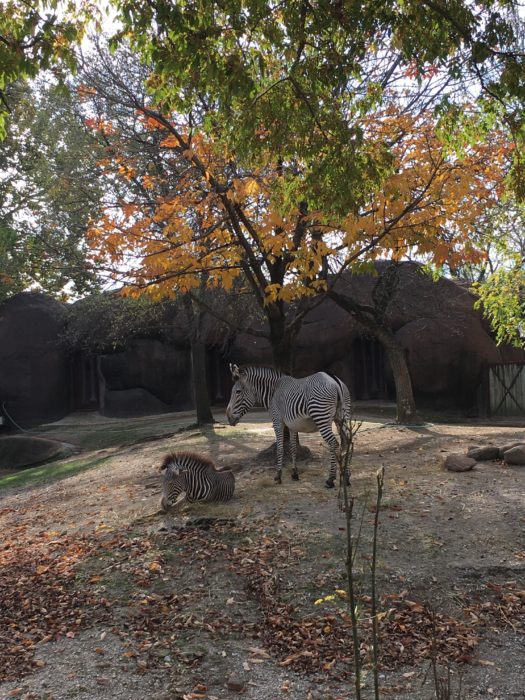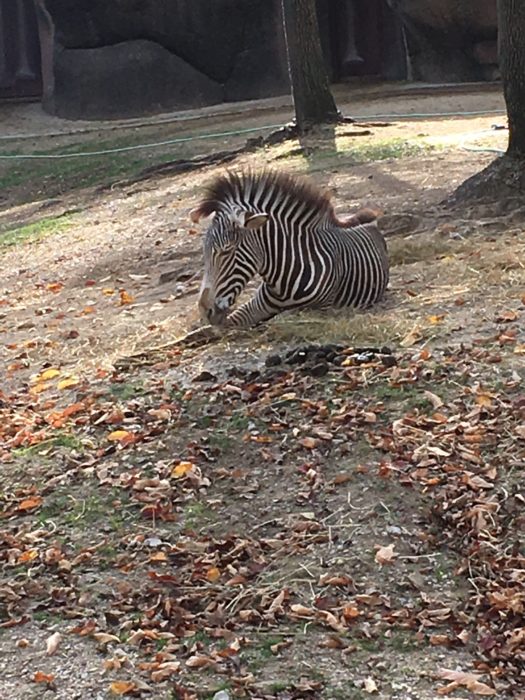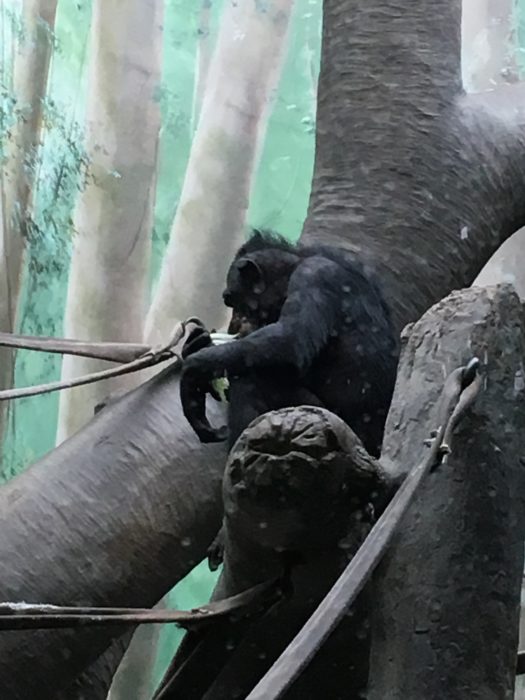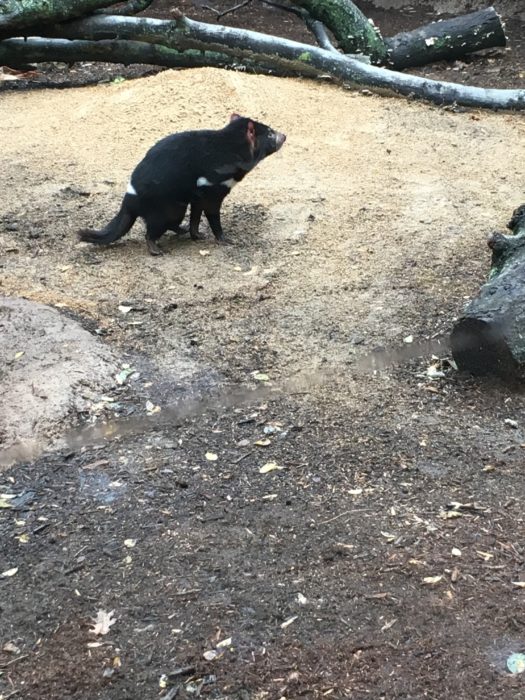 Bae <3 <3 <3
I'm going to miss my girls!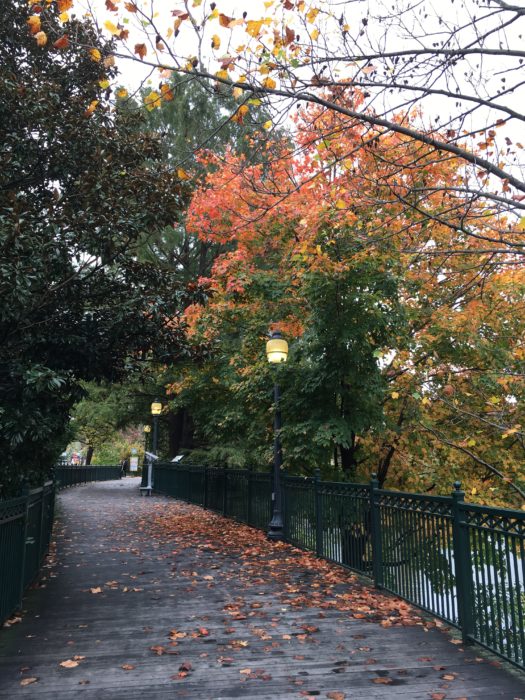 For my gluten of choice, my friend who works at Panera brought me an M&M cookie. Free food=instantly more delicious.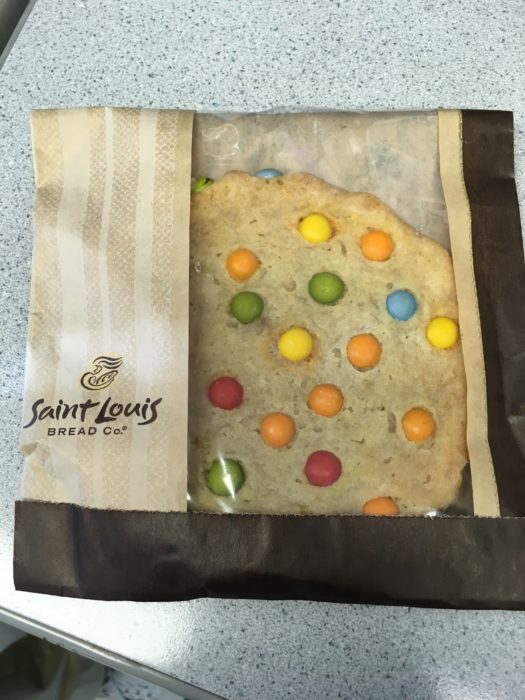 And then it was time.
*insert jaws theme*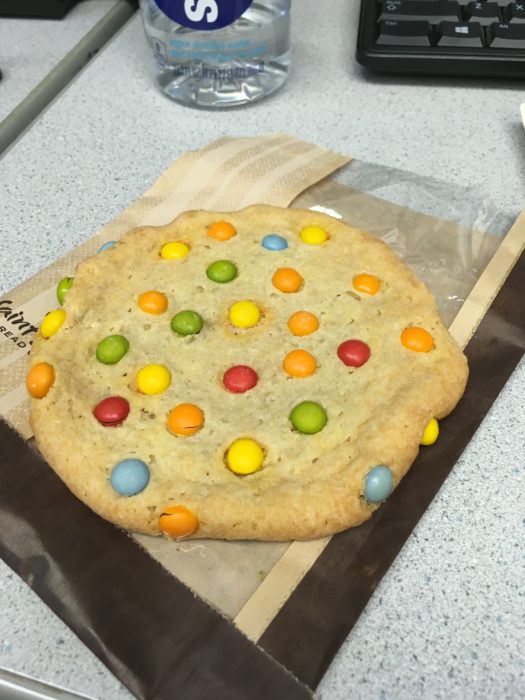 I nervously took a bite. And waited. Then another. I had 1/4 of this large cookie to start, and another bite about 20 minutes later when I felt ok.
I wasn't sure what to expect. It was hard to imagine it would cause a vicious flare up because I haven't had anything like that in a while.
If I had to guess what would happen, it would have been what did happen.
My stomach felt ok. My brain stopped working. That was interesting. I had my part of the cookie about an hour before I was off work, and I was inputting data into an excel sheet. And suddenly I kept messing up. I was in this weird fog. I was so incredibly tired that I felt like I needed to fall asleep on the spot. My brian was moving in slow motion, and I couldn't quite get my brain to communicate with my fingers.
Does this surprise me? Not really? If you look way back into the depths of my blog, you'll see posts from freshman year of me wondering if I had a problem with gluten because I'd eat pancakes for breakfast and then in class afterwards suddenly feel overwhelmingly and all-consumingly tired.
But I didn't flare. That being said, I literally had less than half a cookie. At a point when my stomach was 100% perfect to start. I still don't totally trust it in all situations, and right now it's not worth risking the fear of a flare. Plus the brain fog? I think I'll keep avoiding it. But this means I don't have to worry about small amounts/contamination in things like soy sauce. And if we're being 100% real here, I really just wanted to do this trial now to know if I can eat the top off pumpkin cheesecake at Thanksgiving without worrying about any crumbs from the crust sneaking their way in. And I think that will be ok!
Because priorities.
For dinner, I made cheesy polenta with an egg that I seriously messed up flipping, and mushrooms with spinach sautéed in garlic and soy sauce.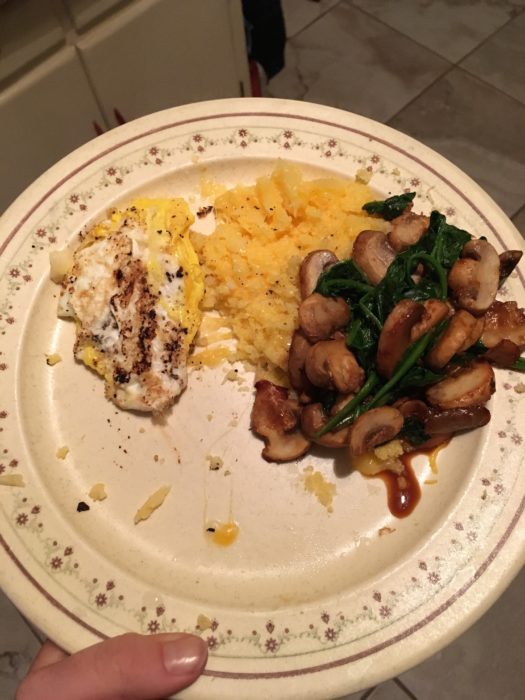 And of course I needed baseball watching snacks.
I had a little bit of vanilla Halo Top with a GF snicker doodle and some Trader Joe's Pumpkin O's.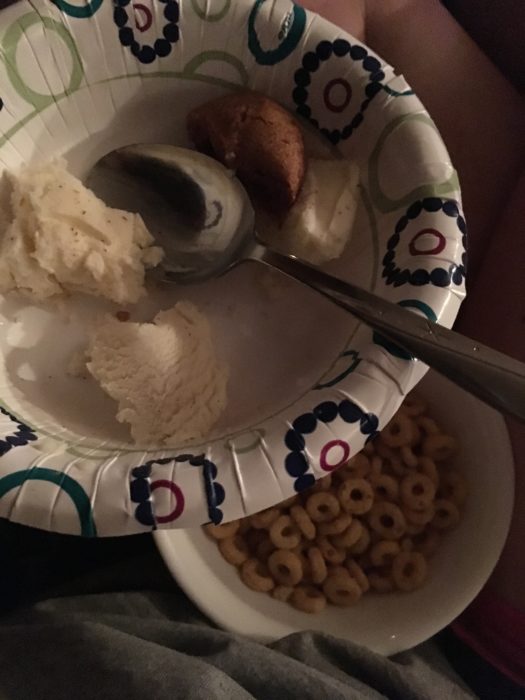 As for baseball? I just wanted a good game, and this certainly delivered. The fact that I have no investment to either team and yet I'm crazy nervous about the game is why baseball is the greatest sport ever. I'm happy for the Cubs. I really disagreed with some of Joe Maddon's (the coach of the Cubs) decisions, and I'm glad that the questionable decisions came back to bite him despite the final outcome!
Did you watch the World Series? Thoughts?