Update from last night: I finally got my 6 mile run in at 7pm. That's later than I ever really run, but I got it done and get 1000x better afterwards, and that's what matters. I'm one of those people who cannot function without exercise. I get drowsy and dopey, and I think I am sort of tightly wound, and exercise normally takes that edge off me.
Despite the late start, we had quite the delicious dinner, trying 2 new recipes of Cooking Light.
The first were cheesy cauliflower biscuits, which were filled with garlic and cheddar flavor. They almost reminded me of soufflés, because they were light and fluffy. The second recipe was the Roasted Carrot, Quinoa, and Grape bowl. I really liked this one-we cooked quinoa in chicken broth, and that was mixed with chicken, sliced grapes, and roasted carrots, all topped with a greek yogurt based dressing and served over a field of greens.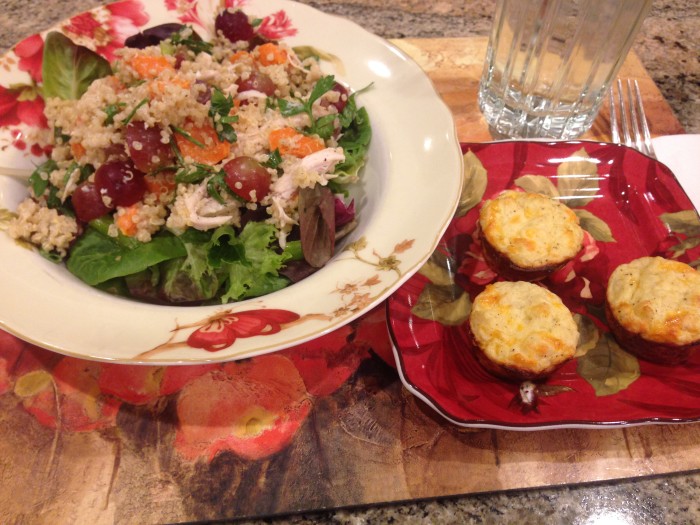 The dressing had an interesting and delicious cumin flavor. The only thing is that I think we used more quinoa than the recipe called for, so there wasn't much dressing for the greens.
This morning, I had a dentist appointment so I made sure to not have something that would stick in my teeth for breakfast! I had a Siggi's pomegranate passionfruit yogurt, topped with sunflower seed butter, and a side of nectarine from the Farmer's Market. I love that Siggi's flavored yogurts are not very sweet!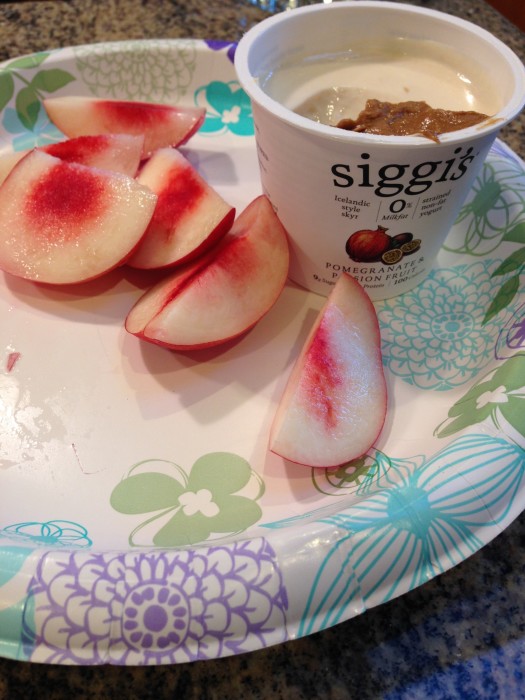 After the dentist, I went straight out to do my medium length run of the week-5 miles. My legs were dragged a tiny bit from running the night before, and my foot was a little stiff, but I knew I'd feel better if I just knocked it out early in the week because it works better with scheduling.
After my run, I headed home to get to work on some baking projects. I'm trying to avoid eating too many bars because they tend to be higher in sugar, and because I'm trying to eat fewer foods that may contain traces of nuts because my skin has been awful lately due to allergic reactions.
In the process, I threw together a quick lunch of leftovers, this time skipping the bed of lettuce.
Project 1 was just basic pumpkin banana bread.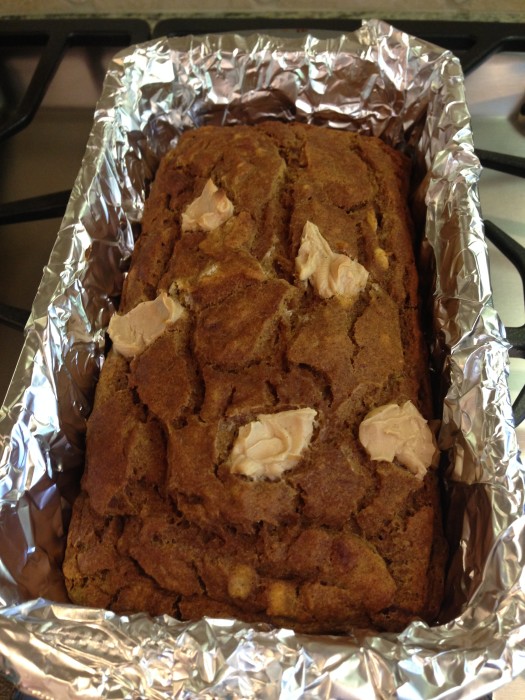 Project 2 was sort of spur of the moment. I wanted to try something different. I've made cherry bread before on accident (when I realized halfway through assembling ingredients that we were out of pumpkin-whoops), so I thought making cherry vanilla bread might be fun to do for something different. It turned out great!
Interestingly, the bread doesn't have a strong fruity flavor, but the cherry masks the banana flavor. If you want a warm, homey bread that is still wholesome, I would recommend giving this a try! It has a pretty basic flavor, and I think it could be the base for a lot of different things-I have big plans for this come winter! Feel free to jazz it up by added dried cherries or chocolate chips.
Cherry Vanilla Bread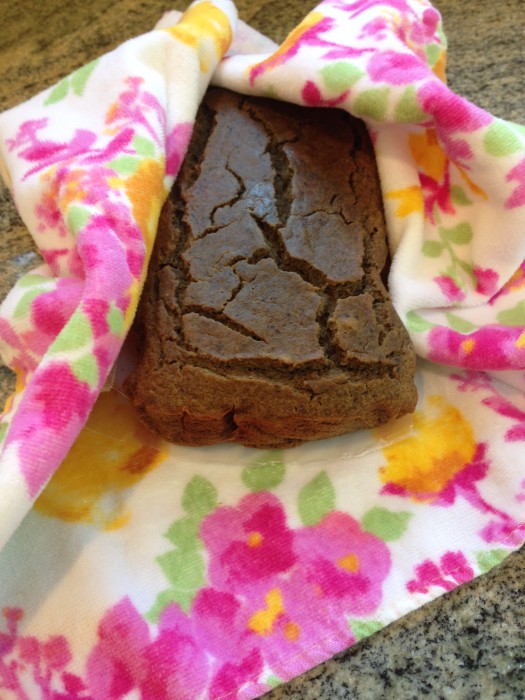 Ingredients:
2 well ripened bananas
1.5 cups of frozen cherries, thawed and ground in a blender or food processor
1 large egg or 2 egg whites
2 tablespoons oil (I used avocado)
1/3 c milk
1/8 c honey (or more to taste, recipe actually calls for 1/3 to 1/2 c sugar)
1 teaspoon salt
1 teaspoon baking soda
1/2 teaspoon baking powder
1 teaspoon cinnamon (can omit-this gives it a warm flavor)
1 tablespoon vanilla extract
1.5 c whole wheat pastry flour
Instructions:
Preheat oven to 350
Mash bananas.
Add all ingredients except flour and mix well
Blend in flour, stir until moistened
Pour into 4×8 loaf pan, I recommend lining it in tinfoil
Bake for 50 minutes or until toothpick inserted in center is clean.
Enjoy!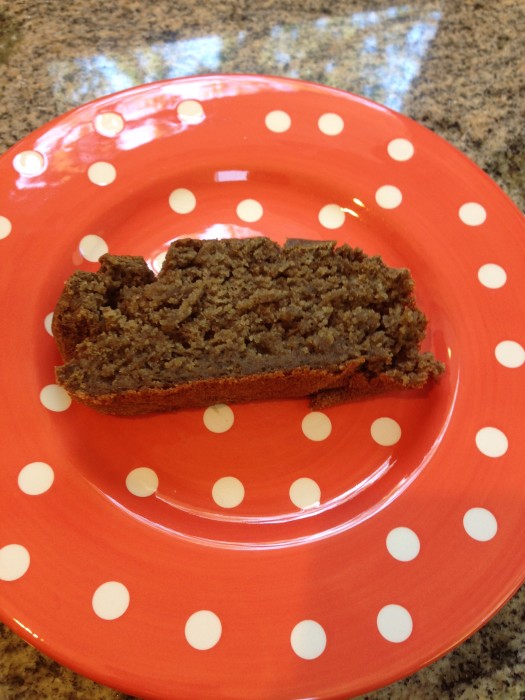 And because I have to share this picture: