Hey guys! It's been a looong time since I did a Day in the Life post! (See my last one here! After looking over it, my quarter is definitely much saner!)
7:05 Alarm goes off. Jump out of bed and remove my foot straightjacket.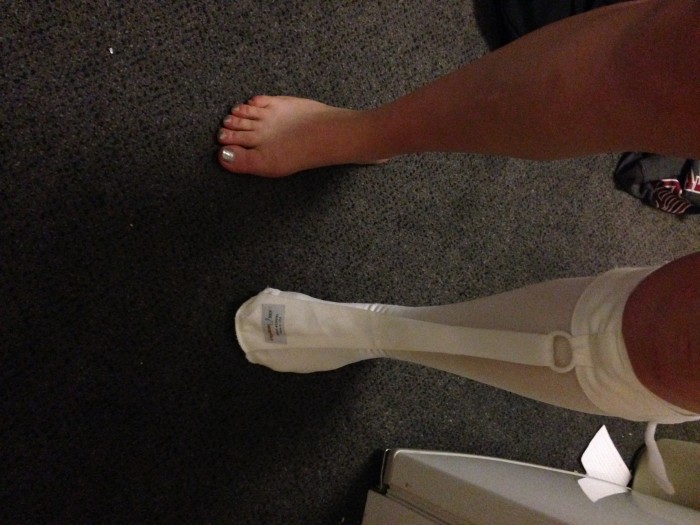 It's a night brace for my plantar fasciitis. It really helps, but I feel really constrained so I typically wear one at a time to give one foot some freedom.
I wake up grateful that my feet are feeling good! They were bad yesterday.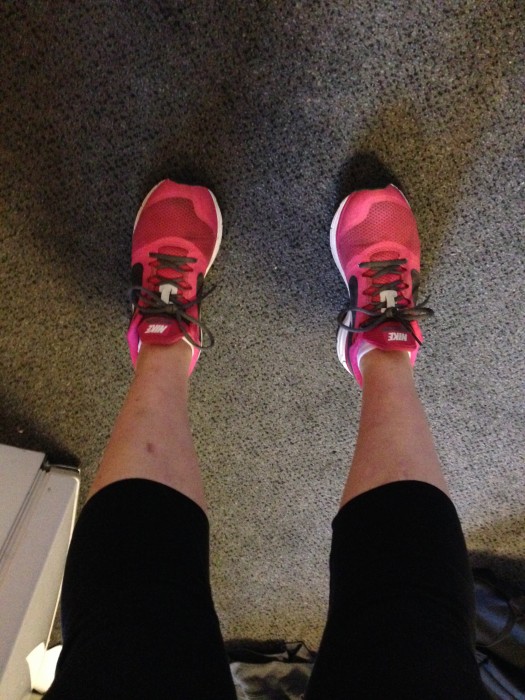 Heading out for a run. I have trouble getting out the door on time this morning. My route takes me 2.5 miles more or less up a gradual hill, and 2.5 miles back. It feels pretty good. The plan was 6 but I'm short on time and the turnaround works better this way. I think about how much I miss running in DC. 2.5 miles there would take me from my house in Georgetown to the monuments. Here, it takes me…up a street.
I had to wear long sleeves! It was cold this morning! I think about how hard it will be to get out the door in a few months, but it's fine once I get moving.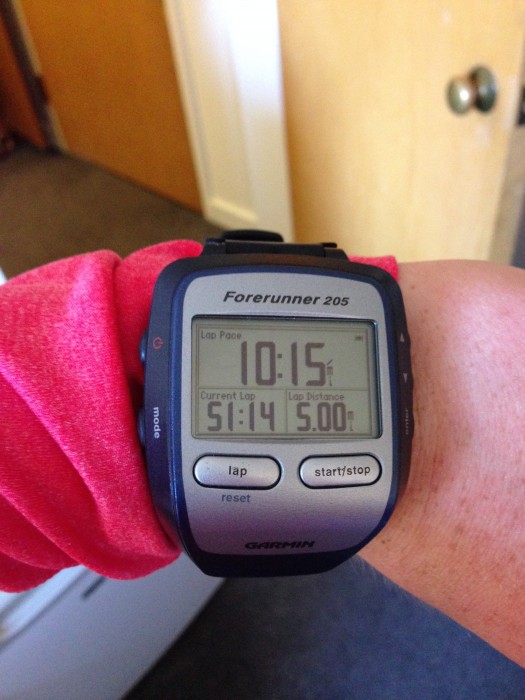 Not the fastest time, but it was up hills and felt better than last week!
9:00am Go to breakfast. They had roasted cauliflower with the eggs! I get a small bowl of eggs+veggies, plus my usual yogurt bowl with sun butter and pears. It seems like a lot of food, but run days make me hungry!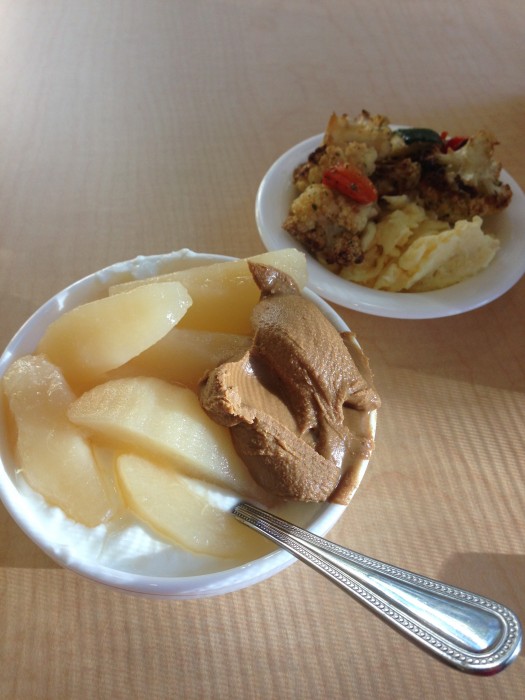 I contemplate getting coffee. My decision is made for me when the dining hall is out! I decide that taking back some roasted veggies for lunch will save time in my lunch prep, and I'm still running late.
9:15 Pack up lunch and back pack, and then shower and get ready.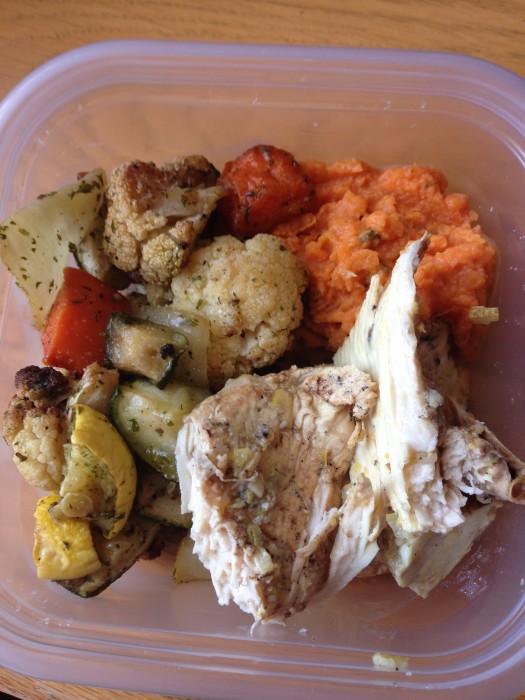 9:52 Walk out the door and refill our candy bowl.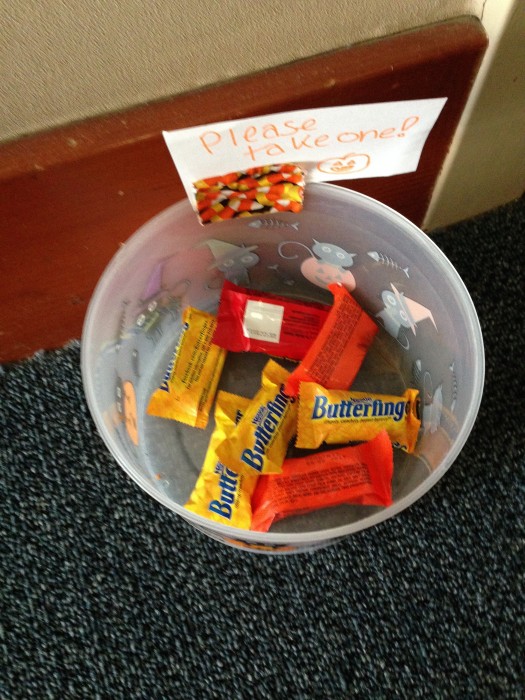 Bike clear across campus to my first class.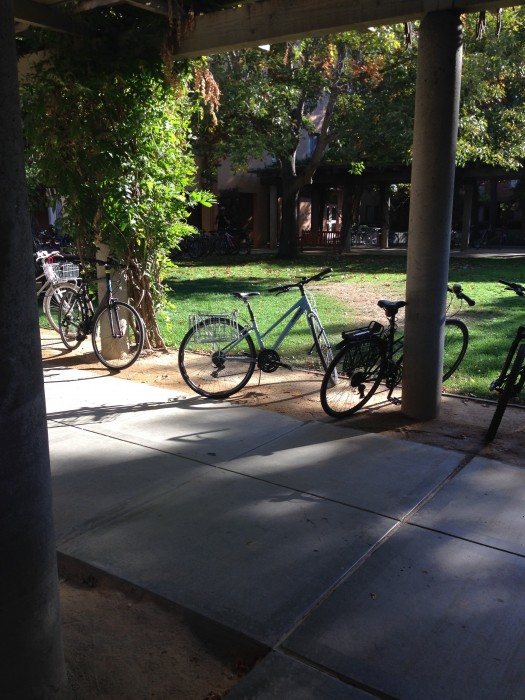 10-11:50 Developmental Neurobiology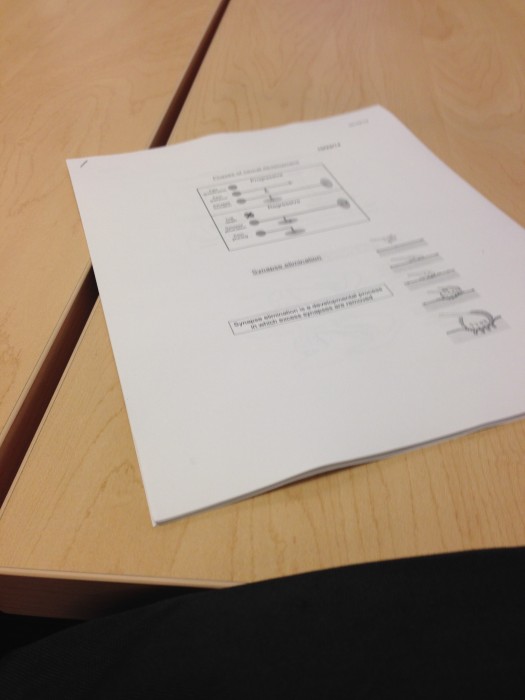 We talk about synapse elimination in the spinal cord.
12-Lunchtime! Contemplate getting coffee because I'm dragging a bit, but decide against it.
Lunch is mashed sweet potatoes, roasted veggies from this morning, and precooked lemon pepper chicken from Trader Joe's. I was impressed and surprised by how lemony the chicken was.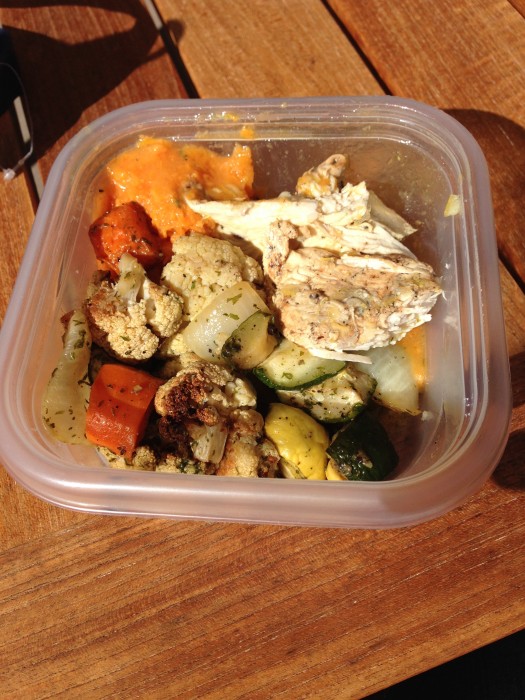 Also here's my outfit. Jeans. Moccasins. Long sleeve shirt+scarf. It's fall my friends.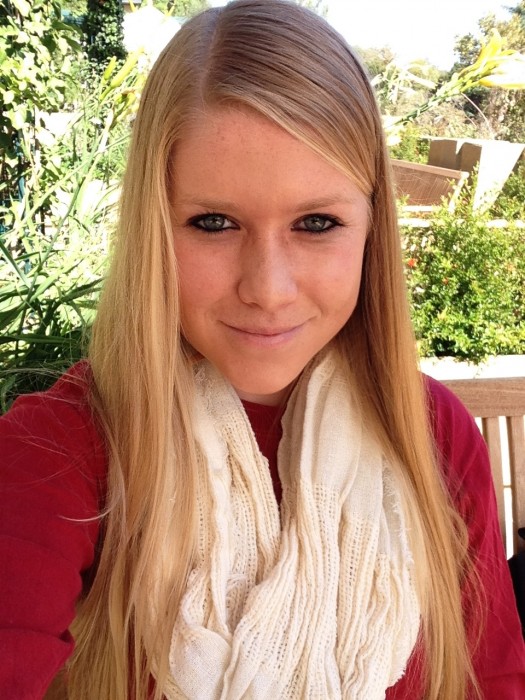 12:30-3 I did work. Normally I'd have a Chem section in there too but since we just had a midterm, there wasn't much material to go over.
I spent some time working on Wednesday's post.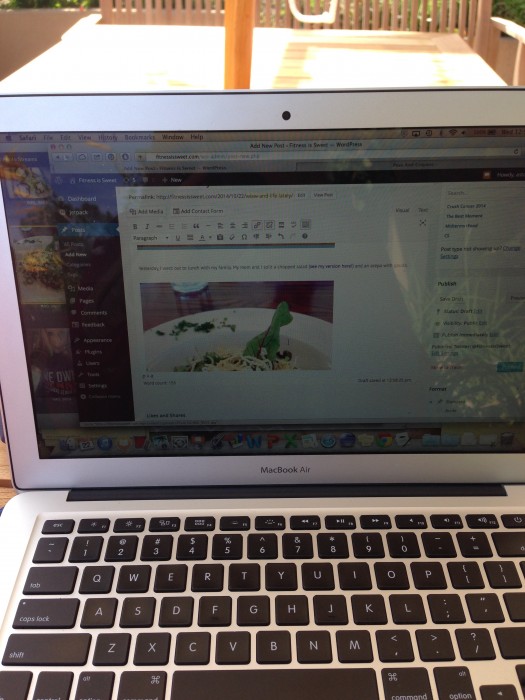 I also watched Monday's CS lecture. On Mondays I have overlapping classes, but one of my lectures is filmed so I watched the lecture today!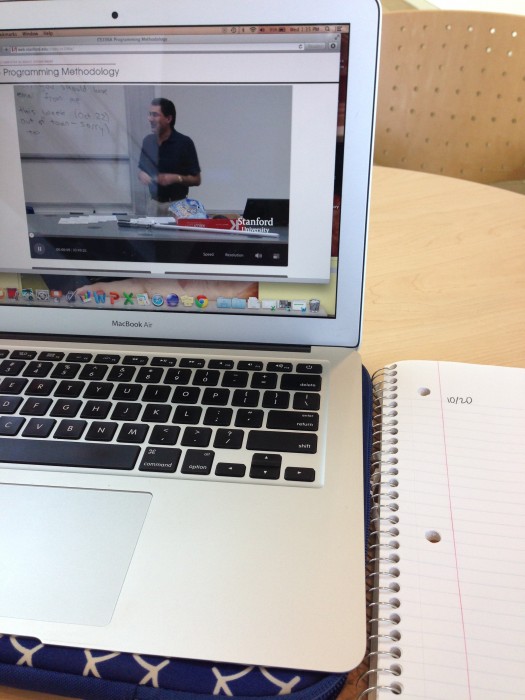 ~3:00 Head over to CS lecture. This class has 700 people in it, but luckily in week 5 people stop going to class so it's easy to get a seat!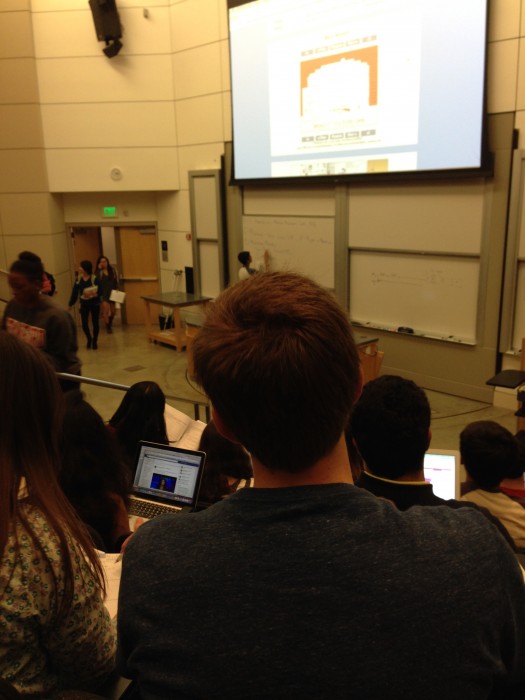 4:15 Return to dorm. I need a nap! Dinner doesn't seem like it will have a ton of substance so I eat a bite of blueberry vanilla goat cheese.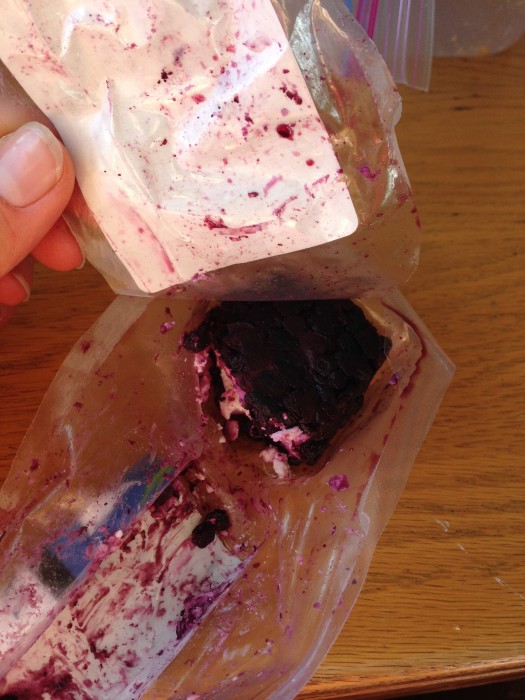 I then change into leggings-GOTTA SUPPORT THE TEAM-and crawl into bed until 5:00 when the game starts.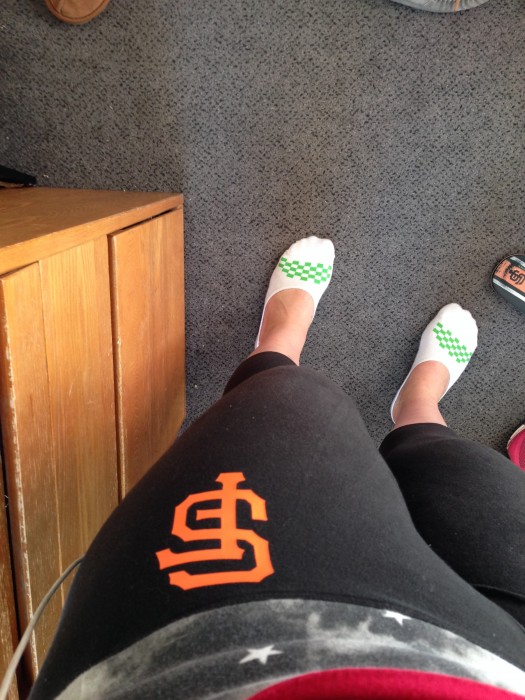 5:00 Alarm goes off. I just up and run to the dining hall to grab dinner before first pitch at 5:07. Dinner looks better than expected.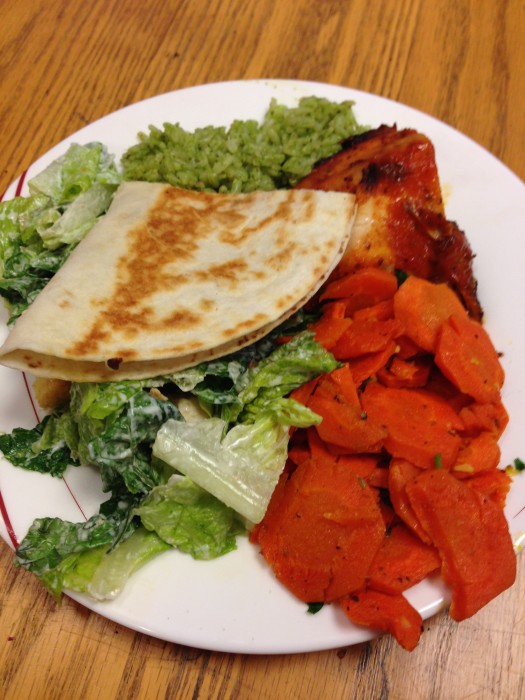 A piece of quesadilla, salad, roasted carrots, a little cilantro brown rice, some dry chicken.
Then-game time!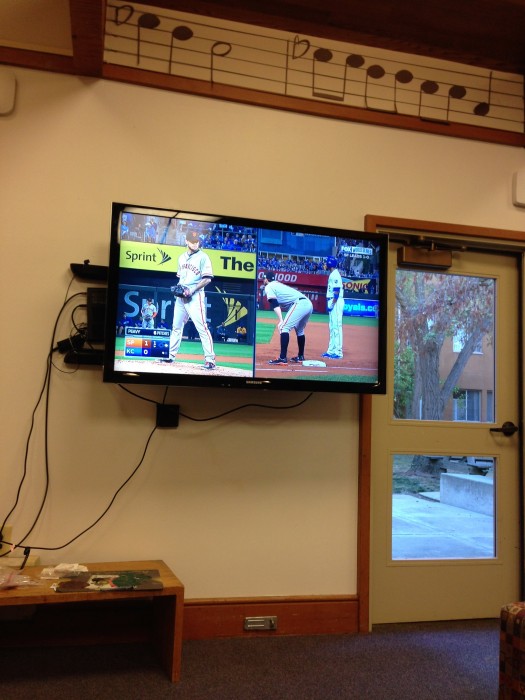 Between innings I run back to the dining hall to return my dishes and grab a bowl of ice cream with hot fudge.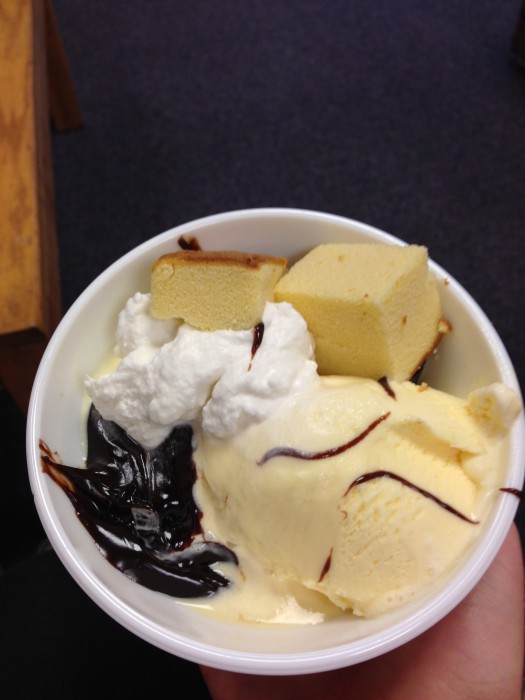 Continue watching the game and work on pre-lab during commercials.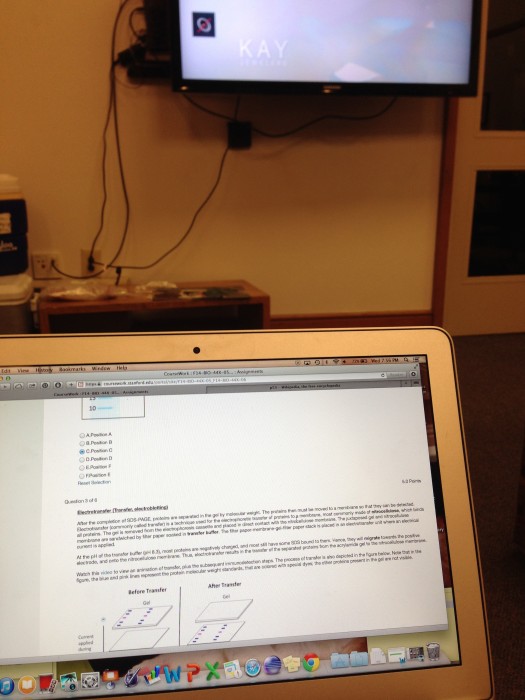 Game ends around 8:45. Sadly we lose. We're now 1-1 for the series but we're headed home!
8:45-9:15 Work on this post and chat with a friend. She learns about this blog and wants to follow it.
9:15 House meeting. Only a couple of announcements, but they bring in Sprinkles Cupcakes! I haven't had many sweets this week so I don't worry that I already had ice cream.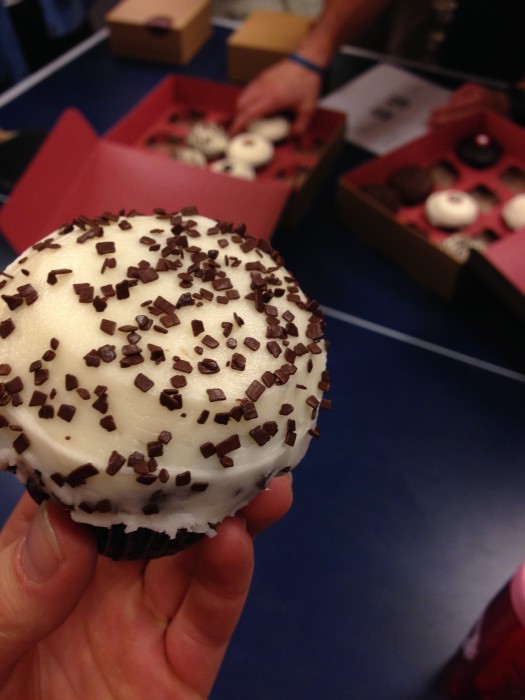 I decide that Sprinkles doesn't compare to the other cupcake places in DC, although I swear the Sprinkles Cupcake I had in DC was better. And bigger…
9:38 Now. Typing up this blog post. I'm ahead on work so I'll probably go to bed soon. I also realize that I'm almost certainly allergic to the Halloween candy that doesn't contain nuts, but is packed and processed near so many nuts. Booo. I've gotten so sensitive!
It's interesting to see this Day in the Life compared to the last one-my life is so much less crazy now!
What do you think of Day in the Life posts?