What a creative title, right?
I wanted to finally catch up on all the food I've been having, especially as it's getting more and more fall themed! We'll divide it into meals, and dive right in!
Breakfast: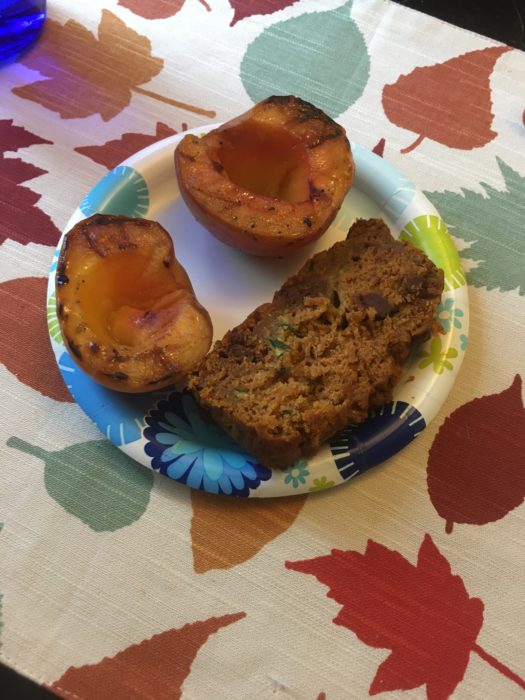 Zucchini pumpkin bread with leftover grilled peaches.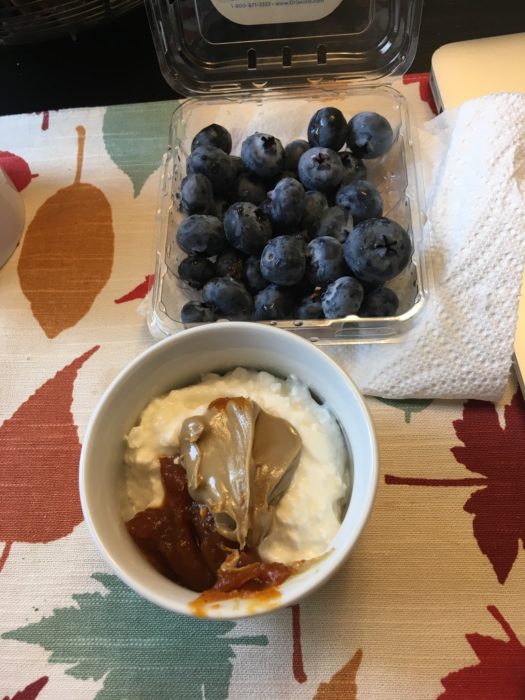 The current fall favorite: cottage cheese with pumpkin butter and sunbutter, with various fruit.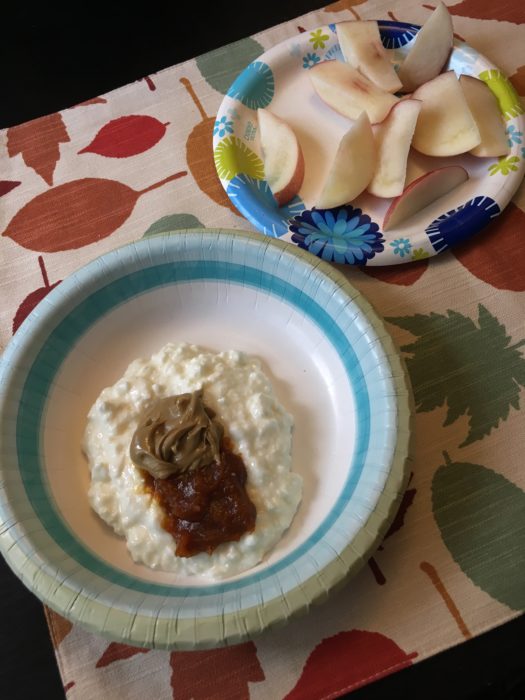 Also, can we just take a minute to appreciate the fact that I can still get good peaches at the end of October? I love CA sometimes.
Lunch: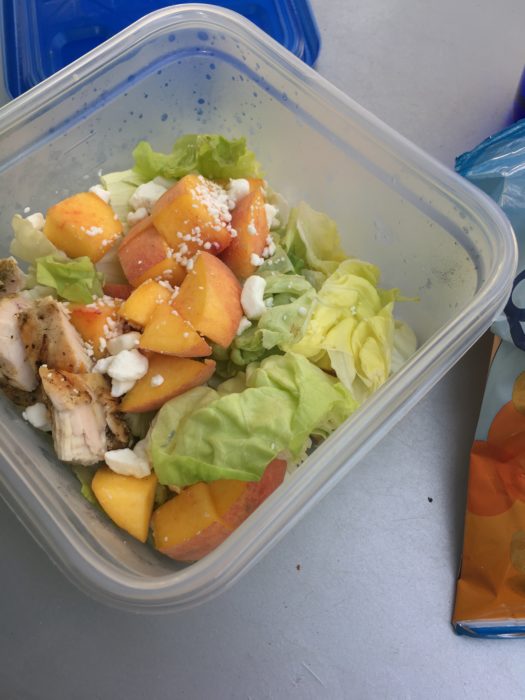 Peach, goat cheese, grilled chicken salad.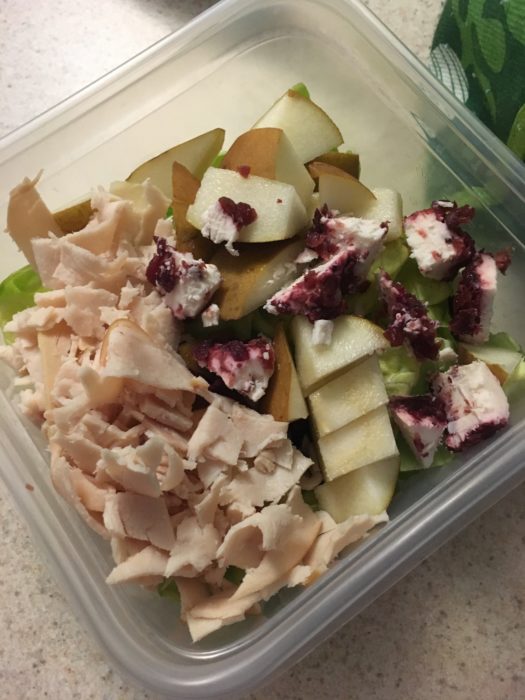 Starting to move away from summer and into fall! Cranberry chèvre, Bosc pear, and deli turkey (the only meat I had on hand).
Mr. Pickles sandwiches that we got as part of a lunch talk. I had the insides of a veggie and a turkey.
Dinner: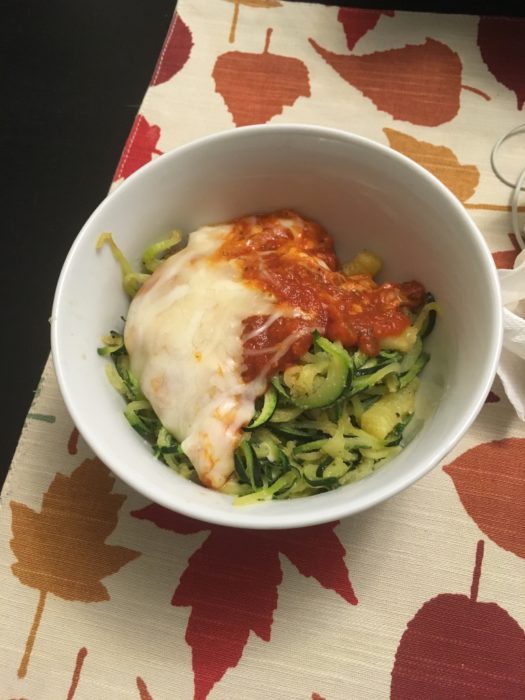 Typical zucchini noodles: topped with tomato basil marinara and mozzarella.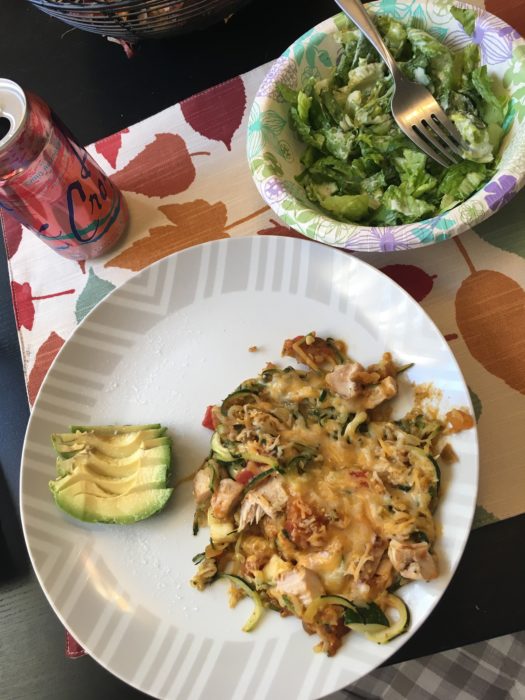 My new favorite way to eat zucchini noodles (above and below): sauté them up and then stir in Trader Joe's Fall Harvest salad, grilled chicken, and cheese. Must be served with avocado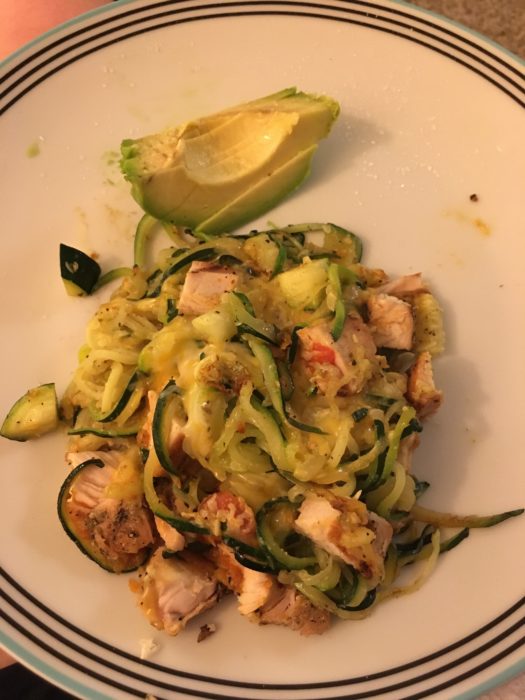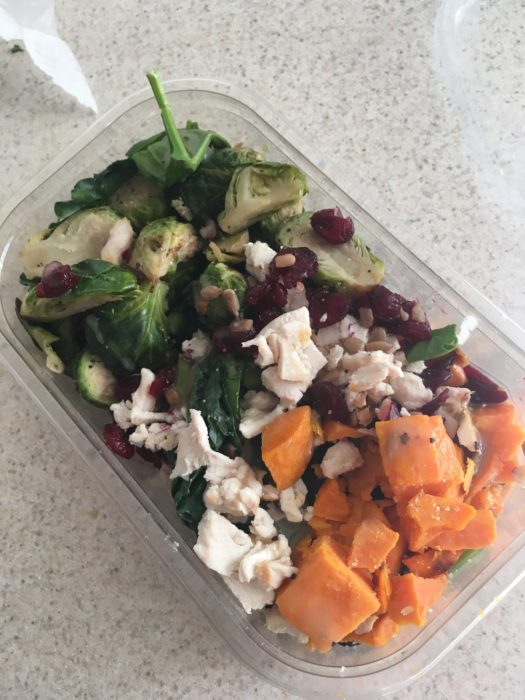 Trader Joe's Harvest salad with brussels sprouts, sweet potato, dried cranberry, sunflower seeds, and turkey. I actually used my own champagne vinaigrette instead of the dressing it came with.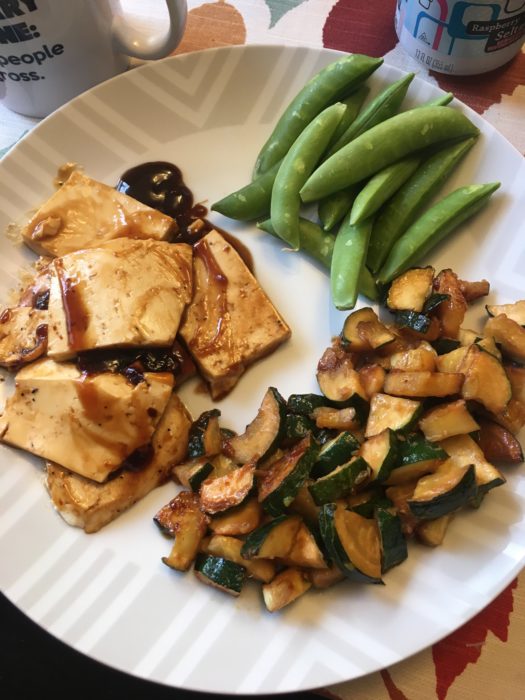 This week, I cooked tofu for the first time! I got firm tofu, and for this meal, sautéed it with GF teriyaki sauce. I served it with snap peas and zucchini sautéed with soy sauce, garlic, and ginger.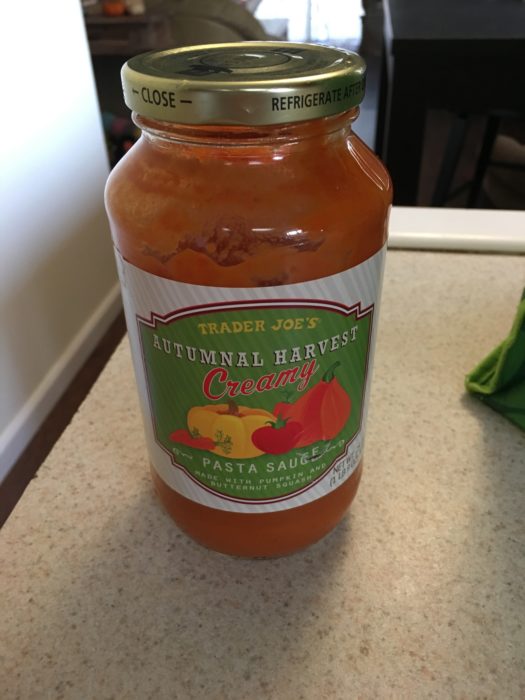 This stuff is amazing. I could literally eat it with a spoon.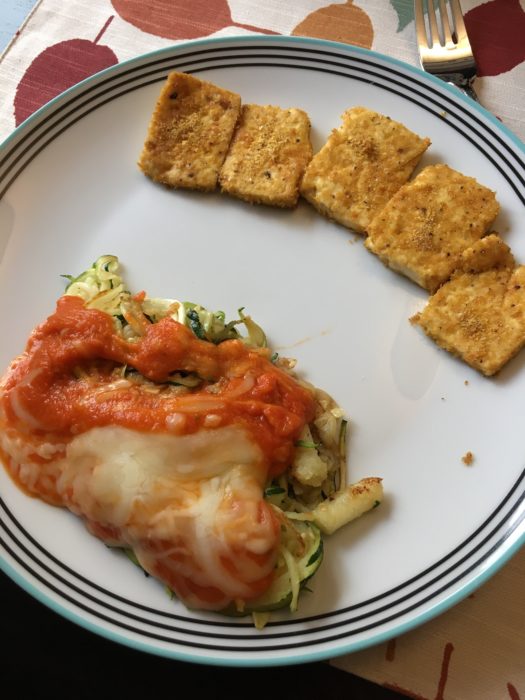 I made zucchini noodles (shockingly) and served the sauce with them, plus mozzarella. On the side, I made baked tofu that turned out surprisingly amazing. Most recipes said with baked tofu that you should use extra firm, but I liked it with regular firm because it's soft still on the inside. I patted the excess water off the tofu, and then "breaded" it in nutritional yeast, salt, pepper, garlic powder, and onion powder, spray some cooking spray, and them baked them in the oven at 400!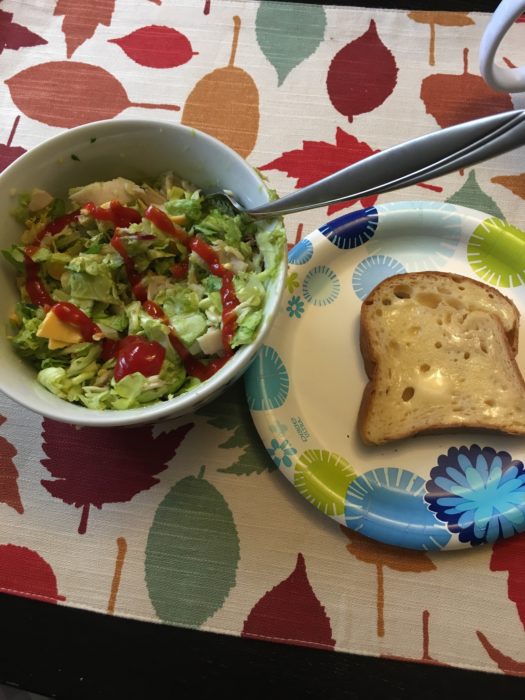 Another meal of my usual and weird creation. Turkey, American cheese, guacamole, ketchup. Plus toast with butter on the side.
Same meal as above, but minus the cheese. It seemed a little overpowering with the sauce.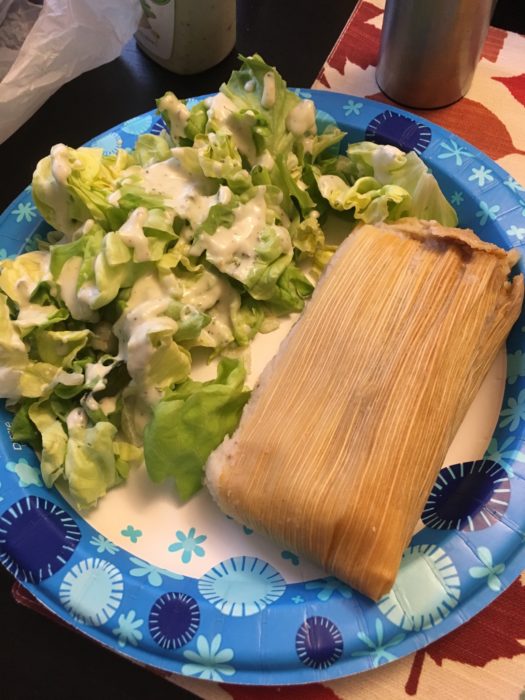 One of my last tamale Wednesdays! The evening farmer's market is closing for the season very soon! (I can still get them at the Saturday market). Chicken tamale with a salad made with Bolthouse Farms Cilantro Ranch.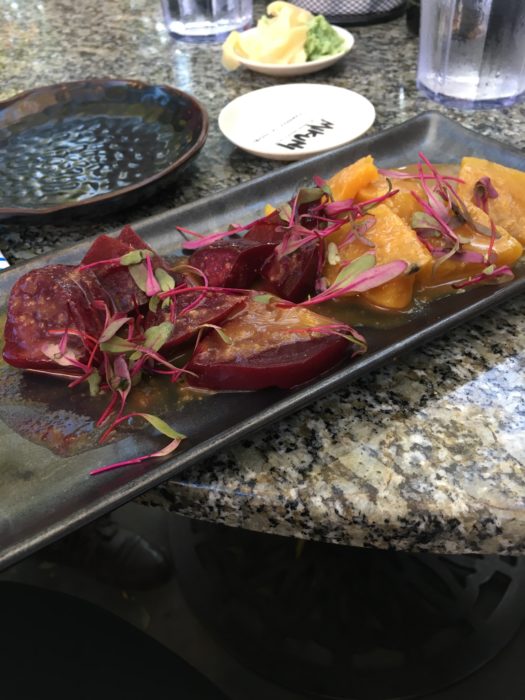 And lastly, sushi out with friends. I got a really delicious beet salad with miso dressing (above), and a California roll (below).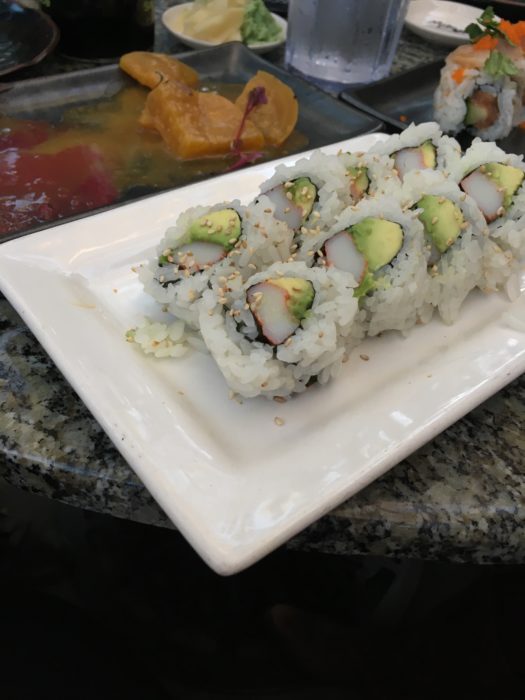 Etc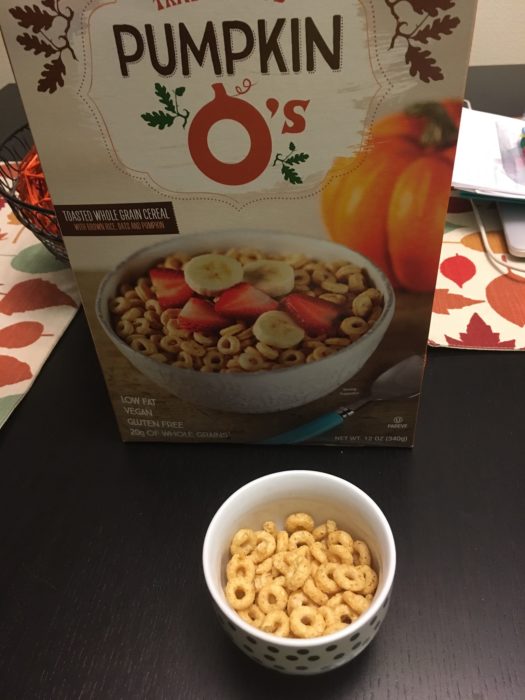 Pre-workout Cheerios (before 7am Crossfit).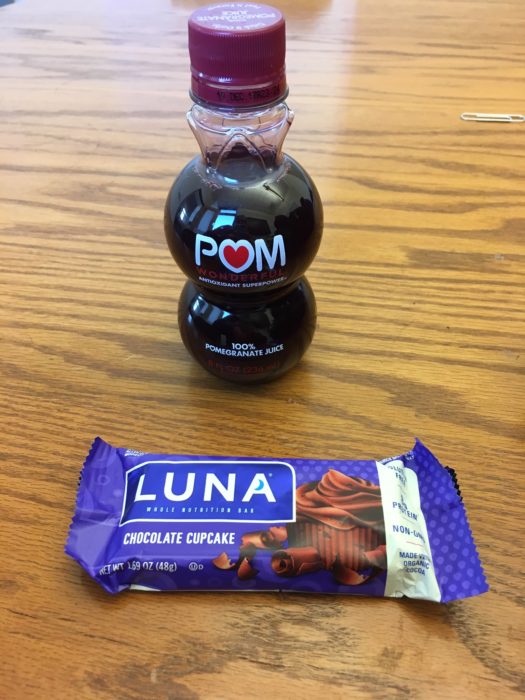 I mentioned a few posts ago that I found a paper that showed pomegranate juice can alleviate food allergies or sensitivities because the polyphenols in the pomegranate juice bind to cashew proteins. (Note: DO NOT DO THIS AT HOME) Since I have a mild cashew sensitivity, I thought I would try it out! Also, it should be noted that in the article, cashew+pomegranate was not consumed, and not in this form. It was more theoretical. This Luna bar has cashews as one of the last ingredients, and I've had it before with either no reaction or a mild reaction. The verdict? I don't know. I can't tell if it worked, if I wouldn't have reacted to it anyway, or if my skin imperfections are normal background or caused by the nuts. TBD.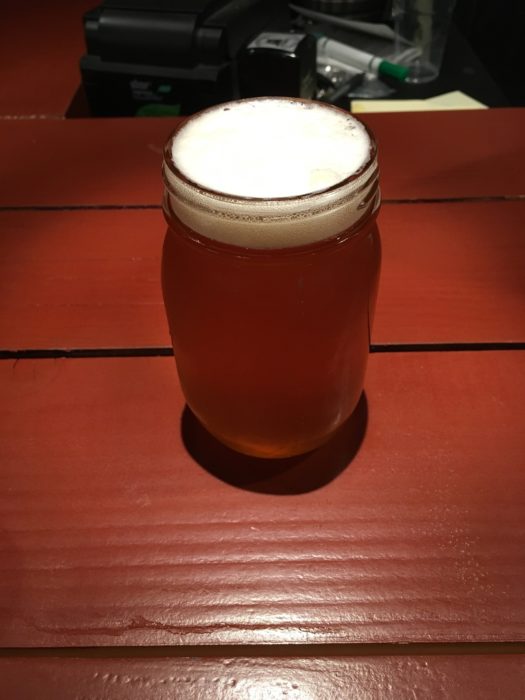 Trying out a new brewery. Saison is my jam right now.
GF bake sale cookie! Butterscotch pretzel. SO good.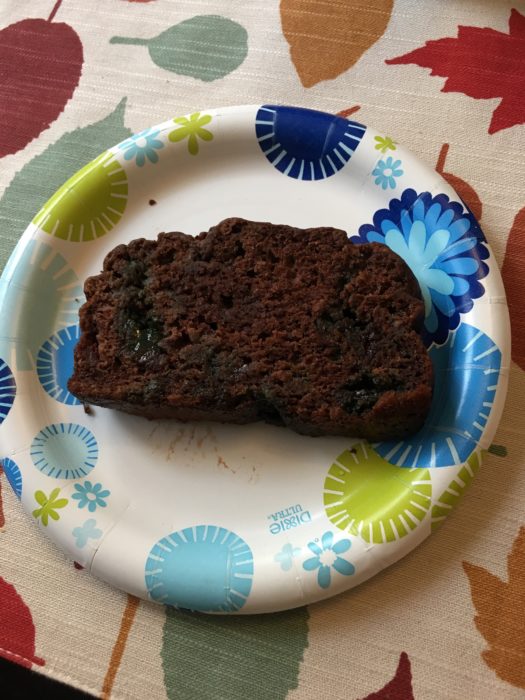 I've been going through my freezer stash lately. This is chocolate peppermint bark bread, and it's still amazing.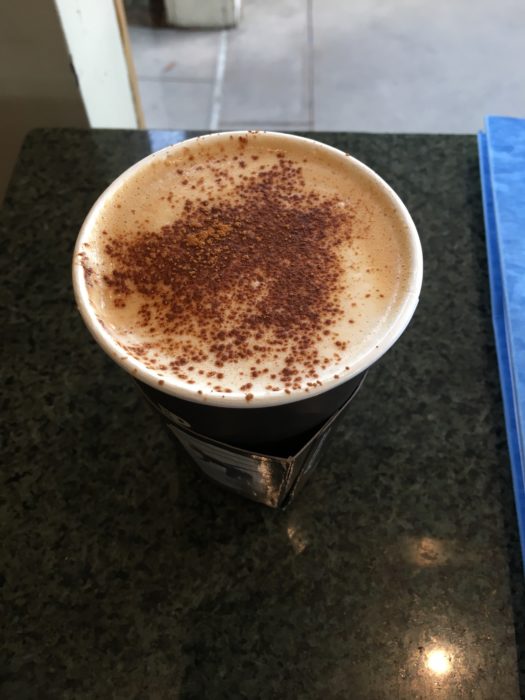 Peet's pumpkin latte as study fuel. Their pumpkin latte is a lot different from Starbucks. More pumpkiny, less spicy.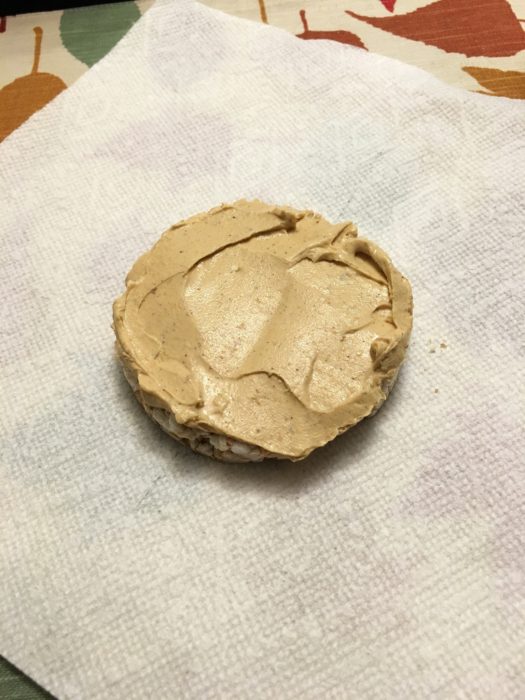 Nighttime snack of a rice cake with pumpkin cream cheese.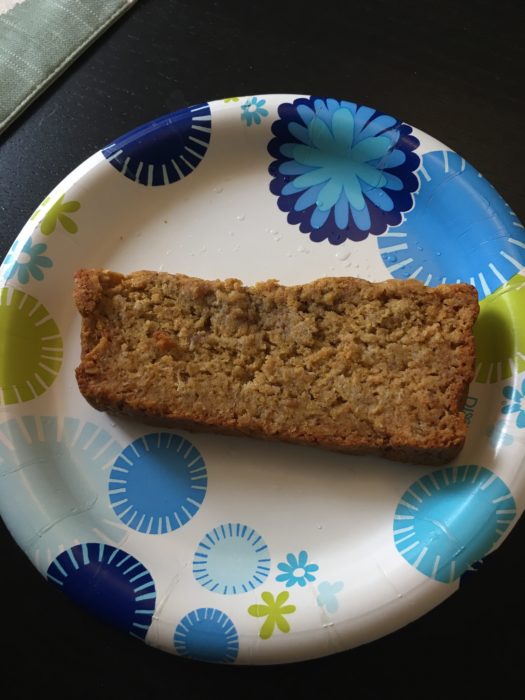 Here's an interesting snack: persimmon bread from the freezer! Yes, it's been there a while but it's still tasty!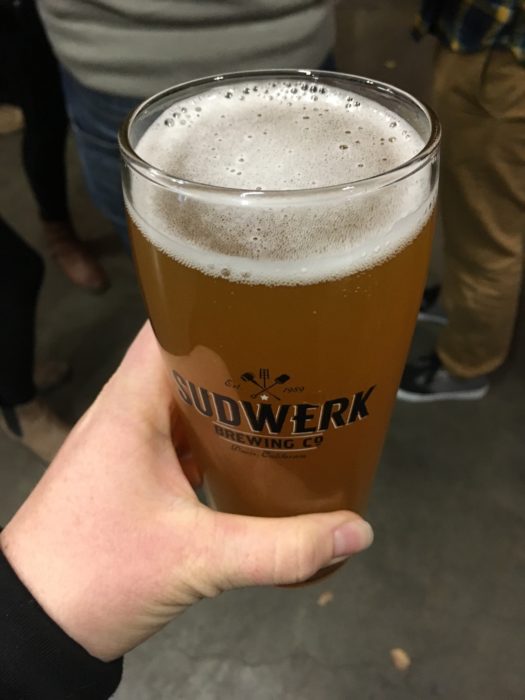 Post-exam Hefeweizen.
That's all for now. Check back later for more uses of zucchini/tofu/apples (because I have lots of all of those!)