It's been a hot minute since I posted up over here, but things have been pretty busy! Work has been absolutely crazy this week, and it feels like even my days off are gogogo.
I have a few fun things to share this week. I'm going to start with all the celebrating we have going on for my mom, and then catch up on some fun foods adventures.
Wednesday was my mom's birthday! Unfortunately I didn't get off work until 7:30 which sort of killed our original happy hour plans, but we managed to get the whole crew together at home for pizza.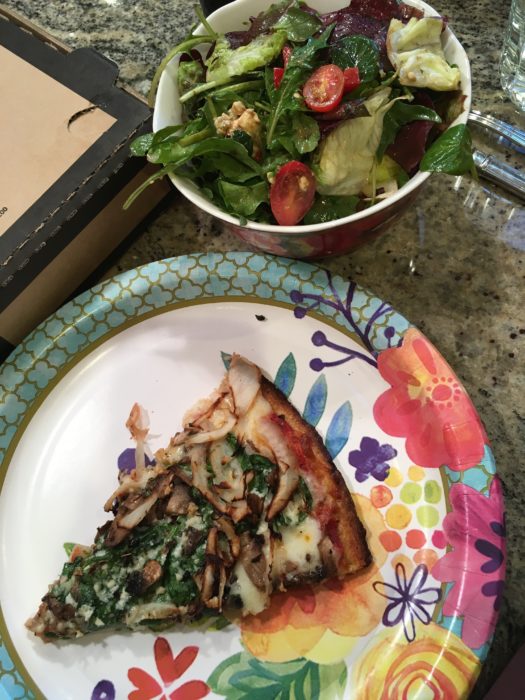 We ordered Blue Line, and I got my own personal little gluten free pizza with spinach, ricotta, onions, mushrooms, and garlic. Yum!
We got some kind of interesting ice cream cookie cake from Baskin Robbins. Jamocha almond fudge ice cream atop a chocolate chip cookie.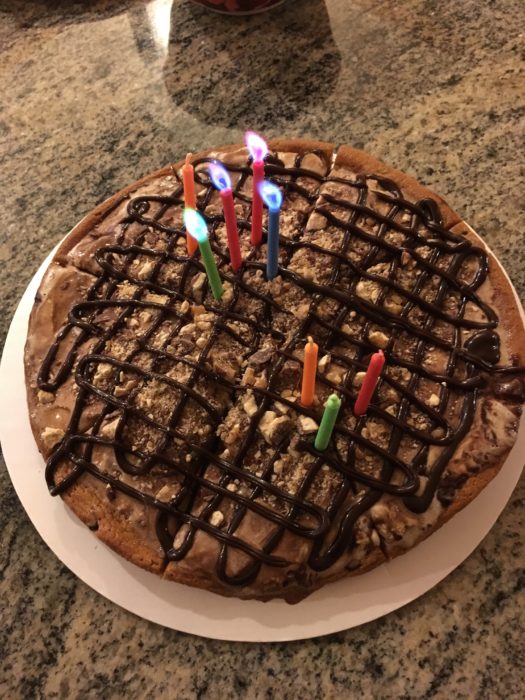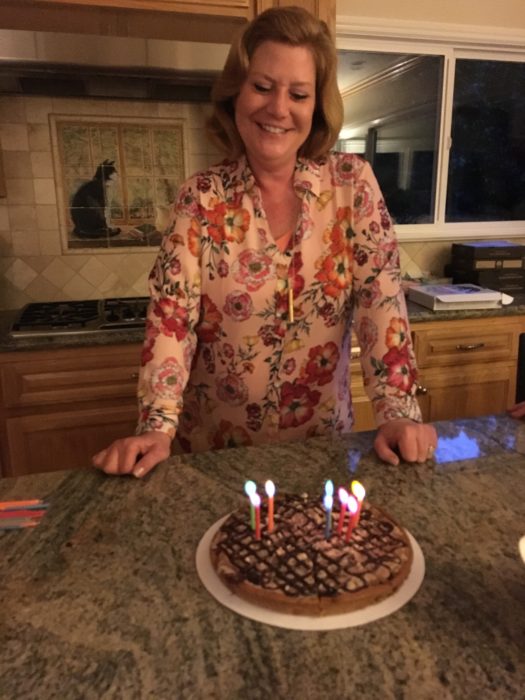 It was well enjoyed! Since I'm allergic to multiple aspects of this cake, I happily scooped myself a bowl of chocolate ice cream with fudge sauce.
We're going to fast forward right to Mother's Day!
I was up early for a quick 2 mile hilly run around the neighborhood, before stopping at the store for breakfast ingredients and flowers. (The grocery store appeared to be 90% full of dads.)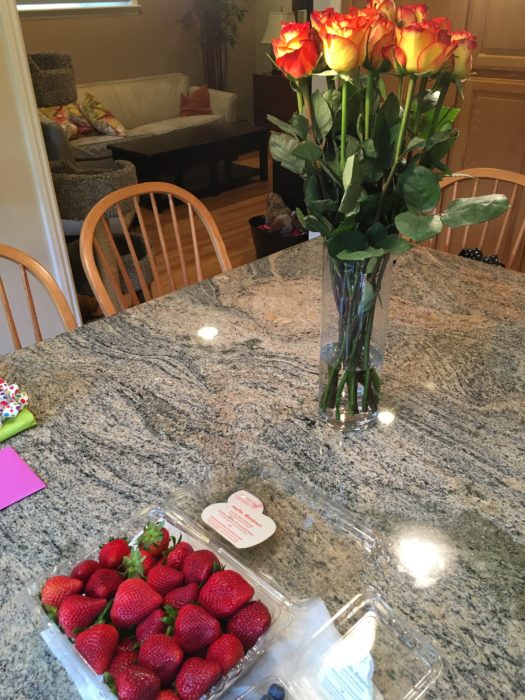 For breakfast, I made a scramble with mushrooms, shredded carrots (don't knock it til you try it), and garlic and herb alouette soft cheese. It came out really well! I also picked out some fresh berries.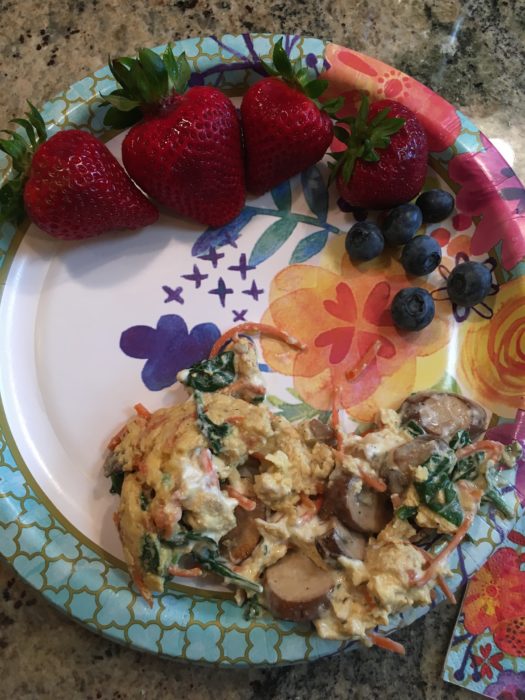 My sister, a gelato extraordinaire, made "breakfast gelato," lavender earl grey gelato, which was amazing.
We happened to have a pair of Giants tickets on Mother's Day, which made for the perfect activity. Since parking at the ballpark has been really difficult for weekend games, we decided to leave an hour early and visit The Yard, a new pop-up bar area outside the ballpark.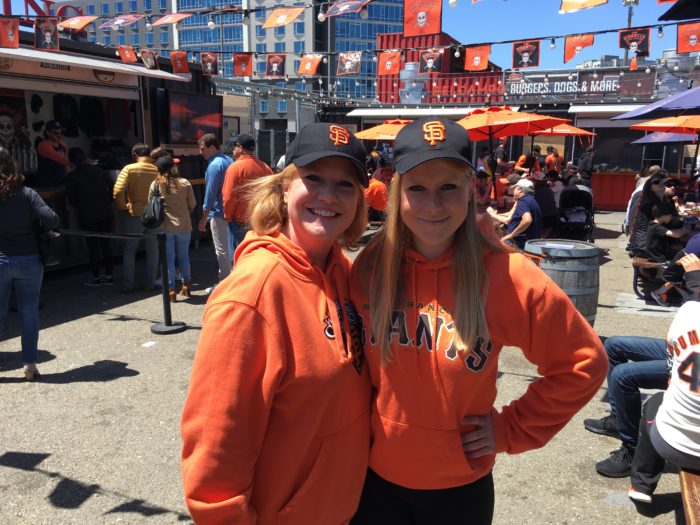 Anchor, a true San Francisco brewery, had a beer garden there so we picked out a couple of beers to share: Mango Wheat and Porter.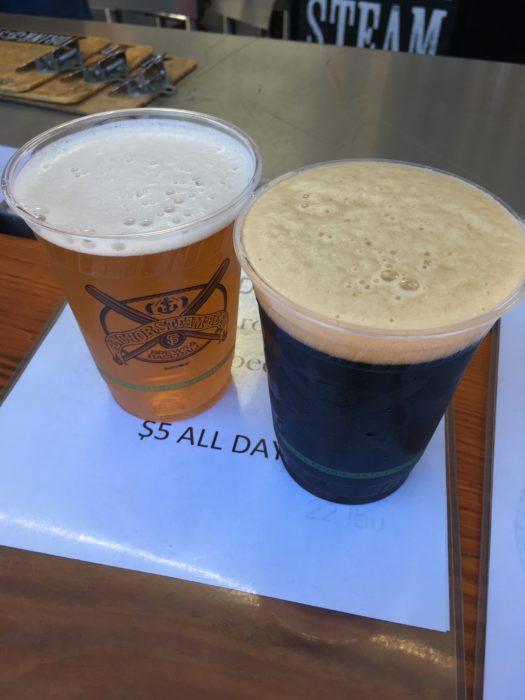 We happened to run into some family friends there, and spent some time watching their little toddlers run around and get ready for their first Giants game!
Finally, it was time to go in! I've been to several games already and have already had my typical ballpark foods. This time, I just wanted vegetables and something I could smother in ketchup. I Southwest salad and garlic fries fit the bill perfectly!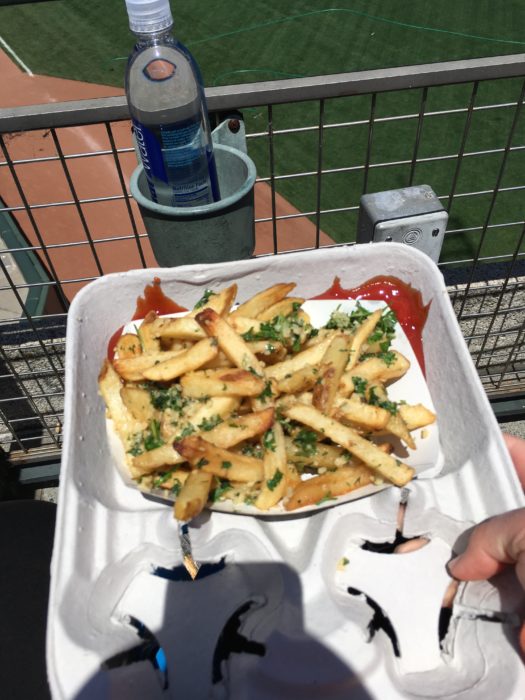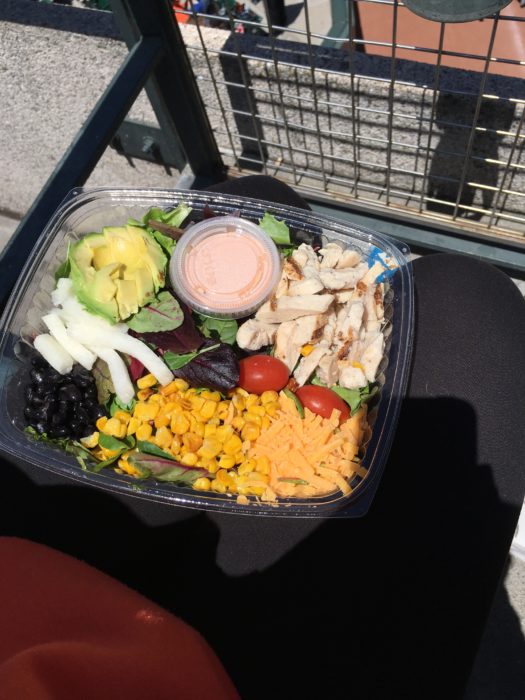 I mostly skipped the Chipotle dressing and ate the salad with tons of ketchup and BBQ sauce!
The game was off to a great start right in the first inning, something rare given the way our season had been going.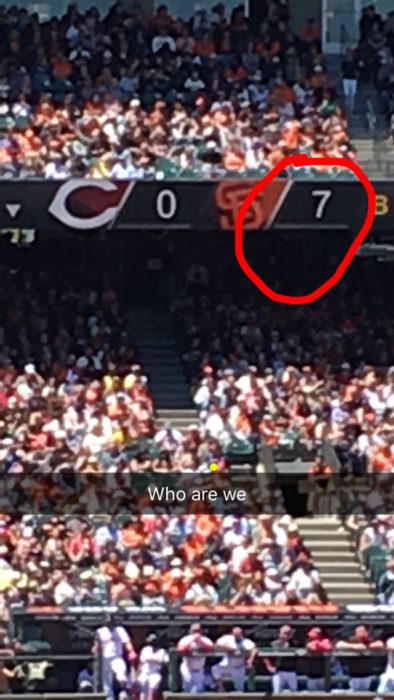 We scored 7 runs in the first 2 innings. What??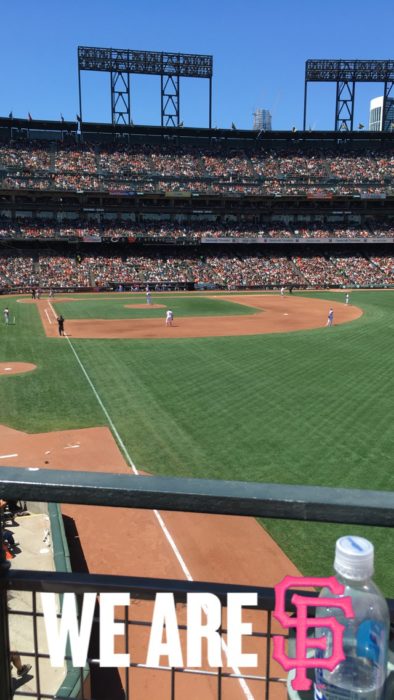 It was the perfect day too—single jacket weather!
Of course this had to happen: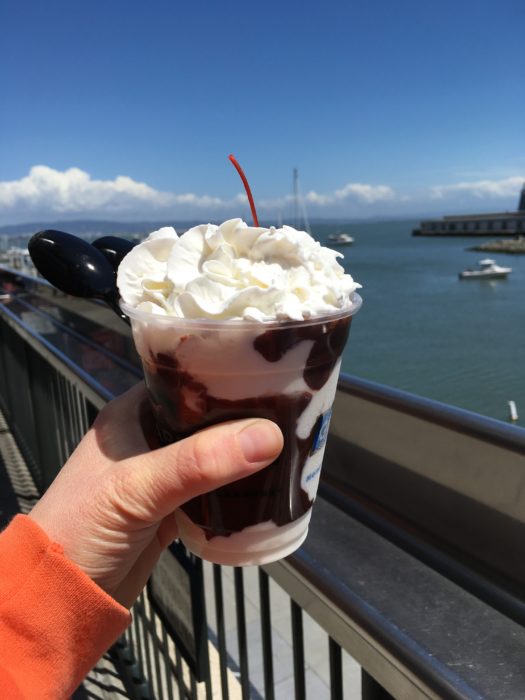 It was delicious, but I feel like this year the sundaes have been lacking in fudge. It looks like a lot, but the other side has 0 fudge. Boo.
It was a great game, but we left a little early to get back to the pets.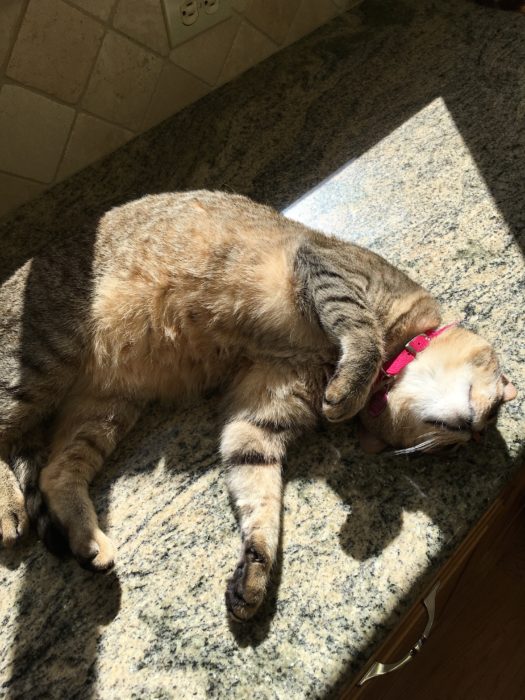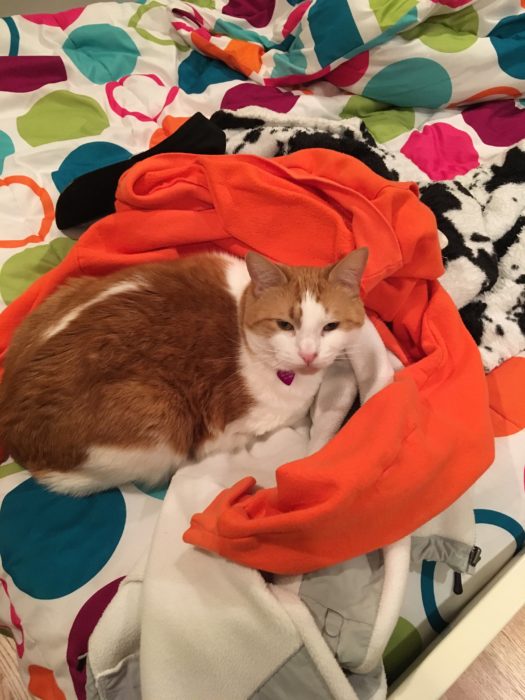 I wasn't expecting to find Charlie on my bed, and I was pretty delighted to see he was actually sleeping on the correct colors: orange and white! Normally he gets his orange and white fur all over my black clothes!
Ok. Let's back up to some other food types of highlights, shall we?
I think the name of the game this past week was avocado. The CSA avocado lasted me well into the week.
I made what was seriously the best wrap. Laughing cow, turkey, wilted spinach with lemon thyme salt, fresh avocado, and, this is key: garlic powder. OMG yum.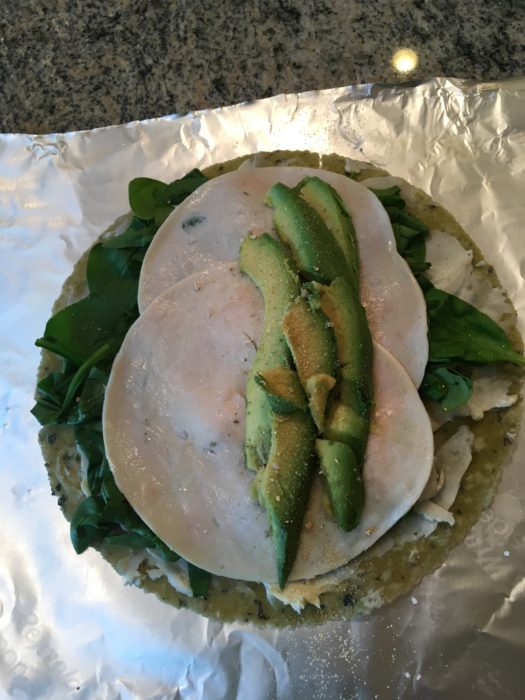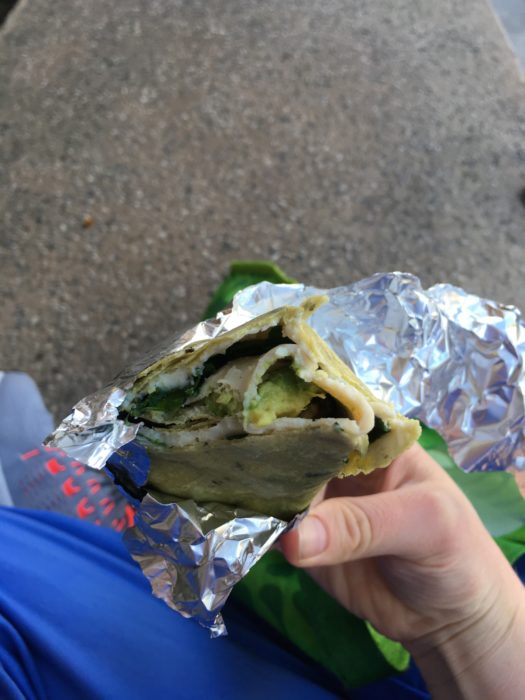 Another dinner: dairy free corn chowder with pink beans. Side of roasted potatoes (I always forget how much I love roasted potatoes).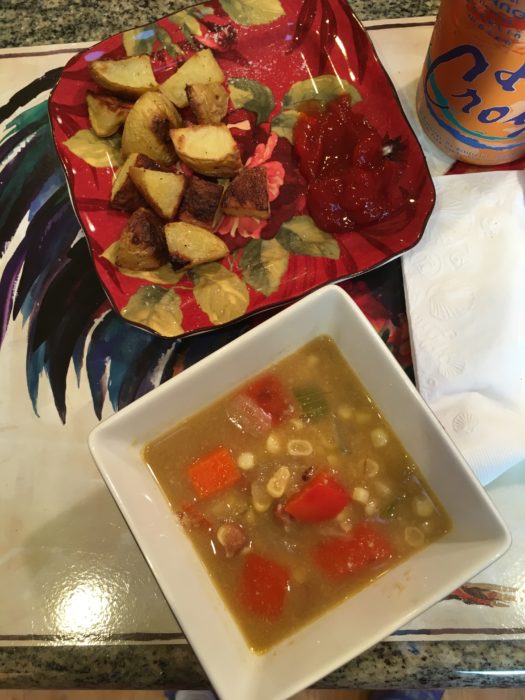 On my mom's birthday, I picked up some flowers on the way home from Crossfit. How nice of me to bring Lilly something to chew on…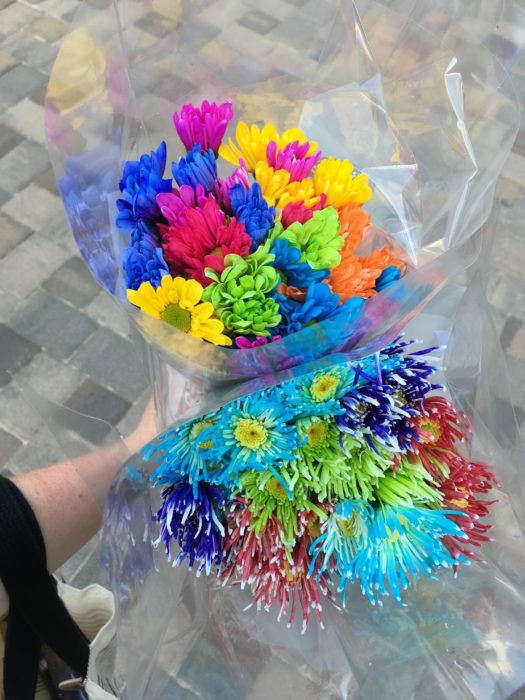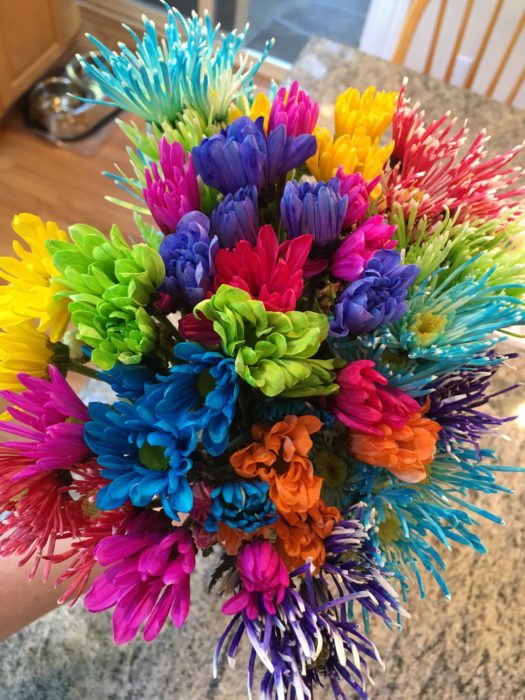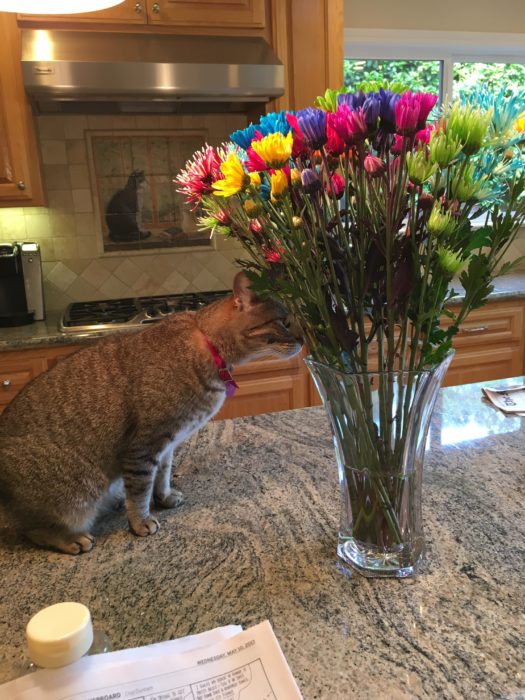 She is absolutely crazy for flowers, and these had to live outside on the patio.
I've slightly altered by typical smoothie bowl recipe and it is 100x better. Before, I was using milk as my liquid, but I felt like the fruity flavor was getting a little washed out. We had a Naked Mighty Mango drink in the fridge, so I figured I would give that a try. I prefer to not use fruit juice because it's basically just sugar (and a few vitamins), but I literally only use 1/4 cup (thick smoothies for life!) of liquid, so I figured it was not that serious. Into the smoothie went 1/4 cup of mango juice, 1/4 container of plain yogurt, 1/2 cup frozen mixed berries, and 1/4 cup frozen pineapple. YUM. Topped with granola and honey.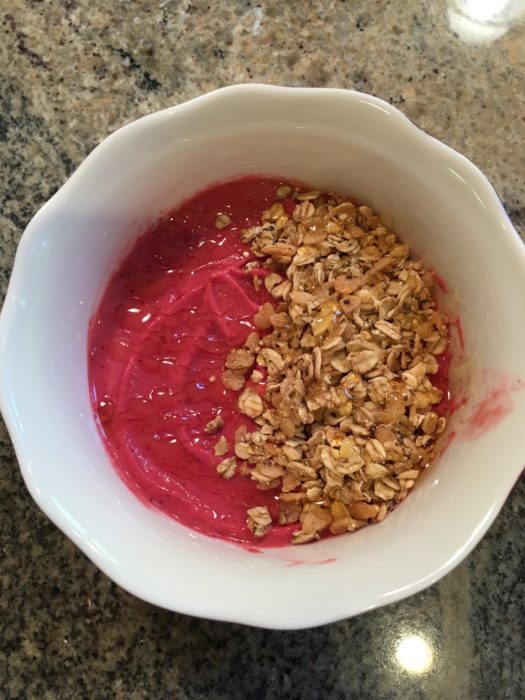 Another avocado meal: I wanted to recreate the wrap but the turkey was sketchy so I just substituted egg whites. Not as good, but got the job done!
After work on Thursday, we whipped ups quick dinner of grilled chicken an dear salad, with honey goat cheese.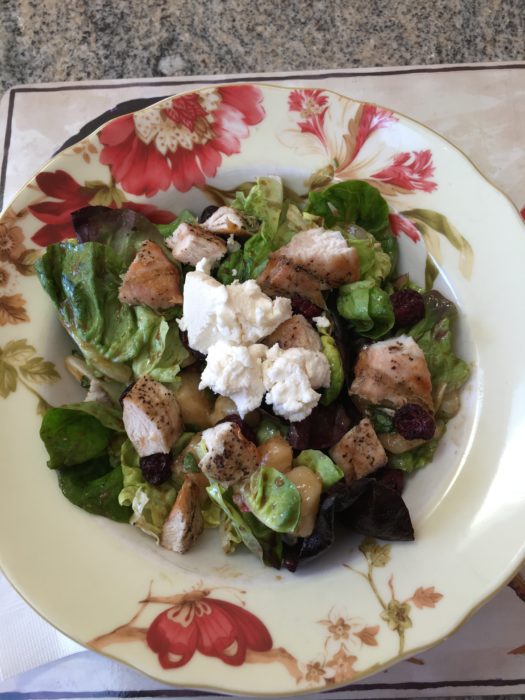 Friday was a fun day. I met my college roommate in San Jose for a few hours of exploring food+coffee downtown. We met at Foragers, a cool coffeeshop+soon to be art gallery. It was a neat space, with a hipster feel.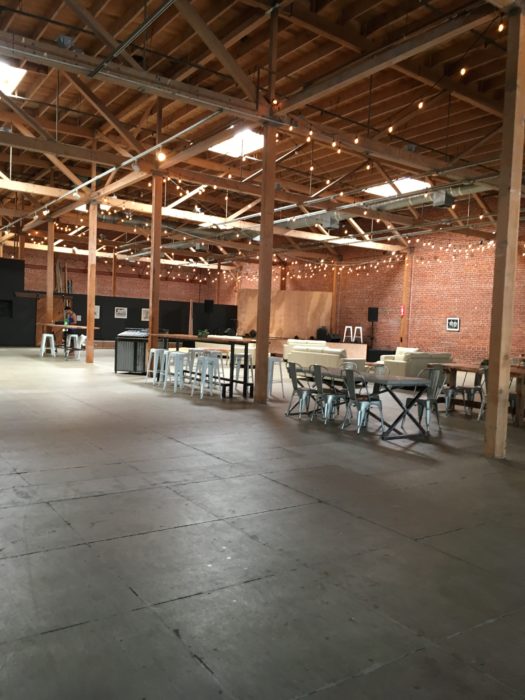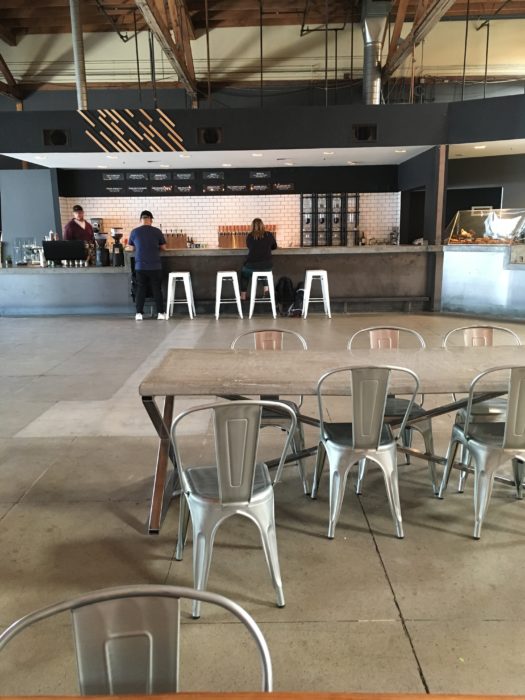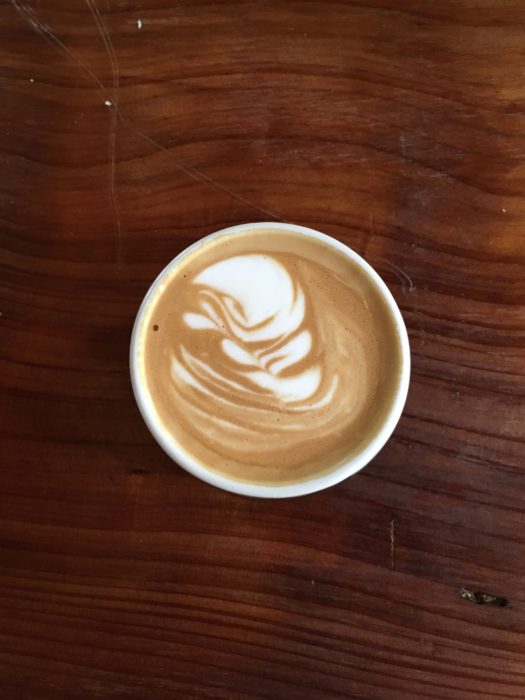 It had been far, far too long since I'd had good coffee!
Around lunchtime, we started poking around yelp for places nearby for lunch. I saw there was a Hawaiian Poke place nearby, and we were both interesting in trying poke. When we got there, we realized we had stumbled into a really cool and trendy food court type of place.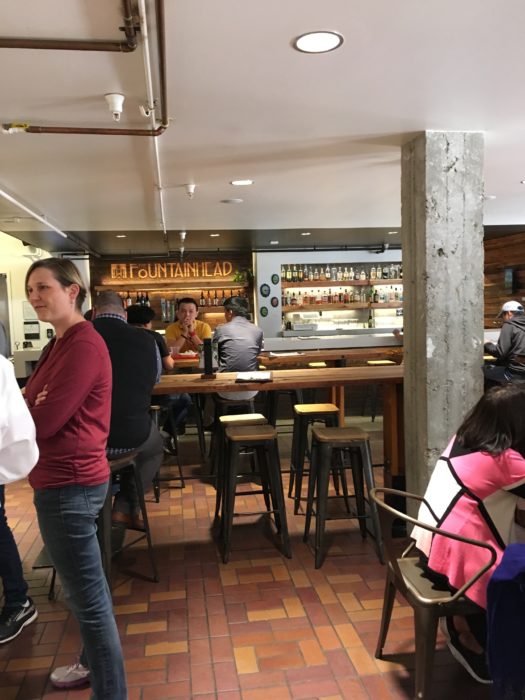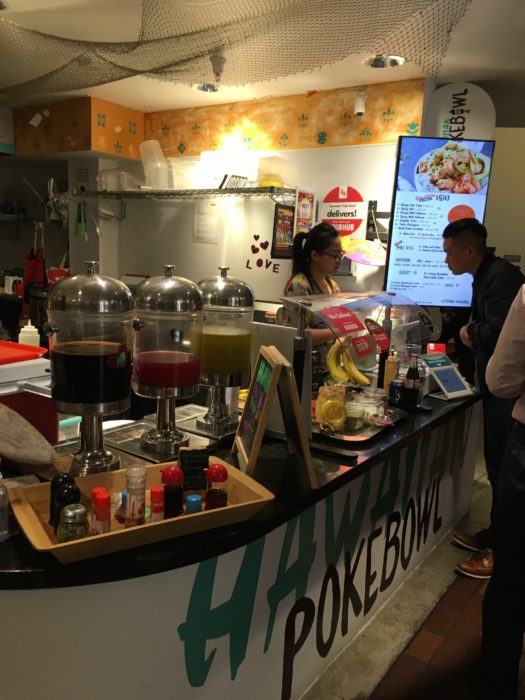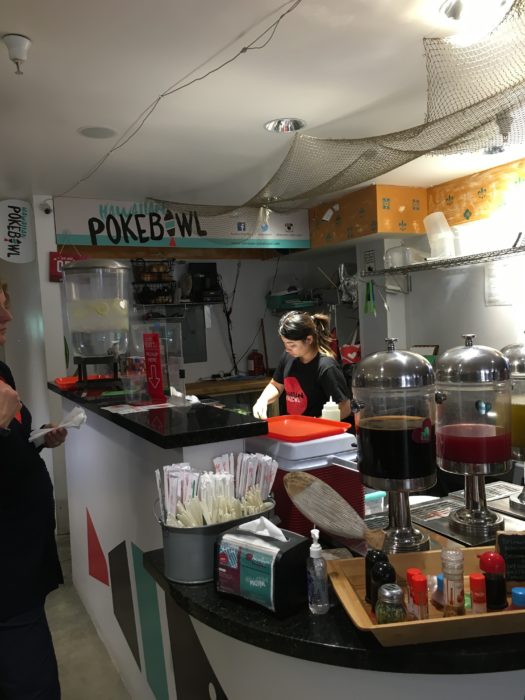 Because we're the same person, we're both equally suspicious of large chunks of raw fish, so we both went with tofu, half brown rice half greens.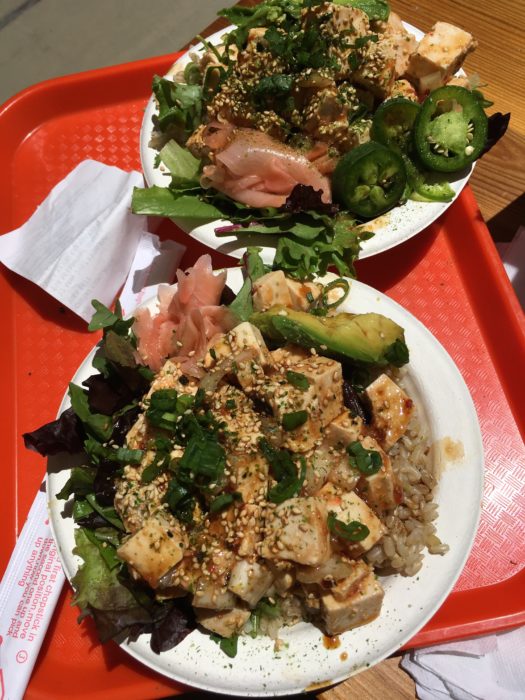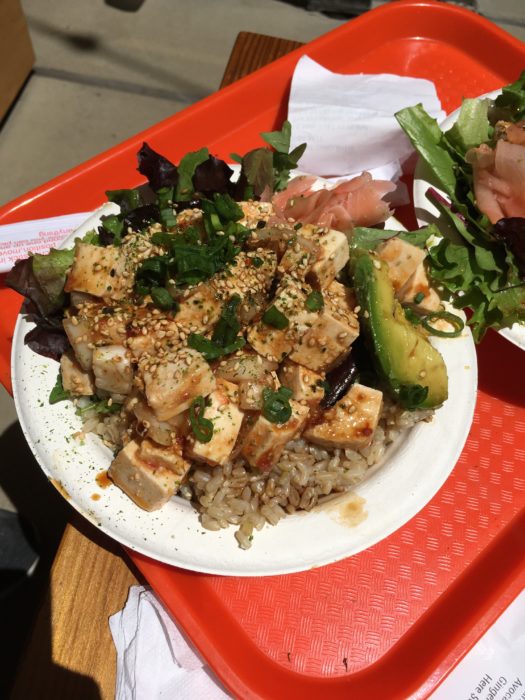 These were delicious. The tofu was seasoned with sesame oil, so it wasn't just boring steamed tofu!
In the little food court was a little ice cream bar stand that I recognized from a list of most instagrammable food in the Bay Area, so you KNOW we had to try it out.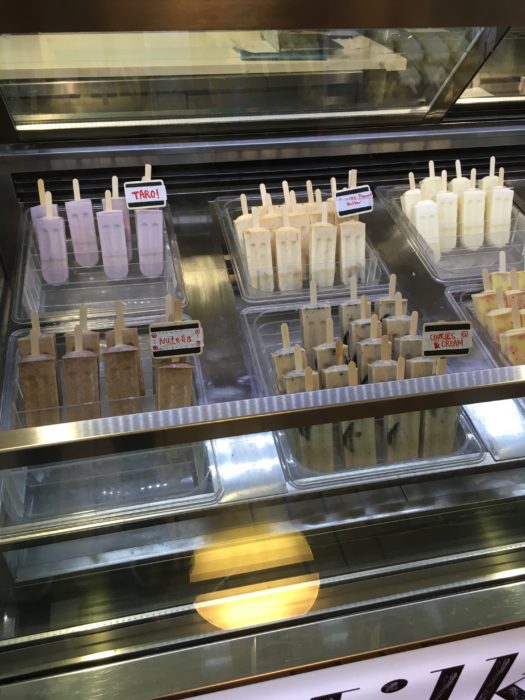 You choose your base ice cream bar flavor, then choose dark, milk, or white chocolate drizzle, and then choose your toppings! I am concerned the chocolate had coconut oil, but sometimes you have to be blissfully ignorant and live your life (my allergy is annoying, not life threatening thankfully). It's day 3, and so far no reaction, so that's good! It normally happens 5 days after eating something so we shall see!
I chose a taro ice cream base and topped it with milk chocolate, chocolate chips, and rainbow sprinkles.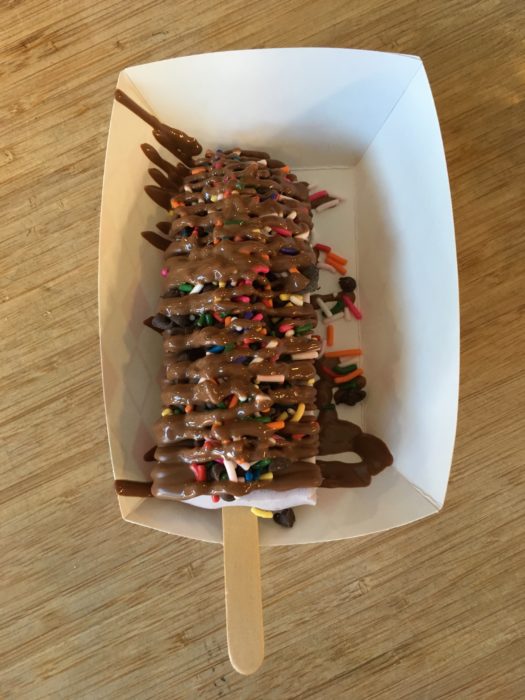 And both of ours together: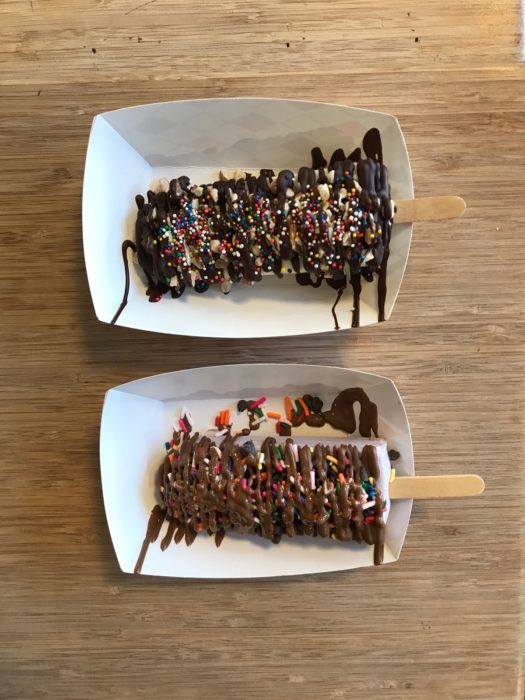 Both of ours together!
Do it for the 'gram my friends.
We walked around downtown a little bit before I had to head back, and it was funny to see the Christmas in the Park area without the trees! I've been there 4x for the Santa Run, but never any other time! (Also: I found out with my school schedule I should be able to do the Santa Run again this year! Yay!)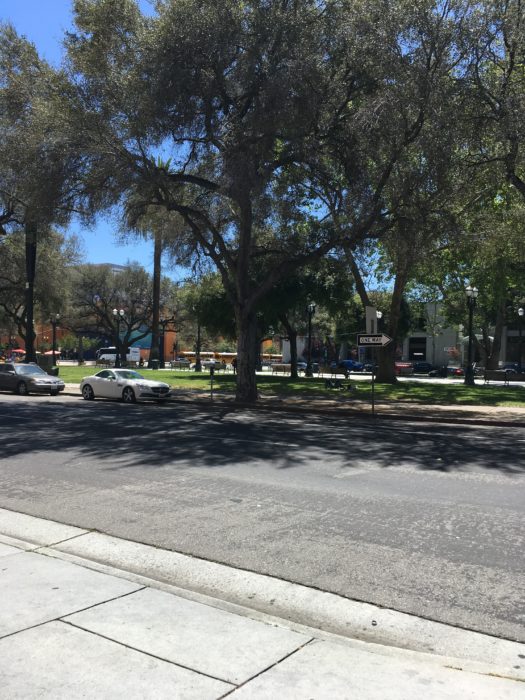 Here's a little truth behind the 'gram though. As pretty as my lunch was, it actually flared my stomach pretty decently, which happens so rarely (thankfully) these days. I knew as soon as I tasted sesame oil, it would be a bad combination. I usually eat pretty low fat out of necessity, and I felt pretty rough for the afternoon as a result. At this point though, I knew my body pretty well and was able to stave anything too bad off with sparkling water, ginger, and a mild dinner.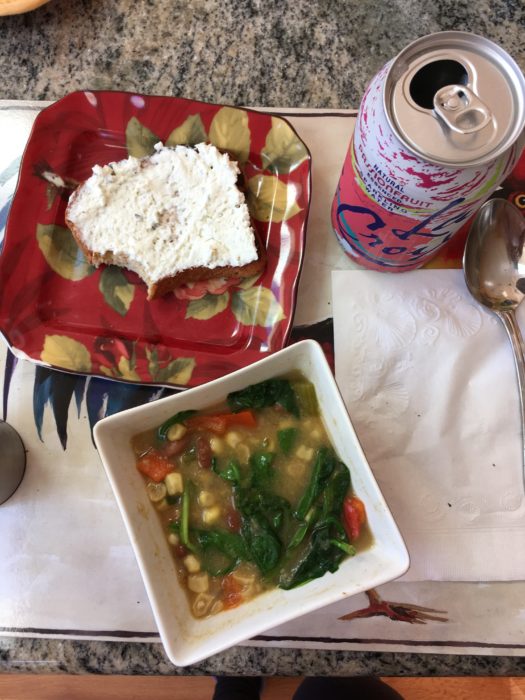 And a few more meals coming up, I promise!
Another smoothie bowl.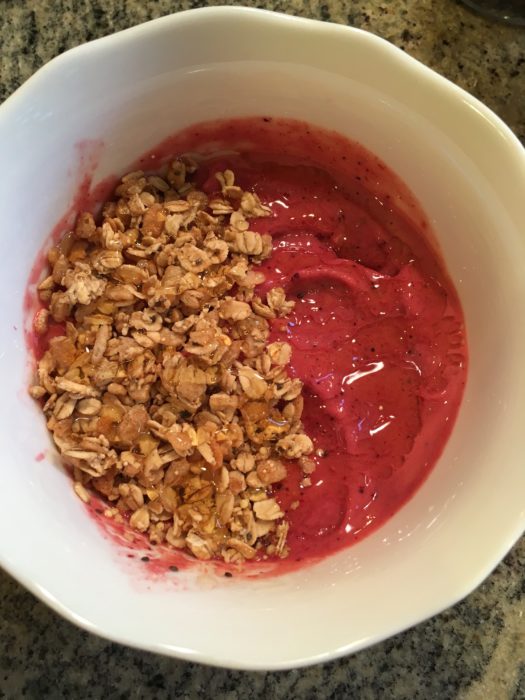 Happy hour post-work Saturday. I gave my mom a beer flight for her birthday, so we had to try it out!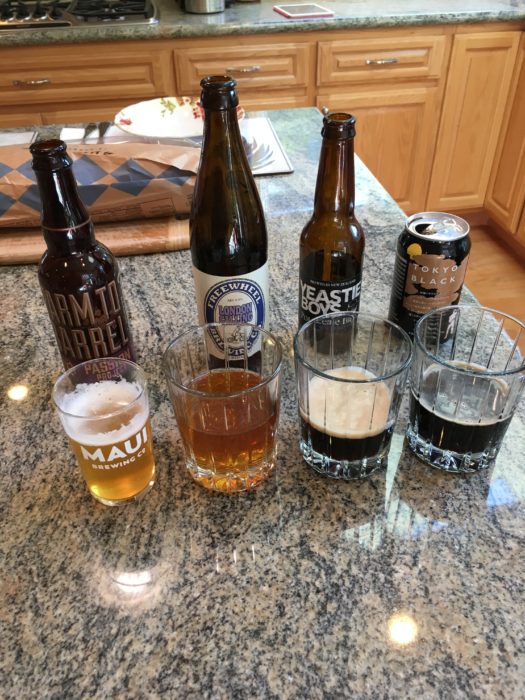 For dinner, we had one of my favorite meals: grilled romaine salad with corn and avocado. We also added grilled chicken. This salad is amazing. The dressing has miso, garlic, and maple syrup, and the grilled romaine takes it to the next level.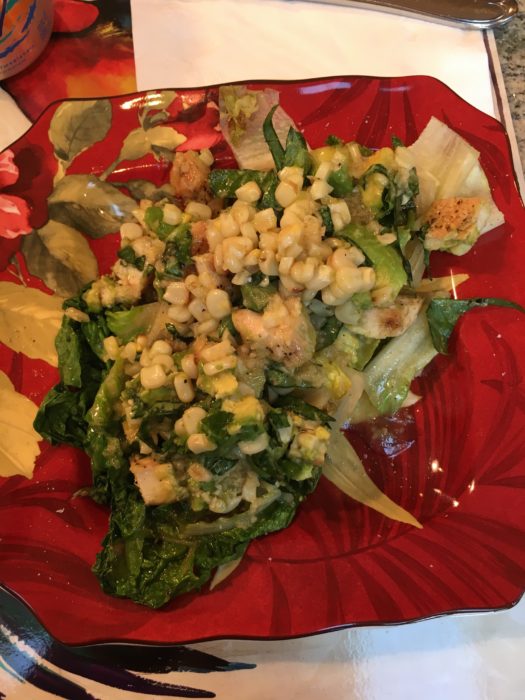 And that's it for today!