I know I'm a day late on this, but happy spring! While I'm grateful I'm not being subjected to East Coast snow, the rainy skies here in California don't exactly feel like spring!
New Year's is a time a lot of being get reinvigorated to change their lives. I would argue that spring is as well. The sunny skies and blooming flowers bring a renewed sense of hope. Of possibility. When the sun comes out, all I want to do is get outside. I want to move, I want to make changes and be productive. It's no secret that cold temperatures zap motivation, both for me and many others. I find that when it's warmer out, it's much more inviting to be active. I've started walking Chloe more. I enjoy our bonding time alone together (especially when she's well behaved), and I started listening to informative and interesting podcasts during our time together.
Obviously, it's ideal to be consistent year round. But if you find you're not happy with how things in your life are going, spring is a great opportunity to make a change. Embrace the changing weather, and let it inspire you.
For me, I've been switching things up both nutritionally and fitness-wise. I decided to challenge myself to try different classes at the gym, and have sort of reverted to my fitness roots as a gym rat. So far, it's been fun, and I've found some new things that I both like and cause me to grow as an athlete. Following 17.4 on Friday, come Monday my body wasn't ready for intense bending (yay lower back). In the morning, I tried a new spin class. It was all intervals, but it was on the shorter side. It was perfect for a quick sweat! In the evening, I returned to Core Yoga, which I originally planned to be a one and done, check that off the list class. However, moving my body in a different way felt really wonderful, so I headed back. In addition, I felt like my back could use a deep stretch!
In honor of spring, we spent a lot of time working on inversions and inversion progressions against the wall. I didn't do anything too crazy, but I can tell I've made progress in terms of shoulder strength and flexibility. Handstands are one thing in Crossfit that I both can't do, and I hate. I can wall walk into a handstand, but I can't kick into one, which I absolutely should be able to do at this point. This is partly because I hate them. But I really think that it's something I need to just get over and work on if I want to grow as an athlete.
Now onto the food.
For breakfast before spin, I had a simple Luna bar.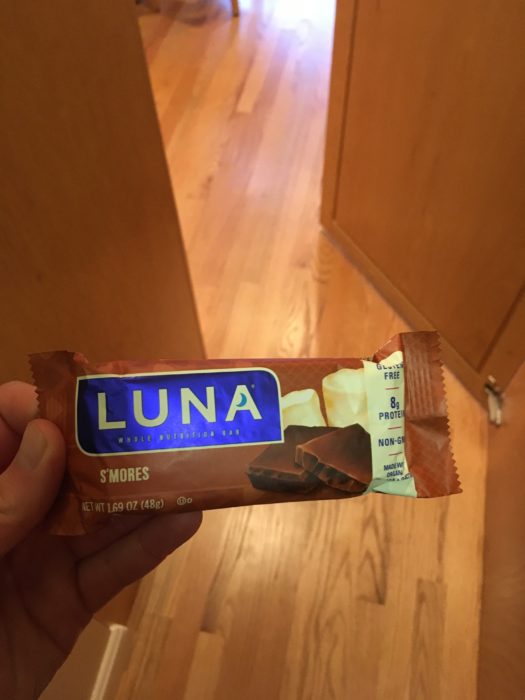 After spin, I snuck in a walk with Chloe before the rain. We walked for just over an hour which is on the longer side for us, partly because I wanted to finish my podcast and partly because Chloe needed some exercise given the week's rainy forecast. Post walk, I had a glass of cranberry kombucha.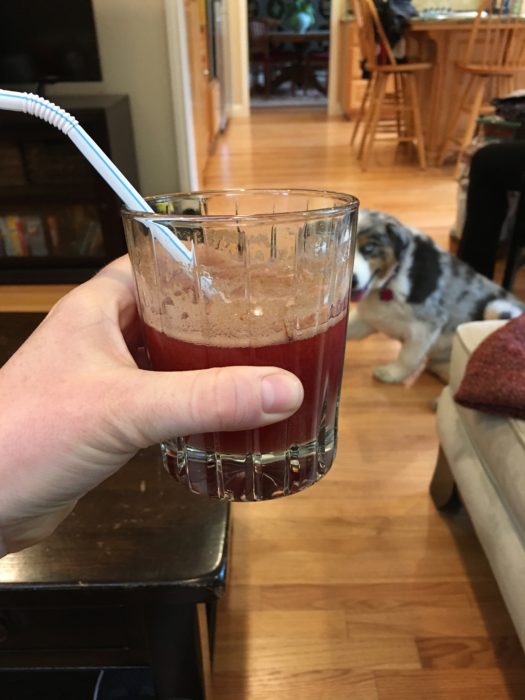 Finally, it was lunchtime! I was feeling hungry, so instead of just the soup and fire roasted veggie crackers, I cut up some red pepper. The soup was more leftovers.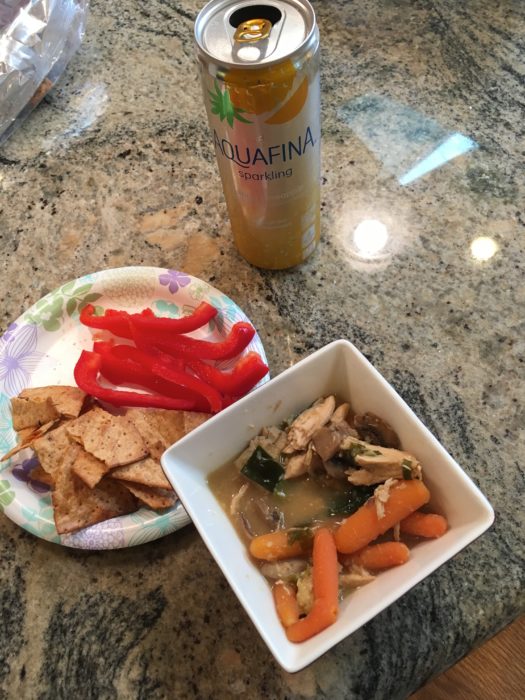 For my afternoon snack, I dug a slice of whole grain persimmon bread out of the freezer, and ate it alongside a mango.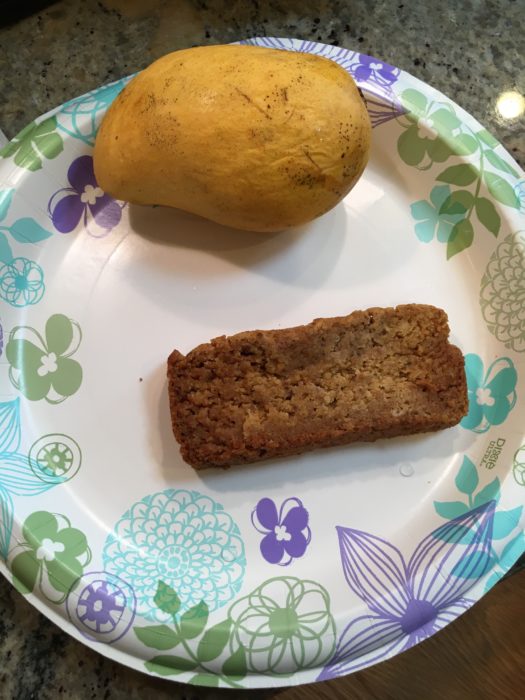 The persimmon bread is just my banana bread recipe made with persimmons in place of bananas.
For dinner, we threw together a delicious salad with roasted butternut squash, herb goat cheese, dried cranberries, rotisserie chicken, and homemade balsamic vinaigrette.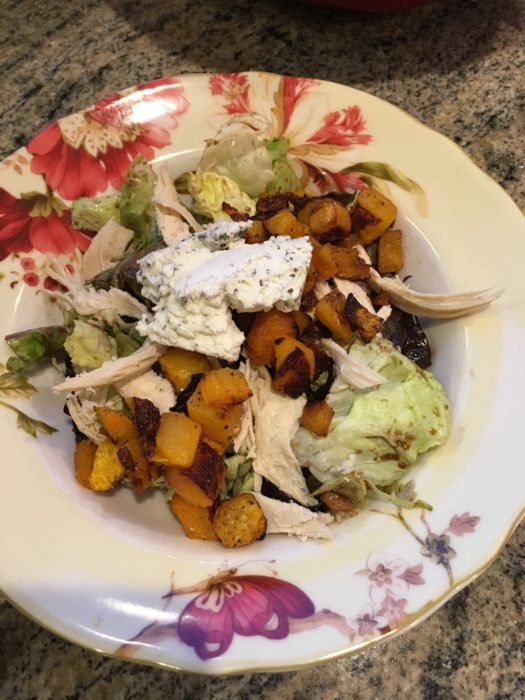 On the side, I had gluten free whole grain bread with herb and parmesan olive oil dipping sauce.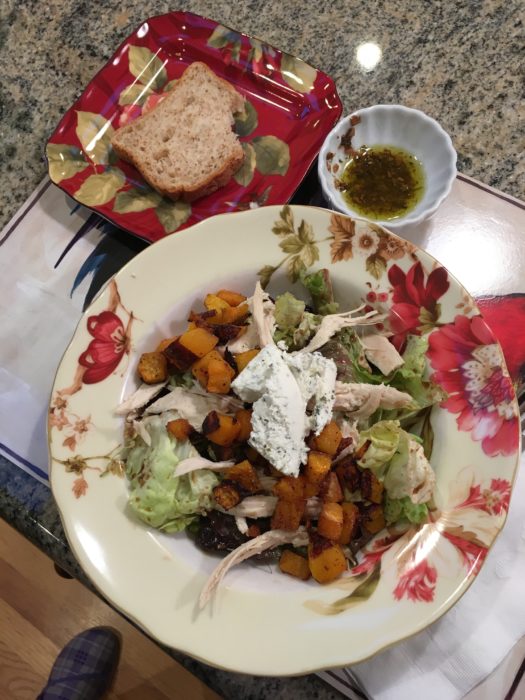 For dessert, I made an ice cream bowl with vanilla Halo Top, chocolate chip pumpkin bread, and a dab of whipped cream.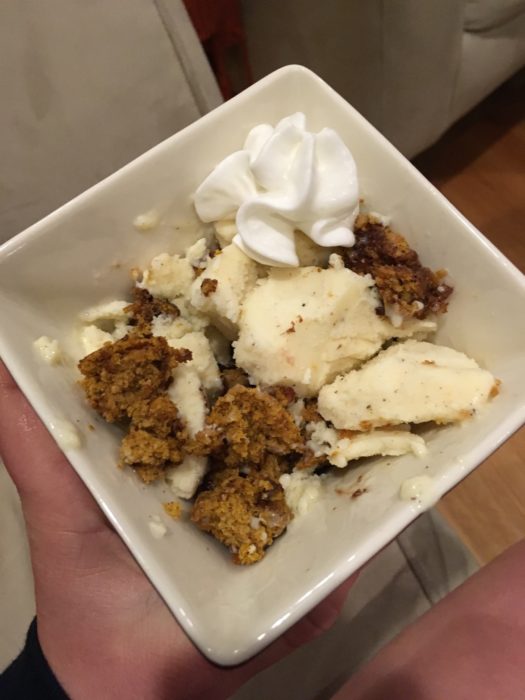 In my opinion, there is no reason desserts can't be part of a healthy diet! I also believe that a life without desserts just isn't worth living.
For a nighttime snack, I had a brown rice cake with whipped chive cream cheese.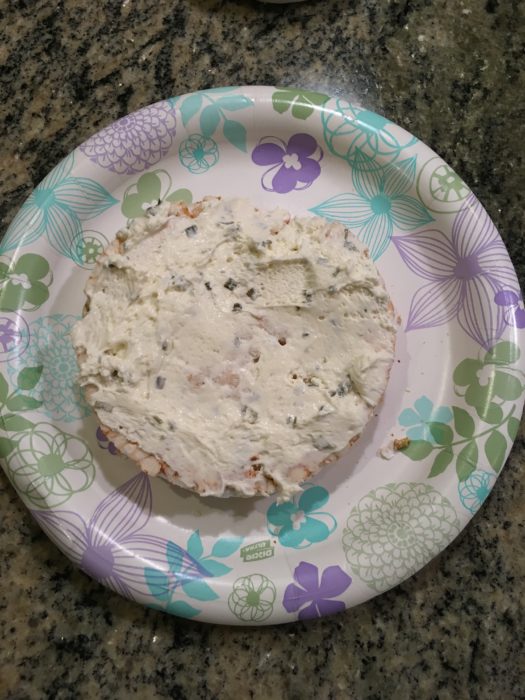 I've made the decision to try and push my nutrition a little bit. It's not because I'm not happy about where I am now, but because I want to see how much better I can be, both in terms of how I feel and athletic performance. In the past year, my eating habits have been very stable, which is not something I can really say about any other point in my life. Because of that, I feel ready to try and up the nutrition a little bit. I know my body well enough at this point to know what I need and to know what makes me feel good or bad. I'm definitely not doing anything crazy, I'm just making more of an effort to balance things. For instance, I added back in an evening snack. My body reacts so much better if I split my nighttime calories up a little bit, and so far I've felt a difference. I'm making an effort to meal plan for the day such that things are more balanced. I haven't decided how much I want to get into this kind of thing on the blog in terms of specifics, progress, etc, but of course I'll continue to post my meals and meal ideas like normal!
Do you feel like spring is a fresh start?